There is less than a month left until Christmas Day (also known as Christmas Day). One of the days for couples lovingly giving gifts to each other, the children are eager to meet Santa, family and friends together for festivals, parties, … So you are ready for the trip. Play Noel with a bear or a friend? If not, please immediately refer to 15 places to play Noel in Saigon that attract many people to visit and have fun, which we share through the following article.
Places to play Noel Saigon cannot be missed
1. Notre Dame Cathedral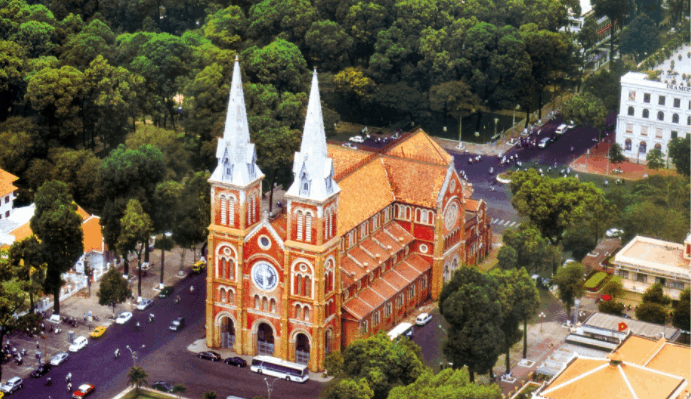 Address: 01 Cong Xa Paris, Ben Nghe, District 1, Ho Chi Minh City, Ho Chi Minh
A place so familiar to the people of Saigon that you must definitely go to this Christmas is the Notre Dame Cathedral . Located in a very convenient location while located in the central area of ​​the city with a variety of fascinating entertainment venues around. Every Christmas comes, thousands of people gather at Notre Dame to admire and have fun.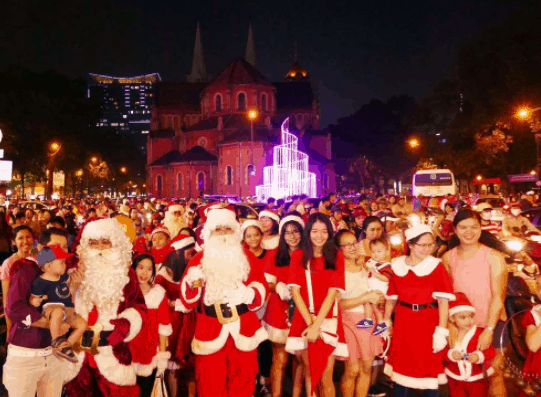 2. Pham The Hien street, district 8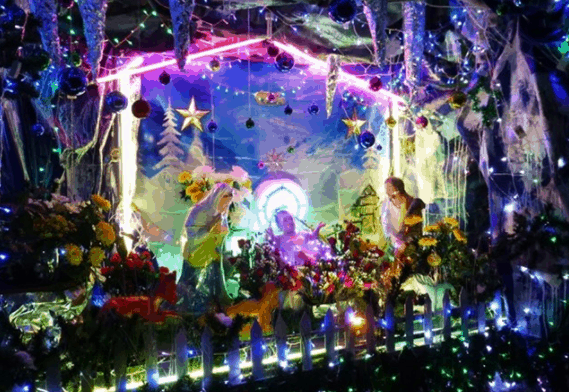 Address: District 8, Ho Chi Minh, Vietnam
On the road leading to Pham The Hien parish, adorned with many flashing lights, caves, pine trees, Santa Claus, … will make you feel clearly the coming Christmas holiday atmosphere. near the. A perfect and unique check-in place for young Saigonese.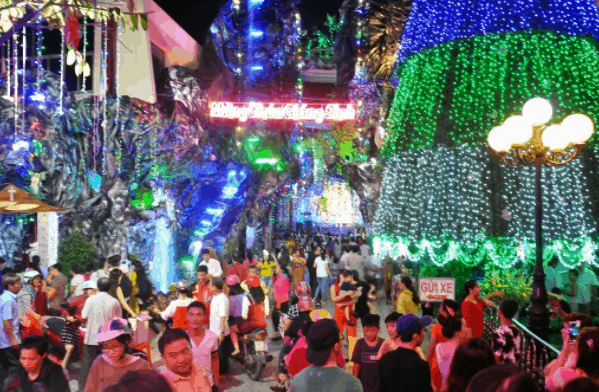 Tell you the best time to visit your neighbors during the Christmas season to get good pictures is from 6 to 7 pm. Outside this time, the number of people coming here is quite large, so traffic congestion often occurs, making it difficult to have a blank background to take pictures.
3. Nguyen Hue Walking Street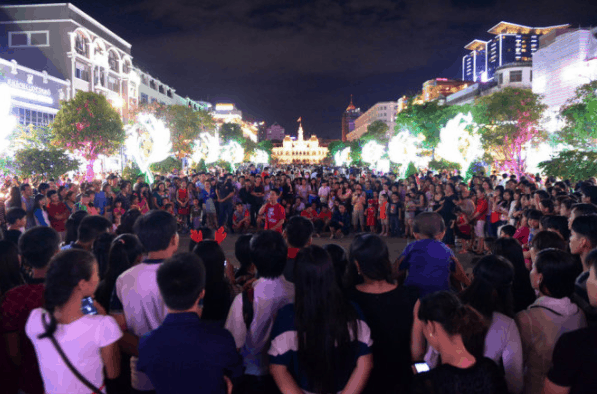 On Christmas holidays in Saigon, people often invite friends and relatives to have fun at Nguyen Hue pedestrian street to be immersed in the warm Christmas atmosphere.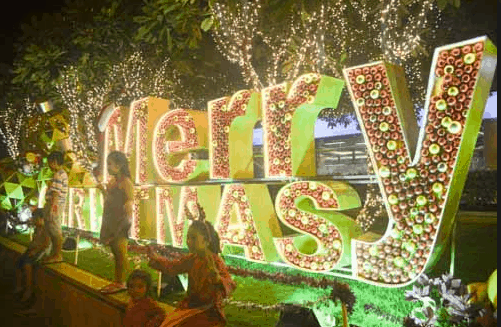 Although it is not yet Christmas yet, the whole walking street is decorated with pine trees, Santa Claus, gift boxes, and colorful lucky balls. Not only makes the street more beautiful, but also backgrounds where everyone can save beautiful photos.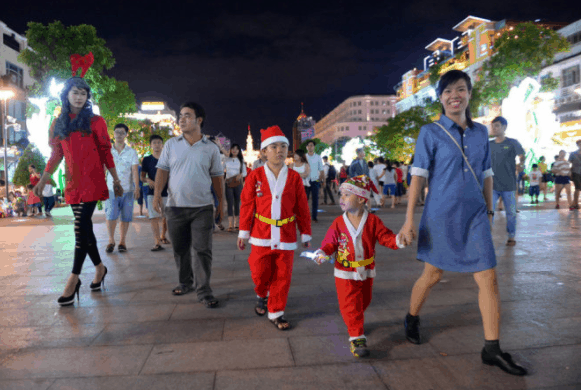 And what is more interesting than when enjoying the Christmas songs that resound with the sound of the guitar, the bustling drum. A warm, cheerful Christmas atmosphere filled this pedestrian street.
4. Bitexco Building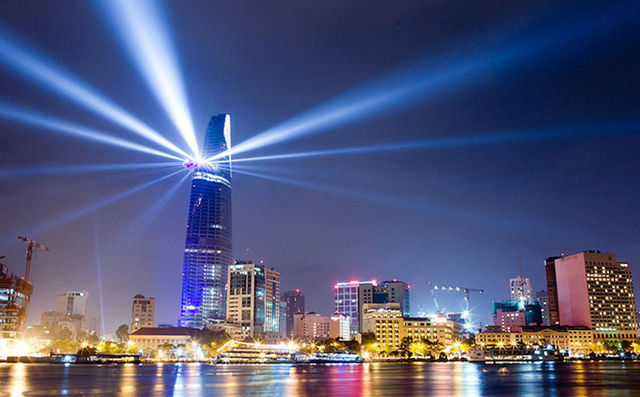 Address: No. 19-25 Nguyen Hue, Ben Thanh Ward, District 1, Ho Chi Minh City
The building has a very convenient location right next to the pedestrian street, so you can unleash the colorful shimmering scenery from the lights from the 49th floor through binoculars. An extremely interesting and new feeling is not it.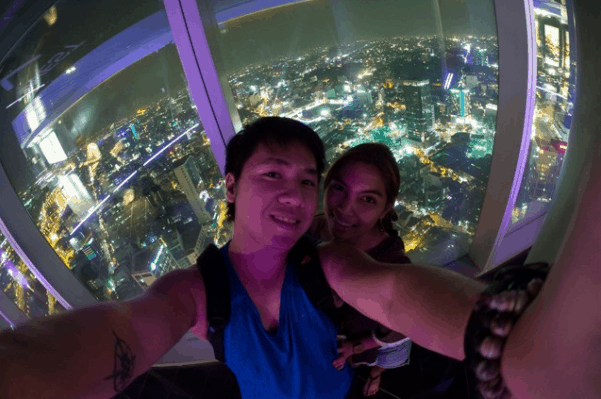 Currently, the fare for adults is 200,000 VND / person and children, the elderly will be 130,000 VND / person (this fare includes mineral water, binoculars,…).
5. Ice cafe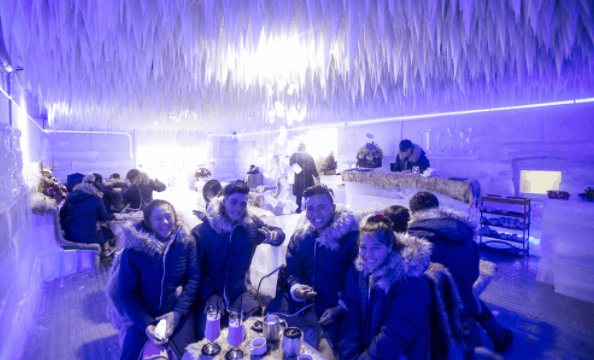 Address: Truong Chinh Street, Tay Thanh Ward, Tan Phu District, HCMC.
In the heart of the hot Saigon city, there is a very unique ice cafe. If you really want to have a Christmas night with a cold atmosphere, you cannot miss this cafe.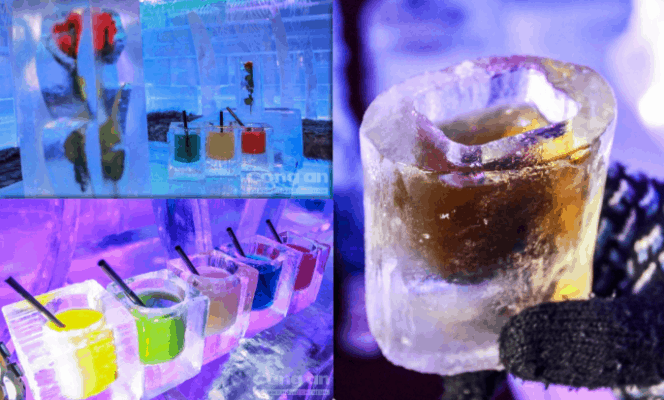 The coffee shop is built in a unique and interesting style, giving you a new feeling because the equipment, tables, chairs, cups and cups are all cast with ice. A noel place in Saigon full of fun for those who like the novelty, especially for couples.
6. Phu My Hung urban area
Address: District 7, Ho Chi Minh City
Phu My Hung urban area is known to everyone as one of the most beautiful and luxurious urban areas in Saigon. On Christmas holidays, the skyscrapers, villas, half-moon lakes, the Starlight bridge or the castles are all decorated with splendor and colorful shimmer.
Coming here, you will feel the Christmas atmosphere filling all streets of Phu My Hung urban area. With beautiful scenery will be the place for you to comfortably take pictures for free. What an interesting place to have fun is not it.
7. Figure skating
Address: Ngach 190/7, Thuong Dinh, Thanh Xuan, Hanoi
This figure skating area is located in the Vincom Mega Mail shopping center. On the upcoming Christmas holidays, this place will surely be the place to play Christmas in Saigon that many young people come to. Especially those who love the feeling of gliding lightly as if flying on a large ice rink.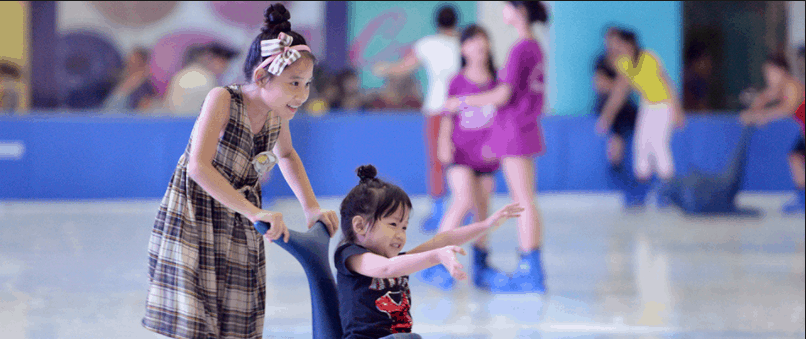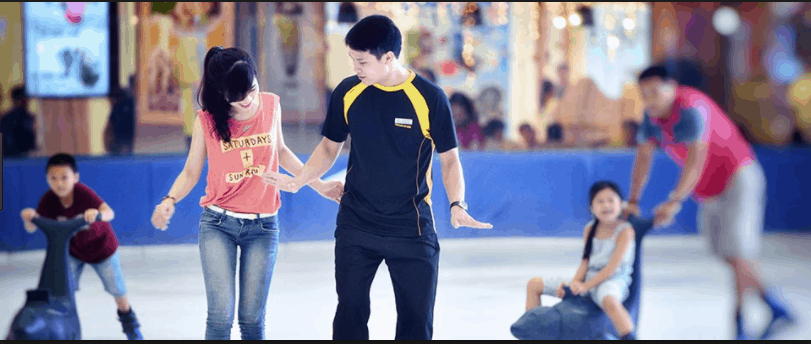 Currently, the ticket price to enter ice skating is 170,000 VND / person from Monday to Friday. On Saturday, Sunday, it will cost 220,000 VND / person for an unlimited time. Do not hesitate any longer without inviting your friends and lover to freely play, have fun, create ice skating train here on Christmas holiday.
8. Shopping malls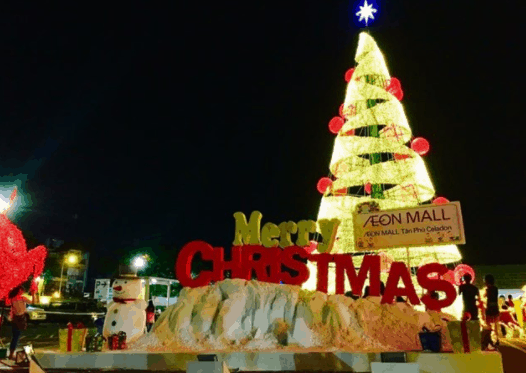 Shopping centers such as Vincom Center, Parkson, … were too familiar places with Saigon people often frequented every festival. And Christmas is no exception, inside the shopping malls are lavishly decorated with Christmas trees, gift boxes, and beautiful snowflakes.
Some famous shopping malls in Saigon: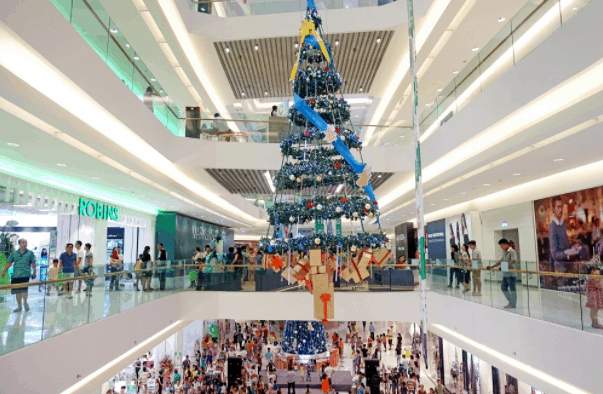 – Aeon Mall Tan Phu Celadon: 30 Bo Bao Tan Thang, Son Ky, Tan Phu, Ho Chi Minh
Crescent Mall: 101 Ton Dat Tien, Tan Phu Ward, District 7, City. HCM City
– Vincom Center Dong Khoi: 72 Le Thanh Ton, Ben Nghe, District 1, Ho Chi Minh
– SC VivoCity: 1058 Nguyen Van Linh, Tan Phong, Ho Chi Minh
– Parkson: 35-45 Le Thanh Ton, Ben Nghe, District 1, Ho Chi Minh
9. Chinese Quarter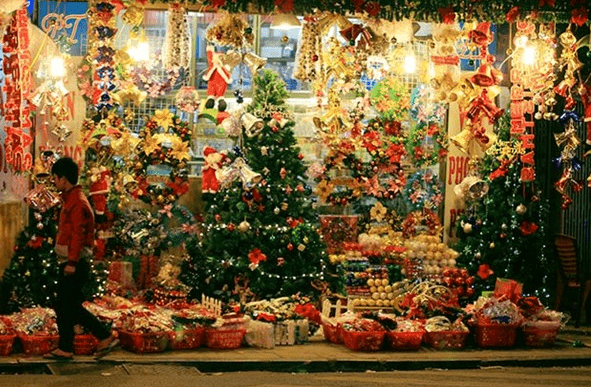 Address: District 5, Ho Chi Minh City
If you want to go out and you can choose to buy Christmas decorations or meaningful gifts for relatives and friends, please visit the Chinatown – Hai Thuong Lan Ong.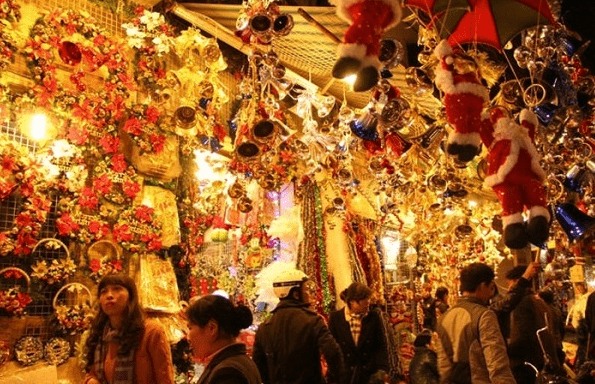 This is a neighborhood specializing in selling decorative items for Christmas such as fake pine trees, tiny Santa Claus, lucky balls or colorful led lights,…. What is more interesting than walking around this neighborhood with your lover and feeling the bustling Christmas atmosphere. Or simply choose to buy meaningful Christmas gifts for the people you love.
10. Go Vap village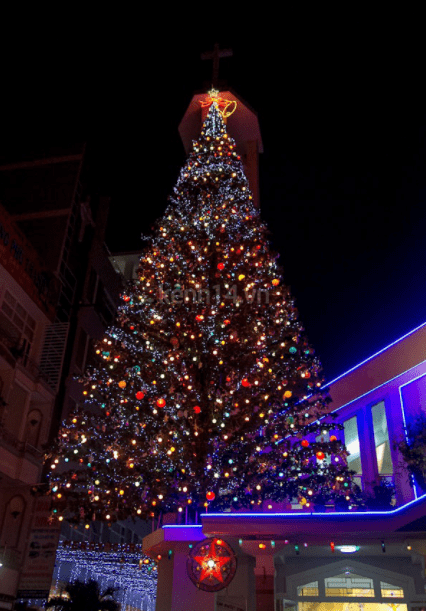 Address: Le Duc Tho, Phan Van Chieu and Thong Nhat streets
Almost streets, alleyways in Go Vap village such as Thong Nhat, Le Duc Tho, Pham Van Chieu, … no matter how big or small, they are still decorated with iridescent filament, of all different styles and colors.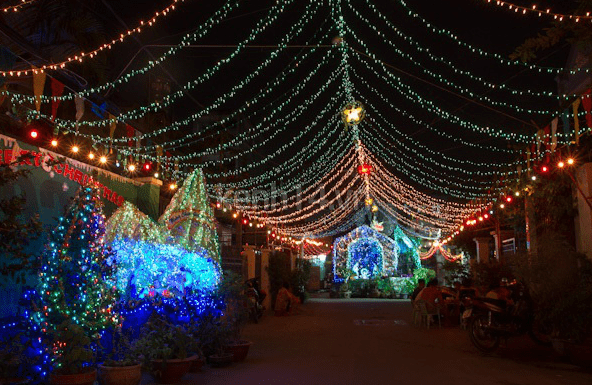 The churches in the religious neighborhood are invested and decorated more brilliantly by parishioners. And one of the beautiful churches that Saigon teenagers will not miss when wanting to have super beautiful "poses" such as Hanh Thong Tay Church, Queen Hoa Binh, Thach Da, Ha Dong, Thai Binh, Lam Son, Lang Son, Hop An, …
11. Diamond Plaza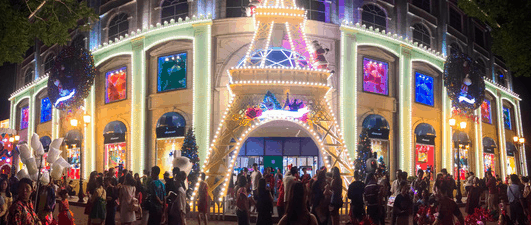 Address: 34 Le Duan, Ben Nghe, District 1
Since opening until now, Diamond Plaza has always been the first decorated building in Saigon at Christmas. Although the decoration is not too sophisticated but luxurious, expressing the warm and cheerful Christmas spirit to the people who come here.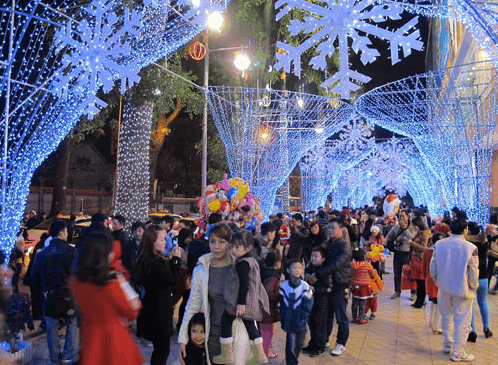 The highlight at Diamond Plaza is that the Eiffel Tower model is decorated with many bright colorful lights. Create a very beautiful background for those who love photography, virtual life.
12. The Redemptorist Church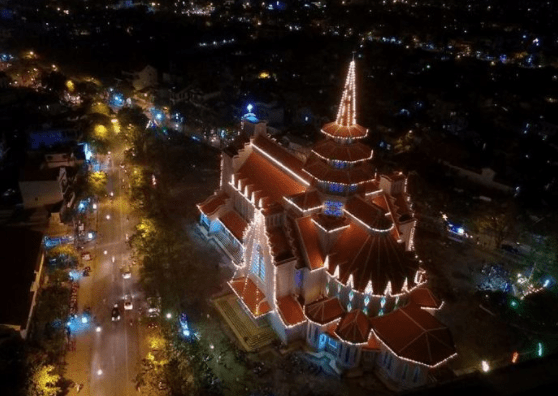 Address: 38 Ky Dong, Ward 9, District 3
The Redemptorist Church is one of the great churches in Saigon, so the Christmas occasion here is celebrated in a big way. On Christmas night, crowds of people from the surrounding areas go to Christmas and celebrate the birth of Christ at the Redemptorist Church.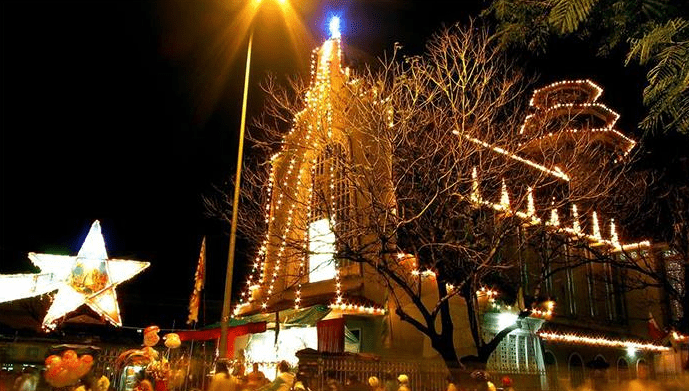 When you come here, you will feel the same solemnity and devotion as laypeople towards their sovereign.
13. Takashimaya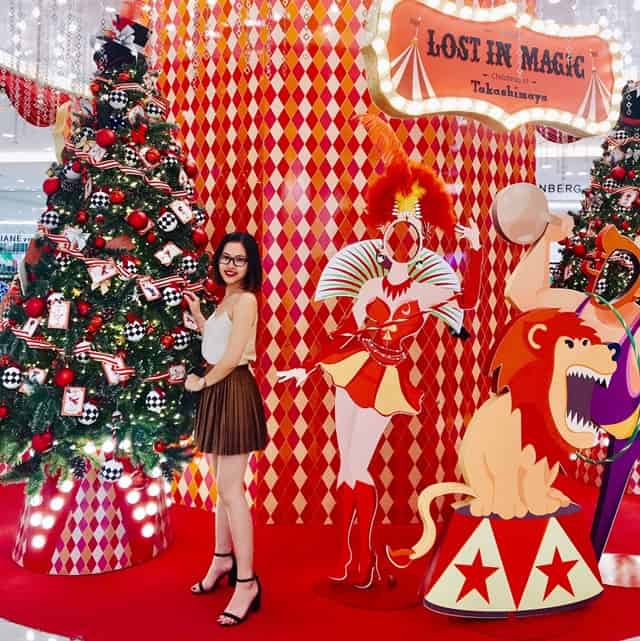 Address: 92-94 Nam Ky Khoi Nghia, Ben Nghe, District 1, Ho Chi Minh
Christmas is less than 2 weeks away, but the people of Ho Chi Minh City will welcome Christmas sooner at Takashimaya – the virtual paradise of young people. Every corner and path here, everywhere you can feel the atmosphere of Christmas 2017 rushing back.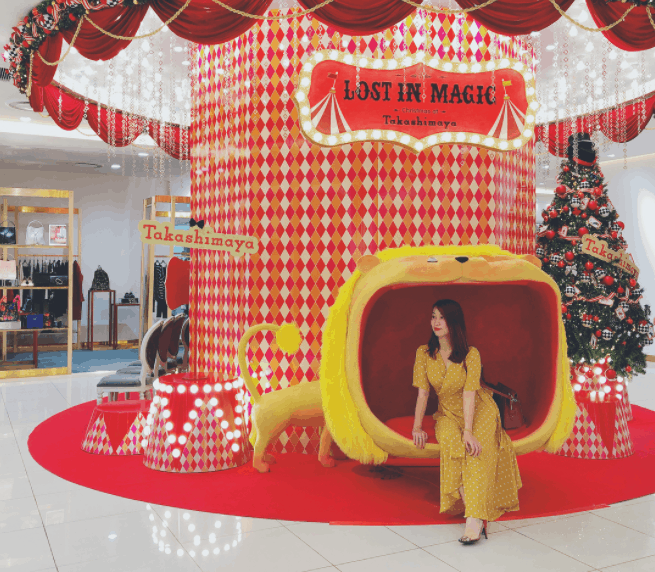 The Takashimaya Shopping Center is full of beautiful backgrounds that really know how to please your customers. The theme this year will be "Lost In Magic" promises to bring you many interesting and unexpected things when having fun and visiting here.
14. Tan Dinh Church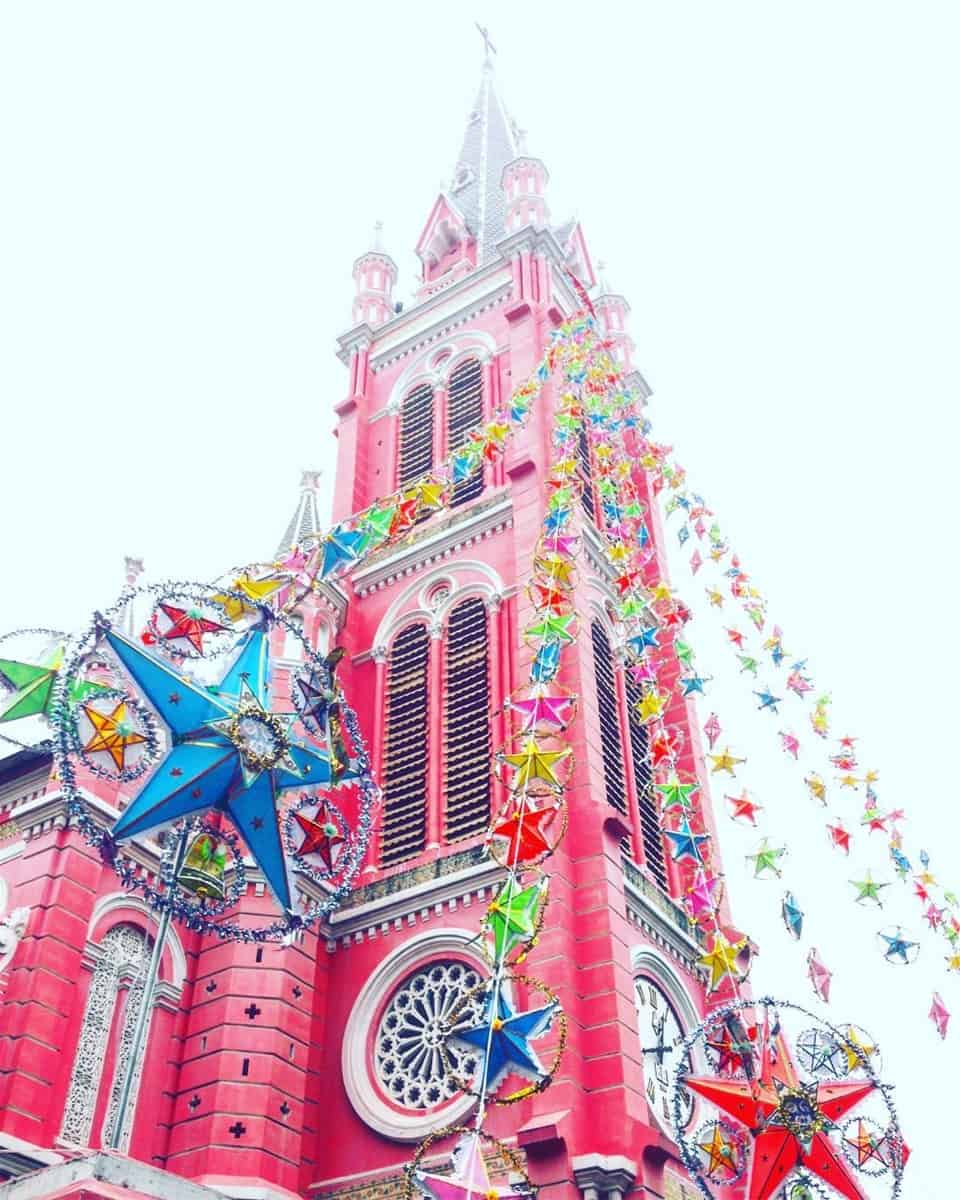 Address: 289 Hai Ba Trung, Ward 8, District 3
Tan Dinh Church is one of the most unique buildings in Saigon with eye-catching pink color. And this place becomes the most beautiful in the Christmas season, a perfect photo spot for young people who love to live virtual.
During this Christmas season, Tan Dinh Church is shimmeringly decorated by parishioners with colorful lights, stone caves and splendid pine trees. Especially when the church has a convenient location, it has attracted many visitors to take pictures to celebrate Christmas.
15. Hanh Thong Tay Church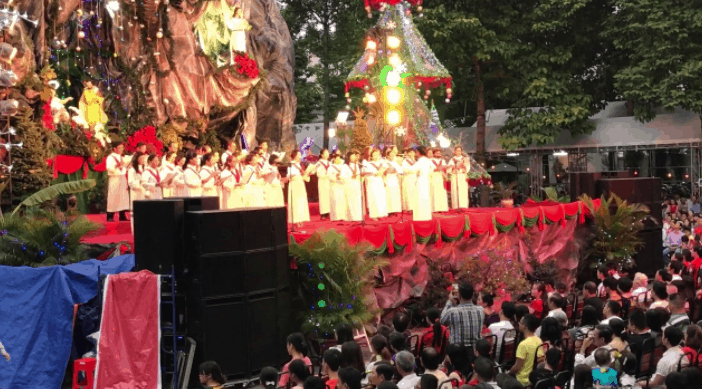 Address: 53 / 7B Quang Trung, Ward 11, Go Vap
Like the churches in Saigon when the Christmas season comes, Hanh Thong Tay Church also becomes a destination attracting not only parishioners but also many young Saigonese. And every time the night falls, the church is wearing a new shirt with shimmering lights that many people have to look up.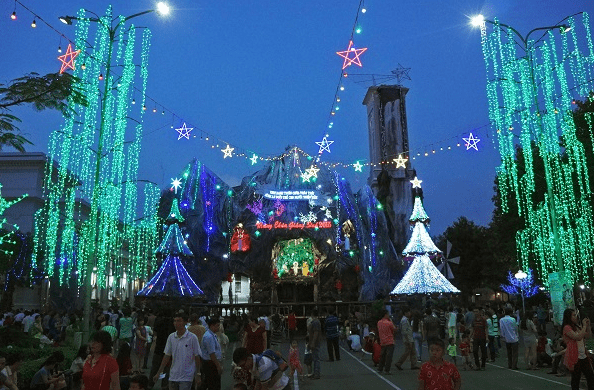 In my experience, it is very late to go out to Christmas and finish all kinds of food, and on special days like this, a fire in the hotel room makes you and your partner wandering all night in the street is inevitable. So take the initiative to book your hotel room in Saigon for your Christmas night here!