The majestic landscape of Chongqing (Cao Bang) viewed from above – Photo: Nguyen Huong
Not only Ban Gioc waterfall or Nguom Ngao cave, but visitors coming to Cao Bang non-national geopark can also explore the majestic perfected mountain peaks, mysterious caves, and ancient villas or flat stilt houses. rock…
The perforation is an extremely special form of limestone formations, creating a new natural landscape in the mountainous area of ​​Cao Bang. In addition, the impressive stone structures built by the French and the Tay also attract tourists.
New natural sceneries
During our trip to the upland district of Trung Khanh (Cao Bang) this time, we did not visit Ban Gioc waterfall or Nguom Ngao cave which is too familiar but looked for the holes in Lung Phiac village (Dam Thuy commune, Trung district). Khanh), located in the middle of a basin surrounded by limestone mountains.
99% of Lung Phiac villagers are Nung, very friendly and hospitable.
After just a few minutes of talking, we were volunteered to lead the way up the mountain by young people here. After more than 30 minutes of climbing, wriggling through the overgrown bushes, in front of us is a pierced mountain mass in the middle, with a green archway. From below, through the "giant porous arch", visitors can see a whole sky and mountains in the distance.
Sitting on the rock under the dome, visitors will admire the "demon faces" shaped from the protruding boulders, fringed on the dome ceiling more than 20m from the cave floor and the widest width up to 40m. Along with the perfected Ngung Troong mountain in Lung Phiac village, in Dam Thuy commune, there is another broken mountain block in Khuoi Ky village, near the famous Nguom Ngao cave.
Including Phja Piot or Mat Than Nui (Quoc Toan commune, Tra Linh district) and Na Man perfected mountain (Ngu Lao commune, Hoa An district), Cao Bang province currently has 5 unique landscapes. Not to mention another punctured mountain in Nguom Giang village (Đai Duong commune, Trung Khanh district) waiting to be discovered.
A newly discovered cave in Ban Muong (Van Trinh commune, Thach An district), named Na On cave by local people, also attracts many tourists to come. Na On cave entrance is like an extremely impressive dome with stalactites falling into a precipitate. The deeper you go into the cave, the more visitors get lost in the magnificent stalactite garden, with a very beautiful blurry scene …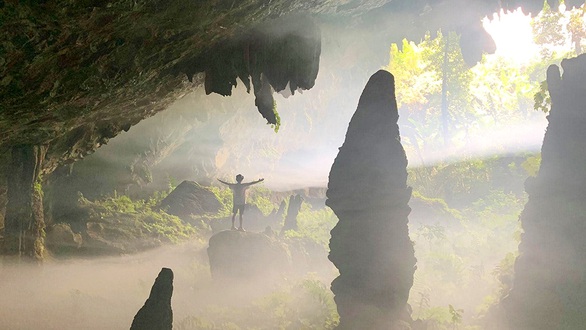 Legendary Ban Muong Cave – Photo: Kim Cuong
Fascinated in stone architecture
At the top of Phja Oac, nearly 2,000m above sea level in Thanh Cong commune (Nguyen Binh district), there are still traces of ancient villas built by the French from the early 20th century. Pristine Phja Oac special-use forest, monumental stone structures now forgotten, greenery covered with trees.
Down the valley, dozens of old stone-built houses were hidden behind the forest canopies, some had their roofs collapsed, the rest were completely destroyed, leaving only the foundations. Going deep into the forest, the majestic old villas continue to appear. Over a hundred years of rain and shine, but the magnificent architecture, the beauty of these ancient houses is still more or less preserved to this day.
These ancient villas were built in the early 20th century, in order to serve the high-ranking French officers who came here to run the ore mining in Tinh Tuc mine. Moreover, Phja Oac has a cool climate, convenient to travel to Tinh Tuc mine.
Summer here is not hot, the climate is pleasant and fresh. Cold winter, snowfall makes the scene similar to Sa Pa (Lao Cai), Mau Son (Lang Son) …
If the old French villas built in Phja Oac only have ruins, even in Khuoi Ky village (Dam Thuy commune), the Tay people have long lived in very unique stone stilt houses, including stilt-house villages. stone stone Khuoi Ky, an attractive destination for many tourists.
They are stone stilt houses designed with two floors, downstairs to keep cattle and poultry, and people on the upper floor.
With hundreds of stone stilt houses, a number of stone stilt houses with dozens of rooms have appeared in Khuoi Ky to serve tourists to experience sleeping nights in stone architectural space. Even other items such as corn mill, flour mill, chair … are also made of stone.
Tuoi Tre