Let's immediately refer to the most practical sharing in the Phu Yen travel guide "pocket" will help you to have more useful knowledge for your upcoming trip!
Phu Yen is as beautiful as a village girl, with the sincere, rustic features of a Vietnamese village hides gentle, pure and pure features. The beauty of Phu Yen is accompanied by the childhood singing lines "White ivory shadow, big banyan tree, old Cuoi, holding a dream" in the movie "I see yellow flowers on green grass" directed by Victor.
Vu clasped his hands to perform, it touched the hearts of so many spectators. Because of that, Phu Yen tourism has become an ideal destination in the hearts of many tourists!
The beautiful Phu Yen field is dreamy through the lens of director Victor Vu (Photo: collection)
Phu Yen is a province in the South Central region linking Binh Dinh and Khanh Hoa. It has a gentle and graceful beauty when embracing two passes: Cu Mong Pass bordering Binh Dinh and Ca Pass bordering Khanh Hoa. The highlight that marks the hearts of tourists when arriving here is the image of the rice field straight away from the stork, the lush green beach, the fresh lagoons or the exciting undulating rock cliffs.
The ideal time to travel to Phu Yen
According to the experience of those who used to travel to Phu Yen , the most convenient and most appropriate time to have an ideal trip here is during the sunny season from January to August. Phu Yen schedule, so before going you need to book your hotel room in advance to save time when you arrive.
Avoid the time when Phu Yen is in the rainy season from September to December to have the most complete experience. Because in the dry season, the scenery of Phu Yen seems to be more vibrant, more vibrant and more vivid. The golden rice fields shine in the sun, the beaches, the cliffs also sparkle when the light shines.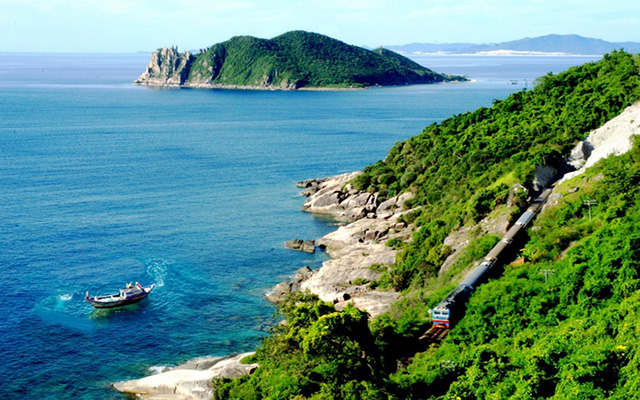 Phu Yen is brilliantly beautiful in the sunny season from January to August (Photo: collection)
In addition, if you want to attend the traditional cultural festivals here, January – February is an unreasonable time with outstanding cultural activities such as: Ho Loan lagoon boat racing (January 7), racing Da Rang River boat (January 7), Horse Racing Association (January 8), …
Transportation to Phu Yen
Planes
You can choose flights of Vietnam Airlines, Vietjet Air, Jetstar airlines as the means of transport to Phu Yen. There are two routes to Phu Yen: Hanoi – Phu Yen and Saigon – Phu Yen with fares ranging from 1,500,000 to 1,900,000 VND. If you can hunt for a cheap ticket to Phu Yen, the ticket price is just over 600,000 VND / way. 
Phu Yen has Tuy Hoa airport 10km from the city center, so you have to rent a motorbike taxi or taxi to be able to move into the city center.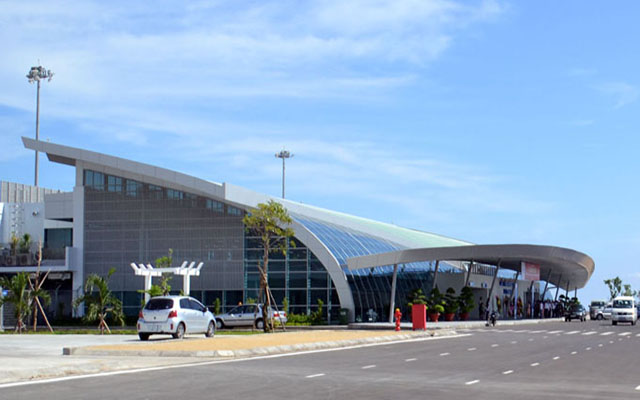 Tuy Hoa Airport is 10km from the city center (Photo: collect)
Train
If in Hanoi you can choose to travel to Phu Yen by train on the Hanoi – Phu Yen route. To be able to optimize the time and convenience of your trip, you should choose the SE3 train which runs from 10:00 the night before and arrives at Phu Yen station at 8:30 pm the next night.
If you are from TP. HCM should choose the night train SE2, SE4 to get a pass to Phu Yen the next morning.
Fare:
Sai Gon – Tuy Hoa: 500,000 – 1,040,000 depending on type of seat.
Hanoi – Tuy Hoa: 500,000 – 1,300,000 depending on seat
Can travel by train from Hanoi and Saigon to Phu Yen (Photo: collect)
Coach
For tourists coming from Saigon, you can choose a bus as your means of transportation. You buy tickets at the East Bus Station, Saigon, Thuan Thao cars with both seat and bed tickets with prices ranging from 180,000 to 300,000 VND / ticket.
Some bus stations in Phu Yen
Thanh Ban garage, located on Phu Lam station, city. Tuy Hoa, Phu Yen province
Cuc Tu garage, 65 Le Loi, Tuy Hoa city, Phu Yen
Binh Phuong Garage, 74 Nguyen Tat Thanh, Tuy Hoa City, Phu Yen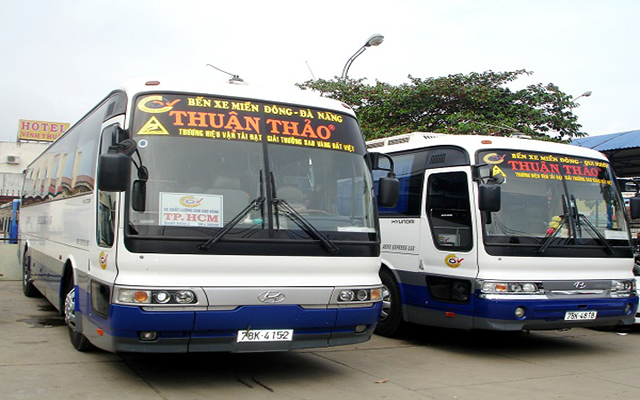 Thuan Thao bus has the Saigon – Phu Yen route (Photo: collection)
Private vehicles
If the distance from your starting point to Phu Yen is within 300km, a trekking will be an interesting option. The basic precautions when traveling by motorcycle are always obey the traffic laws, pay close attention, bring all the necessary documents and protection for a long trip by motorbike. In addition, you should learn about the route as well as its features in order to have the necessary preparations. The view of Phu Yen is so beautiful, drive safely to have a truly memorable ride!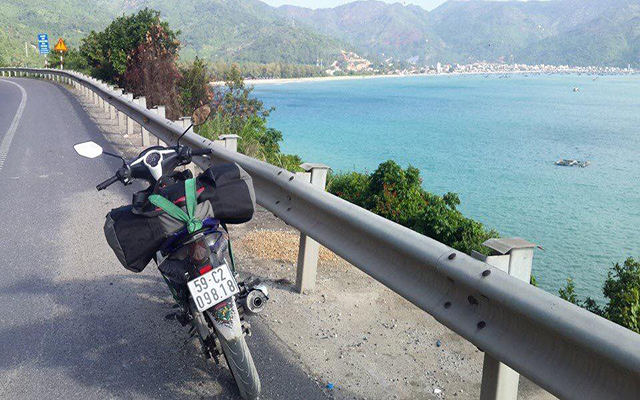 Please install GPS or bring a map for convenient travel (Photo: collect)
Means of transportation when traveling in Phu Yen
Motorcycle
Motorbike is the most convenient and most enjoyable means of transportation when you have a trip to experience Phu Yen. Perhaps because of that, Phu Yen has many places to rent motorbikes with many different brands of cars and vehicles. Motorbike rental price falls between 80,000 – 120,000 VND and when renting, you need to deposit ID card or ID documents to ensure.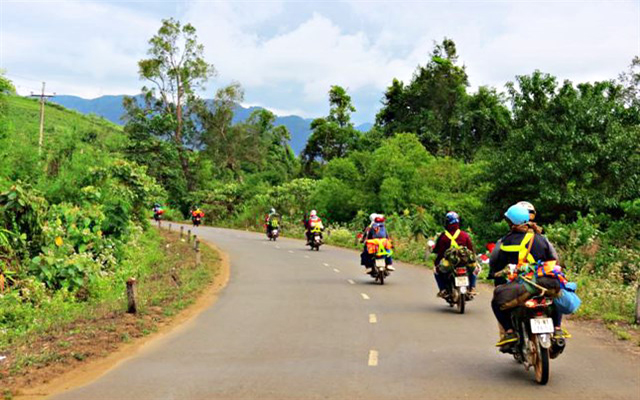 Motorbikes are the vehicle that many people choose when traveling to Phu Yen (Photo: collect)
Taxi, 7-seater car, 16-seat car
If traveling with family or office, car is still the most convenient means of transportation.
Phone numbers of some taxi companies in Phu Yen:
Taxi Mai Linh Phu Yen: 057.3.89.89.89
Taxi Thuan Thao Phu Yen: 057.3.810.810
Sun Taxi Phu Yen: 057.3.79.79.79
Sao Taxi Phu Yen: 057.3.819.819
Taxi Hoang Anh Phu Yen: 057.3.66.66.66
Tourist destinations in Phu Yen "not to be missed"
Green beaches
Bai Xep
Bai Xep is an ideal dating place for couples in romantic sunset afternoons. And since the release of the movie "I see yellow flowers on green grass", the scenery of Ganh Ong and Bai Xep has become the focus of attention and is the most chosen destination in the last days of the year.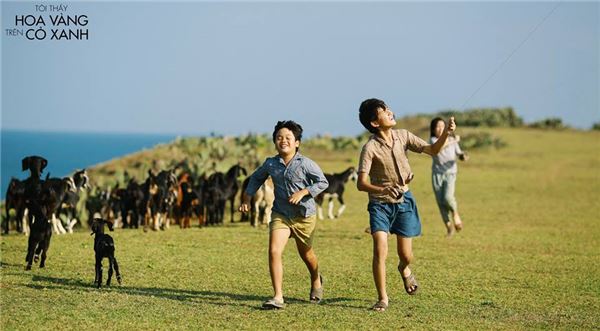 Kite flying scene at Ganh Ong, Bai Xep (Photo: collection)
Bai Xep, although only about 500m long, has a charming beauty with two rocky beaches surrounded at both ends of the beach. The rocky beach is undulating and bumpy, the beach on the left runs out to the sea to create a whole new space, both helping to block the wind. Standing at the cliffs, overlooking the blue sea, you can see how charming the beauty of the country is.
Picturesque beach with undulating and amazing rock formations (Photo: Collectibles)
Bai Xep is 14km north of Tuy Hoa city center. From Tuy Hoa city, go straight along Le Duan to Tuy An district. This is a wide, cool road, very popular with tourists because it is surrounded by beautiful ocean lines on both sides of the road. Or you can take the National Highway 1A to An Chan commune, Tuy An turn to Sao Viet tourist area to come to Bai Xep.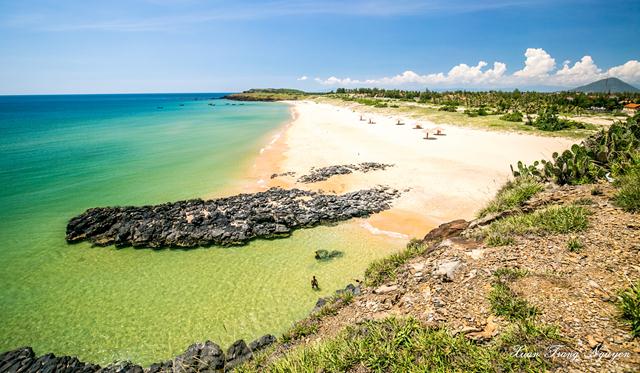 There are two ways to conquer Bai Xep (Photo: collection)
Bai Mon
If you have a chance to come to Phu Yen, you should go to see sunrise or sunset at Bai Mon. Located 35km southeast of Tuy Hoa, Bai Mon is majestic and pristine beauty, located at the foot of Hai Dang Mui Dien, Phuoc Tam village, Hoa Tam commune, Tuy Hoa. Visitors arriving here must be admired by the comedy between the sea and the mountain, and far away is the lighthouse that shines every night for ships and boats.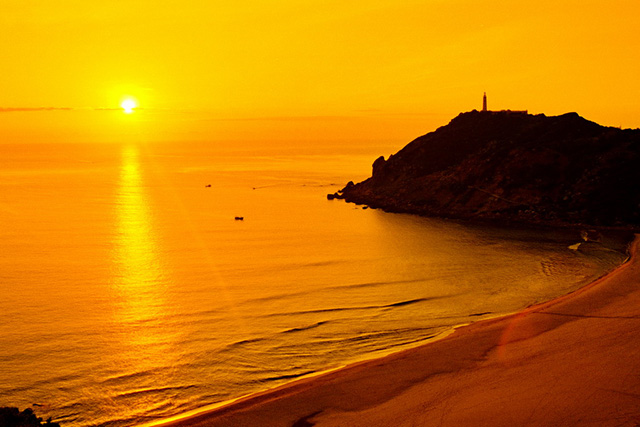 Do not miss the opportunity to enjoy the sunset at Bai Mon (Photo: collect)
Visitors can come to Bai Mon by two roads: From Tuy Hoa city along National Highway 1A about 23km to the Southeast or from Nha Trang along National Highway 1A about 100km to the Northeast, visitors will come to their back. About Ca Pass, continue along the road Phuoc Tan – Bai Nga and through the coconut forest about 12km, you will reach Bai Mon.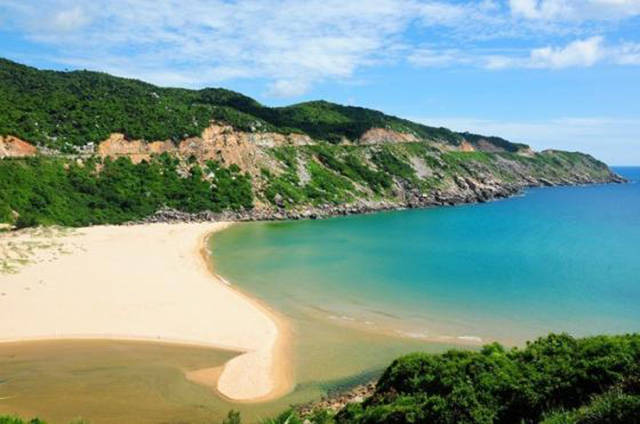 There are many ways to get to Bai Mon (Photo: collect)
Bai Goc
Bai Goc is located in the north of Bai Mon, Dien cape, Tien beach, from National Highway 1A about 10km to the East, along the beach from Vung Ro village, passing Bai Mon, Bai Tien about 15km is possible. to Bai Goc.

Panoramic view of Bai Goc (Photo: collection)
Coming to Bai Goc is coming to a wild, dreamlike beauty like a raw gem that has not been honed. Finding Bai Goc is finding a peaceful space, not hustle, finding about the clear blue waves, the endless stretches of pure white sand, whispering waves, cool sea breezes. like washing away all worries and fatigue of the chaotic life. An interesting point of Bai Goc is coming here in the early morning, you can witness the moment when the boats of the fishermen return from the sea with fresh batches of fresh shrimp, sparkling in the early sun.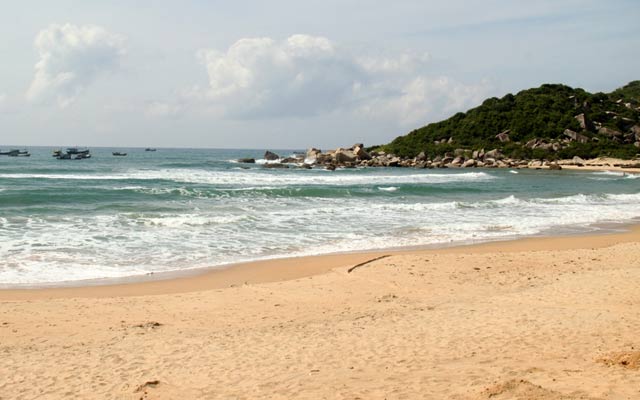 Bai Goc is beautiful with a wild beauty (Photo: collection)
Bai Tuy Hoa
Tuy Hoa Beach is located right next to Tuy Hoa city, long and wide and carries a pristine beauty with white waves. In the morning, the people of the city, mostly middle-aged people, flock to the sea. But Tuy Hoa beach is most concentrated in the afternoon, when people end a hard working day, want to find the vast sky of the sea to confide in, to remove the burdens and pressure in the public work, in life.
For an interesting experience at this beach, you can choose a hotel in Tuy Hoa, so that your fun activities and sightseeing are more convenient such as: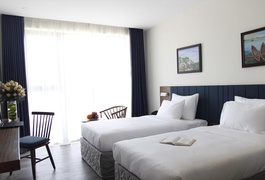 Sala Tuy Hoa Beach Hotel
51 Independence, Ward 7, Tuy Hoa, Phu Yen, VietnamPrice from 840,000 VND / night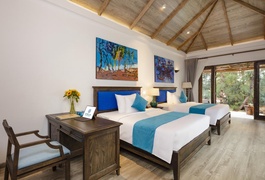 Stelia Beach Resort
Lot C1 Doc Lap Street, Ward 9, Tuy Hoa, Phu YenPrice from 5,143,000 VND / night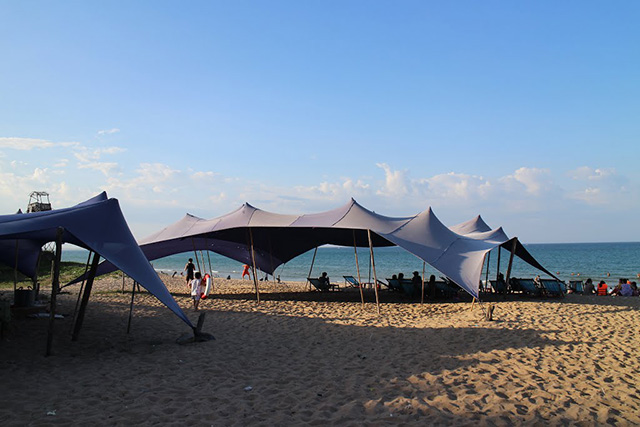 Tuy Hoa Beach (Photo: collection)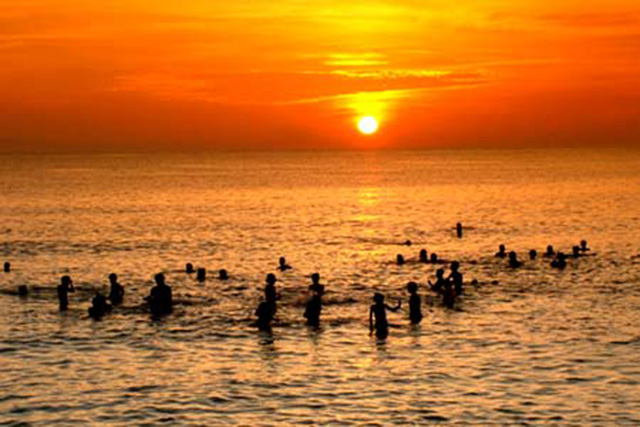 People in the city often gather to the sea in the afternoons to relieve their burden of life (Photo: collector)
Bai Om – Bai Rang
Bai Om and Bai Rang are unexplored paradise, a space where there are not many footsteps of tourists. Perhaps that is why when you come to Bai Om and Rang beach, you will not be disturbed by tourist services around the beach, but only focus on the wild and pure beauty of nature here.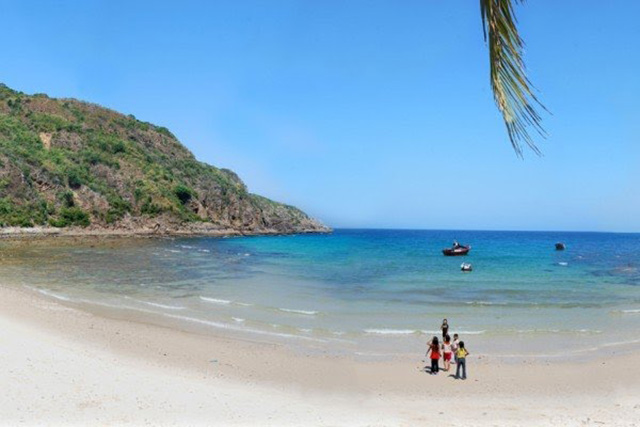 The beach does not have many tourist footprints (Photo: collection)
To reach this paradise of heaven and earth, from Tuy Hoa city, move about 70km to Xuan Dai Bay, turn another 20km to satisfy your eyes with the large space of Bai Om, Bai Rang.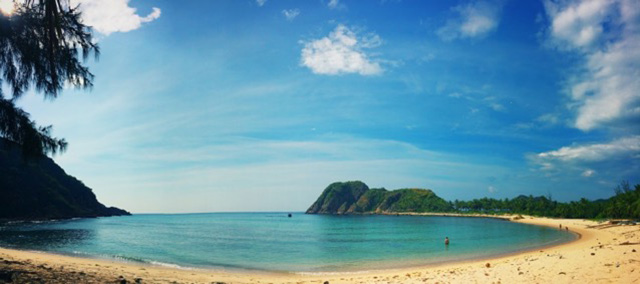 Bai Om is wild and beautiful (Photo: collectibles)
An extremely interesting point in these two beaches is that even though heaven arranges for a position close to each other, just a few coconut trees, these two beaches are "one person per person". While Om beach is noisy with big waves, the shore is white all day long, Rang beach is crouched, gentle and mellow with small waves.
Mentioning the Om beach also makes you imagine its structure: The sea has an arc shape, like the way the hands of heaven and earth embrace the vast sea. Bai Om is especially pleased with those who are interested in adventure travel, like thrills.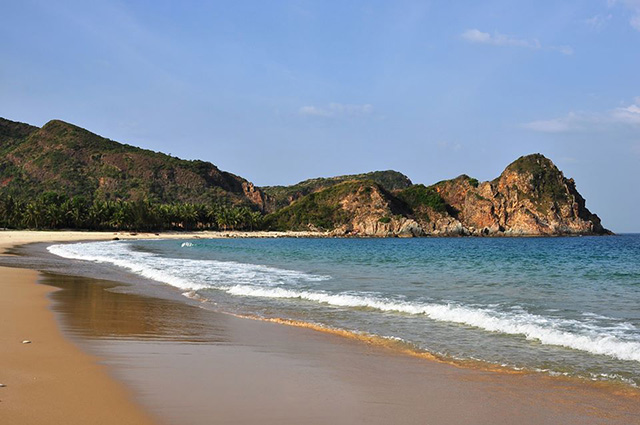 If Bai Om conquers adventurous tourists by the big waves flapping the white shore (Photo: collection)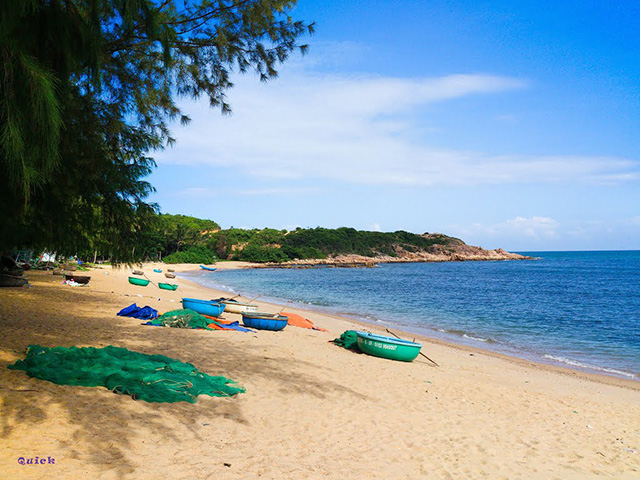 Rang beach is gentle with small waves (Photo: collect)
Some other interesting beaches you can visit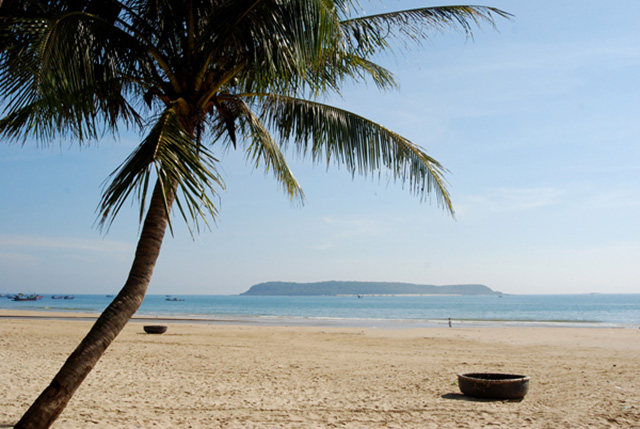 Long Thuy Beach (Photo: collection)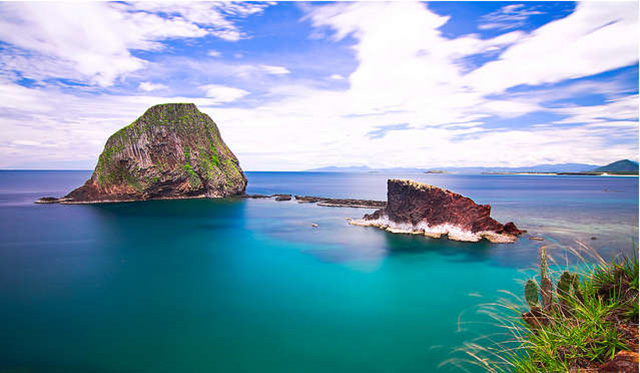 Phu Thuong Beach (Photo: collectibles)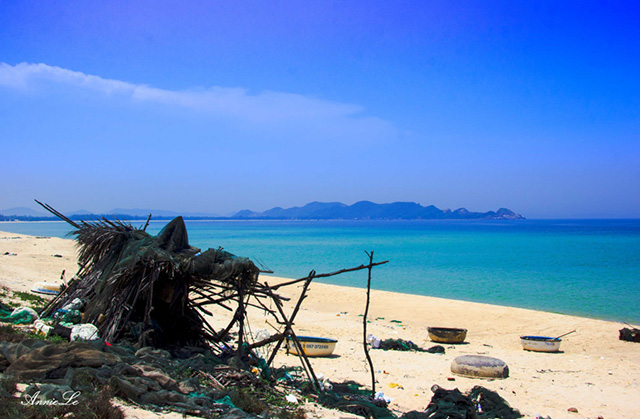 Bai Tu Nham (Photo: collection)
Exciting islands
Isle roof
The roof islet 27km north of Tuy Hoa city, known as the Robinson island of Phu Yen. The ideal time to go to the rooftop isle is from March to August, when the sea is quiet, noisy or dangerous. To get to the roof island, you will take 20 minutes to sit on a local boat, the train ticket price falls to about 500,000 VND for a round trip to visit Roof Island.
Cu Lao Mai Nha is located in An Hai commune, Tuy An district, Phu Yen province.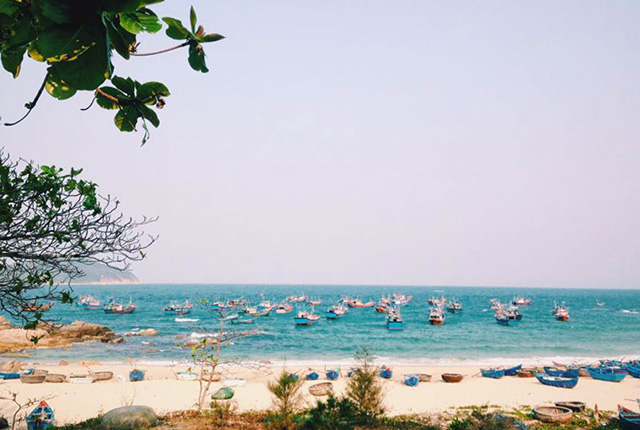 You have to take a local train to get to Roof Isles (Photo: collector)
Coming to rooftop Isles, visitors will enjoy the most private and wonderful moments with the majestic natural scenery open before their eyes. Especially in rooftop isle, there are no tourism services such as hotels, motels, restaurants, … so you are completely free to plan your journey to conquer roof island. A small pink fire on the beach by yourself collecting firewood, lighting a fire, the kitchen will bring new and interesting experiences.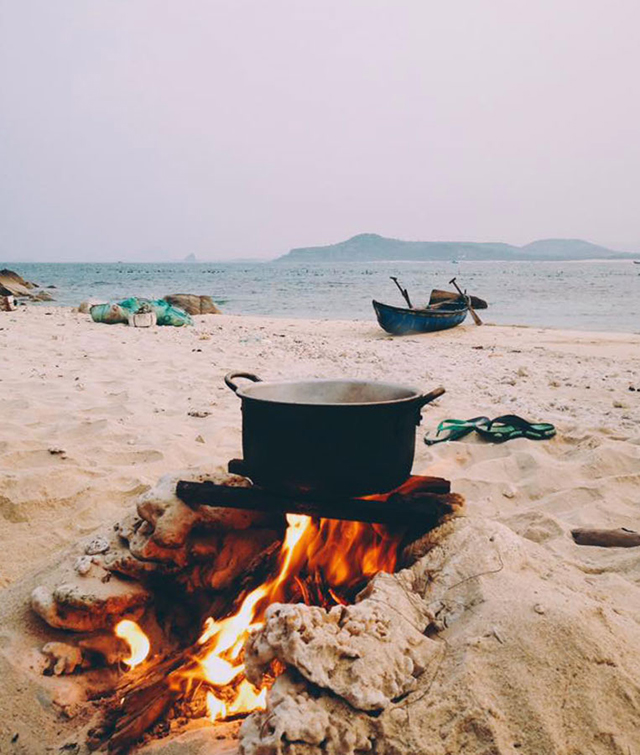 You have to set the fire on your own, cook like a Robinson on a deserted island (Photo: collector)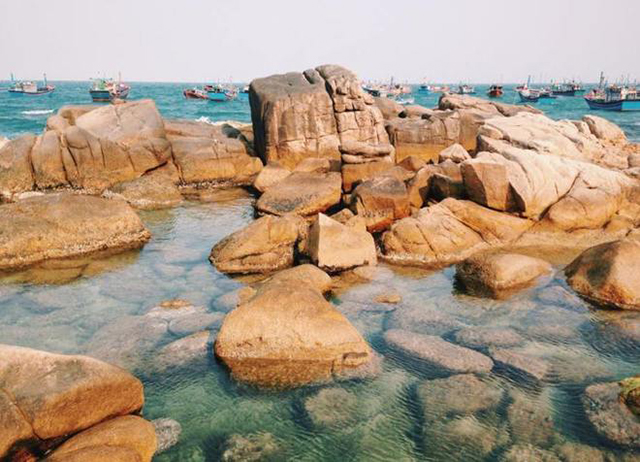 Fishing on undulating cliffs is also an interesting challenge (Photo: collect)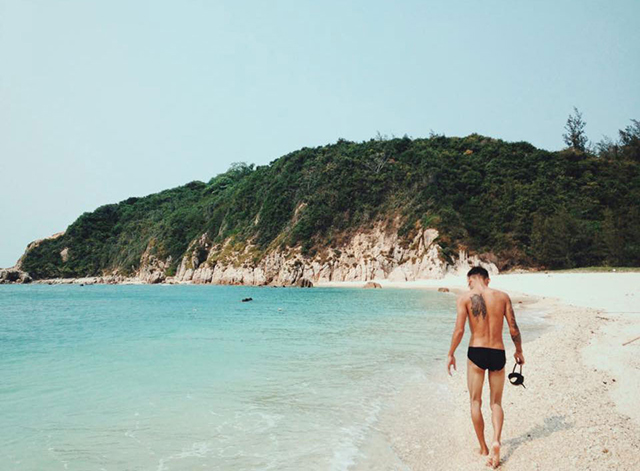 The unspoiled beauty helps you have an ideal check-in photo (Photo: collection)
Hon Nua
Hon Nua is not a very famous place, known to many people, but if you have arrived here, no one will not help but enjoy the interesting terrain of this island. Known as "The Island was almost forgotten in the middle of the sea", Hon Nua has the northern half of Phu Yen, the southern half belongs to Khanh Hoa, a beautiful and poetic boundary between the two provinces.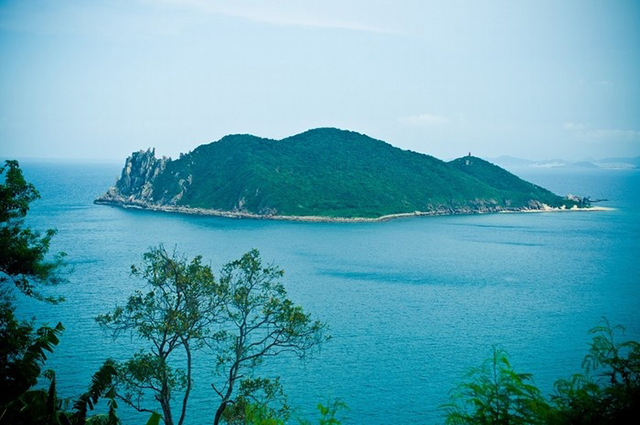 Hon Nua is a special boundary between Phu Yen and Khanh Hoa (Photo: collection)
Coming to Hon Nua, visitors will be conquered by the wild beauty of nature with intertwined but interesting cliffs. If you have the opportunity to visit this place, do not forget to set foot in the lighthouse, and follow the light soldiers to have a tour of the blue scene here. You can also organize a small picnic here, also go catch nipples and snails, the "specialties" reside on the cliffs along the coast.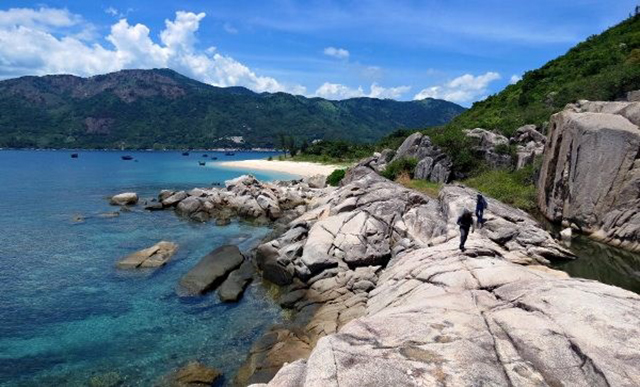 Hon Nua (Photo: collection)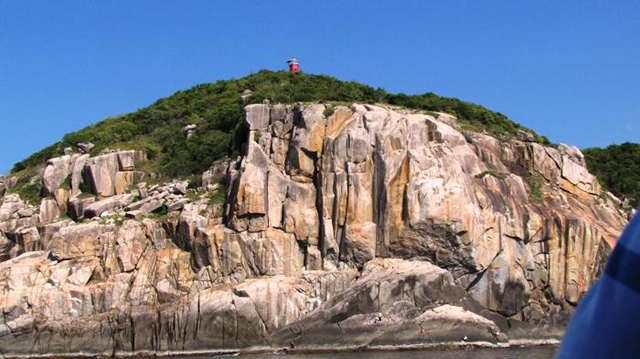 Hon Nua with steep cliffs (Photo: collection)
Hon Chua
From the mainland, running 7km, you will arrive at the pagoda. Hon Chua is located in the Dua Island, Than Islet, located in the sea of ​​Long Thuy. To get to Chua island, you have to reach Long Thuy beach, run a few more trees to An Chan fishing village and hire a villager's boat to run to the island.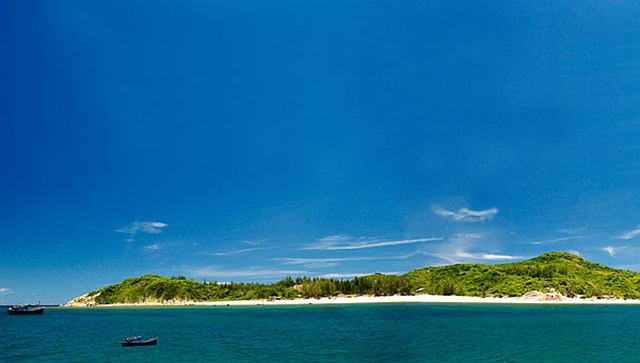 Hon Chua (Photo: collection)
Hon Chua possesses a wild, isolated beauty. The trees on the island are mostly overgrown, with thorny grass giving a sense of mystery. The beach at Chua island stretches in blue on the white sand. Tourists coming here will be delighted to rest in the air when it is fresh, cool, and extremely refreshing. Especially for young people who are passionate about discovering the beauty of the sea, the island of Chua is the best choice.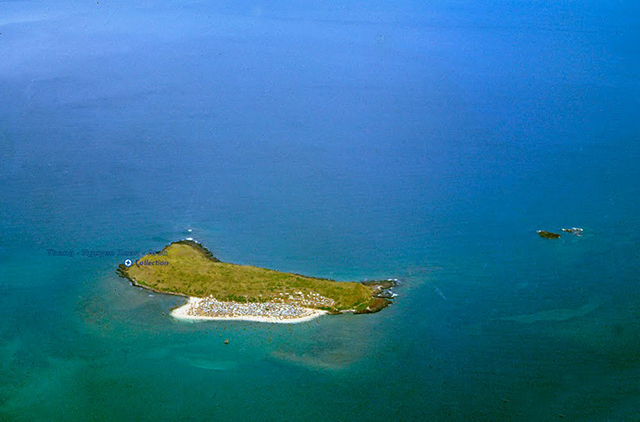 Hon Chua has a wild, isolated beauty (Photo: collection)
On the pagoda there is a rocky ground that according to many rumors that this is the foundation of an old temple built here.
Traveling to Phu Yen with pagoda, you will experience extremely attractive activities such as catching fish, watching coral or participating in traditional festivals such as the fishing festival of the people here. The diverse and colorful coral reefs, the fish and shrimp beaches around the coast will definitely give visitors a trip with lots of experiences.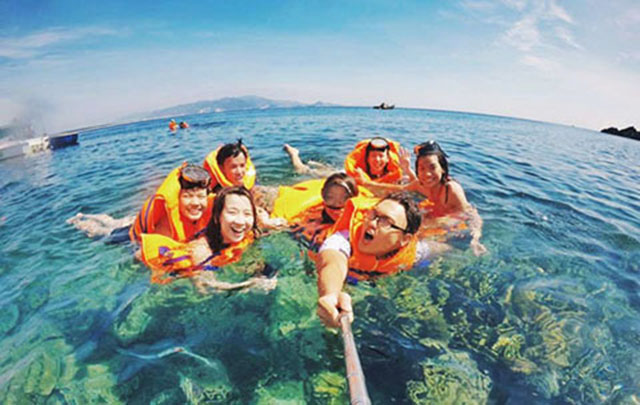 Summer is more exciting with experience activities in Hon Chua (Photo: collection)
Hon Yen
Hon Yen is located in An Hoa commune, Tuy An district, Phu Yen province
Hon Yen brings a poetic, dreamlike beauty in the heart of the land of "yellow flowers on green grass". Tuy Hoa cities 20km to the Northeast, looking out from Nhon Hoi, you will see two islands lying next to each other: Big Hon with a giant cone is Yen island and the smaller one is Cartilage island. It is said that in the past, these two islands were a large mountain, but due to the erosion of the waves, they turned into two lonely islands in the sea.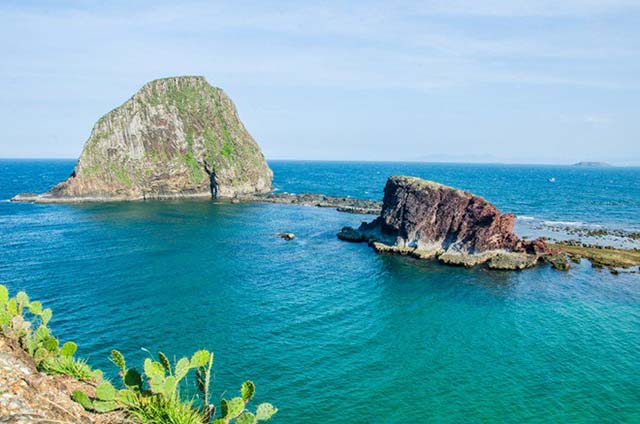 Two islands lying in the middle of the sea surface create an interesting structure (Photo: collection)
Hon Yen has a very special position when surrounded by a series of interesting landscapes and places. A rocky mountain range stretching out to the sea called Ganh Yen, Ganh Ho Chao is located at the foot of Ganh Yen with mysterious dark black rocks. To the right of Yen island is Mui Yen, located in Ong Nam Hai sediment, which is considered a place of worship for villagers. If you pan your eyes a little further, you will see beautiful, dreamy Xép beach, with pictures of the movies in "I see yellow flowers on green grass"
Amazing bays, dams and cliffs that you must definitely visit
Dong Cam Dam
Dong Cam dam is the great pride of the people of Phu Yen, this is the largest irrigation project with the most aesthetic value in Phu Yen. The dam is located in the western part of Phu Hoa district, 688m long, and provides water for the rice granaries in Tuy Hoa.
Dong Cam Dam is the largest irrigation project in Phu Yen (Photo: collection)
Dong Cam dam is built on a solid granite foundation, built by the hands of thousands of workers in Phu Yen. Coming to Dong Cam dam, we not only feel the beauty of nature and heaven, but also feel the beauty of labor, of solidarity in the process of building a warm and happy life. , more fully. The beauty of nature combined with human intelligence and hand has created a wonderful project.
Dong Cam Dam (Photo: collection)
Vung Ro Bay
Vung Ro Bay with a dreamlike beauty that is equally majestic is an ideal choice for your Phu Yen tourist adventure.
Vung Ro Bay is not too big, but it has a gentle beauty with a flat beach with waves. Vung Ro Bay is surrounded by 3 mountain ranges, namely Deo Ca, Da Bia and Hon Ba. During the years of the resistance war, Vung Ro was considered as a red address in the revolutionary movements, but when it gained independence, the bay changed itself and put on the green coat of peace, freedom, freshness and gentleness. , peaceful.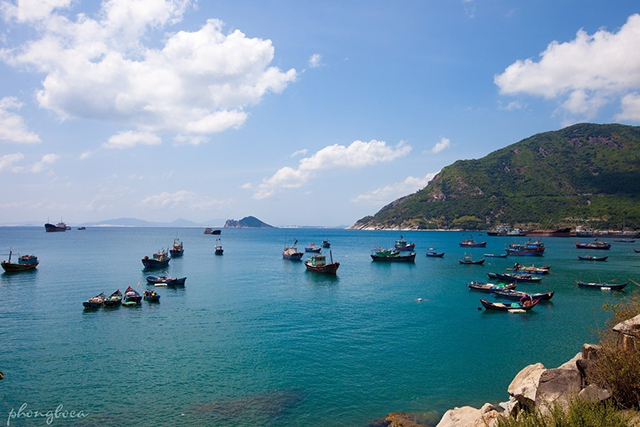 Vung Ro Bay is beautiful and dreamy (Photo: collection)
The ideal time to come to Vung Ro is summer, the season of seafood. Visitors can go on their own to let go of the fishing line, or can stand from Deo Ca overlooking the bay, admire the spectacle of fish boats parked close together at the wharf. Coming to Vung Ro, in addition to long stretching beaches and white sandy beaches, visitors also have the opportunity to visit the countless shipyard, the surviving proofs of the nation's heroic war years. .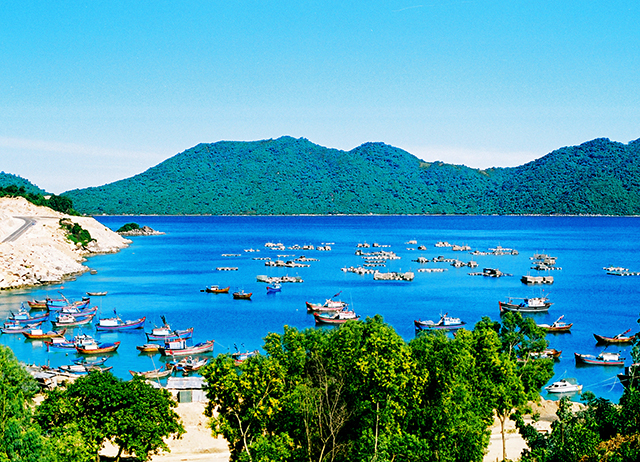 The shipyard in Vung Ro Bay (Photo: collect)
Xuan Dai Bay
Located on National Highway 1A stretching about 50km along the East coast, in the North of Phu Yen province, Xuan Dai Bay appears like a beautiful picture of a beautiful country to vibrate the hearts of people. Xuan Dai Bay is fortunate to have a variety of interesting terrains: cliffs, bays, shores interwoven to create an extremely fancy space complex.

Panoramic view of Xuan Dai Bay with interesting structure (Photo: Collectibles)
Like Vung Ro Bay, Xuan Dai Bay is also a place bearing the national history, marking the naval battle between the Tay Son and the Nguyen. This is also the first diplomatic relationship between Vietnam and the United States, the capital of Phu Yen province .
Xuan Dai Bay is covered with a blue color, the blue of the trees, the blue of the sea and the sky. Surrounding the bay are white sand beaches stretching beside the villages that rise slightly behind the coconut trees of the sea.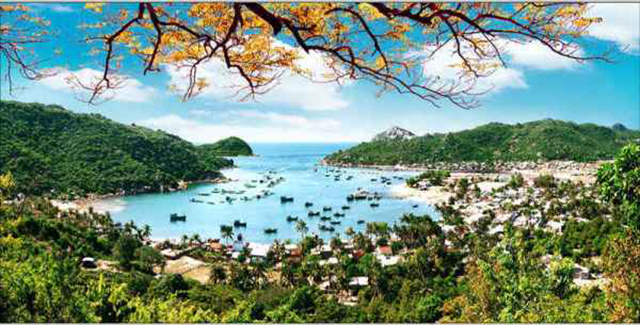 Vu Xuan Dai is an ideal place for your family's vacation (Photo: collection)
Rock Disc
Along with the pearl islands in Ireland or the disc rocks in Spain and Scotland, Phu Yen Ganh Da Dia Phu Yen is considered one of the amazing natural phenomena in the world with prismatic rocks lined up immediately. shorten together, but with the editing, cutting of humans.
To reach Ganh Da Dia, visitors depart from the center of Tuy Hoa city, follow Highway 1A to Chi Thanh town, take the turn to continue 12km to Ganh Da Dia.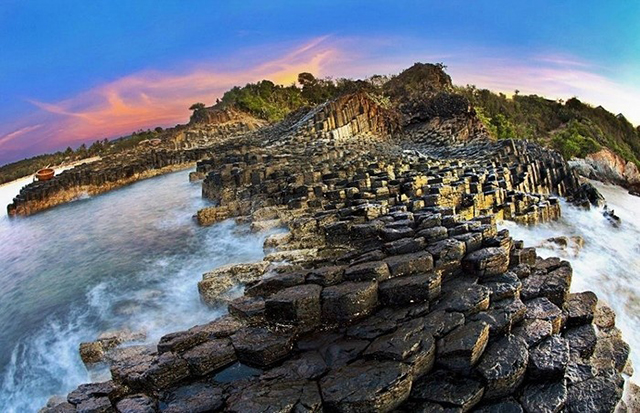 Ganh Da Dia with extremely interesting terrain (Photo: Collectibles)
Looking away from Ganh Da Dia like a giant beehive reaching out to the sea, the black rocks are stacked neatly on each other, standing out in the deep blue sky. Ganh Da Dia is created by the eruption of hot lava stream that then shrinks into a wonderful natural phenomenon. The scenery here is beautiful all year round, but to ensure the most complete experience, visitors should avoid coming here during the rainy season that lasts from August to November.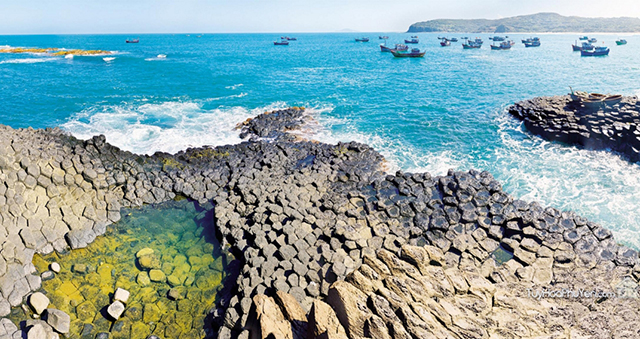 Discus stone with amazing beauty all year round (Photo: collection)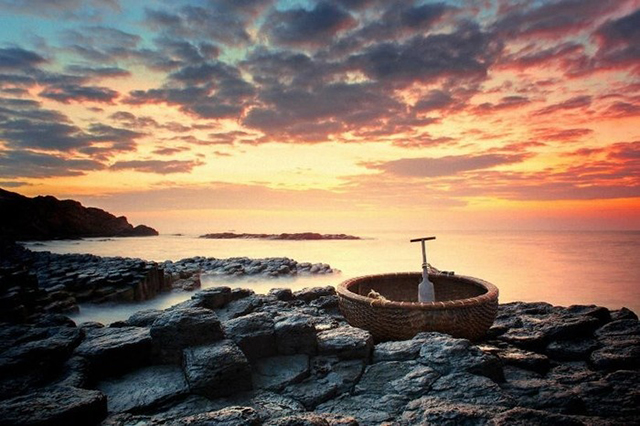 Discus stone with basket boat – a familiar and majestic sight (Photo: collectibles)
Some other interesting places need to be explored
Van Hoa Plateau
Van Hoa Plateau is like Da Lat in the heart of Phu Yen with an altitude of 400m, the plateau is a natural picture full of sunshine, wind and clouds.
In the morning, the plateau is covered with a mist. Visitors here will feel extremely comfortable because the temperature in Van Hoa is always lower than below Tuy Hoa.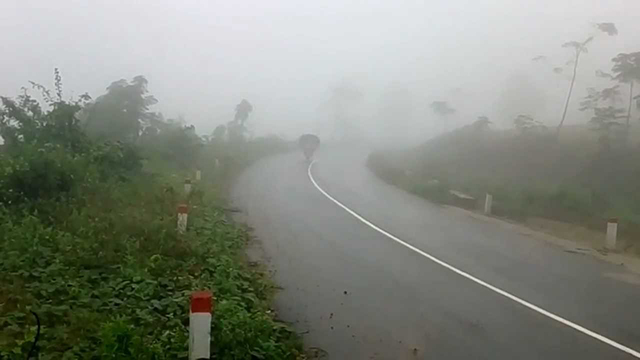 The road to the Van Hoa Plateau is clouded by clouds
To reach Van Hoa plateau, you depart from Tuy Hoa city, follow National Highway 1A about 14km to the North, then to Hoa Da village, turn left along DDT 643, up to the West 25km, to Van plateau Draw. Along the way, you will see small patches of beautiful wild flowers and fluttering meadows.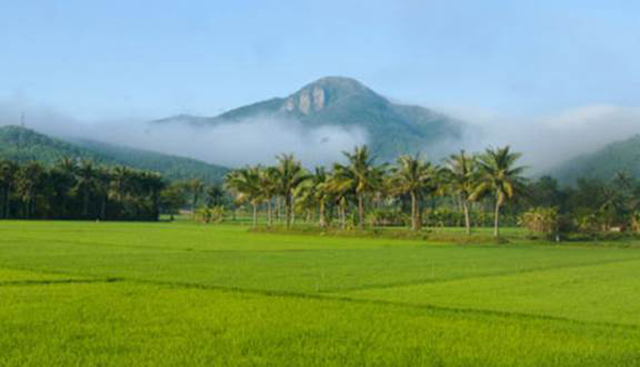 Van Hoa Plateau like Da Lat is misty in the heart of Phu Yen (Photo: collection)
Rock Beer Mountain
Da Bia mountain is the highest mountain in the Deo Ca mountain range, famous for its 80m high stele. From Da Bia mountain, visitors can have a panoramic view of the majestic Phu Yen with the vast sea and sky, ships like dots in the distance, villages, hills and fields shining in the new sun. In the East is Vung Ro, smooth and calm, the West is Deo Ca, winding, winding, gentle, surrounded by endless beaches on four sides.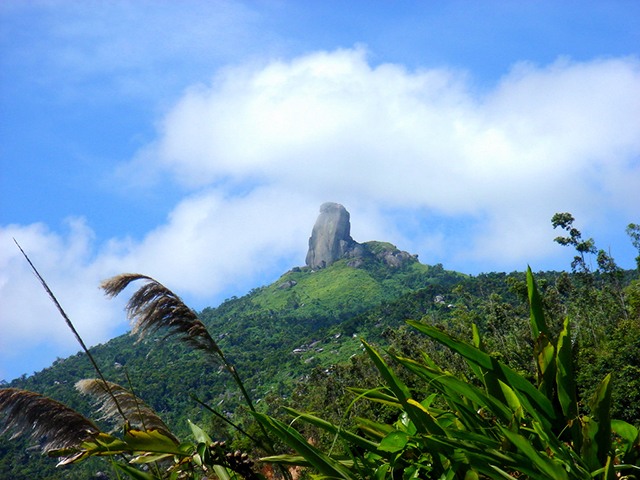 Standing from Da Bia mountain can capture Phu Yen in sight (Photo: collect)
Swallow Tower
Nhan Tower is a typical symbol of Tuy Hoa city. Standing from the far side of Nhan Mountain, tourists can see the ancient Cham tower standing in front of his eyes. Nhan Mountain is one of the highest mountains of Tuy Hoa city, is a sacred place with good land, birds perched, every spring comes, birds gather here, singing in a sky.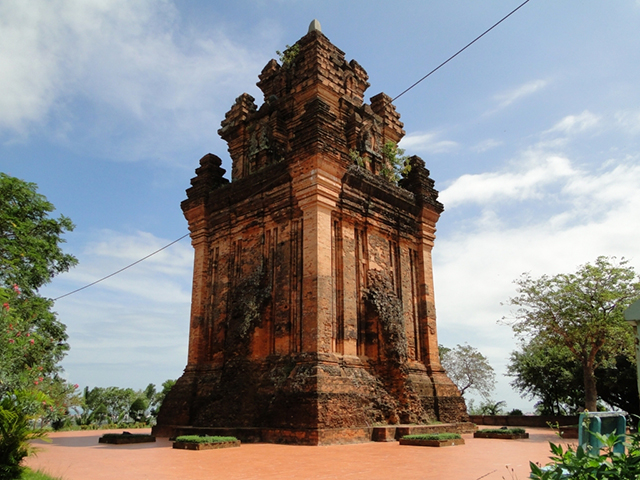 Nhan Tower is a typical tourist cultural work in Phu Yen (Photo: collect)
The Swallow Tower is located on the grounds near the foot of the mountain. Each tower has the same style and color, the higher it gets, the smaller it gets. Nhan Tower faces to the East, is the direction of the sun, towards the gods, contains the meaning of a fertile and flourishing life.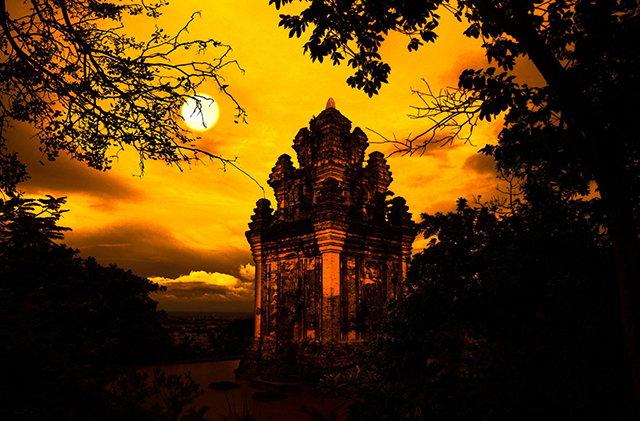 The Nhan Tower is mysteriously beautiful under the sunset (Photo: collection)
Nhan Tower is considered as an outstanding cultural symbol that any tourist to Phu Yen must set foot in. Every Tet holiday, people here come to pray for a peaceful and happy life. It also organizes many traditional dance and music programs to serve tourists from near and far to visit.
What to eat when traveling to Phu Yen?
Fish salad
Fish Salad is a simple and easy to eat dish in Phu Yen. There are many ways to cook fish, but the most common is to make salad. The apricot fish are filtered off the bones and mixed with onion, garlic, chili, sugar, … to create a rich and attractive flavor for the salad.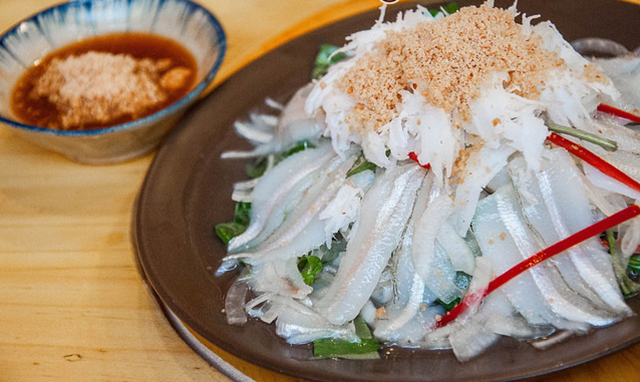 Fish salad (Photo: collectibles)
To keep the fish crisp, we leave the fish soaked in a bowl of cold water. Before eating, put in a bowl of lemon juice soaked for a few minutes. When the fish is milky white, it means the fish is ripe, when eaten, it can be drunk with a little wine, it will feel more delicious and strange.
Steamed fish
This is a popular and popular dish of the Phu Yen people as well as the Central people. The delicious fish chosen was only about the size of two adult fingers, and the body was firm and fresh enough. Fish is washed in high scales, then marinated with onions and spices then put in a steamer.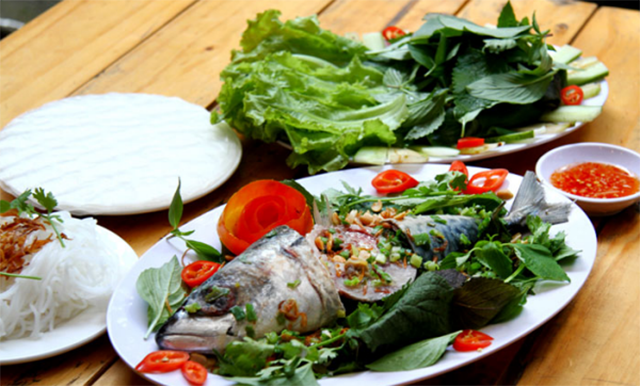 Steamed scad (Photo: collectibles)
Steamed fish mackerel is served with rice paper, served with spicy sour and sour fish sauce. The rice paper here must be tapioca paper to eat with the right taste. Before eating, the rice paper is baked or dipped in water to make it soft. Inserting the delicious sauce made from the water released from the ca when steamed, mixed with the garlic and chili fish sauce will create a great spice.
Vermicelli with squid
Only a boundary is the Ca pass, but with the squid noodle dish, Khanh Hoa and Phu Yen provinces have two ways of processing and two different flavors. In Khanh Hoa, squid vermicelli is processed from squid, squid, … then travel to Phu Yen , squid noodle is made from squid. Squid rice is sweet, not chewy white. If the squid vermicelli in Khanh Hoa is cooked with a sweet taste, the Phu Yen squid noodle soup has a characteristic sour and sour feature.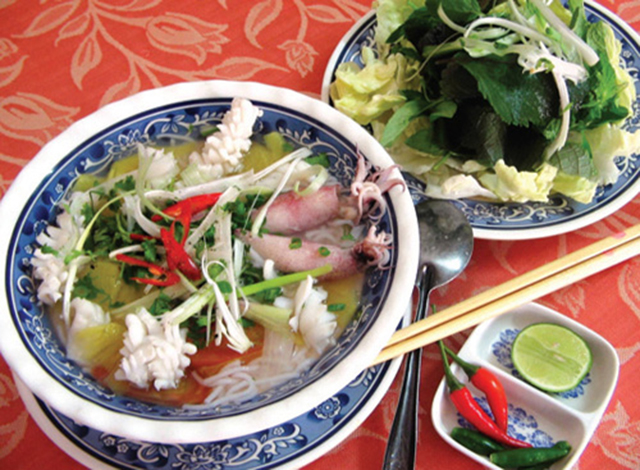 Phu Yen squid noodle soup (Photo: collectibles)
Fish Oh
If you ask the people of the Central region about a fish that is considered to be the most characteristic here, perhaps the answer you get the most will be: Fish Oh. Ooh fish is sweet, sure and processed in any way, you can feel the delicious taste and taste of the sea of ​​Phu Yen. Ca O fish appears a lot in the April – 6th lunar month, some people say that grilled O O fish is most popular with people and tourists.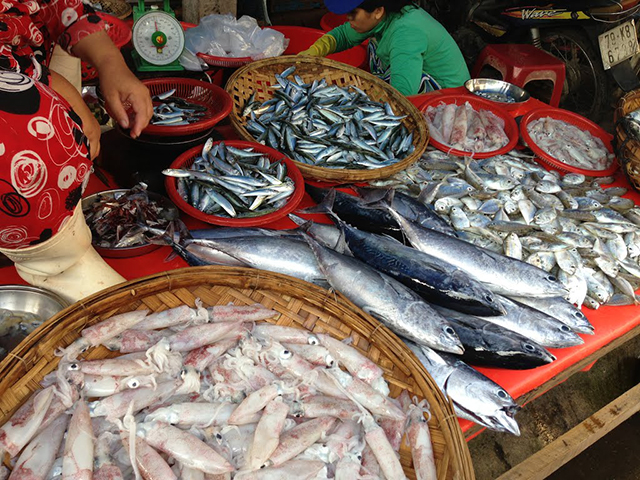 Fresh and delicious Oyster fish are sold everywhere (Photo: collection)
Blood cockle of O Loan lagoon
O Loan lagoon blood cockle can be considered a famous dish in Phu Yen. O Loan lagoon is located in Tuy An district, Phu Yen province, with the famous brand of blood cockles. The cockle here is famous for its thick and delicious meat. Blood cockles here are also much larger than other regions, processed in many ways such as grilled, steamed, fried tamarind, … all make the eatery almost rubbed endlessly.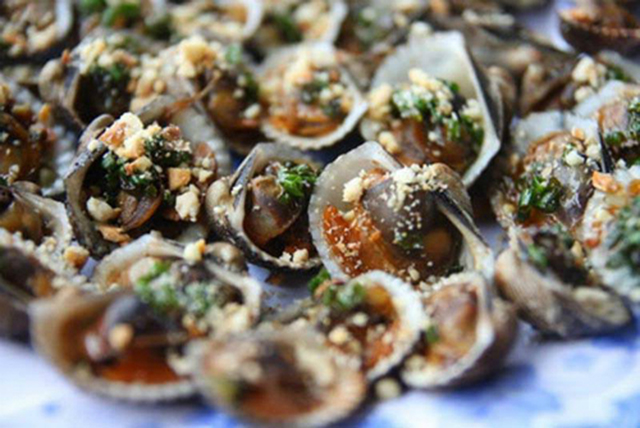 Delicious cockle, thick fleshy name (Photo: collection)
To get delicious clams, you need to find the right place to buy oysters. You can also enjoy oysters at the roadside eateries north of O Loan lagoon. The price of a plate of blood cockles falls into the range of 20,000 – 30,000 VND. For visitors who want to experience the feeling of catching scallops, it is possible to follow the fishermen's boat and be grilled and eaten on a precarious boat on the vast ocean.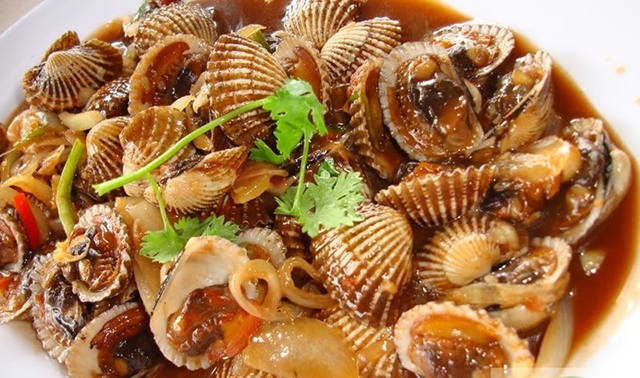 Cockles can be processed in many ways (Photo: collection)
Wet cake with beef rolls, wet cake with pork
This is a rustic breakfast of the people here. The cake is indispensable for the following three parts: Cake question, beef ball / pork belly and fish sauce. Cake has the same cooking method as rice paper but is eaten while wet, so it is called wet cake. Although there are only two ingredients combined, the way of processing is not simple.
Although it is just a popular breakfast dish, the cake is arranged very sophisticatedly, beautifully and indispensable with a cup of sauce that has a sweet, sour and spicy taste.
Chives soup
Phu Yen chives soup looks like fish cake soup in other regions, but the difference here is that the chives soup is green and the spicy of chives, not cilantro like in other places.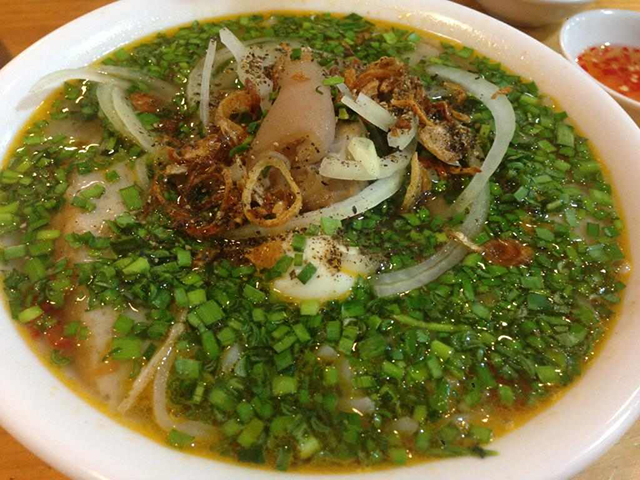 Chives soup (Photo: collectibles)
Tuna
Phu Yen tourism is famous for import and export specialties, so the dishes made from these types are very popular with tourists. The most famous is still the tuna eye dish, which is water-bathed with a greasy taste combined with sweet and sour spices, faintly smell of Chinese medicine but still very sea-rich.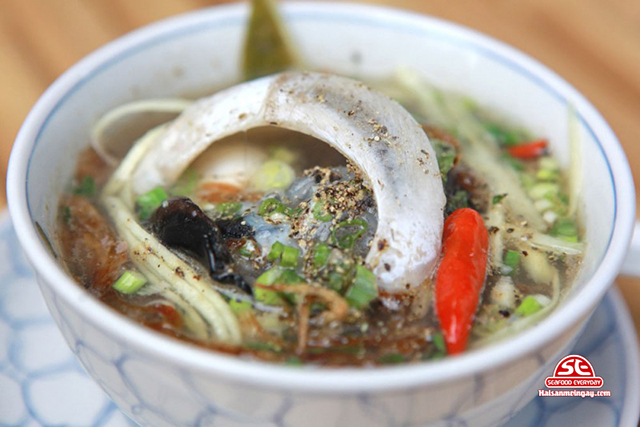 Tuna eyes (Photo: collectibles)
Address:
Cay Sung restaurant, embankment road, Ward 6, Ward 6, Near Bien Phong Squadron
Quan Ba ​​Tam on Le Duan Street is famous for a long time
Son Cau Go shop on Bach Dang embankment
Some restaurant addresses in Phu Yen
Chives soup, 32A Le Trung Kien restaurant near Phu Yen Pharmaceutical CTy
The Banh Canh Banh Canh, Chives and chives at the corner of Tran Hung Dao Post Office – near Tuy Hoa market (usually sold in the afternoon)
Banh Canh Bon Filter is located in front of Duc Tam CD shop, Le Loi corner, Phan Dinh Phung (only sold from 13:00 – 18:00)
Squid Xeo Cake on Tran Quy Cap Street, Nguyen Hue Street
Duy Tan hot wet cake
Quan Co Sau duck porridge (located at the corner of Duy Tan & Tran Hung Dao intersection)
Thien Huong Chicken Rice 211 Le Thanh Ton
Hoa Da goat hotpot (Highway 1, No. 22) on the way to An Hai Tourist Area
Baked spring rolls on Tran Binh Trong street
Grilled gazebo – 92 Nguyen Cong Tru.
What to buy as a gift when traveling to Phu Yen?
Cow a sunny
This is an extremely attractive specialty that many tourists choose as gifts. The people here often choose healthy cows, take the thigh meat and tenderloin to make this specialty. The price of a cow is quite high, ranging from 500,000 to 600,000 / kg.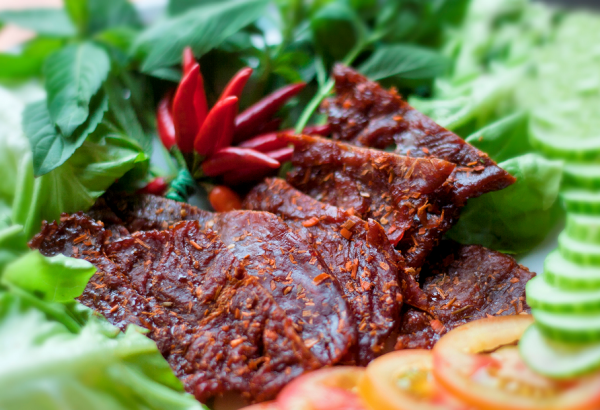 A sunny cow (Photo: Collectibles)
Some reputable and reliable places to buy a sunny cow in Phu Yen are at Ha Trung beef shop (106 Nguyen Hue, 132 Hung Vuong or 83 Nguyen Tat Thanh in Tuy Hoa city) Diep Bao An (Quarter 1, 30/4 Street, Phu Lam Ward, Tuy Hoa) and Hoa Yen specialty shop (303E Truong Chinh, Tuy Hoa).
The Empire's Pub
This is a gift that men extremely love when coming to Phu Yen as a gift. Quan De wine is quite high, about 40 – 50 degrees.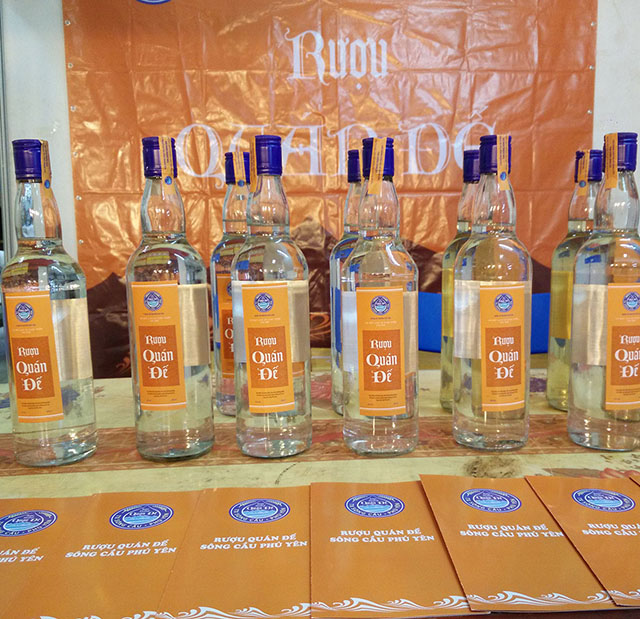 Pub of De (Photo: Collectibles)
Some places to buy wine: the management of the Quan De collective brand (Long Hai Nam Quarter, Xuan Phu ward, Song Cau town), Hoa Yen specialty store (303E Truong Chinh, Tuy Hoa City), Shop wine 205 (205 Tran Hung Dao, Tuy Hoa City) and the Emperor Ca Ngua Wine (235 Nguyen Tat Thanh, Tuy Hoa). This is the next suggestion for the question of what gifts to buy when traveling to Phu Yen for you to choose from.
Hoa Da rice paper
This is a very familiar dish of the people here. The cake is neither thin nor thick, and can be used to make spring rolls or spring rolls. In addition to the same type of spring roll, there is also a delicious, crispy baked rice paper cake suitable for wine targeting.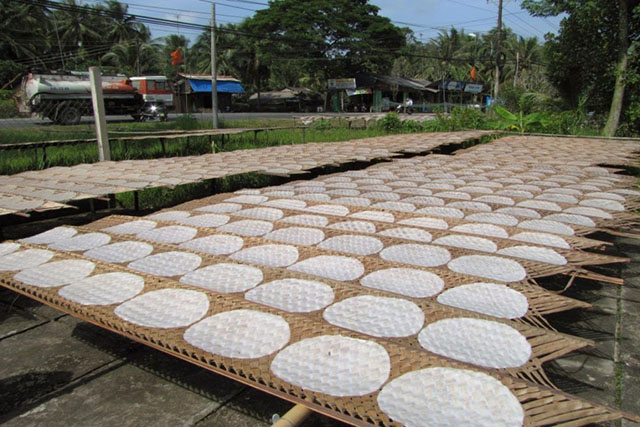 Hoa Da rice paper (Photo: Collectibles)
You can buy colored rice paper at any market in Phu Yen!
Red Ghanh Fish Sauce
The Red Branch fish sauce is a special gift from Phu Yen to your family because of its very special flavor. Ghanh Do fish sauce has a different taste compared to other fish sauces. The fresh and delicious fish are caught from the waters of Tuy An and then washed and brewed to make fish sauce. Gau Do has a fairly affordable price, from 30,000 to 50,000 VND / liter, a price too cheap for such a great specialty.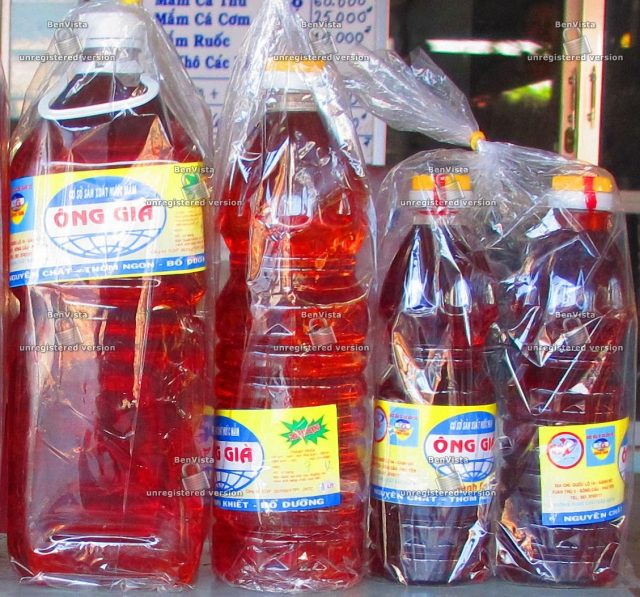 Ganh Do fish sauce (Photo: Collectibles)
Maybe you do not know about Phu Yen
Tuy Hoa is the capital of tuna production and export to many countries around the world
Dai Lanh Lighthouse is the first place to welcome the dawn of the country.
Take a walk around the streets at night to enjoy grilled corn and Phu Yen flipped duck eggs.
Where to go to Phu Yen tourism?
SaiGon Phu Yen Hotel
Saigon Phu Yen Hotel
541 Tran Hung Dao, Ward 6, Tuy Hoa City, Phu YenPrice from 750,000 VND / night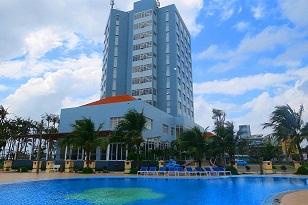 This is a 4-star hotel with modern design and convenient facilities, bringing moments of great relaxation and relaxation.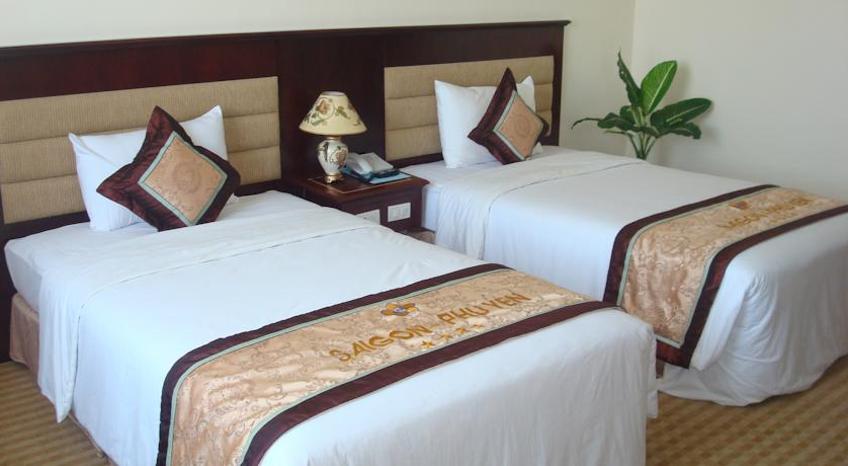 Saigon Phu Yen Hotel has 87 rooms with spacious, airy and beautifully decorated area. There are restaurants here that specialize in serving Phu Yen specialties, Asian and European dishes and fresh seafood. In addition the hotel also provides international standard services such as swimming pool, gym.
Hung Vuong Hotel
Located on Hung Vuong Street – the most beautiful street of Tuy Hoa city, Hung Vuong Hotel is truly an ideal and convenient stopover for tourists visiting and this beautiful coastal city. The hotel is located not far from the beach just a few steps away, visitors can set foot on the white sand beaches of the romantic beach of Tuy Hoa city.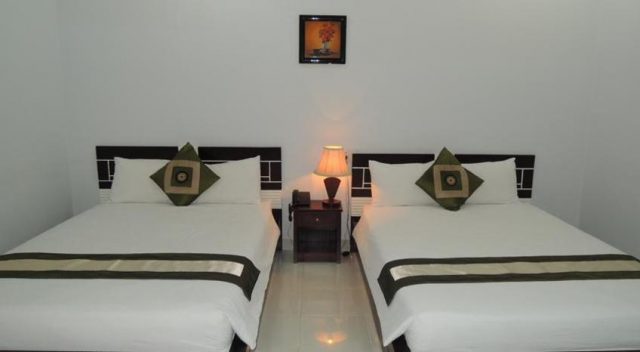 Hung Vuong Hotel attracts tourists by its luxurious and modern appearance. Visitors to Hung Vuong Hotel will enjoy a luxurious resort space and amenities of international standards. The spacious rooms are designed simply but delicately still create a warm and friendly feeling.
At Hung Vuong Hotel, every effort is made to make guests feel comfortable. The hotel provides guests with the best services and amenities such as: Free Wi-Fi in all rooms, 24-hour front desk, 24-hour room service, Wi-Fi in public areas, service parking … just a few of the equipment installed at the hotel.
In addition, Hung Vuong Hotel also has a restaurant with a capacity of over 500 guests, serving Vietnamese dishes and fresh seafood at affordable prices, conference rooms, seminars from 30 to 200 guests. . The hotel also offers a very modern relaxing service system including sauna, massage, sauna, hydromassage pool and a spacious, relaxing relaxation room that will give you guests comfortable moments after tired working days.
VietStar Resort & Spa
VietStar Resort & Spa
Hotel Thom Mountain, An Phu, Tuy Hoa City, Phu YenPrice from 1,759,500 VND / night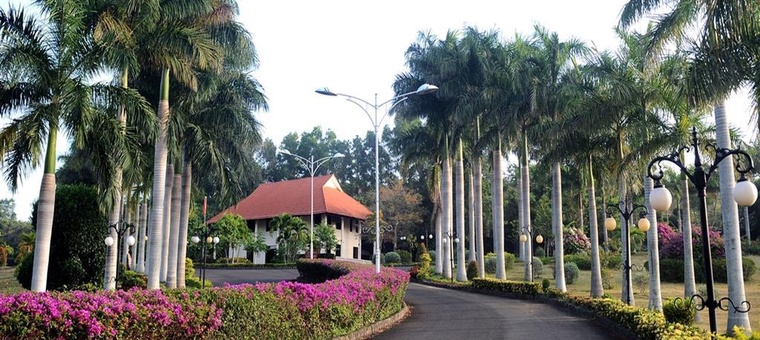 VietStar Resort & Spa has a modern architecture, including 93 spacious and clean rooms, fully equipped with comfortable furniture such as 31-inch flat-screen TV, dressing table, lovely night lamps. Next to the bed, wardrobe, air-conditioning makes guests feel comfortable in the summer heat of the city. All rooms have large windows with polite curtains, bathroom with sink, large mirror, mini bathroom and shower to help guests relax when using. The resort has an elevator to serve guests traveling between floors.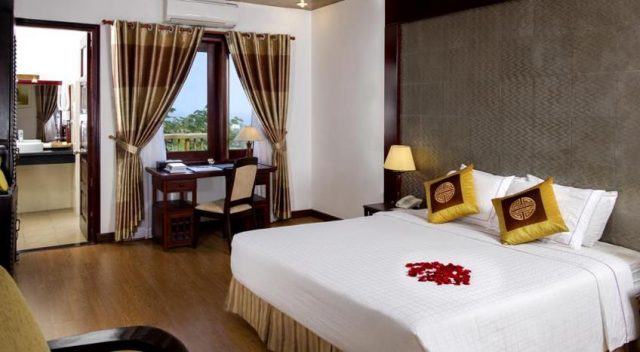 The resort has an agile and attentive staff who are always ready to help, advise famous places to visit and play in the city for visitors. VietStar Resort & Spa has a gym, fitness with modern modern equipment, massage service, outdoor swimming pool, large garden campus with shade green trees, golf course, tennis court, beach private … for tourists to relax after a day of sightseeing, city tourism. The hotel's dining restaurant with polite tables and chairs plus a delicious list of dishes including many domestic and international dishes at the buffet counter helps guests to choose comfortably. The restaurant also has a variety of attractive and varied drinks to serve visitors.
The above are just a few suggestions about the hotel that you can refer to when coming to Phu Yen. In addition, there are many hotels with a variety of prices for you to choose from to suit your budget.