The Best Places to Shop in Saigon
Shopping in Ho Chi Minh is truly one of the highlights of this fascinating city. New shopping malls are springing up all over downtown Saigon, bringing with them international fashion brands to please the most demanding of fashion connoisseurs, but it is the variety of shopping experiences and one-off items that most excite us about shopping in Ho Chi Minh.
Boutique fashion is more prominent here than almost anywhere else in Southeast Asia, where bespoke items can be bought at a fraction of what they cost elsewhere. Markets in Ho Chi Minh are also highly recommended as they still play a central role in the daily lives of locals and visitors – truly a shopping experience you won't forget quickly.
Saigon Center
Believers who love shopping certainly cannot help but know the name Saigon Center has been too hot for many years. Saigon Center is one of the new, largest, and most modern shopping centers in District 1 in Ho Chi Minh City, which integrates many modern activities and is always updated according to current youth trends. Inside Saigon Center is Takashimaya – Japan's leading popular retail group.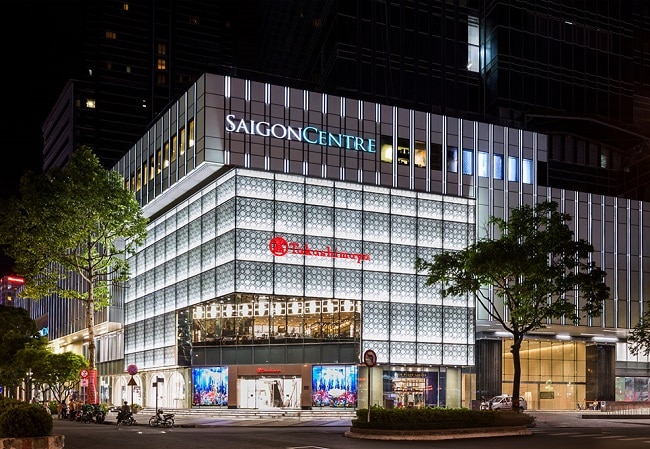 Saigon Center is known as a genuine shopping and shopping center for the luxury young people in Saigon with many high-end brands such as Moschino, MontBlanc, Kenzo, Versace, Valentino, Tommy Hilfiger … with an expensive price most of all services.
The restaurants inside Saigon Center are names that not everyone can confidently enter such as Runam, Paul's, Miyama, Khanhcasa … To be able to eat a temporary meal with main dishes, side dishes, For appetizers here, customers must pay at least 500,000 – 1 million / person. However, the quality of the food here is completely superior to that of other places.
Recently, the balcony area on the 6th floor of Takashimaya officially opened the door for customers to rest, visit with airy, spacious space and panoramic view of Saigon center. It promises to become one of the hottest hot hit check-in locations in the near future.
Number of floors: 25 floors
Opening: 9:30 – 22g
Contact information address: 65 Le Loi, Ben Nghe Ward, District 1. Hotline: 0283 829 48882
Crescent Mall
Crescent Mall is the first major commercial center of District 7 to meet international standards in Vietnam with luxurious design, unique arc shape combined with a system of 134 retail stores distributed evenly across 5 wide floors. Large and modern building. This deserves to be one of the top shopping and entertainment centers for the people of Ho Chi Minh City.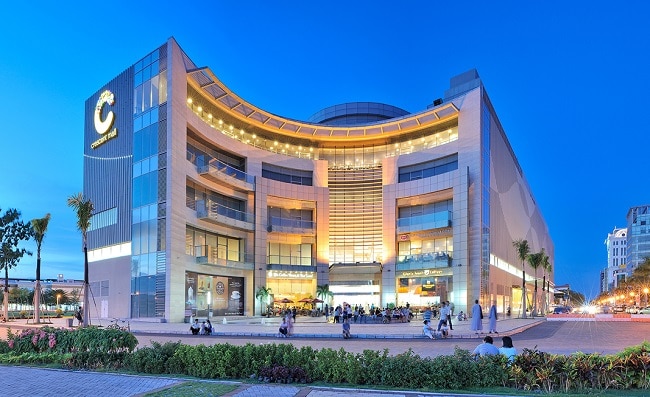 In addition to a shopping mall, Crescent Mall is also a place where many exchange events take place, from concerts, fashion shows, concerts of famous artists to events. Product eyes… attracted a large number of people to join.
Here, young people can live a full day with an ideal dining schedule, free to shop with accessories, fashion, technology, beauty shops, and dining at the food court complex. enjoy coffee at stores like Highlands Coffee, Phuc Long, Coffee Bean & Tea Leaf … and watch movies.
Retail space: 45,000m2
Opening: 10g – 22g
Contact information address: 101 Ton Dat Tien, Tan Phu Ward, District 7 Hotline: 0285 413 33333
Van Hanh Mall
Shopping and entertainment center in District 10, Van Hanh Mall is a shopping and entertainment place loved by many young people in Ho Chi Minh City, officially put into operation in January 2018, meeting the diverse shopping needs of customers. , from cosmetics, fashion, home appliances, furniture … to entertainment, culinary and education with 7 floors of commercial shopping.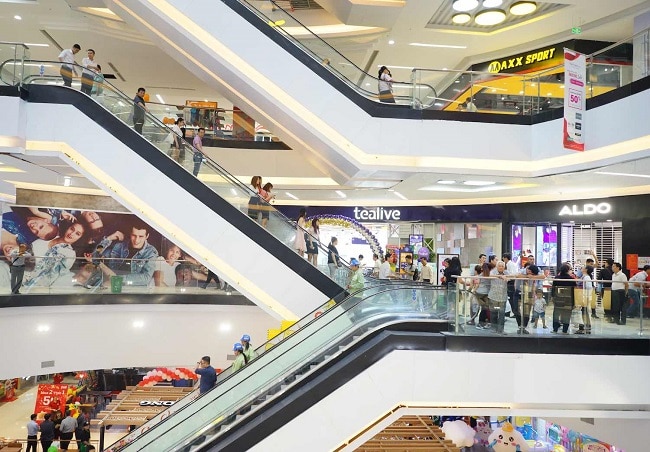 Customers to a business center Van Hanh Mall will not have to worry about finding a place to play or place to eat, by Van Hanh Street Mall offers a full range of services, is a focus of the big brands and reputation as Phuong Nam Book City, Co.opXtra Hypermarket, Power Bowl entertainment center, CGV, ILA English center, international fashion brands such as Perdo, Charles & Keith, Nike, Adidas, Mujosh, Levi's … together more than 50 restaurants, coffee, famous food brands such as R&B Tea, Highlands Coffee, Starbucks Coffee, Sushi Kei, BBQ, Seoul Garden, Buffalo Wild Wings, The Pizza Company …
Commercial area: 55,000m2
Opening: 8g – 22g
Contact information Adress: 11 Su Van Hanh, Ward 12, District 10. Hotline: 0283 862 55884
Aeon Mall Tan Phu
Aeon Mall Tan Phu started operations in 2012, marking the emergence of AEON Group – the largest retailer from Japan, offering shopping experience in a modern Japanese retail system. Vietnam. Aeon Mall Tan Phu has a very spacious retail area, up to 42,000 square meters with airy interior with thoughtful investment, meticulous design to bring modern beauty.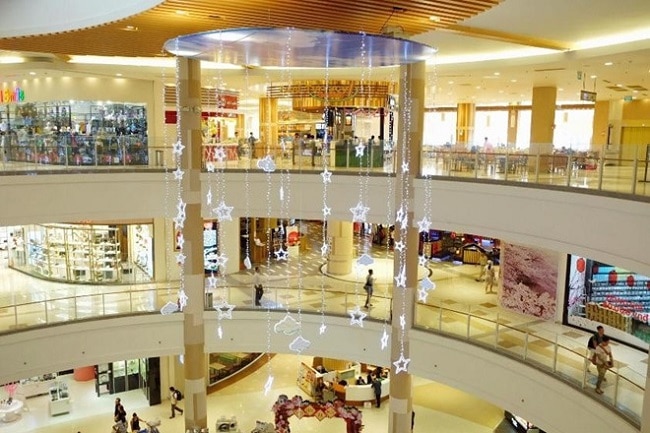 The brands at Aeon Mall Tan Phu are mainly in the mid-range segment, suitable for the majority of people and diverse from fashion, shoes, cosmetics, entertainment, home appliances to supermarket. fresh food. This is not only a shopping mall but also a fun entertainment destination for the whole family with services such as a game center, movie theater, haircut, health services and education.
The system of culinary stalls at Aeon Mall Tan Phu is quite diverse, from Vietnamese cuisine to Korea, Japan, Europe and America … with very reasonable prices. Aeon Mall Tan Phu commercial centerreceive a large number of tourists every day even though the year is quite far from the city center. In addition, there is also a light festival here that attracts the attention and interest of young people on the holidays.
Commercial area: 42,000m2
Opening: 10g – 22g
Contact information Address: 30 Bo Bao Tan Thang, Son Ky Ward, Tan Phu District. Hotline: 0286 288 77335
Aeon Mall Binh Tan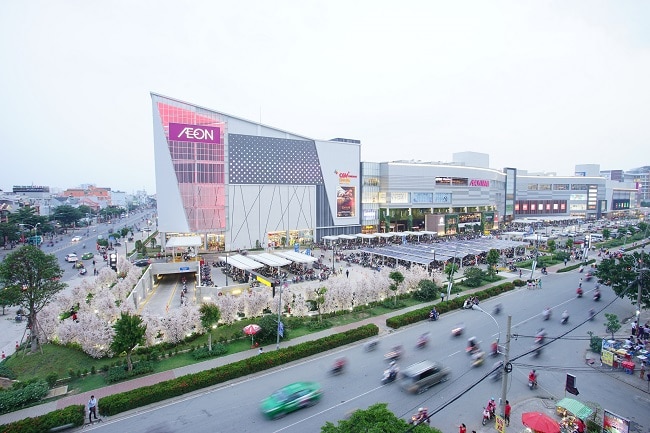 Aeon Mall Binh Tan is the 4th branch of Aeon Group in Vietnam, and the second branch in Ho Chi Minh City, opened in 2016 and inherits all the available advantages of the central system. Aeon trade such as diversified products, modern furniture, attentive services … the area of Aeon Mall Binh Tan is wider and more diversified than Aeon Mall Tan Phu.
This is a favorite destination for many residents in the west of Ho Chi Minh City with countless experiences from food, shopping to entertainment and other special facilities for customers. Aeon Mall Binh Tan will definitely give customers a comfortable and emotional space to experience a diverse life.
Commercial area: 60,000m2
Opening: 8g – 22g
Contact information Address: No. 1, 17A Street, Binh Tri Dong B ward, Binh Tan district. hotline: 1900 63 69 226
Saigon Garden
Saigon Garden is also one of the famous commercial centers in Ho Chi Minh City with modern architecture, close to nature – this is what makes Saigon Garden different from other commercial centers. other trade. The entire building is covered in green by many types of trees, extending from the ground up to the top of the building. This is also a completely different style from the shops and high-rise buildings in the surrounding area.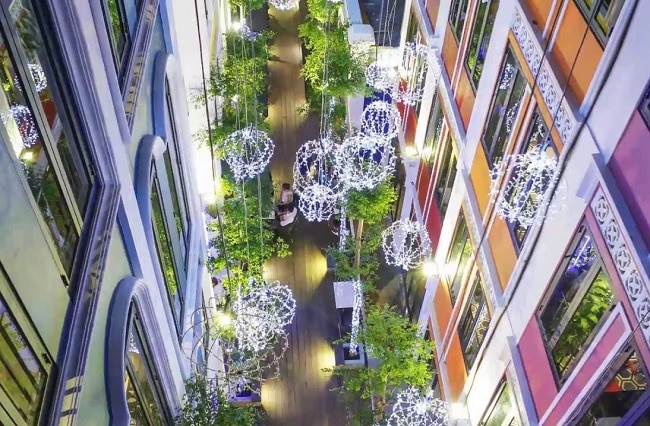 The outside is designed to stand out with green space, but perhaps few people will think that inside is an extremely attractive and convenient shopping center. Saigon Garden consists of 4 commercial floors with eye-catching decorative designs, carefully designed and divided into two main areas. Saigon Garden
's main shopping place is the ground floor area with the presence of many global brands, fresh flower shops and luxury cafes. The 2nd, 3rd, 4th floors are diverse culinary restaurants with attractive foods and drinks from Thailand, Korea, Japan, Vietnam … Stores on the ground floor of Saigon Garden
are hidden deep inside and are arranged into small streets, allowing customers to comfortably explore and admire interesting things here. With modern architecture, restaurants, flower shops, fashion shops, cafes … create a beautiful scene. In addition to an ideal shopping and entertainment place, Saigon Garden is also a suitable place for young people to comfortably check in for virtual living and will surely satisfy even the most demanding guests.
Opening: 8:00 – 22:00
Contact information Address: 99 Nguyen Hue, Ben Nghe Ward, District 1.
Vincom Dong Khoi
Located right in the heart of Ho Chi Minh City, Vincom Dong Khoi is considered a virtual paradise in the western end, the most luxurious of most Saigon youth with the appearance of famous fashion brands. world famous such as H&M, Zara, Stradivarius, Pull & Bear …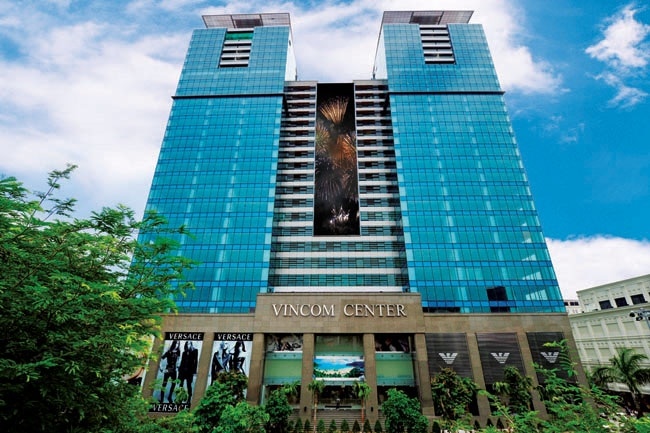 Customers who come here to visit and shop will be overwhelmed by the bustle, crowded, and difficult to breathe. The number of passengers pouring into Vincom Dong Khoi has reached the level of a garage with three basements, with a capacity of less than 3 thousand parking spaces, often refuse to accept more.
Vincom Dong Khoi meets all the needs of young people with 5 service floors stretching from B3 to L2 with the shopping area of ​​the world's leading brands such as Converse, Charles & Keith, Accessorize … and food court from level B3 to B2 with hundreds of food stalls with entertainment areas, bookstores, supermarkets, convenience stores …
Retail space: 76,000m2
Opening: 8g – 22g
Contact information address: 72 Le Thanh Ton, Ben Nghe Ward, District 1. Hotline: 097 503 32 888
Parkson Hung Vuong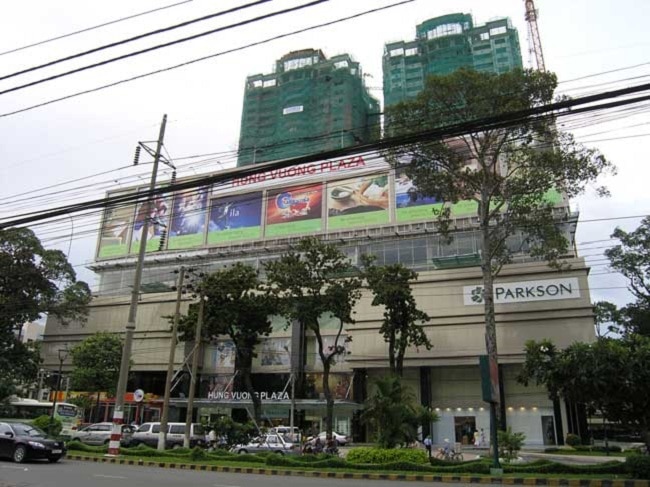 Parkson Hung Vuong belongs to Parkson Department Store – a high-end shopping mall system in Vietnam, is the only luxury shopping mall in District 5, Ho Chi Minh City with hundreds of international famous brands from fashion. men and women, cosmetics, sports to fashion, children's toys.
Target customers in the mid-range segment, so Parkson Hung Vuong does not have the top luxury brands in the world, but in return there are still many mid-range fashion brands to meet the demand. customers such as Levi's, Guess, Mango… In addition, customers coming here can also have entertainment with CGV cinema, bowling…
Retail area: 24,000m2
Opening: 9g – 22g
Contact information address: 126 Hung Vuong, Ward 12, Q5. Hotline: 0283 748 29589
Parkson Saigon Tourist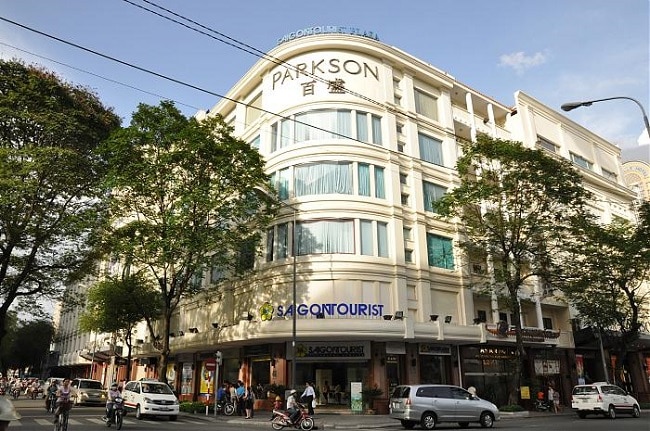 Parkson Saigon Tourist opened in 2006, is the first branch of Parkson shopping mall in Vietnam with a prime location in the heart of District 1, opposite Vincom Dong Khoi shopping center. Parkson Saigon Tourist brings together many famous international brands in the mid-end segment.
In particular, Parkson Saigon Tourist is also famous for a system of more than 30 famous luxury cosmetic brands in the market, such as MAC, Christian Dior, Shu Uemura, Bobbi Brown, Lancome … However, with the area of ​​the commercial center quite small, the parking lot is narrow, along with the appearance and the pressure of competition from many later competitors, Parkson Saigon Tourist is gradually losing its foothold in the market.
Retail area: 17,000m2
Opening: 9:30 – 22g
Contact informationAddress: 35Bis – 45 Le Thanh Ton, District 1.
Bitexco Financial Tower
Bitexco Financial Tower is a skyscraper in the center of District 1, the tallest building in Vietnam, put into use in 2010, considered a symbol of the dynamism of Ho Chi Minh City. The commercial building here is 68 floors high with a commercial area of ​​8000 square meters from the first floor to the sixth floor, the dining restaurant area is over 600 square meters on the 50 floor and the high class restaurant is over 300 square meters on the 51st floor.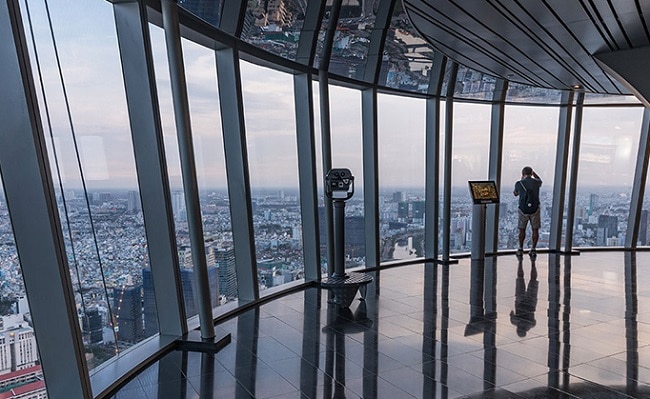 With a beautiful and unique architecture, Bitexco Tower provides a full range of shopping and entertainment needs of customers. In particular, an observatory is located on the 49th floor for the public, allowing visitors to see 360 ​​degrees of the Saigon River and the panoramic view of Ho Chi Minh City from above. This is also the first project in Vietnam to have a helipad on the 52nd floor.
A very interesting experience here is to enjoy coffee on the 51st floor with the perfect view, customers can drink coffee while watching the city from the clouds. Although the shopping mall area is quite small, it owns many high-end international brands, attracting young people such as Mango, Topshop – Topman, Warehouse, Charles & Keith, Cosmo, Pedro, Adidas, Puma, Nike. … and BHD cinema system … This is considered as the most ideal check-in place for young people in Ho Chi Minh City.
Number of floors: 68 floors
Opening: 9:30 – 21:30
Hopefully, the list of top 10 shopping malls in Ho Chi Minh City above will help readers choose interesting places for shopping, entertainment, and entertainment.
Contact information address: No. 2 Hai Trieu, Ward Ben Nghe, District 1. Hotline: 0938 439 327