If anyone says that Hanoi's night is boring, then surely you have never tried a trip to the station. Although hidden in ancient beauty, Hanoi still exudes many different spices of life. If you cannot sleep one day, pull your best friends to check in these 15 nightlife venues in Hanoi!
1. Hoan Kiem Lake
The first destination that night owls visit Hanoi every night is Hoan Kiem Lake . Every time the night falls, the street lights up again. Walking on the old street, watching the bustling flow of people will make your soul cheer up. In particular, Sword Lake is a favorite gathering place for the Hanoi people.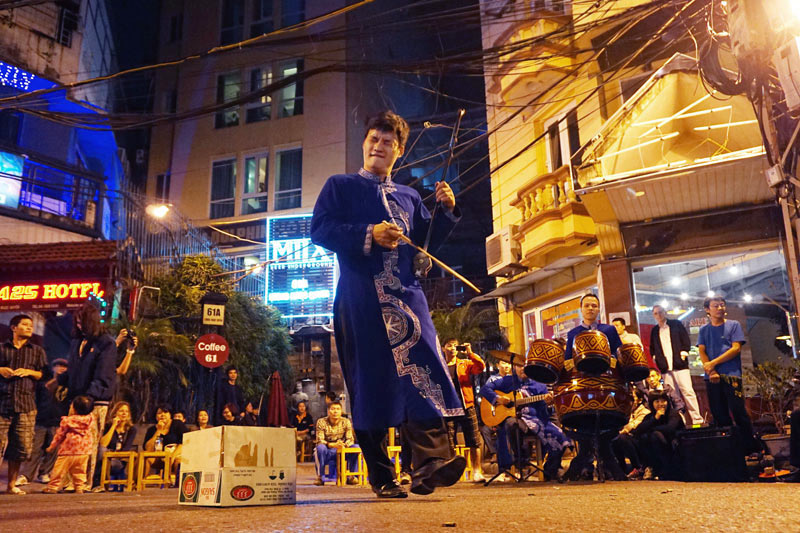 Address : Ho Guom Walking Street, Hoan Kiem District, Hanoi
2. The Cathedral
Church lemon tea is the most enjoyable experience in Hanoi at night. No need for delicacies, just a cool lemon tea that you can chat with your friends. Enjoy the bustling atmosphere around the Cathedral, amidst the shimmering lights and the bustling traffic. In particular, the Cathedral becomes even more magical every night. This is also an ideal virtual living spot for foreign tourists every time they visit.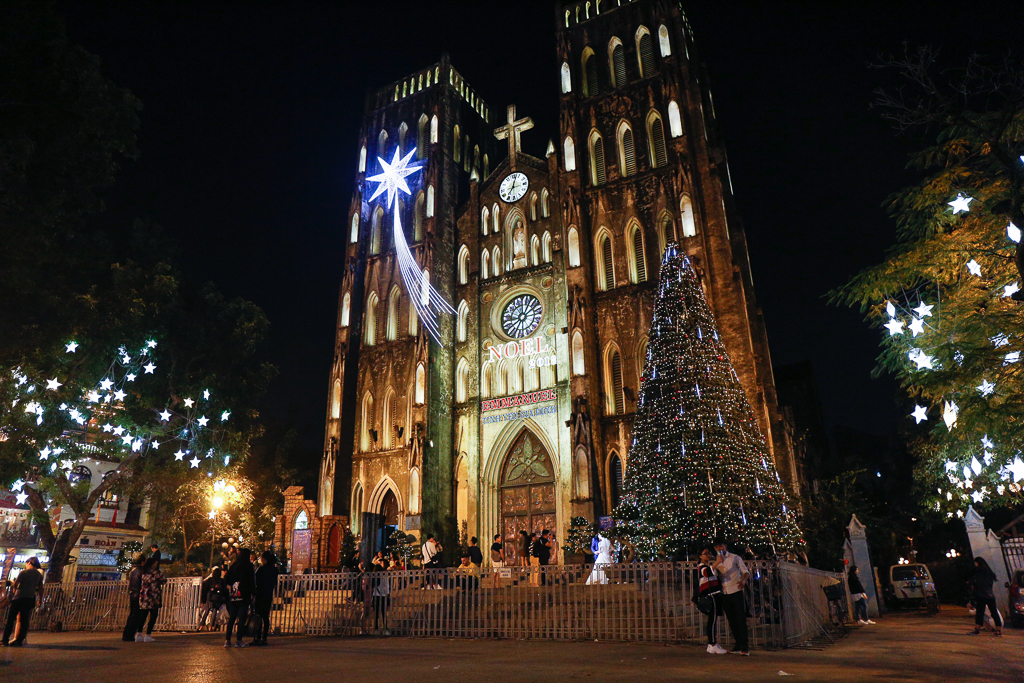 Address : 40 Nha Chung, Hang Trong, Hoan Kiem District, Hanoi
3. Dong Xuan Market
As one of the typical symbols of Hanoi, Dong Xuan market is the place where the busiest trading activities take place. Guests can visit the bustling market every night. The shop here is busy, selling famous snacks.
Address : Dong Xuan, Hoan Kiem District, Hanoi
4. Quang An flower market
If you are a dreamy soul and love bonsai, Quang An flower market will surely make you fall in love from the very first moment. Around 2 am, the market started to light up, bustling with traffic, and bustling with buyers and sellers. Here, visitors will delight in choosing the most beautiful bouquets at a cheap price. This is a new destination for tourists "day and night flying" in Hanoi.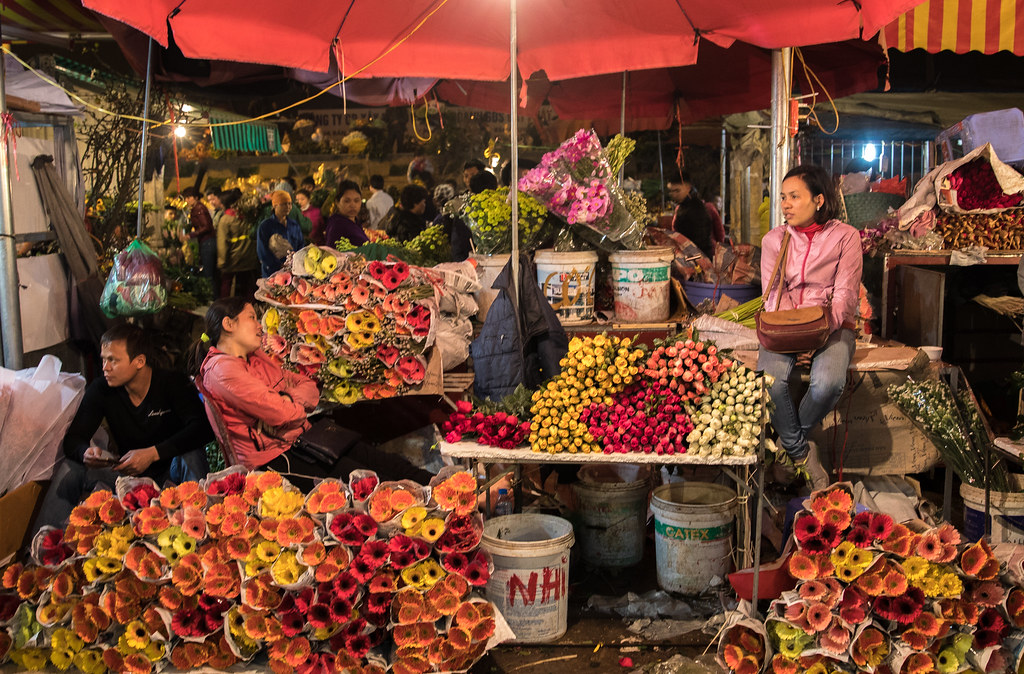 Address : 238 Au Co, Quang An, Tay Ho District, Hanoi
5. Hang Buom Street
Hang Buom is known as the dining paradise in the old town. With dozens of stalls selling typical dishes of Ha Thanh flavor, visitors can enjoy a variety of Asian and European cuisines.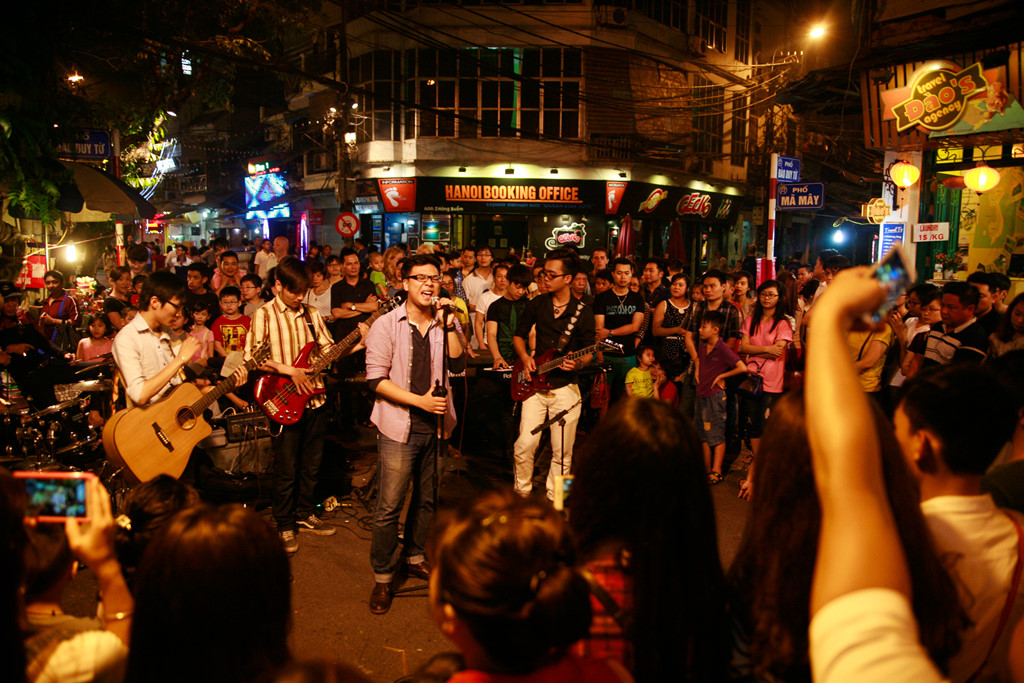 Address : Hang Buom Street, Hoan Kiem District, Hanoi
6. Trang Tien Street
Trang Tien Ice Cream has long been a cultural feature of the people of Ha Thanh. Speaking of Trang Tien ice cream, no one is unaware of the ice cream flavor associated with childhood. Until now, Trang Tien ice cream still retains its delicious and unique taste. At night, visit the old town, do not forget to visit Trang Tien ice cream shop to enjoy the cool ice cream!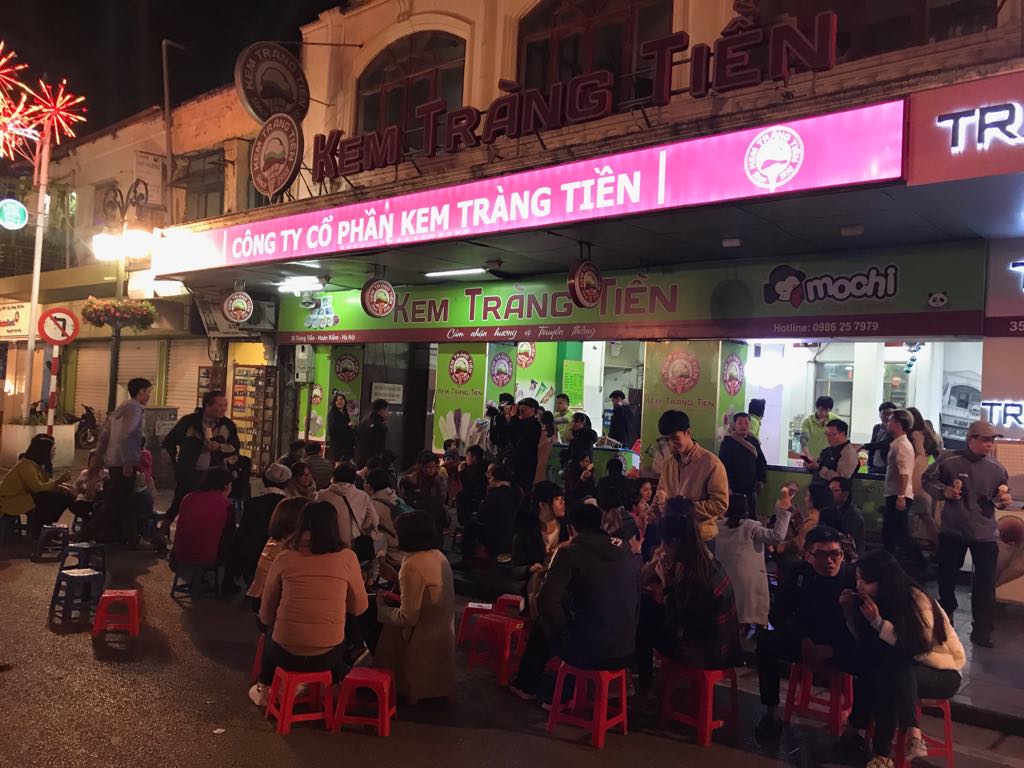 Address : Trang Tien Street, Hoan Kiem District, Hanoi
7. Old Town Night Market
Old town is the hottest tourist destination in Hanoi. Regardless of locals or foreign tourists, they love this thousand-year-old civilization. Here, on weekends there are often street performances and bustling night markets. Thousands of different stalls will be displayed to sell a variety of items such as clothes, accessories, decorations, food, handicrafts, … Spending the evening here is definitely the best moment. Not only can you taste delicious street food, you can also buy beautiful items.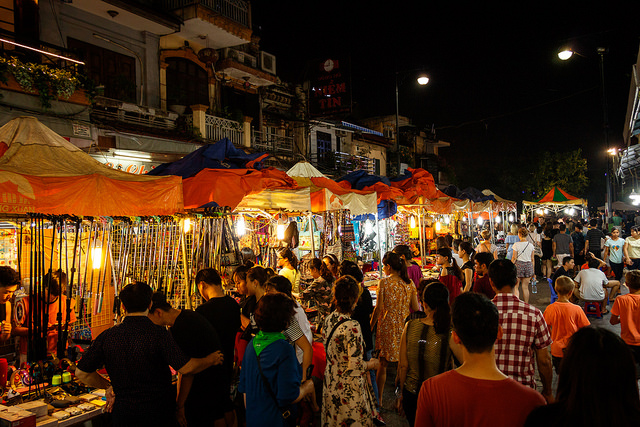 Address : Hang Dao, Hoan Kiem District, Hanoi
8. West Lake
Discovering Hanoi at night can not help but mention the windswept West Lake. Around West Lake, there are countless sidewalk eateries for you to choose from. You can enjoy Ho Tay shrimp cake, lake ice cream or lemon tea on the sidewalk. Especially near West Lake, there is a very large land area for friends gathering all night to morning.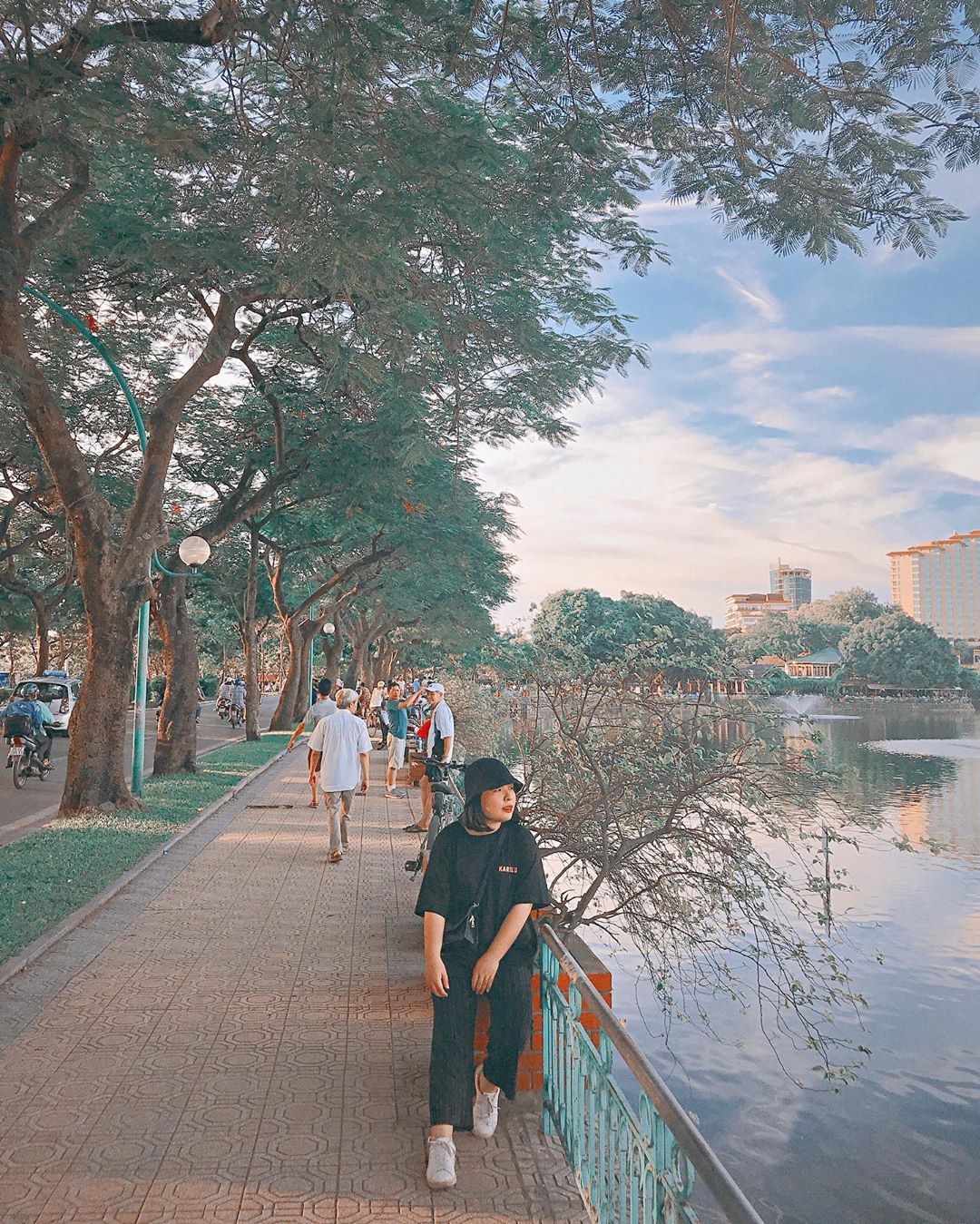 Address : West Lake, Tay Ho District, Hanoi
9. Ta Hien Street
If Saigon had Bui Vien, everyone would know Ta Hien in Ha Thanh. Considered the busiest West Quarter, Ta Hien is a favorite stop for saints who spend the night without rest. The street is only about 100m long but is full of pubs growing close together. You can freely sip cool beer bottles and chat with friends. Especially, there are many bars and pubs here for visitors to freely enjoy the music!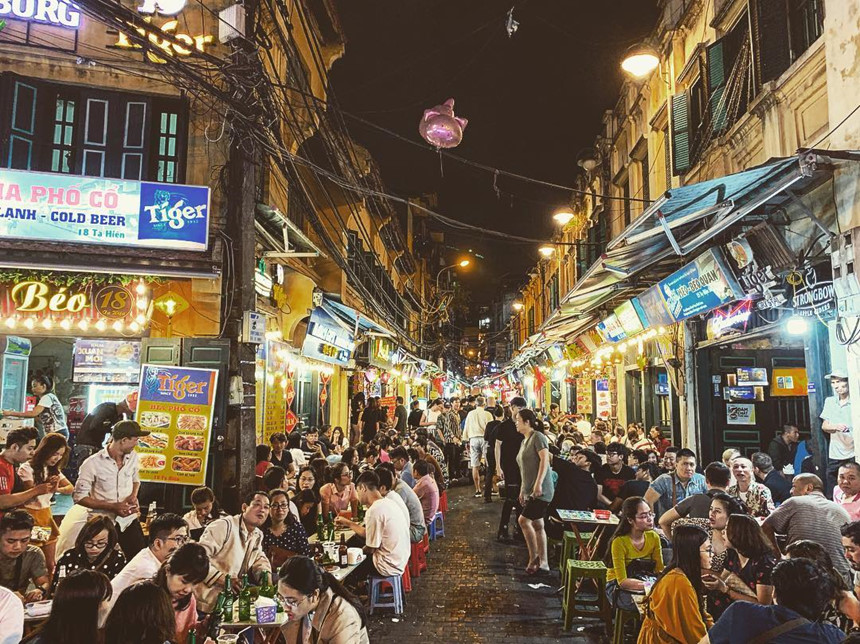 Address : Ta Hien Street, Hoan Kiem District, Hanoi
10. Long Bien Bridge
Long Bien Bridge is one of the long-standing historical vestiges of the people of Trang An. Passing through many years, Long Bien Bridge is marked by its old and ancient beauty. Coming here, you will be able to relax in the cool breeze, breathe fresh air on the romantic Red River bank. Looking down from Long Bien Bridge, you will admire the beautiful panorama of the city hidden in the bright lights.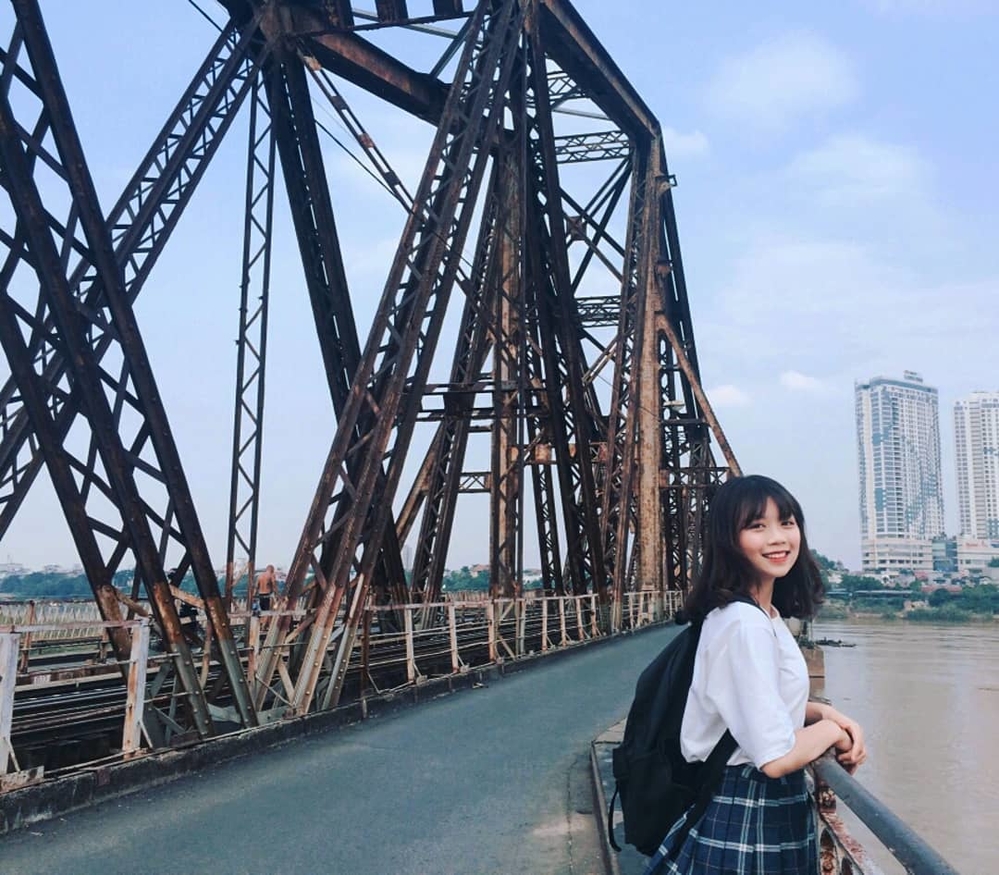 Address : Long Bien Bridge, Ngoc Thuy, Long Bien District, Hanoi
11. Nhat Tan Bridge
Nhat Tan Bridge is one of the great nightlife spots for Hanoi. Coming to Nhat Tan Bridge, you will admire the magical beauty on the banks of the Red River full of poetic. Enjoying some ice cream on the sidewalk, sweet squash beef with your best friend or loved one is wonderful.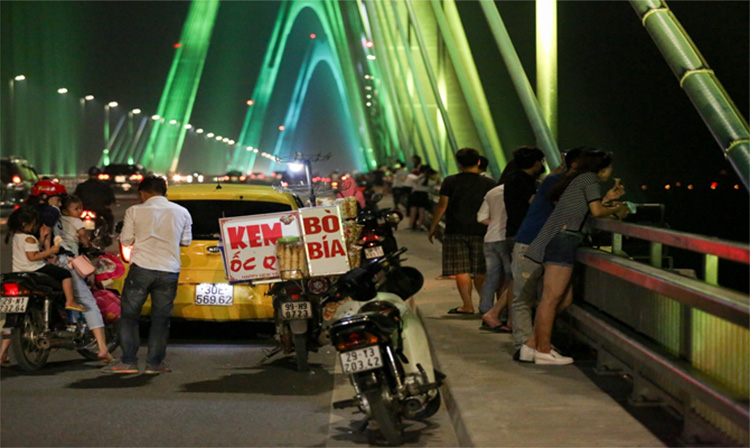 Address : Nhat Tan Bridge, Phu Thuong, Dong Anh, Hanoi
12. Tong Duy Tan Food Street
Tong Duy Tan is a neighborhood selling cheap and delicious night food in Hanoi. Coming here, you will be overwhelmed by the countless brightly lit and fragrant restaurants of the dishes. This small street is an ideal choice if you are a night owl in Hanoi. From popular dishes to upscale restaurants, you will fill your hungry stomach after a night of bombing Ha Thanh all night.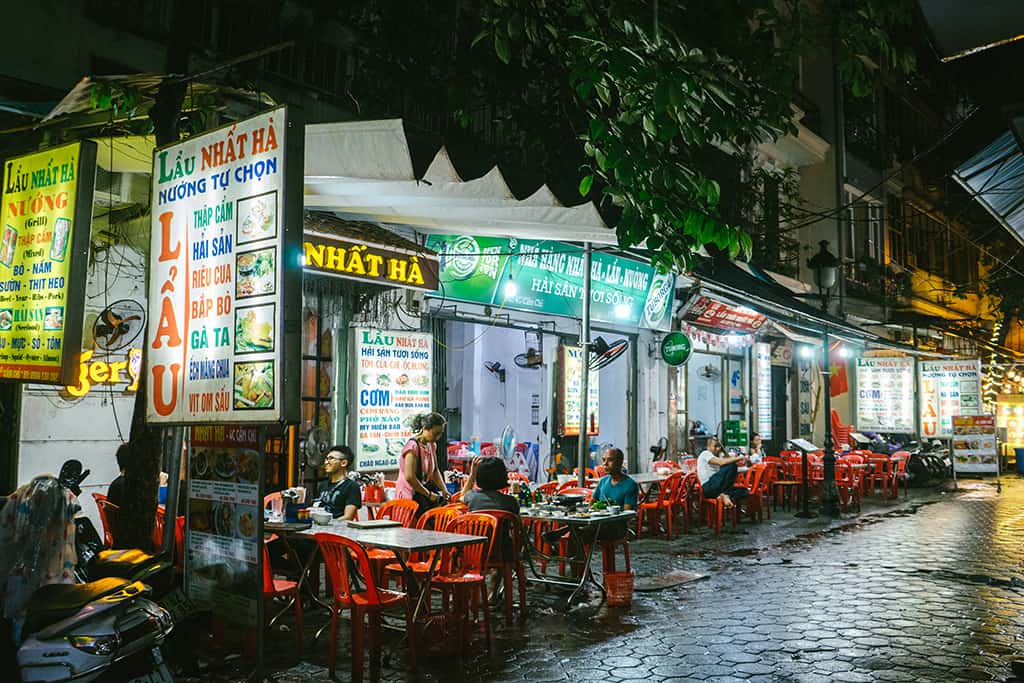 Address : Dien Bien Phu, Cua Nam, Hoan Kiem, Hanoi
13. Xofa Cafe
This is the famous Hanoi cafe of the famous guy He always smile for a while. Xofa Cafe has become the first cafe in Ha Thanh to pioneer the trend of 24 hour coffee. The bar space is decorated, lovely, cozy, suitable for dating and romantic meetings. The outstanding feature is that the restaurant has a lot of smooth sofas so that diners can rest their backs and have a good night's sleep.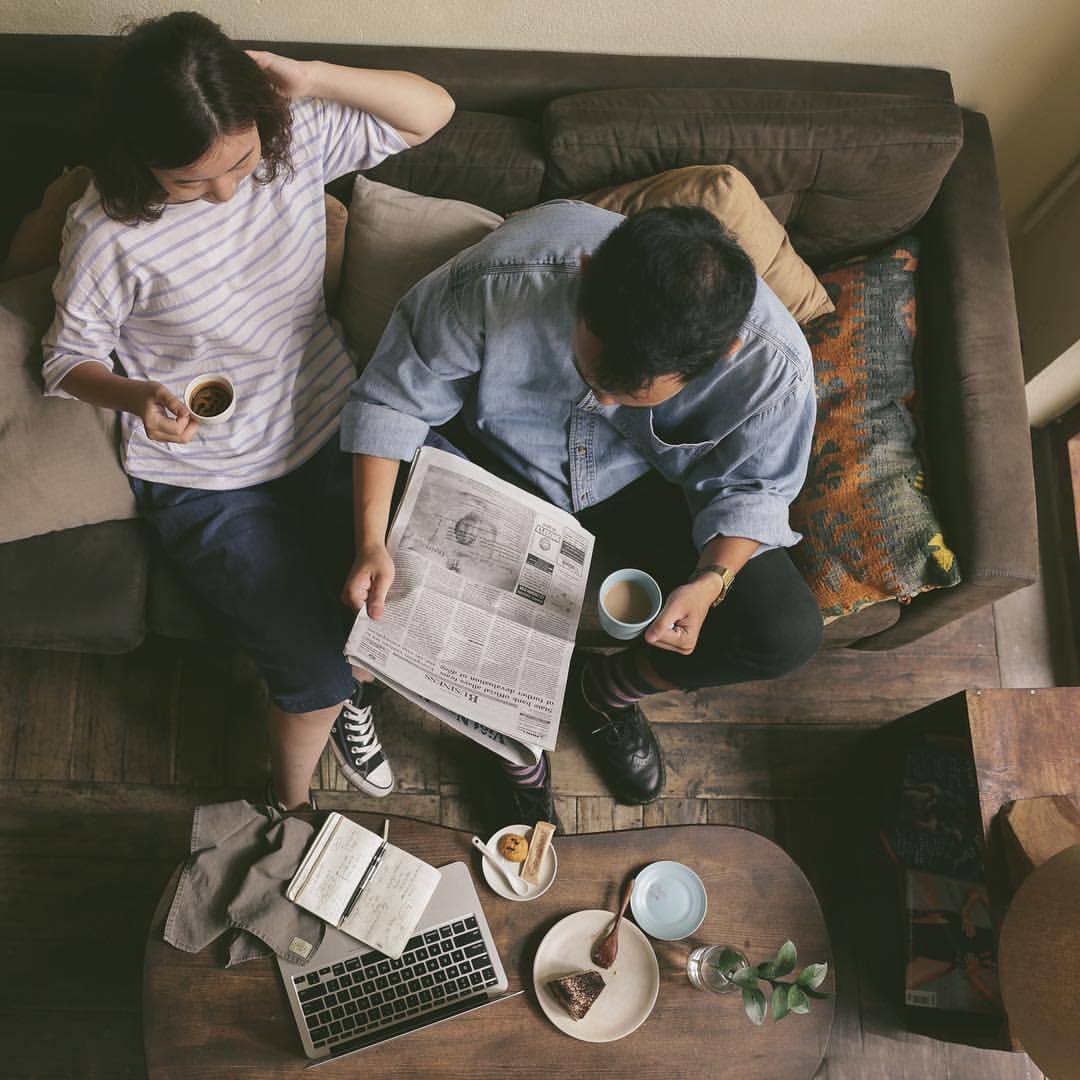 Address : 14 Tong Duy Tan, Hanoi