The 60-year-old red pomelo tree in Dong Cao village, Trang Viet commune (Me Linh, Hanoi) is recognized by the Hanoi Department of Agriculture as the oldest red pomelo tree.
"Old" red pomelo 60 years old in Hanoi wears a code, every year it fails
This "To" red pomelo tree is owned by the family of Mr. Luong Van Phuong in Dong Cao village. In 1960, Mr. Luong Van Vy (Mr. Phuong's father) was the one who planted this pomelo tree. When pomelos were big and produced in early August, his family picked pomelos and sold them.
The special thing is that a few fruits are kept on the tree, they just gradually change from yellow to pinkish color and on the occasion of Tet holiday, they have crimson color, smooth and eye-catching skin.
Seeing strange grapefruit varieties, eye-catching colors for local people to ask for branches to plant. This fruit appears more and more in Dong Cao village, spread to other villages, every house grows red pomelo for sale during Tet.
Mr. Luong Van Phuong, owner of red pomelo tree "To" said: "In 2015, the Hanoi Department of Agriculture and Rural Development knew about the rare and precious red pomelo variety in the locality, so it was numbered to maintain the precious genetic variety and selected the top plants. I continue to propagate and develop for neighboring people to plant ".
The Dong Cao red grapefruit variety was also propagated successfully in many suburban districts of Hanoi: Thanh Oai, Ba Vi, Thuong Tin. In addition, Mr. Phuong also sold seeds to a few people in Vinh Long, An Giang, Dong Nai and planted them all with success.
The technique of planting and taking care of red pomelo is easier than that of Dien pomelo. It is healthy without losing crops, and every year is wrong.
Every year the "To" grapefruit tree gives from 300-400 fruits. When the pods are 1 month old, Mr. Phuong starts to bag the fruits to avoid frost and insects to extract them and to make beautiful balls. Must be wrapped in paper bags, not plastic bags.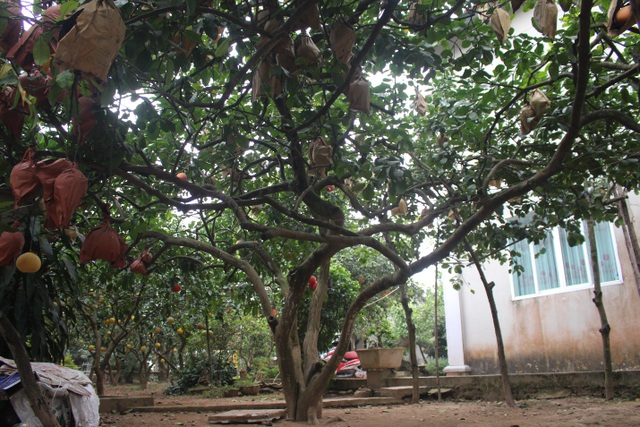 Mr. Phuong said, at present, he has customers who order nearly 10,000 red grapefruit fruits for the Lunar New Year, but not enough grapefruit to provide for customers, most people order 2-3 months ago, every year will burn row.
In 2019, Mr. Phuong established Dong Cao Red Pomelo Cooperative, supplying seedlings, transferring planting techniques and consuming all products for the people. The whole commune still has about 1500 red pomelo roots that are over 40 years old.
Three years ago, Nghe An people came to see and returned the 40-year-old red pomelo tree for 180 million but Mr. Phuong did not sell.
"Thanks to the red grapefruit tree that my father left behind, my family grows, we eat so we can make it, now the whole family just revolves around the expansion of this grapefruit variety. So everyone pays no price, I do not sell", Mr. Phuong said.
Red pomelo on a tray of five fruits on Tet holiday symbolizes fortune, luck. Red grapefruit is very fragrant and can last 1-2 months, so it attracts more and more visitors every New Year to Spring.
Dân trí