A fair called "CAMAN" (Cam An – an ancient fishing village) with a scene of trading in the fishing village along the Co Co river and ancient Hoi An sea.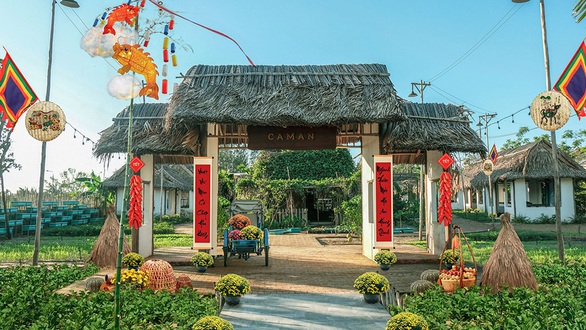 The old Tet market in CAMAN is being arranged urgently to serve customers – Photo: BA DNG
In the struggling return atmosphere, many tourism businesses and large accommodation areas in Hoi An (Quang Nam) have launched many "unique and strange" ideas to attract tourists to come.
Gathering the most number of customers are eco-fair markets, selling separate products.
All-in-one art market
From the afternoon of January 8, the rows of restaurants located on the Co Co river, Cam An ward (Hoi An) were filled with light, lanterns and large sound systems. Although it was raining, a lot of Western customers were from Da Nang and Hue to pick up the car to the Sunset Art market at the Coco Casa riverside restaurant to shop and enjoy art programs.
Just in time to set up the self-made skin lotion and cosmetics bottles, a young American girl said she and her boyfriend went to Hoi An to work in the tourism industry for many years. Work stalled, for many months, she and her friend have come up with ways to make health care and beauty products from the natural herbal resources available in Hoi An.
"When we know that there is a fair at Coco Casa, we ask the problem and bring the goods here to display and sell to visitors, we are responsible for deducting 10% of the revenue for the market owner" – the owner of the cosmetic counter said the Americans.
Mr. Le Ngoc Thuan – owner of An Bang beach restaurant chain and Coco Casa food arts area – said that because the current number of visitors in Hoi An is quite small, he wants to turn the culinary space, restaurants into fair markets and maintained on weekends.
"We have more than 20 booths including food, handicraft furniture, painting stalls. Foreign artists living and working in Hoi An, carpentry artist Kim Bong (Quang Nam), houses Famous goods … are invited to perform. Instead of having to go to the old town and find a place with full services, entering the market with artistic trends like this will satisfy the demand for greed. eating, enjoying music, interacting with art and buying favorite items, "said Mr. Thuan.
Mr. Thuan said that there were many customers from various places who had problems connecting with art establishments in the market to order and keep termites. To keep the atmosphere warm, the market will open and maintain regularly on weekends from now to traditional New Year.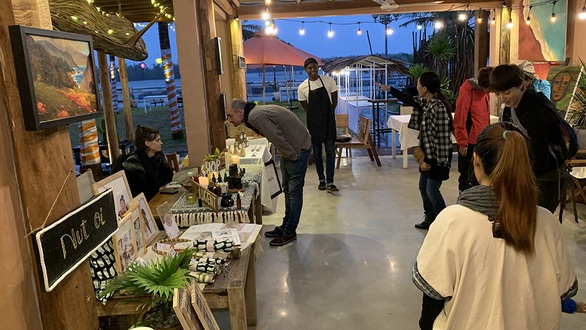 Art space combining cuisine and music at Coco Casa Sunset Art Market on the afternoon of January 8 – Photo: BA DNG
The old market traded with … coins
Another "exclusive" market that is being urgently opened to welcome guests on Tet holiday is at the Silk Sense Hoi An Resort (Cam An ward). In a space of more than 5,000 square meters, a fair called "CAMAN" (Cam An – an ancient fishing village) recreates the scene of trading in the fishing village along the Co Co river and the ancient Hoi An sea.
Mr. Tran The Do – Silk Sense owner – said that the business is urgently arranging stalls to open markets to welcome customers on December 23 and ending on the 5th day of Tet. Accordingly, the market will have a total of 30 stalls selling Tet goods, food stalls … In the market there will also be a thriving movie theater about Hoi An; Watercolor and music photo exhibition areas. Visitors wearing ao dai will be exempt from tickets to visit the market.
Unlike other markets, all transactions in this old Tet market will be used with coins but not money as today. "We want to make a market to recall the image of Hoi An once flourishing, creating a fun place for tourists, thereby warming up the atmosphere" – Mr. Do said.
Chairman of the Quang Nam Tourism Association Phan Xuan Thanh said that outside the market for the sale, the market of 0 VND for the poor shopping for Tet is also about to open.
Chairman of Hoi An City People's Committee Nguyen Van Son:
Many markets serve Tet
In addition to street art activities that stimulate tourism demand, Hoi An and the business community are opening markets to create more products for tourists. That is the fair market of Tan Thanh Fishing Village (Cam An ward), Hoi An old town fair along Nguyen Phuc Chu pedestrian street. Both markets are newly organized and opened in the last days of 2020 and maintain the traditional New Year to create products for customers. In addition, a number of businesses are working with Hoi An to promote the opening of a number of satellite markets such as Thanh Ha pottery village, Cam Thanh coconut forest …
Tuoi Tre