Every birthday, party, friend meeting … especially at the end of the year makes many people extremely headache about what to eat? Where? But still, meet the "delicious and cheap" criterion to save costs for the whole group.
You will not need to be tired of searching and reading each review to choose a place like that. Because right here, this article will suggest you the selected restaurants and pubs for the group in Hanoi that meet the criteria you need.
1.Dê Re Song Duong
Drinking with goat meat is always a favorite choice among the members of the group. If you are looking for a restaurant, a cheap pub for a group in Hanoi that specializes in serving delicious dishes from famous goat meat, Go De Song Duong is a suggestion worth considering.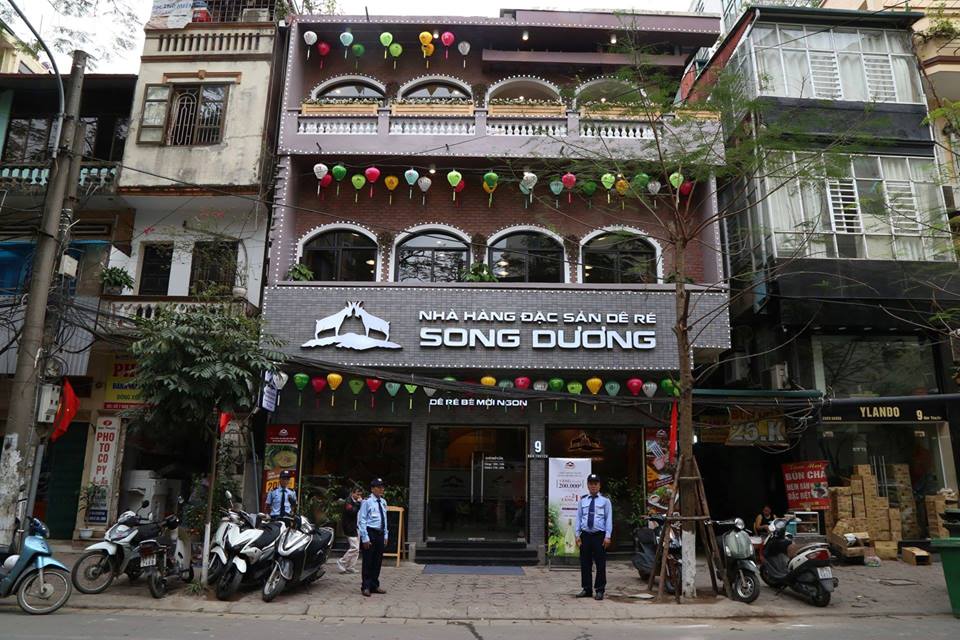 Goé Song Duong Restaurant – Photo source: Internet
The restaurant specializes in serving delicious dishes from scent goats, especially the dishes that make up the restaurant's brand such as lemongrass goat, grilled goat … with an exclusive recipe that eliminates the odor of the goat. make many people feel uncomfortable. At the same time, the combination of many spices increases the delicious taste of the dish, making many diners love it.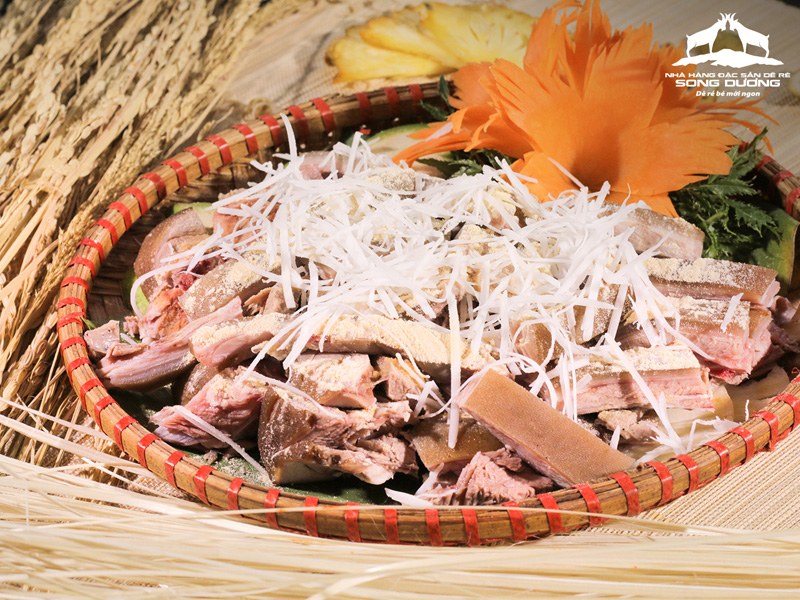 Goat brewing rice husk – Photo source: Goé Re Song Duong
Many diners compliment that the taste of the goat meat here is much more delicious, not only because of the recipe, but also because the ingredients are carefully selected goats raised from the Northwest mountains. Each animal weighs only about 20kg, only eats young leaves, drinks natural spring water, has not changed milk teeth, so the meat is clean and retains softness and many nutrients.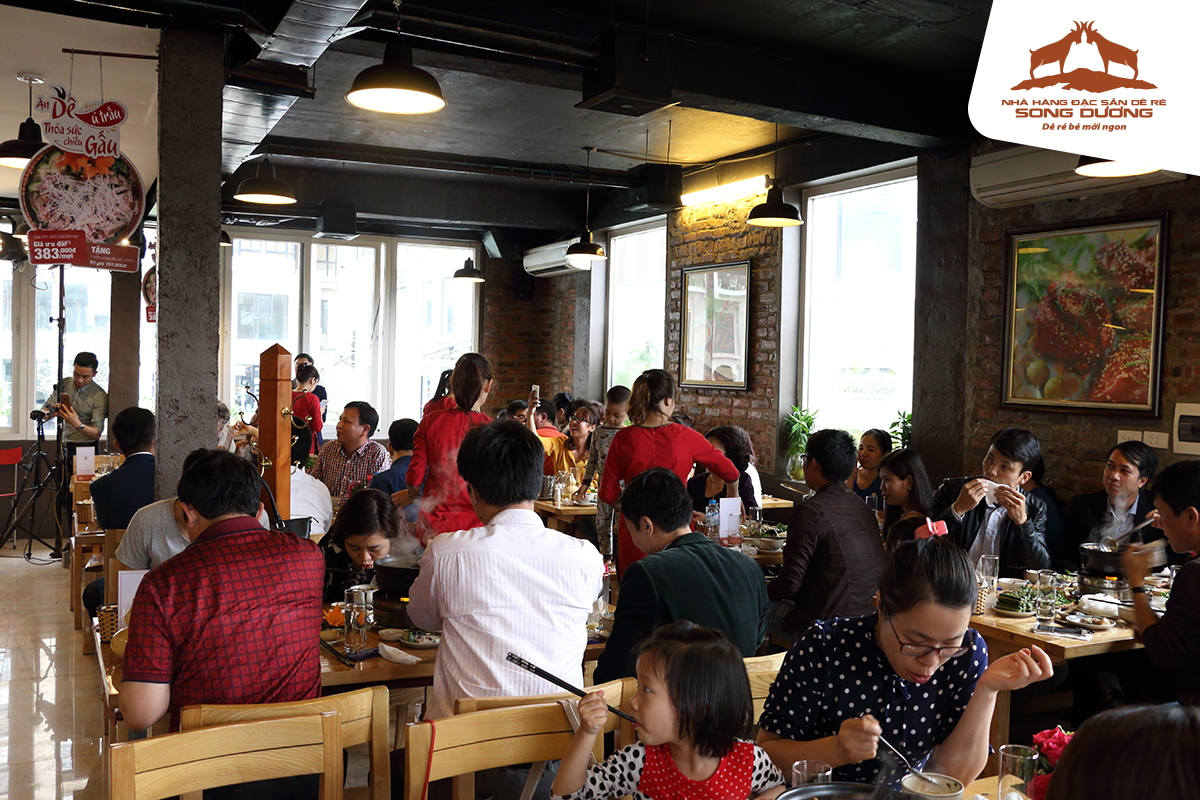 Customers at De Re Song Duong – Photo source: Internet
The enthusiastic service of the staff at the restaurant is also assessed as quite professional and enthusiastic. Therefore, making many tourists traveling in large groups still feel comfortable while enjoying the food here.
Reference price: 100,000 – 500,000 VND / person
Address 1: No. 39, Tran Kim Xuyen, Cau Giay, Hanoi
Address 2: No. 09 Hang Thuyen, Hai Ba Trung, Hanoi
Opening hours: 10:00 – 22:30
2. Quan Moc silk cow
Quan Moc silk beef chain is a place that specializes in serving dishes made from silk beef with a variety of attractive menus and main ingredients are silk beef for about 6-12 months, so it is still soft and sweet. the dishes add to the appeal.
Quan Moc silk beef specializes in serving delicious beef dishes suitable for large groups of people – Photo source: Internet
Famous dishes in the restaurant include the set of silk beef on a saving tray for the group, silk beef wrapped in rice paper, beef dipped in hot pot, and grilled beef. suitable for many different tastes.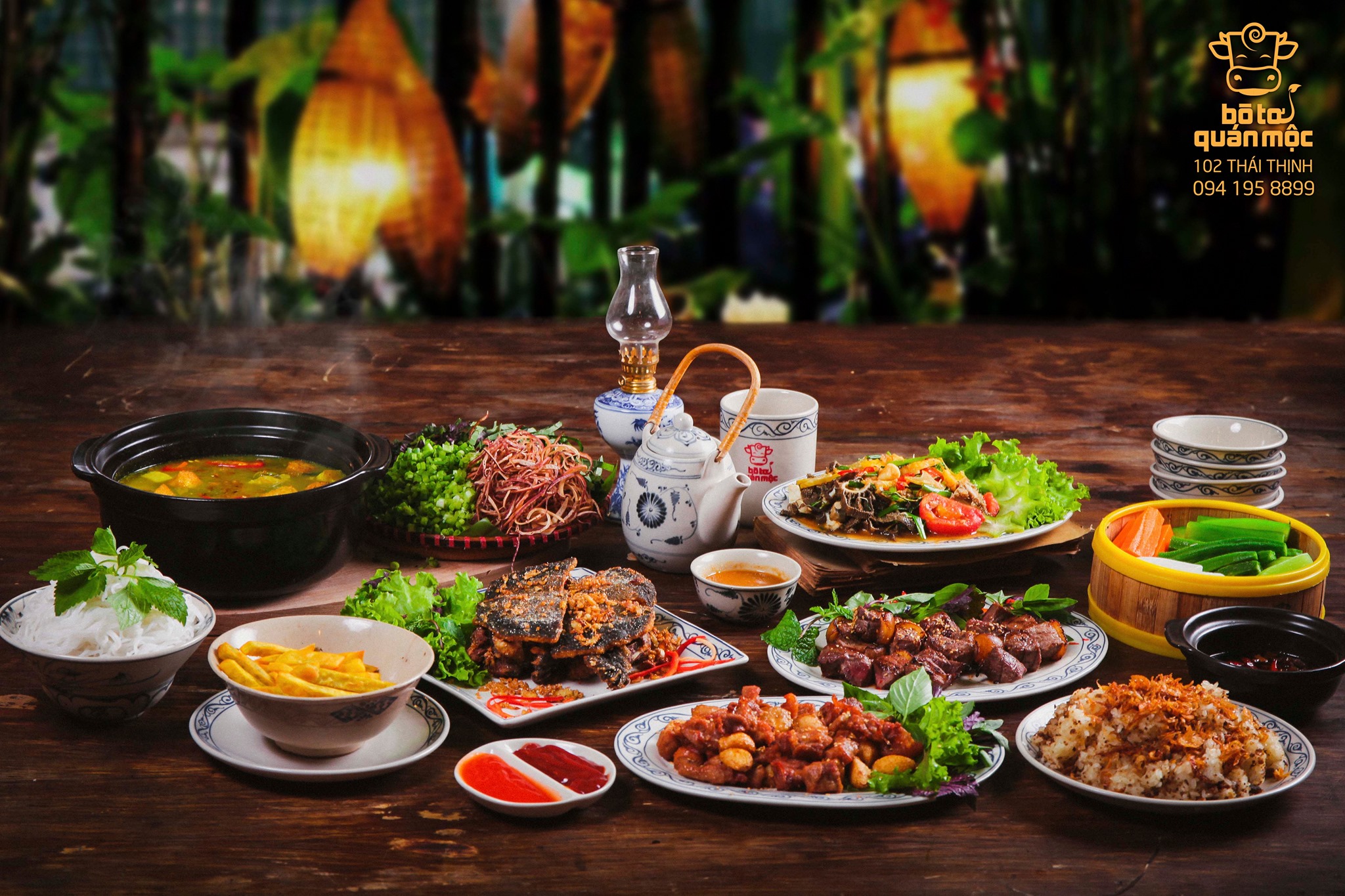 Attractive food at Quan Moc silk beef – Photo source: Quan Moc silk beef
Moreover, with a prime location right on the street surface, having a spacious parking space is a big plus for the restaurant. Not only that, with the bold old space in the 80's, reminiscent of old memories, creating a warm atmosphere that tightens feelings for everyone to freely talk, eat and drink, "Have fun together.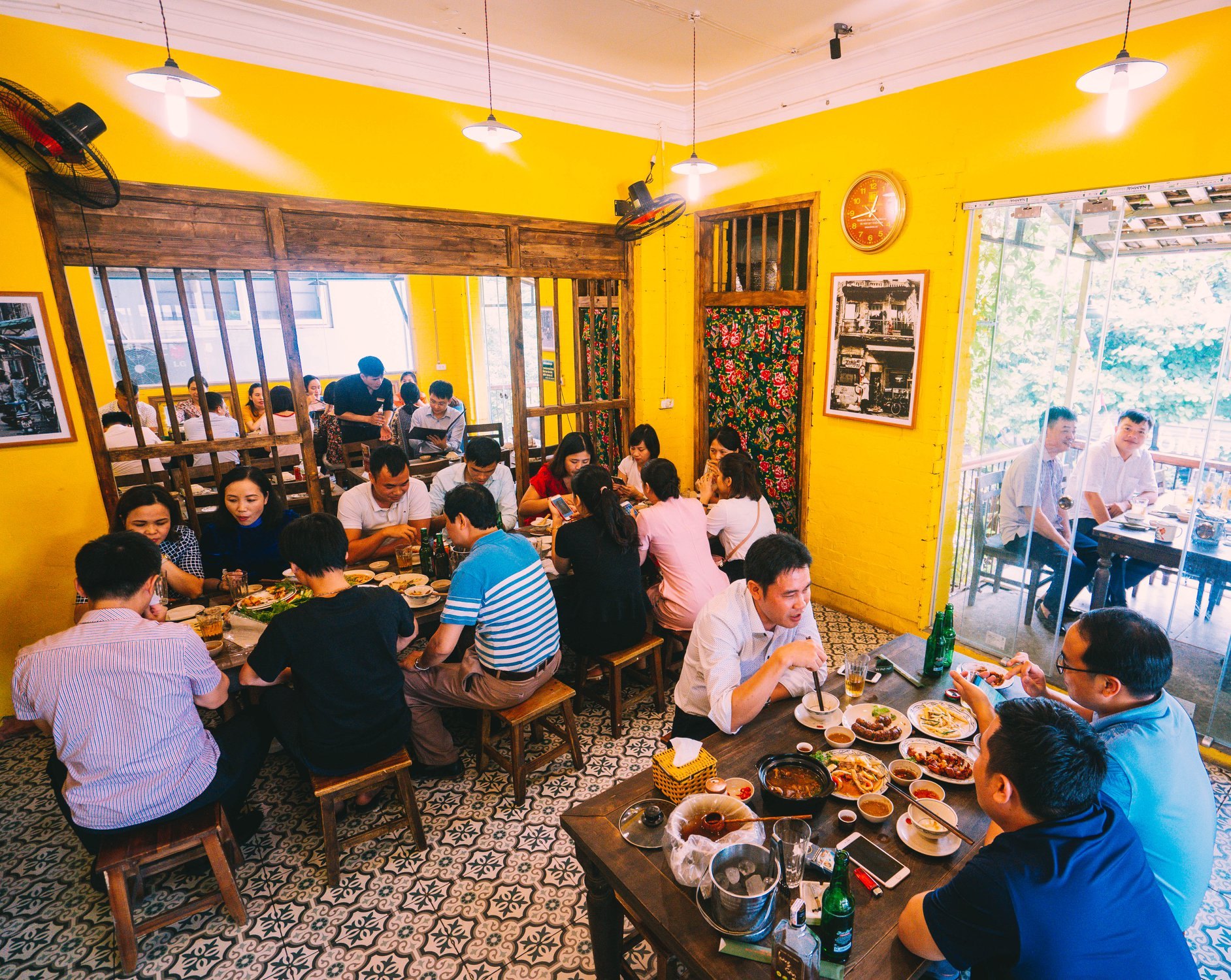 Drinking in Hanoi at Quan Moc silk cow is all the more – Photo source: Internet
CS1: 102 Thai Thinh, Trung Chien Ward, Dong Da District, Hanoi – 094.195.8899
CS2: Villa D17, Alley 76 Nguyen Phong Sac, Cau Giay District, Hanoi – 094.165.3399
CS3: B52 Nguyen Thi Dinh, Nhan Chinh, Thanh Xuan, Hanoi – 094. 165. 8899
CS4: No. 2 Hoa Lu, Hai Ba Trung – 094. 581. 3355
CS5: 88 Van Phuc crossroad, Ha Dong – 094 195 3399
CS6: 47 Nguyen Hong, Dong Da – 094 296 3355
Reference price: 150,000- 300,000 VND / item
3. Sticky Chef – Hotpot & Grill
It is flawed if the list of cheap restaurants and pubs for the group in Hanoi omits the name Bun Chef – Hotpot & Bake with an ideal view of a beautiful lake, with fresh air, cool for festivals. all-night meeting.
The shop is designed in Mexican Classic Cowboy style, highlighted by gray walls and modern furniture, combined with beautiful lake view with a large capacity of more than 100 seats including 2 floors, very suitable for large groups. tablets.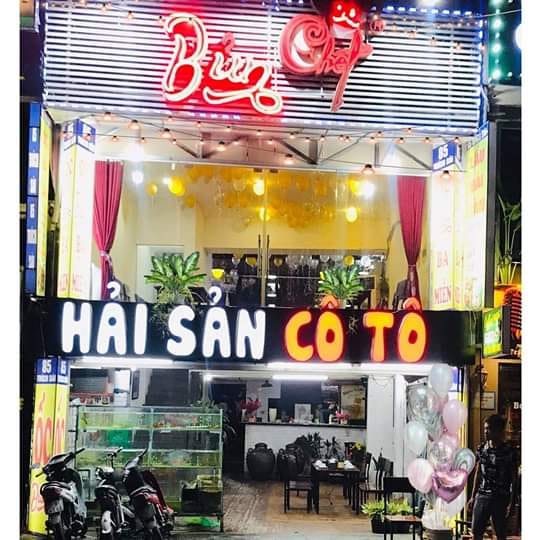 Bun Chef where to enjoy delicious grilled hot pot right – Photo source: Bun Chef 85 Quote Sài
Bun Chef is not only known as a place with high scoring space, noisy, enthusiastic service, but also because this is one of the starting places for the trend of "super huge" hot pot and still serves for now.
True to the name of the restaurant, the hotpot at Bun Chef is great in both color and flavor, a combination of fresh seafood such as shrimp, crab, crab, oysters, squid, snails, clams and bacon. Imported Australians, mushrooms, vegetables … Must say, looking at the hotpot, you must say an extremely attractive "max full topping".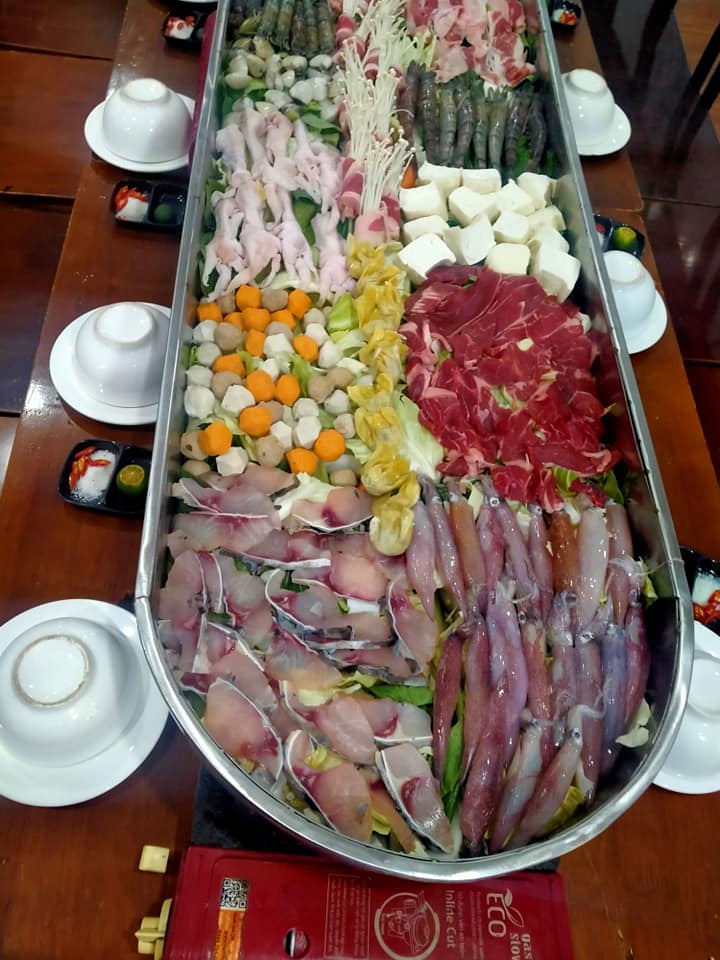 "Super big" hot pot at Bun Chef – Photo source: Bun Chef 85 Quote Sai
Fresh beer at the bar is also a drink that many diners appreciate for its freshness, aroma and not too much gas. What could be more wonderful, in the chilly weather at night, enjoying the bustling atmosphere and exciting music, ordering a hot pot and grilled dishes with a few glasses of draft beer is just "great Sun"!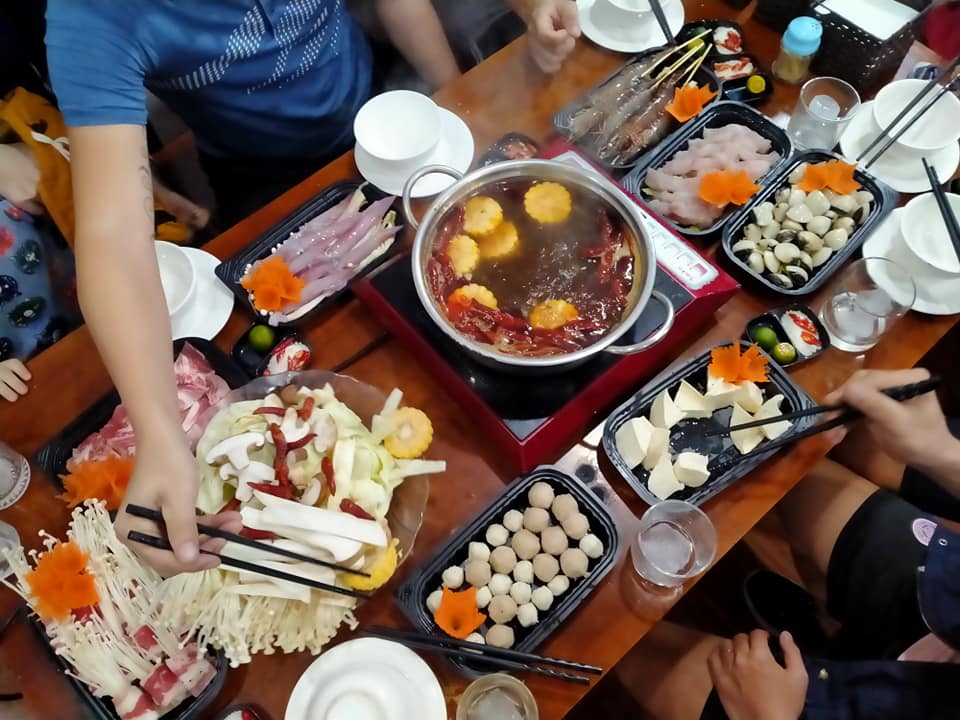 Cold weather – strong wind – delicious wine – good friends – Photo source: Bun Chef 85 Quote Sai
Reference price: 100,000 – 500,000 VND / person.
Address: 85 Quote Sai, Tay Ho District, Hanoi
Phone: 0989253476
4. Luong Son Quan
Converging all three factors of space, price, good service quality, Luong Son Quan, a place not to be missed in the journey to "drink" with the right quality for the whole group.
With an open space design, the combination of tall green bamboos and eye-catching lanterns, especially the waterfall flowing from above is extremely impressive. All create a fresh and friendly feeling.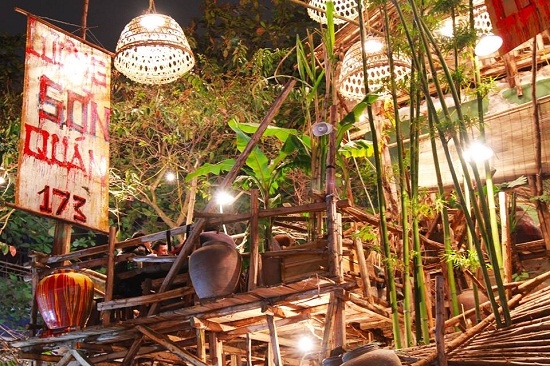 Luong Son Quan has a unique style in the heart of the Capital – Photo source: Internet
Whether it is a large group or a small group, you do not worry about choosing a good view table because the restaurant has 2-storey design, with a large capacity ready to serve diners.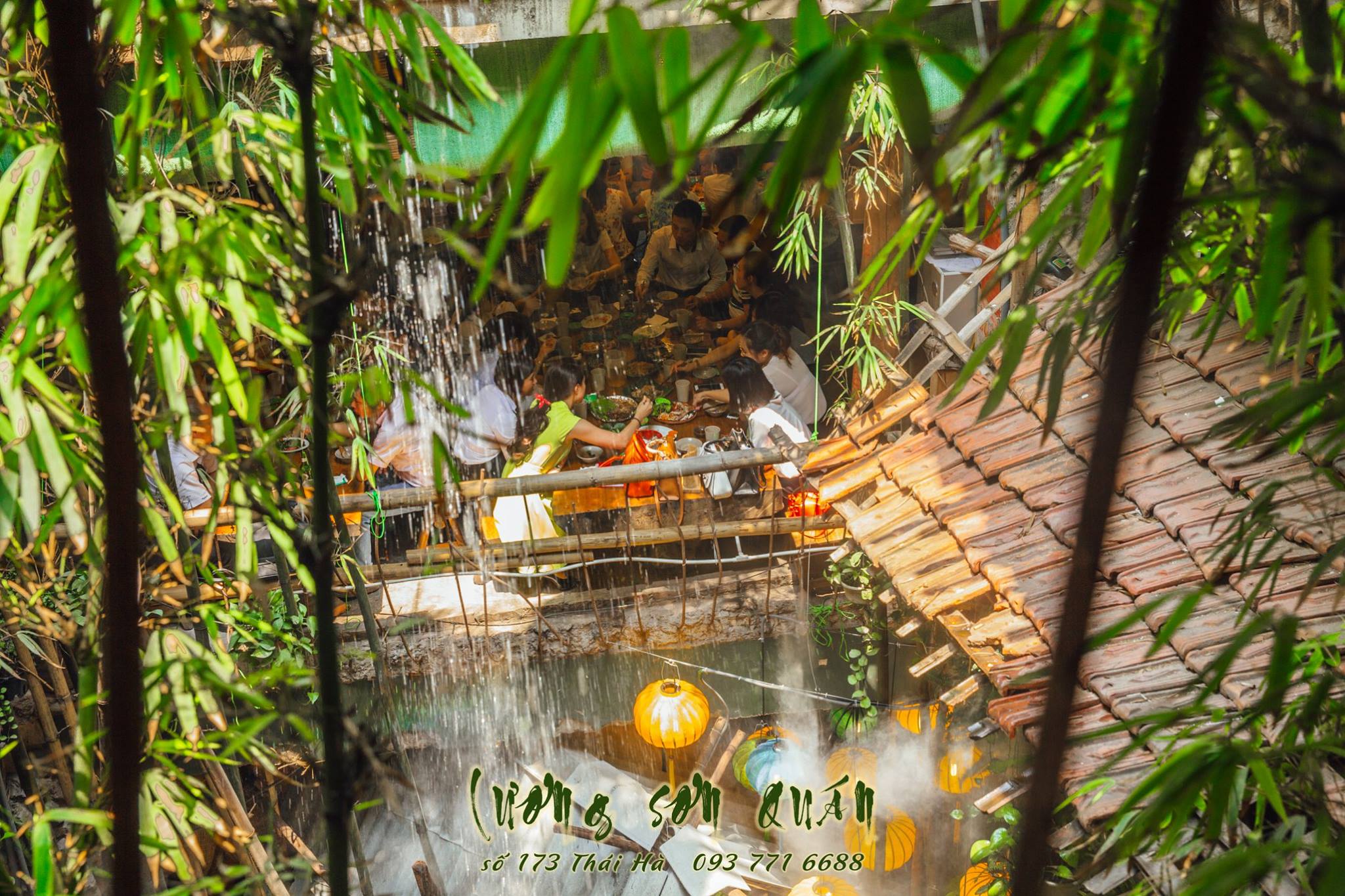 A corner at Luong Son Quan is very fresh – Photo source: Luong Son Quan
In addition to the restaurant's famous main dishes such as steamed chicken curry, grilled chicken, the bang is quite strange in terms of presentation and taste, the quality wines here are also one of the plus points for People who drink "real things" happily enjoy themselves on the table.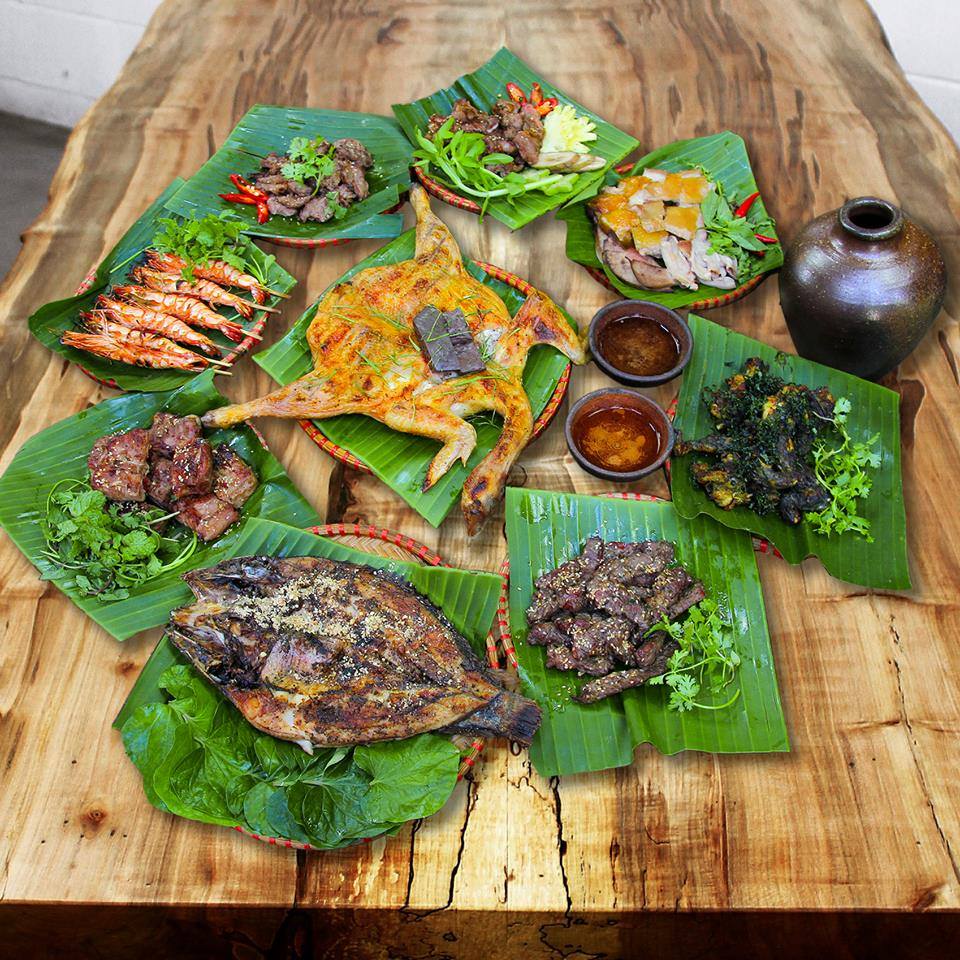 "Good bait" – "Good wine" at Luong Son Quan – Photo source: Luong Son Quan
Address: 173 Thai Ha, Dong Da district, Hanoi
Opening hours: 10:00 – 23:00
Reference price: 100,000 – 300,000 VND / person.
5. Pao shop
Traveling to the Northwest, traveling to the beautiful scenery and enjoying local delicacies are the plans of many people in the upcoming travel plans.
However, if you still do not have time, going to Pao restaurant with your group to satisfy the Northwestern nostalgia with the delicious dishes that keep the full taste of the mountains on the weekend is also worth considering.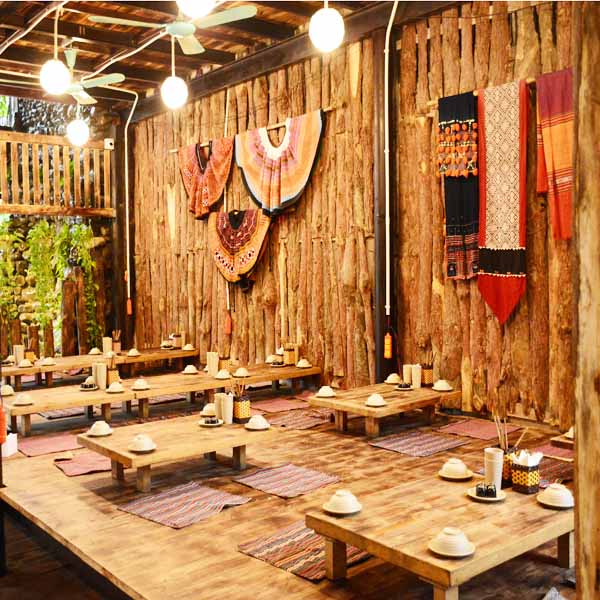 Pao Quan has a Northwest style – Photo source: Pao Quan
With the design of bringing the Northwest atmosphere to the street, the space is full of mountains and forests, bringing a fresh atmosphere by the green of the vines, typical images such as wooden pillars, when the well, the brocade area , artificial springs … make many tourists surprised and feel like they are actually traveling to the Northwest.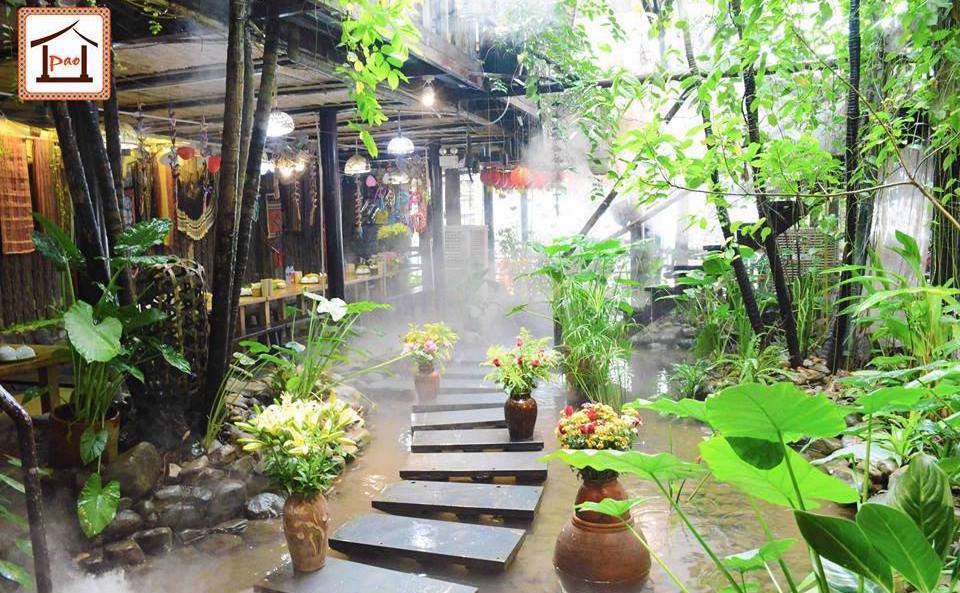 Very chill space at Pao Quan – Photo source: Internet
Coming to Pao restaurant not only feels the space of the Northwest, of course the main purpose is to enjoy delicious dishes such as 7 dishes Bac Ha pig, Bac Ha kale, steamed squid with beer, Black Chicken Ha Giang, crab hot pot … combined with the pungent flavor of a typical wine cup, there are only two words "wonderful" that make you want to come back next time.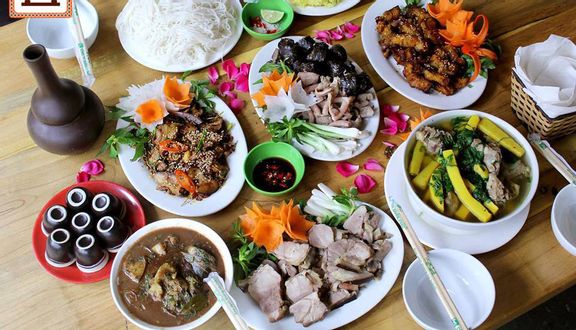 Enjoy the delicious dishes of the Northwest right at Pao Quan Hanoi – Photo source: Internet
Address: Lane 62 Tran Thai Tong, Cau Giay District
Opening time: 10:30 – 22:00
Reference price: 180,000 – 250,000 VND / person
6. Buk Buk Chain – Korean style pub
"Buk Buk" is the sound of an instrument used to accompany Pansori singing during festivals. Buk Buk drums bring the most exciting, bustling and refreshing melodies.
Coming to Buk Buk restaurant, customers will also feel a new excitement in an open space that meets the restaurant's criteria to comfortably enjoy delicious food and chat together.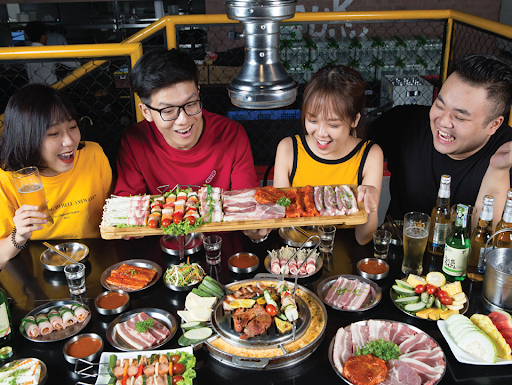 Enjoy delicious Korean style – Photo source: internet
Buk Buk is also a bright name in many popular Korean-style pubs with features such as bait and Soju, other beers and drinks like small screen dramas.
With the variety of menus as well as prices from hot pot dishes, grilled and special drinks, it will bring great moments for all members of the group.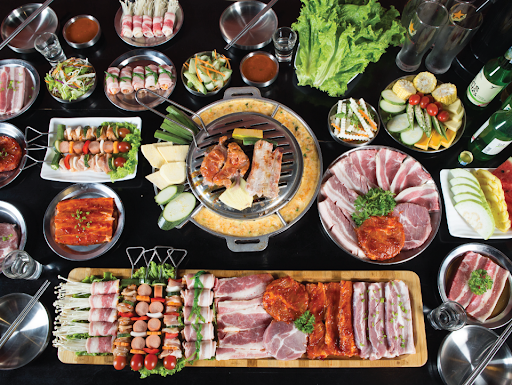 Eating barbecue, drinking soju with a group of fun at Buk Buk – Photo source: Internet
Reference price: 150,000 – 250,000 VND / person.
CS1: Buk Buk, 2A Lang Ha, Dong Da District, Hanoi – Telephone: 024.3366.8862.
CS2: Buk Buk, 3rd Floor, Savico Mega Mall Long Bien, 7-9 Nguyen Van Linh Street, Long Bien, Hanoi – Tel: 02466596808.
CS3: Buk Buk, Level 1, Aeon Mall Long Bien, No. 27 Co Linh Street, Long Bien, Hanoi – Telephone: 024.3829.5588.
CS4: Buk Buk, 1st floor, CT 2A B building, Le Duc Tho street, Hanoi – Telephone number: 024.3399.3636.
7. Hai Xom Beer
Hai Xom beer brand is a famous name in recent years, too familiar to the Ha Thanh people. Many people choose to answer the question of where is the best pubs for the group in Hanoi?
Xom Beer owns an airy and spacious space to ensure that everyone still feels comfortable even though the bar is crowded. Moreover, the enthusiastic and agile staff are highly appreciated when customers do not have to wait too long to order.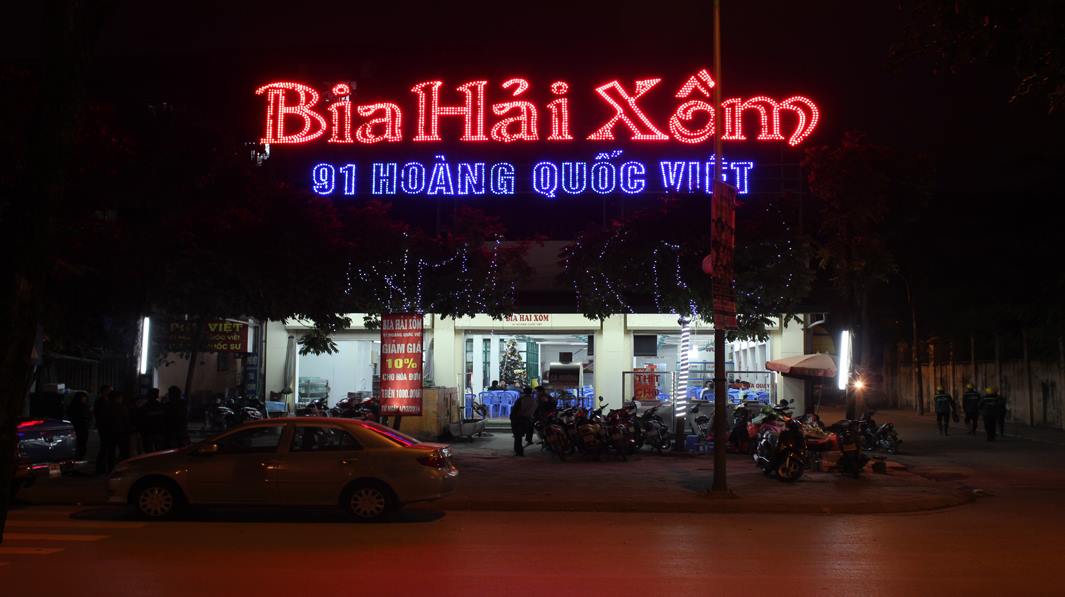 Hai Xom Draft Beer is a familiar address for large groups of people – Photo source: Internet
With its own recipe and standard beer storage temperature, Hai Xom beer is always high quality and has a strong and refreshing taste. How wonderful it is to enjoy directly pumped beer glasses that still have smooth white foam, giving you a feeling of excitement.
In addition to draft beer, which is the main drink, there are still other drinks such as canned beer, bottled beer, corn wine, leaf yeast, cider wine … to diversify drinks to suit each different customer group.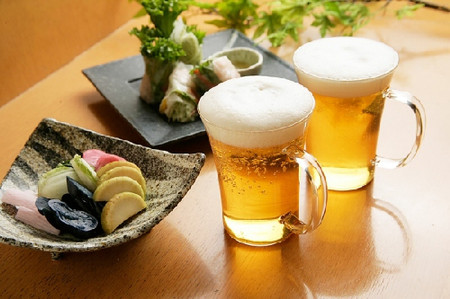 Enjoy fresh and cool beer at Hai Xom Brewery – Photo source: Internet
In particular, the food here is always fresh to bring out the freshest taste. The menu at Hai Xom Beer always ensures diverse and unique criteria with hot pot with all kinds of hot and sour flavors, beef hot pot, seafood, pan-fried veal, grilled buffalo meat, chicken without escape, braised carp with melon. … tasted quite well to make the fun more exciting.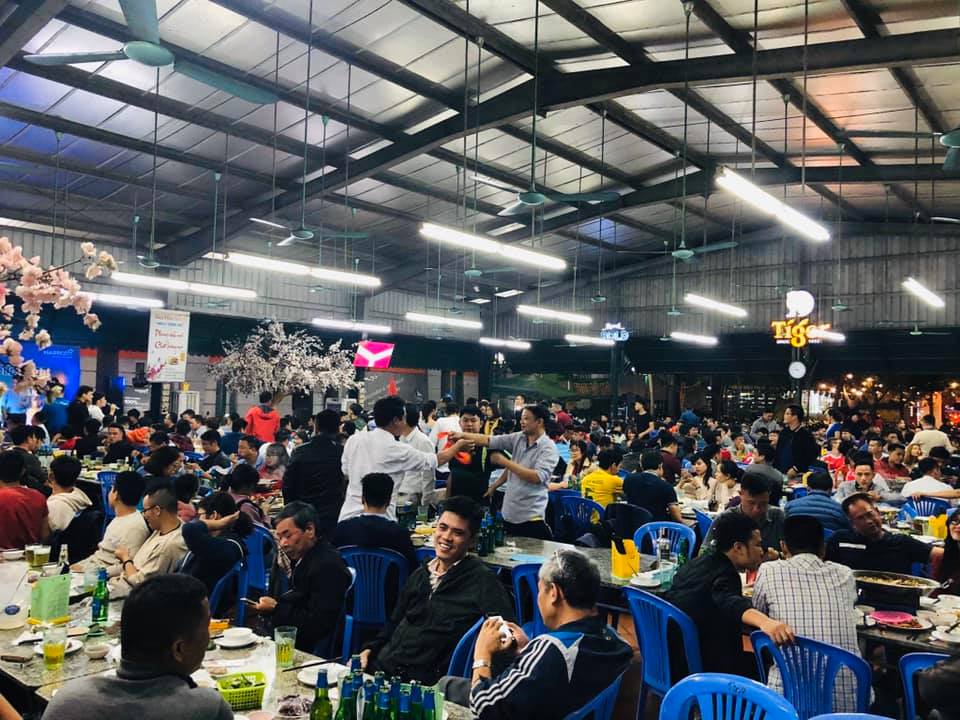 The attraction of Hai Xom Beer on weekends – Photo source: Internet
CS1: 86B Le Trong Tan, Khuong Mai, Thanh Xuan, Hanoi
CS2: 5 Phan Ke Binh, Cong Vi, Ba Dinh, Hanoi
CS3: 91 Hoang Quoc Viet, Hanoi
CS4: 45 Tran Thai Tong, Hanoi
Hotline: 0915663890 & 0966004168
Reference price: 100,000 – 400,000 VND / person
Drinking "forget the way back" with a list of restaurants , cheap pubs for the group in Hanoi that converge the quality of delicious food – service – space – price shared in this article, hope to help you have add a variety of choices to find the best place to meet with everyone.