Vung Tau is famous as a tourist destination of Ho Chi Minh City people on vacation. In addition to the bustle and bustle of the coastal city, Vung Tau also hides the wildness and simplicity in Hon Ba – a destination in Vung Tau that has been and is being sought by many people for spiritual relaxation.
Related news: Vung Tau Tourism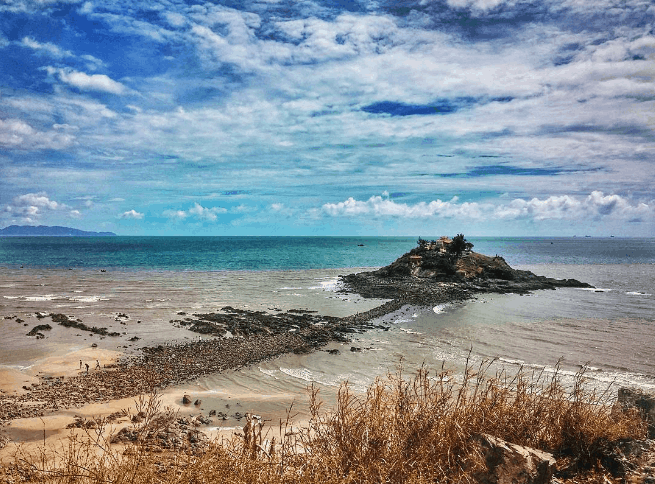 Panoramic view of Hon Ba Island (Photo collection)
Road to Hon Ba island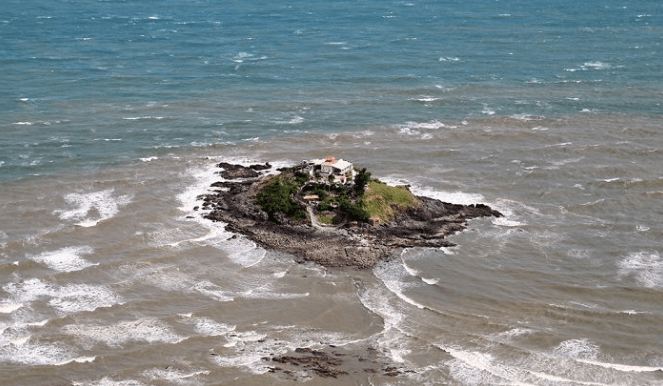 Hon Ba Island viewed from above
As a small island in the town of Lagi, Binh Thuan, Hon Ba is also known as Ba Vien Dan island or Archinard island, located about 200m from the foot of Nho mountain. To come to this Vung Tau tourist destination , from National Highway 1A turning to the foot of the mountain, you have to go through a road of 30km, winding with increasingly high slopes. Along the two sides of the road, the landscape is pristine and very peaceful, only the sound of the wind, the sound of wild birds, floating in the deposition space.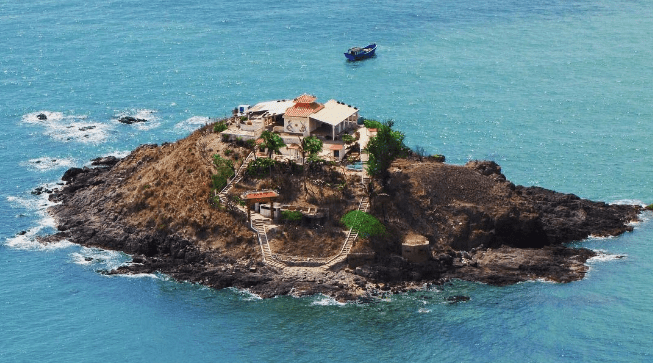 Wild and poetic beauty of Hon Ba island
The higher you go, the cooler the climate will be and you will see large and small rocks of all shapes and sizes, crowded together on the shore, scattered in the middle of the stream is Da Giang stream. White water flowing gurgling like a love song in the quiet mountains and forests. This place has a signboard leading to Dr. Yersin's house.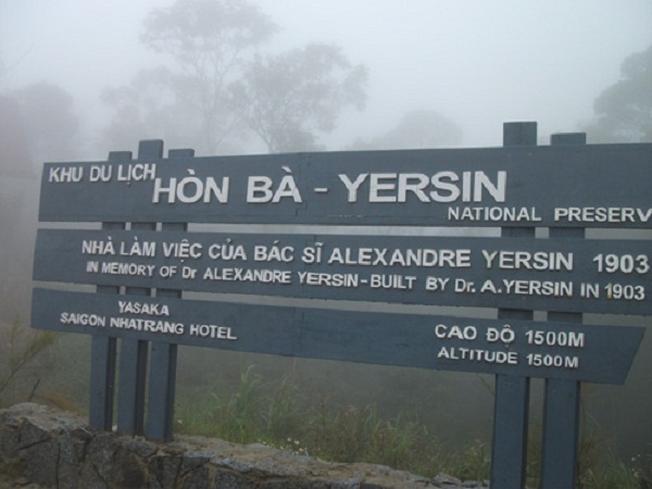 Guide board to the house of Dr. Yersin (Photo collection)
The story of Hon Ba island you may not know
According to documents, in 1915, Dr. Yersin discovered that Hon Ba Island is a cool climate, very similar to Da Lat, suitable for growing Canhkina, used as raw materials to produce Ky Ninh Tri medicine. malaria. Since then, the doctor built a house on it to facilitate the care of the tree. It was a wooden house, which is now degraded but reconstructed locally so that tourists traveling to Vung Tau have the opportunity to visit Vung Tau tourist destination .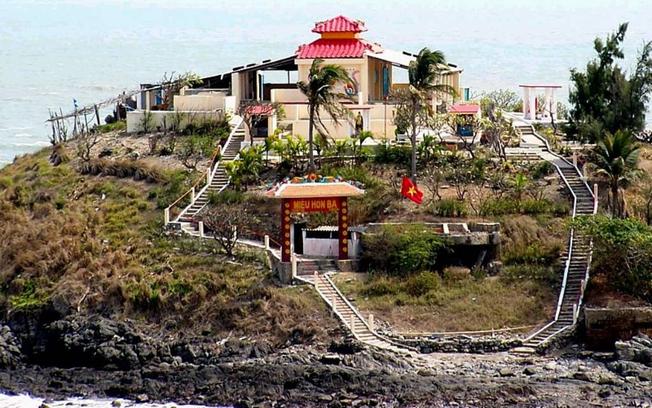 Temple of Ba 4m above sea level (Photo collection)
At the time of low tide, the island will reveal a stone path, if adventurous visitors can visit and explore. On the island there is Mieu Ba Temple, built in 1881, is a quite sacred place. This temple is quite small, floating on the ground 4m and is a place to worship gods. This Vung Tau destination is also to keep historical war relics with a basement of 6m long and 3m wide; It used to be the secret meeting place of the revolution.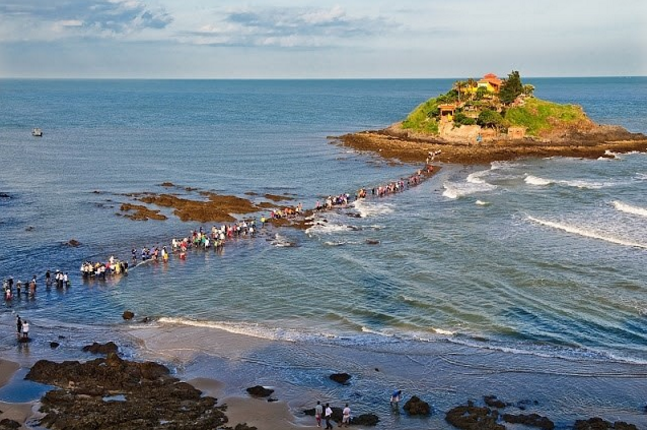 The mysterious underwater road leads to Hon Ba Temple
Interesting sea road
To get to Hon Ba – Vung Tau tourist destination , tourists can go by one of two common ways: by boat, boat when the water is high or walking when the water is low. The majority of tourists traveling to Vung Tau often choose option 2 because of an interesting experience. You have to cross a patch of long, wide, bumpy oysters, but be careful not to stumble because the sharp shells can scratch you.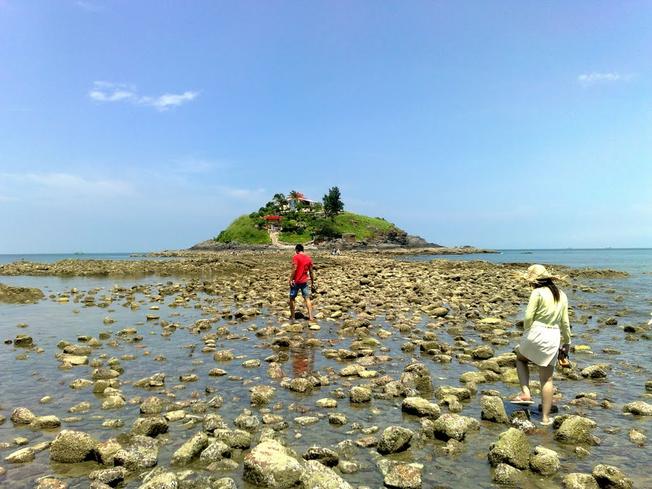 Walk in low water to the Temple of Ba (Photo collection)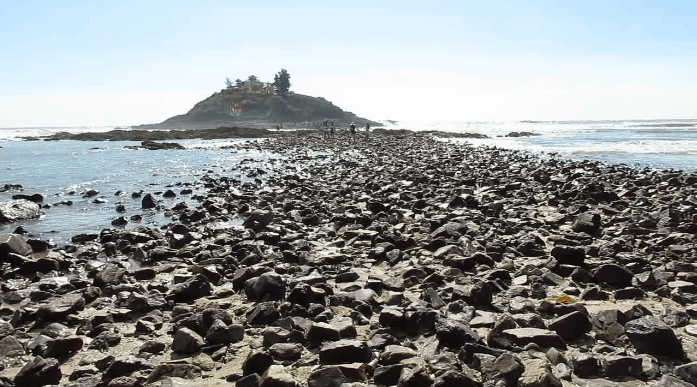 Walkway on the sea
Hon Ba Temple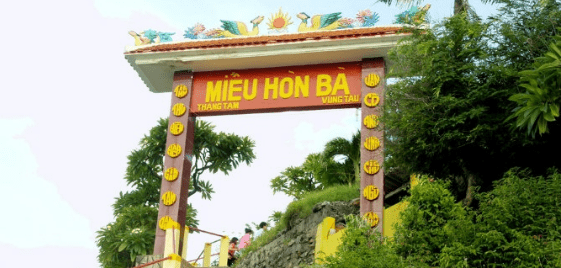 Arriving on the island, caught Hon Ba Temple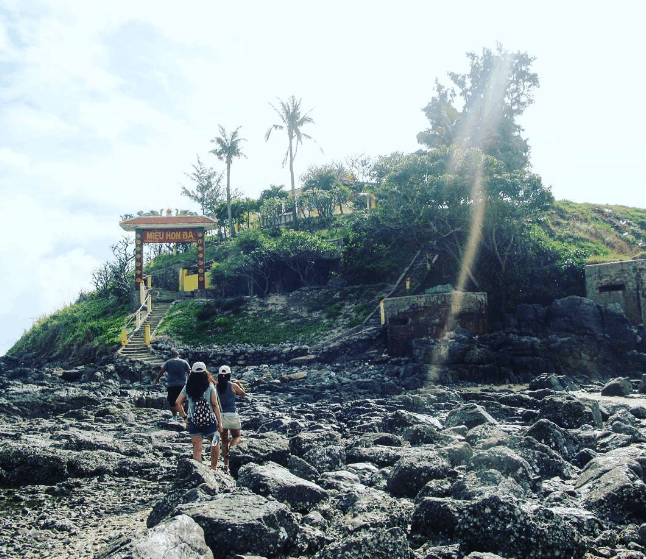 Visiting Hon Ba Temple
According to the custom of each year, Hon Ba Temple held 4 rituals, based on the country, including: January, April, July and October (lunar calendar). Particularly in January, especially on the full moon day, Vung Tau tours often bring visitors here to worship and pray for a peaceful and happy new year. This is the time when Temple of Ba is more crowded and noisy.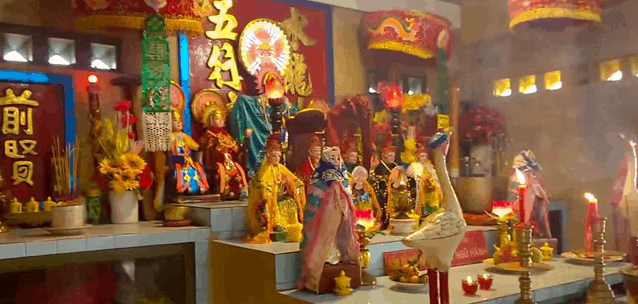 Inside Hon Ba Temple
Do not miss the moments of the day at Hon Ba Island
Dao Hon Ba is a perfect combination of rock and sea, covered with green coconut trees, poplar trees, areca and porcelain flowers. Clear, cool seawater, reflected in the distance are rocks of all sizes with fancy shapes. Hon Ba is most beautiful at dawn and dusk, light rays of sunlight create a dazzling shimmering beauty.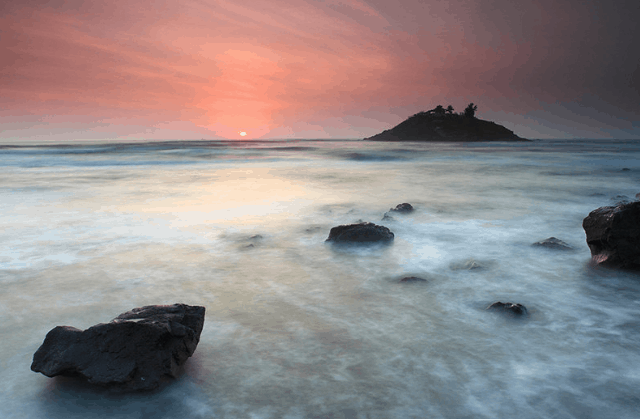 Dawn on Hon Ba island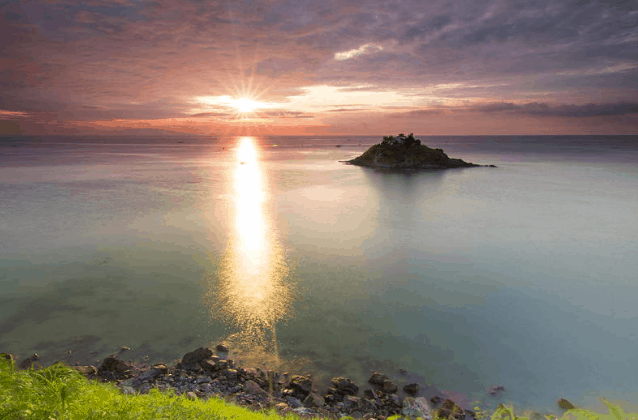 Sunset on Hon Ba Island
In the near future, the Department of Culture – Sports and Tourism of Vung Tau province will further improve Hon Ba to become a Vung Tau tourist destination for tourists to visit, enjoy combined spiritual tourism.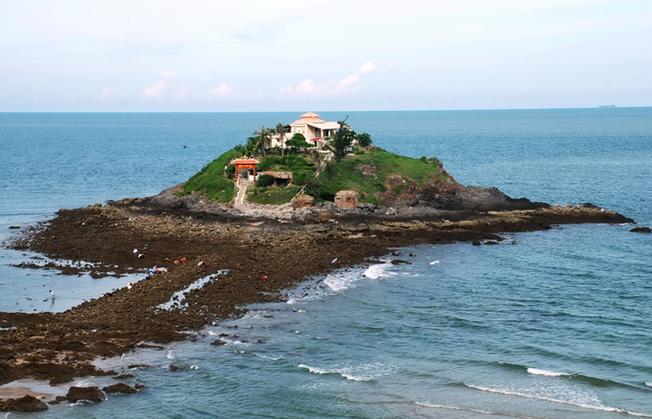 The beauty of Hon Ba Island in the sea (Photo collection)
Experiencing the test of time, Hon Ba Island at Vung Tau tourist destination still retains its wild beauty and romantic and poetic nature. If you want to find a place of spirituality in combination with enjoying wild nature, Hon Ba Island is the ideal destination for Vung Tau. Coming to Hon Ba, you will feel your soul relaxed and gentle.