Saigon has been called the capital city since the 1950s. Its population exploded, converging people from all over the North, Central, and South. From then until 1975, the Saigon New Year had the mood of celebrating the spring of the whole country, not just one region.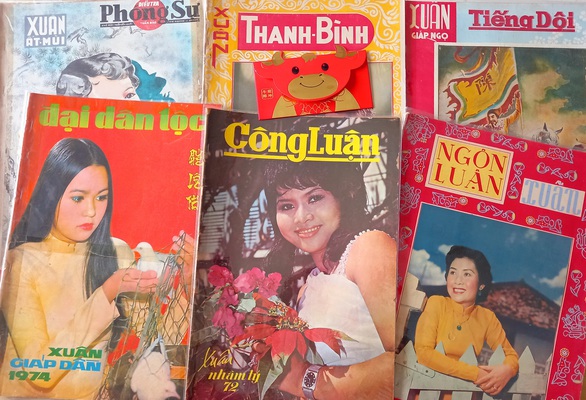 New Saigon Newspapers in the collection of Pham Cong Luan
The generations born or raised in the city at that time are now over 60 years old, surely not forgetting the old New Year's blending both deep traditions with exciting modern activities.
The beautiful Nguyen Hue flower market
So far, Nguyen Hue Avenue is not only beautiful because it is large and stretches to the river wharf. Many photos and videos over 50 years ago show that each time Tet comes, the avenue becomes more and more beautiful when there are thousands of spring flowers and even "talking flowers".
Journalist Nguyen Cong Thanh, in his 20s, came to "hunt" here. He once captured the scene "Minh Tinh" Tham Thuy Hang with "actor" La Thoai Tan – two silver screen stars walking around Nguyen Hue flower market. Newspaper reporters also often go to flower markets to take pictures for newcomers or many other special newspapers.
Mr. Thanh said that not only the stars, but also many young men and women, large and small families like to go to Nguyen Hue flower market to watch flowers, buy flowers and take pictures. Most of the people walking around the market wear nice clothes and speak politely. Flowers are rarely seen plucking flowers, breaking fruit or walking around.
The shopkeeper is also very courteous, often allowing guests to comfortably take pictures with flowers and fruit trees. In the eyes of this retired journalist, Nguyen Hue Flower Market is a very special event in Saigon! Indeed, that is the typical image of the Saigon New Year that Nguyen Hue Flower Street today, according to the writer, only partially continues.
Ben Thanh Tet Market is bustling
Not far from the Nguyen Hue flower market is the Ben Thanh Tet Market, which is equally charming. Back then, Saigon did not have high-rise commercial centers, only two luxury shopping malls, namely Crystal Palace and Tax. Therefore, people in the capital city from the rich to the popular people like to go "shopping for Tet" at Ben Thanh market.
Mrs. Tran Thi Binh, a small trader in An Dong market in the past, now about 80 years old, said that at Tet Ben Thanh market everything is available and very funny. The well-off people often go into market houses to buy premium food and clothing.
But ordinary people like to walk around the stalls that are temporarily set up in front of the market, in front of Quach Thi Trang construction site and two streets Phan Chau Trinh and Phan Boi Chau. Here, there are thousands of Tet items ranging from jam cakes, wine, lychee flowers to cosmetics, altar and home decorations.
Including firecrackers of all kinds from "firecrackers" to "cannons", "mortars", "pot cannons". After the 1968 Tet Offensive, the burning and selling of firecrackers were both banned due to security concerns. Signs on the stalls are "banners" (banners) of all types, with all colors to indicate the manufacturer's name and the logo of the goods. Many "banners" do not forget to run the words "Congratulations to the new spring".
From morning to night, the Ben Thanh Tet market was bustling with sales in exciting spring music. Bubbles, toys, street vendors, and "commercial zô" (great discount) shoe and clothing vendors spread across the market, making the Tet market more jubilant and jubilant.
People who go "Tet shopping" flock here, not only urban people but also a large number of people "suburbs" and provinces. Because the market is located close to the train station (now 23-9 park) and the central bus and rickshaw station.
Going to the Ben Thanh Tet market brings a little "fragrant" of Saigon, it has become a hobby for many families "in the province" and near and far. Today, when visiting the European and American countries, if you go through the traditional Christmas markets, many old Vietnamese tourists must remember that Ben Thanh Tet market was absent!
Adult spring newspaper and pupil spring newspaper
On New Year's Day in the South, banh tet, banh chung and fruits – "coconut bridge with enough mango" are products that are regularly present in the house. However, an indispensable "specialty" is spring leopard!
Mr. Tran Trong Thuc, a veteran writer in the Saigon newspaper village before 1975, said spring newspaper at that time was considered a "product", a Tet gift for readers. Newspaper covers are mostly not current images but more artistic.
Usually it is a painting with a national flavor or a dream of serenity and prosperity such as countryside scenes, temples, girls in ao dai, and children with chubby hair.
Or the image of the beauties as music, movie, and reformist stars. In particular, attaching to any five animals, on the cover and especially the article inside, there are pictures and stories related to that animal.
The "nail articles" (the most attractive articles) of the spring newspaper are "Tears of the Army" (looking back at the story of a year with funny eyes), reportages, short stories, poems and articles that are discoverable. animal.
Mr. Thuc said selling spring newspapers is the main source of income for the newspaper court, not advertising. There are rare articles in the newspaper in the form of interviewing one character or another in order to receive "promotion" (like "PR articles"). Those who are invited to write articles and have a spring newspaper article feel "very happy", considering it a professional pride.
Ms. Le Thi Thu Ba – a newspaper seller in the Do Thanh residential area, District 3 – said that she loved the spring newspaper since she was a student (grade 6). Poor family, unable to afford spring newspaper, she often reads "ké" newspaper from her neighbor's sister.
Not only does she love reading spring newspapers, but Ms. Thu Ba also loves doing spring newspapers in her school through the form of newspaper (wall newspaper). In Saigon, many large high schools such as Petrus Ky (Le Hong Phong now), Gia Long (Minh Khai), the student representative boards all make Tet cards, "specials" or "products" spring, in press very professionally. Making spring newspapers and then bringing spring newspapers to exchange with other schools is a talented and dynamic trait of Saigon students' age!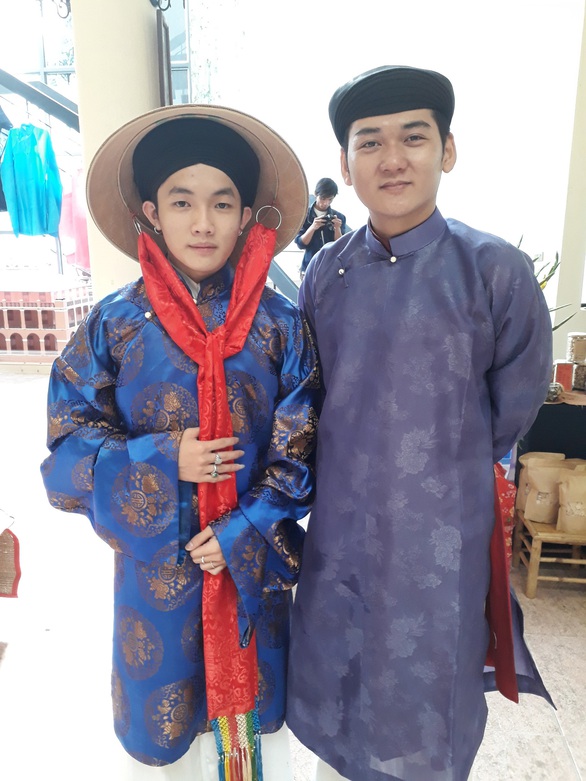 Young people who love heritage organize the re-enactment of the old Saigon New Year at the gallery at the National Archives Center 2 (No. 2 Ter. Le Duan, District 1) January 30, 2021 – Photo: Phuc Tien
Spring music and spirituality on Tet
Writer Luu Vi Lan remembers the old Saigon Tet with two seemingly contrasting impressions. He excitedly talked about the "phenomenon" that young people and middle-aged people are often eager to buy or record new "spring music" tapes at the Crystal Palace shopping mall or kiosque on Nguyen Hue Avenue. Many people love the "golden" voices like Thai Thanh, Hoang Oanh, Ha Thanh perform the eternal spring songs …
Many others liked modern bands like Shotgun, The Dreamer and vocals like Duy Quang, Elvis Phuong, and Thanh Lan, delivering youthful tunes. "Spring music" tapes have sophisticatedly designed packaging.
It is truly a precious New Year's gift that is welcomed by music lovers. In addition to spring music, Tet is also an inspiration and a "golden" opportunity for urban artists from music to Cai Luong, cinema, television … In which, joy and compassion are the main features Tet arts for the masses!
On the other hand, at that time, although he was only a student of 16-17 years old, Mr. Lan still liked to go to Lang Ong festival on Tet holidays like many adults. According to the writer, besides a magnificent and modern Saigon, Lang Ong area and Ba Chieu area (the center of Gia Dinh province) is an ancient, very pure Vietnamese place.
On the night of 30th, the "student" walked to Lang Ong to light incense and pick buds, thereby "immersing" in Vietnamese feelings and meditating. Many generations of Saigon "sympathize" with Mr. Lan, because going to Tet at Lang Ong praying, or "asking for tattoos" is also to trust and trust in good and righteous things.
The three-door gate of Lang Ong, an architecture only built in the early 1950s, but full of nationality and dignity. That image was once posted on banknotes, travel posters, books and newspapers, becoming a beautiful memory of the city from old to young.
In the old Saigon New Year, from the time of Phien An to the magnificent capital city, there were still many things that could not be counted on the short pages.
All of the ancient Saigon heritage deserves to be cherished and reappeared through the means of exhibitions, festivals, movies and books … It is now very nice to see many groups of young people rebuilding "ancient clothes. "," holding ca ", pictures, old festivals, including the Saigon New Year!
Tuoi Tre Online