Participating in the customs and activities to welcome the new year abroad for the first time, many Vietnamese people far from their hometowns are not familiar with it.
Vietnamese female doctor and unforgettable New Year memories in Chile
Ms. Phuong is a PhD in environmental ecology and is currently married and living with her husband in France. While working as a PhD student in France, she became close to a friend from Chile.
In particular, when she moved to Chile to do post-doctoral research, she repeatedly visited her best friend's house and gradually became close to family members. From here, the Vietnamese girl has the opportunity to know and experience many interesting Chilean cultures and identities, especially in the New Year.
During her three years studying in Chile, every Tet holiday, Phuong visits her best friend's house. Having experienced the New Year's activities with a local family for the first time, the Vietnamese girl went from surprise to surprise.
As with the tradition of celebrating the New Year all over the world, Chilean families are trying to reunite and gather together in New Year's Eve. Because Chile is located in the southern hemisphere, the new year falls in the summer, warm weather is very suitable for outdoor night parties.
"Chileans are not picky about food, especially New Year's because they want more time to talk and dance. Men are also talented at cooking. While waiting for the food to be cooked, everyone dance together.
Chilean's favorite drinks are red wine and the famous Pisco Sour cocktail. The traditional dance of the country is the Cueca dance, which comes from the dance of the cow-boys here. I was taught this dance and learned quite quickly. The whole family of 3 generations danced together, talking and laughing. It is an interesting memory that I will never forget, "shared Phuong.
After the outdoor barbecue, Vietnamese girls enjoy lentils with the meaning of praying for a warm and lucky year. In Chile, beans such as green beans, red beans, lentils, … are essential foods to be loved. Therefore, dishes made from beans also often appear in the annual meals of the people here.
They believe that eating one teaspoon of lentils will bring a lot of fortune and health. Because she does not like to eat beans, in order to "fool" the taste, she can happily and deliciously eat lentils on New Year's Eve, Ms. Phuong fasted beans for the whole month before.
Towards the turn of the year between the new year and the old year, she experiences an impressive custom that she still cannot forget – to eat 12 grapes on New Year's Eve. According to the Chilean people, each grape represents one month of the year. When New Year's Eve comes, the TV starts to count down from the 12th, everyone eats grapes. Each second passed to eat one fruit. Have to eat quickly and deliciously because if the time of New Year's Eve has come to an end but not all 12 grapes, it will be considered a bad omen.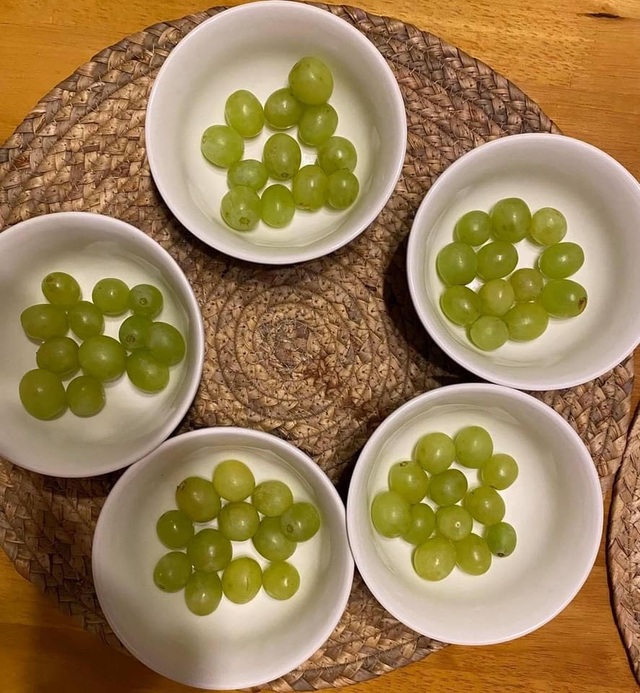 "I have little experience, so I eat quite slowly, before I have time to swallow, the TV counts for another seconds, so the more I end, the more grapes I have to swallow. I have to swallow it all at the time of New Year's Eve, my face is red. Everyone in the house is all over. laughed, teasing ", Mrs. Phuong recalled.
Not only before and during the turnaround moment but past 12 o'clock, there are also other interesting activities to welcome the new year. The most memorable memory for Ms. Phuong is the experience of carrying a suitcase up and walking … around the house after New Year's Eve.
"This is my favorite and most surprising custom. At first I thought it was simply going to see the fireworks, but my best friend explained this custom to me. Because I didn't know before, I didn't bring a backpack, she He gave me a big suitcase, so at midnight, the whole family poured out into the street with all kinds of suitcases, backpacks and bags, singing and singing and setting off fireworks.
At that time the city was shooting fireworks, looking up at the sky was very beautiful. My suitcase made the cry of wheels on the road, it felt like it was at the station or airport, very interesting. Neighbors also poured out into the street, everyone who met each other was happy, hugging and kissing, "she said.
During the years of studying in Chile, the young girl also known many other interesting activities before the New Year, such as putting money in shoes, putting rings in a glass of champagne or wearing yellow underwear on New Year's Eve. , … to pray for peace and luck.
Vietnamese international students from unfamiliar to "crazy" New Year's food in Singapore
4 years living and studying in Singapore, her friend Kieu Chinh (25 years old, from Hai Phong) likes to enjoy unique dishes to welcome the new year on lion island. Especially Yusheng salad (also known as prosperous salad) – a dish that attracts Vietnamese girls right the first time from ingredients to unique ways of enjoying.
"Quite similar to the salad in Vietnam, but Yusheng salad also has ingredients that are sliced ​​salmon. This dish often appears at parties or a New Year's tray in Singapore.
Yusheng salad consists of 7 main ingredients for proliferation and longevity such as salmon with healthy vegetables such as papaya, grated taro, … ", Kieu Chinh shared.
Each ingredient that appears in the Yusheng salad as well as the accompanying spices has its own meaning. For example, fish represents prosperity, abundance; Grapefruit brings wealth and luck; cooking oil – money comes in like water; carrots – bring red luck; green radish – longevity, everlasting youth or white radish means a prosperous business, advancement in the profession and puffing of shrimp means money in money …
Sauces that make up a typical dish of Singaporeans on New Year's Day are plum sauce and five-flavored sauce, signifying prosperity and happiness.
This salad layout also contains New Year's message. Enjoying a special dish for the first time, from ingredients to cooking and enjoyment, made her excited.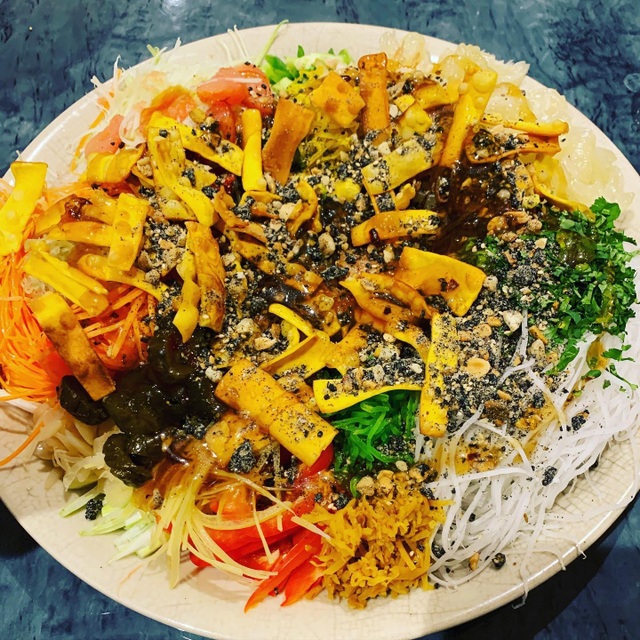 "I was shared by the host to share the story and meanings surrounding this dish. The step by step making salad also has certain meanings. For example, squeezing lemon juice on the fish salad, signifying the blessing of happiness. profit.
Or sprinkle soybean oil on a plate, place ingredients in a circle to show the prosperity increased ten thousand times and money in all directions, … After finishing all the steps, mix well the ingredients and the same wishes for good health, everything is as desired ", 9X said.
To enjoy the prosperous salad, family members will gather around in a circle around the table, using long chopsticks to scatter ingredients. At the same time shouting out good luck to each other before eating.
Instead of mixing the ingredients well and then presenting the tray like a salad in Vietnam, the way to enjoy Yusheng salad is somewhat different. With the friendly and hospitable people, Kieu Chinh is known and understood more about the interesting dishes of Singaporeans at the beginning of the year.
She is also "tipped" that people here often give each other baskets of ripe yellow tangerines in the new year. Tangerines are considered a symbol of prosperity, luck and prosperity in this country. People exchange ornate and eye-catching tangerine baskets with the desire to bring a lot of joy and happiness to recipients.
In addition, in the first days of the year, all gifts must be "paired" to avoid using odd because they perceive that odd numbers are an omen.
Having the opportunity to experience New Year's customs in lion island nation, 9X Viet has many more memorable memories, which are deeply embedded in my mind. Whenever she has the opportunity, she excitedly tells her family and friends unique stories in the West.
Dân trí