On the Tet holiday, white pear flowers come from northern mountainous provinces to Hanoi. The branches are rough, and the flowers bloom in pure white clusters, making passersby look blank.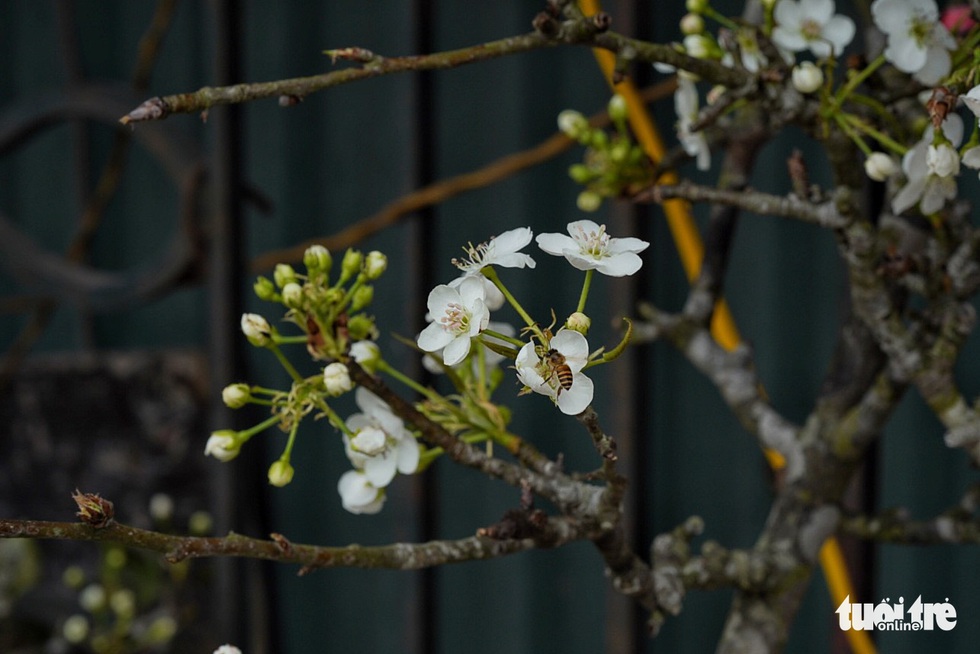 The pear flower blooms in bright white clusters that attract travelers' eyes – Photo: KỲ ANH
Only a few days left until the full moon of January, these days along the roads of Lac Long Quan, Yen Phu, Quang An flower market … selling white pear flower branches that attract the passers' eyes.
Merchants at Quang An flower market said that this pear flower originated from the northern mountainous provinces, blooming after the apricot and peach blossoms "completed the Tet holiday task".
Flowers bloom on the occasion of the full moon in January, connoisseurs will know how to choose flowers, prolong the flower's lifespan from 1-3 months.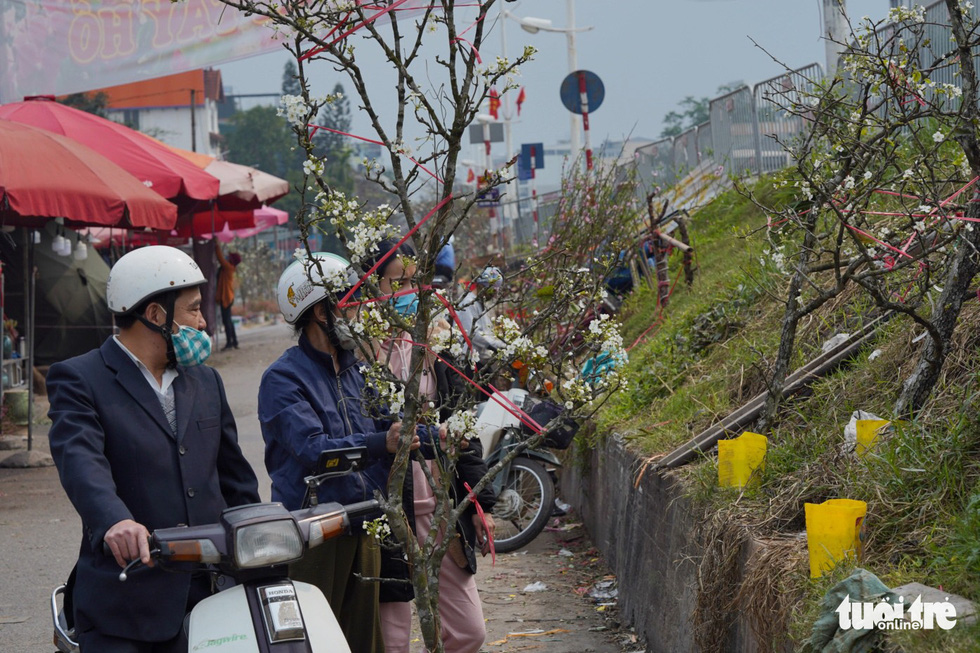 Tet, pear flowers from the northern mountainous provinces to Ha Thanh city. Depending on the shape and position of the tree, each branch has a price ranging from 200,000 – 500,000 small branches, big branches, rough bodies cost up to millions of VND – Photo: KỲ ANH
Ms. Vu Huyen Trang (35 years old, small trader in Quang An market) said that she had just beaten a shipment of 20-30 pears to the capital.
"Compared to every year, flowers sell slower because COVID-19 is being translated, but this year the flowers bloom very beautifully, many unique and strange. Depending on the size, the pear branch has a price ranging from 200,000 to 500,000 VND, there are trees. to millions of dollars with big branches, beautiful position, the more expensive the mold becomes ", shared Trang.
Having just chosen a satisfactory branch, Mr. and his wife Bui Xuan Do (61 years old, in Hanoi) did not hurry home, but drove each other on a Honda car to see the streets.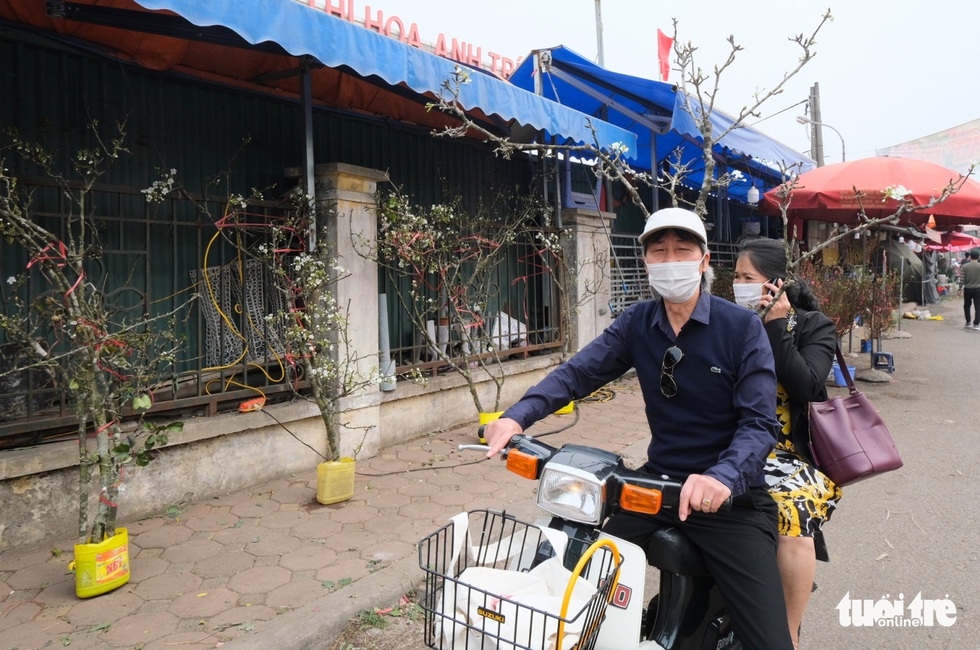 Mr. Do and his wife chose a branch like that, drove each other to walk around the streets of Hanoi – Photo: HA THANH
"The pear flower this year is very beautiful, has ancient and rustic features. I really like the white color of the pear flower. Every Tet, I have to buy a pear branch in the house," said Mr. Do.
In recent years, pear flower has become a new hobby of Ha Thanh people. Pure white flowers, even more meaningful because they symbolize the filial piety of the descendants to ancestors.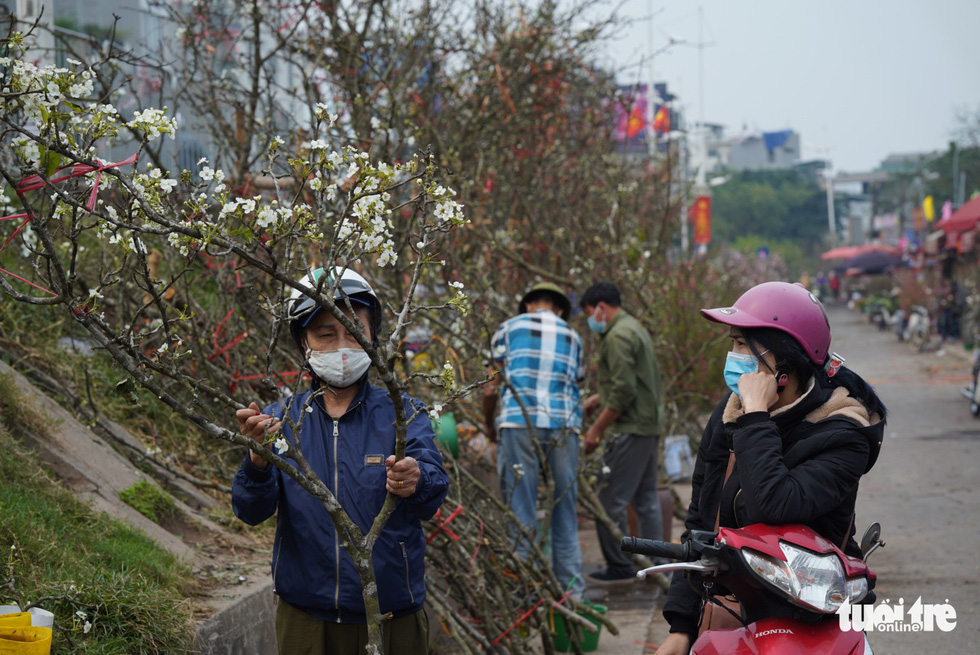 The people of Ha Thanh have just chosen a pear branch with the price of 1.5 million VND to return to the full moon of January – Photo: KỲ ANH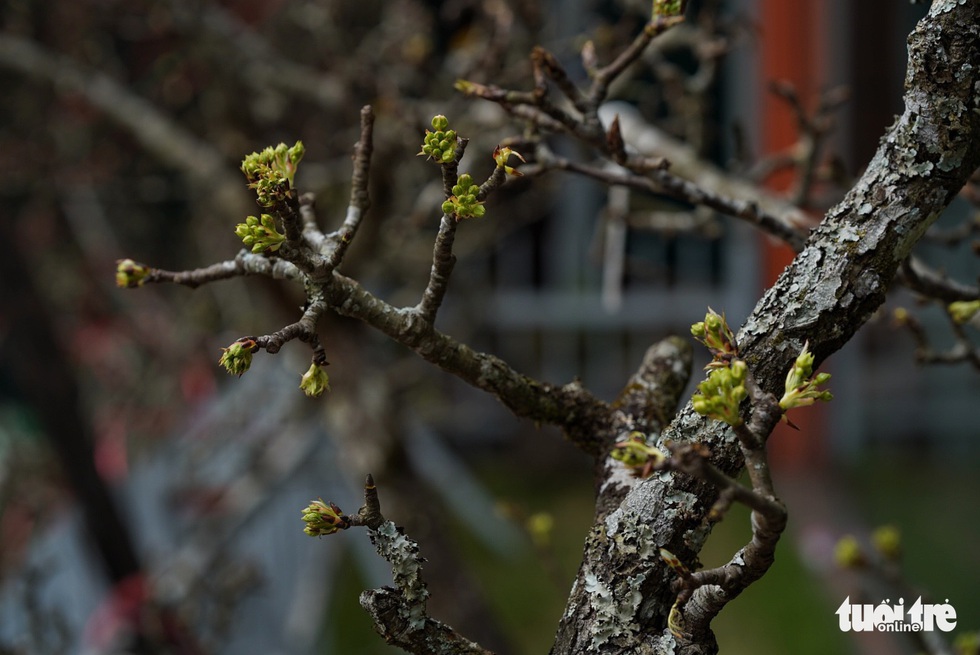 The more moldy the pear body, the more ruffled, the more young buds, the more acrid the price, ranging from 1-3 million VND, with a beautiful branch of up to tens of million VND – Photo: KỲ ANH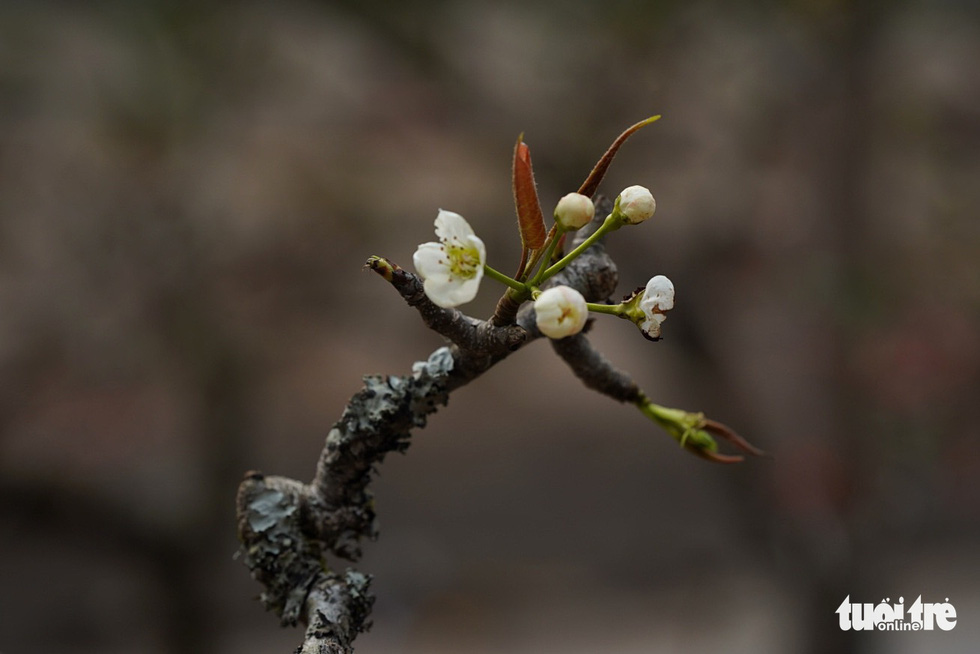 The pear flower is a symbol of the filial piety of the descendants to their ancestors – Photo: KỲ ANH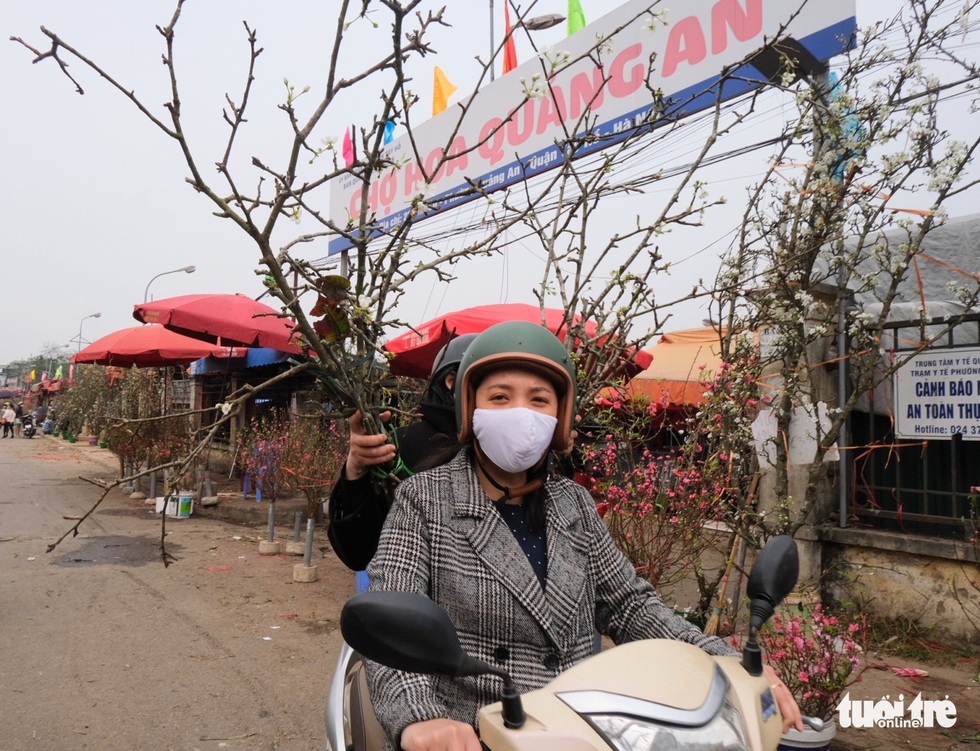 After Tet holiday, peach blossoms and apricot flowers have completed their tasks, making room for pear blossoms to bloom on the full moon of January – Photo: HA THANH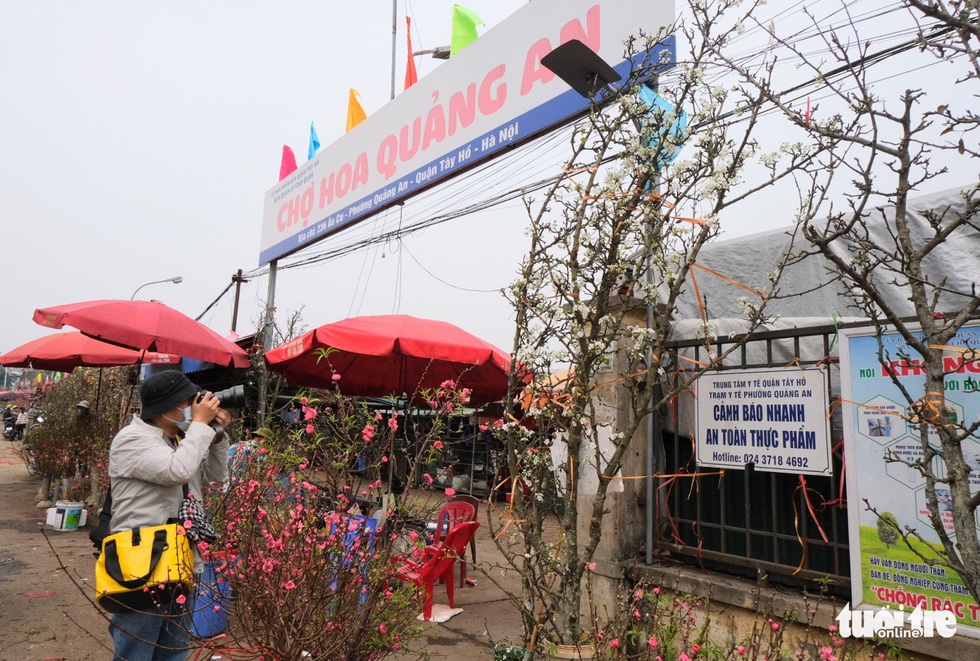 White pear branches, beautiful position attracts many photographers – Photo: HA THANH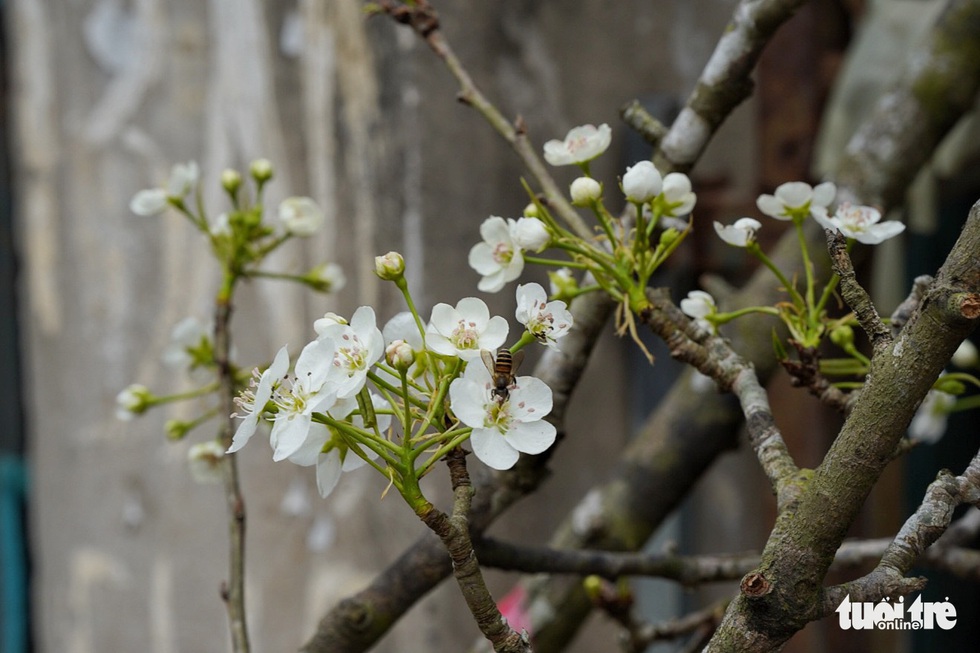 "White pear branch with a few flowers …" – Photo: K ANH
Tuoi Tre Online