In the Tet tray of Dao Tien people in Son La, pickled and sour pork is an indispensable dish and is prepared early. Local people believe that the lack of this dish is the lack of Tet flavor.
Since ancient times, the Dao Tien people have made sour meat for Tet. If the Tet holiday lacks of pickled pork, there will be no taste of the New Year.
Sharing about the pickled pork dish of Dao Tien people, Ms. Ban Thi Vinh (Suoi Lin village, Van Ho commune, Van Ho district, Son La province) said that she was passed down by her grandparents and parents. the family also prepared the pickled pork dish very early. Although it is a fairly simple dish made from pork, refined salt and ordinary rice, the Dao people here think that: In the tray of rice to welcome guests to play at home, sour meat is not just a unique cuisine. of the Dao, but also show the hospitality of the owner.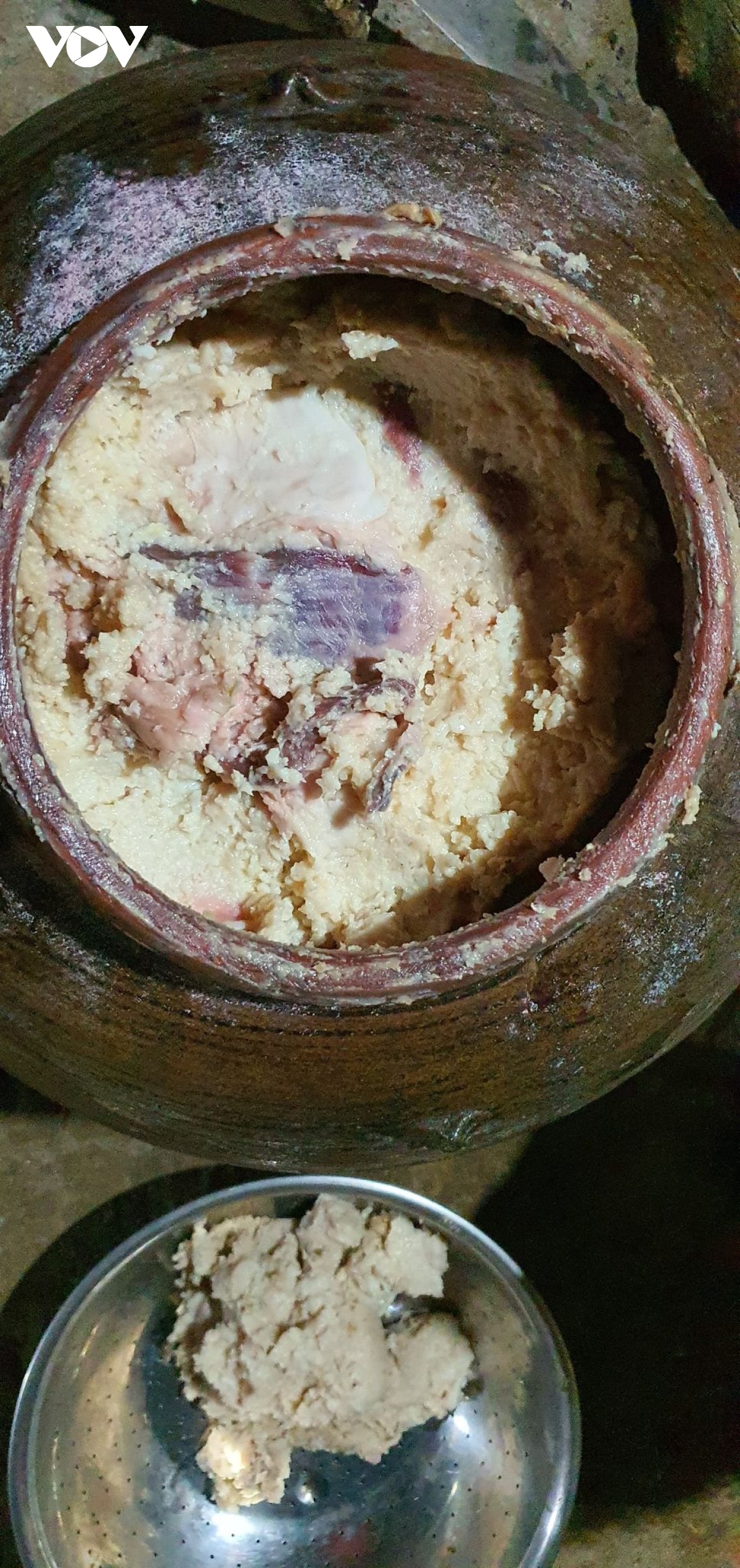 In order to make the delicious and delicious pickled pork dish in accordance with the traditional taste, the selection of ingredients and processing method requires very carefully. Meat is necessarily meat from Ban Pig that is naturally grazed by Dao people about one year old. Salted meat must be hot meat (ie fresh pork). Choose three pieces of armpits, ham or fatty meat depending on the preference of each family.
Cut meat about 500g, 25-30cm long, then cut into small pieces, but not cut off the skin. After being cut squarely, beautifully, the salt will be squeezed. When you squeeze salt, pay attention to rub thoroughly into the cavities of meat, so that the salt is evenly absorbed, deeply absorbed inside.
According to the experience of the Dao Tien people, the pickled pork dish needs to be salted with more salt than normal meat dishes, because the salinity of salt is the spice that cooks the meat dish and is not damaged. Meat after being marinated, soaked in salt is put into a jar of china preserved.
Before putting the meat in the jars, lining a thin layer of rice, then place the meat layer on top, which helps the meat to ventilate and cook evenly, so on until the meat and rice are filled with the mouth of the jar. The top part is a thick layer of rice, pressed tightly to prevent drafts from damaging the meat.
The mouth of the jar is sealed with the leaves of dong, stored in a cool place. After about 15 days, when checking that the meat has smelled, then put the jar upside down to drain the water out. Then continue to add a layer of rice on the mouth of the jars to press tightly and seal.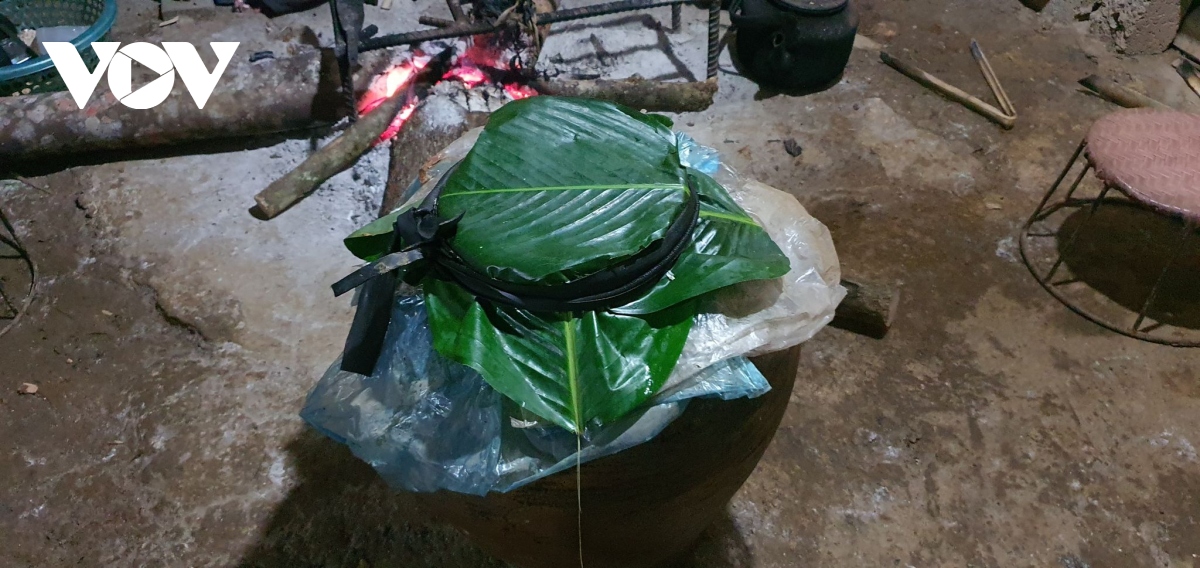 According to Ms. Trieu Thi Loan, the Dao people in Sao Do 2 sub-area, Van Ho commune, Van Ho district, Son La province, in order to make delicious and sour meat properly on the occasion of Tet, people had to prepare before. about 6 months (ie the sixth lunar month). Only then can the pickled pork dish be guaranteed to use.
Pickled and sour pork is eaten with fig leaves, acrid leaves, guise leaves, lentils and herbs … When eaten, it has a fragrant, sweet taste of meat and vegetables. The meat is particularly fragrant when it is stir-fried, or grilled on a charcoal stove. However, to ensure the deliciousness when using, absolutely not cut directly with a knife made from cast iron, steel, but only use bamboo knives. "Meat, when used, must not be sliced ​​with a knife, because knives made from cast iron and steel are susceptible to han, so when slicing meat, it will be fishy and not delicious. delicious and right taste "- Ms. Loan said.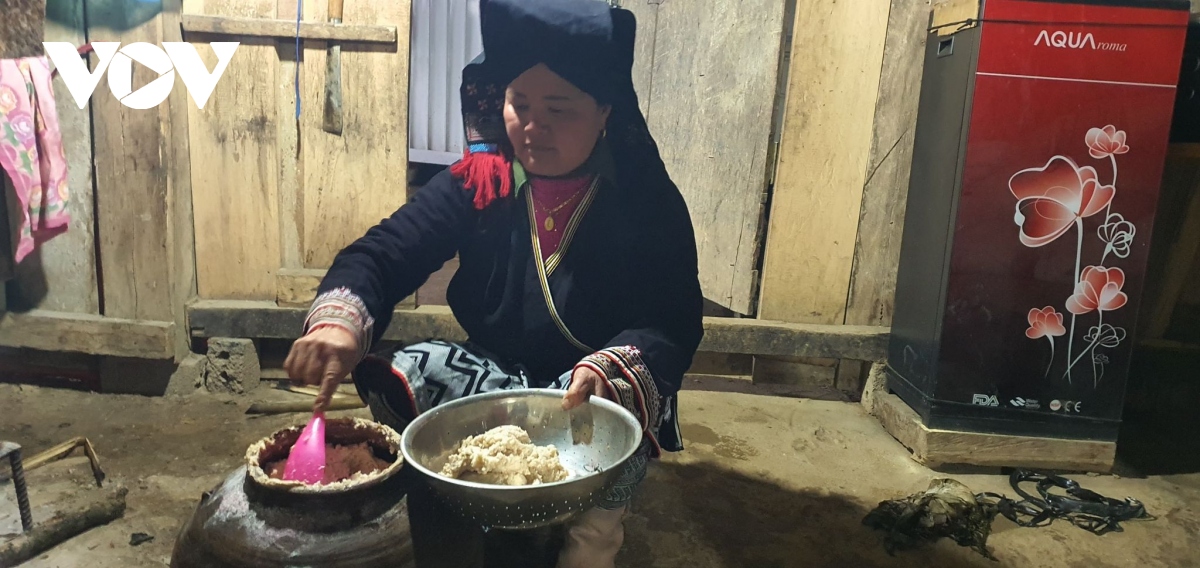 Today, the pickled and sour pork dish of Dao Tien Son La people is not only a dish used on Tet holiday, but also used in festivals, weddings … especially to treat guests. This dish is also becoming a favorite of many tourists when exploring and experiencing at Moc Chau – Son La National Tourist Area. Not only that, pickled and sour pork is also becoming a regional specialty, when it is offered for sale at many big supermarkets in Hanoi, Quang Ninh, Da Nang …
Ms. Nguyen Thi Hai, a tourist from Quang Ninh, shared her feelings when enjoying the pickled meat: "I have traveled to many places and discovered many unique cuisines of different regions. When I came to Son La I had a taste of the pickled and sour pork of the Dao Tien people; This dish is very delicious and strange, when enjoying a slightly salty taste of salt, but when eaten with herbs, it has a very specific taste. I was very impressed with this pickled pork dish ".
Coming to the Dao Tien Son La villages during Tet to spring, let's enjoy the pork and sour pork to feel the taste of the cuisine bearing the Dao cultural identity here./.
VOV