For the Tan Cuong people, there is no shortage of spring tea on Tet. Drinking a cup of tea is the beginning of new year's talk and good wishes.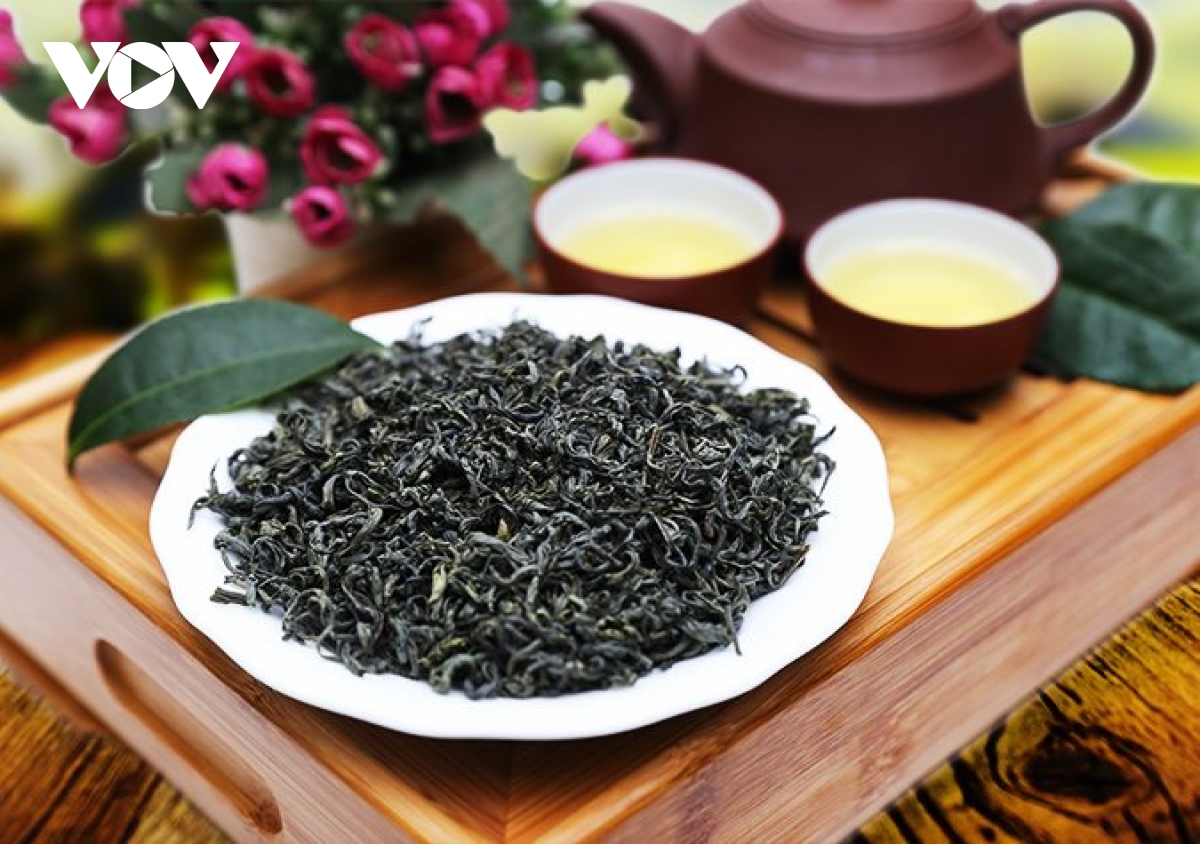 "Qing, sharp, god, god"
In Tan Cuong, the tea consumed during Tet is unlike any other tea of ​​the year. Spring tea is the first batch of a year, each tea bundle has only 1 batch of spring tea for homeowners to enjoy and invite guests to Tet. Spring tea must be prepared from about 2 to 2.5 months before Tet, people "cut the tea" (cut with tea trees, leave the Tet tree to bud, few leaves – PV) from around October of lunar calendar, to in December, the harvest. 
Spring tea is of high value, primarily because it is a rare type of tea, and only in areas with abundant water resources can spring tea. In areas where there is little water, it must wait until the spring rain of March for tea trees to "recover", with water to take care of them, so that the buds can be planted.
In addition, the amount of spring tea buds is not much, and they are picked completely by hand, so the cost of labor along with the cost of care and processing … makes spring tea a valuable gift during Tet. The most expensive is the "certain kind of tea" (tea 1 shrimp or 1 bud – PV) because of its small quantity, fussy, high quality, only a small amount is as fragrant as a handful of regular tea.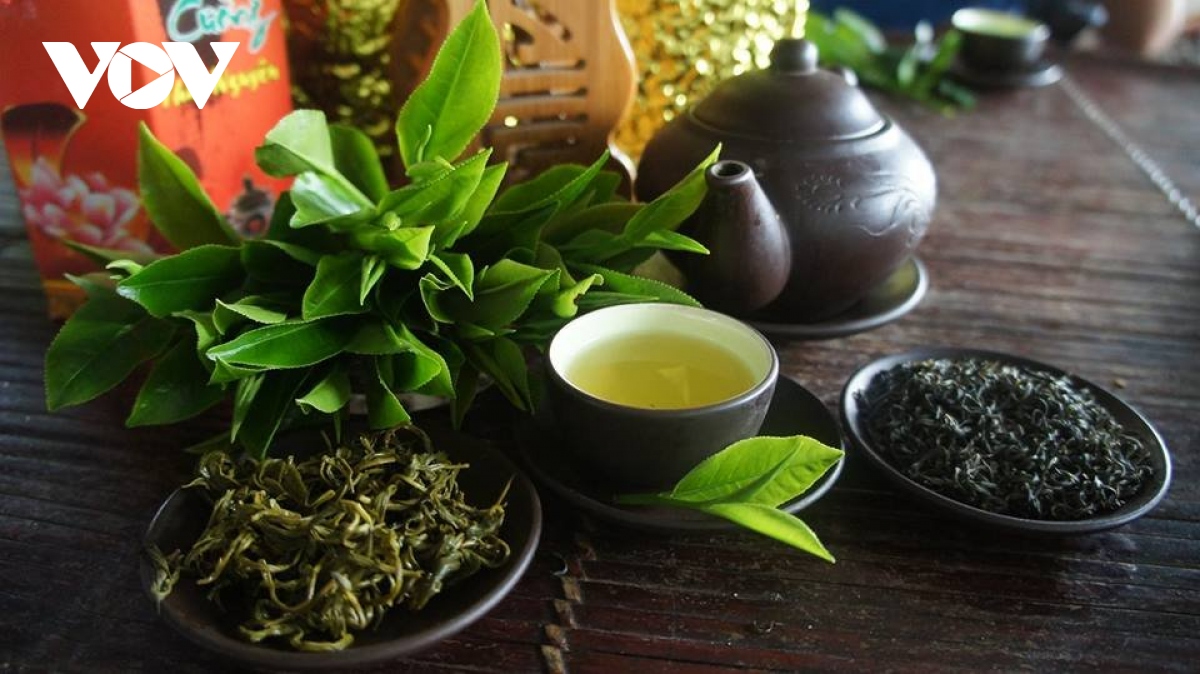 Uncle Nguyen Dinh Dai – or "Dai teacher" according to the familiar way of calling villagers – has been attached to the Tan Cuong tea area for decades. Dai said that the tea tree has been in Tan Cuong for a long time. Until 1938, there were about 90 acres of tea. Thai Nguyen province at that time had about 250 tea samples, but the tea in Tan Cuong is still the highest quality. The person who gave birth to the tea industry in Tan Cuong is Mr. Vu Van Hiet, also known as "Doi Nam". Specifically, he has great merit in reclaiming land, expanding roads, plantations and tea factories.
Sipping a bit of spring tea, Mr. Dai said: During Tet in the countryside, people often go to wish Tet very crowded. Since there are many guests coming to the house, whether rich or poor, every family must have a teapot. For the elderly, the cup of tea makes more sense, because drinking tea is a daily habit. In the morning, the elders meet, talk worldly, worldly, and human life. Sitting and enjoying tea helps the spirit of clarity, comfort and refreshment.
"Delicious tea must have enough bar, color, taste, god. Stick, color, tea buds must be crispy, hook shaped and color 'musty'. This is the color on the flavor of tea; And its curved shape like a hook is qualified because only young tea and beautiful tea form this shape and old tea can easily be crushed. When the tea is made, the water must be yellow like honey. It should taste sweet, not as sweet as sugar, like candy and sweeteners that stay in the throat. The spirit means the smell of tea floating in the air, in the mind of the bartender and the memory of drinking "- Dai said.
Welcoming guests with enthusiasm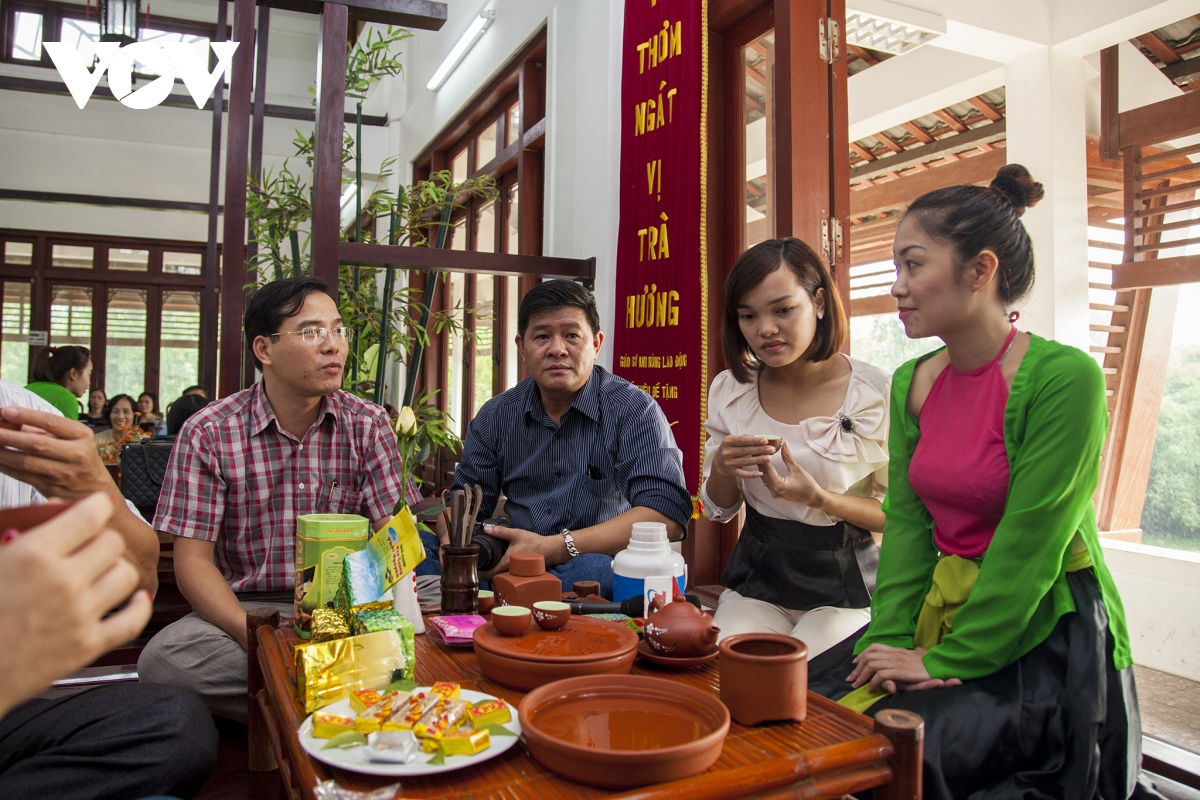 Talking about promoting the Tan Cuong tea area and welcoming tourists, Ms. Hoang Thi Tan is one of the pioneers. Her cooperative and tea plantation have welcomed many domestic and international delegations, especially many delegations from foreign embassies in Vietnam.
Ms. Hoang Thi Tan said that she learned the craft of picking tea and processing tea from a young age with her family. However, at that time the output was difficult, bringing tea to the market for sale, often under pressure and depending on the market demand. More than 10 years ago, when Nui Coc Lake was crowded, she decided that her products must be used to serve tourists.
"At that time, every weekend, I bring the best Tan Cuong tea to Nui Coc Lake area to introduce and invite guests to enjoy for free. Meeting everyone, I said, 'The most famous Thai Nguyen is tea, do you guys want to enjoy the standard Tan Cuong tea?' and suggestions for tourists to spend time in Tan Cuong, take pictures of tea hills, buy tea as gifts. From time to time, tourists know and come to Tan Cuong by themselves, I do not need to go to Nui Coc lake to welcome guests "- Ms. Hoang Thi Tan said.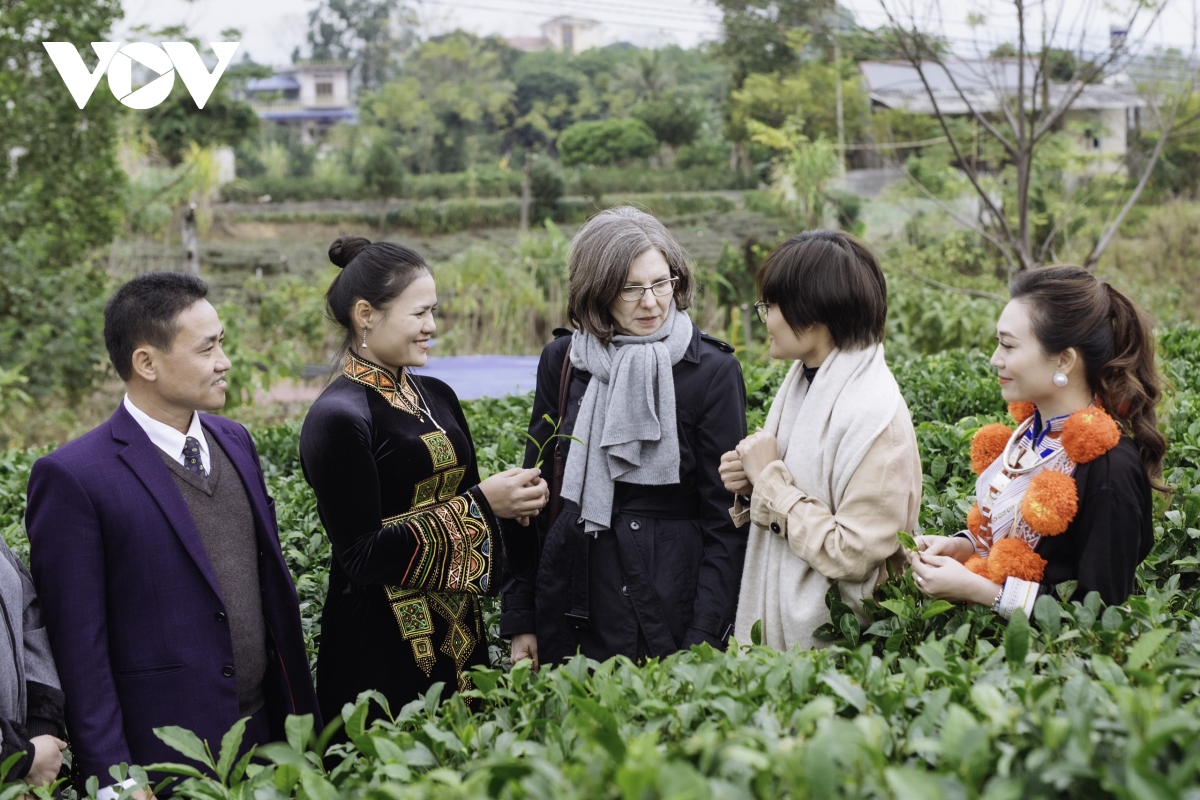 According to Ms. Tan, what tourists like most when coming to Tan Cuong tea area is to learn about the process of creating a cup of tea, from when it was a green tea tree to the finished product. Tourists are instructed how to pick tea, rub tea by hand, stir tea, pack … After that, the tea will guide guests how to make tea, enjoy tea and tell many interesting stories around. 
"I do not consider visitors as 'gods' but as family members, welcoming them with sincerity and simplicity like a native tea cup. I often tell stories about the homeland of Thai Nguyen, the land of Tan Cuong and why the tea here is famous. That is because of special soil conditions, with ancient alluvial soil, convenient location east of Tam Dao range and close to good water source in the lower Cong river "- Ms. Tan shared.
Community based tourism experience
The brand value of Tan Cuong tea in particular and Thai Nguyen tea in general plays an important role in attracting tourists. The community ecotourism model here develops well, creating an attractive product that makes many visitors excited and impressed.
In Tan Cuong now, in addition to Ms. Hoang Thi Tan, there are more establishments opening services to welcome visitors, stay, create eco-tourism areas, experience tea culture such as Tam Tra Thai Cooperative, Tea Cooperative and Tien Yen community tourism, Hao Dat Tea Cooperative … Many people have been participating in training courses on doing community tourism, so tourism service is gradually becoming more professional and quality.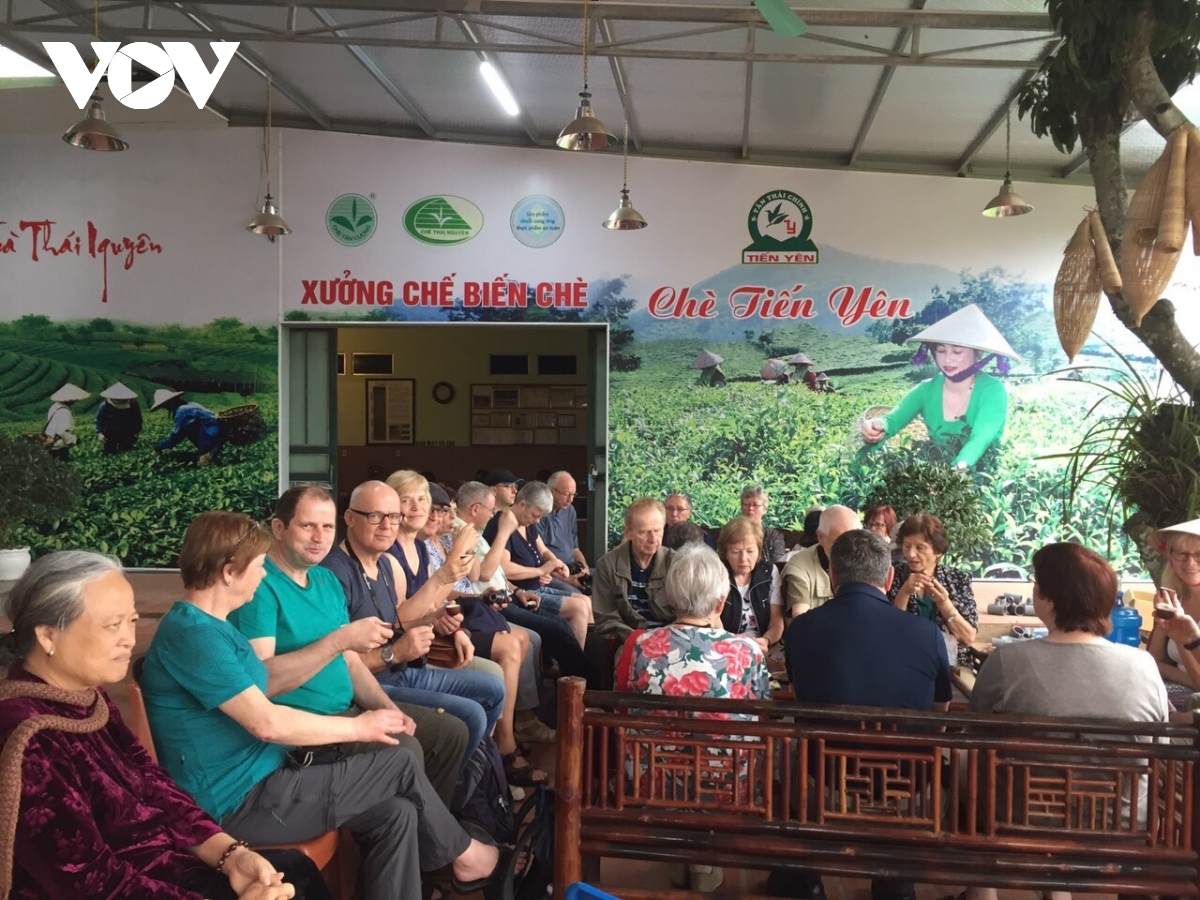 Tại đây, du khách được trải nghiệm du lịch cộng đồng đúng nghĩa: ăn, ngủ, sinh hoạt cùng gia chủ và tham gia các công việc thường nhật như đi hái chè, trải nghiệm công việc sản xuất, chế biến, đóng gói và tìm hiểu về lịch sử nghề chè truyền thống. Một số sản phẩm du lịch chuyên biệt hơn như hành trình đạp xe tham quan nhà thờ Tân Cương, đập hồ Núi Cốc, thăm chợ quê và tìm hiểu văn hóa địa phương… Nếu không có nhiều thời gian, du khách chủ yếu tham quan và chụp ảnh trên đồi chè, thưởng thức và tìm mua các loại trà hảo hạng.
Uncle Nguyen Dinh Dai said that in order to do well in community tourism, there must be a connection, forming a team to share benefits, restaurant workers, souvenir makers, accommodation workers, point makers. welcoming guests, attractions … The most important thing is to conscientiously keep the environment clean, the landfills have to be moved because tea trees are very sensitive to smell.
Mr. Dai hopes that Tan Cuong in the future will not become a city: "I think Tan Cuong will develop in a sustainable manner if it becomes a community tourism destination, with the original beauty of the countryside, with The streets were full of flowers and tea hills. Young people or neighboring classes must later be aware of preserving the Tan Cuong tea brand, not being commercialized, and not letting poor quality products mix here. Ancient midland tea varieties, planted with seeds need to be preserved, instead of growing by branches like many places today.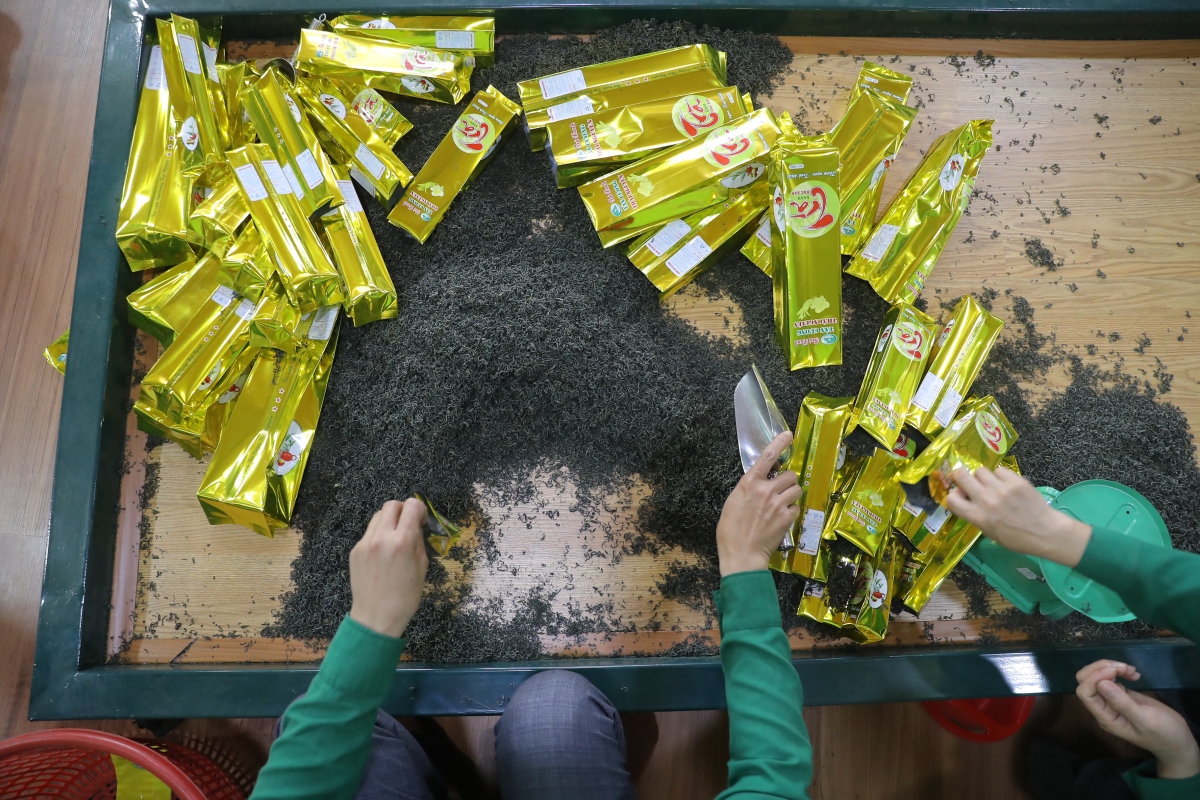 Currently, Tan Cuong tea area is identified as one of the three highlights of Thai Nguyen tourism. This is a must-see address in the itinerary to visit Thai Nguyen, connecting with nearby attractions such as the TNXP 915 relic, the Museum of Vietnamese Ethnic Culture, The Preservation of the Ecological Ethnic Stilt House Village Thai Hai or more is Nui Coc lake, ATK Dinh Hoa./.
VOV.VN