For more than 3 months, every day, the "patriotic bread" cabinet of a group of young people in Da Nang has given away dozens of red and yellow bread for the working poor for free.
When beets combine with dragon fruit
Near 7 a.m., when it was pouring rain, an old man selling lottery tickets with a austerity figure, in a ragged raincoat, stumbled to the bread cabinet at 35 Xo Viet Nghe Tinh (Hai Chau district, Da Nang) Small question: "Heard that here give free bread, child?".
"Yes, please wait for me to listen! " – Mr. Nguyen Van Hoa (SN 1988) quickly sliced ​​the hot bread that just came out of the oven, put the meat and eggs in, then graciously gave it to the old man and did not forget to tell him. added: "We give free bread to the aunts who sell lottery tickets, street vendors … if you meet someone, please send a message here" . The old man smiled, with a satisfied face, thanked, and took the beautiful loaf and disappeared into the busy traffic.00:01:43
Clip: Warm in the cupboard "patriotic bread" to help poor workers in Da Nang
Just rushing to take the hot breads out of the oven, Mr. Hoa said, he and his group of friends have a total of 7 people who work in the system of 4 restaurants in Hoi An. However, from the beginning of the year until now, due to the Covid-19 epidemic, service and tourism activities have been delayed, so far it has not been able to reopen …
During the unemployed days, seeing many places making dragon fruit bread to help rescue agricultural products in the midst of a pandemic, Hoa and his friends came up with the idea of ​​creating a unique product to serve the community and promote the spirit. Vietnamese people. They are the breads bearing the colors and images of the flag. After months of research, research and experimentation, a group of young people has successfully produced, giving birth to "patriotic bread".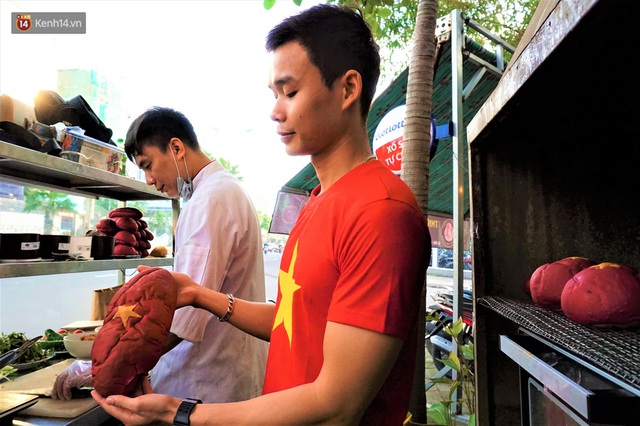 The "patriotic bread" has an elongated shape, is red with a five-pointed golden star symbol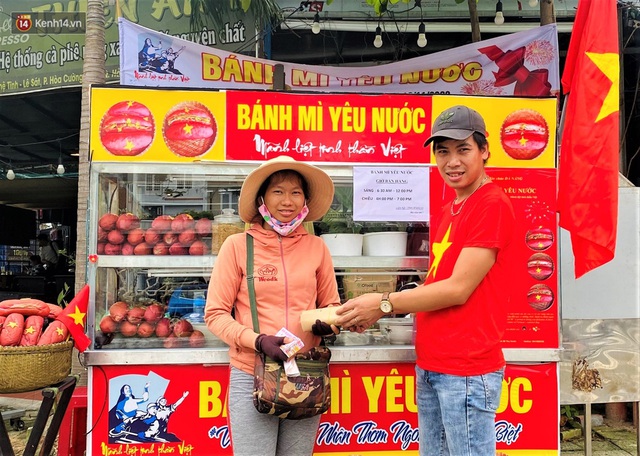 The "free bread" cabinet is decorated with a red flag with a yellow star and the seller wears a shirt printed with the Vietnamese flag
According to Hoa, in order to create this eye-catching product, his team experienced many failures to produce the desired cake pattern. Initially, you can refer online about recipes for making bread with red dragon fruit juice. However, after nearly two months of continuously testing the recipes but the finished product was the light pink loaves of bread, including trying to concentrate the juice in the hope of a better color but failed. Then Hoa's group of friends tried combining beetroot juice with dragon fruit juice to mix the dough.
"Fortunately, we succeeded. Beetroot combined with dragon fruit produces a darker, more beautiful color", Hoa shared.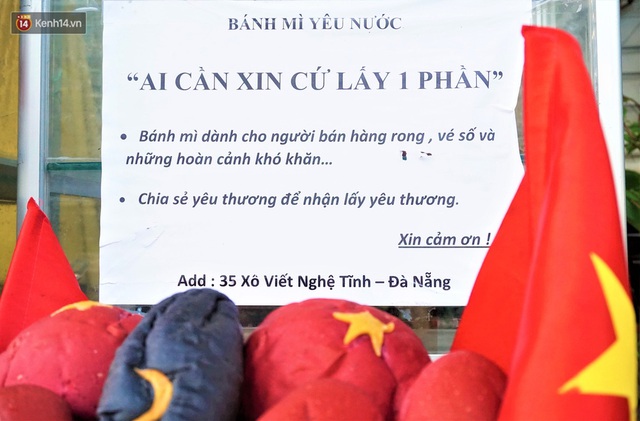 "Patriotic bread" free for the needy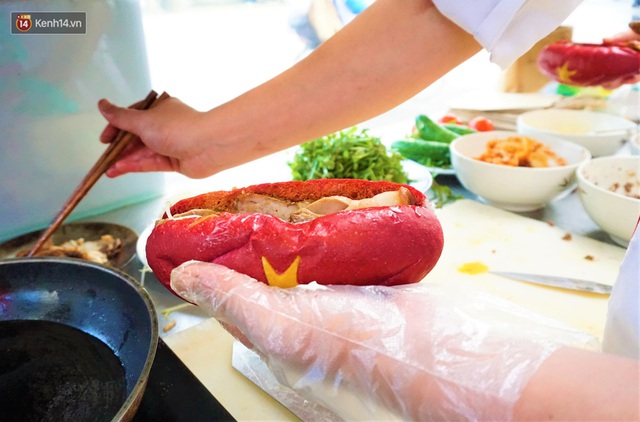 Although it's free, the cake given to the poor is always filled with meat, rolls, eggs, vegetables, pate …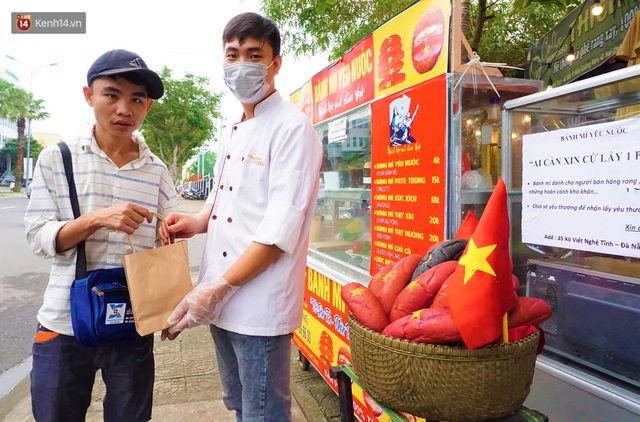 The member of the "patriotic bread" cabinet (right) gave free bread to the poor working people
The crust is made from natural ingredients with red beetroot and red flesh dragon fruit, to create a more beautiful and fresher red effect, with the highlight of a yellow 5-pointed star made from turmeric. After shaping is completed, the cake is put into the oven at high temperature to create the sponge cotton, the aroma of dragon fruit and a moderate crunch.
"We choose bread because this is a typical Vietnamese dish. Called 'patriotic bread' because it is modeled on the national flag. All are pure Vietnamese ingredients. , motivating the spirit to overcome difficulties caused by natural disasters and epidemics, the 'patriotic bread' also aims to encourage people to use the agricultural products of the country ", Mr. Hoa shared.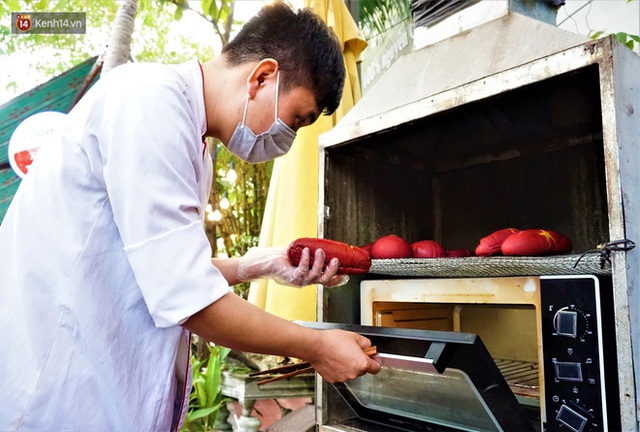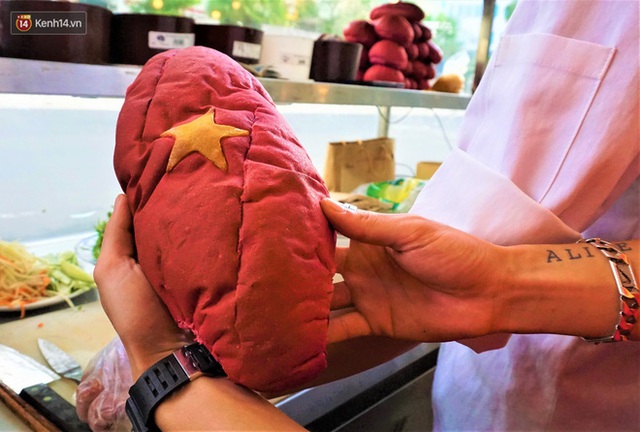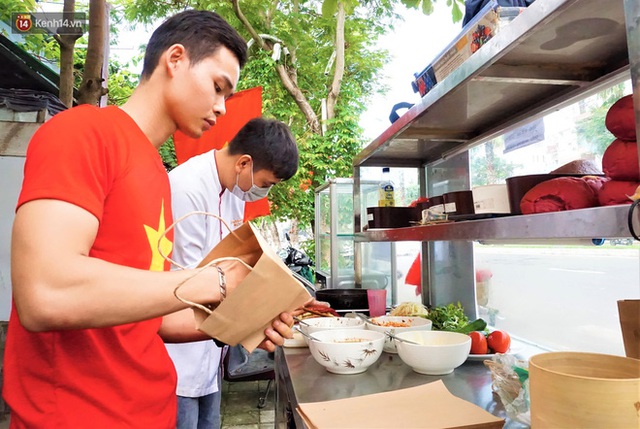 From the unemployed chefs because of the Covid-19 translation, understanding the difficulties of others, a group of young people decided to open a bakery to help the poor laborers.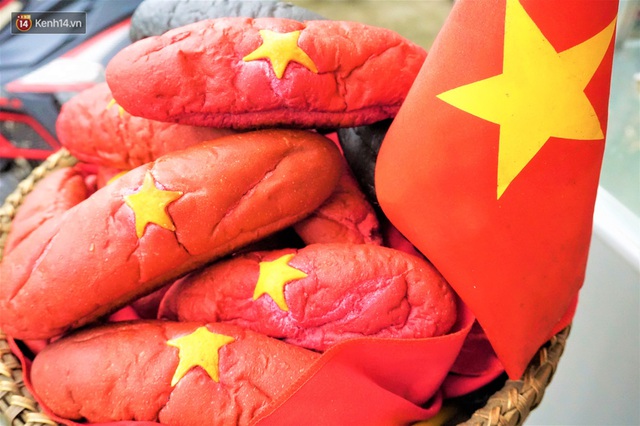 The colorful cakes are made from pure Vietnamese natural ingredients of home agriculture, attracting customers and warm the poor hearts.
"Hope you all have a delicious and heartwarming morning"
In addition to Da Nang, Hoa's group currently has a similar bread cupboard located in Hoi An City (Quang Nam). Every day, members are busy making bread overnight at the oven in Hoi An. Around 5 am, the cake is transported to the point of sale in Da Nang to open up in the early morning. The bakery operates in two hours, from 6:30 a.m. to 12 p.m. and from 16 p.m. to 19 p.m.
In particular, the daily donation of free bread is unlimited in quantity. There are days when the amount of free bread is much more than the amount sold. Anyone who has a need to come and receive is well served. Bread has many types of filling such as: egg pate, sausage, ham, grilled meat, fish ball, grease. Depending on the taste and preferences of the poor worker, the staff will serve.
"Anyone who comes here, whether buying or receiving free bread, will be served equally, without distinction. Whoever chooses it, I make it, the purpose is to make everyone, especially the poor working women and uncle feel comfortable and have the most delicious and heartwarming breakfast, "said Doan Van Loi (32 years old, a bread seller from the early days).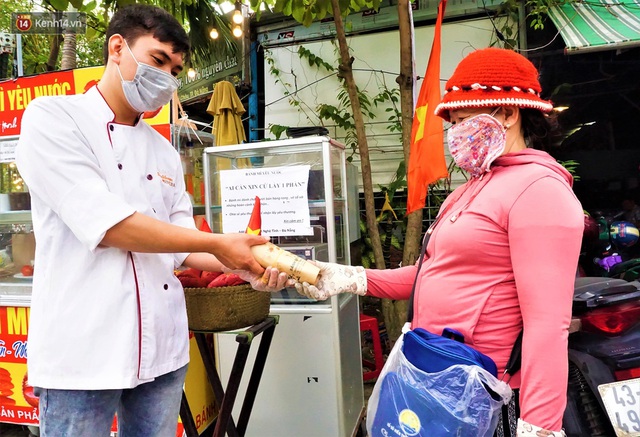 The poor have their meals shared by the cupboard each day with fancy and delicious cakes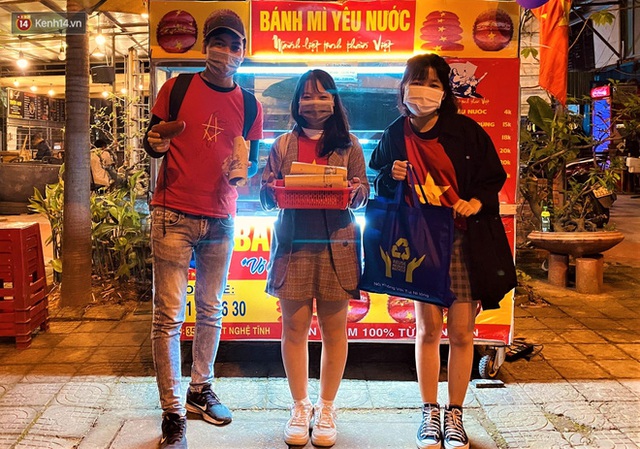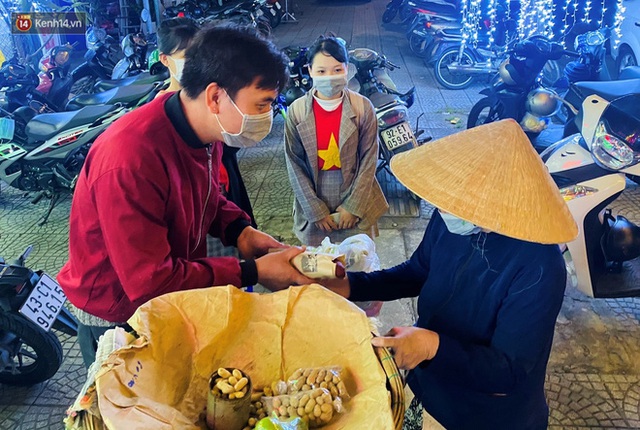 Every night, members of the "patriotic bread" cabinet donate dozens of free breads to the poor laborers
Holding free bread in her hand, Ms. Tran Thi Anh (39 years old, working as a cicada picker) said with a smile that she has been a "guts" customer of the bakery since the opening date until now. Every day, around 7 a.m., she comes here to receive free bread for her mornings.
Hometown in Quang Tri, her husband unfortunately died prematurely, because the circumstances were so difficult, Ms. Anh had to spare her real prayers. During the past 4 years, she made a living by picking up trash and buying bottle ticks. But with little income, she often fasted her breakfast, saved every penny to send to her hometown to feed her small child to school and support her old mother over 80 years old.
" Usually a loaf of bread costs 12,000 – 20,000 VND, but we work all day long to earn tens of thousands, if breakfast bread is too expensive. Thanks to this bread cabinet, for the past few months, I There is no need to fast for breakfast. The bread here is very delicious, there are many kinds of people, everyone who wants to eat whatever you want The free meals like this help poor workers like me save part of the cost daily activities. I feel warm and really thankful for 'patriotic bread' ", Ms. Anh said emotionally.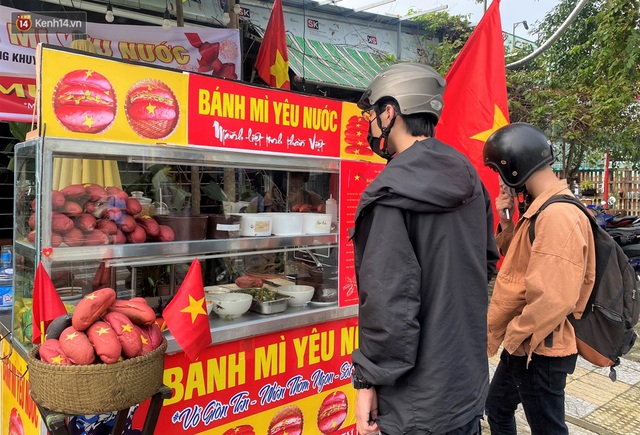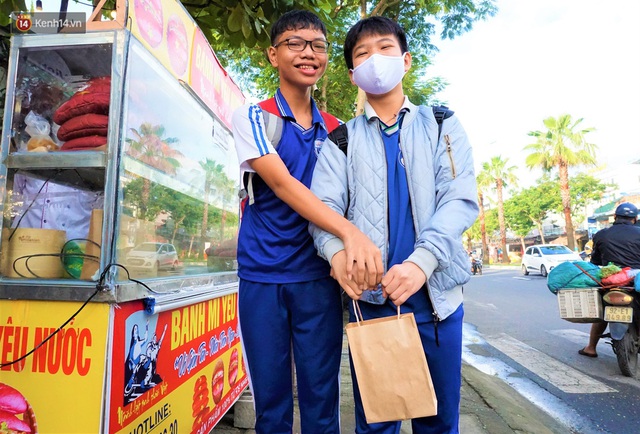 A lot of people come to buy donations, including many students. They both enjoy and love the country when they see this bread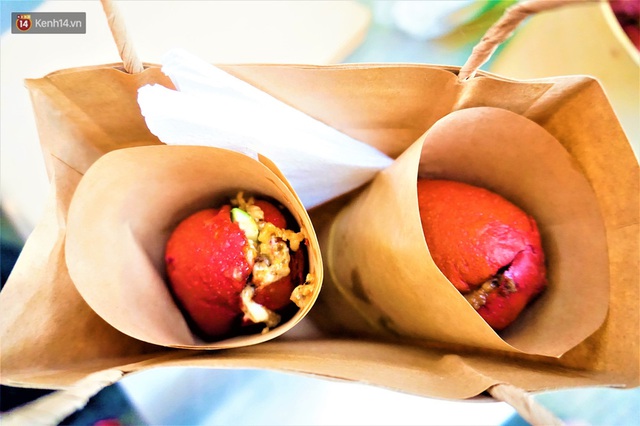 The bakery also shows the message of environmental protection when both sellers and buyers minimize the use of plastic bags.
Not only donating bread to the poor for free, the "patriotic bread" cabinet also spreads the message of environmental protection when using entire paper bags to store bread, say no to plastic bags.
Follow Tri thức trẻ