Tam Quan is not only famous for its coconut water rice paper, in Tam Quan coconut land (Hoai Nhon town, Binh Dinh province) there is also a "unique" cake, which is a very special sweet potato rice paper.
Tam Quan town, now Tam Quan ward, Hoai Nhon town (Binh Dinh province), is about 100km north of Quy Nhon city. If you follow NH1A north-south, through Quang Ngai province, down Binh De pass (the natural boundary between Quang Ngai and Binh Dinh) is to Tam Quan.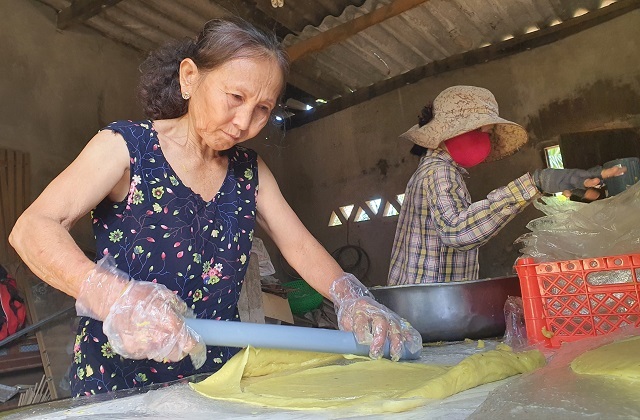 In Tam Quan coconut land, in addition to the famous coconut water rice paper, this place is also famous for its special kind of rice paper, sweet potato rice paper "unique".
Over 20 years of working with traditional sweet potato rice paper making, Ms. Nguyen Thi An (Trung Hoa street, Tam Quan Nam ward, Hoai Nhon town) shared that the main ingredient for baking is sweet potato. Sweet potatoes are imported mainly in Gia Lai, Lam Dong; Coconut is bought locally.
In addition, to make the cake flavorful, sweet, and fatty, there are also some other ingredients such as ginger, sugar, sesame seeds and flour (cassava).
According to Mrs. An, in order to have a batch of cake in the oven, she had to get up every morning at 3-4 am to peel and cook sweet potatoes; Old fruit coconut peeled for coconut and then pureed. Then, the 2 ingredients above mixed with ginger, sugar, sesame seeds (sesame seeds) and flour.
"In the past, the kneading stage had to be done with hands very hard, now thanks to the support of machines, the work is also less tiring, the baking time is also shortened," said An.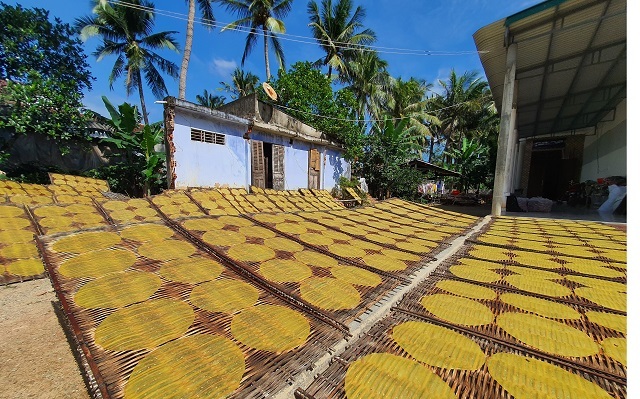 Mrs. An also shared that after preparing the baking dough, the next step was rolling the dough. Through the skillful hands of the baker, the round cakes in turn are made up of the existing cake mold. In particular, if you want the cake not to crack or break, you must mix more flour to have flexibility and toughness.
After shaping, the rice paper rolls are arranged evenly on bamboo seams and then taken to dry in the sun. As well as making other types of cakes, vermicelli, to complete the potato paper cake, not only the worker's diligence for many hours but also depends on the weather.
Therefore, before making cakes, people always follow the weather forecast, if it is sunny, they can prepare ingredients for baking.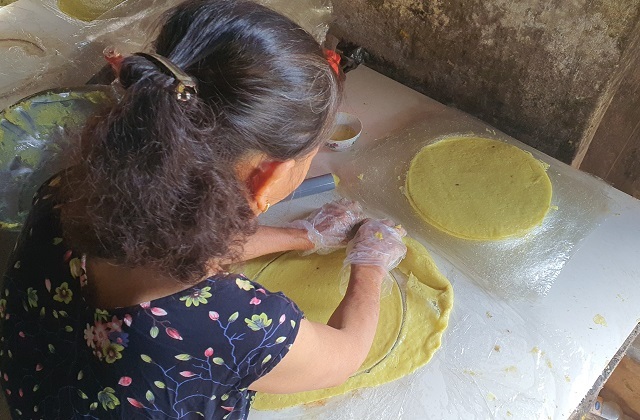 "On average, my family can make more than 1,000 cakes a day, with the price of one dozen (10 pieces) about 15 thousand dong. After the rice paper is dried, there will be traders coming to the house to buy," An added .
Every day about 2,000 sweet potato rice paper rolls are produced, the family of Nguyen Duc Tien (49 years old) and his wife Dang Thi Tuyet say that, like other bakeries, this profession is also done all year round, but usually in the dry season. I do a lot and at the end of the year.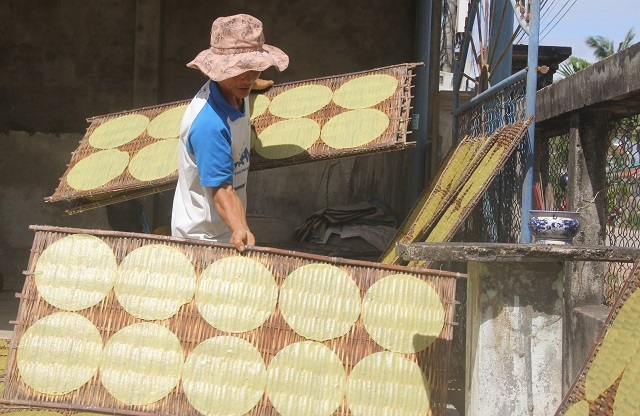 "I make cakes, so I do it all year round, only when I am tired or my family has a job," Tuyet said.
Ms. Tuyet also said that sweet potato rice paper cake is fragrant and delicious because of the combination of many ingredients, while rice paper rice paper is usually only rice flour. Sweet potato rice paper can be eaten raw or grilled and eaten.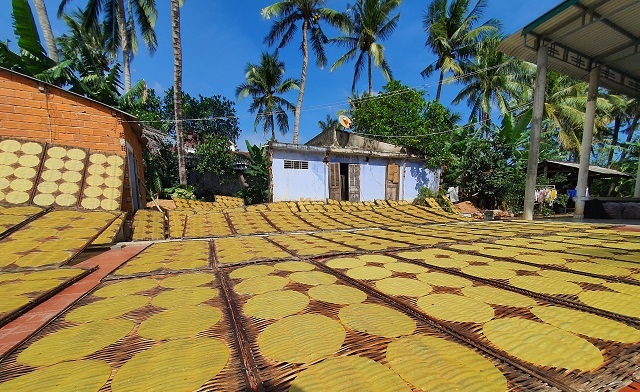 Sweet sweet taste of sweet potato, a bit of coconut fat, a little spicy of ginger and fragrant sesame seeds have created sweet potato rice cakes that make people remember after each taste.
Mr. Nguyen Thanh Hai, Chairman of Tam Quan Nam Ward People's Committee, said that in the area, there are many people making rice paper, but the number of sweet potato rice paper is only relatively, mainly concentrated in the neighborhoods. Tang Long 2.
According to Mr. Hai, the reason for the low number of sweet potato cake makers is the scarcity of raw materials.
Follow Dân trí