Whether you travel to Dalat in any season of the year, you will feel Dalat has its own interesting features. However, when it comes to the best time to travel to Dalat, it is in April. The following article will summarize for you all about Dalat's travel experiences in April.
1. What's special about the weather in April in Da Lat?
According to my Da Lat travel experience in April, this is the time when Da Lat begins to enter the dry season, the most obvious time to change the season from spring to summer. Is the harmony between the familiar cold air of the city with the heat and heat of the summer weather.Coming to Da Lat in April, you will easily be attracted by the scenery here. A little cold of the dew, a little sunshine of summer makes you feel like you are "in love".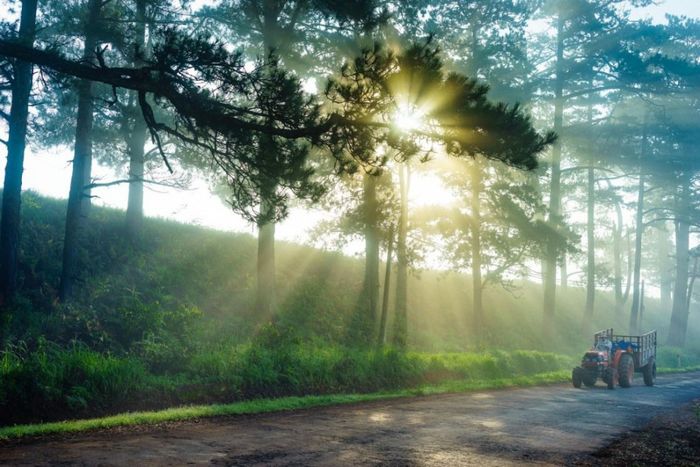 The weather in Dalat in April is cool and warm
The weather is mild, neither too hot nor too cold, the weather is extremely pleasant for those who cannot easily adapt to an environment with sudden changes. At the same time, early April is a low tourist time, so it is very suitable for those who like quiet.

However, at the end of April, the holiday time from April 30 to May 1, the number of tourists coming to visit is extremely crowded. If you want to fully enjoy the beauty of this misty country in the tranquility and tranquility, you should choose between the beginning and the middle of April. Or if you want to enjoy this city with a vibrant atmosphere, enthusiasm, you can choose to tour Dalat 30/4 ceremony .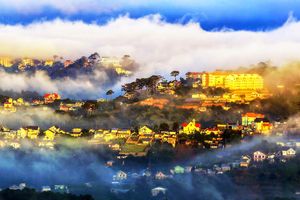 Those who once traveled to Dalat will definitely remember this beautiful city forever and want to come back here again and again. Dalat is always attractive in the eyes of tourists
2. Dalat travel in April – what flower season is there?
April in Da Lat is a time of clear seasonal change, the harmony between the already cold, cold weather that is so familiar of this city with the hot and quiet features of the summer weather. Because of the time of season, the flowers here are also very rich.
2.1 The season of phoenix flowers in Dalat
At the end of March and early April, purple-hearted flower buds show off again in the cold sun of the mountains and highlands. More than a century ago, an engineer brought this seed back from the distant Americas, planted it, and then multiplied it by the people here. Now when it comes to Dalat, people often refer to the purple phoenix flower season .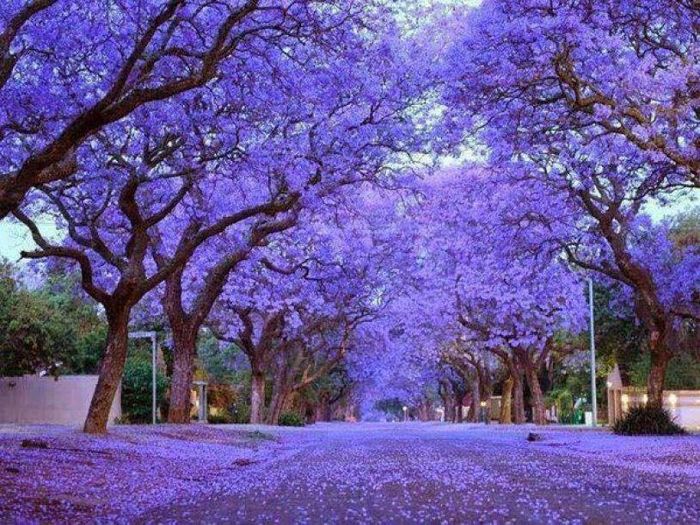 Purple phoenix Dalat in a corner of the sky
Traveling to Dalat in April, you will surely be amazed by the purple color of the phoenix flower season. Different from the red phoenix of the student's age – brilliant as a queen of pride bathed in the blazing southern summer sun. Dalat's purple phoenix is ​​gentle, shy like a beautiful girl covered in thin mist of the weather in Da Lat. Every street, street, even the color of the sky, is dyed with an impressive purple heart color.The places to enjoy the beautiful purple phoenix flowers you can refer to:
Nguyen Thi Minh Khai Street (street market)
Section Tran Phu – Hoang Van Thu – Tran Le
Yersin Street – College of Education
2.2 The sunflower season of Dalat
If you travel to Dalat in March, you will be able to see the remaining cherry apricot petals, in April the sunflower season will bloom. April is the month when the sunflowers are at their most blooming. Sunflower fields filled with golden scenery under the soft golden sunlight of Da Lat weather easily make people fall in love.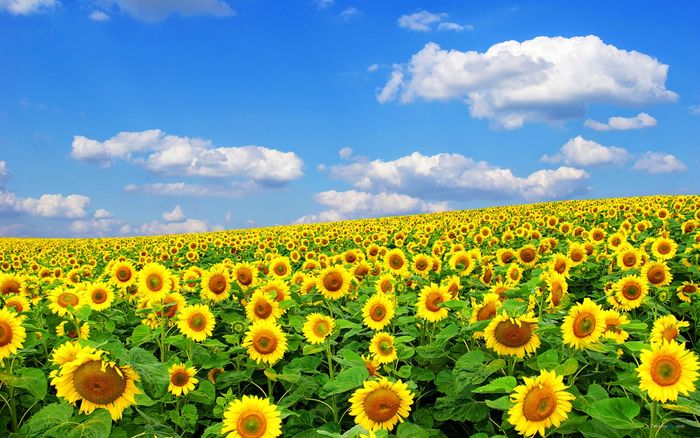 The sunflower hill of Dalat is golden in the sun
True to its name, sunflowers are always facing the sun. That is why people often compare this flower as a steadfastness, always looking forward to the future. Just towards the sun, the darkness will be behind you. The sunflower hills are bright yellow in a corner of the sky, sunflowers are not too high for a human head, but easily immerse us and forget the way back.Here are the places that Dalat travel experiences in April share for you to refer to:
Sunflower garden opposite Me Linh cafe (on provincial road 725 Ta Nung – Lam Ha)
Sunflower garden on Tu Phuoc Street, right next to the cafes: Cheerful Farm, Valley of Lights.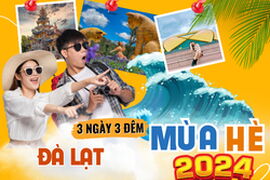 2.3 Lavender
Dalat travel experience in April will continue to introduce you to another species of flowers blooming in April is also extremely attractive. It is Lavender, also known as Lavender, originating from Europe .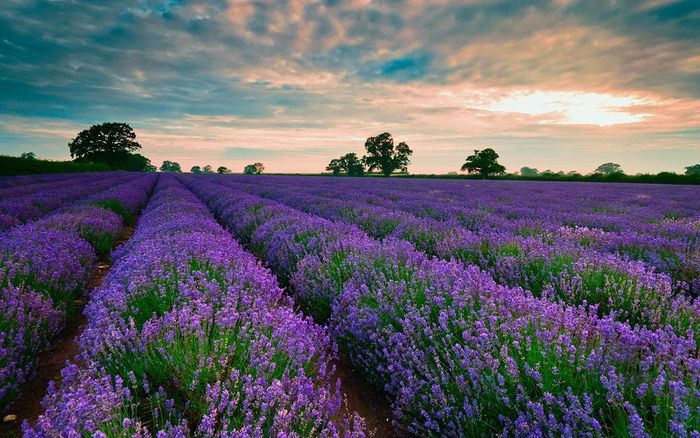 Lavender fields in DalatIf the red rose – the flower of the sincere and intense desire for love, the lavender represents a loyal and beautiful love despite many hardships. Because of its special meaning, this flower is very popular with young people when coming to Dalat. Address you can refer to:
Van Thanh Flower Garden: 43 Van Hanh, Ward 5, Da Lat City, Lam Dong
Lavender Dalat tourist area: located next to Tuyen Lam Lake, 7km from the center of Dalat
Valley of Love: No. 7 Mai Anh Dao, Ward 8, Da Lat City, Lam Dong.
2.4 Hydrangeas of Da Lat
Hydrangeas are flowers blooming all year round in Da Lat, you can easily see endless fields of hydrangeas in any season.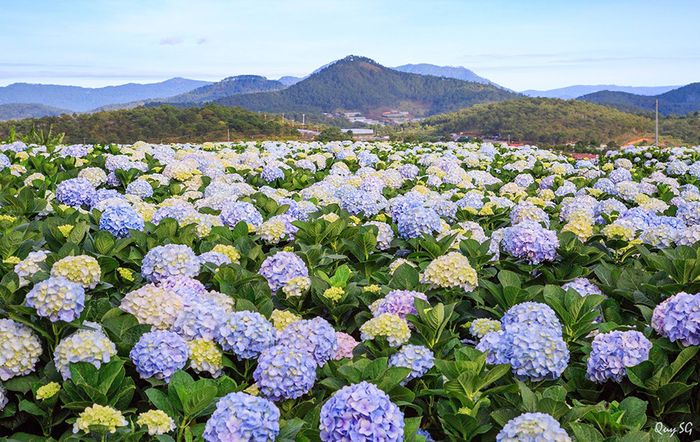 Endless fields of hydrangeas
Hydrangeas have many different meanings. Some say it represents the cold, emotionless, others say it represents the lie. Or for couples in love Hydrangeas symbolizes sincere apology, perfectionism in love.
With my travel experience to Da Lat in April, although there are many meanings, good and bad, hydrangeas still stand out in the highland sun and wind, beautiful flowers still boast in the fields. endless.
The addresses of hydrangea fields you can refer to:
The flower park is opposite the Provincial Committee of Tran Phu Street or the Light Park along Nguyen Van Cu Street.
The famous Cam Tu Cau flower field, going towards Cau Dat tea hill, has 3 large gardens such as: 2 gardens on Tu Phuoc street (200m and 1km past Linh Phuoc pagoda). There is another large garden located right inside Cau Dat Farm.
3. Places you should check-in when traveling to Dalat in April
In addition to the endless flower fields, Da Lat travel experience in April will introduce you to the following places to check-in.
3.1 Golden Statue "Windmill"
This is considered as a legendary virtual living wall in Dalat. As someone who loves Da Lat, you will probably not be unfamiliar with this check-in place. However, at the end of February 2018, the wall was painted over by someone less conscious. Even so, the wall "Windmill" still attracts a lot of young people.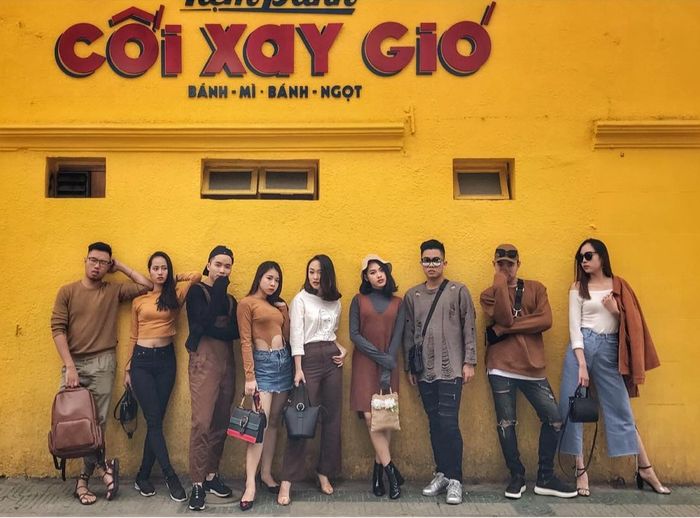 The golden wall "windmill" attracts many young people to check-inUp to now, the wall has returned to its original state and is always the first virtual living place that you cannot ignore when coming to Dalat. With Da Lat tour for 3 days 2 nights , you can spend time relaxing here while buying bread and checking in! 
3.2 Lam Vien Square Dalat
The next great virtual living place that in Da Lat in April would like to introduce to you is Lam Vien Square. This is the ideal check-in place that you cannot miss when you come to Da Lat. Built in 2009 with an area of ​​72,000 square meters, this is the venue for outstanding events such as the Flower Festival.

Lam Vien Square DalatTo find the square, you just need to walk around the center and see a large yellow mass of wildflowers, it is Lam Vien Square Dalat . This place is considered a symbol of Da Lat city.
Specific address: Tran Quoc Toan Street, Ward 1, Da Lat City, Lam Dong.
3.3 Lonely pine in Da Lat
Da Lat lonely pine tree is the next place that Dalat travel experience in April wants to introduce to you. By Lake Dankia, the flat water surface is imprinted with lovely green pine silhouettes, making viewers feel compassion for them. In the midst of the mountains and hills, the lonely pine stands alone but is very resilient and sturdy.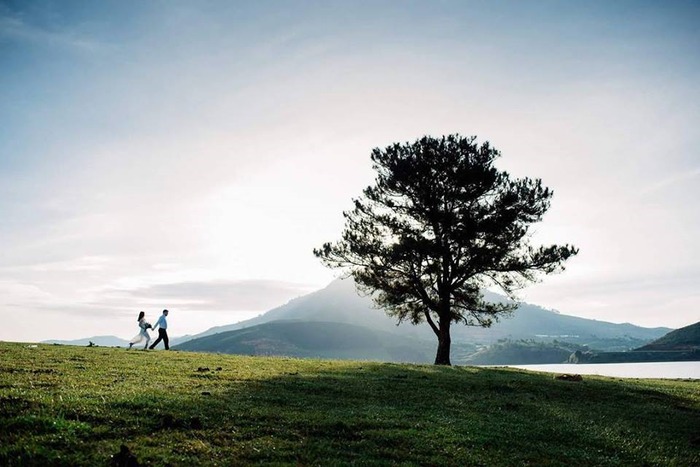 Lonely pine in Dalat
Coming here is most beautiful from November to April next year, you will be immersed in the ecstatic dawn sea, with drifting clouds on the blue sky.How to move:
You move in the direction of Xo Viet Nghe Tinh – Ankroet – TL722 to the Suoi Vang bridge. Cross the bridge about 3km more, you look to the right to see the trail (as shown) and then follow that up the hill. Lonely pine tree is located on the side of Lake Dankia – Suoi Vang.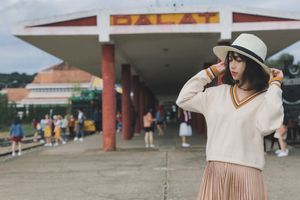 Traveling to Da Lat with its poetic beauty always makes the distant travelers ecstatic every time they visit. People say Dalat is beautiful every season, every month is beautiful. Really
3.4 F Flower field
F flower field is a new place in 2018. Unlike other flower fields, flower fields here converge a lot of flowers. The immense green of the valley, pine forests and the red, yellow and purple hues of the F field of flowers will be a very interesting place for those who have a passion for photography.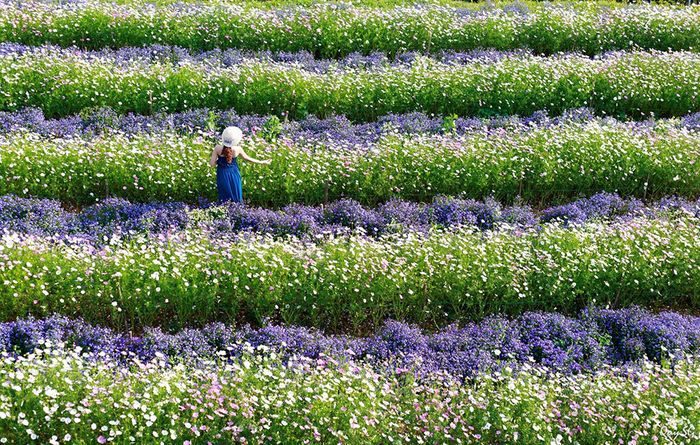 F flower field in Dalat, where convergence of thousands of flowers
Location: Coffee F Flower field, refuge street 1, Mimosa pass, ward 10, Da Lat city.
3.6 Cow House Slope
Your 3-day tour of Da Lat will be less complete if you do not visit the famous Bo house slope. Traveling to Dalat in April, remember to visit Bo's slope at the end of Dao Duy Tu street. This is a legendary slope in the movie "Brilliant May" that director Quang Dung remake from the Korean version. It is called the Ox slope because there was a French barn at the end of the slope, then renamed it Dao Duy Tu street.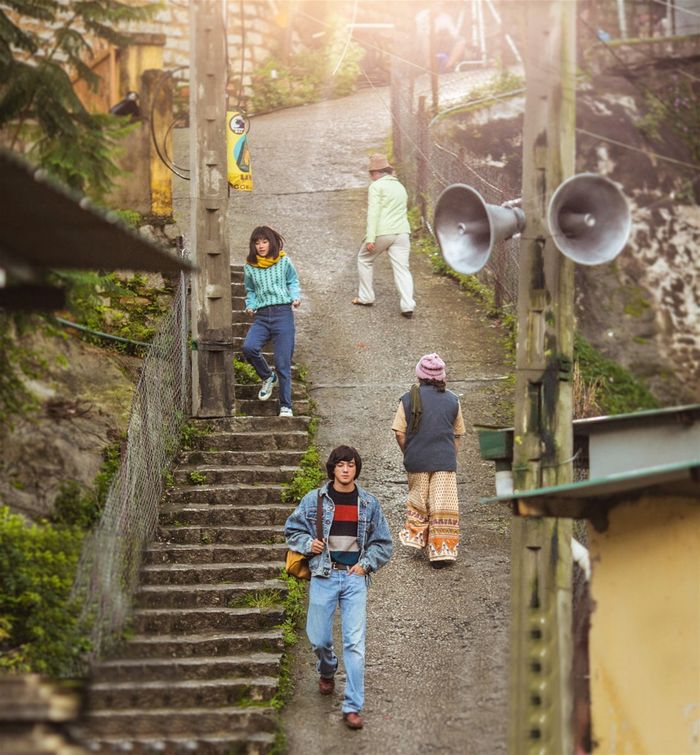 Slope of Da Lat Bo House, a romantic slope associated with many love storiesAlthough it only appears in a small scene in the movie, this slope makes many people flutter by the poetic scene.
Address: The slope is located at Dao Duy Tu street, ward 4, Da Lat.
4. What you should enjoy when coming to Da Lat in April.
4.1. Dalat rice pots
Da Lat Rice Pot is the first dish that April travel experience wants to introduce to you. This is a rustic dish, but it is processed very carefully. Each pot of rice is brothed by the chef and brothed at the appropriate temperature. The cooked rice is neither too dry nor too wet, it has to be just right to feel its delicious taste. Rice in pot can be eaten with other rustic dishes such as sauteed broccoli, garlic, eggplant, …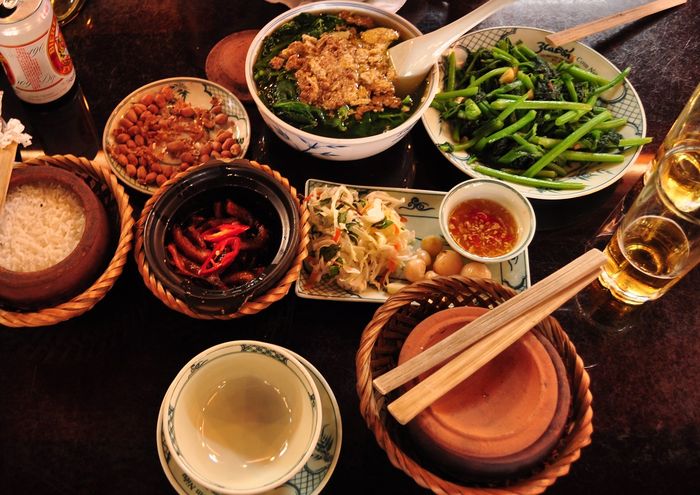 Dalat rice pots
You can go to Huong Tra – Nguyen Thai Hoc hot pot restaurant or Nam Do – 6 Nguyen Thi Minh Khai rice and pot restaurant to enjoy the delicious flavored rice in this family.
4.2 Wet cake with chicken heart
Unlike other regions that eat wet cakes with cha, in Da Lat you will enjoy wet cakes with chicken hearts. The soft wet cake and chewy chicken heart with the delicious dipping sauce will make you remember this flavor forever.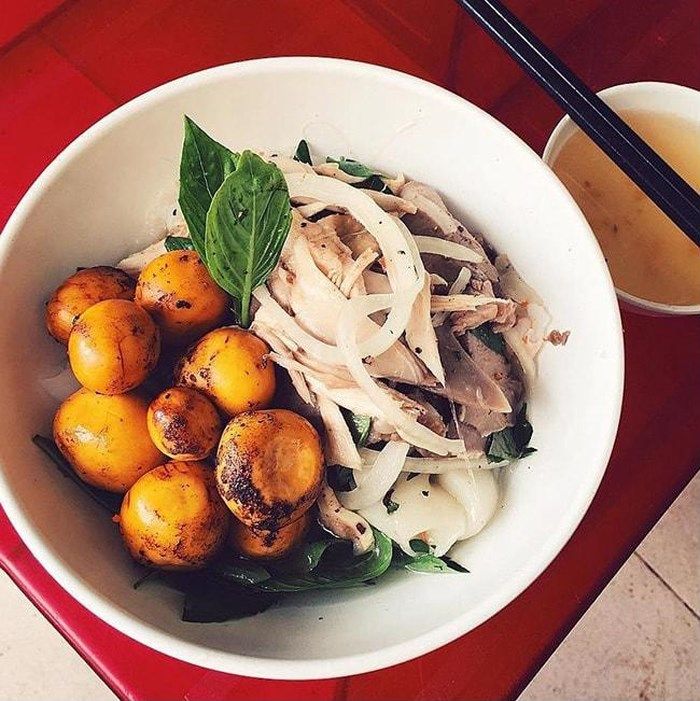 Wet cake with chicken heart Dalat
To enjoy the delicious wet cake with chicken heart , you should go to the wet cake shop on Tang Bat Ho street, near Da Lat market. A large bowl costs 20,000 VND
4.3 Banh mi Banh Mi
The next dish that, according to Dalat travel experience, you should not ignore is Dalat's tiny commercial bread . A delicious little commercial cup made from kumquat meat with enough toughness along with the water simmered from pork bone brings a sweet taste, neither fat nor greasy. Accompanying are bread rolls thick, crispy hot will make you unforgettable.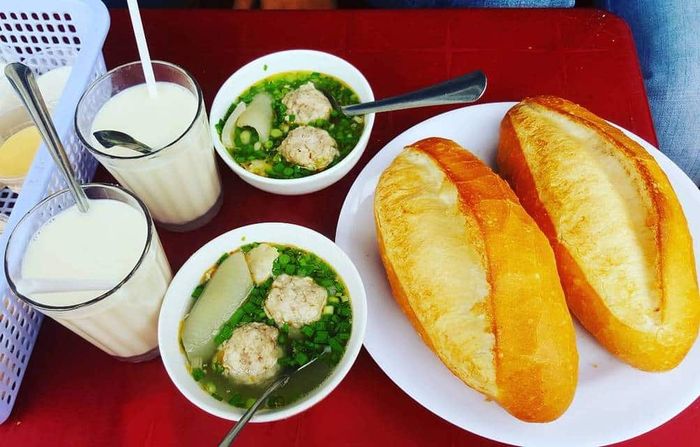 Da Lat commercial banh mi
You can go to the restaurant at the Tran Nhat Thuat – Hoang Dieu intersection to enjoy the taste of this dish.
4.4 Chicken hotpot in Dalat
Da Lat chicken hotpot is a hotpot that you should enjoy when you come here. Chicken cooked with fresh bamboo shoots and green leaves, eating under cold weather in the evening of April in Dalat is nothing more interesting.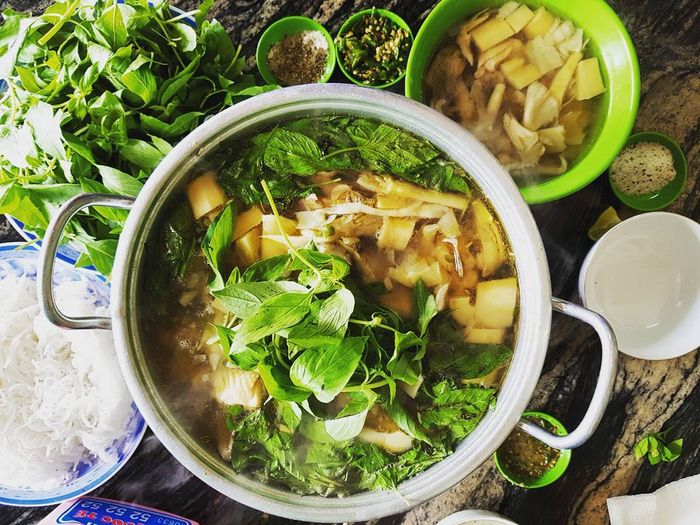 Chicken hotpot in Dalat
You can refer to the address: Tao Ngo restaurant at the end of 3/4 street, about 2km from Xuan Huong Lake.
4.5 Phan Rang Chicken Rice
To energize the journey of discovering Da Lat, Da Lat travel experience in April introduces you to another dish that you definitely cannot leave out, which is Phan Rang Da Lat chicken rice. The rice here is cooked with chicken broth so the rice seeds will be bright yellow, served with fried chicken or boiled chicken is great.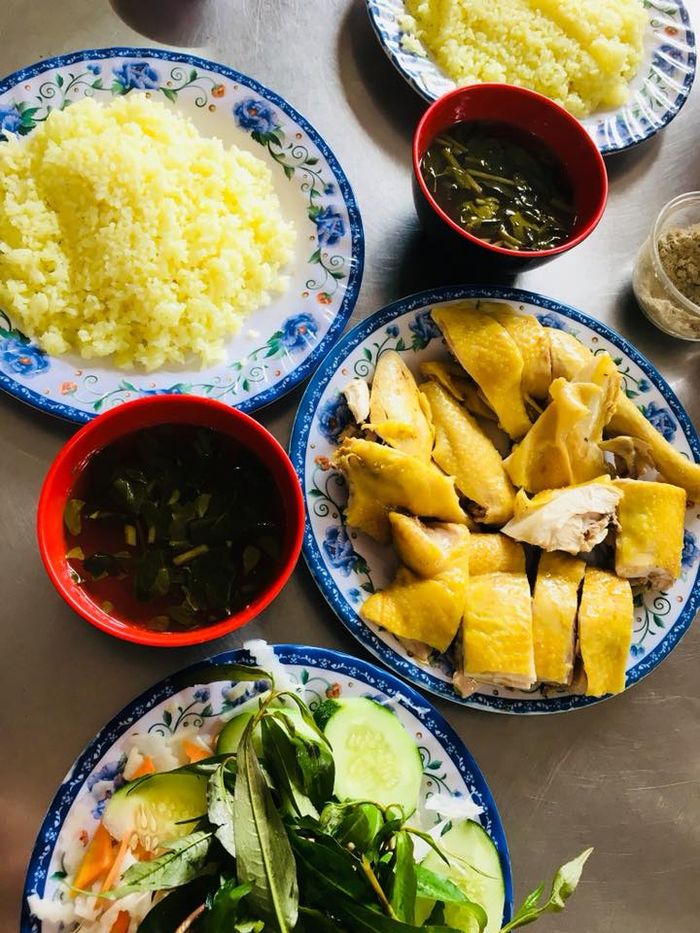 Phan Rang chicken rice brings Da Lat flavor
Chicken rice shop is located at No. 15, Tran Nhat Duat, Da Lat City
5. What to wear when traveling to Da Lat in April?
Da Lat is known as a tourist destination with the most beautiful scenes. For every square meter, there are more than a thousand different virtual living corners, satisfying your passion. That's why choosing costumes to travel to Da Lat in April is also very important. The following Dalat travel experiences will help you! 
5.1 The costumes of the girls
Early April was the time when Da Lat entered the dry season. Suddenly, there was only a small rain. By the end of April, the rainfall was more. Thanks to the beautiful weather, it is very convenient for girls to like to wear summer outfits.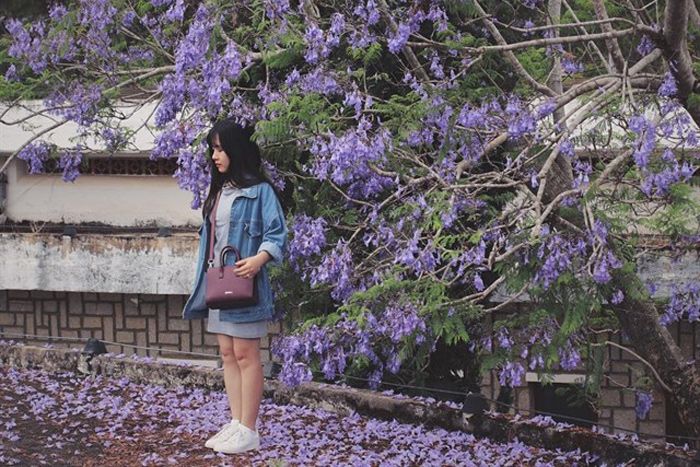 No need to be too fussy, just a simple dress is enough for you to check-in under the weather of April Da LatJust mixing a thin T-shirt with a short or crop-top dress, jogger, baggy, … is enough to make you stand out for quality check-in. However, in the early morning or late afternoon, Dalat is very cold, so you should bring warm sweaters, hoodie, gloves, socks, scarves, … to keep warm.
5.2 Men's attire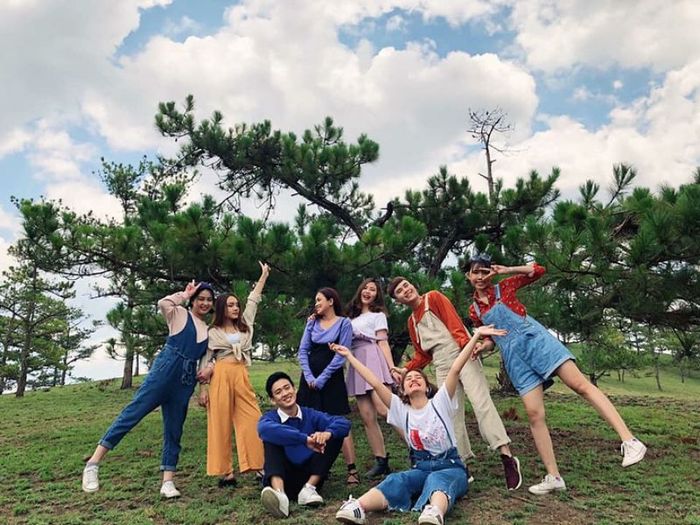 Costumes you can wear when you come to Da Lat in April
Not too fussy as girls, men just need to wear gentle comfortable clothes such as T-shirt shorts or jeans, simple shirts with dynamic sports shoes is enough for you to have got a set of photos "quality like distilled water" in Da Lat city.
You can also bring a hoodie that is easy to coordinate and keeps your body warm.
6. Nice homestay in Da Lat – ideal place to stay
6.1 Being a Homestay – a combination of modernity and classicism
The first place that Dalat travel experience in April would like to introduce to you is the Homestay House. This is considered a famous beautiful homestay in Dalat . With a cold color and a design combining classic and modern, close to nature, this homestay attracts many young people. Besides, a pretty garden is decorated with small pots of beautiful plants, which is a suitable place to hold small parties with family and friends.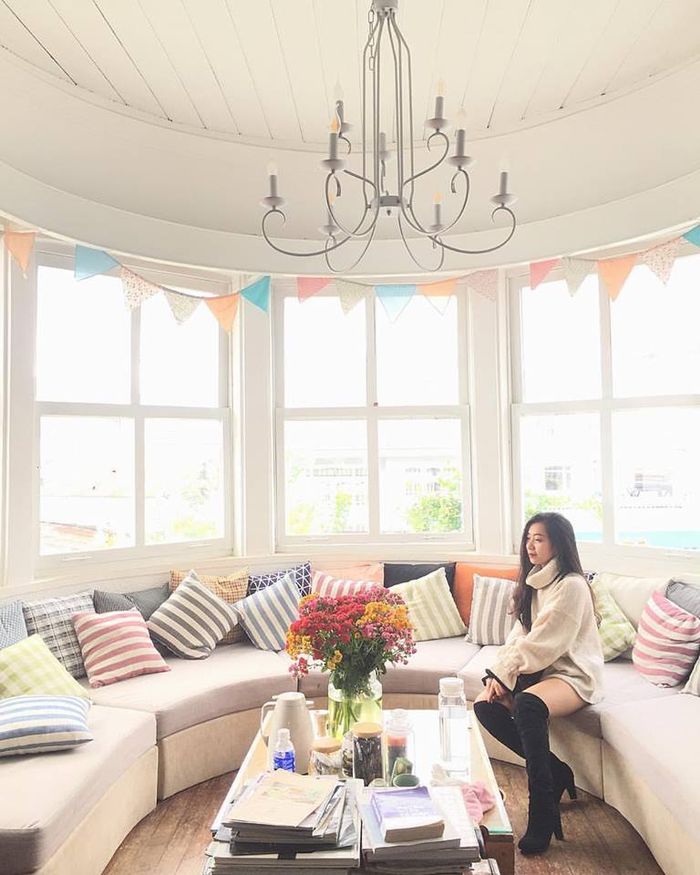 The combination of classical and modern architecture makes La Nha become one of the famous homestays in Dalat
Address: 77 Hoang Dieu, Ward 5, City. Da Lat, Lam Dong province.
6.2 Homefarm – Famous Homestay in Dalat because of the separation
Located separate from the noisy streets, homestay HomeFarm gives you a fresh atmosphere surrounded by green pine hills. If you are too upset by the cramped noise of crowded streets, HomeFarm is a great choice for you.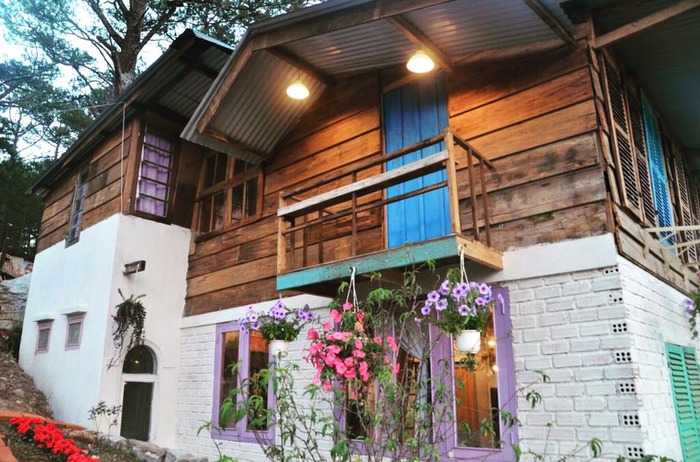 Homefarm Dalat is located separate from the noisy and bustling streets.
Address: 17/1 Trieu Viet Vuong, ward 4, Da Lat
6.3 Dalat Family – a homestay offers a family flavor
The next homestay that Dalat travel experience in April wants to recommend to you is Dalat Family. The name itself says something special about this homestay. Dalat Family brings you not simple but very cozy, the family flavor that not all homestay can easily get. No matter what season or month you go to Dalat , Dalat Family will always welcome you as a relative.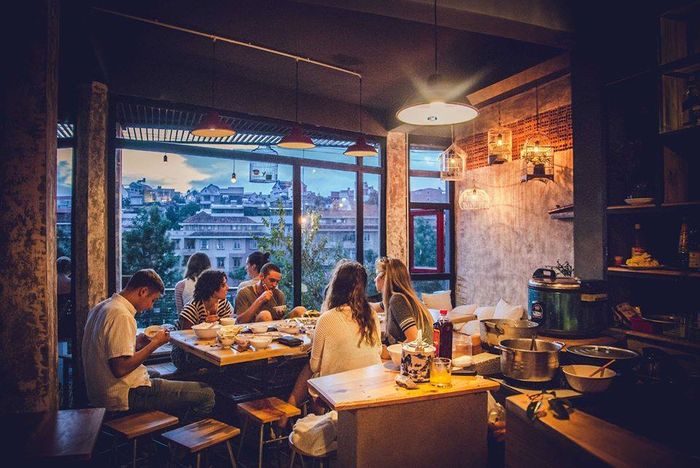 Dalat Family brings a warm atmosphere like a family
Address: Alley 3, Thong Thien Hoc, Da Lat city.
6.4 Le Bleu – the homestay of the girls who love freedom
Coming to Le Bleu homestay you will understand more about what is called non-standard. The objects here are arranged arbitrarily but bring a pleasant feeling, very suitable for boys and girls who love freedom, do not like constraints and hate so-called normality. Le Blue is beautiful, simple but fully equipped, so you can cook according to your preferences.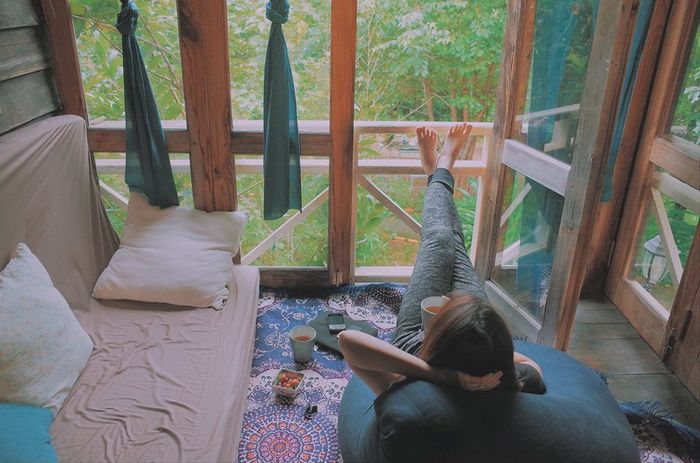 Homesaty Le Bleu, a place suitable for liberal and free girls
6.5 Home of dreamers – Homestay of poetic and romantic things
The name says somewhat of the architecture here. Taking the green color as the main theme, homestay both brings a sense of peace and helps to relax and re-contemplate life.If you want to stay in the room to read a book, drink a cup of hot tea but do not want to miss out on nature in Dalat, then choosing Home of Dreamers is a smart choice.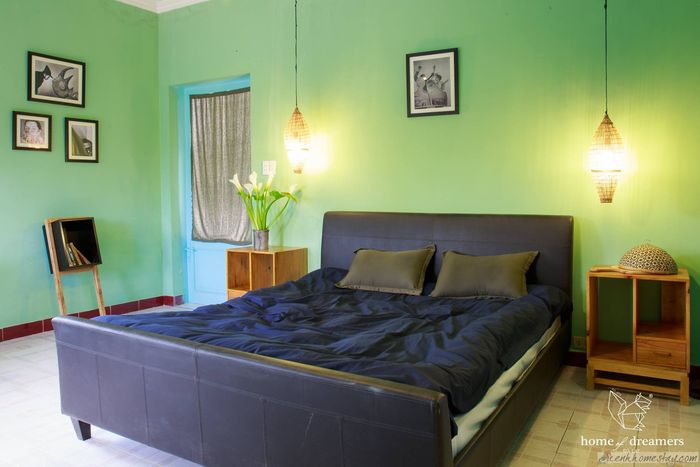 Homesaty Dreamer, a place full of passion
Address: 2/35 Nam Ho – Da Lat
7. Things to note when traveling Da Lat 30/4 – 1/5
According to my travel experience, Da Lat in April, this is a holiday, so the number of tourists coming is quite large, so as not to be surprised, you need to prepare carefully to come to Dalat on this occasion.
7.1 Vehicles
First of all, you should book air tickets, train tickets, roundtrip car about 1-2 months in advance. If you want to drive a motorbike to Da Lat by yourself, you need to pay attention to safety because it is a tourist opportunity, so the number of cars is quite crowded, especially in the pass sections.
7.2 When should I book a hotel or homestay?
Should book a hotel, homestay in advance for half a month to 1 month. Da Lat hotels for the holidays often increase at least 100,000 – 200,000 VND / night. Or in case you are self-sufficient and want to camp, bring warm gear. In April, although Da Lat began to enter the dry season, the weather at night was still quite cold and foggy, so you had to bring enough warm gear to ensure your health.
7.3 Places to visit
April is the most beautiful season of the year in Dalat, so going to any place is beautiful and interesting. However, on holidays you should be careful when arriving at a place where there are too many people. If you are traveling in a group or self-sufficient, you should also choose to travel to Da Lat for 3 days 3 nights to be able to explore all things about this city.
Above are the travel experiences of Dalat in April that I have accumulated, remember to save in your travel hand-number and prepare fully equipped to have a complete trip to Dalat.