Among the countless noodle shops in Hanoi, there are many noodle shops that are considered "exclusive goods". "Unique" is not only because of its delicious taste but also "unique" thanks to the name, making customers easy to remember and curious.
5 pho shops attracting the most customers in Hanoi: Delicious, the name is still "extremely poisonous"
1. Pho Me
Address: No. 27A Huynh Thuc Khang, Dong Da, Hanoi
Opening time: From 6 o'clock to 22 o'clock dailyTrue to its name, Pho Nho makes many diners "eat once, remember a lifetime". That dear name was not given by the shopkeeper, but given by the customers who love him and then he used to call it. Pho Nho restaurant has a long time ago. The shop won the second prize of the Hanoi Pho Competition and has always been the famous address of Hanoi Pho.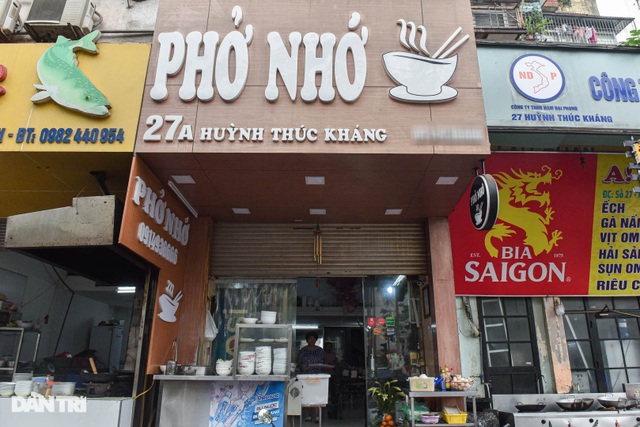 At first, Pho Nho restaurant was named Nguyen Hong pho. Ms. Thuy – who maintains the Pho Nho restaurant, said: " This noodle shop was opened by my parents. Since the past, the shop has been crowded with customers, especially the elderly customers because they said, my pho reminds me of the taste of old pho.
Later, they went to many places but still could not forget the taste of pho at my house, so guests called themselves a dear name "Remember" pho. In 2000, my family changed the restaurant's name to Pho Nho ".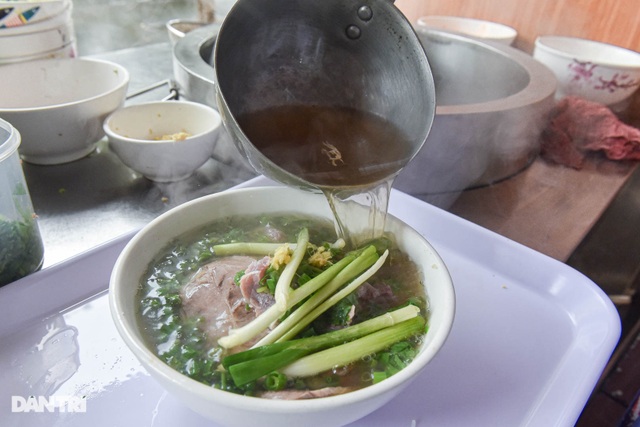 Pho Nho operates from 6am to 10pm all days of the week. Ms. Thuy said, the shop is open all year round, only off 3 days of Tet. Initially, the shop only sold all kinds of pho, but later on to serve a variety of needs of customers, the shop sold more fried rice, fried noodles, and stir-fried pho.
2. Pho Pho
Address: No. 36B Mai Hac De, Hoan Kiem, HanoiOpening hours: From 6am to 10pm daily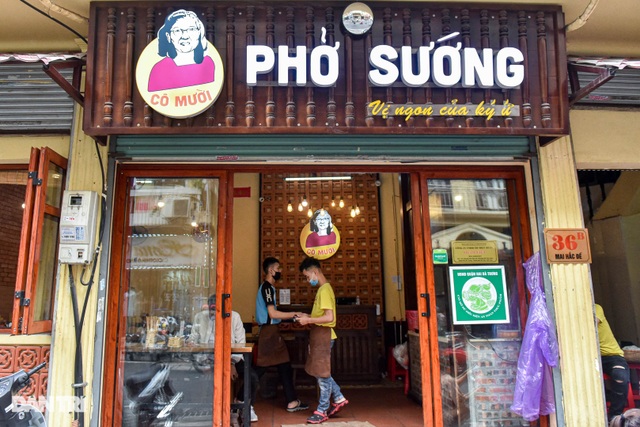 According to reporters, Pho Pho was born a long time ago. The forerunner of Pho Sang was "carrying green-shirted Chinese pho" from the 30s of the last century with the delicious "pho" pho "in Hanoi during the French colonial period.
In 1986, after a period of hiatus, the shop was reopened and named as Sieu. This name was born from the desire of "everyone who comes to eat pho will feel happy because of good pho" of the family of the owner.
The broth at the bar is sweet, not too strong in the smell of anise instead of cardamom so it is very "happy". The meat is deliciously processed, sliced, broken into pieces, dandruff meat or meat is very "quality", lean, soft and fragrant. The noodles are bare to medium, flexible and blending.
Pho Pho has an average price of 40,000 – 55,000 VND / bowl, the restaurant operates continuously from 6am to 10pm daily. In addition to the base at 36B Mai Hac De, Pho Sung also has a base in Trung Yen that is equally famous.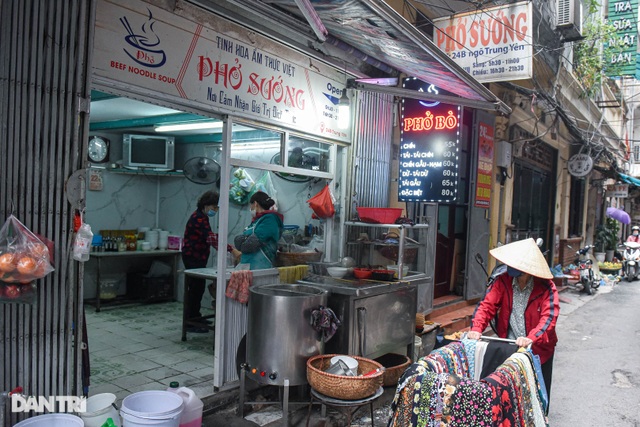 3. Pho Vui
Address: No. 25 Hang Shoes, Hoan Kiem, HanoiOpening hours: From 6 o'clock to 12 o'clock and from 16 o'clock to 23 o'clock daily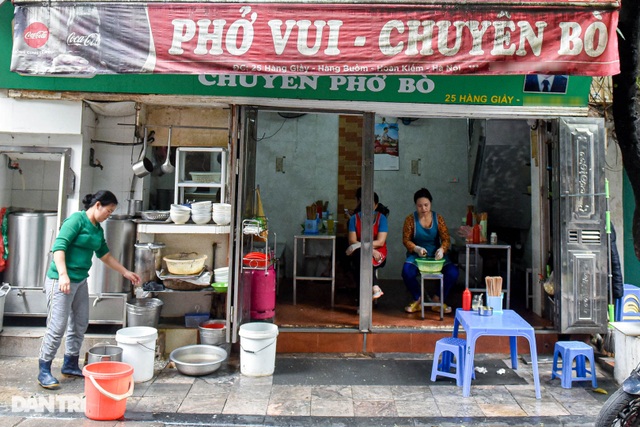 People who love pho often joke, when mentioning "Pleasure", they cannot ignore "Fun". Pho Vui has the same name as the owner – Mr. Vui.
Currently, the person maintaining the shop is Ms. Vu Thi Thuan – Mr. Vui's daughter. Pho Vui restaurant has been open for more than 30 years and the name has not changed.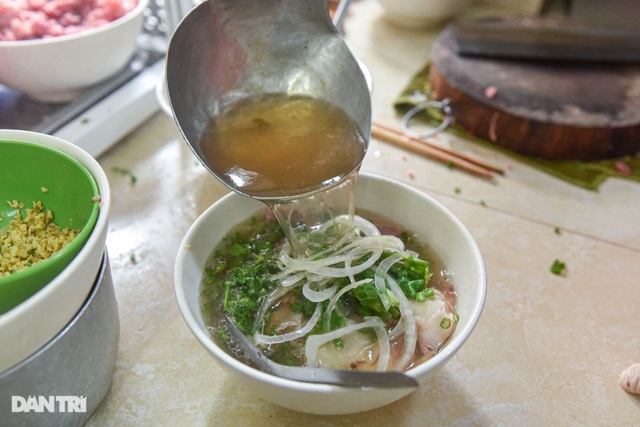 Since she was a child, Ms. Thuan has followed her parents to sell goods, so now she has to wake up early to work hard, the owner of Pho Vui shop also feels happy. "My house is sold all year round, preparing for every afternoon, in the evening, preparing for every morning, repeating like that" Ms. Thuan shared. For many years, Pho Vui shop still kept its old taste. The shop is in Hanoi's Old Quarter but the price is very affordable, undercooked pho has a price ranging from 40 to 50,000 VND / bowl. 4. Pho That Address: No. 48 Tran Nhat Duat, Hoan Kiem, HanoiOpening time: From 18 hours to 24 hours daily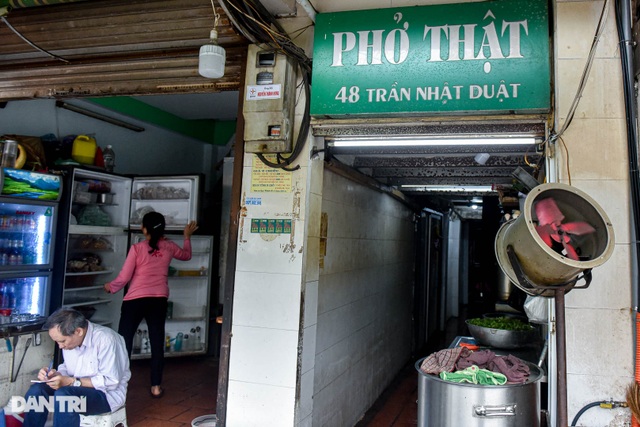 Pho It's different from many other pho shops, instead of opening every morning, the restaurant is open from 18pm to 24 hours.
Ms. Luong Phuong Loan (47 years old, shop owner) and her husband operating pho restaurant said: "Pho Tru is famous since my father's life. He sold it since the 1980s. After I grew up, I sold it for him. now it's been 20 years.
Talking about the name of Pho That, Loan said that the word "real" here is real, true pho, everything is real. The meaning here made pho is delicious, meat "standard", standard.
In addition to the undercooked pho, the shop is famous for its wine-sauce pho or bare beef noodle soup for drinkers. The rich, fatty pho broth is the most noticeable spot in Pho That.
The shop has a long history and has kept the right "quality" to cook delicious pho, so the number of visitors coming to Pho That is steadily and increasingly crowded due to the good reputation. "You keep opening the door here and there are customers. There are customers who have eaten pho at the restaurant since they were young," Loan said.
5. Salty Pho
Address: No. 34 Hang Giay, Hoan Kiem, HanoiOpening hours: From 6 o'clock to 12 o'clock daily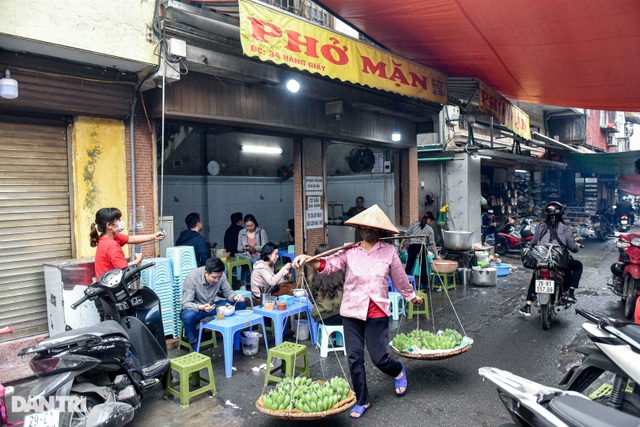 For nearly 40 years, the owner of Le Thi Ha restaurant has been selling goods from early morning to noon. Pho Man restaurant is always crowded with people coming in and out because of the special pho taste. Pho Salty here is not the salty taste of salt, but the owner wants to talk about the rich broth.
Ms. Ha shared: "I have been selling pho since 1981, now I have sold pho for many years, from 6 am to 12 noon every day. The name of the restaurant is called by customers because they say my broth is rich".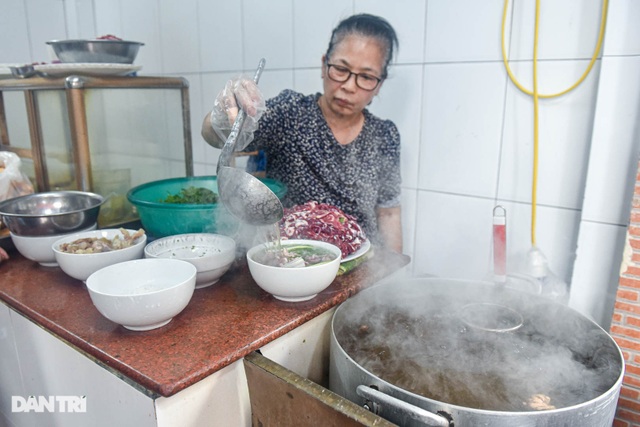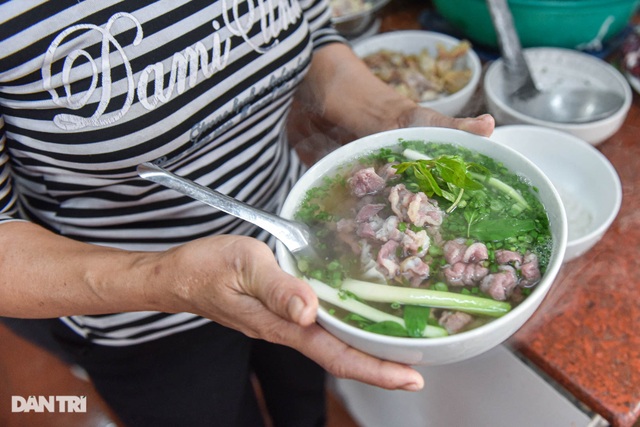 But visitors come here not only because of the salty but also the broth but also because they like the special chewy noodle cake, the special crispy, and sweet core meat. 
Follow Dân trí