Nam Du archipelago has 21 islands, large and small, but only 12 are inhabited by people, there are many uninhabited islands in the middle of the sea. Most tourists coming to Nam Du tourism often choose to visit Hon Lon – Hai Bo Dam island – Ngang island – Mau island, but few stop at Dau island. Hon Dau is actually as beautiful as other islands, but due to few people know, tourism information about Dau Island is still limited. Discover the beauty of Dau island through the article below
Related news:  Travel experience on Nam Du Island – "The Little Mermaid in the Blue Ocean"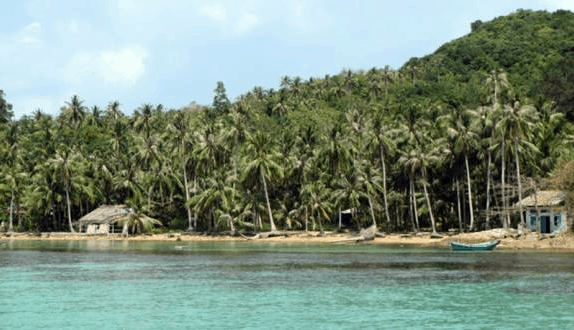 Nam Du Island – a little-known paradise (Photo ST)
1. Introduction of Dau island
Hon Dau is a small island in Nam Du archipelago, located between Đap island and Quot Ao island. It takes about 20-30 minutes from Lon or Mau Islet to move to Dau island by cruise ship.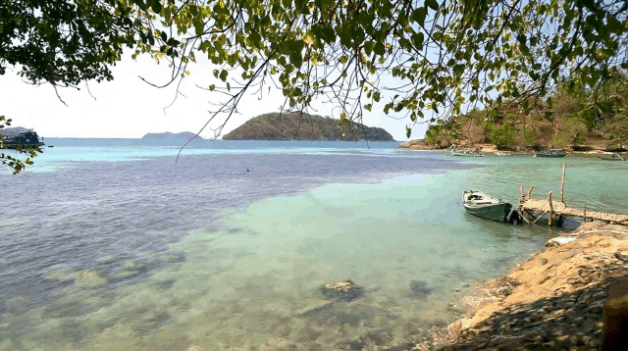 Hon Dau is as beautiful as other islands (Photo ST)
Most of the area of ​​Hon Dau is covered with green, green primeval forest, only a few households reside on a small beach in Bai Nha fishing village, under shady coconut gardens, so this place is called The most peaceful fishing village of the Nam Du archipelago. This place has a very beautiful landscape, captivating the steps of discovery.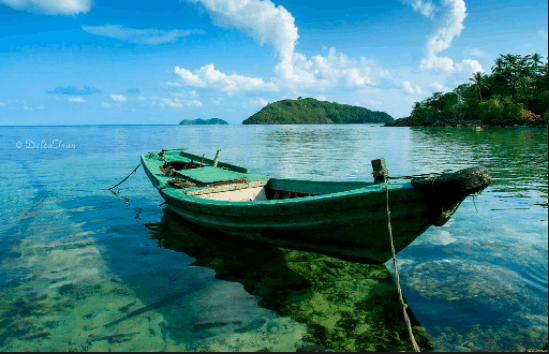 Calm washes (photo ST)
Nam Du Hon Dau has no wharf, so the ship is anchored outside. There are a few white foam rafts available on board for visitors to shore, this is a very interesting experience, feeling like Robinson on a desert island. If you want to enjoy the thrills, wear a life jacket and swim straight to the shore, but this is not suitable for those who bring electronics such as cameras, phones.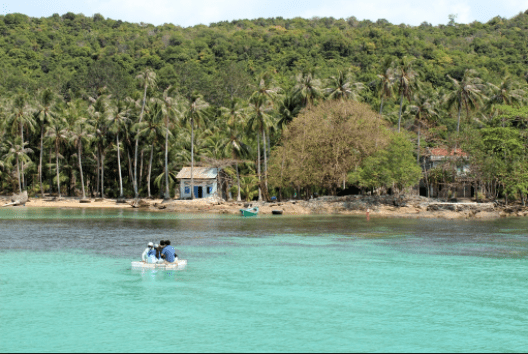 Sitting on a white foam raft to get ashore is a very enjoyable experience (photo ST)
2. The beauty of Nam Du Island
Hon Dau has a small but extremely beautiful beach, even it has more wild and pure features than Cay Men beach in Cu Tron. From a distance, you can immediately recognize the beach with golden sand and soaring green coconut trees.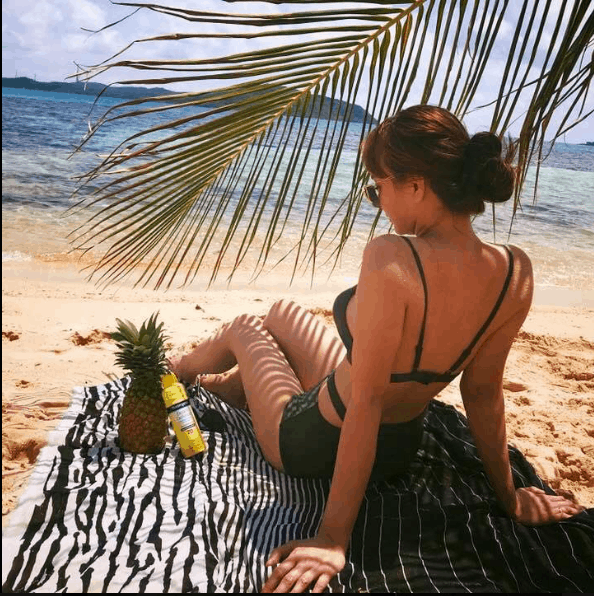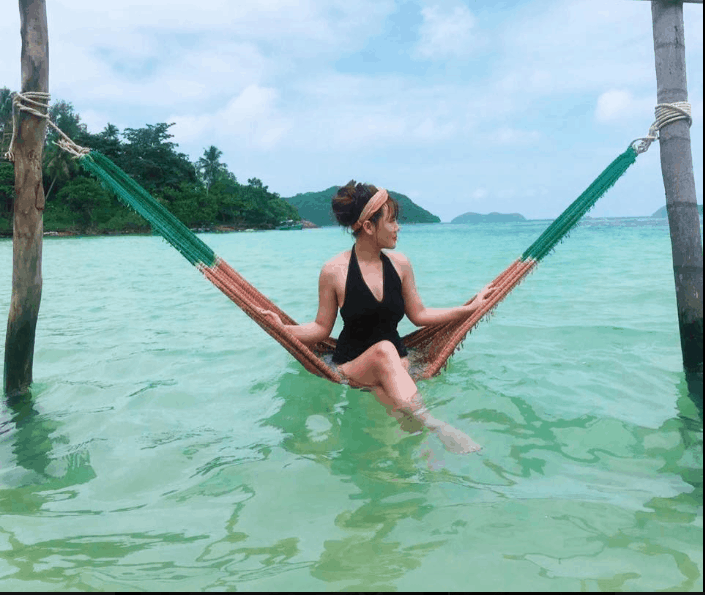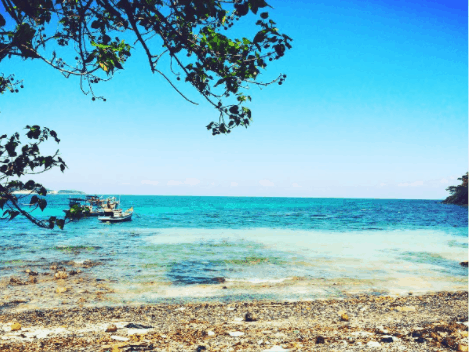 Peace of mind in Hon Dau (photo ST)
This beautiful scene makes Dau Island look no less than any beautiful island in the South Pacific region that the station often shows in its small screen world exploration programs.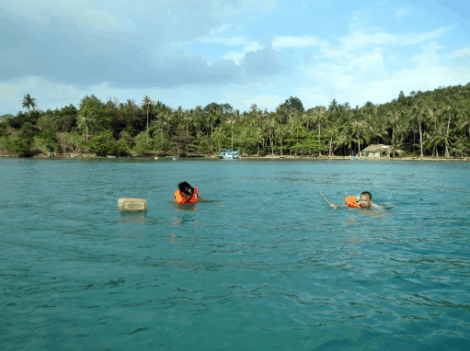 Adorable swimming in Hon Dau (Photo ST)
The beach here is divided into two distinct parts. Inside is a shallow layer of sand that is very suitable for bathing, you can enjoy immersing yourself in the cool water.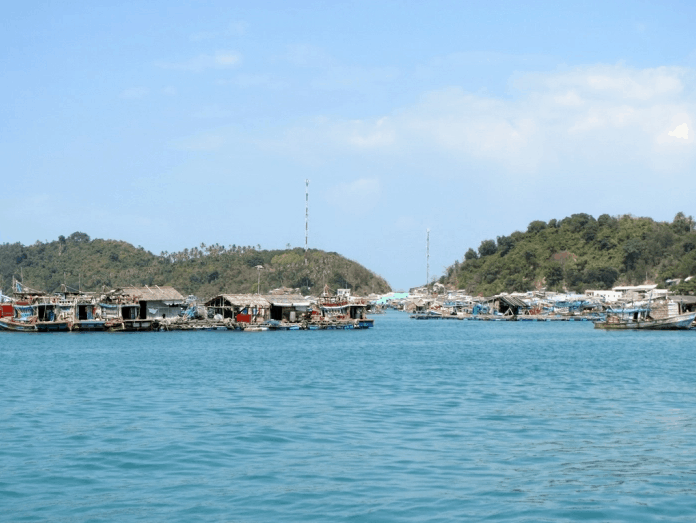 Going to Dau island, you must go through Ngang Islet (Photo ST)
Also surrounding the outside is a coral reef with all kinds of vivid colors and is home to many species of marine life, suitable for you to dive to see corals or try to catch nibs. bring diving gear so as not to miss the opportunity to scuba dive and watch the corals and catch the crabs, crabs are extremely interesting.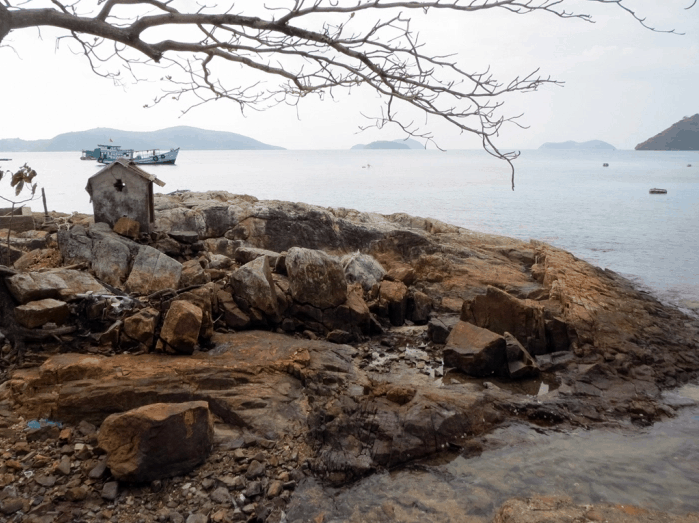 Hon Dau is still unspoiled (photo ST)
3. What play in Hon Dau?
You can immerse yourself in the cool water then lie in the sun on the soft sand, I feel like I'm on vacation in Hawaii.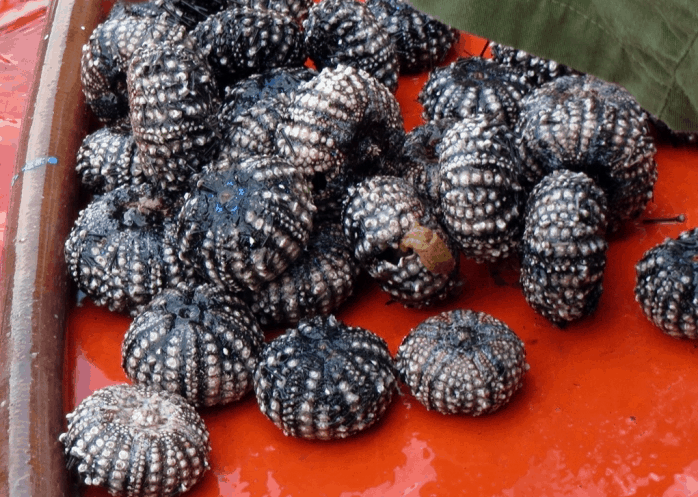 The lump after the thorn has been removed (Photo ST)
Snorkeling, diving, fishing, squid fishing
The coral here is very beautiful and diverse, the colorful underwater world will appear before your eyes better than ever, there are clusters of calcified, dusty still swaying with the tides.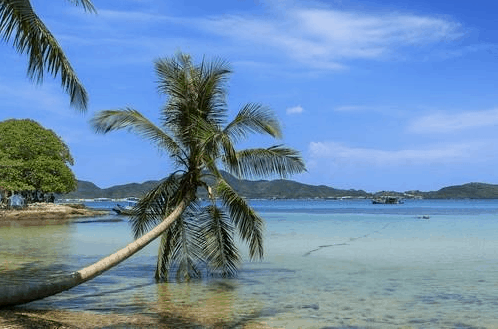 Famous virtual living places in Nam Du (Photo ST)
There are not many crabs here, but there are countless numbers of nipples, just take a few minutes to dive and catch the whole basket. Just shake the basket vigorously, the thorns fall out, leaving only the inner spherical shell, then processed such as baking onion fat or cooking ginger porridge, eating sweetly.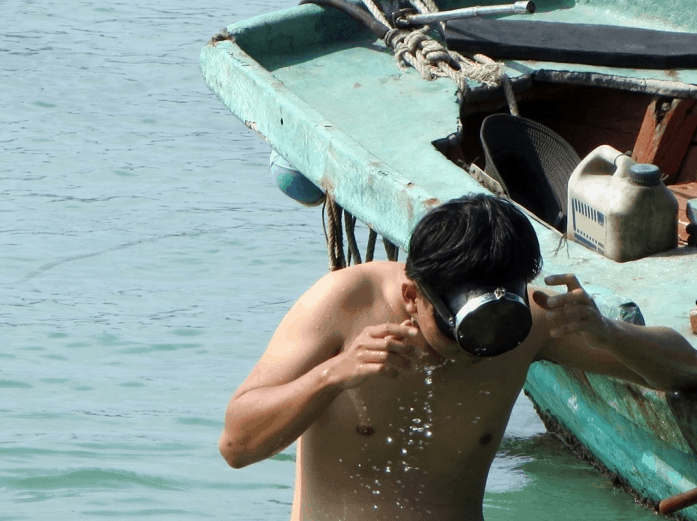 Scuba diving to watch the coral (Photo ST)
Check-in at the legendary tilted coconut tree
On the island of Dau, there are a number of coconut trees leaning toward the gentle sea. In particular, this coconut tree is also an online legend that everyone who comes here must ask to find check-in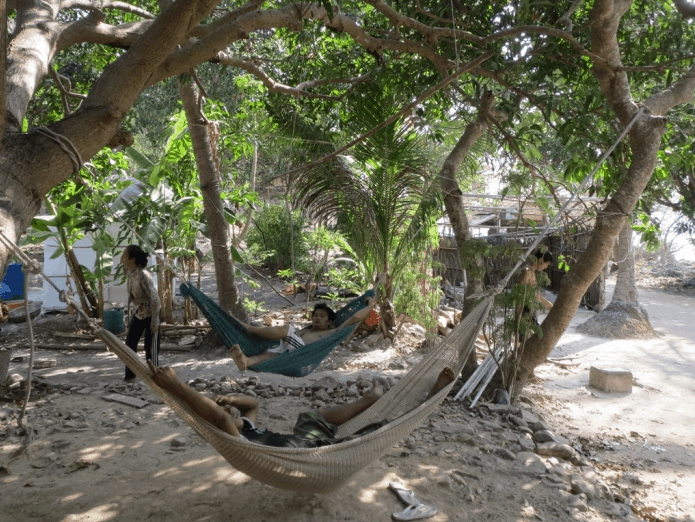 Resting on Hon Dau Island (Photo ST)
Night camping on Dau island
Hon Dau is also an ideal camping spot for some groups of tourists, you can see tents on weekends during the Nam Du tourist season. If traveling in a large group, you can bring a tent or rent a tent on the island for night camping.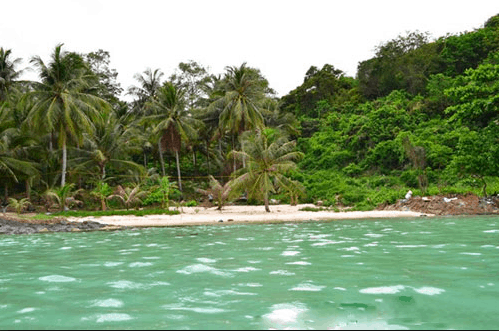 Nam Du Island (photo ST)
Everyone should open a happy party with fresh seafood here such as steamed crabs, grilled squid, then listen to the whispering waves like a sweet lullaby in the vast sea, watching the sky. There are thousands of glittering stars on high and a romantic song plays … Surely those are the wonderful experiences of youth.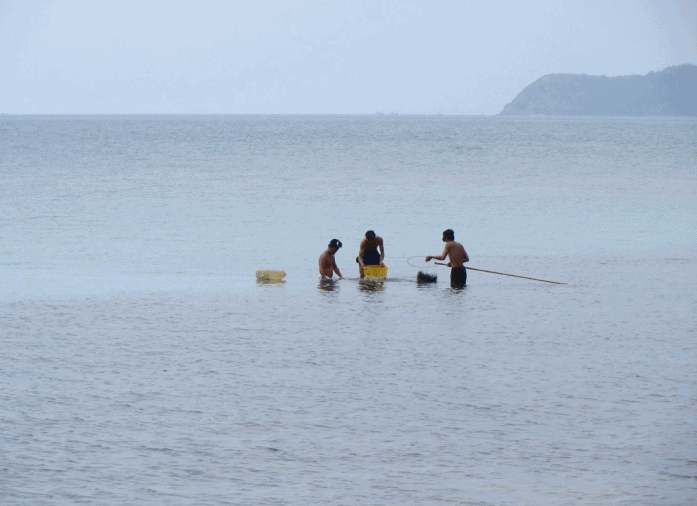 Capturing crabs and crabs in Hon Dau (Photo ST)
4. Guesthouses and hotels near Nam Du Island
If you travel Nam Du without a tent or do not like to stay, you can look to some motels and hotels later to rest overnight.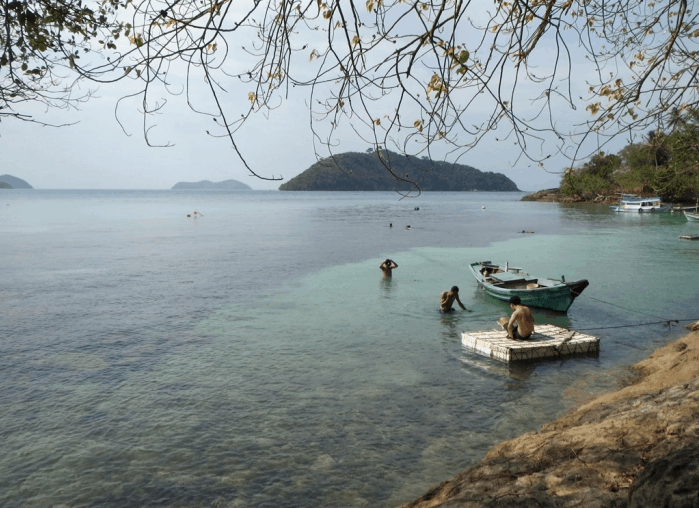 Have fun in Hon Dau (photo ST)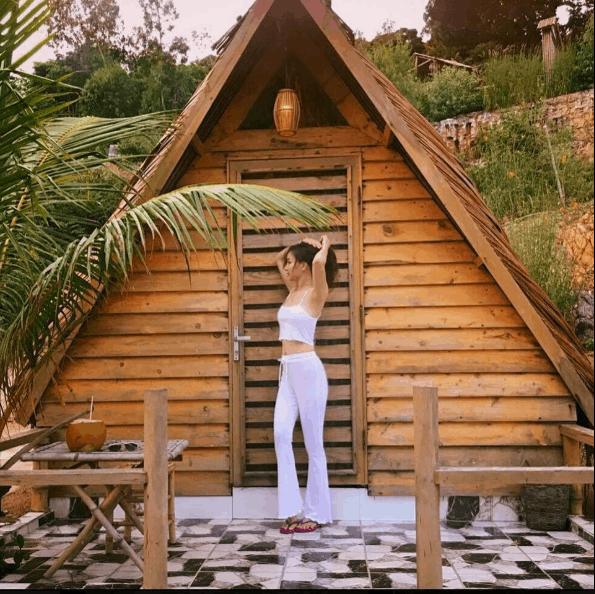 Address: Cu Tron Hamlet, An Son, Kien Giang.
Address: Cu Tron Hamlet, An Son, Kien Giang
Address: Cu Tron Hamlet, An Son, Kien Giang.
Address: 56 Cu Tron Hamlet, An Son, Kien Hai, Kien Giang.
Address: Big island is located on the ground
Address: An Son Commune, Kien Hai District, Kien Giang.
Address: An Son Commune, Kien Hai District, Kien Giang.
Photo: Internet