There is a bakery in Hanoi Old Quarter that is very "conservative". For more than 40 years, it still retains its original taste – the taste of the subsidized bread with the price of only 10 thousand VND.
Strange: Bread in the old town costs only 10 thousand VND
Bread is such a popular dish that, at any street corner or sidewalk in Vietnam, diners can also buy it.
In order to increase competitiveness and attract customers, many bakery shops constantly innovate and "renew" themselves from their appearance: black coal bread, dragon fruit bread, crocodile bread, giant bread. … to the bread filling: shredded chicken, cheese, salted egg …
However, there is a bakery in Hanoi's Old Quarter that is very "conservative". For more than 40 years, it still retains its original taste – the taste of the subsidized bread with pate, roast meat, and scoop. red sausage, broccoli and chili sauce.
The taste hasn't changed, but the shop is still full of customers. Someone eats almost 7 breakfast a week at the restaurant and still doesn't get bored.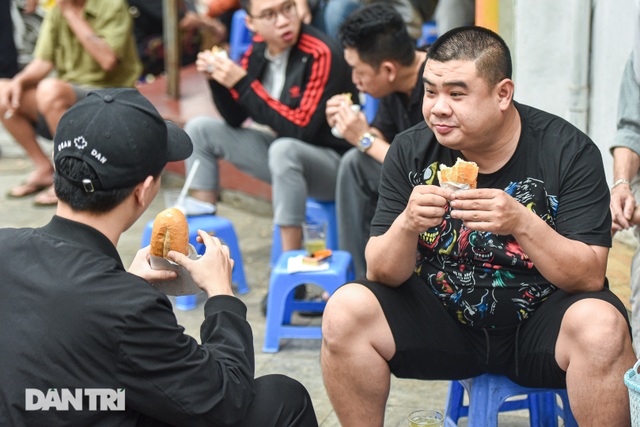 Hang Gai bakery started selling in 1979, up to now, it is 42 years old, if you calculate the heirloom to the second generation, it is called a luxury goods, but actually the "fortune" of the package shop. compact in a small glass cabinet, a homemade oven, three plastic chairs. This bakery doesn't even have a nametag.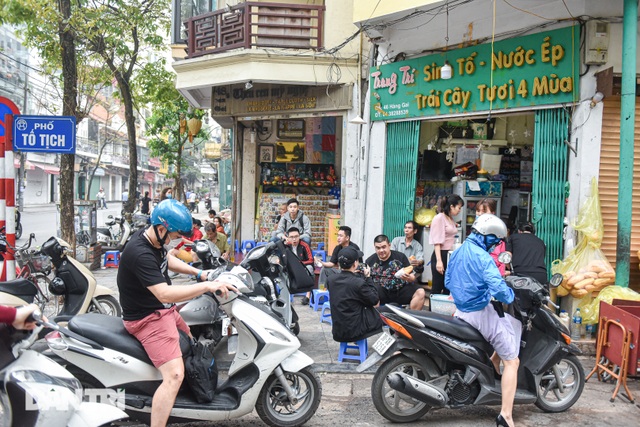 The current owner of the bakery is Linh, the daughter-in-law of the owner's family. During peak sales hours, her hands are always cut cakes, adding more filling to sell to waiting customers.
Reporters are here at 7am – the most crowded time of the day. Ms. Linh and two sub-sellers are busy making cakes, wrapping the cake and returning customers, but the waitress is still full.
People rushed to work, people rushed to school, but strangely, no one urged them. Perhaps they are familiar with this scene as well. And also did not have the heart to urge it, because the owner kept quickly doing "not breathing" but still happily asked the customer. There were many new customers to park the car, no matter how she ate it, she remembered by heart.
"Still the same, honey?"
"Get rid of chili, dear sister?"
"This handsome guy, eat a lot, lots of chili"
Young owner "remembers" like that.
"I can't remember because they also eat here every day, sometimes all year round, they only change dishes a few times", Ms. Linh said.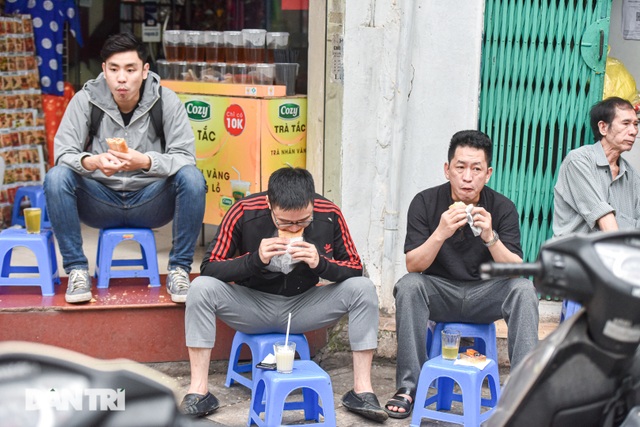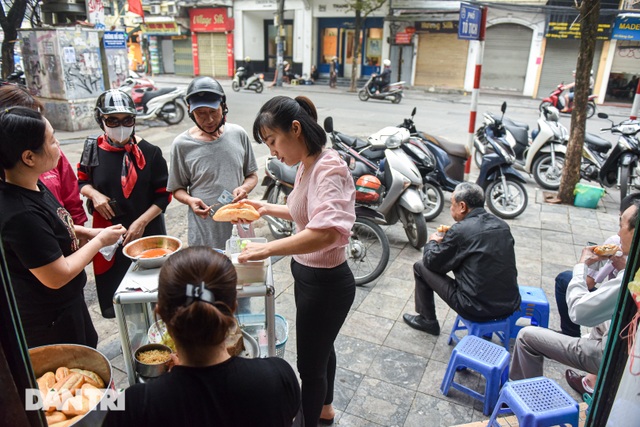 Ms. Linh said, the ingredients that make up the bread, and the flavor of each type of restaurant since her mother-in-law opened for sale, to her life when she was handed over, it remained the same.
Hang Gai bread is true to Hanoi, inclined to taste salty, creamy, spongy, and crunchy. It is a taste that her mother-in-law for all these years was born, and she still does not want to change it now. And also a taste many visitors do not want to forget.
"Bread taste" old Hanoi "is like that, without adding any sauces or vegetables at all. If added, the bread will deviate from the old taste.
Many young customers asked why it would be better not to add cucumbers or cabbage vegetables, but I remained the same. That's why most of my guests are people over 30 or old people like nostalgia, "shared Ms. Linh.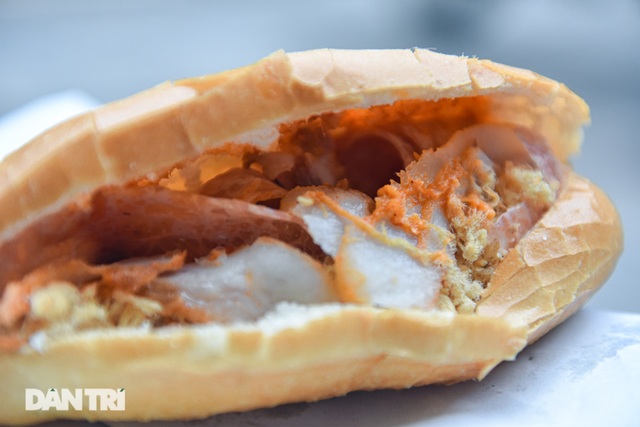 The deliciousness of Hang Gai street bread is that the ingredients are made by the family, except for butter. Crispy bread blends perfectly with the deliciousness of half-fat char siu, crunchy red sausage, soft and fragrant pate.
The pink-brown color of the paste, the whole layer of soft white fat, touching the tongue is prominent on the bread crumb, both soft and not too thick. That is the characteristic of the restaurant, everyone who has already eaten is coming to enjoy it even if they go far or near. Also because it is self-made for many years, the price of bread is still the same, only VND 10,000.
Only open a few hours in the morning, but Ms. Linh sold out 400-500 units / day.
Taste of 40 years unchanged, determined to be loyal to the secret passed down by mother-in-law
The shop was opened by her mother-in-law Linh in 1979. In 2007, Linh returned to work as a bride, she was given the recipe. At first, she only helped cook, followed her up the street to cut meat, until 2015 she sold her own.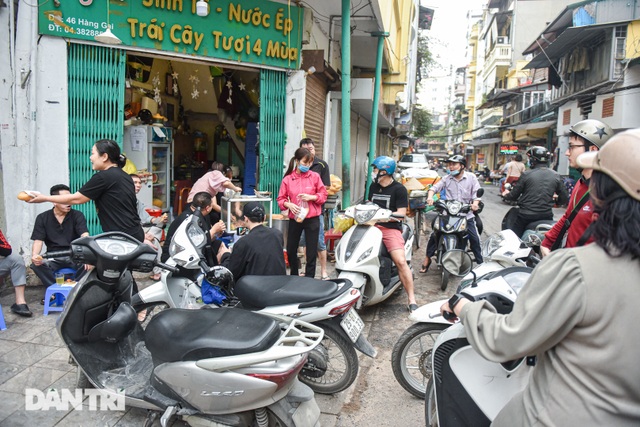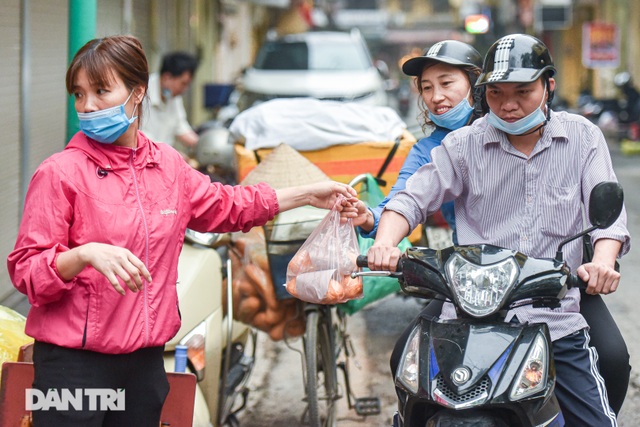 For many years, Linh's family has only chosen meat to make cake from small farmers, not pigs on industrial farms. Early in the morning, meat termites in the My Duc area (Hanoi) will bring to her each piece of meat, liver, skin … selected on request.
Bread must also be placed separately in order for the oven to make the batches from selected flour, crispy skin, thick but porous, to be baked in a homemade oven so that the cake is crispy without bottle, swelling, or crushing as used clamping machine.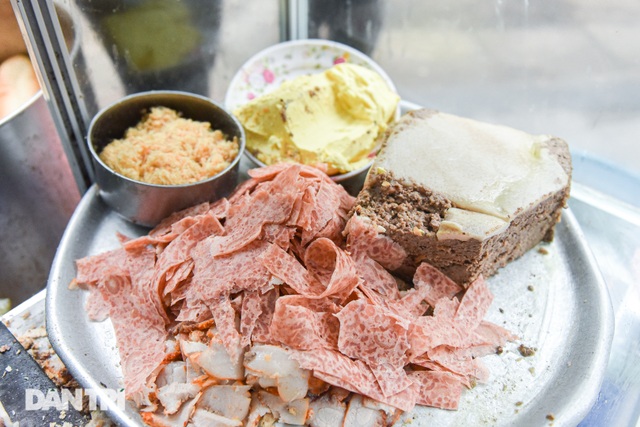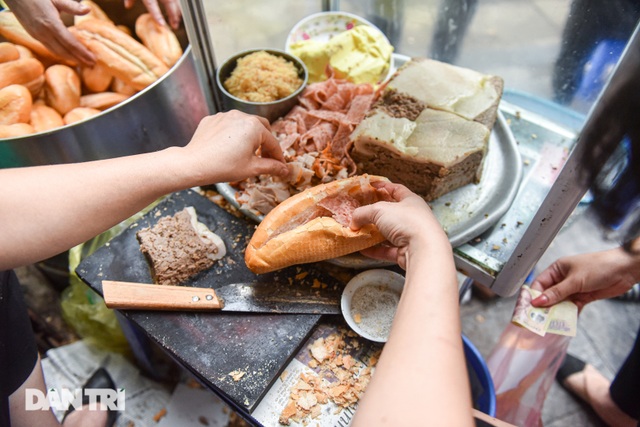 Ms. Linh stopped selling and prepared to grind pate in time to get to the kitchen at 1:30 pm. The paste is just cooked until evening, then let it cool down.
Little meat, you must also pay attention to the balance of the meat – fat, you must marinate, steam, then fry it to reduce the fat. The oil chili sauce, which has tiny scum on the face, has also been reconstructed so as not to be too spicy like chili sauce.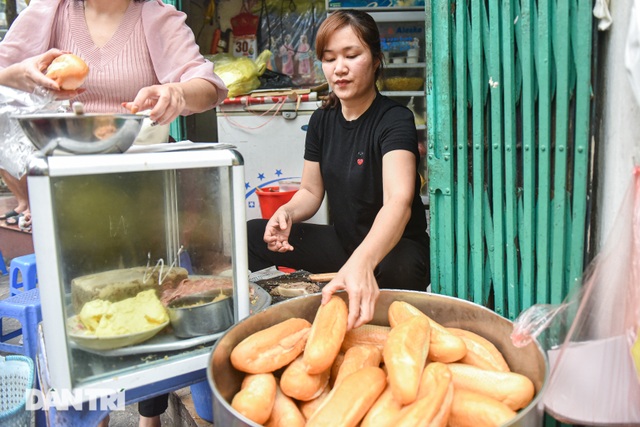 Red sausage, Linh took more than 10 hours to make finished products. The first is to boil the meat and skin, then grind with flour and flower color, steam it, then knead it to make it smooth. Finally, let it freeze for 5 – 6 hours before slicing the machine.
Everyday, Linh has to get up from 3:30 am to prepare goods from 6:30 am to sell until 10:30 am to take a break. Every day selling is a joy for Ms. Linh.
With the price of 10,000 VND, all classes can eat her bread, from workers to office workers. For Ms. Linh, although everything changes over time, the recipe left behind by her mother-in-law, she still keeps to the end to serve delicious sandwiches for diners to eat. Follow Dân trí