If you only have 0,5$ in your hand, you can also enjoy the "delicious free of charge" street food specialties in Hanoi.
Hanoi not only holds visitors by famous landmarks but is also known as the street food paradise.
The dishes are not only processed sophisticatedly and eye-catching but also contain the typical culinary style of Ha Thanh land. Especially, you can enjoy delicious food at roadside restaurants, in any street or sidewalk at extremely low prices without having to step into a luxury restaurant.
Here are the top dishes that cost 0,5$ but are still famous for their deliciousness.
Bread
Originally a dish originating from the West, but its creativity and sophistication in culinary style, Hanoians have "blown the soul" to make popular food favored by many diners and famous around the world. Hanoi Banh Mi has many types, each with its own unique flavor.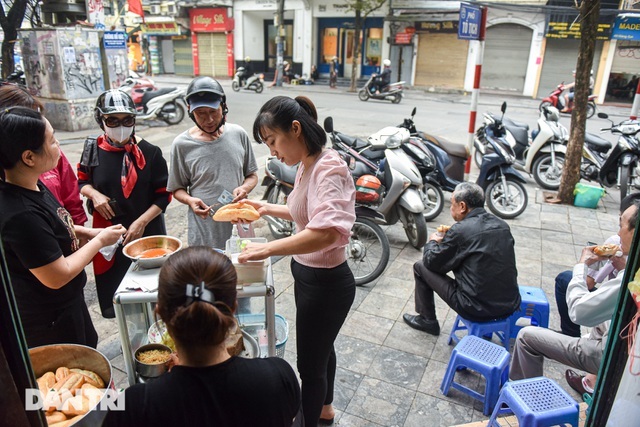 From egg sandwiches, pate sandwiches, meat sandwiches … to more sophisticated types such as char siu, jambon, spring rolls … all make diners remember to eat once.
The bread crust is baked crispy, the soft intestine like melted cotton cushion blends with the greasy core layer.
The combination of ingredients makes real sense of the explosion of taste: salty, sweet, sour … until the last piece.
With 10 thousand VND, you can enjoy egg bread, pate or skewered meat sandwiches … at any street restaurant. The most famous of which is Hang Gai bread, Hue street bread …
Grilled meat skewers
Grilled meat skewers are a street food that is popular with many diners. Pork is sliced ​​and seasoned according to a separate recipe with spices such as: salt, fish sauce, pepper, chili … then grilled on fiery red charcoal.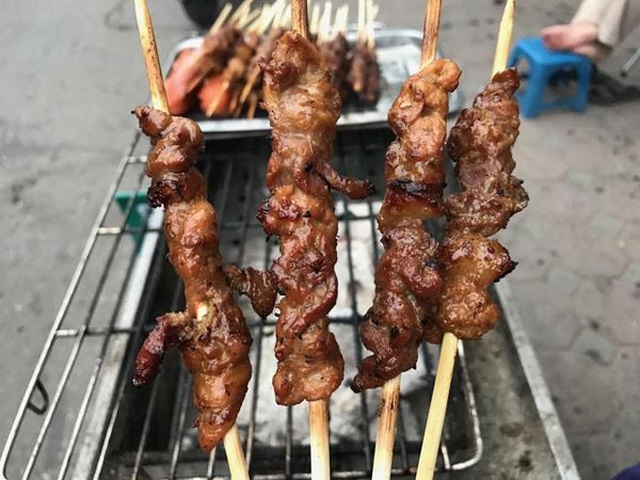 When eating, diners enjoy hot, served with chili sauce or sauce. Fat pieces with moderate fat melt in the mouth.
In Hanoi, you can easily find grilled skewers in every corner, each grilled meat skewer costs only 5,000-0,5$. The most famous is the skewered meat at Lang pagoda, Phuong Mai, and Lo Duc …
Ship drifting wheel
The boat drifting dish is usually the most expensive in winter. When the weather is cold, sitting on the sidewalk around the hot cake pot, sagging and enjoying each bowl of hot cake, clearly feeling the delicious, sweet taste is nothing more interesting. There are many types of floating cakes, filled with meat, sesame seeds, green beans …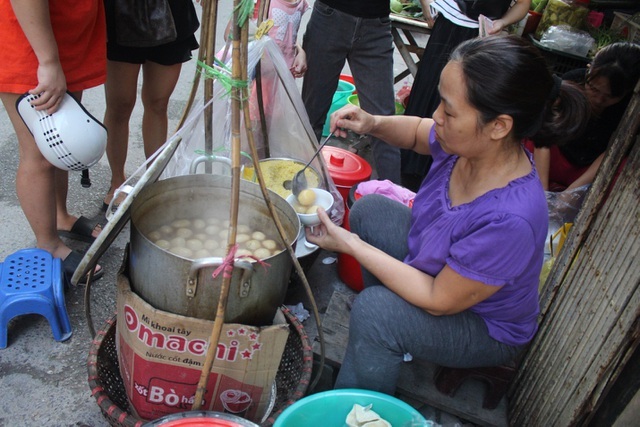 The outer shell of the cake is made of pure white glutinous rice, soft and flexible enough. When eating, diners enjoy the cake with a very special ginger sugar water, add a little grated coconut, ground sesame peanuts.
Take a bite, the flavors blend, the cake is both fragrant and rich with rice flour, sesame seeds, sweet sugar and ginger's pungent flavor.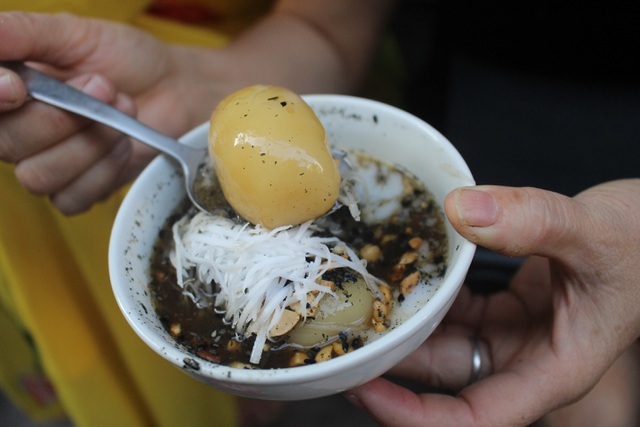 In Hanoi, you can find the boat drift cake shop at Doi Can, Thanh Cong market, Luong Dinh Cua or 8/3 market (Hai Ba Trung) …
Wormwood flipped duck eggs
Although it is not popular with foreign diners, but duck eggs are a popular dish that is very popular with Vietnamese people.
Not only that, the Hanoians also make variations on many dishes with both delicious and nutritious duck eggs, including mugwort eggs. A special feature of the dish is the broth pot served with eggs.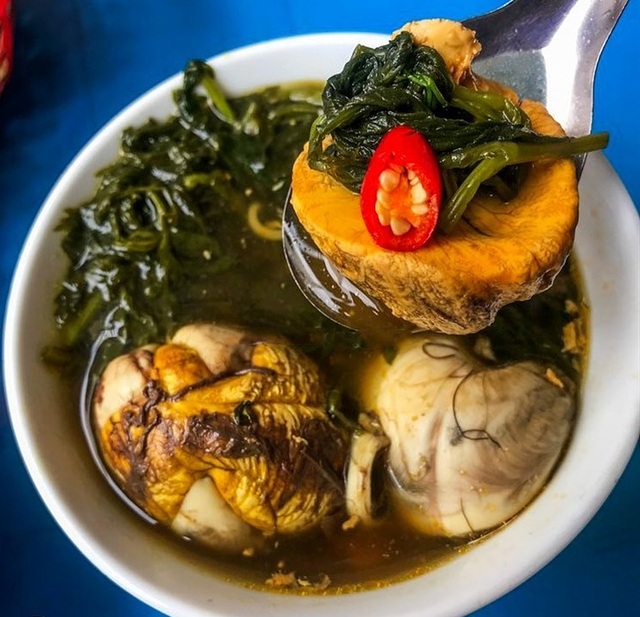 Accordingly, wormwood is cooked with bone broth, adding Chinese herbs such as: Ky Tu, Lien Humen, Thuc Field, Willow … When people eat wormwood broth with fried eggs, more some ginger, spinach, chili …
The rich and fatty taste of duck eggs is mixed with the bitter and sweet taste of wormwood, herbs, and herbs, making diners remember to eat once. This is also a nutritious dish, very good for the new person to wake up sick.
A bowl of mugwort eggs is sold for 0,5$. You can find food at Green market (Dinh Cong urban area, Hoang Mai), lane 115 An Duong (Yen Phu) or Thanh Cong market (Ba Dinh).
Hot donuts
Coming to Hanoi must definitely enjoy a hot donut once. This is a street snack that is popular with many diners. Donuts include many types: sesame cakes, honey cakes, cakes, savory cakes …
The cakes are molded round, just to eat, eye-catching colors are fried hot on a pan of fat, crispy golden. Especially, each cake only costs about 2-4 thousand VND.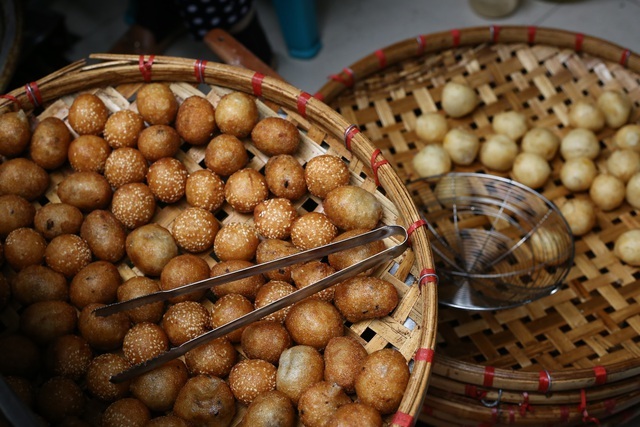 In Hanoi, you can enjoy delicious donuts at 52 Hang Chieu (Hoan Kiem), Co Yen bakery (Luong Ngoc Quyen, Hoan Kiem) … Follow Dân trí