Usually, people choose wood and stone for sculpture, more strangely, choose eggshell, but the girl in Hanoi chooses the special way of carving on leather cow leather. The purses and bags with outstanding and sophisticated motifs will attract you at first sight.
In a small room of about 10 square meters on Lo Duc Street, Hanoi, the sound of a hammer knocking steadily on the hand is ringing. Nguyen Ngoc Dieu Linh, 33 years old, is infatuated with her art. The petite girl gave up a stable job with a decent salary so that she was engrossed in finding her true passion for the past 6 years.
She is currently the owner of a handcrafted leather brand, established in 2015, featuring products made based on the elaborate technique of carving, embossing, and dyeing on the surface of cow leather from herbs . Each product is a career story, brought together to make a journey full of bravery and inspiration.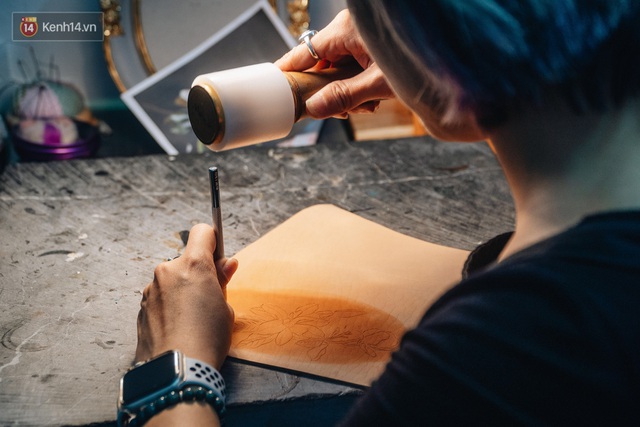 Skin carvings are still quite new in Vietnam. Nguyen Ngoc Dieu Linh belongs to the first generation of people who started groping about this technique00:06:53
Unique Hanoi girl engraved on delicate skin: Steady off work, starting her career from a given piece of leather (By: Minh Nhan)
"I started with the scraps of skin and the tools given."
Dieu Linh has a passion for painting, and has seriously started drawing as a painter since the age of 16. Going to university, she chose to pursue the Faculty of Graphics, having a deeper approach to art, geometry and color.
Graduated, Linh became a graphic designer (graphic designer), specializing in banner design for brands, earning about 10 – 15 million VND depending on time. During the career, she felt that the job was not suitable and did not help me train myself.
"Actually, people often think that graphic designers are very meticulous and careful people, but I was not like that at that time", Linh thought by herself because she did not love the job, or her personality was already superficial with everything. ? She tried some other jobs, but to no avail.
Six years ago, Linh knew that cow leather was made from herbs. She began her fortune with the scrap of leather and the tools she was given. Her passion drives her to learn about knowledge on social networking channels, then learn to graft leather pieces into finished products. This inadvertently helps her entertain, relieve stress after daily work.
Going into the field, Linh was introduced to the technique of carving beautiful embossed shapes on the skin. She wondered what kind of skin, what tools and how to do it? She read foreign news channels, YouTube, Instagram and Pinterest, joined some groups on Facebook both domestically and internationally.
People shared with Linh a lot about the technique called skin carving. She learned the first basic steps, cumulative and up to now, is still doing research by herself through foreign experts.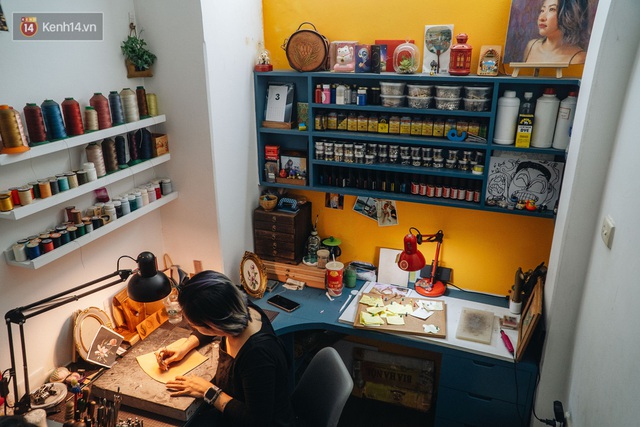 The working corner is neat and intelligent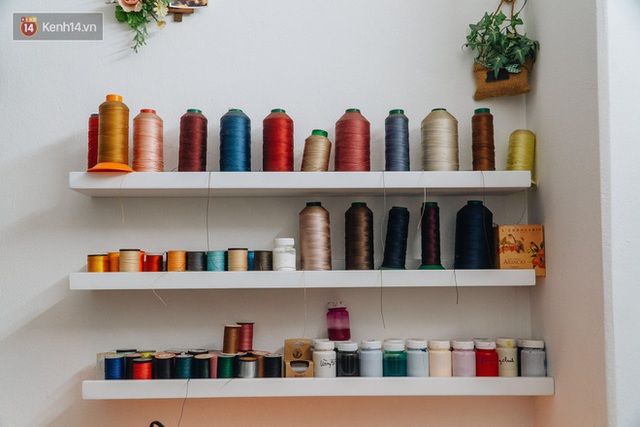 Threads, paint bottles, tools, … needed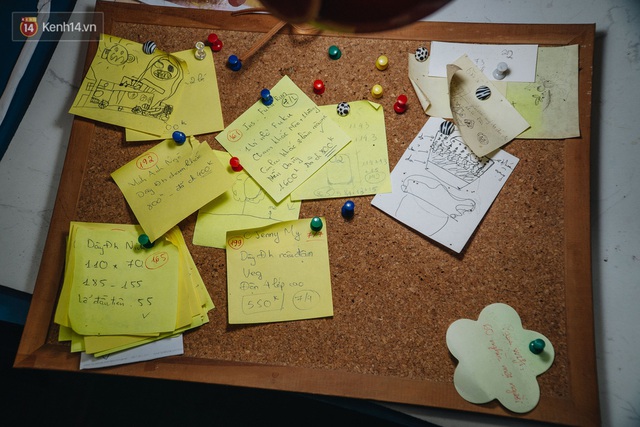 The reminder paper corner reminds the orders that need to be paid to customers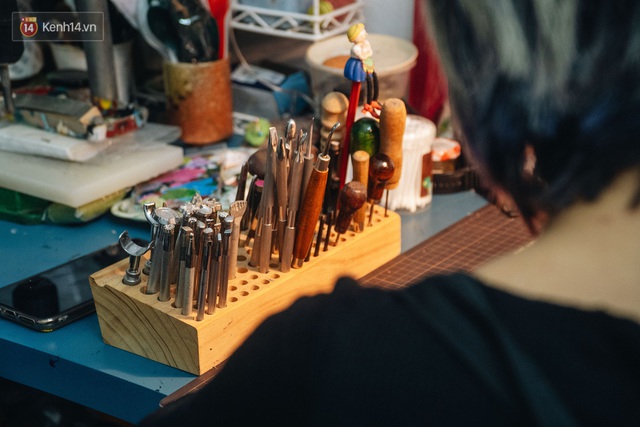 The artist's special kit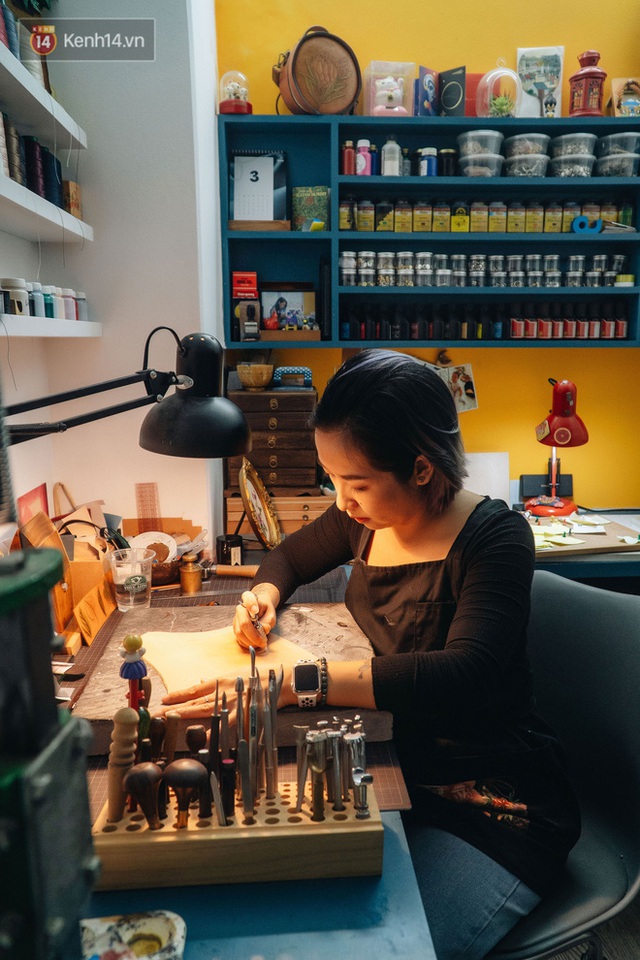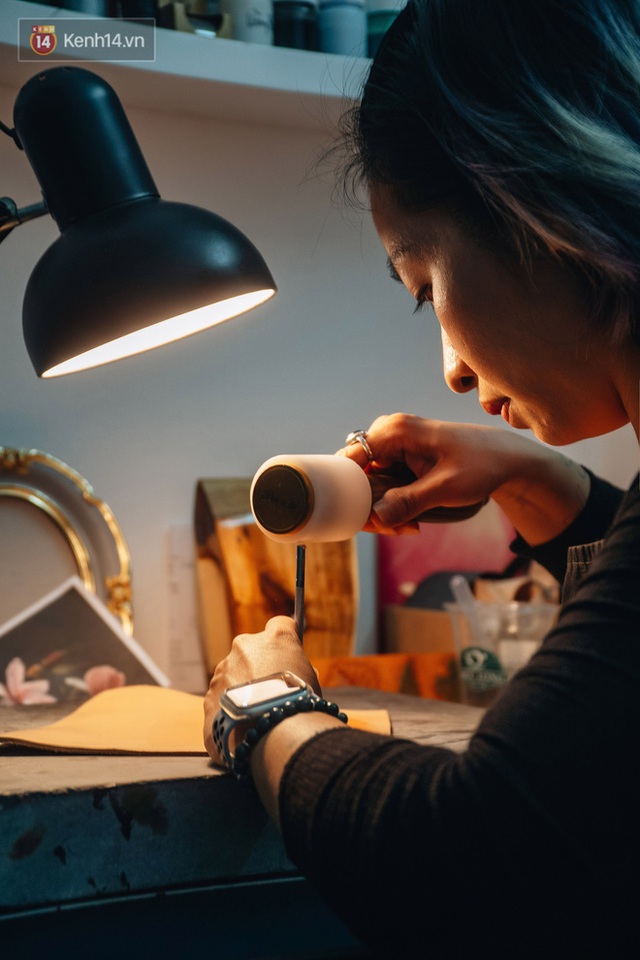 The hands are small but are quick to use a knife or hammer
Spiritual first generation began to grop for skin carvings in Vietnam. The leather line she uses is Veg-tan (Vegetable tanned leather), or rustic leather, often referred to as rustic leather. The name comes from the method of manufacture of this skin. The skin is tanned with tannin – an environmentally friendly plant-derived substance. People use the extracts of plants and flowers to cover the skin, and then apply softening polishing treatment.
In addition, Linh said, carp skin, frog skin, horse rump skin can be used to make bags / wallets. However, these 2 types are very thin, only for the surface because the durability is not high and not suitable for carving. Meanwhile, the cowhide has been attached with a spongy herb on the surface so that the artist can sculpt and create bold personal products.
Because hand-crafted carvings on the skin are not so popular, finding and buying sculpting tools is very difficult. Before that, Linh had ordered from abroad. Later, she designed by herself, went to the cutting workshop and asked the craftsmen to make her own special tools.
"With only a tool to stroke and create the basic background, we can carve the whole world," Linh said. The hammer is also a great aid to building blocks. The hammer has a standard design and weight, when holding and using, the user will feel very comfortable.
For novices, the basic kit costs 2 million dong. If complete with all sizes, intricate and fussy, the price will be higher. The set that Linh currently uses is about 10 million VND, the hammer is individually crafted, the body is made of rare wood, the accessories are surrounded by copper and leather, about 2-3 million VND.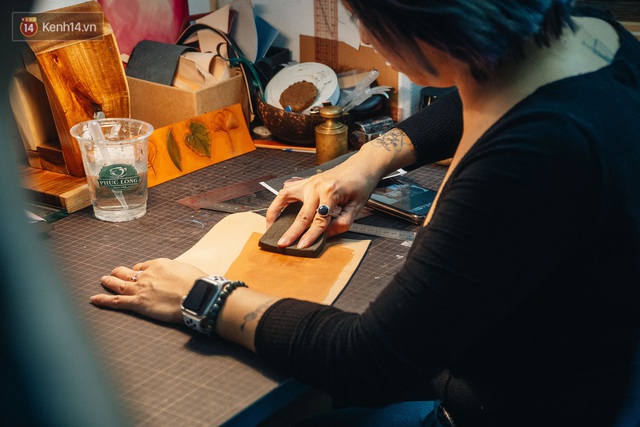 The first step is to absorb water to soften the skin's surface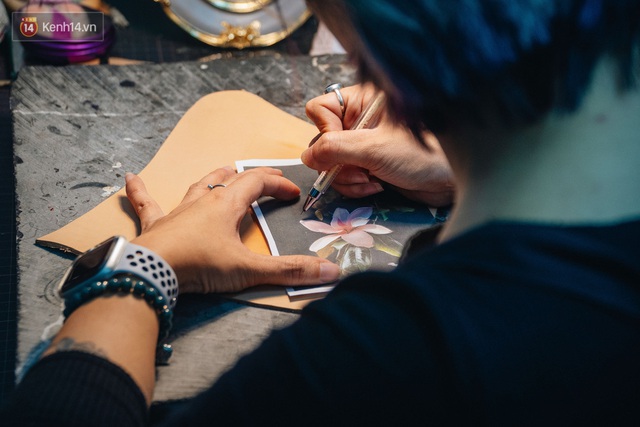 Sketch the image to be engraved on the skin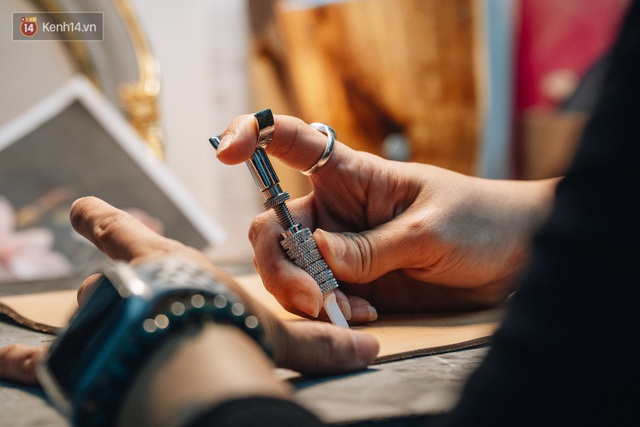 Use a knife to separate the focus from the background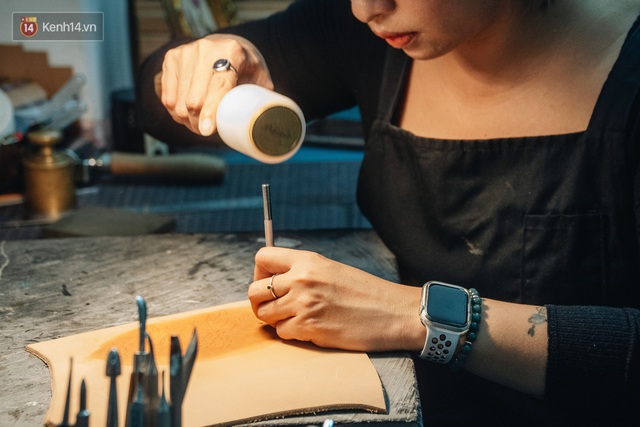 Start using the contour tool for the first flotation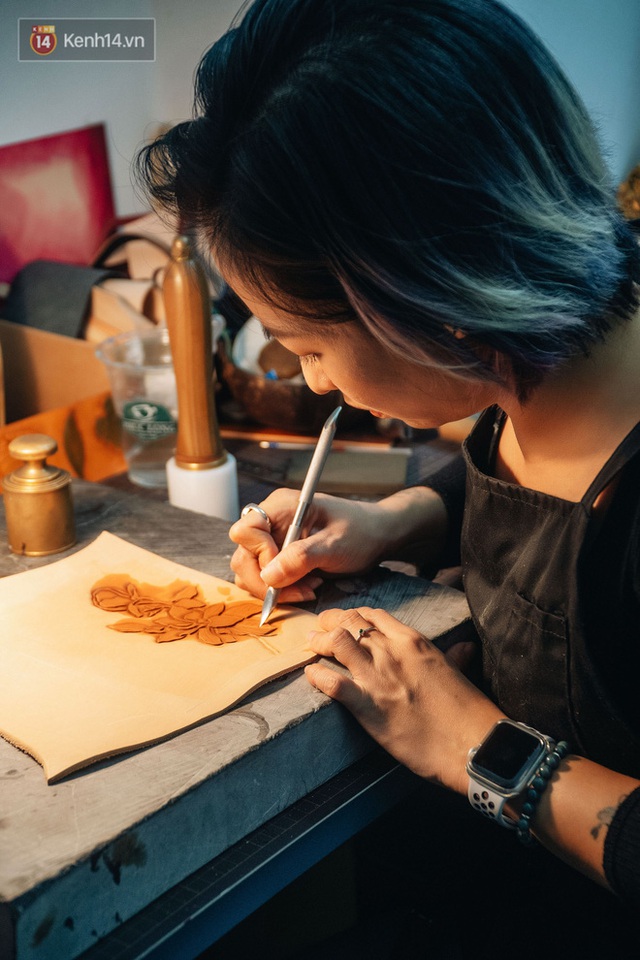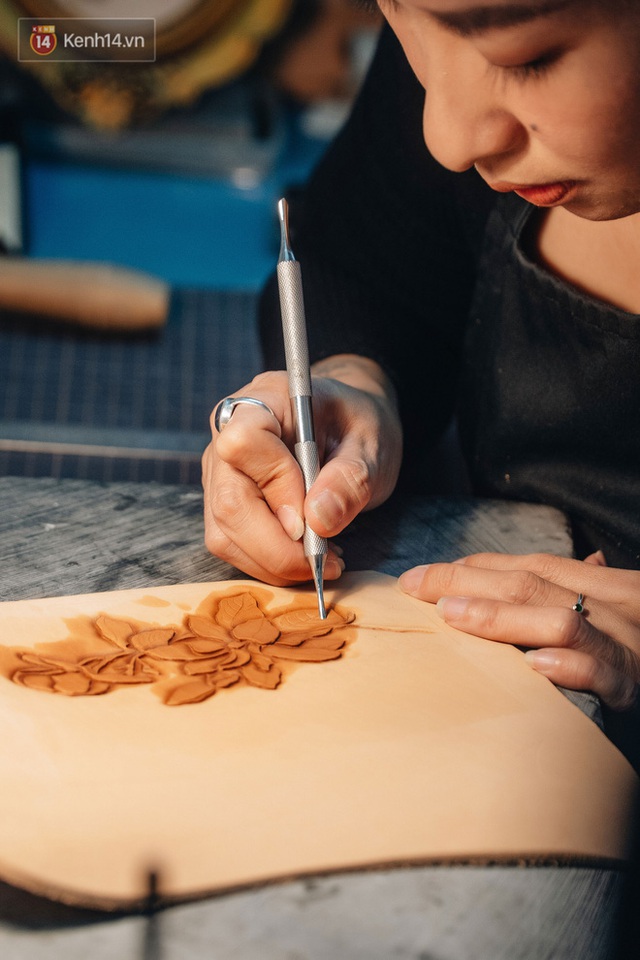 Use the stroke tool to polish soft strokes. To float a 3D image, it is necessary to add some other techniques such as nudge, swipe and push the block
To make a product, the first step is to choose a piece of cowhide leather, about 2-3mm thick. If certain thinness is required, the 1.4-1.6mm range can be used. After that, Linh will sketch the image on the leather piece, lightly absorb water to soften the surface of the skin, use a knife to separate the strokes from the background into carved patterns, and then contour around the image to have a floating.
She continued to use the stroke tool to smooth the block, smoothing the shape so that it was softer. With a basic image, no need to 3D float, here is complete. Conversely, to float 3D images, need to add some other techniques such as nudge, swipe and push blocks. After the picture on the finished product is still refinished, colored, polished to increase the beautiful durability.
Usually, the carving takes a whole working day, about 8 hours. To dye, simple shapes only take 2-3 hours, but also complex shapes take 2 days. The time to complete a product can be up to 14 days depending on the complexity, all details are meticulously executed and meticulously executed.
Receiving enthusiastic support from everyone when sharing the first product, Linh began to feel happy.
"When I pursued and was serious about carvings, I brought a new concept to a lot of people. They said, 'Oh it turns out skin can also be painted, carved and embossed.' very curious and asked me questions ", Linh said.
After more than a year, she felt serious about this job and spent a lot of time on it. Many people asked if it was possible to own a personal leather product, and she agreed, starting to make her first orders.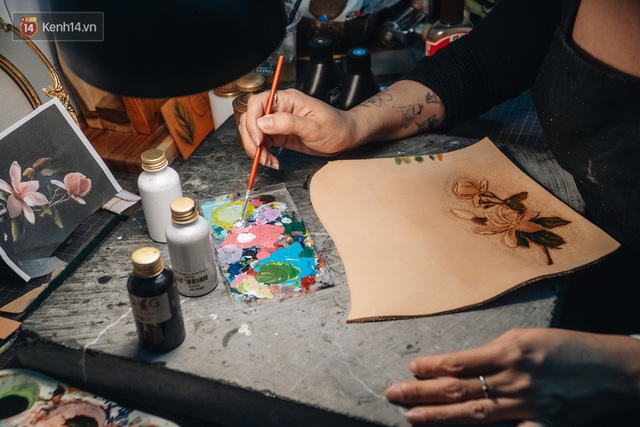 Then there is the staining process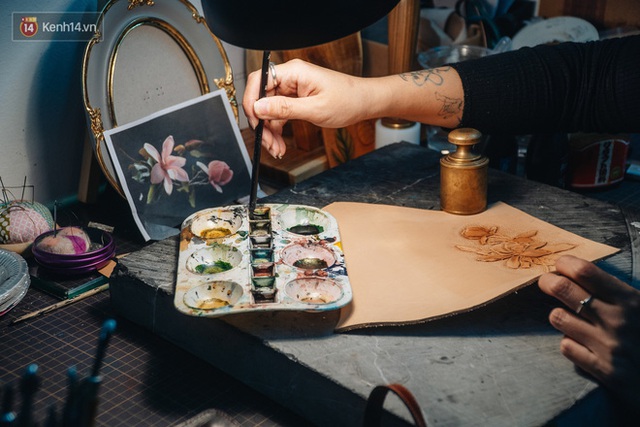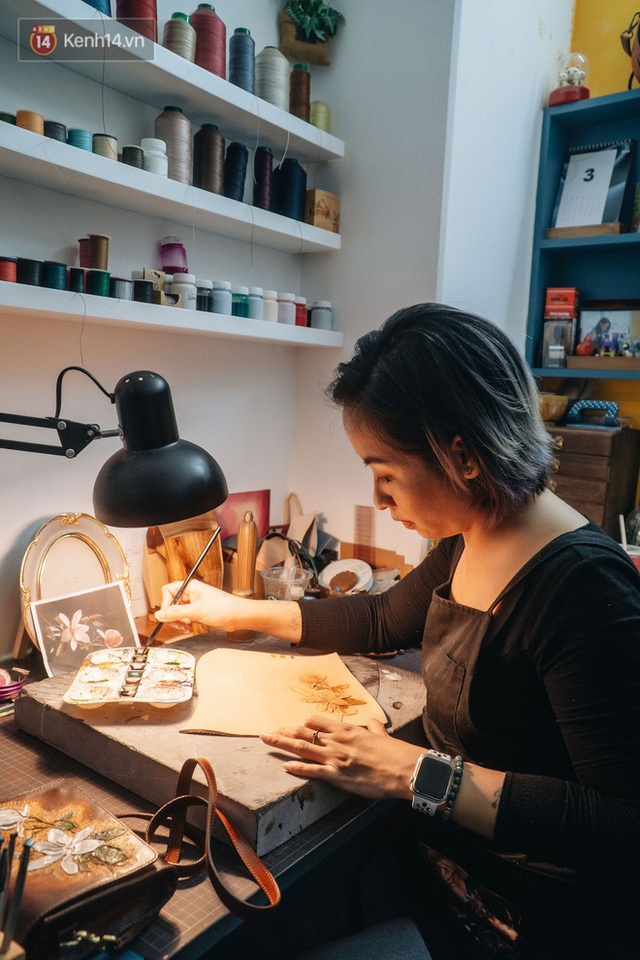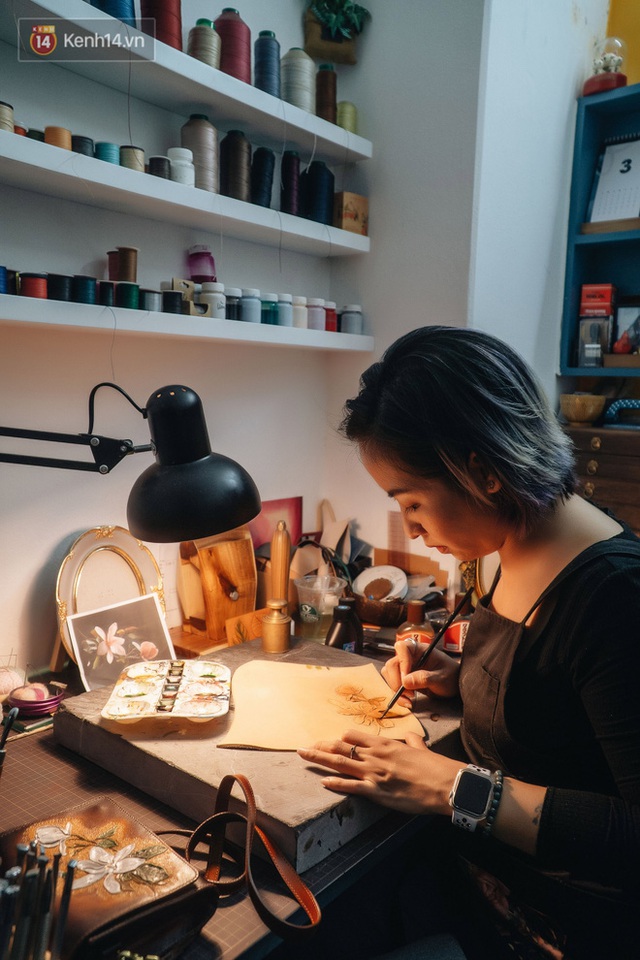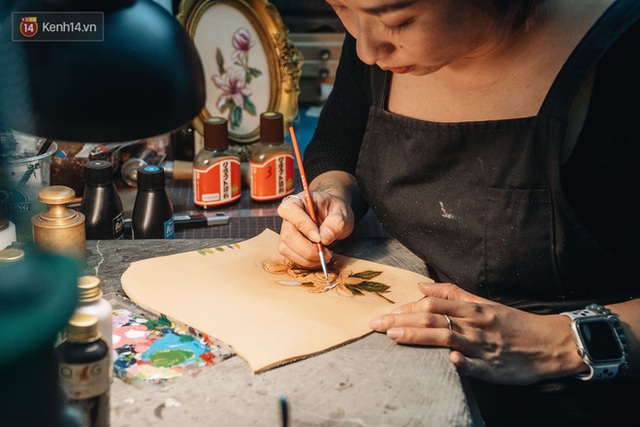 Meticulous work requires carefulness and skill of the craftsman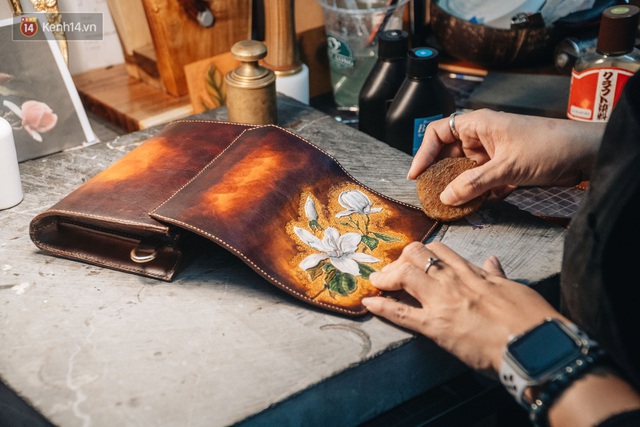 The sculpted leather will be used to make this lovely bag!
"A little job has changed me a lot"
The current product lines Linh produces are quite plentiful, mainly depending on the needs of customers, including card straps, wallets of all kinds, bags, backpacks, phone cases, lighters, water bags, notebooks. , keychains, …
Linh said that a finished product must be sharp, 90-95% properly engraved with the image required by the customer, especially in terms of colors, lines, and overall harmony. In 6 years, the owner has received about 400-500 orders, there are orders for 2-3 products. "Overall quite a lot of applications," Linh said.
She accepted 3 years of unpaid work, only to have her first payment. Simple engraved wallets usually take 3-5 days, costing 2-3 million. If the picture is advanced, the color requirements are more complicated, the craftsman needs more time and work, the price is pushed higher.
With handbags, the price is about 3 and a half million or more. Large bags of about 10 million depending on customer requirements.
The most expensive product Linh ever sold, priced at VND15 million, was a small women's handbag. The product is made from genuine leather imported from France, the cost of which is 6-7 times higher than normal leather.
Asked if there are concerns about the high prices that no one will buy? Linh replied that he did not think much about this issue. "I value my own ability, it means I know where my products are, can I get such a high price? When I spend a lot of time, research carefully, I am confident that the product has quality. Good quality, sharp, durable color, certain aesthetics, and especially not in contact. Since then, I just set a high price, in accordance with the effort spent ".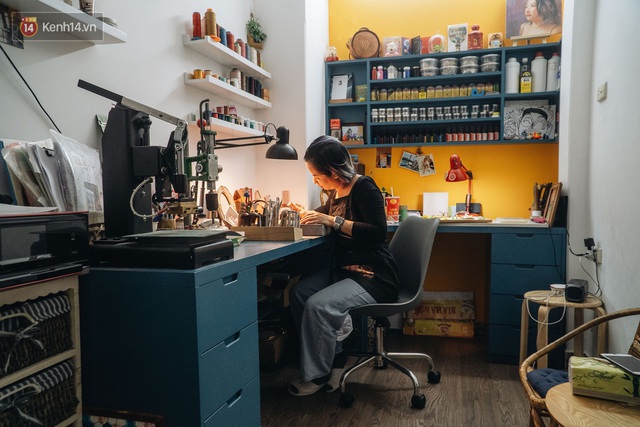 The working room is only about 10 square meters, but full of inspiration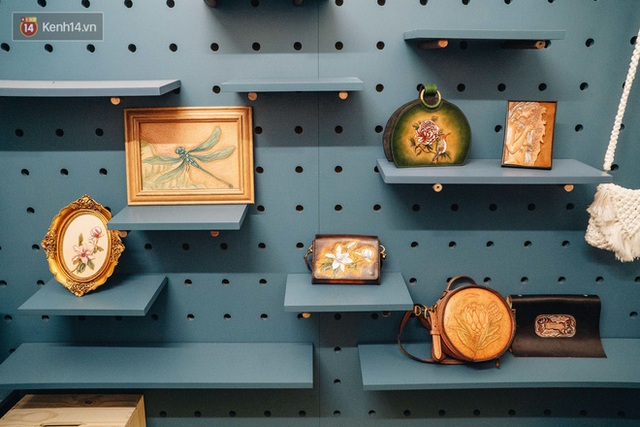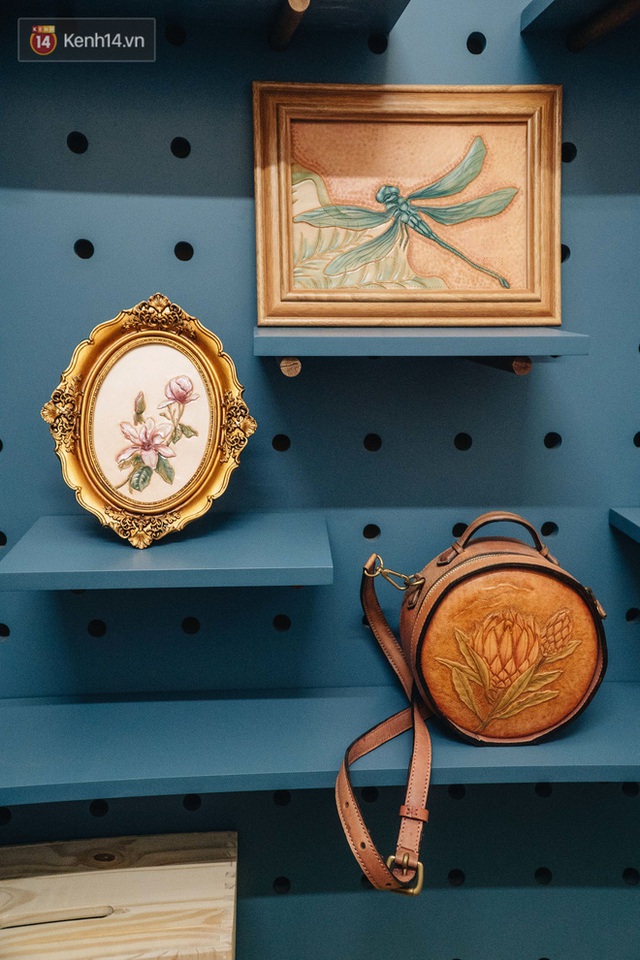 Diverse product lines such as picture frames, bags, purses, books, …
Every month, Linh makes up to 10 to 15 products. Some can do much in 20 if it's a wallet, and she can't do much with handbag. On Tet holidays, orders are rushing, she has to find a suitable way and make an appointment in time. She earns an average of 30-50 million VND / month, not yet deducted her capital, so the interest is only a part of it.
"People often think that the selling price is a million, the craftsman must be very rich, but I would like to confirm, it is also difficult for this profession to be rich". Linh said, to follow a career, you must be passionate enough. It may sound like a lot of money, but the time and effort you put into it is actually greater than the price.
"If you focus on your business, hire people and spend a certain amount of money, make a profit, then that will help you get rich quickly. As for me, working alone, thus only ensuring a certain standard of living. Most of those who have been in the profession for 5-6 years or more, they love their jobs very much, and the money is not a big problem ", Linh said.
If men like carvings with personal markings such as idols, bands, logos, hobbies, girls are more inclined to flowers, animals, or do you want to keep the image of animals. my babe. Linh is satisfied because many products are attached to a story that has its own meaning to the owner, is exclusive and is loved.
The work swept Linh in, hard to pull out. She can sit continuously from 8am to 10pm. From the beginning, she is not too patient, but this passion has trained her to be meticulous and careful, neat and orderly, because "only then can I find things to work with".
"Just from a small job has helped me change a lot. I want to stick for longer".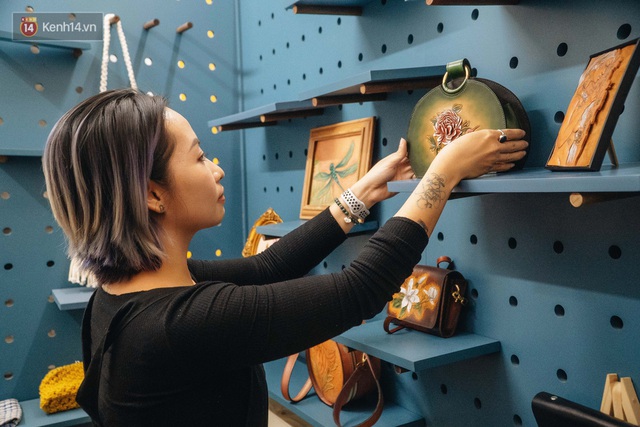 The owner carefully reviewed each product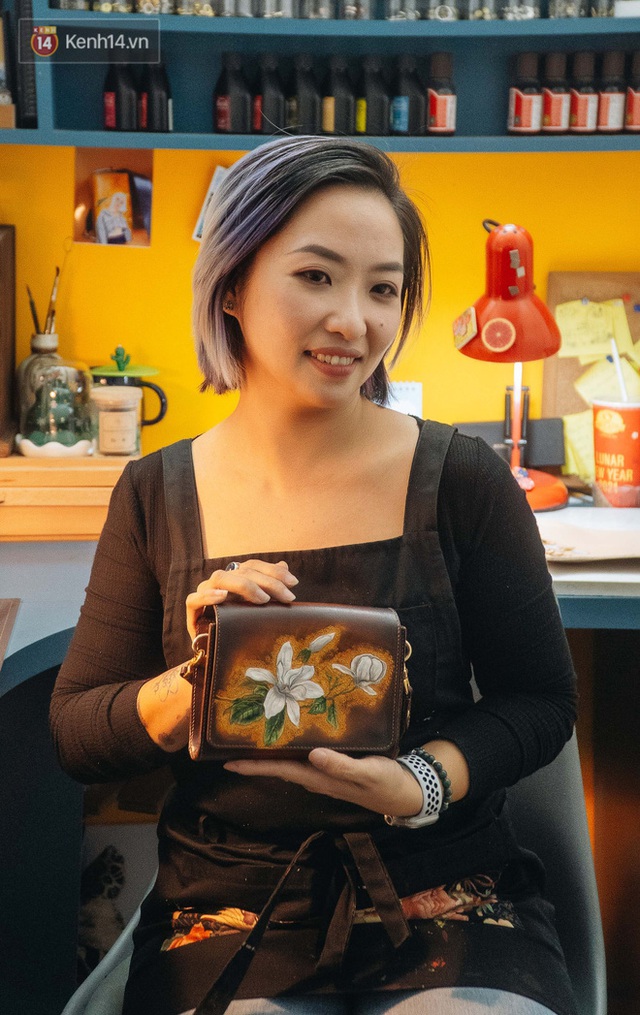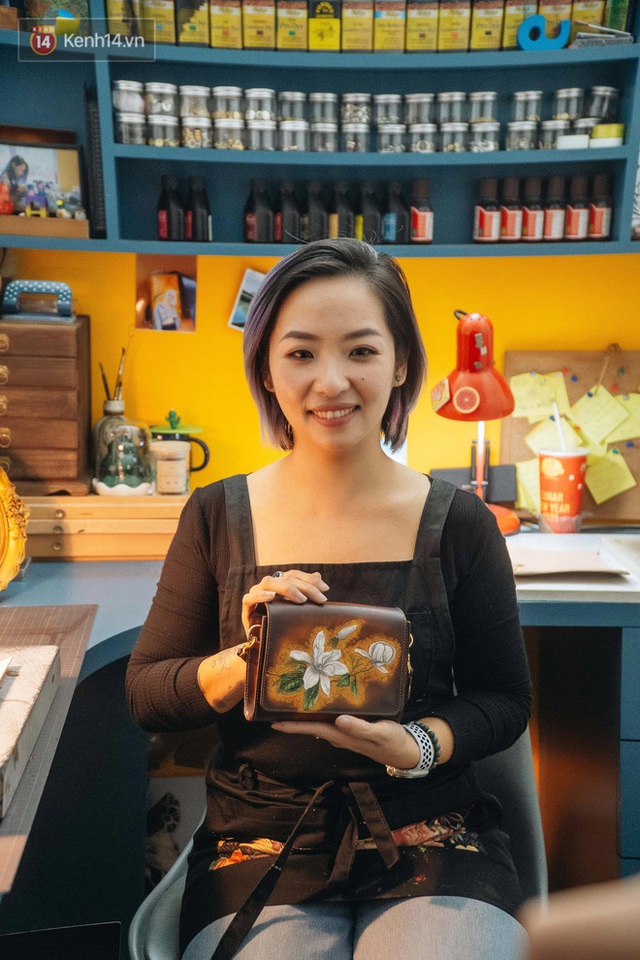 And she was so happy that her own bags were so well received by everyone!
Every day, Linh arranges a time to receive guests, consult, carve, and also take care of her family and her own hobbies such as exercise, beauty … She knows how to do everything. 24 hours in the most logical and logical way.
One of the difficulties she encountered was health concerns, because this job was inherently male. When using the hammer to create blocks, weighing about half a pound, the shoulders and wrists work a lot. She has to hold a certain posture when working which makes her body tired. Some people with neck, neck, or spine problems will be very painful, and have to quit their jobs because the disease does not allow long sitting.
However, in the past 6 years, Linh has never thought of the two words "giving up". She remains patient with her skin fragments and tools.
"If I have trouble, I can take a break for 1-2 days, recharge myself and come back."
In the near future, Linh sets a goal for himself to learn more deeply about skin carvings, try to make beautiful products so that more people will know about this work.
"Every time I finish the product, I feel satisfied and happy. The value of handmade leather products not only depends on the quality of the leather, the quality of the accessories that come with it, but the most important factor. it is the ingenuity as well as the creativity of the craftsman, "she said. Follow Theo Doanh nghiệp và tiếp thị