The people of Van Hoa Plateau (Phu Yen) combine free-range chicken and fish sauce made from ripe, fragrant fruit, creating specialties that not all regions have.
In order to make a deliciously fragrant stewed chicken dish, on Maydays, when the fragrant fruit (pineapple) in Phu Yen is ripe, the people of Van Hoa Plateau begin to peel, split, and dry until When wilting the surface layer, begin to put in a large glass jar to brew fish sauce.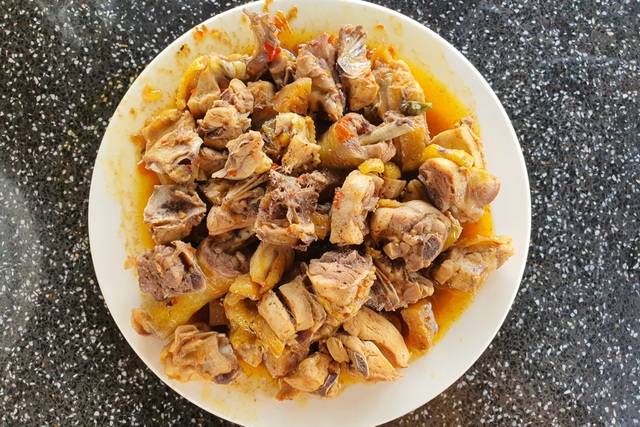 The fish sauce is brewed with the aroma of the anchovy fish sauce (a specialty of the people of the coastal area of ​​Phu Yen province), the fragrant pieces are mixed with the fish sauce, then use the lid to seal the jar for about 5 months to use.
According to local people, in previous years, life was difficult, so the fish sauce was fragrant as a food to be eaten gradually in winter, when it was cold. Fragrant fish sauce when brewed completely, scoop into a bowl of shredded, add a chili, garlic, sugar, lemon … mix well and eat with hot rice that is both delicious and warm.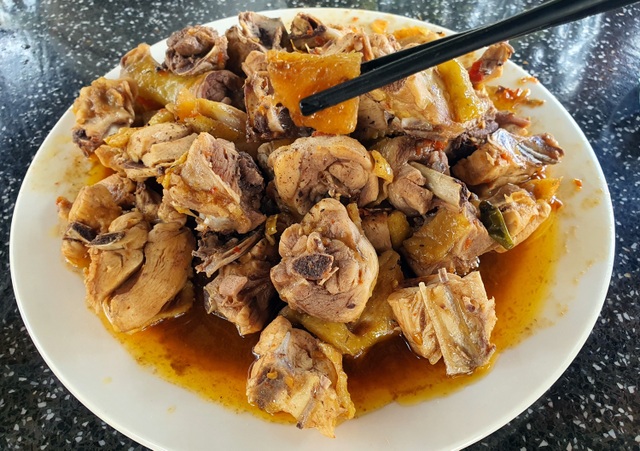 Later, the life of people in the Van Hoa Plateau developed, every family released a few chickens to eat and sell when needed, especially the chickens here were completely free to live, so the meat was very delicious, people ordered. The name of this chicken is "running chicken" to distinguish it from other industrial chickens.
Seeing delicious chicken and attractive fish sauce, people tried to combine these 2 things, creating a specialty dish of chicken with a taste of no other region.
Chicken is a pullet of about 1.2 – 1.5kg, then chop each piece and pick it up, do not need to season with salt sauce, just reduce a little oil, stir the chicken and then add the fragrant fish sauce prepared. in, prepare a little fish sauce to draw out of a jar of fragrant fish sauce, season with a little seasoning to make the pot of meat soften and the chicken water itself.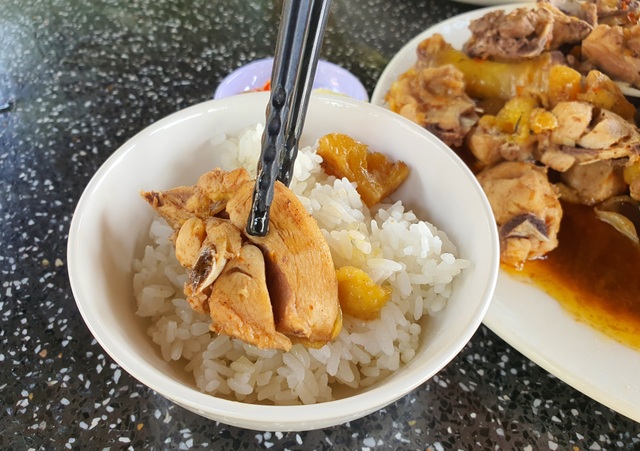 The smell of the female fish sauce, the ripe aroma of the mixed chicken will give a characteristic aroma, eating with a bowl of hot rice is nothing more.
Seeing it delicious and tourists visit Van Hoa more and more, the people here introduced this dish to visitors. After enjoying, many diners did not hesitate to score 10 because of the deliciousness, toxicity and strangeness of the fragrant chicken dish, since then this dish has been considered as a specialty in the Van Hoa Plateau.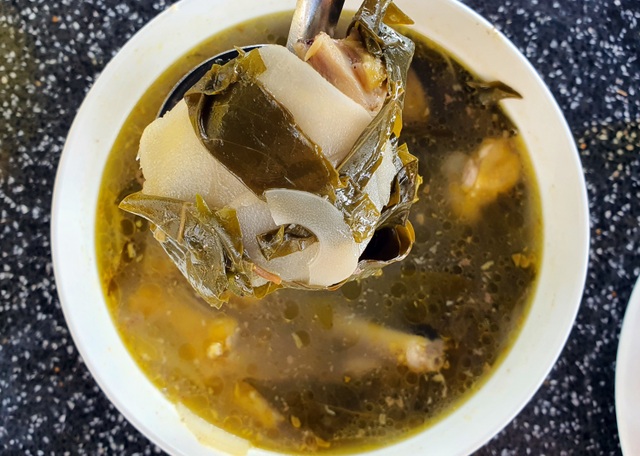 In addition to stewed chicken with fragrant fish sauce, people also process "chicken soup with chicken leaves", chicken meat is sweet, jackfruit leaves taste sour, add a little bamboo shoots … a cool, delicious soup in mid-summer making diners even have to "cut off the hip" even on a diet.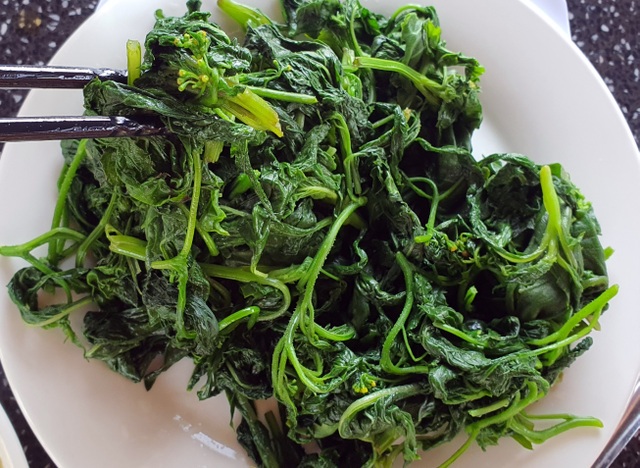 To reduce boredom and more delicious, diners should order a plate of boiled wild vegetables with vegetables picked completely from the wild such as kale, spinach …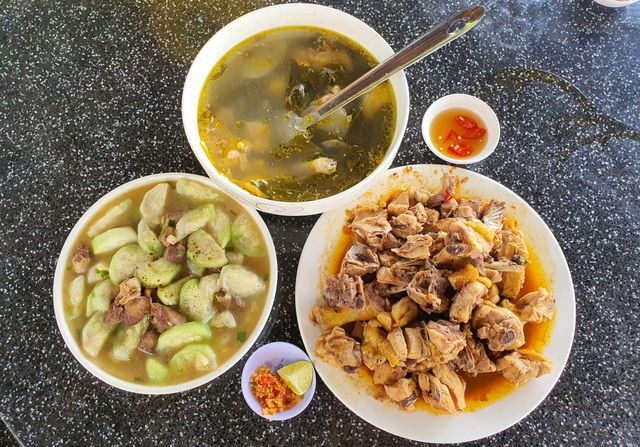 It is known that the price of a chicken then processed into 3 dishes is 1/2 chicken braised with fragrant fish sauce, 1/2 cooked with jackfruit leaf soup. Follow Dân trí
---
What to play in Van Hoa Plateau Tourism?
Van Hoa Plateau has a cool, fresh climate, friendly and close people, many beautiful places. Traveling to Phu Yen, you can hardly ignore this attractive, windy highland. So what does Van Hoa plateau tourism have to play? Let's take a look at the following recommended places Vinlove.
1. Where is Van Hoa Plateau?
If you have fallen in love with a dreamy Dalat, your heart will probably immediately associate Van Hoa as a miniature Dat Lat. In fact, Van Hoa is a plateau located at an altitude of 400 meters above sea level, with a climate similar to Dalat. Van Hoa Plateau is located about 25 km northwest of Tuy Hoa city to the Northwest, a wide and beautiful road with impressive U-shaped slopes.
The place to help you get away from the noise of the city, learn about famous historical sites such as Uncle Ho Church, Spring Hall, Go Thi Thung Tunnel. Or you explore the hydroponic green vegetable farms, four-season flower gardens, and red fruit orchards. Especially enjoy Van Hoa specialties that are popular with visitors such as sun beef, yellow ant salt, chicken cooked with jackfruit leaves, forest bamboo shoots, upland rice, …
2. What beautiful season does the Van Hoa plateau go?
The climate of the Van Hoa plateau is divided into four distinct seasons. In the spring, the flowers and flowers sprout, the summer is cool, the trees change leaves in the autumn, and in the winter, clouds are everywhere. Coming to Van Hoa in any season of the year, you will feel its beauty. However, autumn is the most ideal time of the year for you to go to Van Hoa plateau. Because this season is the season of red fruits, the red gardens blooming the mountains and forests. You are lost in a fairytale world of this beautiful fruit.
In addition, come to Van Hoa in the spring, you will participate in the famous Go Thi Thung horse racing festival. Many flower gardens are in full bloom to welcome spring, which is suitable for those who love nature and love photography.
3. What is playing in the Van Hoa Plateau?
Joining the Van Hoa Plateau tourist route you will have many memorable experiences. New land, full of legends, many mysteries. Hit the road now to explore.
Red Garden: Every autumn comes, the big red trees in the gardens of the people in Van Hoa welcome the rich, lush and splendid fruit season of the plateau. Red fruit is also called red mulberry fruit, sour and sweet depending on the maturity and pH of the soil. Just lost in the red fruit garden, you will be fascinated by its beauty. In the red garden, there are also many species of trees featured in the highlands such as: jackfruit leaves, bamboo shoots, termite mushrooms, purple myrtle, jackfruit, pineapple, banana, avocado, …
BB Farm: High-tech agricultural production farm is applied with climatic and soil conditions of Van Hoa. BB Farm's products always comply with the "4 no" criterion (no herbicides; no pesticides, no chemical fertilizers; no growth stimulants; no genetically modified varieties). Currently BB Farm produces vegetables such as tomatoes, squash, bell peppers, strawberries, imported vegetables, … to supply to the market and serve tourists.
Long Van flower garden: on the poetic Suoi Phen Lake, Long Van flower garden is like an excellent highlight for the landscape here. Gathering many temperate flowers such as hydrangeas, firecrackers, trees such as green tea, jackfruit, … create a lively picture for visitors to explore and take pictures. On the campus of Long Van flower garden, there is a beautiful small homestay for visitors to stay overnight, feel the cold of Van Hoa mountains.
Uncle Ho Church: on September 9, 1969, at this place, Phu Yen Provincial Party Committee together with officials and people of Son Hoa held a memorial service for President Ho Chi Minh, expressing infinite regret for the the old father of the Vietnamese nation. Today, Uncle Ho church is the red address for tourists to visit, visit, organize incense offering and celebration. The campus of Uncle Ho church has many cool green trees, beautiful scenery for visitors to rest and relax.
Spring Hall : Spring Hall: Built in 1973 in a forest in Phong Hau village, Son Long commune. Hall with an area of about 160m 2 , where the Party Congress held the fifth province (9/1973) and numerous congresses, conferences and activities of officials and the armed forces in base.
Go Thi Thung Tunnels: This tunnel is designed and built with a total length of nearly 2 km, deep to 4.5m above the ground, width 0.8 m, every 20 m there will be a small side door. Carefully disguised, above also built a gazebo with an observatory. There are a total of 486 wells, which are covered with bamboo and wooden beams above. This is the third largest tunnel in Vietnam, attracting visitors to learn about a heroic historical period in the war zone of Military Zone V.
4. What to eat in Van Hoa Plateau?
Come to Van Hoa to enjoy many delicious dishes prepared on the spot, inherited recipes and quality. A meal in Van Hoa also has a variety of dishes from forest products. Van Hoa plateau specialties definitely make you remember and crave a lot of food.
Chicken cooked with jackfruit leaves: garden chickens are chosen to treat guests as young chicken, soft meat, many nutrients. Chicken cooked with jackfruit leaves, a kind of forest leaf has a sour taste, creating a cooling dish, very good for summer days.
Braised chicken with fragrant fish sauce: for a long time, the fragrant fish sauce from Don market, Van Hoa has entered many books and newspapers because of its strong flavor in mountainous regions. Fragrant Don market sweet water, salt with anchovies create a kind of dipping sauce that cook anything delicious. Chicken fish sauce is fragrant and aromatic, blending three flavors of mountain, sea and plain.
One-sun beef, yellow ant salt: Dried beef is seasoned with spices, grilled on charcoal and dipped with salt, sour and salty.
Fresh bamboo shoots , rice in upland rice fields: Van Hoa forest bamboo shoots have all four seasons, small fresh pieces of bamboo shoots, boiled with salt and chili or cooked in a delicious soup that is hard to describe. The rice is purple in color, with large seeds, and cooks the rice with beautiful color, rich and delicious.
Traveling to Van Hoa Plateau you will have many memorable experiences. New land is being built and developed every day, tourism products have been invested more to make this place a tourist paradise in the future. According to Phu Yen Tourist