Traveling Con Phung Con Thoi Son is much easier than many people think. I will advise by recommending the most detailed travel options for those who have never been here. From how to go, where it is addressed, what is special inside and suggest service prices in Con Phung and Con Thoi Son tourist areas in Tien Giang and Ben Tre provinces. Let's join the West with something to learn about this typical tourist area of ​​the Mekong Delta!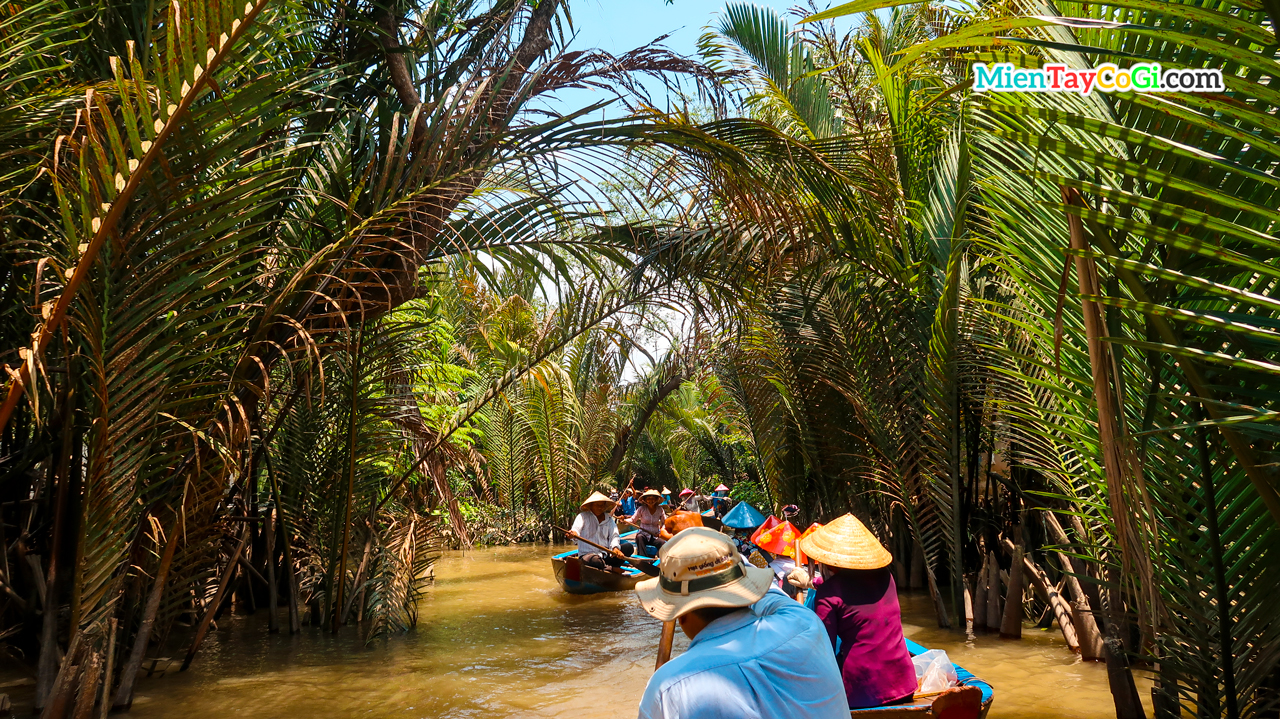 Where is Con Phung Thoi Son?
Con Phung and Con Thoi Son belong to Tu Linh islet area: Long – Lan (Thoi Son) – Qui – Phung. This islet area is located between Ben Tre and Tien Giang at the foot of Rach Mieu bridge. A tourist area intersecting the two provinces of Tien Giang and Ben Tre is very interesting.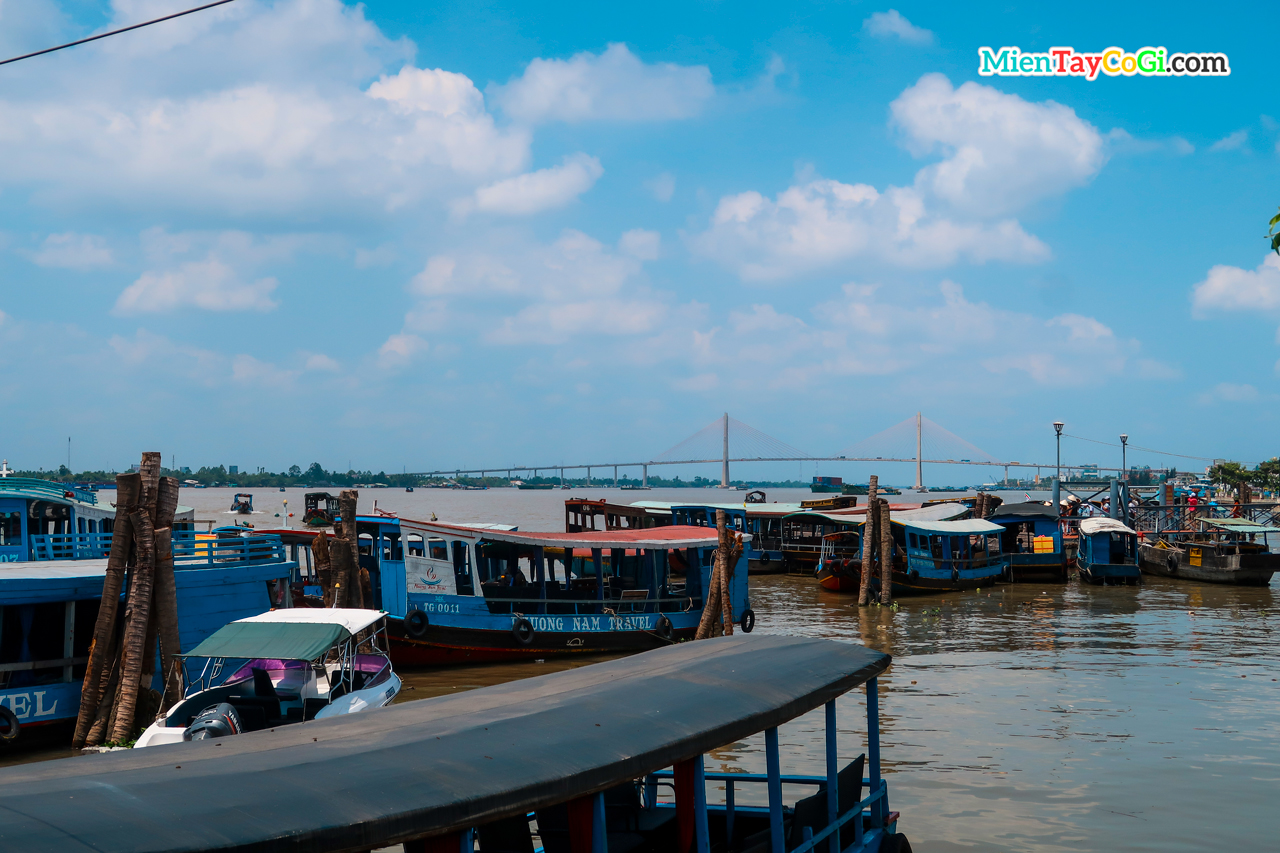 How to travel Con Phung Con Thoi Son from Hanoi
If you are in Hanoi or the Central and North provinces, then plane travel is a must (unless you are a huge backpacker). The closest airport to Con Phung and Thoi Son is Tan Son Nhat (More than 70km from Saigon).
What the West's proposal has for you when you are far away: Travel by plane, book a package tour of a travel agency. You will be able to take care of the car, food and admission tickets. The price may be a little more expensive, but it is more convenient to have someone prepare the AZ and will not be cut.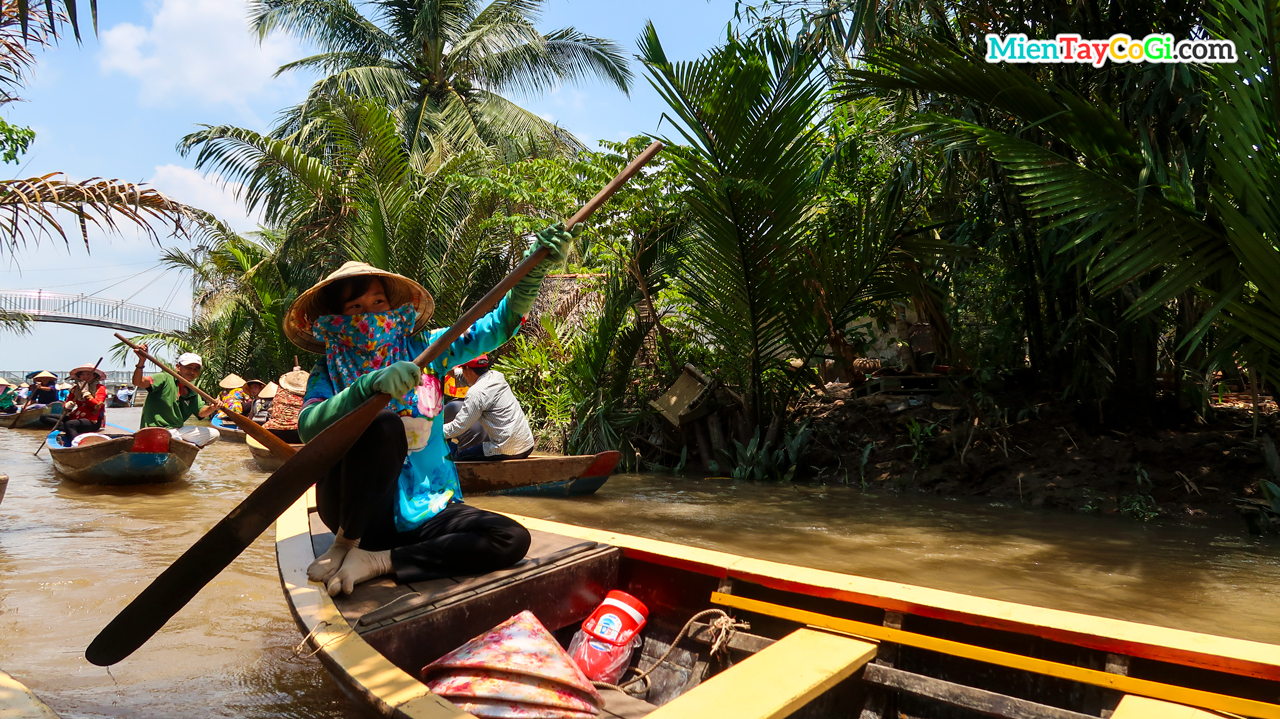 How to travel Con Phung Con Thoi Son from Saigon
If in Saigon you can ride a motorbike or a bus from there to My Tho city directly. Motorbikes are available for rent in many hotels. Or take either Phuong Trang or Thanh Buoi bus that has a direct route there (Ticket price is from 80,000 – 100,000 VND / ticket). You can contact the Western Bus Station or your agent at Le Hong Phong.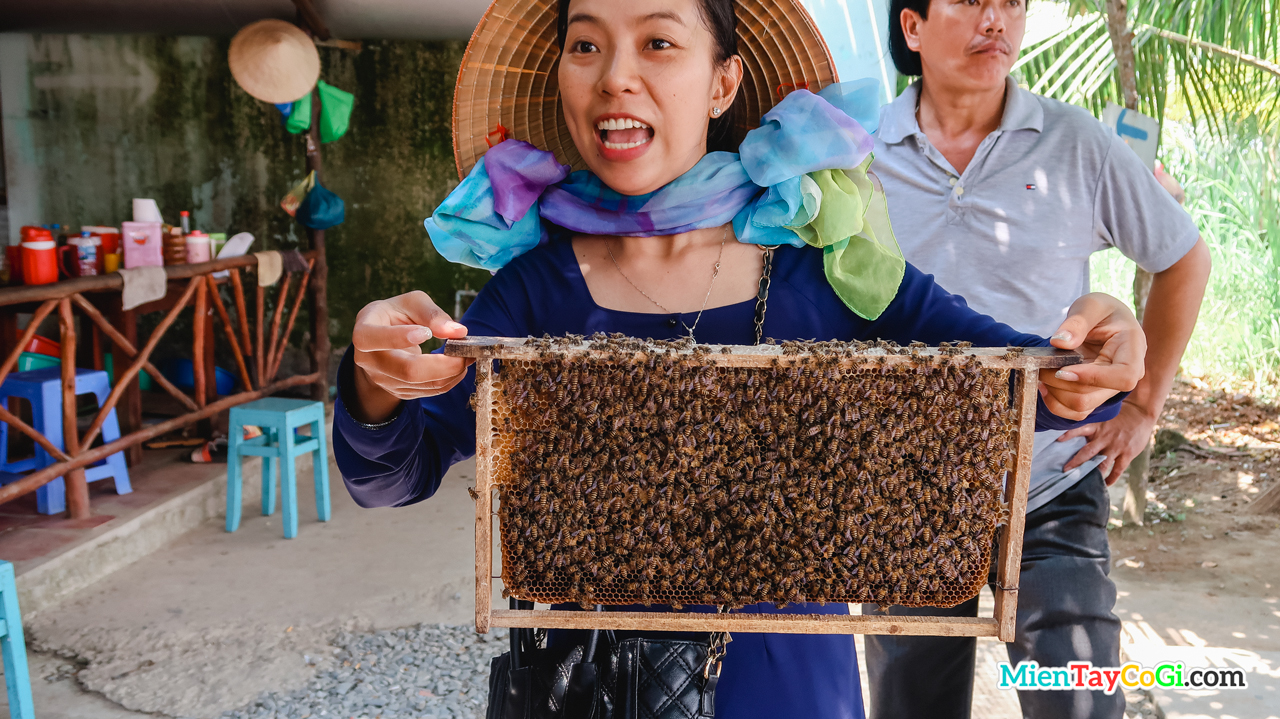 From My Tho you travel by taxi to the pier Con Phung and Thoi Son (About 7km).
What is the proposal of the West for you is to travel by motorbike or family car. With 70km, it only takes about 1 and a half hours and you will easily visit this Con area quite a lot.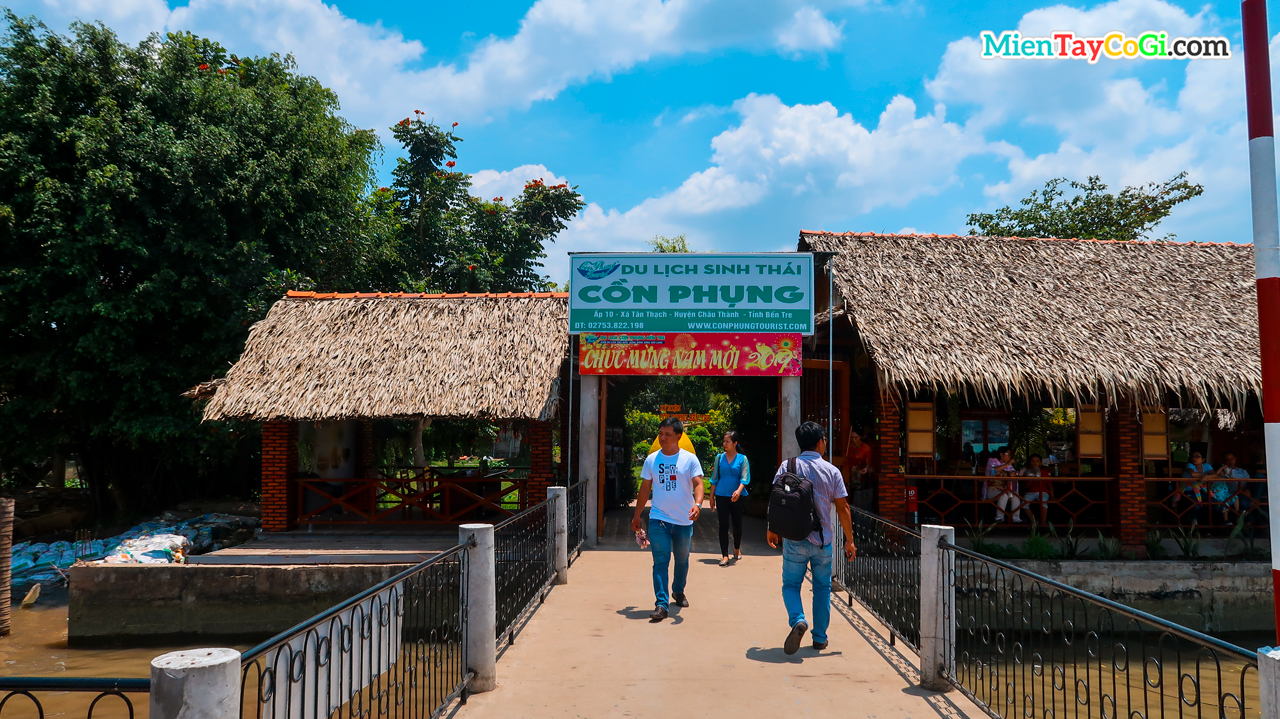 How to travel Con Phung Con Lan from Can Tho
The road to Con Phung and Con Thoi Son is about 85km from Can Tho. You can use the same method as above: travel by bus to My Tho.
What is the Western proposal for you: It is advisable to travel by motorbike and buy tickets at the pier.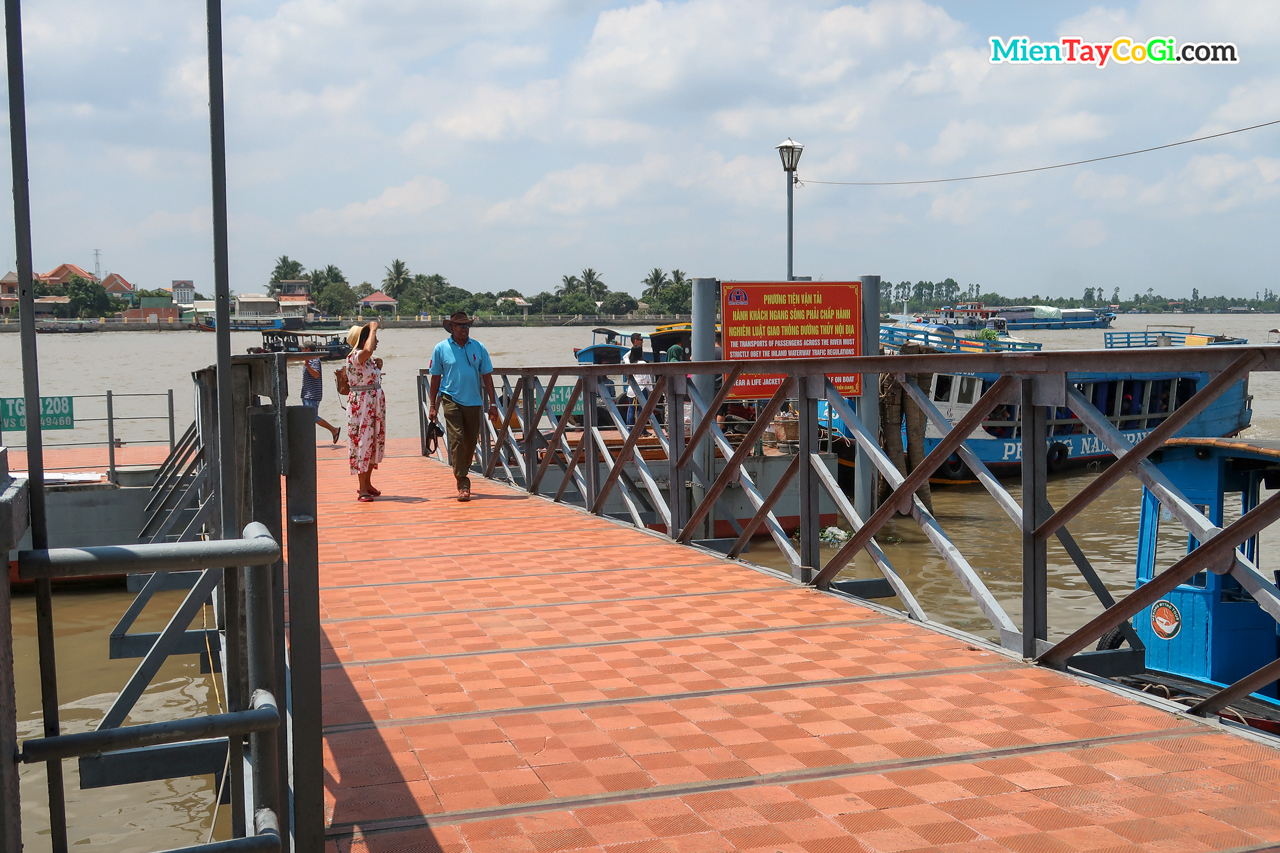 Address Con Phung Con Lan
Con Phung and Con Lan are located in the middle of the river and bordered by two provinces, Tien Giang and Ben Tre. Located right at the foot of Rach Mieu Bridge. However, to get here you need to travel by boat by boat. The pier is also quite close to the Con area and in ward 1, My Tho city.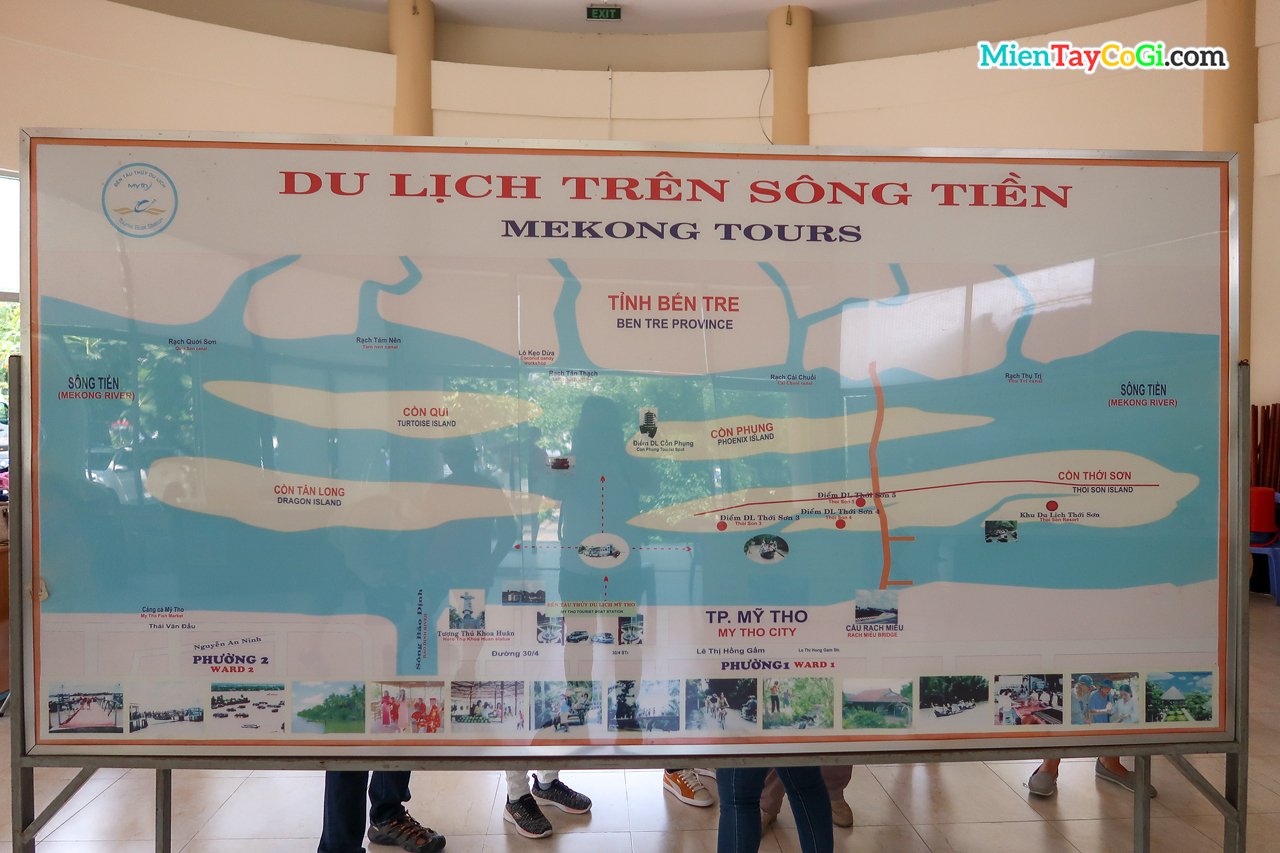 Upon arrival at the pier, you can choose to book a package tour with meals, tickets, and a guide right there. Or you can choose to travel by train to get there and visit by yourself. I think it would be more interesting to visit by yourself. When you get there, you just need to explore and book services such as canoeing, dining, and horse-drawn carriage. Refer to Google Maps for the address of the pier to the area .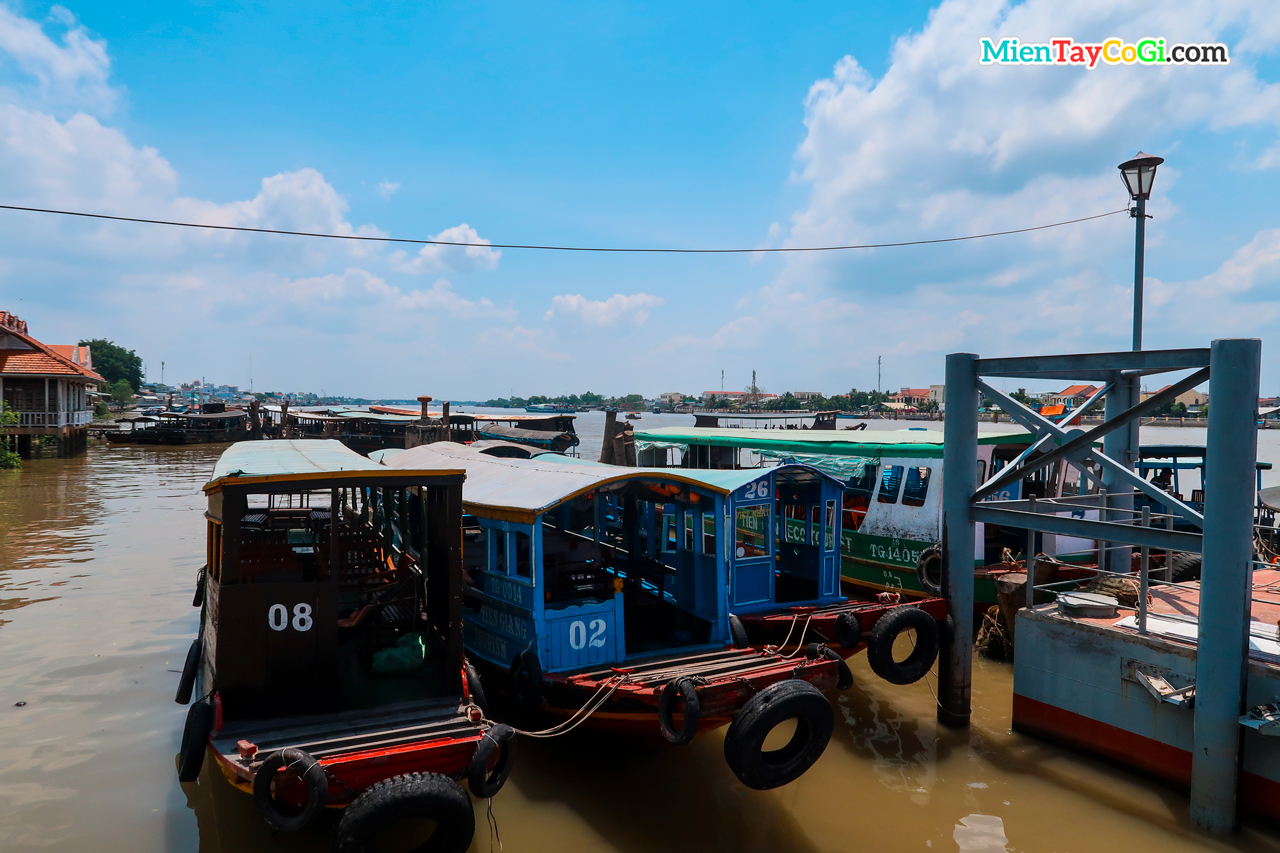 Address of the pier to Con Phung : 6 Ba Muoi Thang Tu, Ward 1, My Tho City, Tien Giang Province, Vietnam.
Long Lan Quy Phung, Long Lan Tu spirit tourism has nothing to do with it
Let's explore the famous tourist island of the two provinces of Ben Tre and Tien Giang and what the West has! The serenity of the typical Western garden scene and delicious food create a huge tourist advantage here.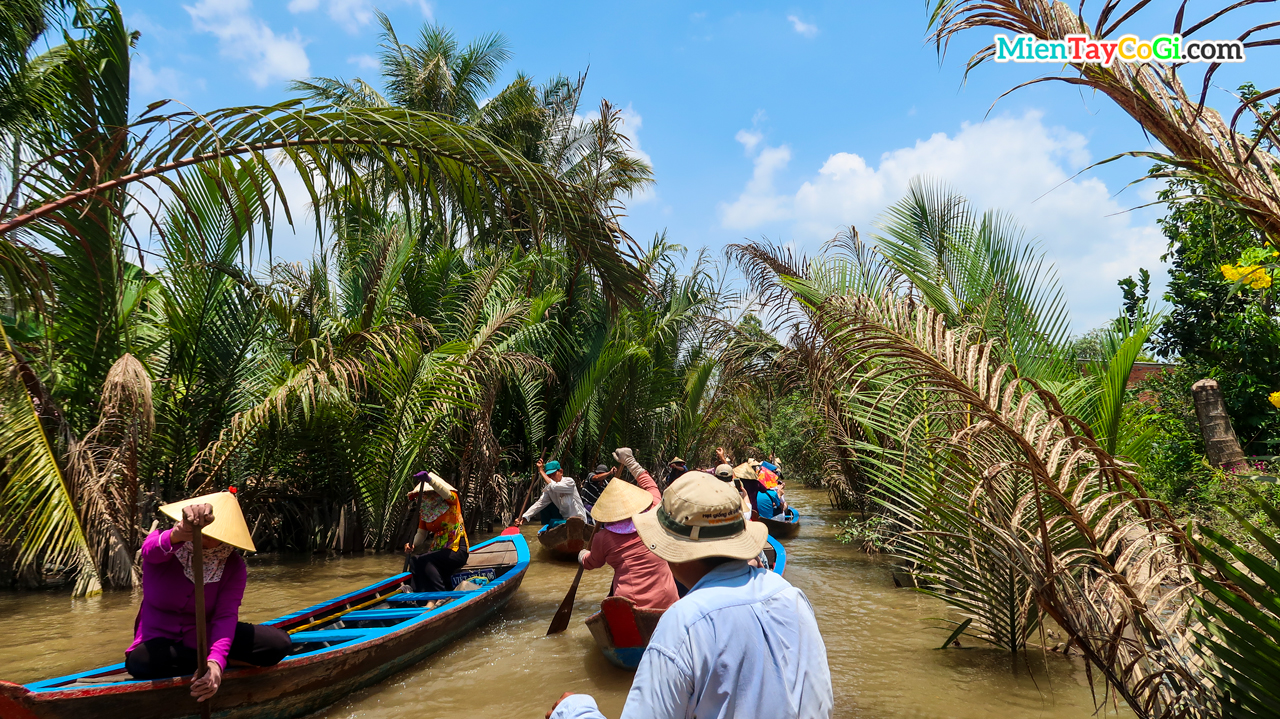 The tranquility of the western countryside
Coming to Con Phung Con Thoi Son, you do not have to find new exciting things. It is about looking for the peaceful natural things of the western countryside.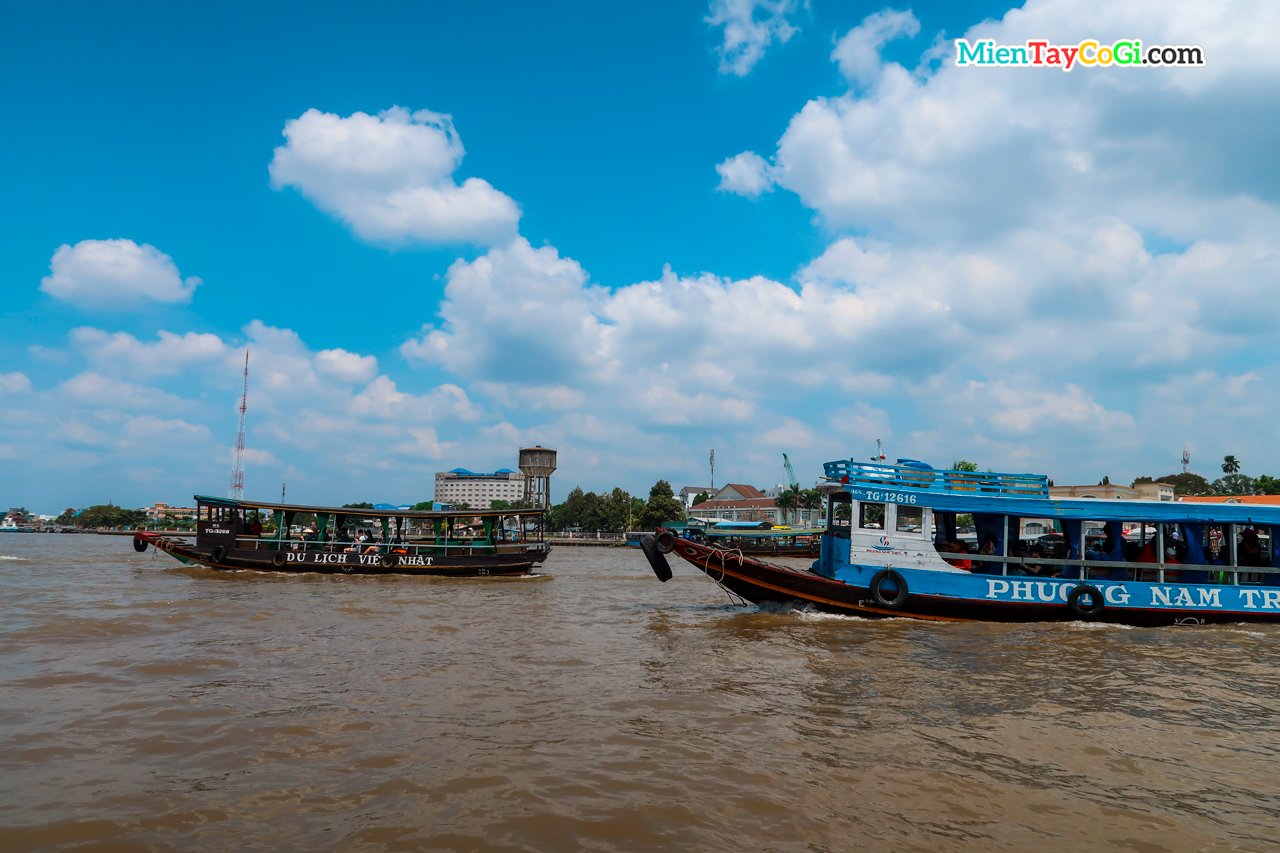 Listen to amateurs
The Vietnamese Amateurs Don Ca Tai Tu has long been a representative cultural feature here. Lullabies range from lullabies to lullabies in the gardens or under the shade of trees in the West.
Coming to Con Phung, you will enjoy this interesting culture of the Westerners. The singer uncles with wonderful voices show classic songs. In particular, you can also request songs that you like or also subscribe to sing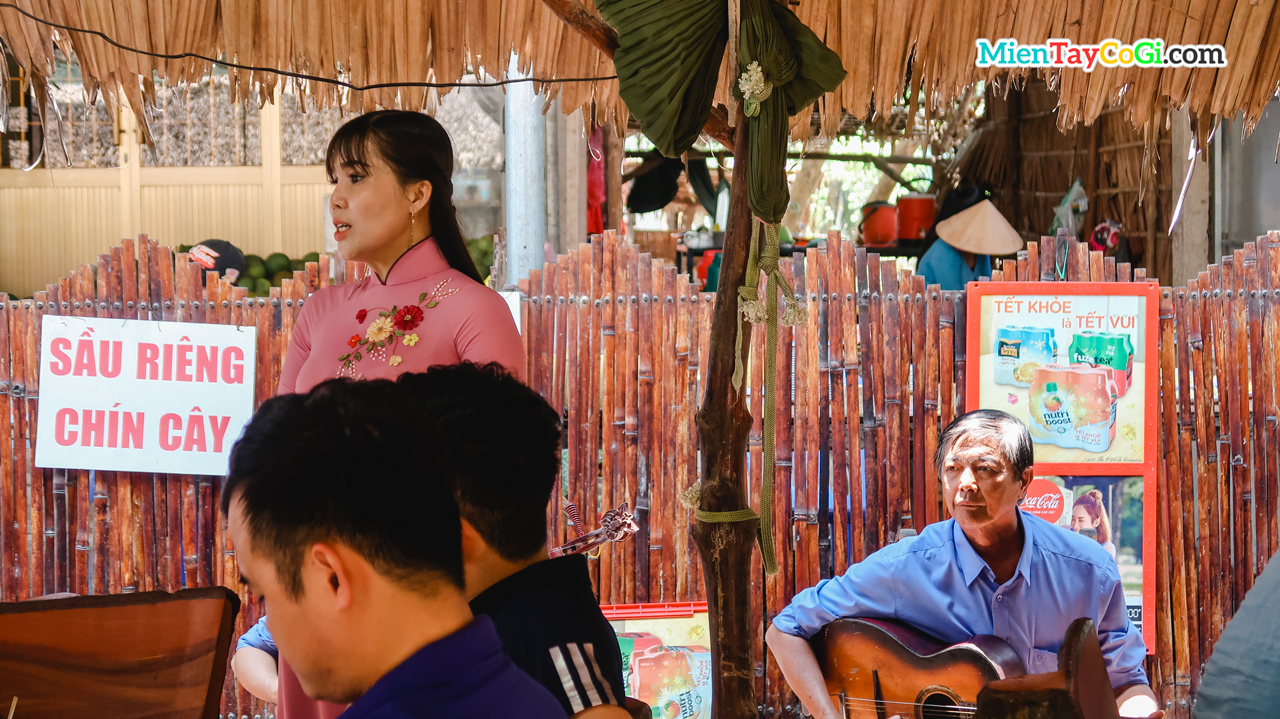 Visit the garden and enjoy the fruit
On Con Phung and Con Thoi Son, there are also many different fruit gardens to visit. However, a slight minus point is that you can only see and visit, not pick. But that is why the orchard is better for people to visit later.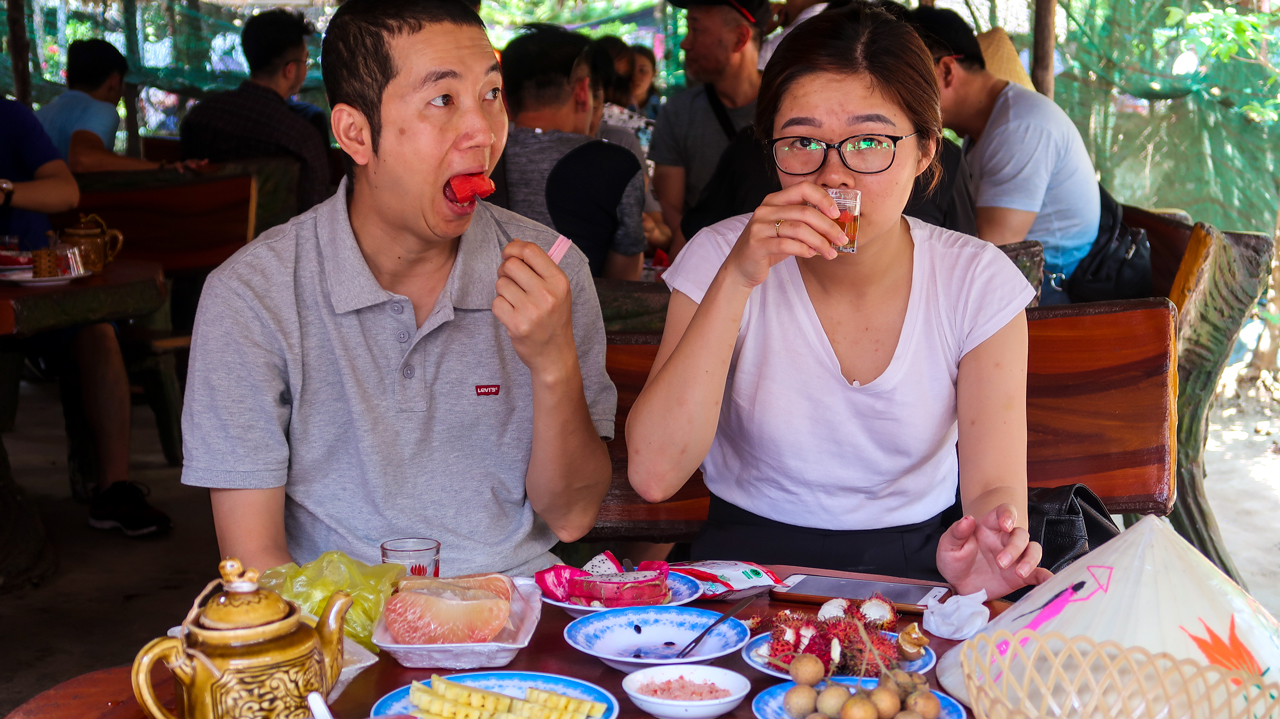 After visiting and seeing different kinds of fruits depending on the season: guava, mango, plum, toad, jackfruit, …, you will be invited to enjoy fruit plates with different fruits.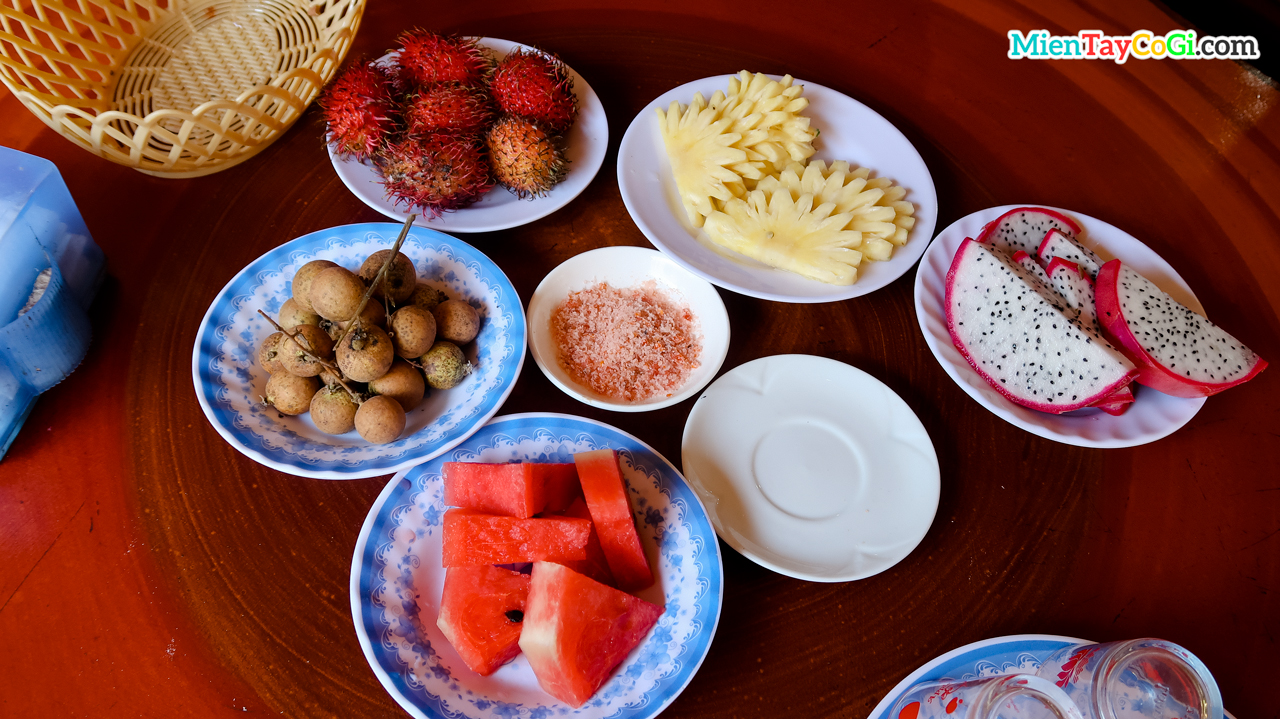 Watch beekeeping and enjoy honey tea
Besides enjoying fruit, sitting and enjoying honey tea and watching how people keep bees here is also quite interesting. You will be presented with beekeeping lessons from the farmers themselves. In addition, if you are brave, you can try the artificial hives to try to take check-in pictures (Note that the bees here are very gentle and non-toxic so there is no need to be too scared).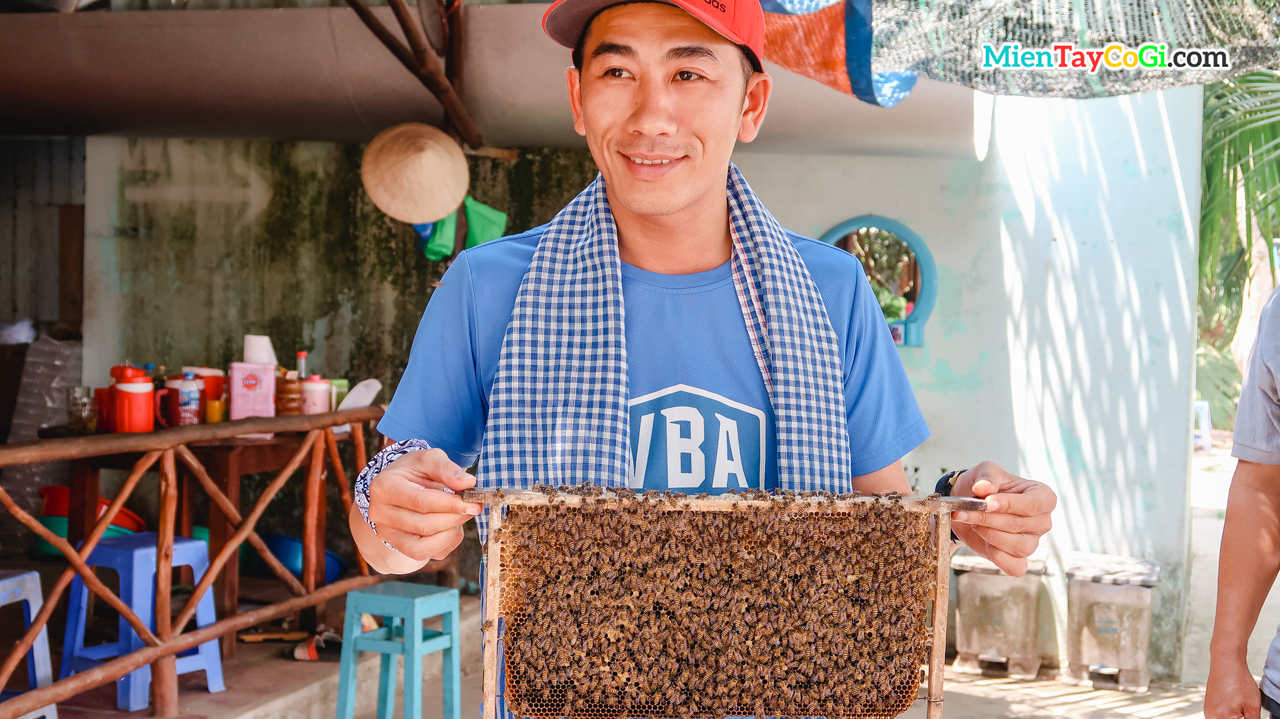 Ride a horse cart around the village road
Coming to Thoi Son and Con Phung islets, you will experience riding a horse cart around the village roads. The rattle of the hooves of horses takes you through the shady cement-covered streets. The speed of 10km / h of the carriage gives you more freedom to look around. Or, especially, taking pictures with the carriages while riding is also quite interesting.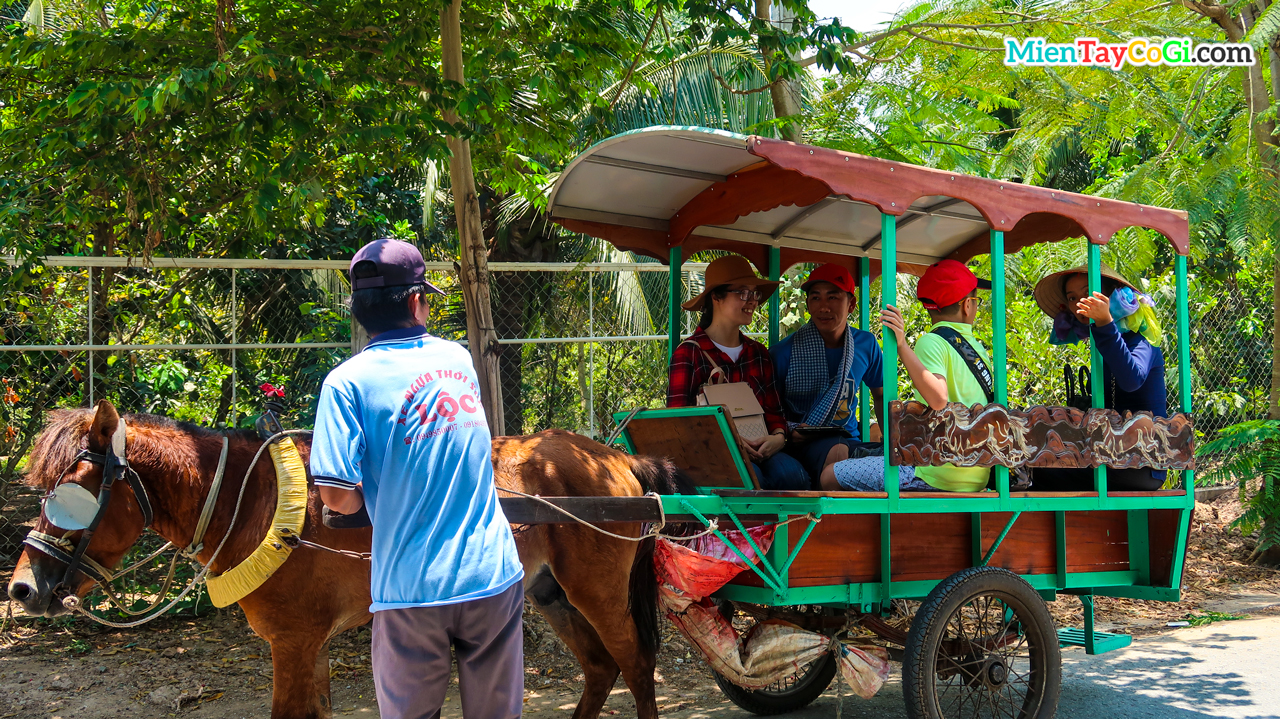 Horse riding is not a must when visiting. Although there must be tourists for the horses to have food (the owner needs money to buy food). But the horse status here is quite skinny and overworked. So also consider when you want to experience the carriage or not (It will go back to the original point for you to experience the carriage only). You can choose the form of walking to explore is also quite good instead.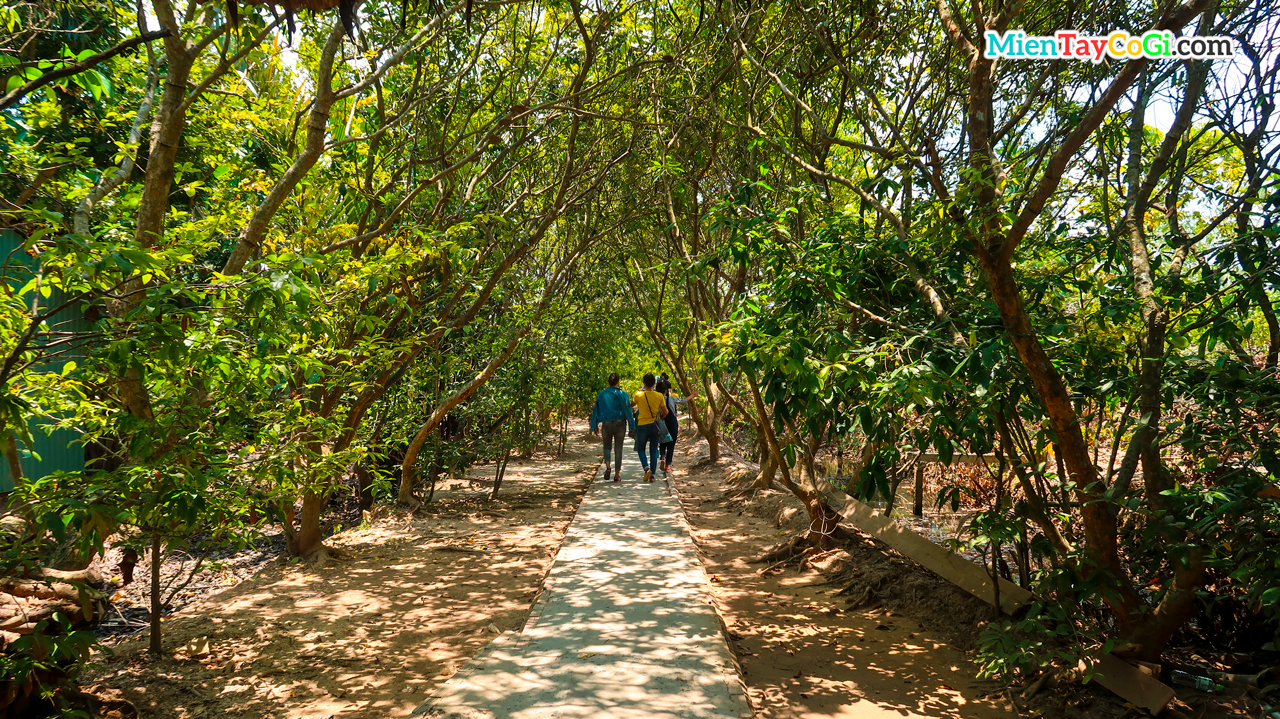 Sit on a canoe to explore the canals
This is my favorite feature when traveling to the West here. Sit in canoes, put on a conical hat going through the canals. The two sides are extremely wonderful coconut trees.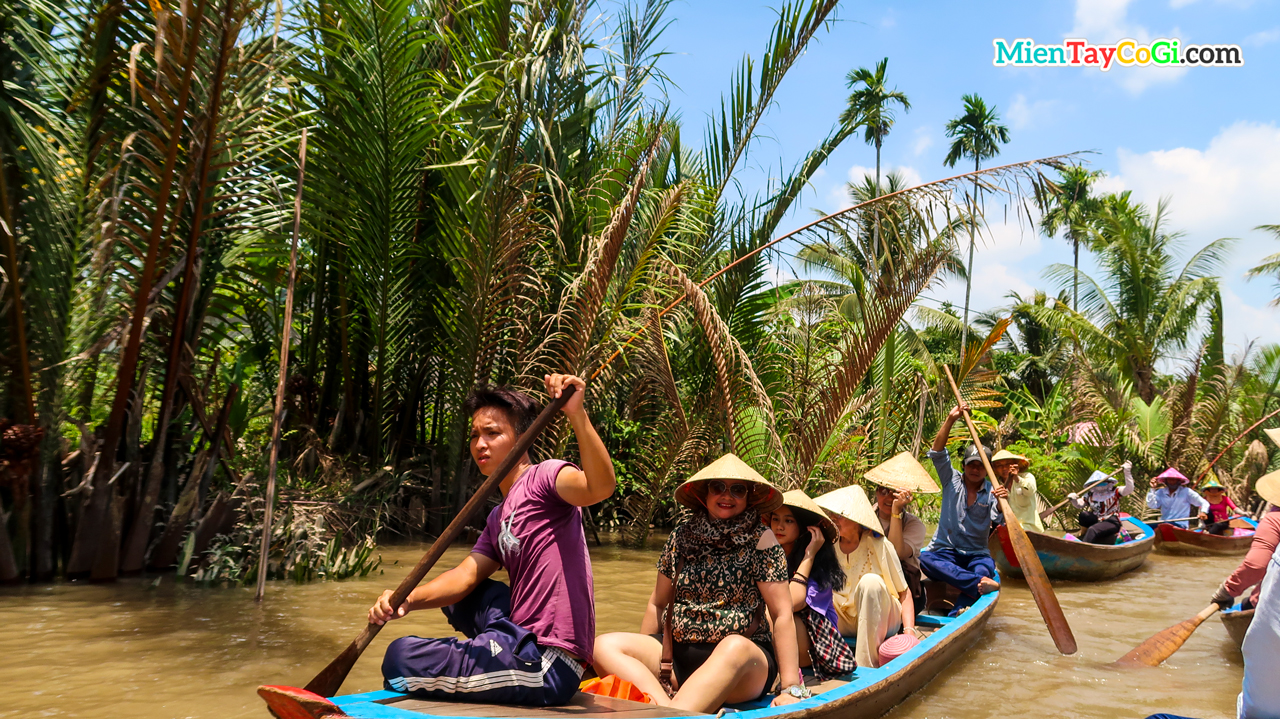 Sitting and listening to the ferryman's uncles or sisters talk about life stories, which are quite interesting. Most of the aunts are from the West, so they are quite comfortable talking. Those stories always have my own appeal when I hear them.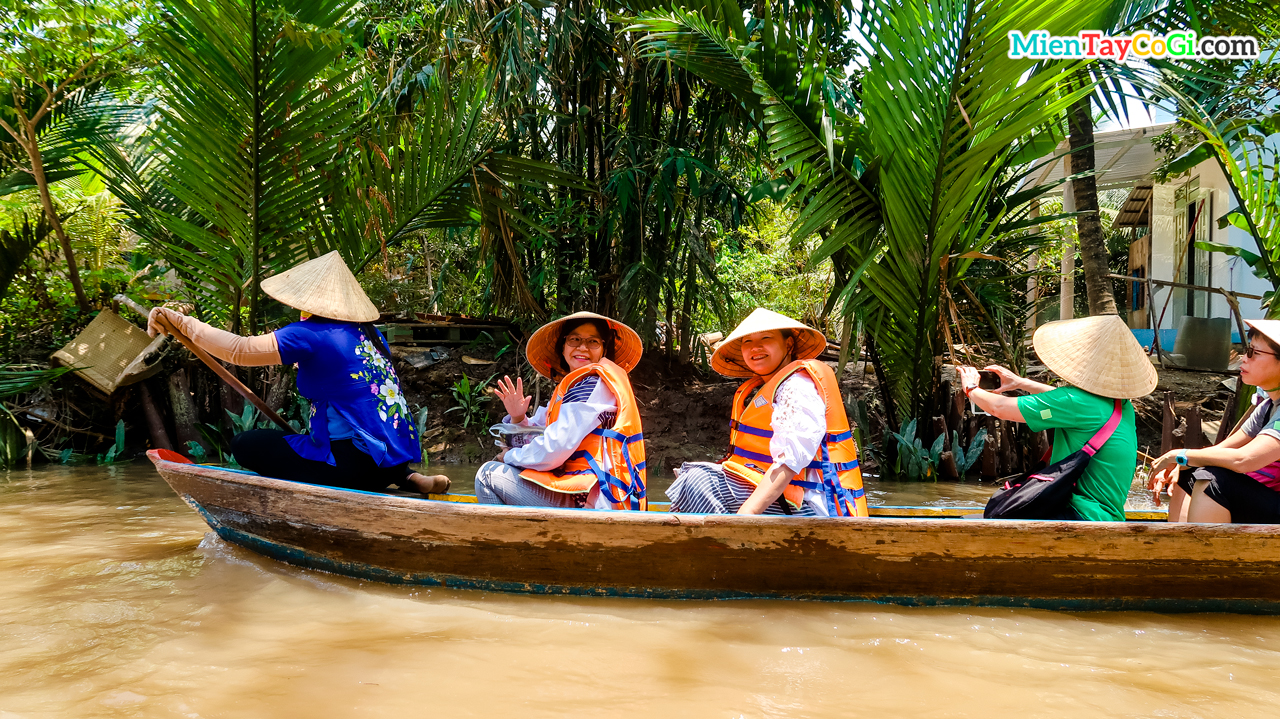 Adventure photo with brocade python
The giant brocade python curving around the body creates a feeling of adventure but also extremely interesting. Surely it will be an interesting check-in photo in Con Thoi Son when traveling. As for the safety level, be confident that they are tamed for a long time, hundreds of tourists take pictures with each day. And especially there is always a python breeder by your side.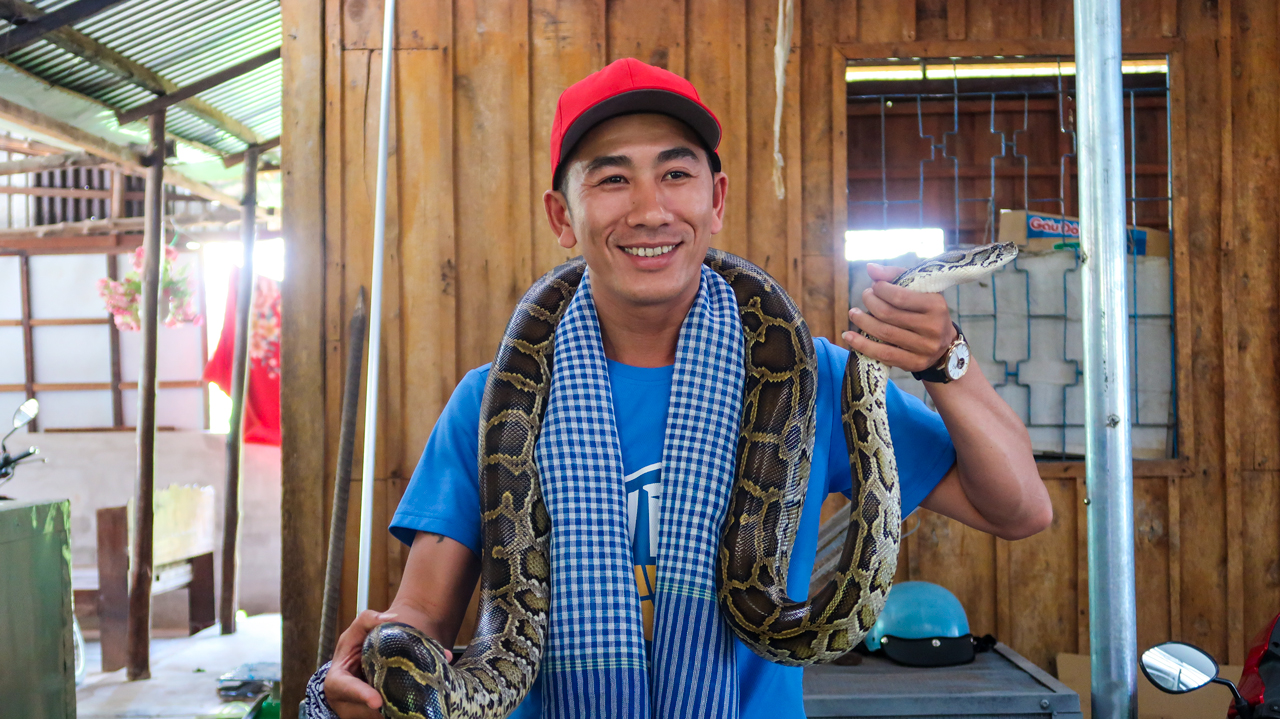 Great garden dining
Having traveled, besides discovering beautiful scenery, delicious food is always something we want to experience. On the Con Phung area, there is a restaurant with great garden cuisine. The delicious Western specialties such as grilled snakehead fish, fried giant fish, crazy fish hotpot, … or shrimp dishes with fresh ingredients are on the menu.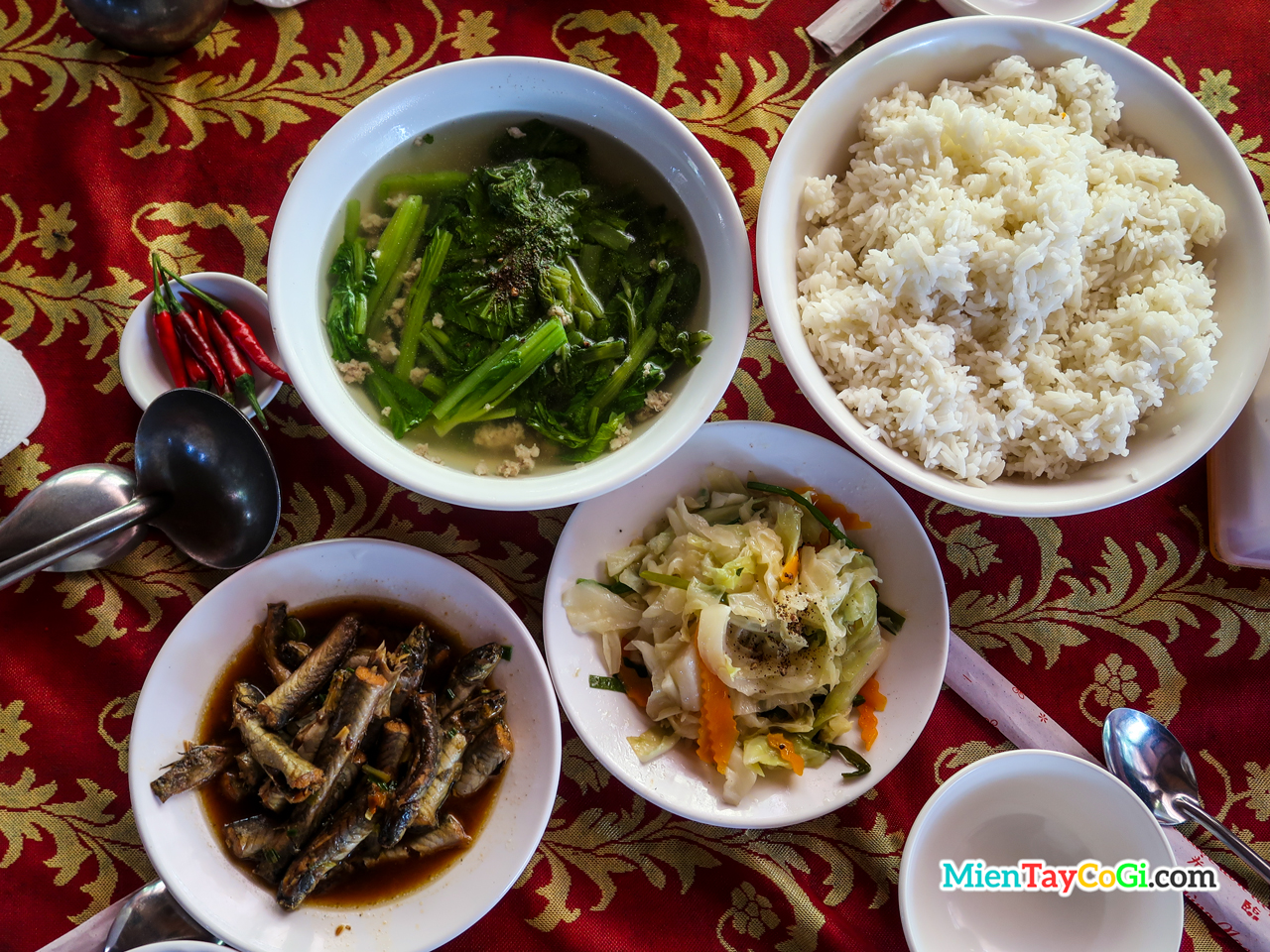 Especially the puffed sticky rice dish looks like giant dinosaur eggs. You will be surprised by its attractive appearance. Eating sticky sticky rice with a stick is the right song.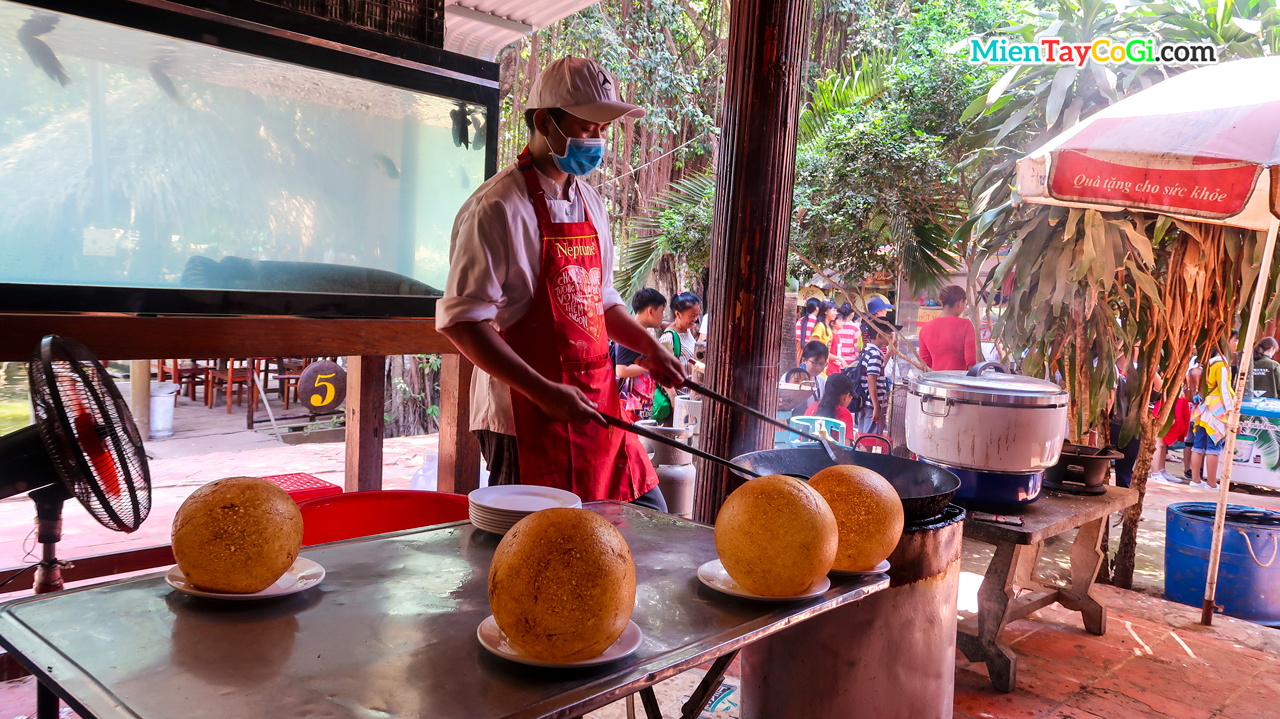 Recommended dishes for you to enjoy at Con Phung: Crispy fried fish, fried sticky rice, sour hot pot fish, grilled snakehead fish, Braised snakehead fish, Braised goby fish, grilled tiger fish, coconut shell salad, Roasted shrimp with coconut, chicken hot pot, etc. In addition, the fried hamster or raw coconut weevil are specialties here.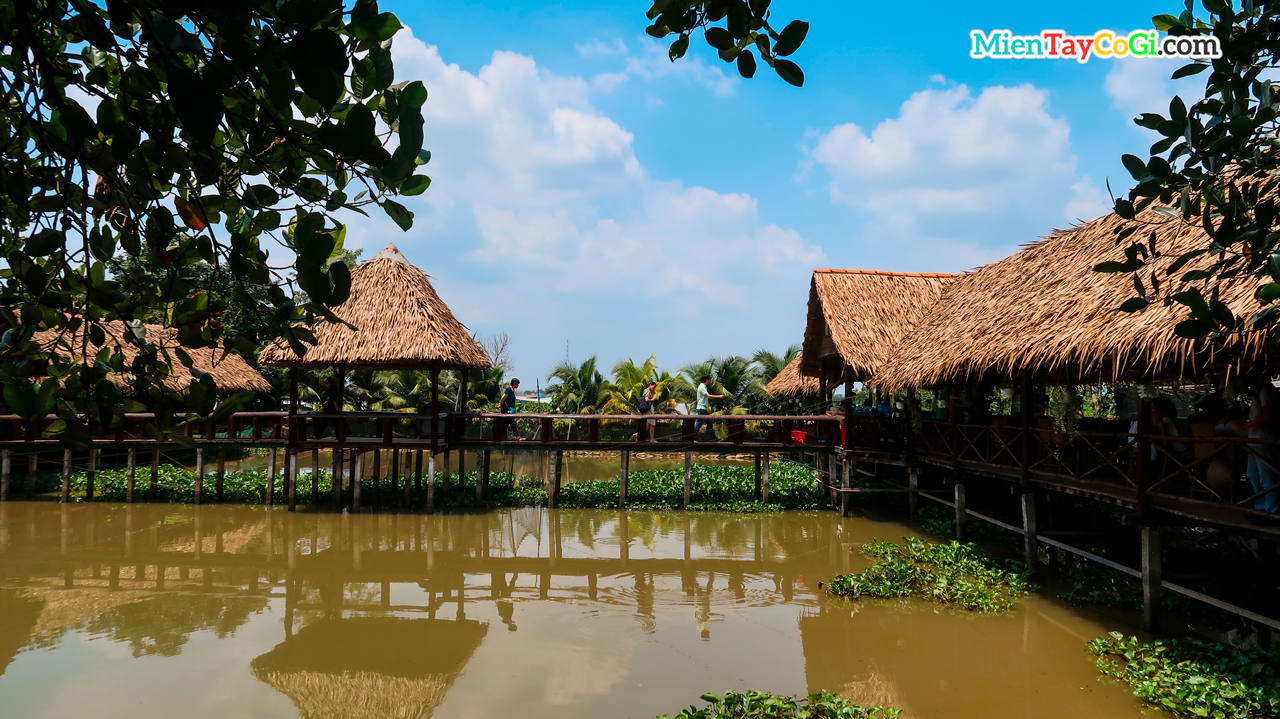 Spacious play area
Near the dining area, there is an interesting amusement park with folk games attracting children. You can take the young children to explore this play area after eating and drinking or while waiting for the food to be brought up.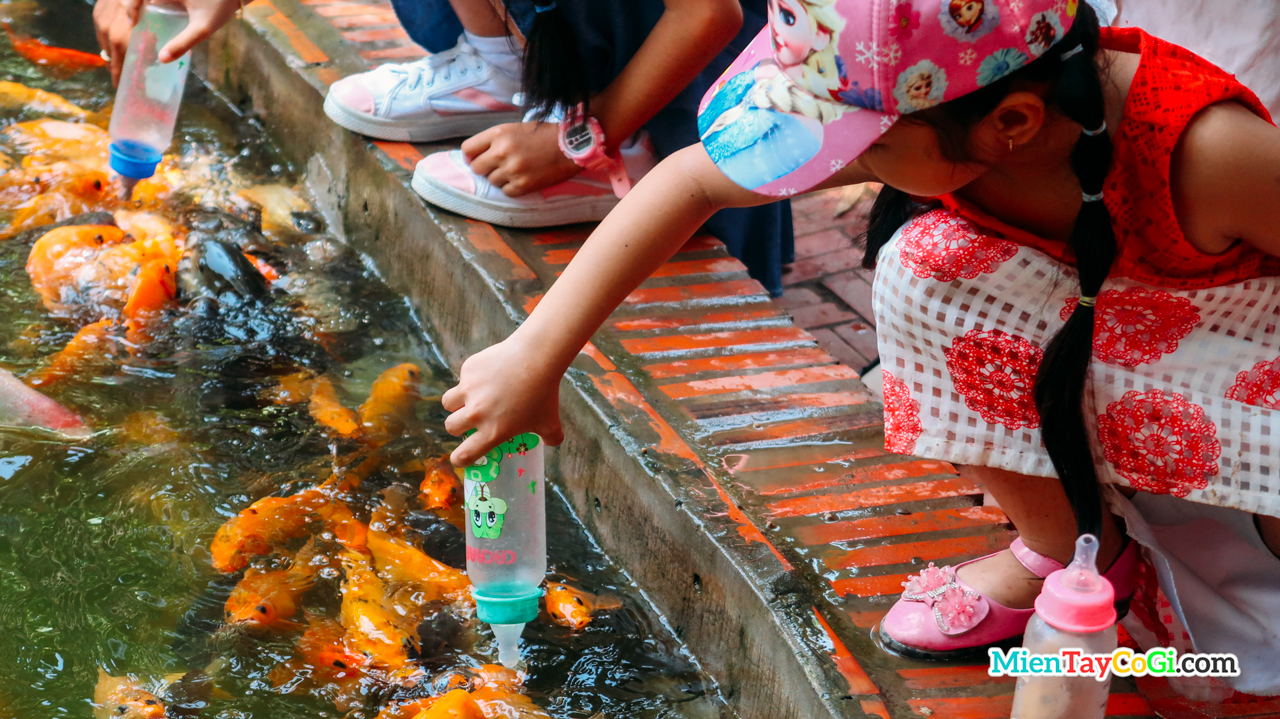 You can bottle-feed with dozens of fish swimming underwater, or play fish foot massage game. Explore games such as cycling over a boardwalk, monkey bridge, live fishing, giant water bubbles, … Or visit the fascinatingly designed scenery of this area.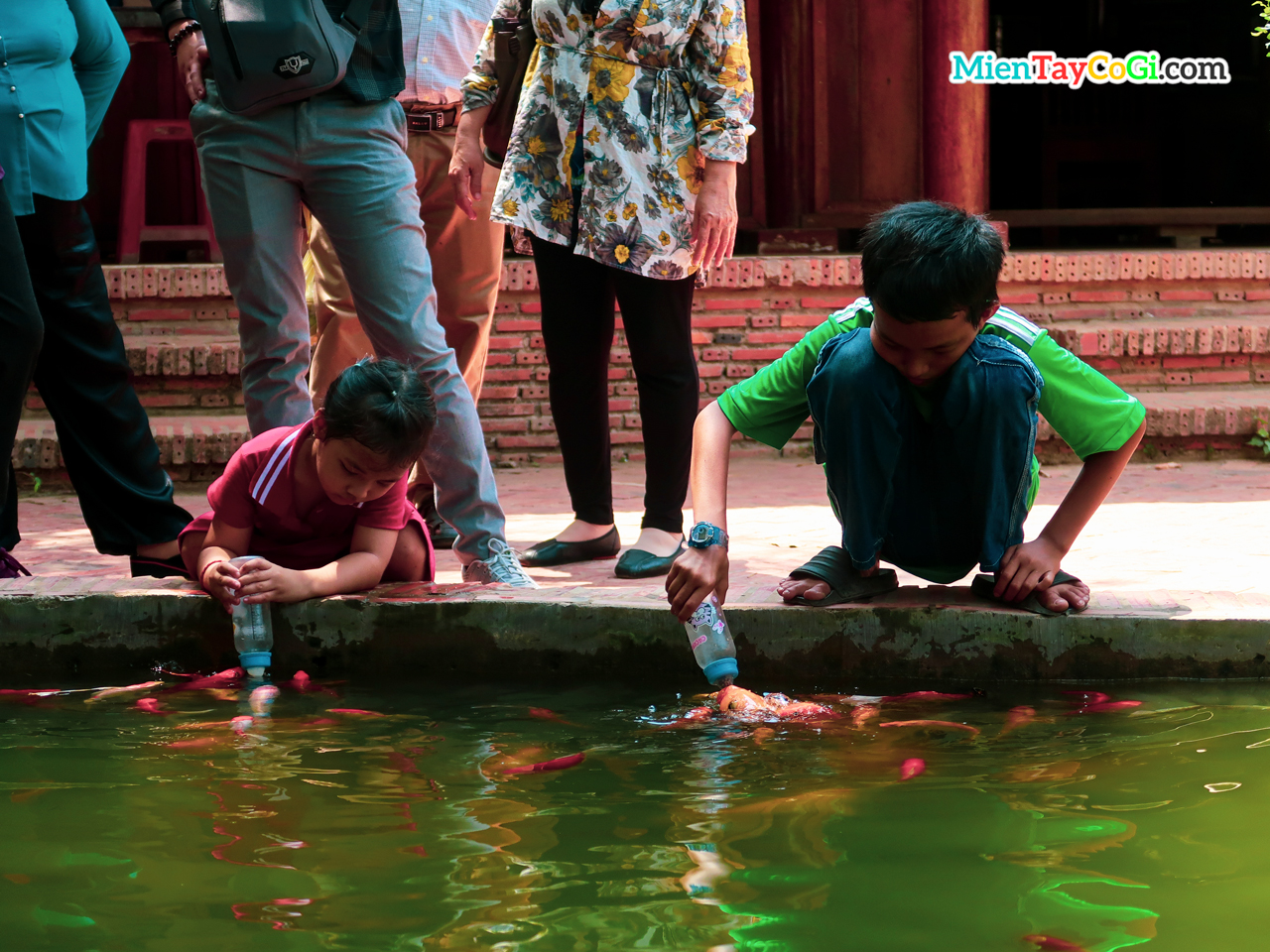 Visit the traditional village of coconut candy
Probably since childhood, all of us have also tried to enjoy the deliciously delicious coconut candies (the first generation 9x generation will remember about it). Those greasy coconut candies come from the land of Ben Tre coconuts.
Here you will visit the traditional Ben Tre coconut candy factory right on the alcohol. From how it works to how it is packaged. Surely you will widen your eyes with the skilled hands working as the candy girls' robots.
Especially hot coconut candy products, rice paper rolls, puff cakes are available to try for you. Enjoy them if they are delicious, then buy more to eat at home!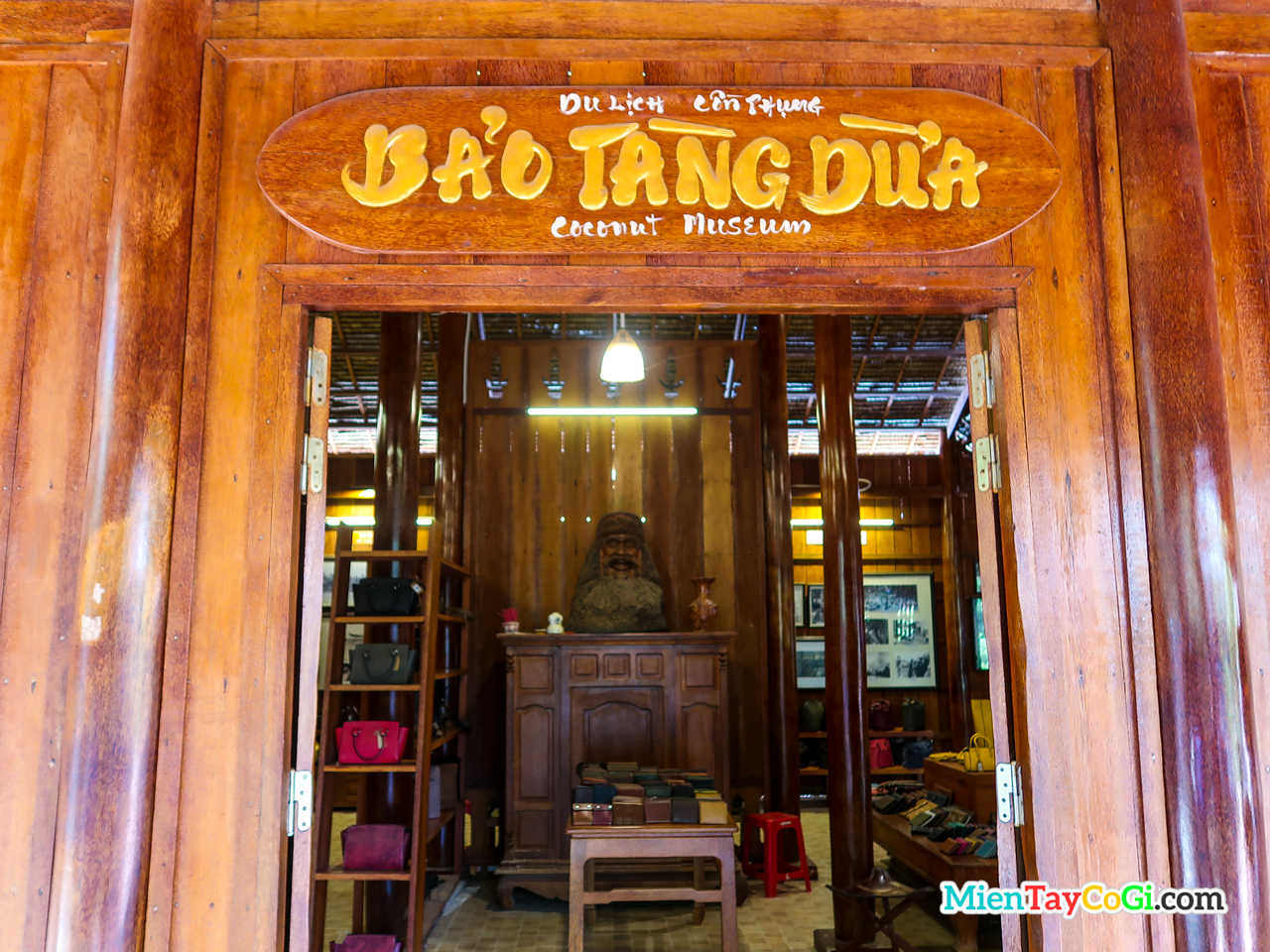 Learn about Coconut religion by Mr. Nguyen Thanh Nam
The Mekong Delta has long been a place of origin for many Vietnamese religions. In particular, Mr. Nguyen Thanh Nam's Coconut religion is one of the most famous sects for the "strange" that it brings. Especially from using coconut as drinking water, main food to architectural works mostly from coconut wood.
Especially, although his personality is somewhat eccentric, Mr. Nguyen Thanh Nam has brought the idea of ​​"national harmony" to many people. From the fact that he brought together religious values ​​such as Buddhism, Confucianism and Taoism.
HE PROCLAIMED HIMSELF AS QUYEN THIEN NHAN LEADING THICH HOA BINH, DECLARING TO FOLLOW ALL THREE RELIGIONS: CONFUCIANISM, BUDDHA, AND TAO. HIS RELIGION DOES NOT NEED CHANTING, KNOCKING, BUT JUST SITTING IN MEDITATION AND FASTING, COMMEMORATING, … AND ENCOURAGING PEOPLE TO LIVE LIFE TO RESPECT EACH OTHER'S DIGNITY AND LOVE, TO BEHAVE IN HARMONY WITH EACH OTHER. REGARDING FOOD, DAO DAO RECOMMENDS EATING COCONUT AND DRINKING COCONUT WATER.

HE EXPERIMENTED WITH ETHNIC SOCIABILITY BY KEEPING RATS AND CATS LIVING TOGETHER IN A CAGE. THROUGH THIS IMAGE HE PROVES THAT THE TWO OPPOSERS CAN STILL "LIVE PEACEFULLY" AND WISHED THAT VIETNAM WOULD HAVE NO MORE WAR. IN 1967, HE RELIED ON HIS PROPAGANDA AND PROPAGANDA CAMPAIGN TO RUN FOR THE PRESIDENCY OF THE REPUBLIC OF VIETNAM. ON THIS OCCASION, A DEVOTEE GAVE HIM A PAIR OF IVORY, EACH 1.8 M LONG, WEIGHING 45 KG, WITH A DIAMETER OF 0.5M. NOW, THIS PAIR OF IVORY IS RECOGNIZED AS THE LARGEST PAIR OF IVORY IN VIETNAM, CURRENTLY ON DISPLAY IN THE LIVING ROOM OF THE PROVINCIAL PARTY COMMITTEE (COMMUNIST PARTY OF VIETNAM) IN BEN TRE. AMONG THE COCONUT WORSHIPERS IS THE SON OF AMERICAN WRITER JOHN STEINBECK.

Excerpted from Wikipedia.org
In particular, Con Phung preserves quite intact relics of the Coconut religion. Surely it will bring useful knowledge when visiting this strange religious system.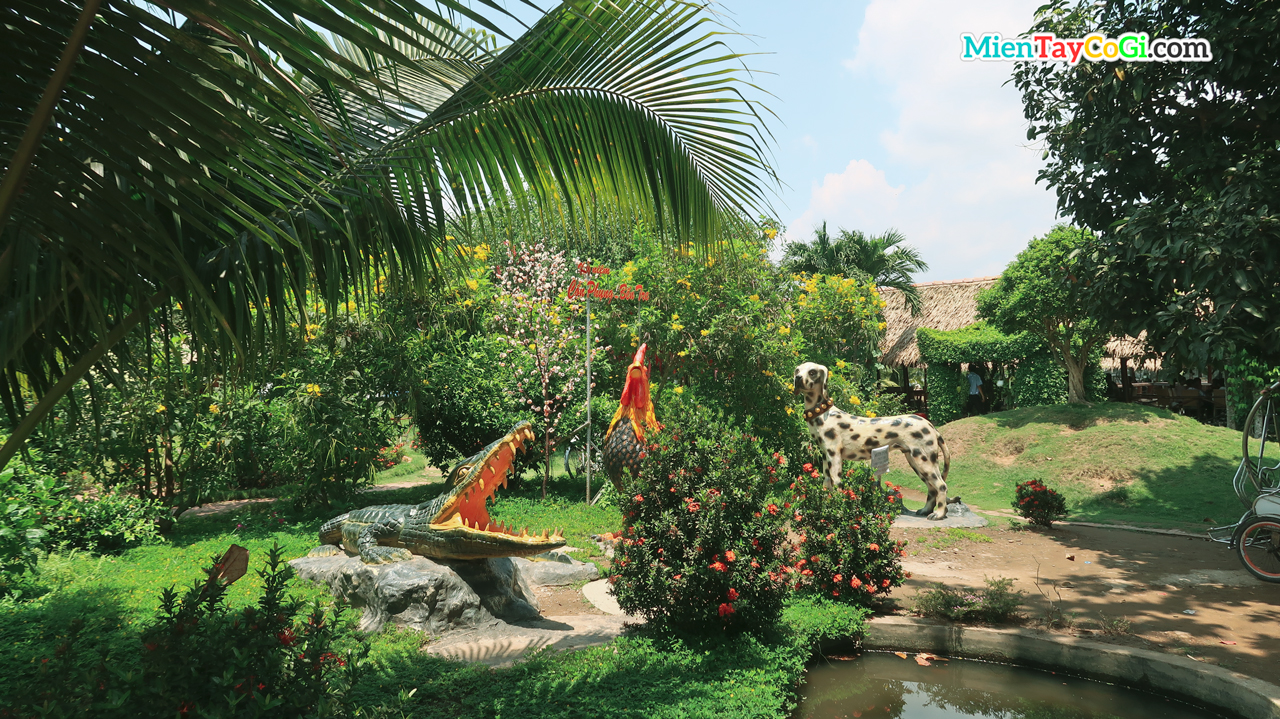 Travel prices Con Phung Con Thoi Son
The current tour price of Con Phung Con Thoi Son follows me from many companies including boats bringing from shore to dunes:
Tickets to visit + train, drink tea, amateurs, fruit, ride a horse cart, ride a three-leaf canoe + HDV: 200,000 – 250,000 VND (Price varies depending on the company you book the tour).
Food price: 100,000 – 150,000 VND / person. However, I encourage you to order your own food so you can choose your own food at the restaurant.
Folk games: 70,000 VND / person (Not including the rental fee for the ladies to play).
Slapping a ditch to catch fish: 20,000 VND / person (Enough of 10 people can play or you pay the difference in cost, and can catch 2 fish).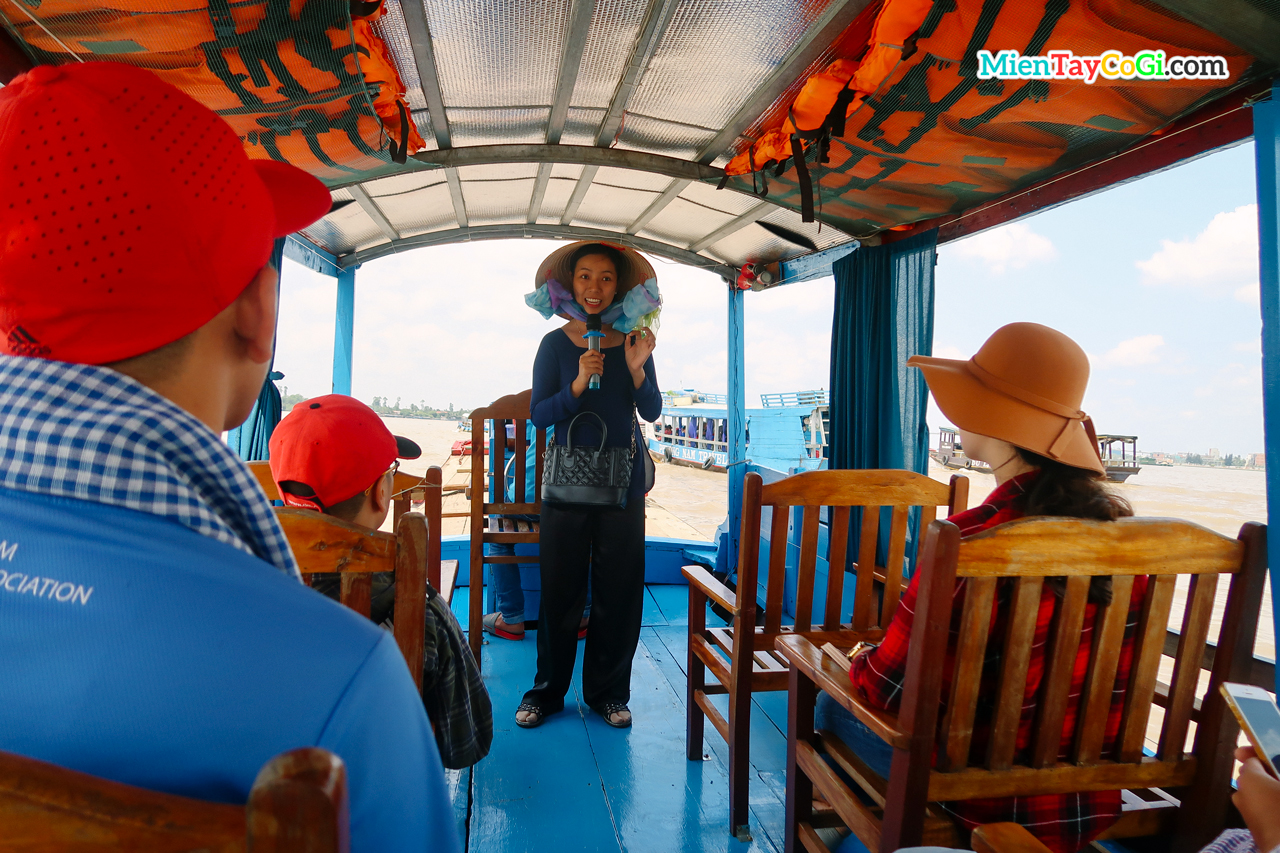 Beautiful photos taken by tourists
Some photos checked by tourists here.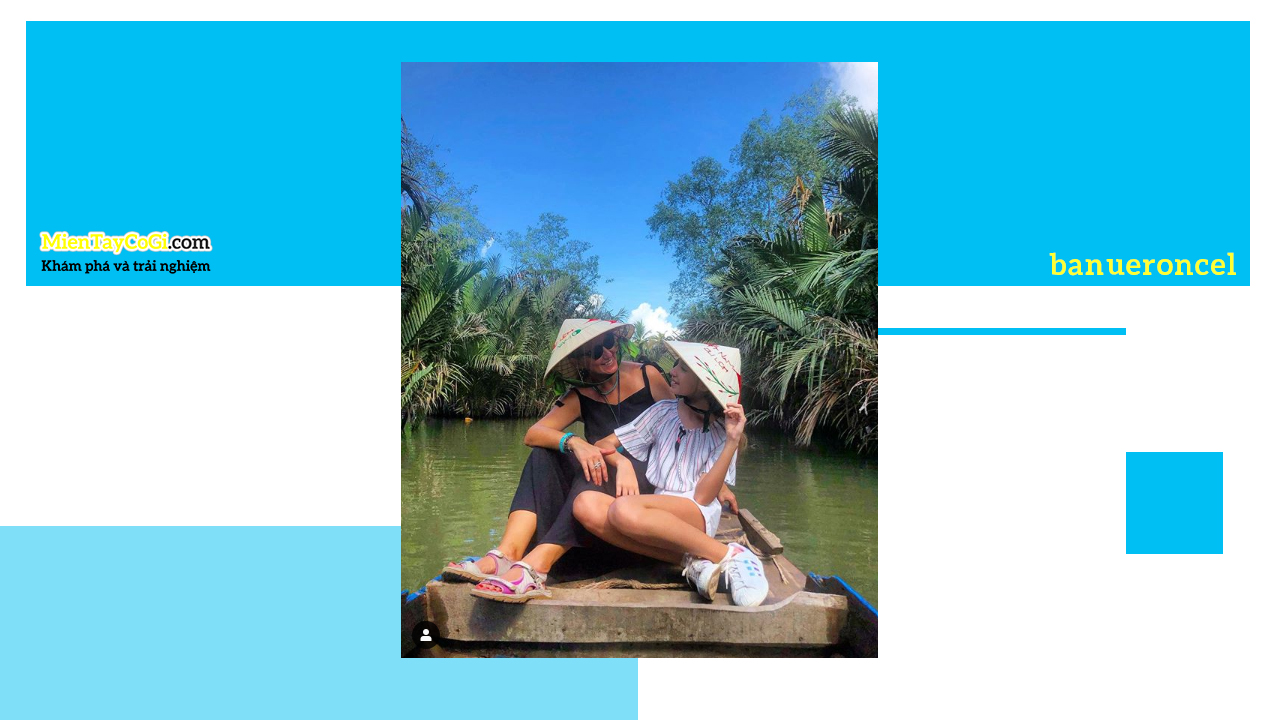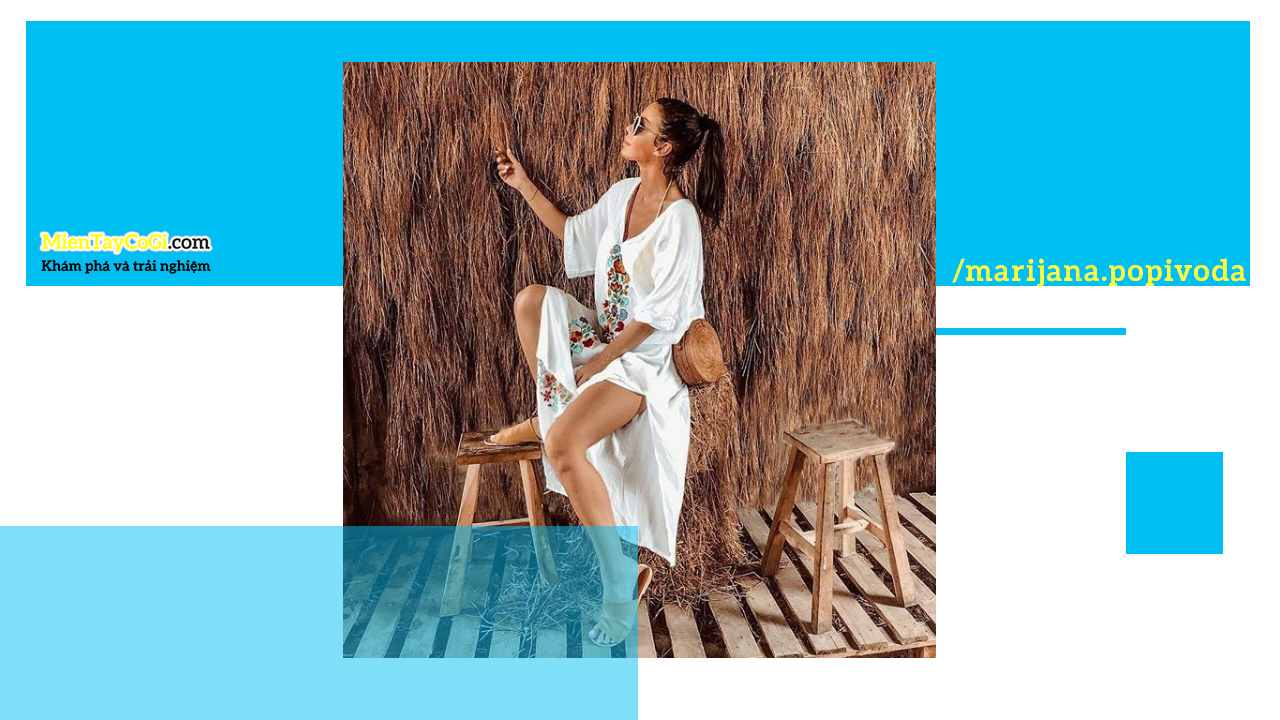 Tourists say nothing about Con Phung and Con Thoi Son tourism
Anh Nguyen's friend rated 3/5: "First of all, we really thank the Board of Directors of Con Phung Tourism Board for bringing the very special features of the West River, the specialty of Ben Tre homeland to tourists. Besides, I have some constructive suggestions as follows: + Selling quality with reasonable prices because visitors are very smart. + River tourism must ensure the safety of life jackets, including the elderly and children. + The boatmen should bring stories about the homeland, regional specialties, funny and funny stories instead of complaints about the miserable life. Because no one wants to spend money traveling, but also brings more troubles in his heart. Attract domestic and foreign tourists with the delightful beauty of the homeland and the kindness of Western people and you will return with their families and friends. It will be a sustainable tourism development, not trying to get all the money out of your pocket for the first time, but let them accept to spend more money for the next trip with their loved ones to come again. again. Wishing the Con Phung tourist resort better and better. "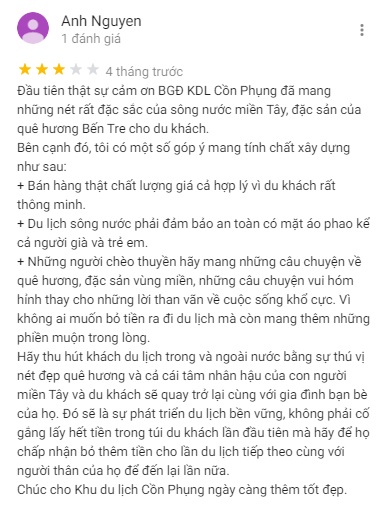 Suggested travel schedules for Tien Giang Ben Tre is self-sufficient: Vinh Trang Pagoda – Con Tu Linh (Con Phung, Con Lan (Con Thoi Son), Qui, Phung – Dong Tam Snake Farm. Follow Mientaycogi