Sapa tourism is no stranger to people 'moving' both at home and abroad, but every time you come to this 'cloud town', you will find both familiar and strange with new man-made wonders that sprout up day by day. interspersed with the majestic nature of mountains and forests. So that the Sapa tour trip is not surprising, here are the 'pocketing pants' experiences that follow you throughout this trip to explore the Northwest. Let's find out now!
I. Introduction to Sapa
Sapa is a town in Lao Cai province, Vietnam, this is a famous tourist destination from the early 20th century up to now. The nature creator favorably bestows Sapa with a picture of a landscape that is both romantic and majestic, immense with mountains of the same message as the clouds to welcome the wind, terraced fields, eye-catching, watching the pine trees. Silently witnessing many stories from Indochina in the heart of the town, …
SaPa flooded with clouds (source of collection)
Sapa climate is cool all year round with unique indigenous imprints – most notably the culture of the two major ethnic groups in Sa Pa, the Mong and the Dao – combined with European architectural space. Classic Europe. All the above factors have created a special attraction for visitors who want to explore this land.
II. What beautiful season to SaPa tourism?
Coming to Sapa every season has its own interesting experiences of this beautiful upland land.
– The appropriate time to travel Sapa is from September to November or from March to May. This time, Sapa's weather is stable, dry sunny days, cold nights.
– April – May is the season of water pouring, the terraced fields with eyes feel like running to the horizon.
– September – October is the season of ripe rice, at that time Sapa was like wearing a shiny yellow coat. You should go in the middle or the end of September because in October the terraced fields in many places have finished.
– December to February is very cold, can appear ice and sometimes snow. This is also the blooming season of cherry blossoms, azaleas …
III. Transportation to Sapa
If you are not in Hanoi but in the Central or the South want to go to Sapa, you can find flight tickets to Hanoi and then move from Hanoi to Sapa. Sa Pa town is only 38km from Lao Cai city and 376km from Hanoi. You can choose to take a passenger car or train.
To Sapa by passenger car
If you ride a bed, the price ranges from 230k – 280k / person / way. The bus departs from My Dinh bus station, Luong Yen or Gia Lam (Hanoi) to Sapa only 8 – 9 hours. Traveling by passenger car has the advantage of saving time, but in the rainy season it can be hindered by many bumpy passes from Lao Cai to Sapa. You can contact a number of garages such as Sapa Express, Queen Café, Hung Thanh, Sao Viet, …
To Sapa by train
Trains have a variety of chairs such as soft chairs, hard chairs, air-conditioned beds … Train running at 9 or 10 pm in Hanoi until the next morning will arrive at Sapa tourist destination. For seat type, there are 2 types of hard seat (about 150k / person) and soft seat (about 280k / person). For bed types, 6-person beds cost about 480k / pax, 4-person beds cost about 560k / pax and premium 2-person beds cost about 3,200k / pax (all come from Hanoi).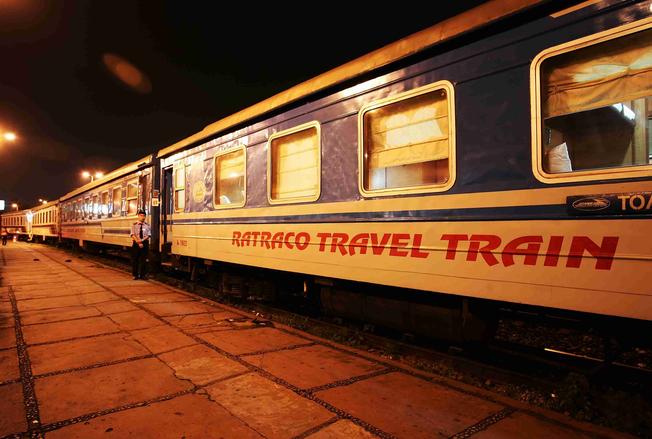 Travel Sapa by train
Sapa tourist destination is a place that attracts a lot of tourists both at home and abroad, so train agents and travel companies often "hug" all the beautiful seats, especially on weekends or high season. points, so to get a good seat on the train you need to pass an intermediary with a fee of 8 -10%.
And it is very important not to bring expensive computers or belongings while on the train because pickpocketing occurs a lot when the train compartment turns off the lights. You should keep your camera and phone carefully by your side.
Traveling to places in Sapa.
There are 4 ways to visit Sapa tourist attractions:
Option 1: To Sapa, rent a motorbike for about 120k / car / day (not including gas money), you can drive by yourself around the tourist attractions in Sapa.
Option 2: Rent a motorbike motorbike taxi to drive to some famous tourist destinations, only 100k for 4-5 tourist destinations in Sapa close to each other.
Option 3: You can book a Sapa tour of the service providers in Sapa. Or if you do not know, you can ask the hotel or local people to know more about this service.
Option 4: You can experience the feeling of self-discovery by trekking (walking) famous tourist destinations in Sapa.
IV. What to eat when traveling to Sapa?
Besides admiring the lyrical natural scenery of Sapa, do not forget to try the unique local dishes of this town. Vntrip.vn would like to introduce to you some of the following Sapa specialties that you should try once.
Salmon, fresh sturgeon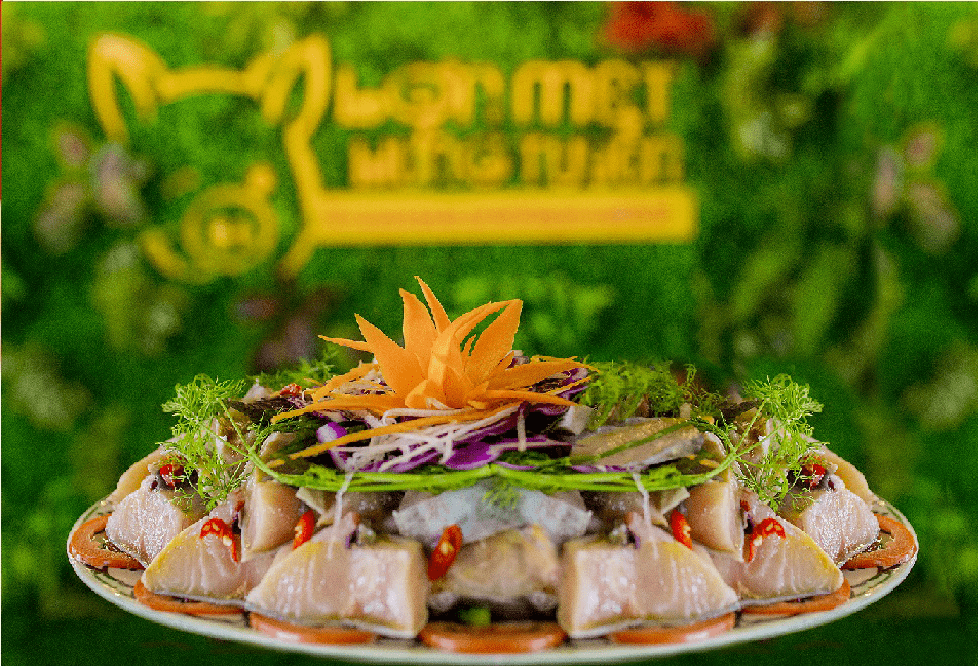 Salmon and sturgeon are Sapa specialties that both tourists and locals love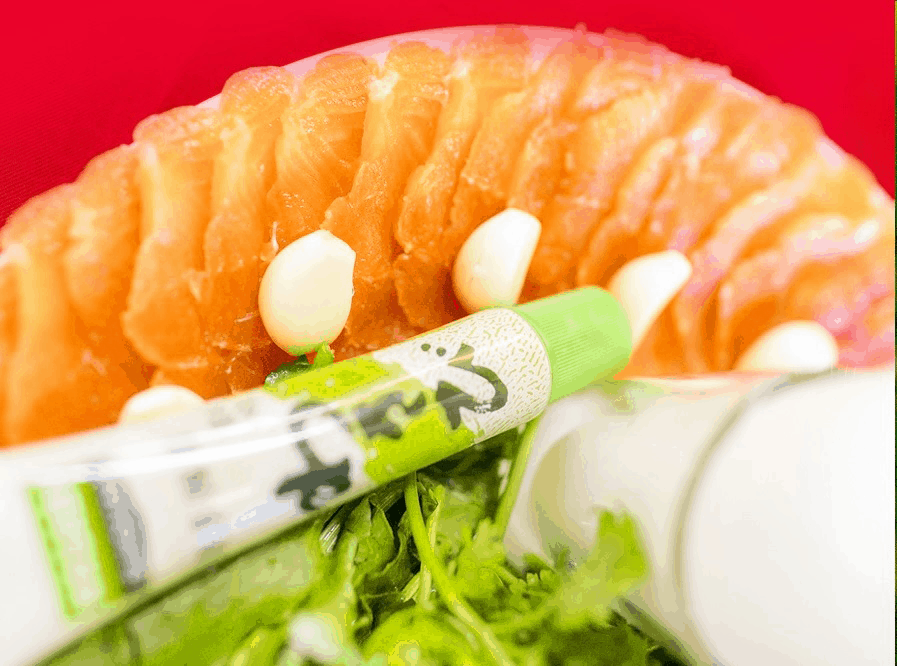 Come to SaPa, you can not miss this fresh salmon fish dish
Unlike imported salmon and sturgeon, the cold water fish raised in Sapa usually have firm meat, firm texture and no fat. How to cook salmon / sturgeon can be sliced ​​to mix with salad or to grill. What is in the cold air of Sapa, you sit and enjoy a hot pot of salmon / sturgeon hot with fresh vegetables.
Fresh vegetables in cold origin
Sapa is the land of vegetables typical of temperate regions such as cauliflower, broccoli, red ornamental tubers, chayote, .. Vegetables grown in Sapa have a special taste, sweet and attractive. The most famous vegetables in Sapa tourist destination are the boiled kohlrabi sesame seeds, sauteed cabbage, …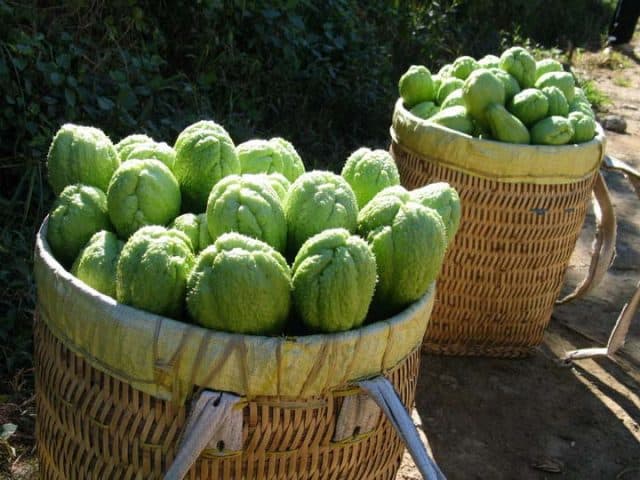 Su Sapa (Photo: ST)
Pigs steal armpits
Stolen pigs are the specialties of the Mong ethnic people. The pigs weighing only about 4-5kg were cleaned, marinated and left to roast or roast whole. "Pork stealing armpits" with 2 – 3 cups of Sapa cider, drinking through the night is still not boring.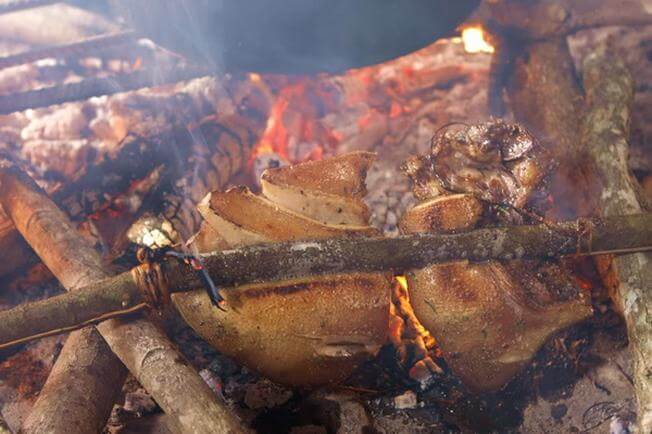 Pigs steal armpits a unique traditional dish only in Sapa (Photo collection)
Grilled specialties in SaPa
According to tourism experience, because of the cold climate, in Sapa, any dish is brought to grill from eggs, duck eggs, skewers, vegetables wrapped in meat, … all dishes are made by people. thought up by Sapa people.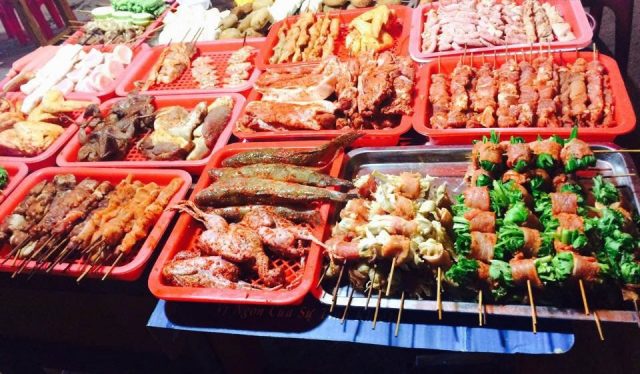 The delicious grilled skewers in Sapa (Photo: ST)
In the evening, at the stone church , the stalls selling barbecue are very attractive to tourists because the warm space and delicious dishes are very suitable for the cold weather of the mountain town.
Thắng try – unique dish
When listening to the winning specialty, many visitors will be surprised and surprised with this unique name. For the ethnic people, winning and trying to reward cooking with buffalo meat, beef, pork, … Good luck requires 27 different spices such as cinnamon, anise, herbs, … and wild vegetables. whether the second important thing wins.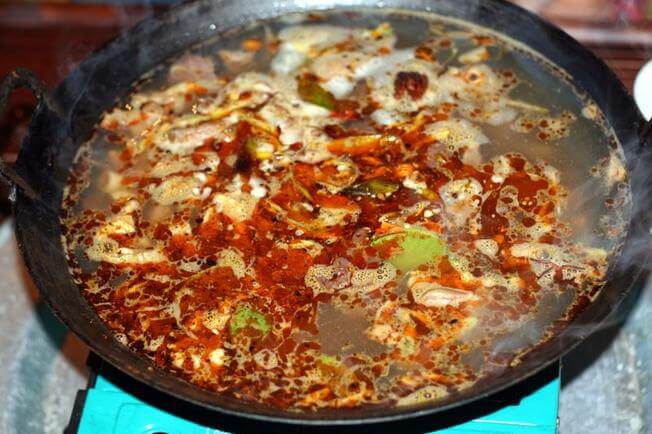 Winning the unique and strange food in Sapa tourist destination (Photo collection)
Grilled fish and mushrooms are unique in Sapa
There are many types of spring fish and it is worth mentioning that there is no fishy taste. Spring fish just cooked on charcoal and then eaten hot. Along with that unique spring fish dish, the shiitake mushroom – Sapa specialty also attracts many visitors when coming here. Only for 50k / 0.5kg you can buy as gifts for family and relatives. Dried mushrooms soaked in water, will expand but still retain the scent of the mountain soil, the taste of forest trees.
Invite you to see more: The delicacies in Sapa
V. Attractive Sapa tourist sites
Fansipan peak – the roof of Indochina
What is better than standing at an altitude of 3143m, stretching and breathing the high air, enjoying the feeling of touching the clouds and panoramic eyes down to the panorama of Sapa below.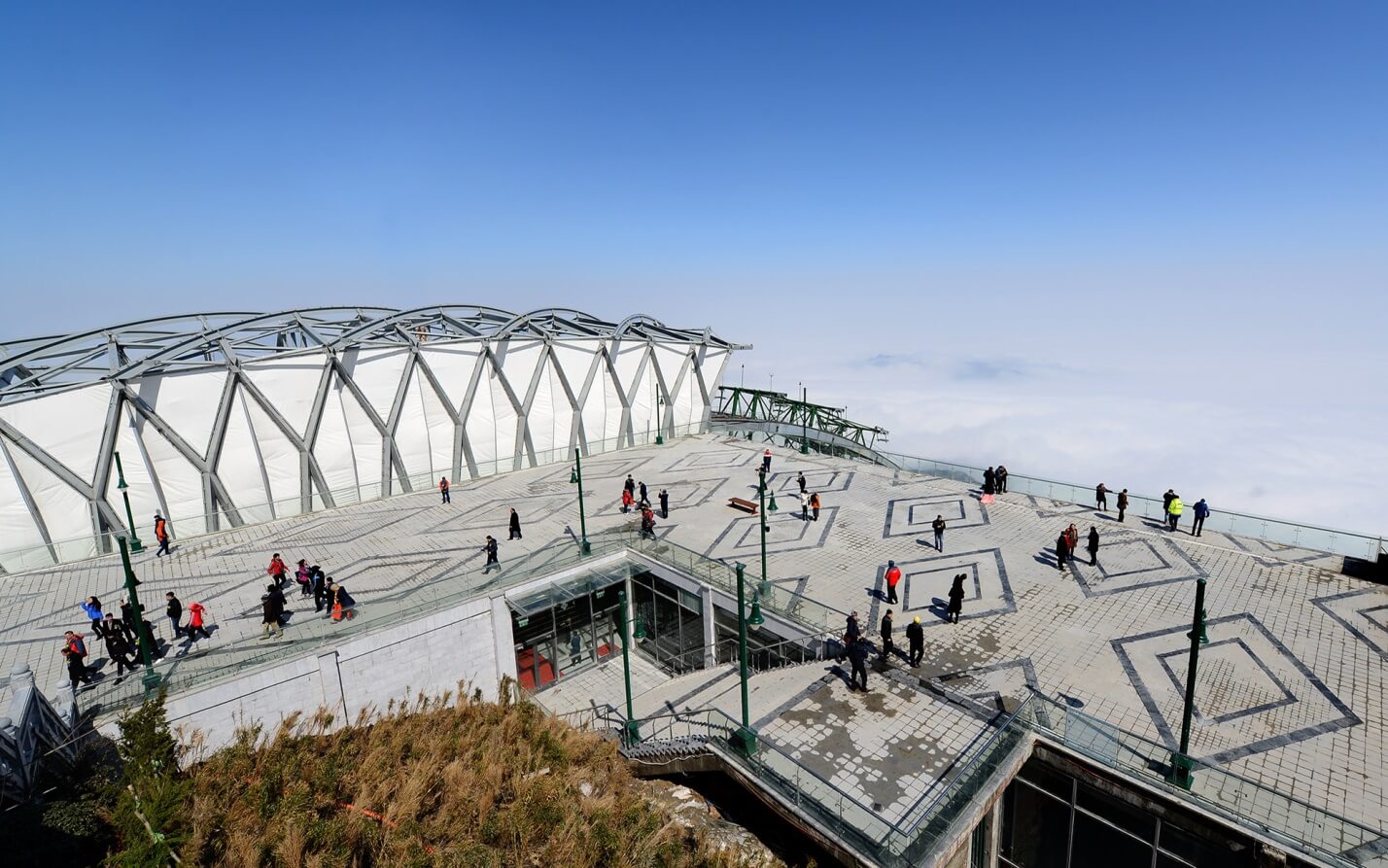 Seen from the station to an altitude of 3,000 m, the surrounding landscape is clouded, majestic (source of collection)
You can get that high-altitude experience thanks to the world's longest three-wire cable car system. Cable car ticket price 600k / round trip. Fansipan cable car has realized the dream of conquering "Roof of Indochina" for everyone with that wish.
Ham Rong mountain
Ham Rong Mountain is located right in the town center, with a ticket price of 70,000 VND / person. You can stay at the hotel near Ham Rong tourist area to enjoy panoramic views of Sapa, Muong Hoa valley, Ta Phin hidden in the smoke… On the way up the mountain, you will see a lot of colorful flowers blooming each other.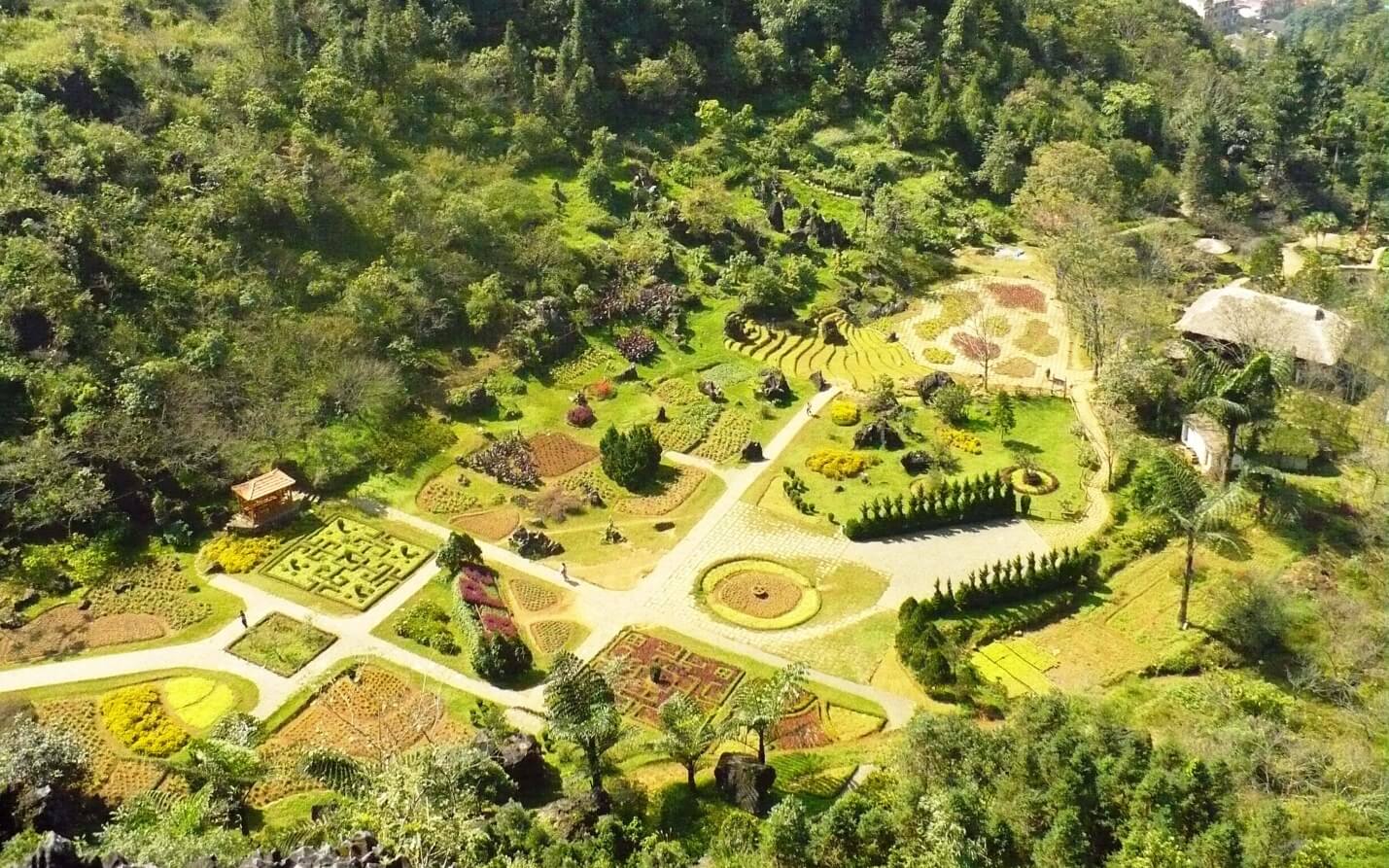 Looking down from Ham Rong mountain (source of collection)
The waterfall of love
Love Waterfall is about 12km from the town center, located on the way to the top of O Quy Ho Pass. Visiting one of the most beautiful waterfalls in Sapa, you will not only feel refreshed in the direction of the cool stream but also hear the legendary story of Love Falls. On the way through Love Falls, don't forget to visit the Silver Falls too!
The waterfall of love
Stone Church – Sapa tourist destination attracts tourists
Sapa stone church was built in 1895, this is considered an ancient work bearing the imprint of the intact French architecture in Sapa. Through many ups and downs, the church still stands there like a symbol of Sapa.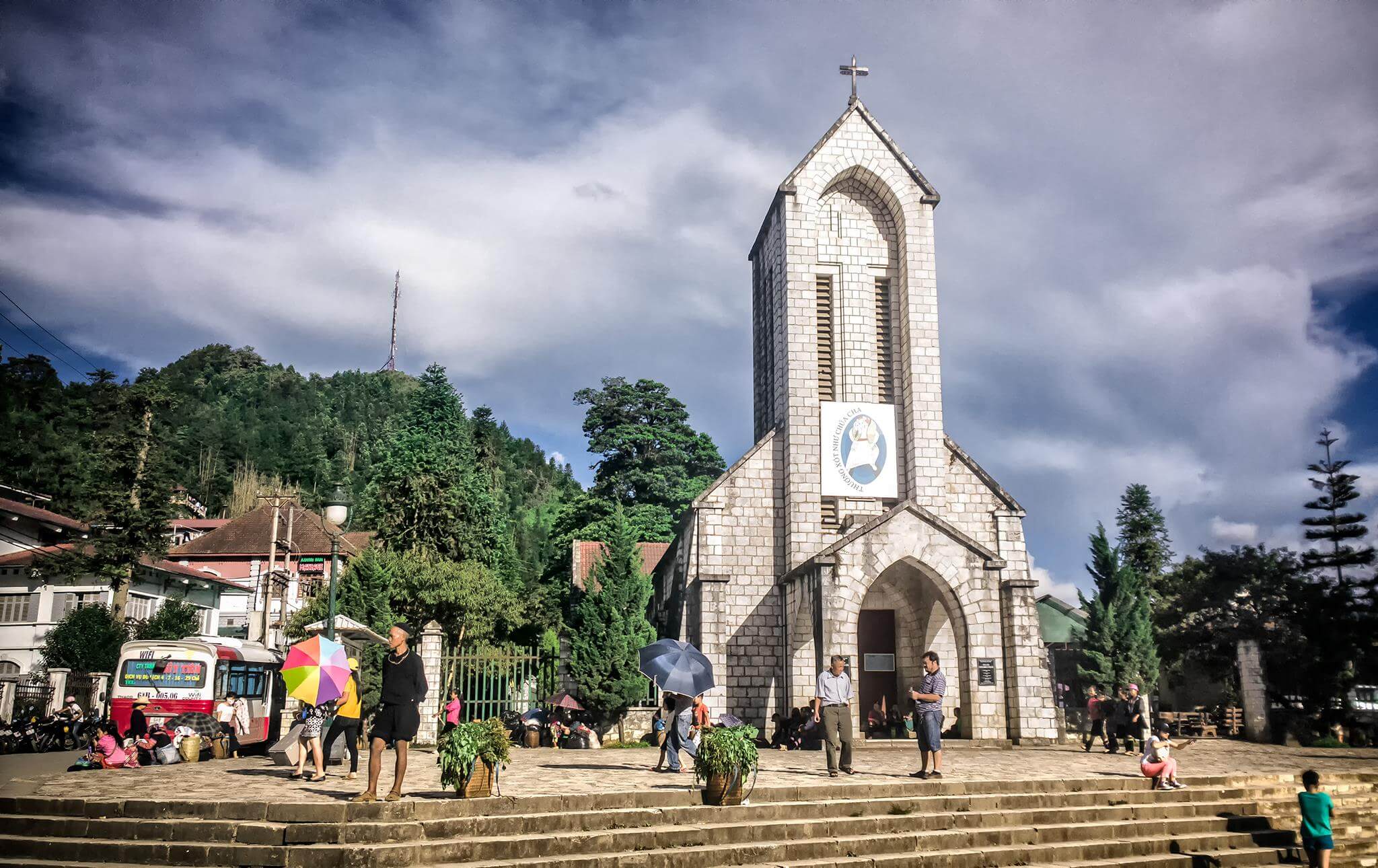 Sapa stone church is located right in the town center (source of collection)
In front of the church is the square, where the weekend performances are performed, on the sidewalk, is where the Dao and H'Mong women sit and sell brocade. You can find a rental hotel near the ancient stone church for the convenience of sightseeing and tourism such as:
Invite you to see more:  Sapa stone church: The symbol of the misty city
O Quy Ho Pass
One of the things you should do when coming to Sapa is to immerse yourself in the majesty and magnificence on O Quy Ho at sunset. You should come here at 17:30 to watch the sunset behind the mountains. Right there are restaurants, you can sit there while watching the sunset, enjoying blue rice, grilled pork kelp, and drinking hot sweet tea at the row of shops.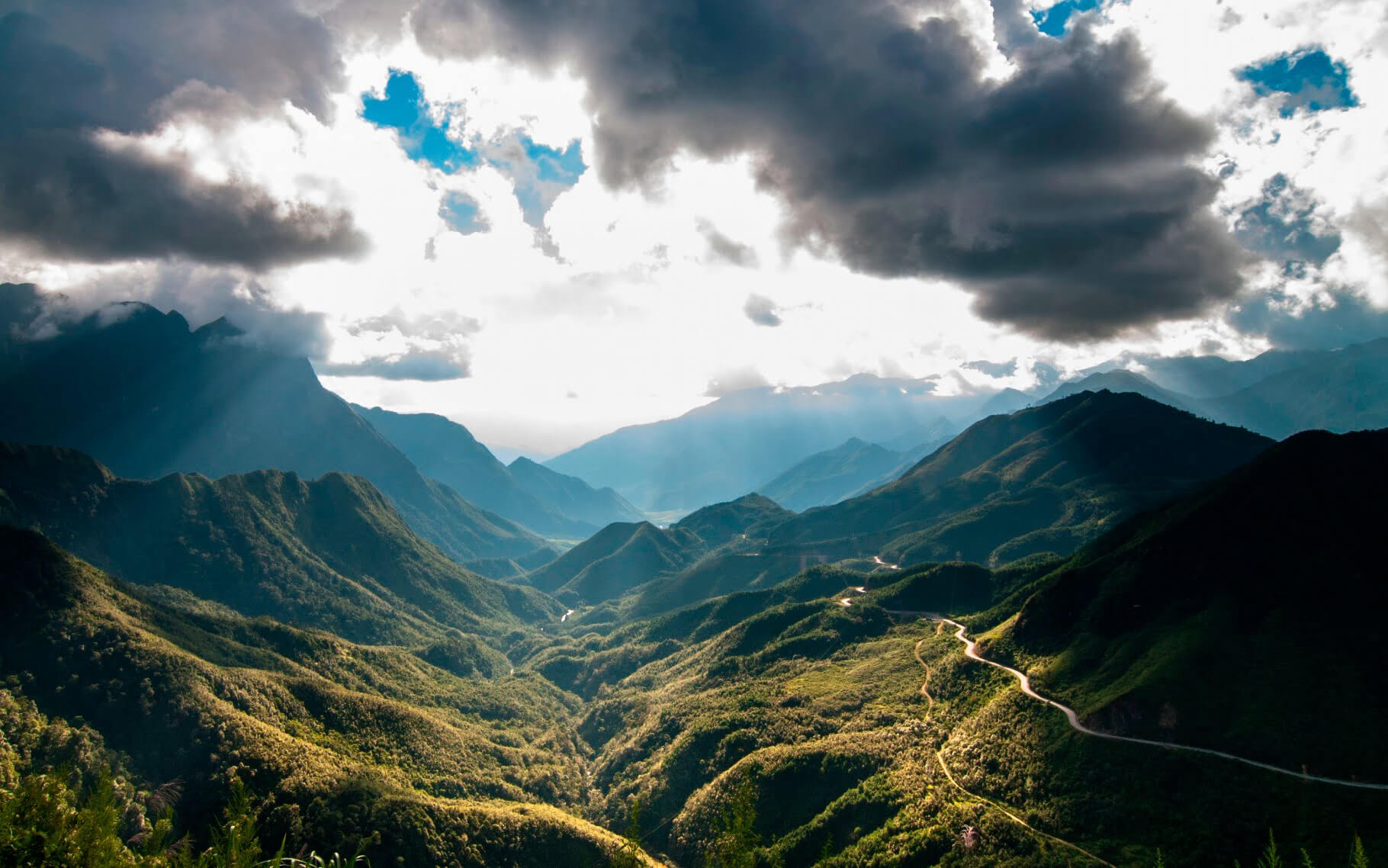 O Quy Ho Pass – one of the four great peaks of the North (source collection)
Please see more:  O Quy Ho Pass – a legendary road that challenges adventurous travelers
Ta Phin- village of the Red Dao
Ta Phin village is an interesting place you should not miss when traveling to Sapa. This is where the Red Dao people live. The Red Dao people in Ta Phin are famous for their herbal remedies for osteoarthritis pain. After giving birth, Red Dao women bathe with traditional tobacco for only a few days to go to the fields and fields. Children of Red Dao are also allowed to take a cigarette bath after giving birth.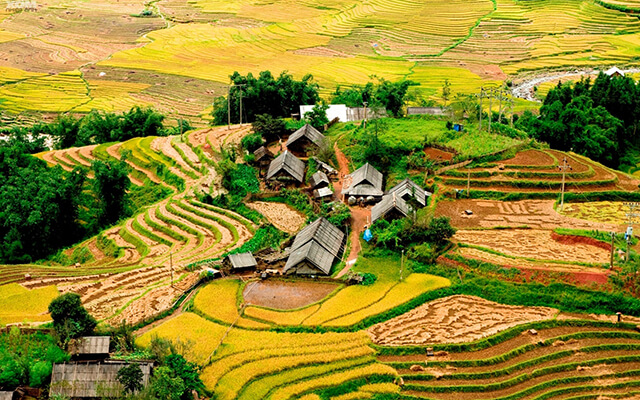 Ta Phin village viewed from above (source of collection)
Two experiences that cannot be ignored when coming to Ta Phin are visiting the dilapidated hospital and bathing the Dao people at hotels with these services or at the houses of Ta Phin.
Sapa ancient stone beach
Sapa ancient stone beach is located in the area of ​​Ta Van to Temple village, with more than 150 large rocks engraved with strange patterns and shapes. Scientists have yet to explain the meaning of the engraved shapes. Many people talk about the mystery of an ancient civilization, and some people also talk about the future prophecy. Currently, the pattern on the rock has faded a lot, but this is still an interesting place you can combine when visiting Lao Chai – Ta Van.
Ancient rocky beach with strange shape (source collection)
Lao Chai – Ta Van
Lao Chai – Ta Van is inhabited by ethnic minorities, the village is located about 7km from the center of Sapa town. From the center of Sapa town, you go along Cau May street, then turn to Muong Hoa street to reach a peaceful place – the residence of the native Mong, Dao, Giay, Tay … ethnic groups.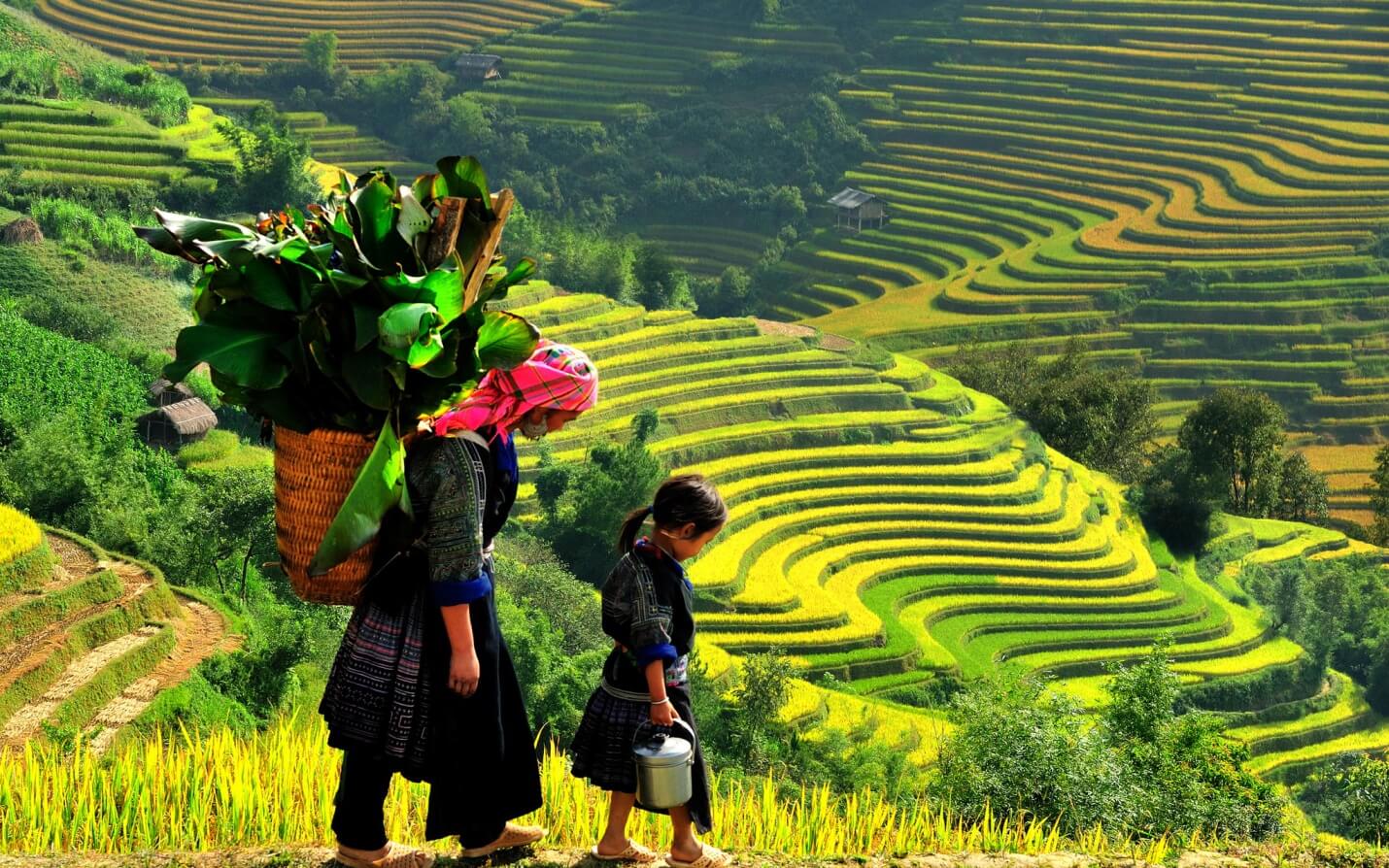 Lao Chai village – Ta Van (source: sinhcafe)
The village has a full range of modern amenities but indigenous people still retain the traditional culture and lifestyle. That is also the attraction of domestic and foreign tourists.
cat Cat village
From the center of Sapa town, follow the road towards Fanxipan mountain about 2km, visitors will come to Cat Cat village (San Sa Ho commune, Sa Pa district, Lao Cai province). Located at the foot of Hoang Lien Son mountain range, amidst clouds of wind and mountains, Cat Cat is an ideal ecotourism destination for visitors who want to learn and explore the cultural life of people in the Northwest.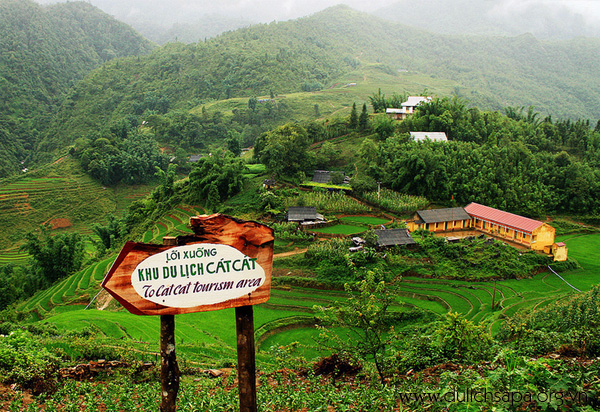 Cat Cat tourist area (source dulichsapa.org.vn)
What's delicious in Sapa?
In addition to the mesmerizing sights, Sapa also has many other pleasures to hold visitors. Enjoying Sapa Specialties is such an experience. If you do not know what to eat when traveling to Sapa , you can try the following dishes:
Salmon Sapa
Sapa salmon hotpot
Thinking of the Northwest mountain forest, you will probably immediately think of rice, chicken or spring fish, right? However, the first dish we introduce is not the familiar specialties, but it is Sapa Salmon. Sapa salmon is strong, fragrant, sweet, not fat at all, and can be processed into many dishes. In the middle of the cold weather, enjoying a hot pot of salmon or raw salmon salad is really satisfying, isn't it? In addition to salmon, Sapa sturgeon salad is also a suggestion for those who love seafood! A recommended restaurant for salmon hot pot is Hoa Dao restaurant at 48 Le Van Tam, Sapa.
Corn cake
Sapa corn cake
Sapa cornbread is also known as "Pa Pa Cu", made from pureed young corn, pelleted into a cake and then baked on a hot pan or wrapped in a banana leaf and steamed. When eating can add a little sugar. This is a traditional dish of the Sapa ethnic people every time they go to the forest, go to the field or eat in their daily family meal. This cake is sold a lot in the Sapa market. You can sample it while wandering around the view of this 'cloudy town'.
Thang Co Sapa
Thang Co Sapa
If you have ever been to Ha Giang or a certain mountainous region of northern Vietnam, you may have experienced Thang Co – a delicious dish on a frozen day. However, each region has its own way of marinating and processing. Thang Co Sapa is marinated with 27 different spices, eaten with wild vegetables, creating a 'delicious taste from meat, sweet from bones', fat, fragrant, remembering once eaten. In particular, in the midst of winter, when eating Thang Co and sipping with a bowl of corn wine, 'this world is nothing better'.
Com lam
Com lam (Source: Ha Truong)
Although it seems quite familiar, this is still a dish in Sapa that visitors often tell each other 'going to the forest is to eat blue rice'. Sitting at a roadside restaurant or in the market, the weather is cold, eating a tube of fragrant blue rice with grilled fish, grilled pork or a little sesame salt is enough to feel all the flavors of the mountain.
Pigs steal armpits
Pigs stir-fried underarms
Stolen pigs are simply pigs that are raised freely by the H'Mong people, only about 5 – 6kg small, enough to be sold by armpits, so they are called stolen armpits. Although small, this breed has a very fragrant and firm meat. The dishes with stolen armpit pigs do not need elaborate processing. It might be delicious just to stir-fry, roast whole or roast over embers. The ripe meat is fragrant with embers, sweet and soft, can be sipped with a little cider, captivating tourists traveling to Sapa .

What does Sapa tourism buy as a gift?
In addition to the specialties of Sapa eaten directly in this highland, Sapa tour visitors also want to buy dishes and souvenirs that can be brought down to family, friends or just for themselves. use. Here are some suggestions to help you make your choice easier.
Khang Gai dried meat
Khang Gai dried meat
In the highlands, there is often a popular dish is kitchen guard. Kitchen smoke will heat, dry the meat, can be stored for five months. The same is true for Khang Gai. Meat can be made from buffalo meat, beef, pig, deer, … marinated with specific spices in Sapa mountains. When eating, take the brush off the carbon black layer, sauté it with bamboo shoots, tomatoes or to eat.
Cat apple, Sapa tiger hook
Grab the Sapa tiger
In the autumn, around August – October, Sapa tour visitors from Hanoi bustlingly bring each bag, each bucket of cat apple, and a tiger (Sapa pear) downstream. Cat apple is a bit acrid, not only delicious but also a valuable medicine to help lower blood pressure. All visitors to Sapa want to bring cat apples to brew themselves or buy Sapa specialty cider .
September is the season of tigers, also known as Sapa pear. This pear is small, has a rough shell, has a mild sour taste, which is very suitable for tourists to eat and play on their Sapa journey.
Bamboo shoots Sapa
Specialties Bamboo Shoots Sapa
Fresh bamboo shoots, pickled bamboo shoots or dried bamboo shoots … are all upland specialties that you can bring to your loved ones. Freshly fermented bamboo shoots have a sour, crunchy taste that can be cooked with fish, meat or served with pho or noodles. Dried bamboo shoots are a bit bitter, but soaked, washed and processed will have a sweet taste. Can boil fish sauce, stir-fry or cook meat.
Sapa forest chestnuts
Sapa forest chestnuts
Traveling around Sapa town, you can find shiny brown chestnuts in any corner. Chestnuts can be boiled and then roasted. When eating, you will feel the sweet, fleshy taste of the chestnut kernel. People in Sapa also crushed chestnuts into bread instead of green bean flour.
Sapa wine
Sapa Wine
The gifts brought to the 'men and women' are probably Sapa wine. There are two most famous types of wine here are cat cider and San Lung wine. Cat apple cider is fragrant, with the characteristic sweet taste of this fruit. San Lung wine is brewed with yeast that only generations of the Red Dao can be passed down. You can buy these wines or go to San Lung village to enjoy and buy the best San Lung wine.
Sapa brocade fabric
Colorful brocade stalls at Sapa fair
In addition to the dishes, colorful brocade fabric in Sapa is also the top gift attracting tourists to tour Sapa at home and abroad. Foreign visitors to Sapa will often like to 'dress' brocade clothes, baloo or bags, while domestic customers often prefer to buy blanket covers, carpets or brocade fabric for sofa.
Above are the experiences to go to the season, how to go to Sapa, the most desirable places in this vast forest, or what to eat, what to buy as gifts. Just need to pocket much, your Sapa trip will be less difficult and more embarrassing!
VII. Hotel in Sapa
Top 10 most famous hotels in Sapa with beautiful "view"