Traveling to Sea 2021❤️  is the choice of many tourists during the summer holidays, especially during hot and hot periods. In Vietnam, there are many beautiful beaches in the famous tourist area, but for the people in the North, the beach is both bustling and can be enjoyed while being just a moderate distance from the center of Hanoi. it is impossible not to mention Sam Son Thanh Hoa beach.
With a length of about 6km from Cua Lach to the foot of Truong Le mountain , the beautiful Sam Son beach , clean, comfortable coast and moderate salt is the ideal choice for tourists in the summer to go swimming Sam Son. if there is not much time.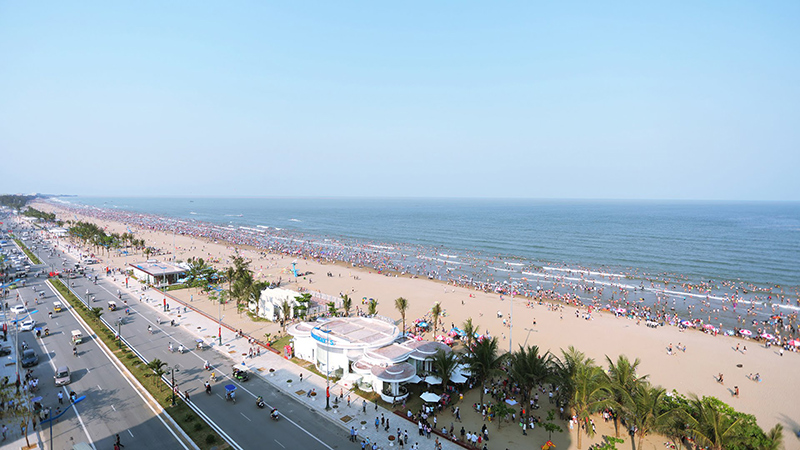 Beautiful image of Sam Son beach – Thanh Hoa from above😃❣️
Of course, wherever we go, we also need to be equipped with basic experience in advance so that we cannot help but be surprised or have unexpected unfortunate incidents that may occur. With many years of experience in organizing tours to Sam Son, Vinlove will share valuable experiences for you to prepare for a trip to Sam Son from today!
Full details for a trip to Sam Son – Thanh Hoa from A to Z.
1. When should you go to Sam Son?
Most people travel to Sam Son by themselves to swim, so the best time to come here is from May to August. However, this is also the peak season, so the number of tourists is very crowded and the price of services. It is also quite tall, especially on the weekends, so if you can arrange your time, you should choose midweek for the most comfortable trip.
In order to comfortably immerse yourself in the cool seawater, participate fully in fun activities as well as ensure all the attractions in Sam Son, you should go for a period of 3 days 2 nights.
2. What to prepare for the tour of Sam Son Thanh Hoa
Like other beach destinations, when coming to Sam Son, you should prepare all the necessary items such as:
Beaches such as clothes, shoes, bags, dance, should prepare loose and cool clothes, flip flops, good shoes to change shoes when walking … and especially do not forget to bring sunscreen Please.
Should bring raincoats, umbrellas because it can rain or the sun is too heavy.
Should prepare large towels to shade the sun, lying at the beach, sunglasses
Prepare a small amount of starchy foods to avoid hunger when traveling a lot
And especially a little cash, a bank card to prevent incidents or personal needs
3. How to go to Sam Son by vehicle or vehicle?
There are two easiest ways to go to Sam Son: bus or train! If you want to go on a motorbike ride, it's ok. 170km from Hanoi to Sam Son, if riding a motorbike in the summer is also a bit tired so it is best to ride a bus or train is safest.
How does the passenger car go?
If you choose a bus, you should book a bus to Sam Son straight so it will be more convenient, it does not take many stages, so ask the bus carefully so that if it comes to Thanh Hoa city, you will lose the effort to catch a taxi or motorbike taxi. Sam Son beach offline. Currently, bus to Thanh Hoa from Hanoi is mainly concentrated at Giap Bat bus, Nuoc Ngam bus station, but you should contact first to have a comfortable bed. The time for the bus to Sam Son is about 3-4 hours, the fare is from 80 – 130k / person.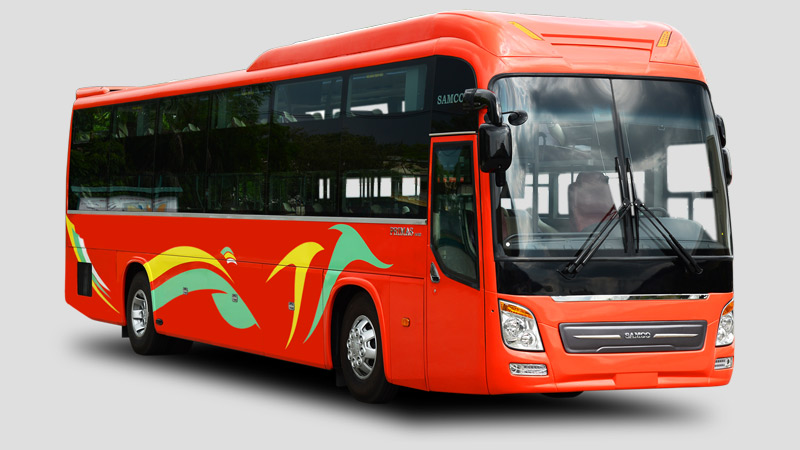 Should choose a high quality passenger car to Sam Son
Some passenger cars to Sam Son from Hanoi, you can refer to:
Hai Hanh coach station: + Hanoi – Sam Son: 7:00, 8:30, 13:00, 15:00, 17:00 + Sam Son – Hanoi: 2:30, 5:00 a.m., 8:40, 11:00, 13:00 + Phone: 0912.085.560
Thang Thanh Car House + Hanoi – Sam Son: 7:30, 11:30, 14h10, 16h00 + Sam Son – Hanoi: 3:10, 6:50, 9h10, 11:30 + Phone: 0975 070 555
For families, Khat Vong Viet recommends renting a private car to have the most comfortable moments. You just need to go straight along QL1A to Thanh Hoa
Go by train:
At Hanoi station or Long Bien station, there are always trains with tickets from 70,000 to 150,000 VND (depending on seats) for you. However, the downside of taking the train is that the train only stops at Thanh Hoa station, then you have to continue to take a bus or taxi to go to Sam Son beach . You can easily see the bus station right in front of Thanh Hoa station, with a ticket price of 10,000 VND / time, there is 1 trip every 10 – 15 minutes.
Booking train tickets is now quite simple and convenient, you can book train tickets online and pay online like the plane, get the ticket code and get on the train on time, the train ticket booking website, you just go to the website Vietnam Railway Corporation: http://dsvn.vn/ , select departure point, destination, type of chair, bed, time is finished. If you are not proficient in online payment, you just go straight to Hanoi station to book.
Regulations on passenger ticket exchange and refund:

– To combat negativity and speculation on Tet train tickets, the railway industry applies a deduction for ticket payment and ticket exchange of 30% for train tickets within the following period:

+ From January 25, 2019 to the end of February 7, 2019, for even-numbered trains;

+ From February 8, 2019 to the end of February 20, 2019, for odd-numbered ships;

+ From January 29, 2019 to the end of February 3, 2019, for odd-numbered trains with departure stations from Hanoi stations, with stations from Phu Ly stations to Dong Hoi stations;

+ From February 8, 2019 to the end of February 14, 2019 for even-number trains with stations from Dong Hoi stations to Phu Ly stations and the arrival station is Hanoi station.

+ The latest time for ticket exchange and return is 10 hours before the train runs for individual tickets, 24 hours before for group tickets.

– In addition to the time mentioned above, apply the applicable fare exchange and refund deduction (usually 10% of the fare). According to DSVN.VN
4. Hotels, motels in Sam Son beach
It is true that wherever going, going to tourist destinations, especially holidays, summer, room fires, especially high ticket prices are inevitable, Sam Son or elsewhere is no exception. So one is to book early, the other is to book on the first day of the week. If the prepayment is made to reserve the room, the better.
The hotel, you can choose in the area of ​​Xuan Huong Street, with a beautiful view, overlooking the sea, cool breeze, but the room price at these hotels is quite high. You can choose the hotels in the back, better prices and most of them are new hotels, so modern amenities, cleaner rooms than some hotels on Xuan Huong Street. If you want to move continuously through A, B, C beaches in Sam Son, you should choose a hotel in the area near beach A or some motels in beach C. If you want to save on hotel rooms then You can also choose the odd tours organized by Khat Vong Viet company, with many years of cooperation in Sam Son, the hotels will have more preferential prices.
Or you can view the details of hotels and reservations at Agoda: Here is a   list of nearly 50 hotels in Sam Son that will help you answer the question of which hotel should Sam Son go to? (Check carefully the reviews of customers who have used the service there to book)
Here are some hotels in Sam Son to you to take survey
– Golden Sea Hotel – 2 stars – No. 24 Le Van Huu Street: officially put into operation in June 2015, including 7 floors with 40 clean and airy rooms.
– Dai Nam Hotel – 2 stars – No. 12 Le Van Huu street: The hotel is built according to modern architecture with a total of 7 floors, including 55 rooms with full amenities
– 69 – 2 star hotel – Nguyen Thi Loi Street: The hotel is located about 50m from Bai C, with a total of 36 modern and clean comfortable rooms.
– Crown Hotel – 3 stars – Bai B, No. 5 Tay Son street: Invested and put into use since April 2015 with 7 floors, total 40 rooms.
– Dien Luc Hotel – 3 stars – Bai C, Ho Xuan Huong street: Dien Luc Hotel is built according to modern architecture, most of the rooms are facing the sea with 03 mechanical bridges and 89 luxurious rooms. full facilities.
– Ngan Ha Hotel – 3 stars – Bai B, No. 55 Ho Xuan Huong Street: The hotel has been in operation since 2014, with 11 floors including 94 comfortable and modern rooms.
– Resort FLC – Ho Xuan Huong Street: The resort consists of 70 rooms in bungalows and villas with simple design bringing the best feeling of relaxation with generous space right next to the beach. The accompanying 5-star services include: full-service spa, link golf course, restaurant serving breakfast at any time, anywhere in the FLC Samson Beach & Golf Resort complex.
You should actively contact in advance to book a hotel, pay attention to hotel amenities rather than the appearance of the hotel.
5. Besides swimming, what can Sam Son play?
In addition to swimming at beaches A, B, C of Sam Son beach, you can visit to explore some other tourist attractions as follows:
76m above the sandy sea surface, Truong Le mountain with steep and majestic cliffs. Here you can also visit Doc Cuoc Temple, Co Tien, To Hien Thanh. Some surviving foundations of French villas built in the early 20th century.
Hon Trong Mai relic in Sam Son, Thanh Hoa was created from rock formations, amazing and beautiful shapes. This is also a relic associated with a legend of a loyal love. It has the shape of 3 big rocks standing on top of each other, the big one below is flat as big as a pedestal. Above is a large, pointed rock that looks like a picture of a rooster, opposite is a smaller rock shaped like the main hen so it is called Hon Trong Mai. You should visit this point when coming to Sam Son.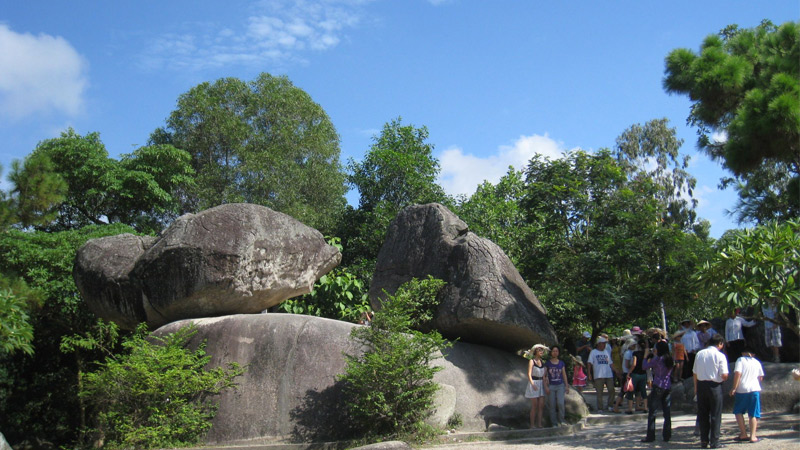 Ruins of Hon Trong Mai
The temple is located on the top of Co Giai mountain, in the Truong Le range, associated with the legend of a giant who split his body in two to both fight sea demons at sea and inland to save villagers. To commemorate his great merit, people built his temple right next to the rock with a giant footprint, which is said to be his foot.
It was built on top of Dau Voi island at the end of Truong Le mountain range to the southwest during the Ly period in the style of ancient architecture. Through many ups and downs of time, the temple has been repaired many times but still retains the ancient features
In Sam Son, you can also experience more games, thrills right on the beach. This amusement park is located on the main road of Nguyen Du, near the campus at Sam Son market, combining swimming and playing, it feels great.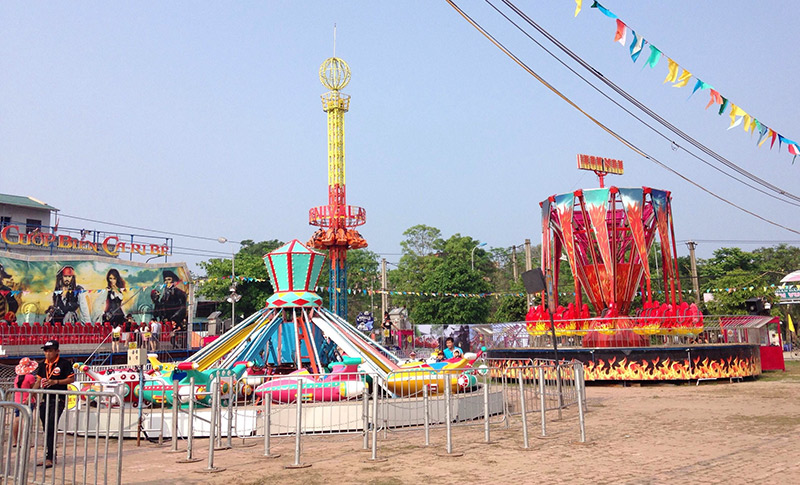 Amusement park at Sam Son beach – Sam Son tourist area today has many entertainment services
Fun places in Sam Son
Some games such as roller coaster, horseback riding, electric car driving, Spiderman, Ironman, Pirates of the Caribbean, Apolo are extremely popular with young people. If you like thrills then play this game, great!
Besides the above places, visitors can combine Sam Son tourism and explore other attractive destinations in Thanh Hoa such as: Cam Luong god fish stream, Tu Thuc cave, Nha Ho citadel, … Play fish market in Sam Son with 2 main markets (internal and external), but you should go to the inner market if you intend to buy seafood as a gift. The inner market has a lot of fresh seafood, but the prices are also much cheaper than seafood agents.
6. What to eat in Sam Son?
Experience eating in Sam Son
The experience of walking in the past years, many tourists feared, especially the scene of chopping up at eating places and restaurants. However, recently with the strong participation of the local government, the eating and drinking places have also changed the habit of snatching business. Eating outside the hotel you can also enjoy attractive seafood at the restaurants. In addition, there are some famous specialties of Sam Son as well as of Thanh Hoa you cannot ignore such as:
The famous Vietnamese spring rolls dish of Thanh has become an indispensable taste of tourists when traveling in Sam Son. The sour spring rolls with the spicy, sweet taste of garlic chili create a very different flavor compared to other places.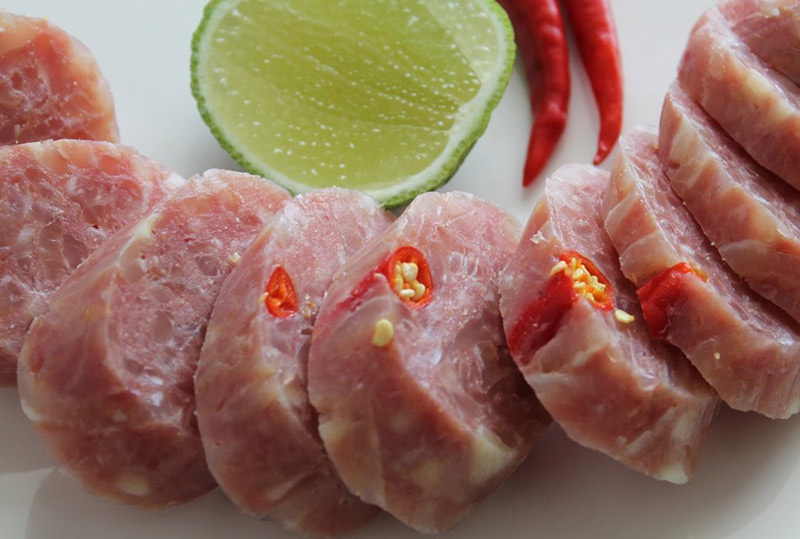 Nem chua is a specialty not to be missed when coming to Thanh Hoa
If you do not have the conditions to come to Nghe country to enjoy eel porridge, there are many shops selling eel porridge in Thanh origin. The porridge does not match the thick but delicious, sweet taste of the eel that will make you ecstatic.
In Sam Son, there is a famous dish that is fish salad, if you come here you do not enjoy it, it is a pity, fish made salad is made from fish with less bones, fresh, fish weighing 3-5kg, Fish is marinated with many spices such as lemon, sugar, chili garlic … And especially fish salad can not lack a special sauce made from skin, fish liver, bacon, dried garlic, batch …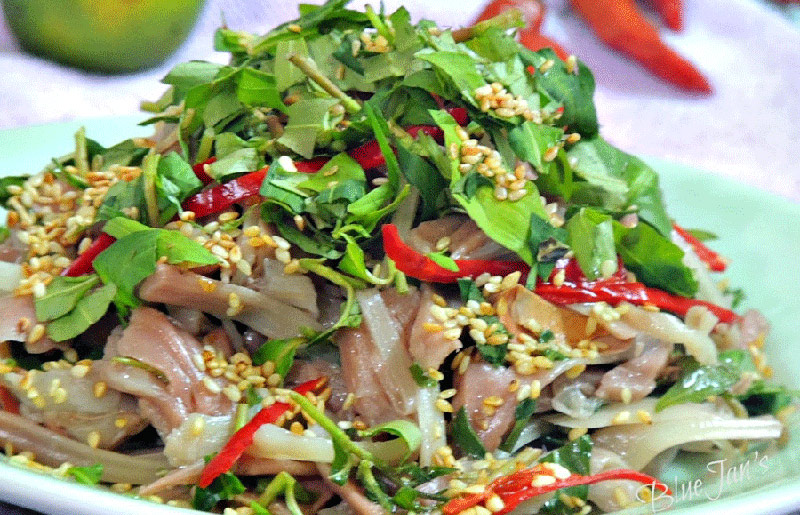 Sam Son's special fish salad
Grilled blood cockles with onion oil
The blood cockles at Sam Son are very fatty and delicious, enjoying the blood cockles on the charcoal stove, and great with lemon salt.
7. What to buy gifts when going to Sam Son
If you want to buy gifts at Sam Son, first of all you can choose to buy seafood at Sam Son market, then you can visit the souvenir stalls at Column Do market, Chua market, Cho Don market, souvenirs at the street. Le Loi, Tay Son, Ho Xuan Huong Street … Sam Son is famous for its expensive services and cutting, sometimes it is difficult to avoid losing money injustice, so you should consult, ask carefully before buying. thing.
8. Some important notes to avoid being cut down when traveling to Sam Son
– On Sam Son beach, there are often very beautiful sand castles of photographers. If you stand by to take pictures, they will ask for a lot of money. If you want to take a photo, ask first, then only pay 5,000-10,000 VND for one type of photo.
– If you want to rent a tram to go to attractions such as Trong Mai island, Doc Cuoc temple, … remember to ask the price before getting on the bus. If not, you will most likely pay a "heavenly" price upon arrival.
– When traveling by sea, of course, buying seafood as a gift is inevitable, but do not forget to ask and pay the price before buying to avoid having to buy seafood at "exorbitant" prices. At the same time, it is not advisable to ask taxis or trams to take to seafood stores because they often eat the percentage of the store, so the price will be higher, sometimes up to 20%.
– If you have memorized all the above "tips" and still have been cut, call immediately phone number 0913.568.937. This is the phone number personally owned by the Chairman and Vice Chairman of TX.Sam Son to handle the negative in tourism activities, especially the guillotine cases and forced guests. Before coming to Sam Son, please "take" this phone number ready, in case unfortunate cases occur.
Sam Son is an ideal destination in the summer, but the phenomenon of "cutting and cutting" here is quite the beach, so be a smart tourist to protect yourself.
9. Sam Son tourism is nothing good
General assessment: Sam Son is a quite familiar tourist destination for tourists in the North, especially Hanoi. Moving to Sam Son does not take too much time, the beach is beautiful, there are some other entertainment attractions. It is an ideal tourist destination, a relatively good resort for tourists. The above information will be afully detailed Sam Son travel experiencefor you.
Hopefully, this article will help you have a fun and rewarding Sam Son tour!
Photo: internet