Selling more than 100kg of vermicelli a day, after only a few years selling Nam Bo vermicelli, Mrs. Thuy bought land and bought a house in Hanoi Old Quarter.
The restaurant selling vermicelli and noodles with large signs and large sidewalks with people sitting, located on Khuc Thua Du Street (Cau Giay, Hanoi) attracts customers with its candid noodles, Chinese noodle soup, and Rieu noodle The Southern region is strange.
The owner is Ms. Ha Ngoc Thanh Thuy, known by patrons, with the nickname "Two Fat" and "Tu Fat". Previously, Mrs. Thuy was remembered by diners when selling Nam Bo vermicelli on Hang Bong Street.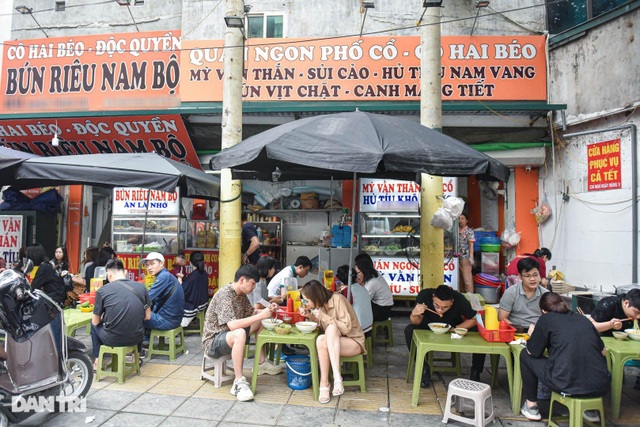 For the past four years, Ms. Thuy has sold a house in Hang Bong street, bought a house in Khuc Thua Du street, opened to sell frank noodles and noodles according to the standard Chinese formula.
"My father-in-law is Mr. Crocodile Diep Anh, nicknamed Ly Sang, is Chinese. Since the subsidy period, he has been selling roasted birds, ba ba ba and frank noodles on Ta Hien street. I died, but I was passed on by my husband's family to make a standard Chinese noodle dish ", Mrs. Thuy shared warmly.
In particular, the noodles (Wonton wonton) is a Chinese dish that is quite familiar to the people of Ha Thanh. With a variation to suit Vietnamese tastes, this dish gradually becomes famous and attracts many people.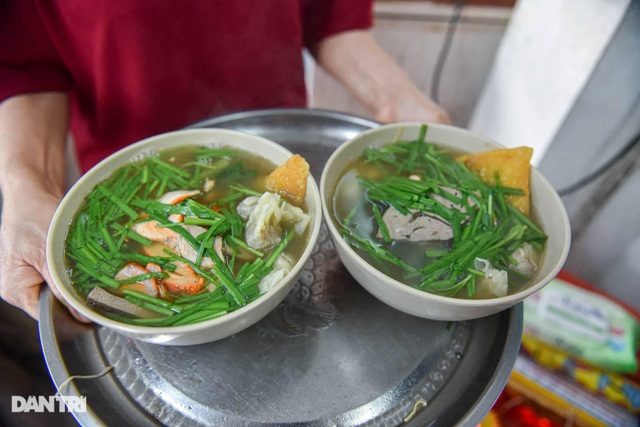 Noodles are dishes processed into many different styles, from water-based, dry, crispy to stir-fried, and soup-style … each dish has its own unique flavor.
According to Ms. Thuy, in order to make the success of these two dishes, the pot of broth is the most important, including: Peanut worms, shrimp shells, wild mushrooms, broth, pork bones, a little cane sugar, gia taste.
The owner of the U60 shared: "The most important thing is that the peanut worm, I have to order the devotee from Nha Trang, Khanh Hoa. Only in Nha Trang is there available a little sand, priced at 3-4 million VND / 1. kg. For each pot of broth, I give 3-4 ounces of peanut worms.
Ms. Thuy followed the recipe left by her father-in-law, so right from the first days of opening the restaurant, she did not have to adjust, cook over and over again, but won the hearts of customers.
Noodles and rice noodles Ms. Thuy made a pot of broth. Each bowl of noodles includes: Egg noodles, steamed dumpling, fried dumplings, boiled liver, rich char siu meat, boiled egg pieces, vegetables and some chives. Comes with it is a bowl of broth that is simmered, clear and has a characteristic sweet taste.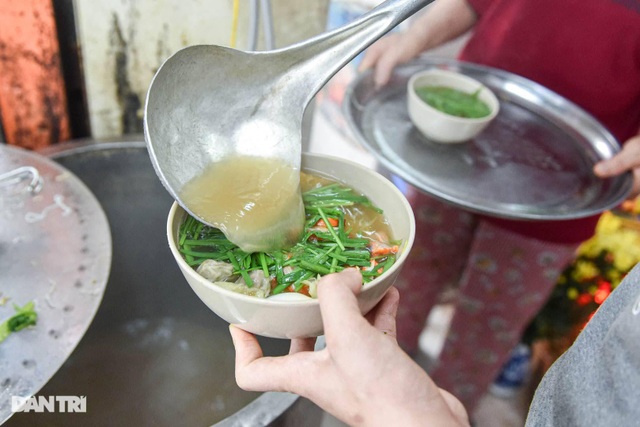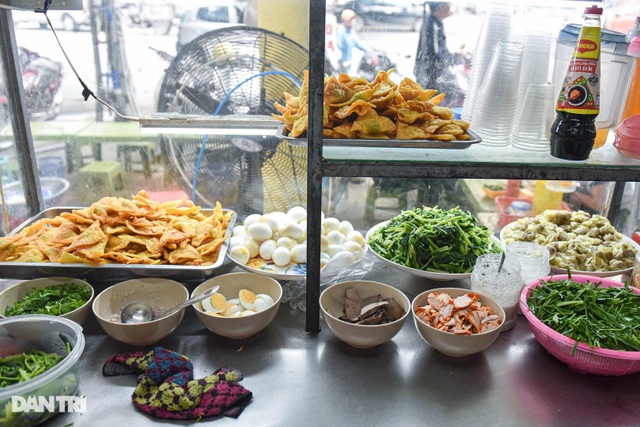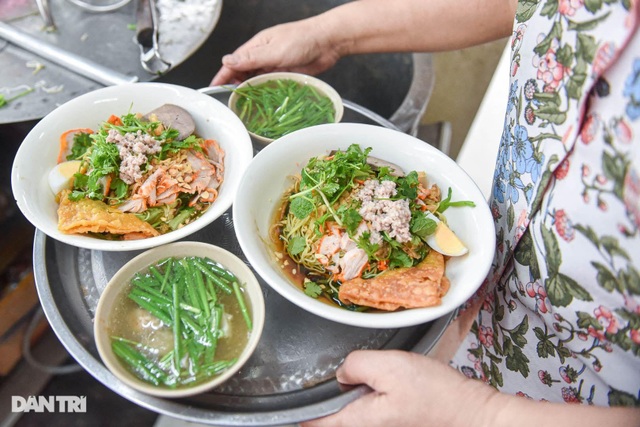 After preparing all the ingredients, ready to open the door to welcome guests, Ms. Thuy stood on the sidewalk instructing the staff, inviting guests, arranging seats, receiving orders from customers, collecting money, arranging vehicles. The remaining jobs are done by daughter-in-law and a number of maids.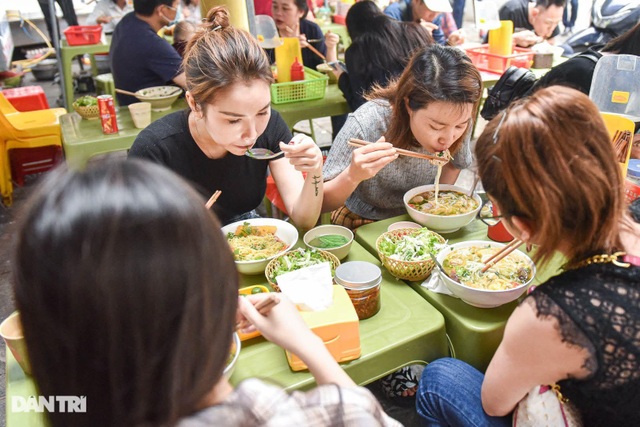 Having lived in the South for 11 years, Ms. Thuy was passed down by an aunt to the job of cooking vermicelli. The way to prepare these dishes is very elaborate, but she has more than ten years of experience selling this dish on Hang Bong street, so Ms. Thuy is very confident in her skills.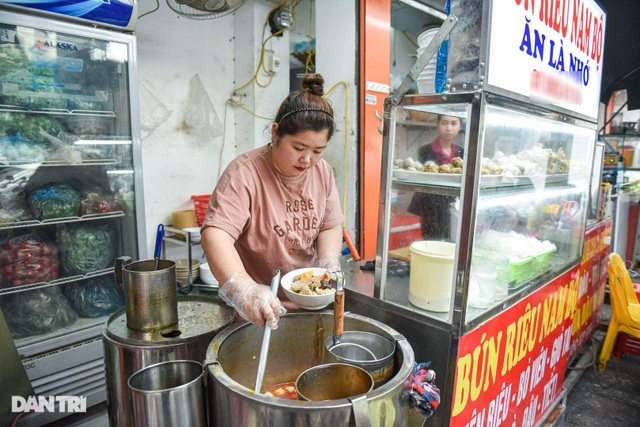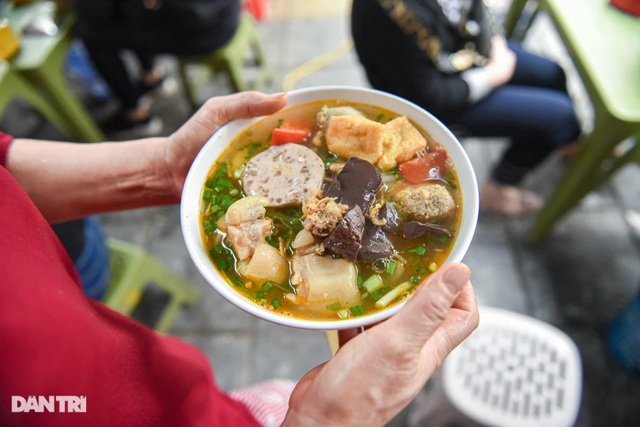 The shop is open for sale from 6 am to 21 pm. Every day, selling 400-500 bowls of noodles, noodles, and all kinds of noodles. Ms. Thuy admitted that from the pot of vermicelli, she bought land and bought a house on Hanoi's Old Quarter, but then had to sell it because of the changing needs of living and business. Follow Dân trí