Travel experience Nha Trang 2021 is what you need? I will share extremely detailed experiences of traveling to Nha Trang with my own experience and understanding, through my self-sufficient travel to Nha Trang, I would like to send you.
The last year 2020, I came back to Nha Trang 2 more times, and in these 2 times, I have gone to quite a few places, in more than a dozen hotels from 3 to 5 stars, and also went to try a few joint tours in days for more experience, review for you. Therefore, I firmly believe that the travel experiences of Nha Trang that I share below will be extremely helpful for you.
The right time to travel to NHA TRANG
Nha Trang is located in the south of the country and is influenced by the South Central coastal climate, the climate in Nha Trang is relatively mild, not too harsh like the northern climate, unusual or very sunny like the area. in the south. Winter is relatively cool, the average temperature is about 20 degrees Celsius, summers are usually long and the sun is not too strong.
So, the time from March to September is the most appropriate time to travel and explore Nha Trang coastal city. Guests should note because at this time, hotels and motels in Nha Trang are often in a state of fire, visitors should contact online booking or by phone before coming here to avoid wasting time searching. location of stay.
TRANSPORTATION TO NHA TRANG
Because Nha Trang is located in a very convenient location with National Highway 1A passing through, with a train station, an international airport and even a wharf, other travelers have many options to move here. Depending on your preferences, money and time, we will recommend some ways to get to Nha Trang in this Nha Trang travel guide.
COMING TO NHA TRANG by plane
Cam Ranh International Airport is located about 40 km from Nha Trang city, most domestic airlines such as Vietnam Airline, Jetstar, Vietjet Air and Bamboo Airways have direct flights from Hanoi, Da Nang and the city. Ho Chi Minh City to Cam Ranh airport every day.
You can book flights directly on the homepage of these airlines or through ticketing agents. If you intend to travel to Nha Trang early, you can hunt for promotional tickets from airlines to save costs for your trip. Air travel is suitable for travelers in areas near major cities such as Hanoi, Da Nang and Saigon.
GO TO NHA TRANG BY TRAIN
Nha Trang train station is located in the city center so it is easy for other travelers to travel, you can go to Nha Trang by north-south train from Hanoi, Da Nang and Saigon. Train ticket price from Hanoi to Nha Trang ranges from six hundred thousand dong to two million dong, the distance is 1,315 kilometers. Train ticket price from Da Nang to Nha Trang is from three hundred thousand dong to one million dong, the distance is about 525 km. Train ticket price from Saigon to Nha Trang is from two hundred thousand dong to eight hundred thousand dong, the distance is about 400 kilometers. In addition, there are now five-star trains to Saigon – Nha Trang, Hue – Da Nang – Nha Trang and vice versa, you can refer to the website of Vietnam railway or ticket agents.
COMING TO NHA TRANG BY PASSENGER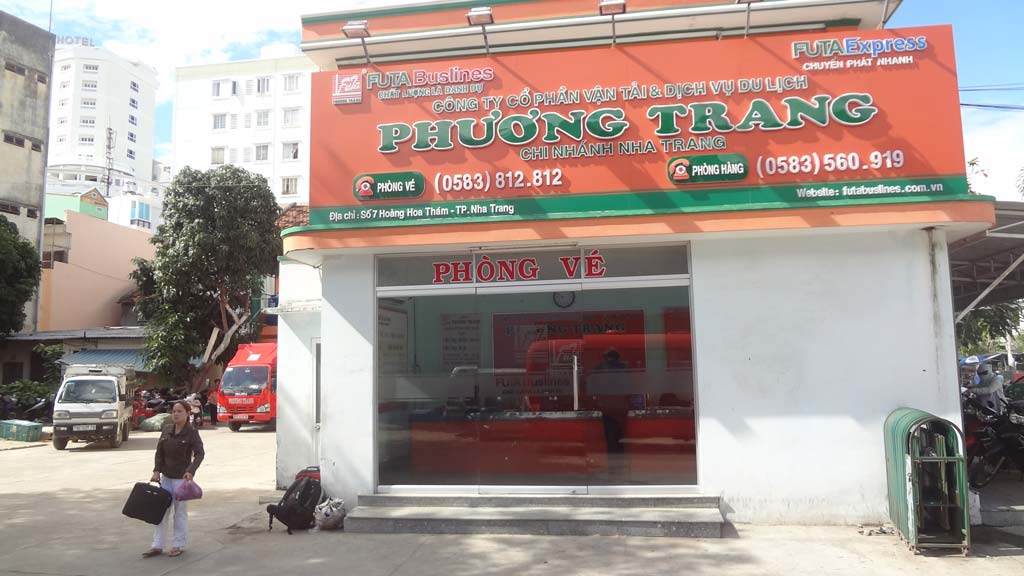 Most of the intercity bus stations have bus buses running on Nha Trang route, depending on the length of the distance, you can choose a car or a seat car. You should choose a garage with a transfer car from the bus stop to the hotel or tourist areas in Nha Trang. Some car companies have many trips to Nha Trang from Saigon such as Phuong Trang, Cuc Tung, Ha Linh …
TRAVEL IN NHA TRANG CITY
If this is your first visit to the beautiful city of Nha Trang, prepare for yourself an offline map of Nha Trang city or a mobile phone with map support, they will be extremely useful every time we get lost. Street.
TRANSFER BY TAXI
In Nha Trang, there are many taxi companies for tourists to choose from, the average price from Cam Ranh airport to the city center. Nha Trang ranges from two hundred to three hundred thousand dong for a distance of about forty kilometers. We provide a list of some taxi companies below you can save for reference.
Information of taxi companies in Nha Trang
| Name | phone number |
| --- | --- |
| Airport Taxi | (0258) 3 528 528 – (0258) 62 62 62 62 |
| Emasco Taxi | (0258) 3 515 151 – (0258) 3 521 521 |
| Taxi Mai Linh | (0258) 38 38 38 38 |
| Taxi Nha Trang | (0258) 3 818 181 |
| Khanh Hoa Taxi | (0258) 3 810 810 – (0258) 3 871 871 |
| Taxi V20 | (0258) 3882 020 |
| Taxi VinaSun | (0258) 8 27 27 27 |
| International Taxi | (0258) 3 52 52 52 |
| Taxi Vinh Tuan | (0258) 3,529,529 |
| Taxi Asia | (0258) 35 35 35 35 |
| Taxi Thanh Hung | (0258) 3 822 822 |
| Tram Huong Taxi | 0258) 3 561 561 -(0258) 6 25 25 25 |
| Nha Trang Taxi | (0258) 3,511,511 |
BUS TRANSFER
Traveling by bus is also a good choice, combined with walking you can go to most tourist destinations in Nha Trang city with only 5,000 VND / time.
TRANSPORT BY MOTORCYCLE
If you enjoy exploring the streets and attractions of the city on your own, rent a motorbike yourself and don't forget to have your map in hand. Taking a cool motorbike ride on the beach road really feels very comfortable and you should give it a try.
Some reputable motorbike rental addresses in Nha Trang
| Name | phone number | Address | Rent / day |
| --- | --- | --- | --- |
| Hai Phong Tourist Company | 02583,500,672 – 02583,500,262 | 96B1 / 13 Tran Phu – Nha Trang | Car number 60,000 VNDScooter 80.000d |
| VietDream Company | 0935 605 963 – (02583) 605 963 | 3B Hung Vuong (Quan Tran area), Nha Trang | Vehicle number 50,000 VNDScooter 80.000d |
| Viet Coral Company | 0903 354 470 – 0902 354 470 | 30/15 Hoang Hoa Tham, Loc Tho ward, Nha Trang | Car number 60,000 VNDScooter 100,000 VND |
| VAN PHUC | 0979 995800 – 0258 3601567 | 22 Phu Duc, Vinh Hoa Street, Nha Trang, Khanh Hoa | Vehicle number 50,000 VNDScooter 80.000d |
| HAI PHONG | 0258. 2205. 205 – 0988 855 544 | 96A6 / 6 Tran Phu Street, Nha Trang, Khanh Hoa | Vehicle number 50,000 VNDScooter 80.000d |
| HUY SON | 0942222822 – 0905863968 | 85 Huong Lo Ngoc Hiep, Nha Trang, Khanh Hoa | Car number 80.000dScooter 100,000 VND |
| NOBITA shop | 0903579657 | 2A Phan Boi Chau, Nha Trang city, Khanh Hoa | Car number 60,000 VNDScooter 90.000d |
RENTAL AUTOMATIC CARS
If you have made a plan with your family and you have a car license, the self-driving car rental option is extremely feasible, you can take the initiative in time, transport your family to the places you want without any restrictions Tour schedule, go dining, sightseeing without having to worry about time and be proactive in all aspects. Guests can choose to rent a number of popular cars below depending on their needs, budget and the number of members in the group:
5-seat – 7-seat car includes: Mazda 3, Fortuner, Innova, Kia forte 2-door – 4-door, Chevrolet Cruze, Captival. Some other high-end models such as: Mecedes C200, new E 200, Toyota Camry 2.4, Camry 3.5.
16-seater car: The popular 16-seater models such as: Mecedes Sprinter, Ford Transit, Toyota Hiace. All new rental cars 2010 and above. Quality car, English-speaking driver specializing in foreign projects, high-end resorts.
Vehicles 30-45: including popular and high-end cars such as Huyndai Country, Space Class, Univer.
FAMOUS NHA TRANG TOURIST ATTRACTIONS
Nha Trang's travel guide will list some tourist destinations that cannot be missed when coming to Nha Trang, the beautiful islands and beaches, in addition to the tourist attractions, full of fun. taste.
VINPEARL LAND NHA TRANG
Vinpearl Land Nha Trang is built on Hon Tre island surrounded by green beaches all year round, Vinpearl Land Nha Trang is compared with the name "paradise of the tropical sea". Not only luxury hotels, beautiful ecological gardens, an ideal standard swimming pool, this place also attracts international tourists with many thrilling amusement parks and 4D cinemas. level. Vinpearl Land Nha Trang was awarded the title of the most attractive entertainment area in Vietnam by the Vietnam Tourism Association.
Play strong feelings Vinpearl Nha Trang
When you come here, visitors can participate in adventure and exciting games such as 360-degree acrobatic ferris wheel, cable car swing with windswept rotation of the sea, Vinpearl Nha Trang also owns a water park on the coast. , where you can immerse yourself in water slides such as Kamikaze, cosmic black hole … especially Boomerang slide that falls freely from a height of more than twenty meters. Vinpearl Land Nha Trang is one of the famous tourist destinations in Nha Trang that you should visit first.
In addition, Vinpearl Nha Trang also has many shopping areas, food courts, indoor game spaces for you and your family to have many choices when stopping here.
Ticket price to visit Vinpearl Land Nha Trang:
Card to enter the amusement park (customers higher than 1.4m are 800,000VND, lower 1.4m is 700,000VND, customers less than 1m are eligible for free tickets), tickets include participation in free games and two turn and return by cable car.
The pass to enter the amusement park by other means (customers higher than 1.4m are 730,000 VND, customers lower than 1.4 meters are 650,000 VND, customers less than 1m are free tickets), tickets are included to participate in games free and 1 return trip by cable car.
AQUARIUM INSTITUTE
Nha Trang Institute of Oceanography was established in 1923, located at 1 Cau Da Street, 6km southeast of Nha Trang city center. It currently holds over 20,000 specimens of 4,000 types of marine and freshwater organisms collected and preserved for many years. Coming to the Institute of Oceanography, you will admire the giant whale skeleton, see firsthand sharks and rare creatures.
PONAGAR TOWER
If tourists like to explore history – culture, you cannot miss the attraction of Ponagar Tower in Nha Trang's tourist guide. Ponagar tower is an architectural work of the ancient Cham people, built on top of a hill about 60 meters high, it is located 3km north of Nha Trang city center. Thap Ba relic complex includes four towers, two shrines, the largest tower worshiping goddess Ponagar.
After visiting Ponagar Tower, visitors can combine to participate in a mud bath at Thap Ba hot spring resort right next door.
CHUA LONG SON
Long Son Pagoda is the largest temple in Nha Trang, located on Trai Thuy hill, the pagoda also known as the White Buddha Temple has a lifespan of more than one hundred years. The temple is famous for its statue: Kim Ngan Phat To, has been recognized by the Guinness Book of Records as the largest statue in Vietnam up to now. Spacious and airy pagoda space, interwoven between statues is a natural landscape with green trees creating a famous beautiful landscape of the beautiful city of Nha Trang.
On the 1st and 15th of the lunar month, many tourists come to Long Son pagoda to admire, admire or "find" the peace and tranquility of their souls.
NHA TRANG BEACH
Nha Trang Bay is about 500km2 wide, running in a bow shape, with fine white sand stretching over six kilometers, clear blue water and especially no big waves.
The beauty of Nha Trang beach has fascinated many visitors every time they come here. Every time you look at the natural picture of this land, you will be engrossed in contemplating and forget all the time, so be infatuated by the poetic and charming beauty of this coastal city. It is a wonderful and expensive gift that natural motherland has given to Nha Trang tourism.
CHRISTMAS HAPPY FRIENDS
Hon Chong is located about three kilometers northeast of the city center, attracting many tourists from near and far because of its natural beauty. The rock is formed from many rocks with all kinds of shapes lying on top of each other connecting from the mainland to the coast. Hon Chong is a part located far away from the street, is an ideal place to watch dawn for those who love beauty.
SON ISLAND
Diep Son is an island consisting of 3 small islands, connected by long fine sand strips in the waters of Van Phong Bay, Khanh Hoa province.
Coming to Diep Son Island, visitors will feel lost in paradise in the middle of the sea, the green color of trees, the crimson color of the tiled roofs and the turquoise blue water beaches. Not only that, you can freely roam on the smooth white sand on both sides of the blue sea as if you are walking in the middle of the vast ocean, although a bit scared, this experience is very interesting. In the largest island there is a small village, fishermen in the area live mainly on fishing and aquaculture.
Coming to Diep Son, visitors have many different options such as renting motels, hotels on Diep Son Island, renting camping tents overnight on the island or also moving to Nha Trang city during the day.
In addition to Diep Son Island, Nha Trang tourism also has many other beautiful tourist islands such as Hon Tam, Hon Mun, Hon Tre, Hon Ong, Binh Ba Island, Binh Hung Island, Yen Island, Robinson Island. See the article about Nha Trang 1 day tour for more details.
THE FOOD CANNOT BE REMOVED WHEN Traveling to NHA TRANG
Coming to the coastal city of Nha Trang, you will not only come to the landscapes, but also enjoy the delicious sea food. Here, we would like to suggest for you delicious dishes that cannot be ignored when traveling to Nha Trang.
FISH BALL NOODLES
Coming to the coastal tourist city of Nha Trang, the first delicious dish you should enjoy is fish noodle soup. The dish is simply processed with vermicelli, broth and fish ball, but the fish noodle soup in Nha Trang always wins the hearts of visitors by the careful selection of ingredients. Fish cakes are made from delicious fish such as mackerel, herring, and marlin, which can be steamed or fried to retain the delicious taste of the fish.
The broth is specially made from fish bones. A distinct, cool sweetness. To enjoy the perfect fish noodle soup, you eat it with chili sauce.
NOODLES JELLYFISH
This strange dish is also a specialty of Nha Trang waters. The jellyfish chosen must be small, white, and thick. Particularly, the broth is made from fish, which is only as small as 3 fingers, but the water is very sweet. Jellyfish noodle dish is a combination of the coolness of the broth, the crunchy taste of the jellyfish, and the pungent taste of chili.
PUNA NOODLES
Nha Trang waters have a lot of typical seafood and pickled fish is one of those fish. Pickled fish vermicelli dish including fish ball and broth is prepared from this fish. The broth cooked from the fish bone is used with a sweet and fragrant flavor, very frugal and attractive. Grilled fish balls are both fragrant, sweet, crispy and rich. Braised fish vermicelli dishes add roundness when served with typical raw vegetables of Nha Trang.
CAKE
This is a creative dish of Nha Trang people when combining rice paper, wet cake and barbecue with the typical hot sauce of the people of the sea. You roll a piece of rice paper, 1 piece of wet cake, 1 piece of grilled meat and onion fat, serve with raw vegetables, dab in fish sauce and feel the different flavors of this dish. The crispy taste of the rice paper, the soft softness of the wet cake and the sweet aroma of the meat and the spicy taste of the dipping sauce will give you a feeling of delight.
GRILLED BUTTER
Grilled spring rolls are specialties attracting tourists in Nha Trang, Nha Trang grilled spring rolls originated from Ninh Hoa district – Khanh Hoa. Grilled pork roll is a popular dish, so its ingredients are also very simple, including: grilled pork, raw vegetables, fried ram, you can add vermicelli and rice paper roll with dipping sauce with rich flavor. Visitors can visit some of the following places to enjoy Ninh Hoa original grilled spring rolls in Nha Trang city:
Dang Van Quen grilled spring rolls shop (Address: 6A, Lan Ong – Xuong Huan, Nha Trang), Vu Thanh An grilled spring rolls shop (Address: 15 Le Loi, Nha Trang),
NHA TRANG TOURISM EXPERIENCE SHOULD NOT MISS
When you come to Nha Trang, you have many opportunities to participate in extremely interesting travel services.
WALKING UNDER THE SEA
If scuba diving has become too normal, then the experience of walking on the sea floor will surely bring you many interesting emotions, right? Even if you cannot swim, you can still explore the ocean world with the astronaut's diving cap, allowing you to breathe normally with the smell, the water will not attack you.
FLYBOARD
Flyboard is a quite adventurous game, often popular with foreign tourists. Before playing, you must be familiar with the basic movements to be able to acrobatics on high and under the sea. Your trainer will guide you through the movements.
PARASAILING
Also a pretty risky game that is paragliding, you need to wear life jackets and seat belts. The parachute will pull you in the air, giving you great feelings, like flying.
BANANA
This game seems less adventurous but will also give you great feelings with the boat with 5-7 seats. You need to wear a life jacket, sit firmly on a canoe tied to the motorboat and drag you at breakneck speeds. Do you dare to try it?
WINDSURFING
The drag windsurfing will deflect you at breakneck speeds. But you still have to maintain good balance if you don't want to fall repeatedly. The basic techniques will be shown by the coaches.
These interesting experiences will give you unforgettable memories when participating in the Nha Trang Tour.
WHERE TO TRAVEL TO NHA TRANG?
Nha Trang is a famous tourist city, especially attracting a lot of foreign tourists, so there are countless real guests and guesthouses fully equipped from basic to high-end, suitable for your budget. guest. You should book about two weeks in advance to get the best room rate and avoid the situation of going to Nha Trang but still have not booked a hotel room.
First tell your financial ability and specifically about time, number of people who will stay at Nha Trang hotel, the article will help you to book cheap and quality hotel and then you can to book a hotel room yourself. Below is a list of some of the most popular resorts and hotels in Nha Trang city.
SOME TYPICAL RESORT IN NHA TRANG
1. Fusion Resort Nha Trang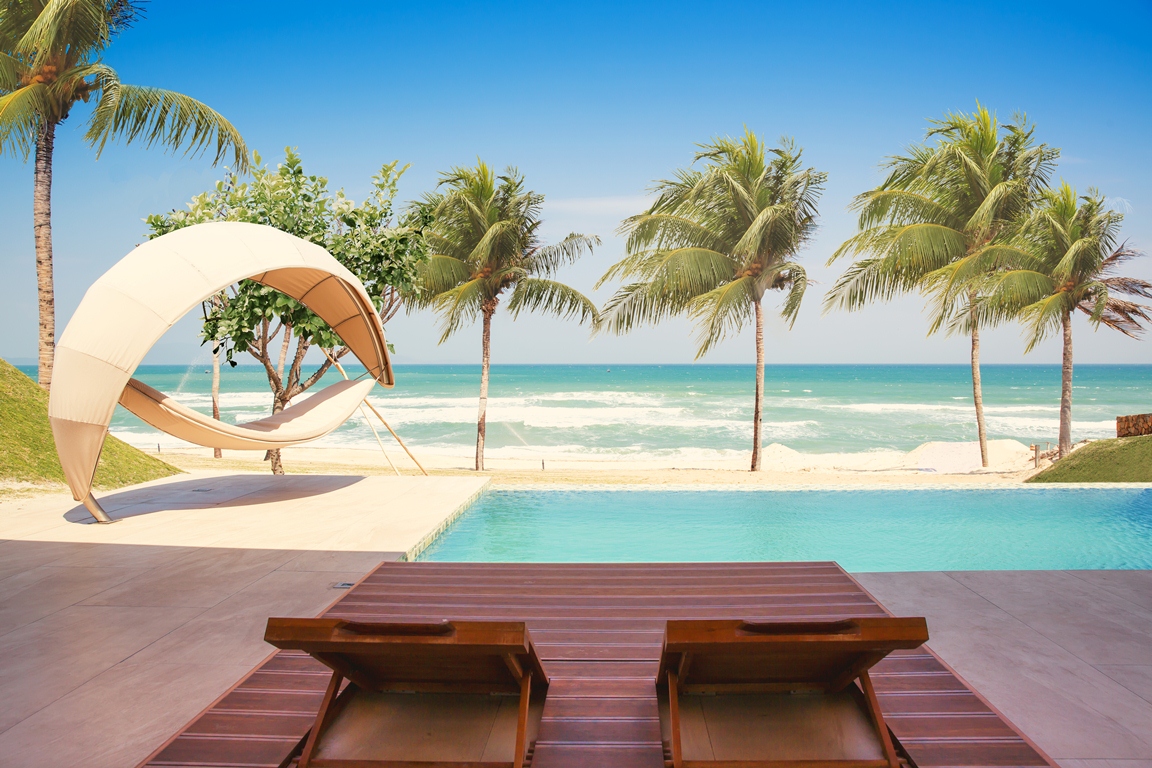 2. Vinpearl Premium Nha Trang Bay
4. Six Senses Ninh Van Bay
5. Amiana Resort Nha Trang
FIVE STAR HOTEL HIGHLIGHTS
1. Sheraton Nha Trang
2. Boton Blue Hotel & Spa
3. Sunrise Nha Trang Beach Hotel & Spa
4. InterContinental Nha Trang
Address: 32-34 Tran Phu, Loc Tho, Nha Trang, Khanh Hoa – Telephone: 0258 3887 777
THE HIGHLIGHT FOUR STAR HOTEL
1. Maple Hotel & Apartment
2. Xavia Hotel
3. V Hotel Nha Trang
4. LegendSea Hotel
THE HIGHLIGHT THREE STAR HOTEL
1. Aaron Hotel
2. New Sun Hotel
3. Xala Boutique Hotel
Address: 3 Tue Tinh, Nha Trang, Khanh Hoa – Telephone: 0258 3526 428
4. Golden Sea Hotel
ADDRESSES OF SOME BINH DAN HOTELS AND RESTAURANTS
Vitamin Sea Hostel – Nha Trang (Address: 39c Yet Kieu, Van Thang, Nha Trang – Telephone: 094 639 39 20)
Nest Hotel Nha Trang (Address: 176 Hung Vuong, Nha Trang – Phone: 025836536262)
Aladin Nha Trang (Address: 176/6 Hung Vuong, Loc Tho, Nha Trang – Telephone: 0258 2465 455)
Hanka Hotel (Address: 95/3 Hung Vuong, Loc Tho, Nha Trang – Telephone: 0258 3525 441)
Moonlight Hotel (Address: 5 Pham Van Dong, Vinh Hai, Nha Trang – Telephone: 0258 3838 999)
ATTENTION WHEN TRAVELING TO NHA TRANG
Luggage – WEATHER
– Compact luggage easy to move, less bulky
– Bring some of your own special medicine (allergy medicine, stomach ache …).
– Personal belongings such as: shaver, toothbrush and toothpaste because the hotel does not use it well
– Wear lightweight flip-flops for comfortable travel
– Bring clothes suitable for each attraction such as temples, pagodas …
– Bring swimwear when going to the beach: open slippers, swimming goggles, swimwear
– The average temperature in Nha Trang tourist area is from 22oC to 30oC.
SHOPPING, PLAYING, AND ENJOY SPECIALS
– When shopping in markets or shopping centers, be careful with wallets, bags and phones
– Bring well-ventilated shoes, shoes that are not damaged when exposed to water, and long-sleeved swimwear when going to the island to dive to watch coral, swim
– Dam Market Nha Trang is a place that specializes in selling marine specialties (dried foods such as fish sauce, squid …)
– At night, you should enjoy seafood along Tran Phu Street, go for a walk or rent a cyclo to go sightseeing the street
– Buy souvenirs made from marine flora and fauna: corals, snails, clams …
– Try Ninh Hoa grilled spring rolls specialties, buy spring rolls as a gift ..
See Nha Trang map for details here
Hopefully, the information Nha Trang travel guide article will help those who are about to travel to Nha Trang. Wishing you, your family, and your friends a happy, safe ride.