Binh Dinh is preserving many architectural and cultural relics of Cham, especially the ancient Cham towers with unique architectural art, bearing many historical and cultural meanings, is an attractive destination for tourists.
The Cham tower system of Binh Dinh province was formed in the XI-XIII centuries. Currently, there are 14 remaining Cham towers, clustered into 8 clusters at different locations.
In which, Banh It tower (4 towers), Duong Long tower (3 towers), Twin tower (2 towers) are clusters of unique works, which still exist almost intact, becoming an attractive tourist destination for tourists. explore, especially foreign visitors.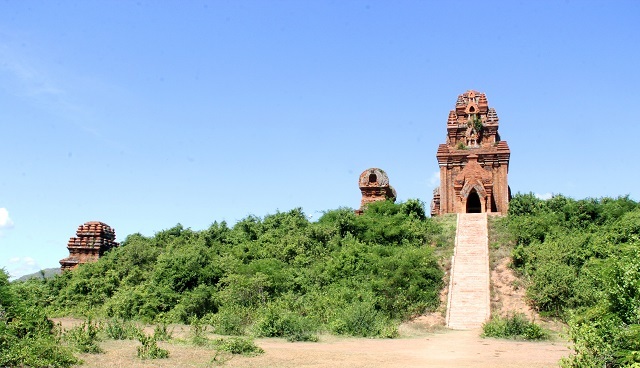 In addition, there are towers like Canh Tien (Nhon Hau commune, An Nhon town), Binh Lam tower (Phuoc Hoa commune, Tuy Phuoc district), Thu Thien tower (Binh Nghi commune, Tay Son district) …
Located right in the heart of Quy Nhon coastal city, the ruins of the Twin Tower (Dong Da ward) is a unique Cham architectural work. The work was built in the late twelfth century, including the higher north tower (about 20 m) and the adjacent south tower (about 18 m high) with similar architecture.
Unlike traditional Cham towers with a multi-storey structure, the Twin Tower has only two main parts, the square body block and the top of the tower with decorative sculptures, influenced by Khmer temple architecture.
Inside the tower worshiping Linga – Yoni statues made of sandstone, also restored from the original based on drawings by a French researcher. In 1980, this Twin Towers was ranked as a national monument.
About 20 km from the center of Quy Nhon city to the North, Banh It tower relic (Dai Loc village, Phuoc Hiep commune, Tuy Phuoc district) is the ancient Cham tower cluster that still has the most works in Binh Dinh, including 4 buildings. big and small tower. People call it Banh It tower, because from a distance, the towers are like a cake with few leaves of thorns, this famous local specialty.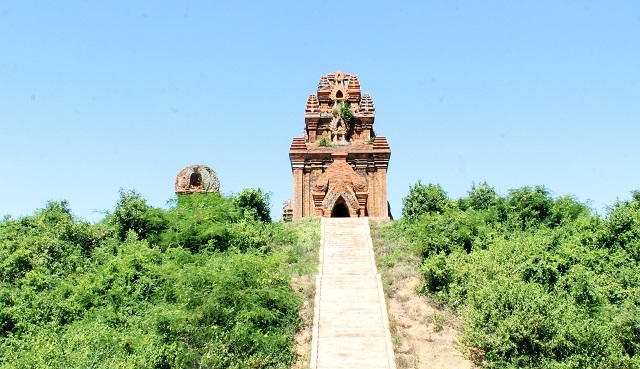 This is a unique architectural complex with diverse architectural looks, beautifully decorated, with high artistic value. Banh It tower cluster was ranked National Monument in 1982, Vietnam Record Organization ranked Top Vietnam in the Cham tower population.
Currently, Banh It tower is an attractive tourist attraction to Binh Dinh, especially many international visitors are fascinated and drunk when hearing about the origin and history of this Cham tower.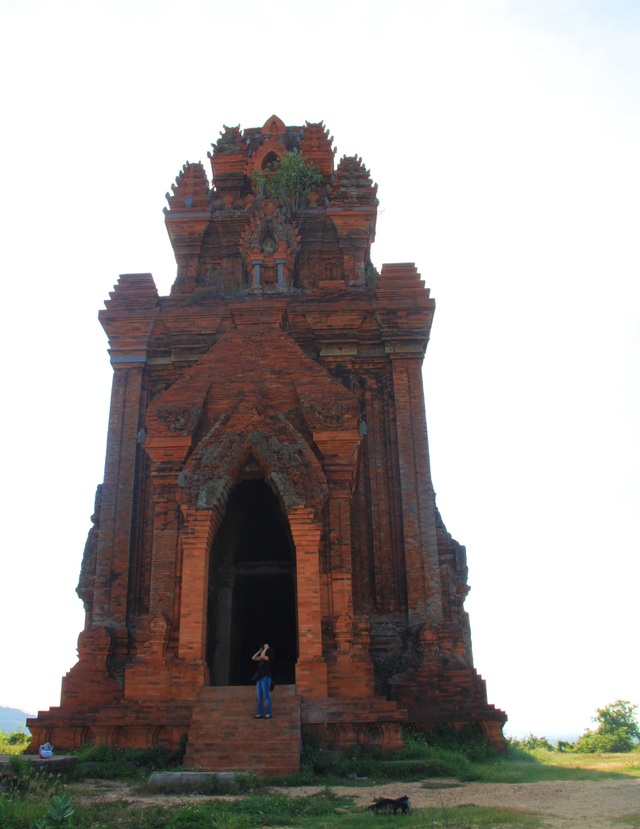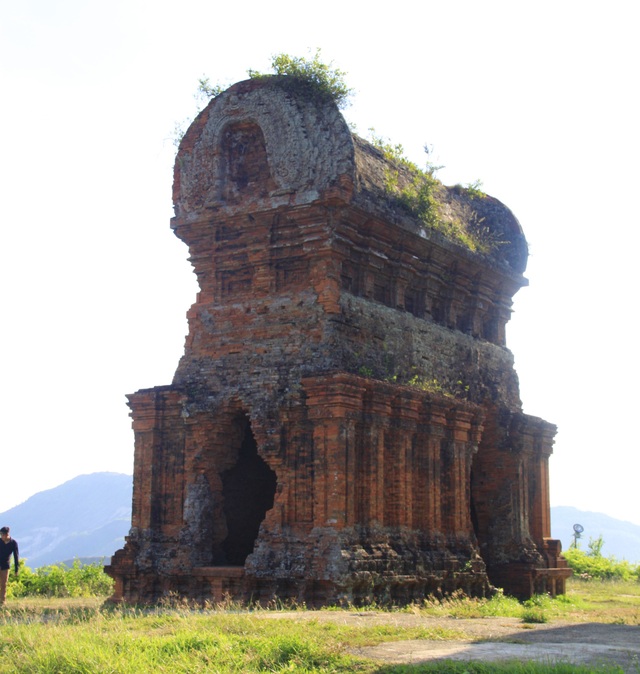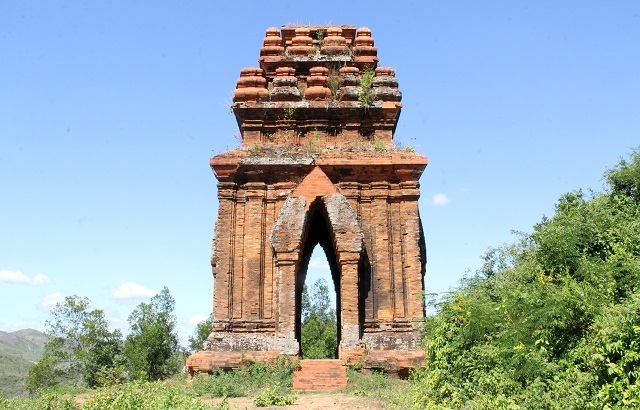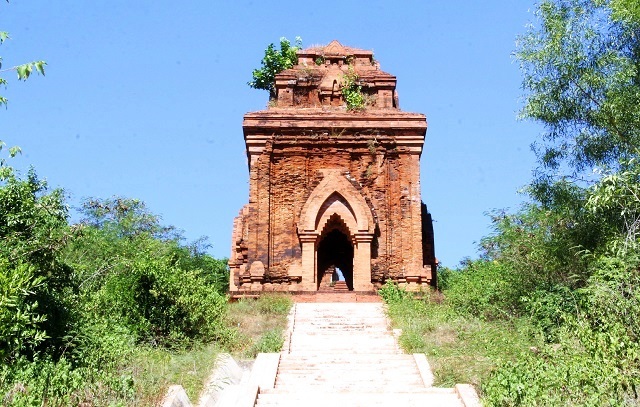 Duong Long Tower (Tay Binh and Binh Hoa communes, Tay Son district), about 40km from Quy Nhon city center. This is considered the highest brick tower cluster in Vietnam, with a height of 39 m in the middle tower, the other two towers are about 32 m high.
Unlike most Cham towers in Vietnam that are built of bricks, Duong Long tower has a combination of many stone details, bringing a different beauty.
Duong Long Tower is located on a wide, flat terrain, so it is often chosen by dojo as a place to practice and perform, so that students can feel the aura of their homeland, which is known as the "cradle" of many traditional martial arts in Vietnam.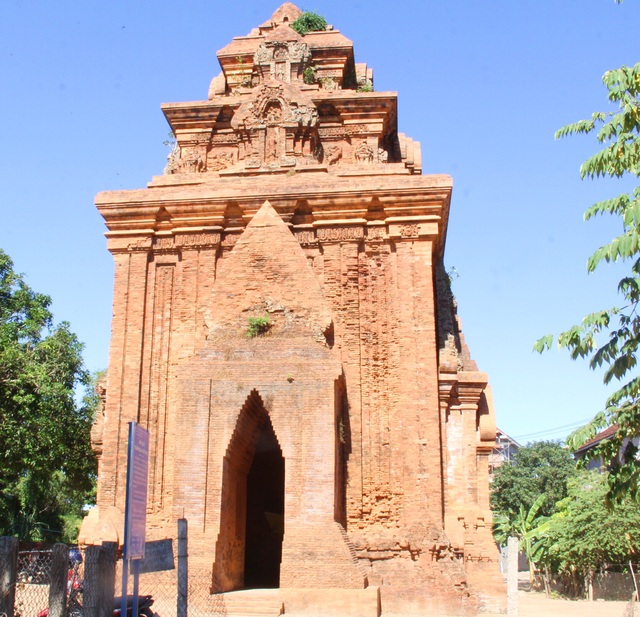 According to the management board of Cham temples and monuments in Binh Dinh, the towers currently only serve historical research and sightseeing and are no longer the place where Cham people use traditional ceremonies and events. culture, due to the local Cham community is very few. Follow Dân trí