Lan Ha Bay is the hottest tourist destination in Hai Phong in the summer. With beautiful natural beauty, Lan Ha is a cool place to escape on hot summer days. But few people know that nestled in Lan Ha Bay, Nam Cat Island is like a green paradise on earth. In this article, let's explore this small island with Vinlove!
1. Locate the coordinates of Nam Cat island
Coordinates: Khe Dep – Viet Hai, Cat Hai, Hai Phong city
As a small island in the heart of Lan Ha Bay, Nam Cat Island is about 5km far from Beo wharf if going to the Southeast. The impression that Nam Cat leaves in the mind of visitors is the romantic 500m long beach. Around the beach are high mountains that seem to protect and protect this place. Along with the distinctive blue watercolor of the North Sea, this is a wonderful natural picture.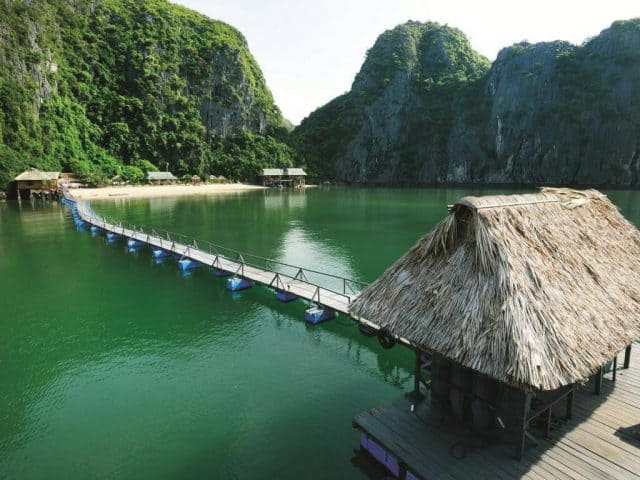 Photo: Collectibles
2. Guide the way to the island
To reach Nam Cat Cat Ba Island, visitors need to go to Beo wharf. Ben Beo in Cat Ba town is about 5km from the island, moving through Cai Beo fishing village and going to the bay to reach the island. Obviously, to go to the bay, you must travel by boat, there are two forms of boat ride below:
Small boat of fishermen : 150,000VND / trip
Tourist boat : 500,000VND / trip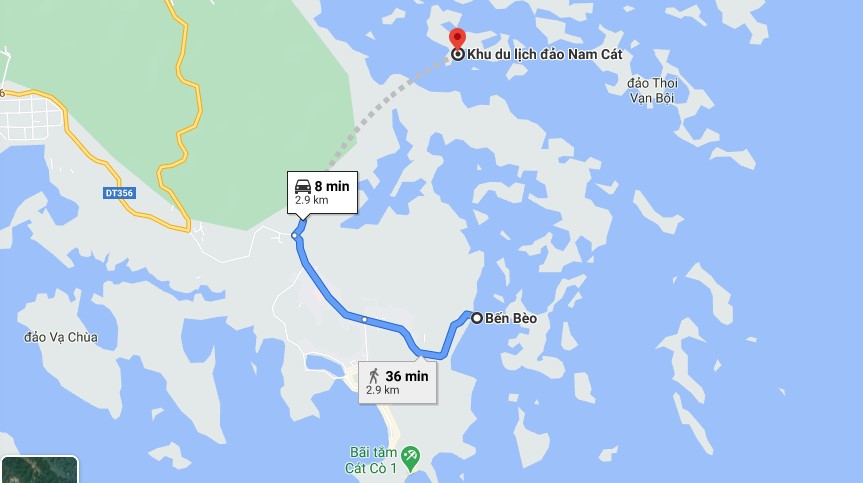 Photo: Halo Travel
3. The ideal time to go to Nam Cat Island
Nam Cat Island is located in Cat Ba, so it is also affected by the weather in the area. So, the best time to travel to Cat Ba is from April to October, so is Nam Cat Island. But for international tourists, they choose the opposite time to explore. From November to March, the island welcomes a large number of international tourists to visit. The view is somewhat deserted at this point, but the beauty of the island is still complete.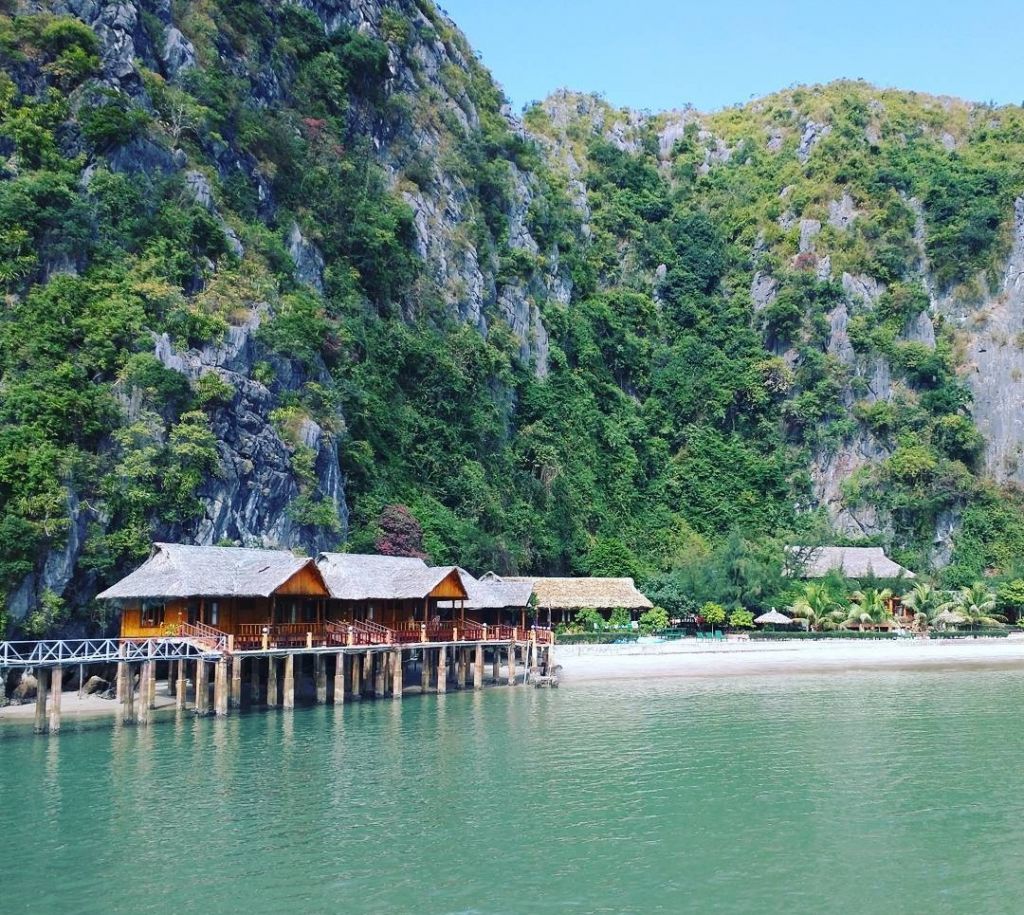 Photo: Collectibles
4. Experience fun in Nam Cat Island
Surely many of you will wonder what to play Nam Cat? What? Here are a few interesting experiences that Halo Travel wants to send to readers.
Watch the sunrise and sunset on the sea
Standing in front of the natural beauty, the first thing to do is to look at "it" really. The beauty of sunrise and sunset at sea is always praised in sentences. But, seeing that beauty with my own eyes can see "no words much spelled out".
The moment the sun rises to welcome a new day at sea is like giving us more life energy. The sky is high and clear, the sea is also so blue. Watching the sea now makes us feel fresh and fresh. In contrast, the sky turned to sunset, light rays of sunlight fell, the sea surface was now inlaid with silver, sparkling.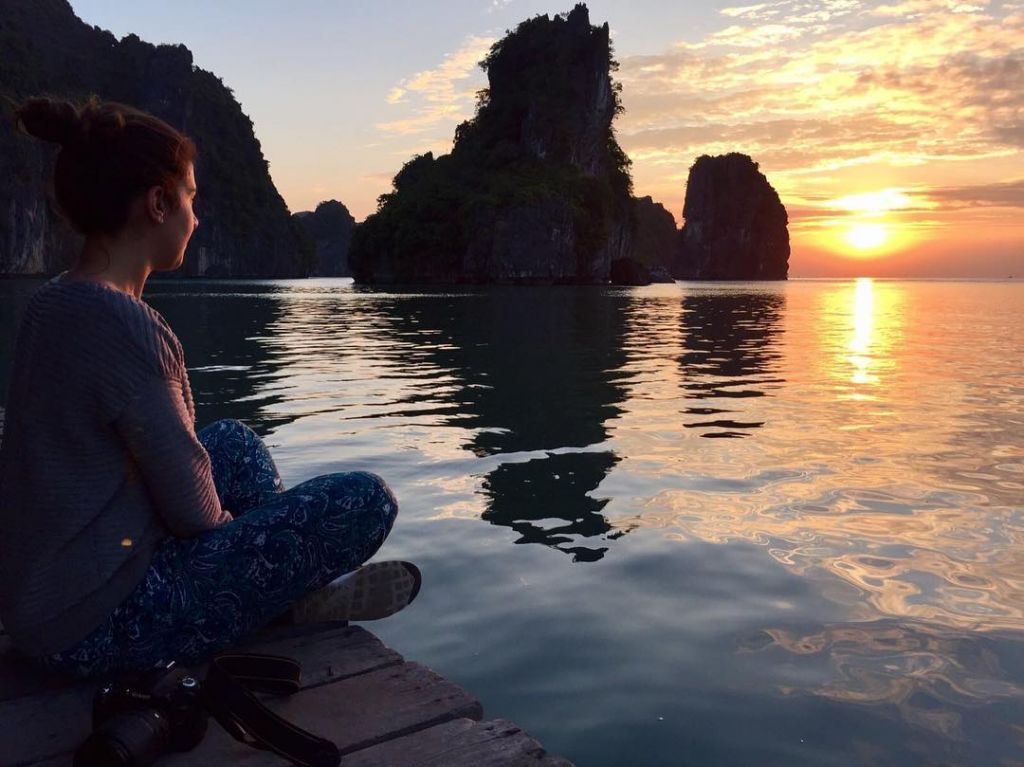 Photo: Collectibles
Participate in useful activities at sea
At Nam Cat Island, visitors have the opportunity to get close to, mingle with the blue sea. Activities associated with the sea such as swimming, boating, visiting bays and islands.
The island area is in quiet waters with light waves, so it is very suitable for kayaking around to visit many small islands. Ses Island, Cu Island, Doi Cave, Dark Cave … each place has an interesting beauty. This is also an opportunity for visitors to challenge rowing drivers to go through underground water caves, over cliffs.
Coming here, besides being close to the natural beauty, you also have the opportunity to explore the life of fishermen. Walking around Van Gia fishing village, Viet Hai fishing village, researching on a multitude of seafood. How interesting!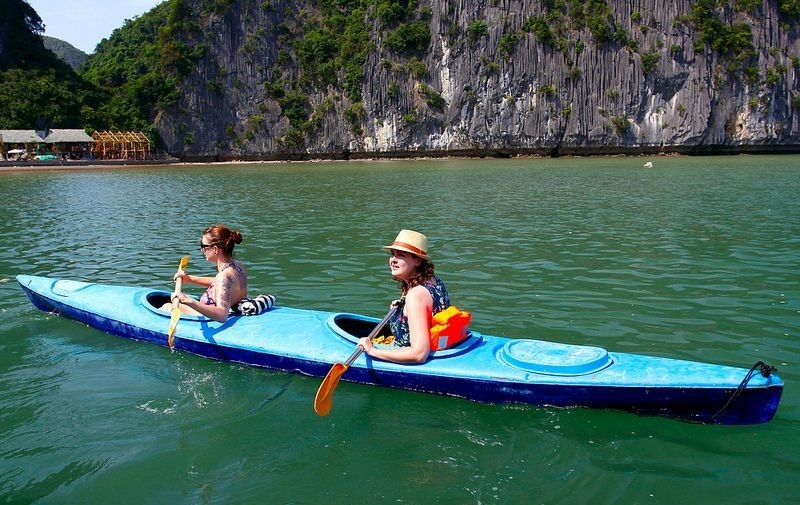 Photo: Collectibles
5. What to eat on Nam Cat Island?
After hours of visiting the island, it is also time to "cringe". At night, you can camp fire and eat with the group. Certainly coming to the sea, you must enjoy the delicious dishes from seafood. You can go to floating raft shops, choose fresh seafood raised and caught on your own. The source of seafood in Nam Cat Island is extremely plentiful: all kinds of snails, clams, squid, shrimp, crabs, fish, or surface are all meticulously and skillfully processed.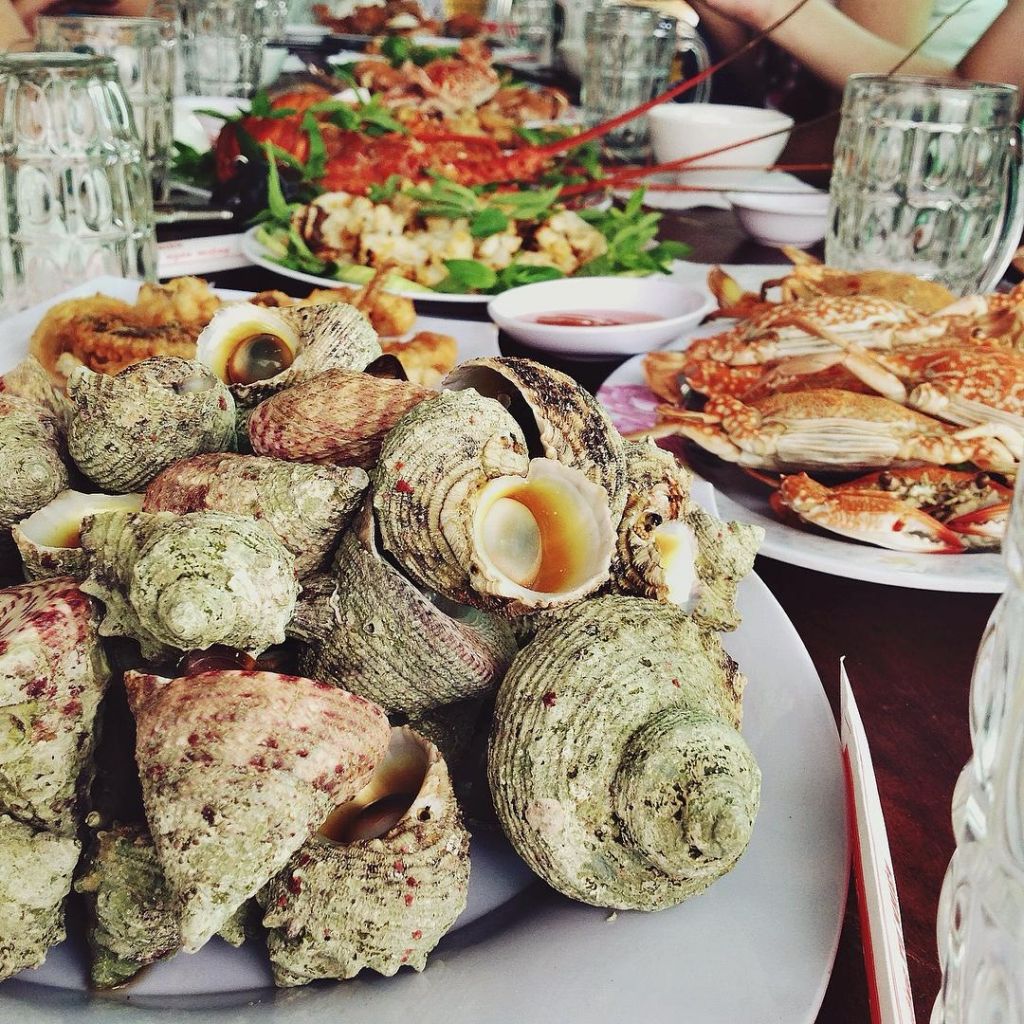 Photo: Collectibles
6. Staying at Nam Cat Island
Near Nam Cat Island, there are also a number of homestays, hotels that serve the needs of overnight rest. Or you can choose resorts around Cat Ba area, just about 500 meters from Nam Cat. With Halo Travel refer to a few addresses below:
Nam Cat Island Resort
Phone number : 02256578392
Reference price : 1,200,000VND – 2,000,000VND / night
Located on the territory of Cat Ba island district, Nam Cat Island Resort is an ideal resort. It owns a private beach with views of the sea and romantic Nam Cat mountains. With convenient services, luxurious rooms, the resort offers the most comfortable accommodation experience for visitors.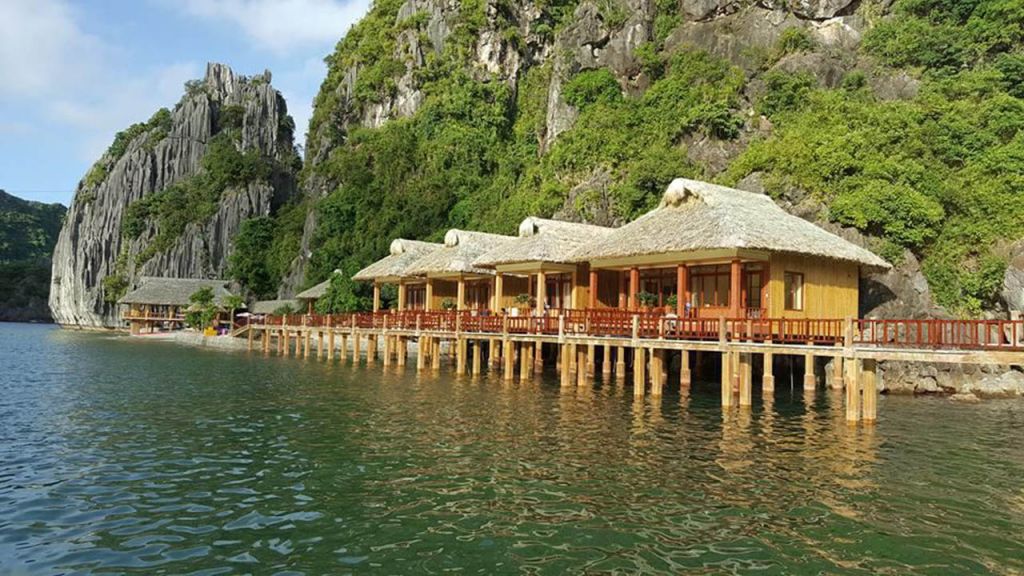 Photo: Collectibles
Castaway Island Cat Ba
Phone number : 0988557755
Reference price : 1,700,000 VND – 3,000,000 VND / night
This is a famous project of Cat Ba Island in the resort field. Castaway has a large private beach with an area of ​​3,000m2 including seawater and high mountains covered back.
Inspired by the bamboo material that is close to Vietnamese villages and environmentally friendly, Castaway has large tents like bangalow on fine white sand. 5 bamboo tents including restaurants serving daily needs, as well as a place to relax and rest for guests. Promises to bring unforgettable memories to tourists.
Photo: Collectibles
Above is the Nam Cat Island travel experience that Halo Travel wants to send to readers. Those who go to Lan Ha Bay, remember not to miss this "small poetic paradise". Do not forget to refer to Cat Ba's travel experiences from Vinlove. Have a great trip!
---
Ideal time to visit Nam Cat Island
According to Nam Cat tourism experience , except for July, August – the time when storms are happening in the North, the remaining time as long as you need time is you can visit this beautiful island.
However, the period from March to June is often most popular with tourists, because the weather is quite hot at this time, suitable for participating in water fun activities. Also, from November to February, many foreign tourists visit, because of a quiet, deserted space, ideal for relaxation.
Summer is perfect for going to the island (Photo @chii_annie)
How to move to Nam Cat Island
From Beo wharf in Cat Ba town, visitors can rent small wooden boats from local people for 150,000 VND / time or rent a tourist boat for 500,000 VND / time, then go through the fishing village of Cai Beo and a part of the South. of Lan Ha Bay in about 20 minutes to reach Nam Cat .
Small boat out to the island (Photo @ jesss.wray)
Charming young landscape on Nam Cat Island
The first impression when coming to Nam Cat Island is a green color of sea water, rocky mountains that have grown full of moss, coconut trees, casuarina trees swaying in the wind and of the sky. so, makes us feel like we are lost in a "green paradise".
Green scenery (Photo @travelwithlenaa)
Besides, although the beach here is not only about 500m long, the sand is very white, clean and soft, the sea water is clear, when the sun shines on it will sparkle as if covered with silver. , looks extremely attractive.
Above all, because Nam Cat Island is surrounded by large mountains, there is not too much touch from human hands, so the scene is not only wild, lyrical but also extremely peaceful. , like an isolated oasis, separate from the bustling, noisy life out there.
Wild and peaceful scene (Photo by Fb Dung Tay)
However, the most beautiful is probably at dawn and dusk – the moment of day and night intersect, the whole space is immersed in orange-yellow colors, reflecting the magic of light and dark, making it possible to forget everything. sadness and everyday pressure.
Memorable experiences at Nam Cat Island
With the advantage of a gentle beach, moderate depth, with clear, clean and quiet seawater, Nam Cat beach is a great place for visitors to enjoy the swimming experience. The feeling of being immersed in the cool water in a poetic landscape and a fresh space will definitely make your ego last longer.
Bathing is a very popular activity on the island (Photo @dulia_dd)
If you are a lover of adventure and stimulating games, you can choose a kayak then with your friends paddle through the deserted and mysterious underground caves at the foot of the mountains or explore the quiet islets. in the surrounding areas such as: Cu island, Ses island, Dark cave or Doi cave …
Kayaking (Photo @bienmanh)
In addition, visitors can rent a boat to visit the beautiful islands near Nam Cat resort and also located in Lan Ha Bay such as Monkey Island, Van Boi Island of Viet Hai fishing village …
In particular, it will be a huge shortcoming if you do not try the delicious and fresh seafood dishes here such as: surface, crab, crab, scallop, squid, shrimp, fish, shrimp … People directly caught up from under the clear blue water of the island, then through skillful hands to make attractive dishes, attracting customers' hearts.
Enjoy delicious seafood dishes (Photo @ honiland1110)
Staying at Nam Cat Island

1. CatBa Sandy Beach Resort
Sandy Beach Resort Resort has 27 rooms built right next to the beach with romantic sea and mountain views and environmentally friendly design. Unlike Tu Do Island, on Nam Cat Island, grid electricity and fresh water are installed on the main island, so electricity and water are always provided 24/24 for visitors to use fans, internet and bathrooms …
In addition, there are convenient and luxurious services and equipment here, so although the price is a bit high: from 1,200,000 VND to 2,000,000 VND / night, many people still choose.
The resort hot hit on the island (Photo @ ngancandy89)
2. Castaway Island Cat Ba
Continuing to be a luxury accommodation in the green island of Nam Cat with costs ranging from 1,700,000 VND to 3,000,000 VND / night. However, this is a completely worthwhile price, as it is located right next to a 3,000m2 beach, with bungalows made of eco-friendly materials such as bamboo, wood, rattan … and entertainment services. entertainment, relaxation, other dining, bring an unforgettable experience for travelers.
This summer, if you are looking for a cool yet peaceful resort, Nam Cat Island in Ngoc Cat Ba is the ideal choice for you.
Photo: Internet