Pu Sam Cap is known as the 'Northwest First Caves', is one of the most beautiful, famous caves in Lai Chau. Possessing magical stalactites, colorful sparkles, unique shapes, creating magical space, extremely impressive. And if you are planning to explore this place, follow these Pu Sam Cap cave travel experiences.
Introduce about Pu Sam Cap cave
Known as the most beautiful cave in Lai Chau, lying in the Northwest – Southeast direction and is the border between Sin Ho district, Tam Duong, Lai Chau city. This cave has a long history, they were formed from the tectonic era with Caster topography and mountain slopes. According to geologists, there are many underground water circuits underneath the Pu Sam Cap cave, which never dry up, making the natural space here always fresh. Discovering Pu Sam Cap, you will feel the wild and poetic beauty, so many people consider this cave as a beauty sleeping in the deep forest of the Northwest. In general, if you are a lover of nature and the beauty of the mountains, then Pu Sam Cap is the best stop.
Admire the mysterious space of Pu Sam Cap cave
How to move to Pu Sam cable cave
Location of Pu Sam Cap: Located at an altitude of 1,300 – 1,700m above sea level and located on provincial road 129, connecting Sin Ho district, Lai Chau city and Tam Duong district.
To reach Pu Sam Cap cave, there are many vehicles for you to choose from. However, bus is still a priority, because of its safety and low cost. In Hanoi, you can move to My Dinh bus station or Giap Bat bus station in the 16:00 – 20:00 timeframe, there are many car companies to Lai Chau for you to choose from. Ticket price to Hanoi – Lai Chau is about 200k – 350k / one-way ticket. When you reach the center of Lai Chau city, you can take a taxi or motorbike taxi to Pu Sam Cap (about 7km).
My Dinh bus station has a lot of garage for the trip to Lai Chau
If you are a backpacker, like to experience the downhill in Lai Chau, you can move on the following road: Hanoi city center -> go to Ho Tung Mau -> follow Highway 32 -> Nghia commune Highway -> go through Khau Pha Pass -> Tan Uyen -> to Binh Lu junction, then you continue to turn left to reach Highway 4D -> go straight to Lai Chau (The distance you will have to move about 420km).
Guide the way to Pu Sam Cap by motorbike
Where to visit Pu Sam Cap cave?
With a location located in the middle of mountains and forests, it is imperative that you stay in the surrounding cities and towns. In Sin Ho district, Tam Duong or the center of Lai Chau city, there are many cheap hotels and motels about 200-300k / night, you can rent to stay, to conquer Pu Sam Cap cave to tomorrow morning.
Suggest a few places to stay you can refer to:
– Muong Thanh Hotel: Located on Le Duan Street – Telephone: 0213 3790 888
– Thuy Tien Hotel: Located at 87 Tran Quoc Manh, Tan Phong, Lai Chau – Telephone: 0213 3877 777
– Phuong Trang Guest House: Located at 60, 30/4 Street, Lai Chau – Telephone: 0213 3792 988
– Hong Nhung Guest House: Located in Quyet Tien Ward, Lai Chau – Phone number: 0213 3875 420
What is interesting to visit Pu Sam Cap cave?
As a famous tourist destination in Lai Chau , with natural landscape and beautiful caves, it attracts thousands of visitors each year. However, if you do not have experience in traveling to Pu Sam Cap cave , consider the following attractive areas:
Thien Mon Cave
Located just outside the Pu Sam Cap cave complex , from the foot of the mountain, you follow the stone steps just a few hundred meters to Thien Mon cave. Stepping inside, visitors will be overwhelmed by the beautiful natural landscape, sparkling stalactites, with various shapes, creating top notch works. At the end of the cave, bright purple is creeping through each rocky ravine, providing a striking contrast. The sound of a tiny cup, in a fanciful space, you will feel like you are enjoying a wonderful symphony from nature.
Thien Mon Cave attracts many tourists to visit
Paradise Cave
Also an attractive stop that visitors should not miss in the Pu Sam Cap travel itinerary . However, the way to here is quite arduous, you will have to pass through the wild old forest to reach the Paradise cave. Therefore, it is only suitable for adventurers, who are healthy and love adventure.
The shimmering and magical beauty of Thien Duong cave
When you reach the paradise cave, in front of you is the perfect scene, like a fairyland. Right outside the cave door is placed a stone lion, like a mascot to help rule outside the cave door. Step inside is a natural picture, with stalactites of all shapes, sparkling light, creating multi-colored and multi-dimensional spaces. That is why many visitors who visit Thien Duong cave do not forget to take souvenir photos.
The Glass Cave
The last stop when visiting Pu Sam Cap cave is Thuy Tinh cave. This cave is located at the most craggy position, creating a special attraction for young people who love adventure. And in recent years, Thuy Tinh cave has been exploited more strongly in tourism, so coming to this cave, visitors will have many more interesting experiences.
Thuy Tinh Cave is the most popular stop at Pu Sam Cap cave complex
What to eat when going to Pu Sam Cap cave?
Lai Chau is famous for many delicious dishes and specialties. Therefore, when traveling to Pu Sam Cap, you should not miss dishes such as:
Food with stolen armpit pork : Ban pig is raised freely, so the meat is usually fragrant and very firm. Each pig here has a relatively small weight, only about 10 – 15kg and this type of pig can be processed into many different dishes such as: Steamed pork, grilled, cooked, … but the best is still pork. turned. Fragrant meat, golden skin, crunchy, guaranteed to be eaten.
– Goby with ash : It is known that this dish is a specialty of the Thai people. But the goby was cleaned, marinated with spices such as: chili, lemongrass, ginger, pepper, cocoon, basil, cuttings,…. After the fish is infused with spices, they will be wrapped in the leaves and buried in hot ashes until the meat is cooked.


Enjoy attractive goby fish dish buried in Lai Chau
Pa Pinh Pong: Among the specialties in Lai Chau , PaP Platop is the dish chosen by many tourists. In essence, this is grilled fish, marinated according to a special recipe and grilled on a charcoal stove. The taste is delicious, the meat of the fish is sweet and rich, making many people fall in love.
– Grilled stone moss dishes : Sounds quite strange, right? But this is a dish that should not be missed when visiting Pu Sam Cap cave . This dish is made from stone moss, clean moss is processed into many dishes such as: Cooking soup, stir-frying, … of which the best is grilled stone moss. After being cleaned and marinated, moss will be wrapped in the leaves and buried in hot ash to cook.

Grilled stone moss is a delicious and unique dish of Lai Chau people
In addition, there are still many other delicacies you should take your time to enjoy such as: Big vegetable salad, purple sticky rice, blackberry, bitter leaf broth, orchid bitter bamboo shoot, fried cicadas,….
That is all information and experience traveling to Pu Sam Cap cave that Vinlove would like to share with you. Hopefully, with this article, you will come up with a detailed travel plan, to have a great, memorable experience.
---
Update Pu Sam Cap Lai Chau 2021
If nature has "predestined" for the Northwest region of majestic limestone mountains or lush green forests stretching with rivers, streams, day and night, then in the flow of the historic longevity through the rows. Millions of years of the movement, nature has also left many marks of artifacts, but caves in the mountain bed with magical stalactites have become living symbols, masterpieces that captivate visitors.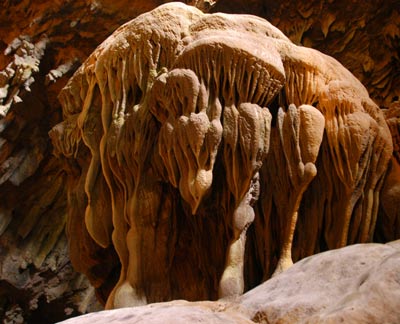 Nature cleverly sculpted works of art – Photo: source anninhthudo.vn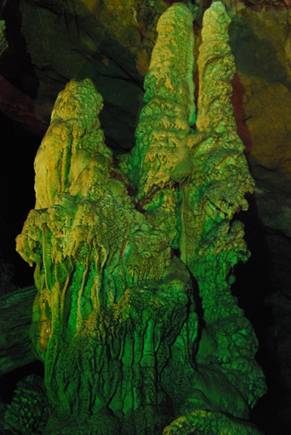 Stalactites with unique structure – Photo: Pham Quan (vnmedia.vn)
One of the examples for this attractive enduring tectonic strength is concentrated in the land of Lai Chau, where "Ban flowers bloom into a Thai girl" and "waking up the mountain has filled the eyes" with the Pu Sam cave complex. The new cable was discovered by the local people since July 2006, including more than 10 large and small caves, including the three main caves of Thien Mon, Heaven and Thuy Tinh as beautiful people sleeping in the middle of the forest. The pristine beauty of Pu Sam Cap cave is not inferior to any famous cave such as Phong Nha – Ke Bang cave complex (Quang Binh), Thien Cung cave (Quang Ninh), cave. Nguom Ngao (Cao Bang) …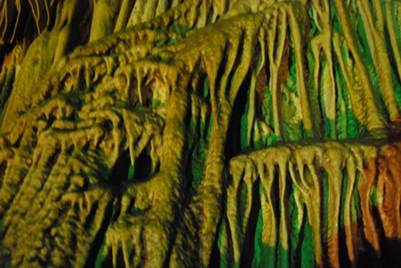 Mysterious in Pu Sam Cap cave – Photo: Pham Quan (vnmedia.vn)
Each drop of water is filtered into a stone column – Photo: source anninhthudo.vn
"Pu Sam Cap" in the local language, means that three large mountains overlap. This is the name of the karst terrain type limestone mountains, formed from the tectonic era. Pu Sam Cap cave complex is located along provincial road 129 to Sin Ho plateau, about 6km west of Lai Chau town center at an altitude of 1,700m above sea level. The road to the Pu Sam Cap caves is both crooked, bumpy and difficult to go, and this is still littered with ancient trees that were knocked down by the wind and rain, covered with moss or covered with mistletoe trees. visitors like touching the sacred mysteries of the great.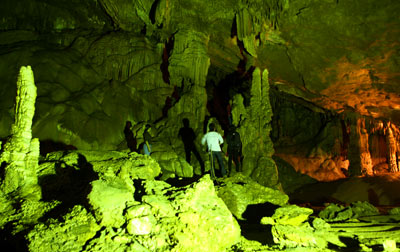 Each drop of water, stalactite is full of mystery – Photo: source anninhthudo.vn
Stalactites – Photo: Ma Anh Lam (VnExpress.net – 4.9.2011)
THIEN MON
In the journey to explore Pu Sam Cap cave, the first point visitors will reach is Thien Mon cave with a great depth and large arch. The closer you get to the center, the higher and wider the cave arch with a relatively flat floor reminiscent of a natural world auditorium built from the time of pink. Visitors will be amazed at the unique shape of the stalactites despite their imagination flying, spreading out from the towering golden pillars above and hanging down like a sky umbrella, the terraced fields of Northwest mountains and hills, strange-shaped stalactites … to the image of Duc Quan The Am to save suffering, crystallized stalactites with all shapes and sizes as if honed by the Creator. in the finishing process,
The pillar is shaped like a sky umbrella – Photo: Pham Quan (vnmedia.vn)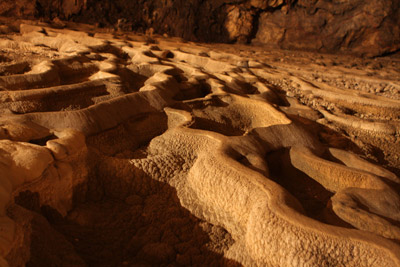 Stalactites form "terraced fields" – Photo: source anninhthudo.vn
Walking in the mysterious darkness of Thien Mon cave, visitors can easily feel the cool air emanating from the rocks, sometimes the cool breeze blowing in, passing through the stalactites, bouncing the cliffs into The sound is low, sounding like whispering words about the past … From the end of the cave, a rare light penetrates into a peaceful sky, giving visitors peace of mind, joy and joy. of the person who was wandering in the dark, suddenly reunites with the light from the end of the tunnel (!) …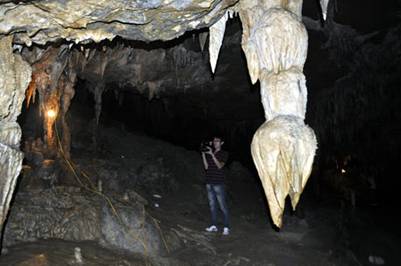 Stalactites shaped a quill pen – Photo: Ma Anh Lam (VnExpress.net – 4.9.2011)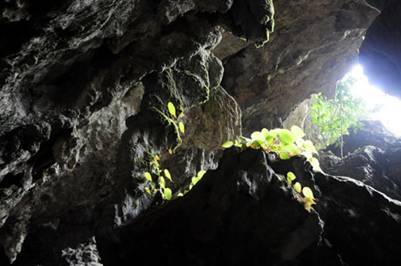 Where a little light enters – Photo: Ma Anh Lam (VnExpress.net – 4.9.2011)
THE ROAD CEREMONY
Leaving Thien Mon, it takes about half an hour to pass through the forest, weaving through each ancient row with its unspoiled nature, in some places, you have to cling to a vines or along the cliffs, visitors can reach Thien Duong cave. The road to Thien Duong cave is craggy, as if trying to test the will and courage of the explorer, and the reward is extremely deserving when suddenly appearing before the eyes of a "young Bong" realm. sedimentation and profound mystery …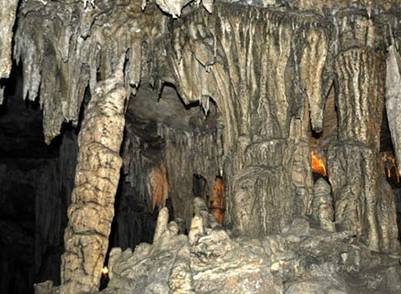 Gate of Heaven – Photo: Ma Anh Lam (VnExpress.net – 4.9.2011)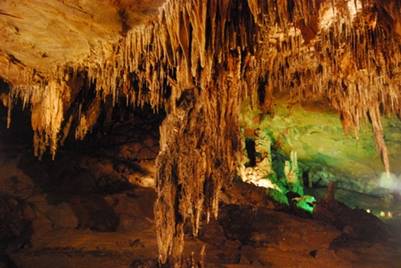 Stalactites in Thien Duong cave – Photo: Pham Quan (vnmedia.vn)
Heavenly Cave is truly a fairy-tale place, a miraculous gift favored by the Creator to man … The deeper it goes, the more glistening displays appear in a multicolored space, multidimensional, as an improvised and vivid installation with both unfamiliar and familiar images. Depending on your imagination, visitors can recognize the curves of the terraced fields, the majestic shapes are the characteristic orchids or Ban flowers of the Northwest mountains, pillars. Crystal white emulsion with many unique patterns standing around the lake creating a beautiful splendor …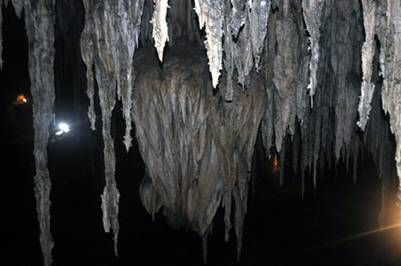 Stalactites falling from the ceiling of the cave – Photo: Ma Anh Lam (VnExpress.net – 4.9.2011)
Stalactites connect heaven to earth – Photo: source dulich.vn
HYDRAULIC CULTURE
Thuy Tinh is one of the three main caves of the Pu Sam Cap cave complex. Due to the unfavorable location, it does not meet the necessary safety conditions to welcome tourists, so far the managers have not had plans to put Thuy Tinh cave into operation. The mysterious Thuy Tinh Cave is still a mystery, promising many attractions for adventurous travelers …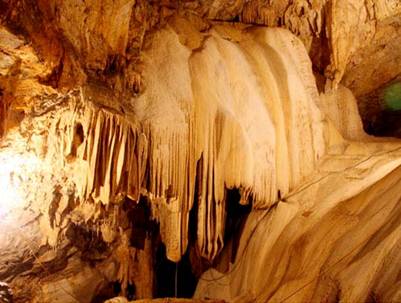 Great assists – Photo: Khanh Kien (baolaichau.vn)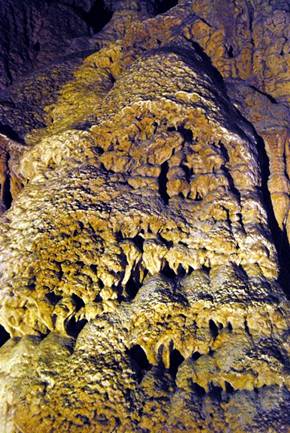 Stalactites of the strata – Photo: Pham Quan (vnmedia.vn)
Interestingly, while in other caves, visitors rarely have access to many types of stalactites, at Pu Sam Cap, visitors can come to the place, touch the stalactites formed through a process. long submission. This seemingly advantageous thing is a fundamental weakness, posing many thorny issues for conservation, because it takes millions of years for nature to create amazing wonders but only a little fragility. of those who lack awareness, these works can be destroyed overnight, even in an instant (!).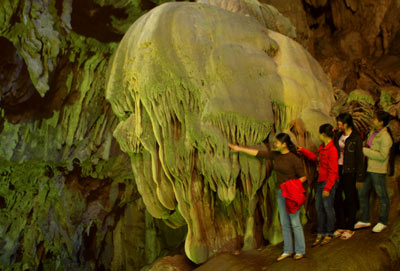 Marvel at the stalactites like … flowers – Photo: source anninhthudo.vn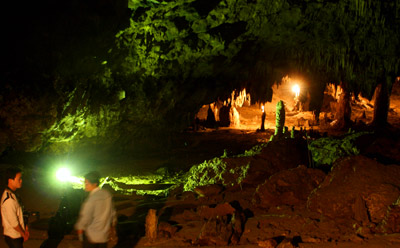 Pu Sam Cap Pristine – Photo: source anninhthudo.vn
Pu Sam Cap cave is still so rustic and unspoiled, to guide tourists, it seems that there are only a few signboards indicating the way to Thien Mon or Heavenly cave and these caves only stop at one. The number of stairs eating into the stone foundation, some rudimentary handrails to help visitors easily visit the cave, the lighting system installed is also quite sketchy …, there is almost no investment of adequate scale. with the beautiful beauty of the female painters Pu Sam Cap.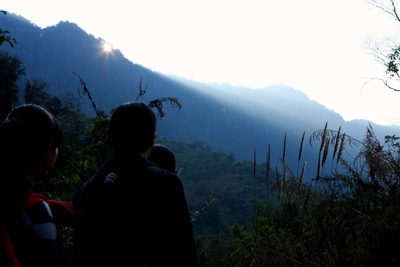 The majestic Northwest landscape – Photo: source anninhthudo.vn
Hopefully in the near future, with the care of the local authorities, the Pu Sam Cap cave complex will soon become a bright spot. Along with potential local values ​​such as festivals, villages …, Pu Sam Cap will contribute worthy of enhancing the tourism value of Lai Chau province, adding shimmering colors to the tourist map of Vietnam. unique with the sound of the mountains and forests of the Northwest …
Photo: Internet