Thousands of azalea flowers of colorful and colorful blooms in the middle of the mountains, making Lung Moong village (Trung Khanh – Cao Bang) seem like a new, dreamlike coat.
Located in Lung Moong village, about 2km from Trung Khanh town, Cao Bang province, the "valley" of azaleas is nestled brightly in the middle of the mountains and forests, becoming a new tourist destination Cao Bang. simple but full of charm.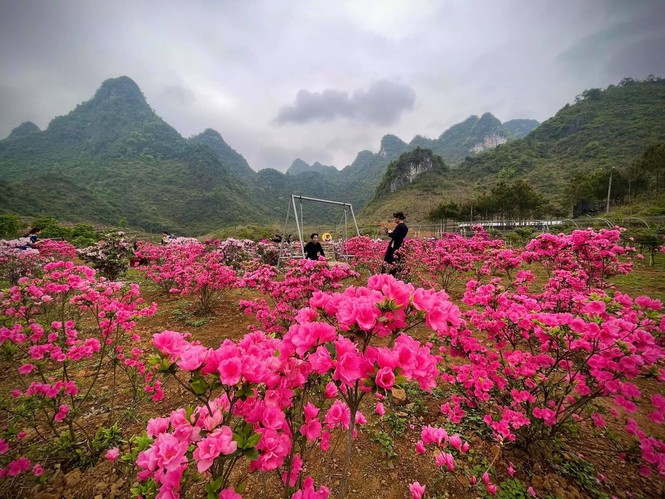 The sea of ​​azaleas is as brilliant as an umbrella in Chongqing – Cao Bang.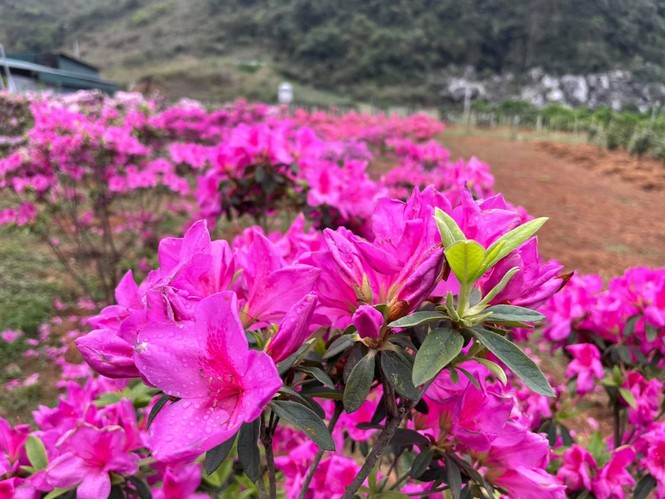 Flowers grow in clusters between mountains and forests.
In the mid-March and early April of each calendar year, when the warm sunlight shines on the whole forest, it is the time when you can see the most beautiful azaleas. Flowers bloom in a period of 1 month, but they grow from clump to cluster, purple the whole sky.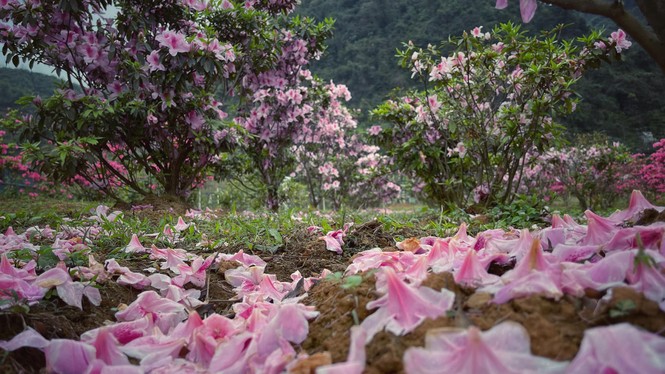 The enchanting view of azaleas.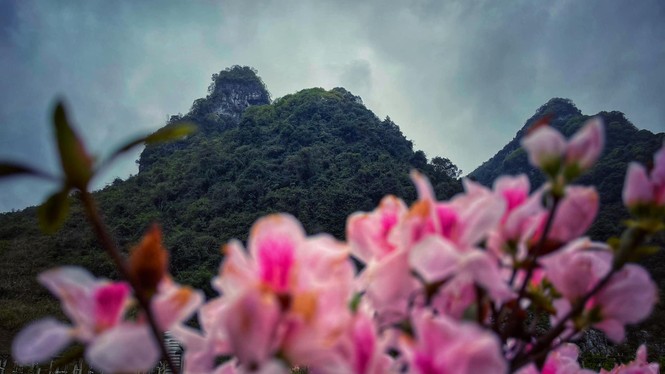 Felt roses bring intense vitality
Each azalea flower is pruned and cared for, and aligned to create a mesmerizing scene. The pink or reddish-red color stands out in the mountains. If you are lucky, you may even encounter white azaleas, because it is difficult to spot.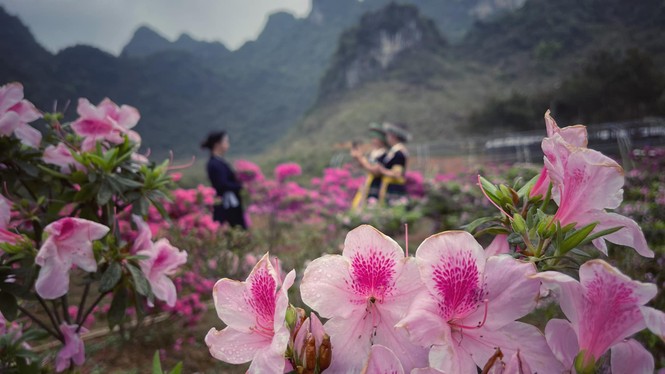 Azaleas are beautiful and beautiful, irresistible.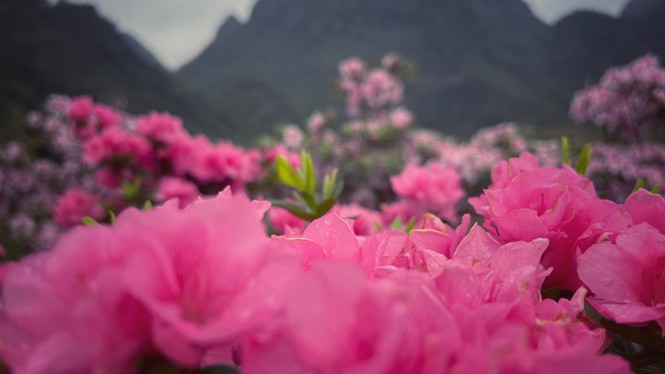 When they bloom, azaleas will be very durable, especially in cold high mountain weather.
There are many species of rhododendron flowers scattered throughout the forests of Cao Bang. But in Chongqing the most prominent is the purple azaleas seen from afar, this type, although small but grows in clusters, when the flowers bloom in the sun create a brilliant canopy.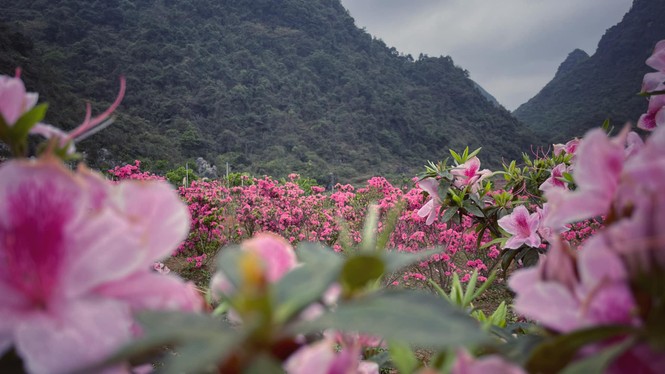 Every degree at the end of March and the beginning of April, thousands of flowers bloom and bloom.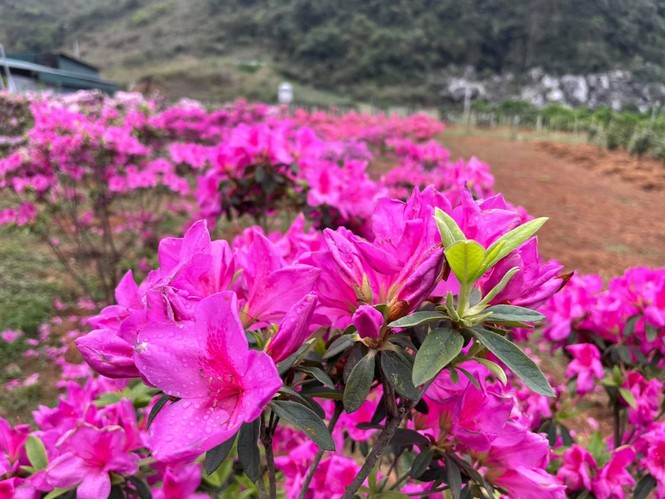 The proud azalea flowers bloom brilliantly, beautifying the mountain and forest landscape.
Another type only blooms into single flowers, but the flowers are very large, in addition, the color is bright red, so when placed in the middle of the wild scenery, it attracts the eye.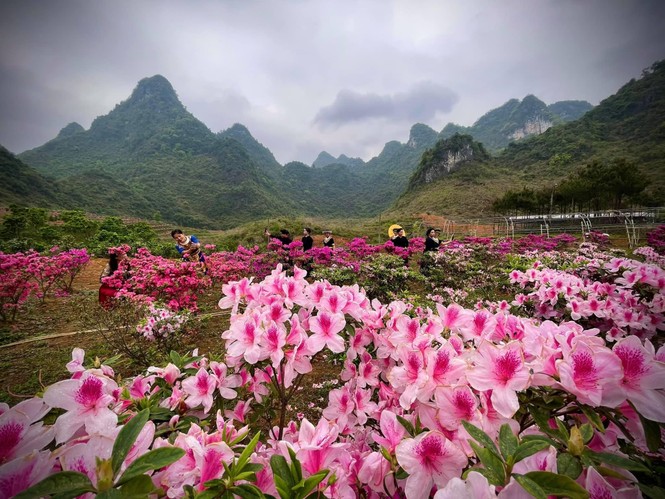 The scene becomes even more majestic, poetic thanks to the blooming azaleas, adorn the mountains and forests.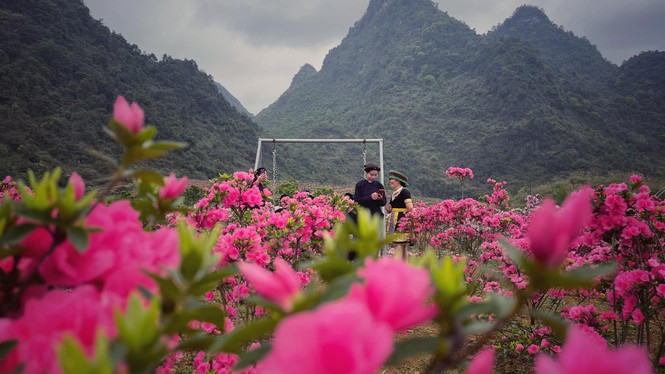 Rhododendrons possess a vibrant, powerful beauty with many beautiful colors.
Azaleas are in full bloom at their most beautiful, especially if you want to see the azaleas with your own eyes, do not hesitate to choose for yourself a Cao Bang trip to Chongqing today. The chance of seeing a forest flower that blooms only once a year will pass if you don't catch it.
The romantic scene of azalea forest in Cao Bang
Instead of a vast green, when setting foot on the rhododendron hill of Lung Moong , visitors will be greeted by a vast pink like the lit fire and bring warmth to the cold of Early morning dew in Cao Bang.
Although azaleas come in different colors of red, yellow, white …, the flowers here are only dark and light pink, it is very rare that you can find some pristine white petals weaving through the garden.
Flowers have 2 main colors: dark pink and light (Photo Fb Ha Ngoan)
This place may not have as many flowers as the rhododendron hill on Cheonju mountain in Korea, nor is it nicely shaped like the rhododendron garden in Nezu Japan, but it exudes a natural, rustic beauty. charming mountain forests of Cao Bang.
In particular, the rhododendron forest in Cao Bang is skillfully planted in rows and straight ways so that visitors can walk in the middle of the garden without worrying about stepping on the roots or branches, and planting in clusters one by one. like pink raspberries placed close together in a wedding ceremony.
Flowers are planted in clear lines
Moreover, each flower is carefully trimmed and cared for, so every flower is smooth and cool and spreads out, giving off the full scent. There are even velvety flower lights that are still wet with night mist, when the sun shines on, it shines like diamond studded, so beautiful that no words can describe it.
The flowers here are very fresh and beautiful (Photo: Fb Dong Hue)
It is known that the folded azalea petals not only represent the pure beauty of a woman, or bring vitality, prosperity, but also associated with a beautiful love story. "A hut that is painted with two golden hearts" of a poor couple, so people often consider it as crystallization for couple love.
That is why, when the rhododendron flower hill in Cao Bang blooms, you will see a lot of Tay boys and girls dressed in brand-new traditional outfits, coming together to take pictures and save them. and memorable memories, making this place as noisy as the love markets.
Ethnic girls also bring their dresses to take pictures
In addition, to serve the photography needs of tourists, the owner of the azalea forest in Cao Bang also put a swing in the middle. So whether you stand or sit, take a close shot or take a long shot, you can "buy" extremely beautiful and genuine pictures to "brighten" Instagram.
A virtual live swing in the garden (Photo by Fb Samphuong Samphuong)
Revealing, please watch when it is sunny to make the picture more sharp and attractive, but if it is early in the morning when the white mist has not melted yet, embrace the flower garden like a fairyland will be great for watching.
After taking pictures tired of the fascinating flowers, do not forget to visit famous tourist spots in Chongqing nearby such as: Ban Gioc waterfall , Nguom Ngao cave , Ban Viet lake or  Buddhist temple. Tich Truc Lam … will not disappoint you.
Ho Ban Viet is so surreal (Photo FB Tien Nguyen)
How to move to azalea forest in Cao Bang
From the center of Cao Bang city, tourists go southwest to 3/10, exit the roundabout, turn to KH-BG, at the end of the road, turn right onto Highway 3. Just go straight about 28km to Cua Hang Son – Hoa Nui Vlxd, then turn left onto Provincial Highway 206, go all the way across Axis Road, turn right onto Provincial Highway 207, then turn left onto Road 206.
After going about 21.2 km, then turn left onto the unnamed road, then turn right on provincial road 213/211, at this time ask the people in the area for about 2km to reach the valley of azaleas in Trung Khanh .
The ideal time to visit the azalea forest in Cao Bang
Normally, the bonus azalea flowers bloom on the occasion of Tet, but the flowers growing in the forest, typically in the Kham Thanh azalea garden, have a different cycle, blooming at the end of February and early March until the end of April – warm weather, the coming of summer.
In it, they will bloom most beautifully, most brilliantly within March, then fade and bear fruit. But the interesting point is that they won't bloom at the same time but take turns, so the scene is always extremely attractive.
The flowers in full bloom are extremely charming (Photo @ tt.thuongthuong)
If you cannot go to Korea or Japan, you should make a trip to the azalea forest in Cao Bang to "quench your thirst"!