Ms. Tran Thi Ngoc (40 years old) has 20 years of work that many people hear have "goosebumps", which is taking care of wild animals like tigers, lions, bears…
Over the past 20 years, Ms. Tran Thi Ngoc (40 years old, a zookeeper at Thu Le Park, Hanoi) has been working as a "nanny" for dozens of wild animals. These beasts can make many people afraid, but with Ms. Ngoc, they are still cared for and caressed like "baby".
Ms. Ngoc gave each bear, tiger, and lion affectionate names and every day called them by that intimate name.
"Dad, let's eat!" If you call it that, this tiger friend will know immediately," she said.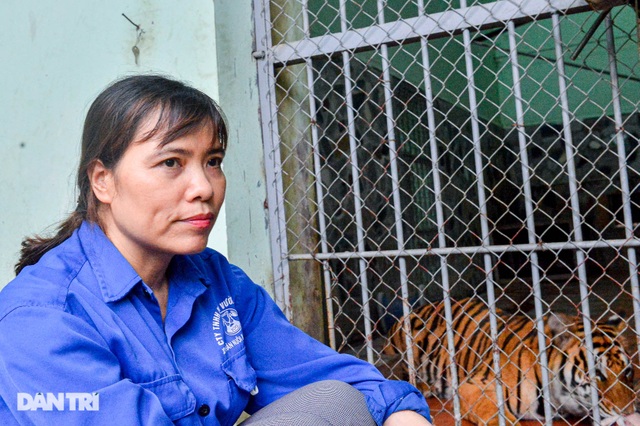 Ms. Ngoc said that for more than 20 years, her job has been to bathe and feed the tigers, lions and bears in the park. At times, she sat and stroked to catch lice for a lion weighing more than 200 kg.
Since she loves animals, Ngoc has a predestined relationship with the profession of taking care of animals. However, on the first day of her career, she could not hide her fear of large, growling animals.
"The older brothers and sisters helped me get used to it gradually to reduce that fear. Over time, I realized, they are not so aggressive. Sticking for a long time, they also have feelings for me," she said. the.
"But they are all carnivores, so they have wild instincts. We have to be very careful," Ngoc said.
During the years of her profession, Ms. Ngoc said that she had taken care of a lion since birth and named it Cham. When the Cham lion was born, his mother died, so since then, she and her colleagues have taken turns taking care of and feeding the Cham.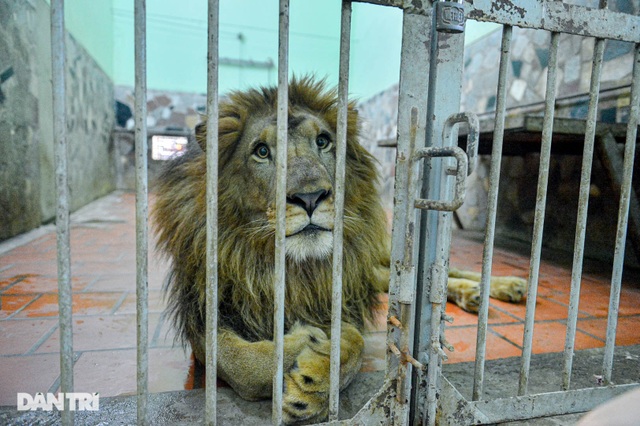 At first, when the Cham lion was young, she had to feed each small spoonful of milk. "Raising animals at a young age is like taking care of small children. When they stop eating, they have to be coaxed to find a way to eat. There are days when Cham don't eat, I have to flatter and cuddle to feed them," Ms. Ngoc shared. shall.
During more than 3 years of working with the Cham historical monk, she considers this lion as her relative. Every day, every time she comes, she runs to "see" this lovely lion before starting daily tasks.
"Raising this Cham lion from a young age, it is very affectionate, wherever I go, it wants to follow. Many times when I deliberately hide from it, it also screams as if it is calling for me," Ms. Ngoc shared.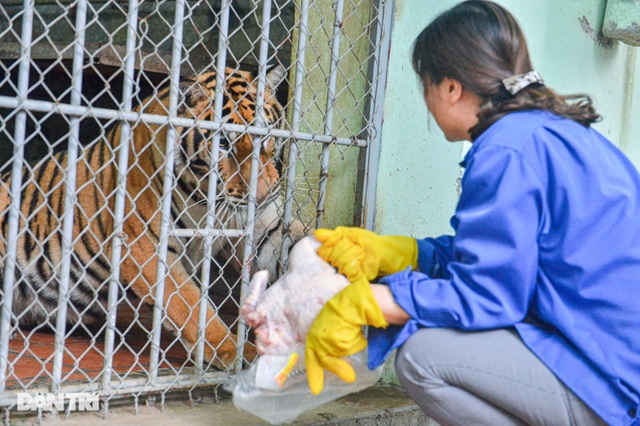 In addition to the Cham lion, she also takes care of two tigers named Bong and Bi. These two tigers were brought to Thu Le Park when they were 4 months old and weighed about 12kg.
"At first, these two tigers were so fierce that they didn't let us get close. I had to patiently caress and cuddle for a long time before they got to know each other. I let them practice bottle-feeding and find ways to stimulate defecation. .. Take care of them like taking care of your own children", she confided.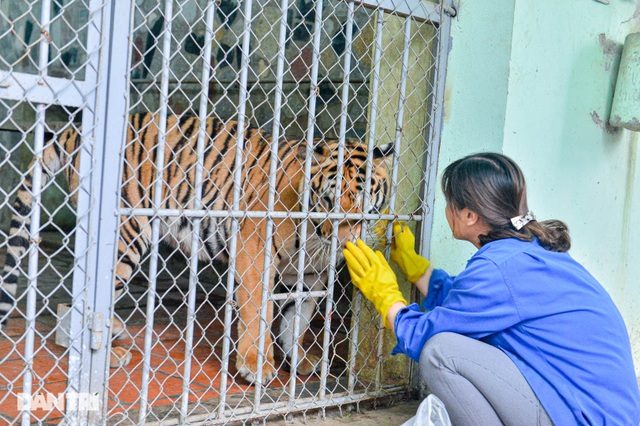 "I still often pet them when I have free time. Every morning the two tigers are happy to see me."
However, on Ngoc's body, there are also many scratches and bites left over in the process of caring for and playing with wild animals.
"Because of their large size, every time they play, their "love bite" can also bruise me all over. Sometimes when I come, they jump into my lap asking for a head and back rub," she said. tell. "I'm so sorry that sometimes I bruise my hands and feet but I'm still happy."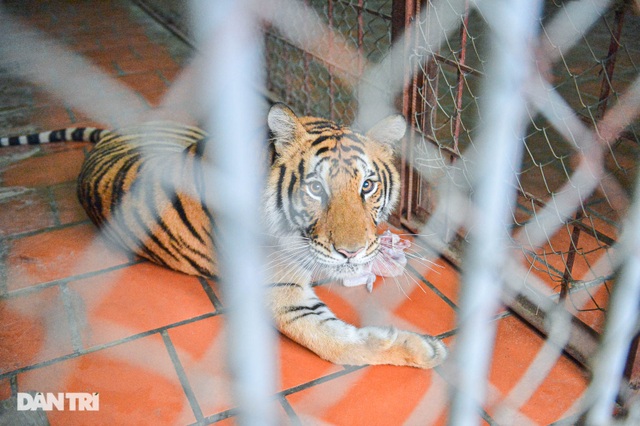 Every day, Ms. Ngoc regularly feeds the "pets" 2 meals a day, cleans the barn. On a hot day, she washed them with her own hands.