Lan Ha Bay, which surrounds the Cat Ba archipelago, is gradually becoming an ideal beach resort, promising many interesting experiences. Here are the travel experiences of Lan Ha Bay – this enchanting "paradise pearl island" in Cat Ba that Vinlove.net shares with you.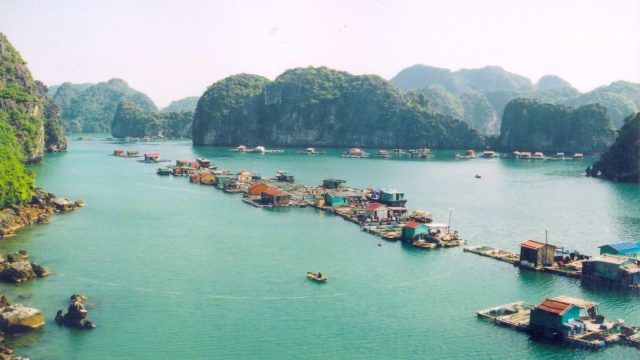 The ideal time to travel to Lan Ha Bay
Lan Ha Bay is located in the south of Ha Long Bay and east of Cat Ba Island. The total area of ​​​​the bay is more than 7,000 hectares, featuring the magnificent beauty of about 400 dense and large islands with many unique shapes. Unlike Ha Long Bay in Quang Ninh,  all islands in Lan Ha Bay are covered with green trees, even if they are just very small islands.
With a cool and fresh climate, you can travel to Lan Ha Bay at any time of the year. Normally, with domestic tourists, they often go in the summer from April to October. The weather at this time is sunny, clear blue sea, suitable for relaxing swimming as well as sailing on the bay. As for foreign tourists, Lan Ha Bay becomes the most beautiful from November to March.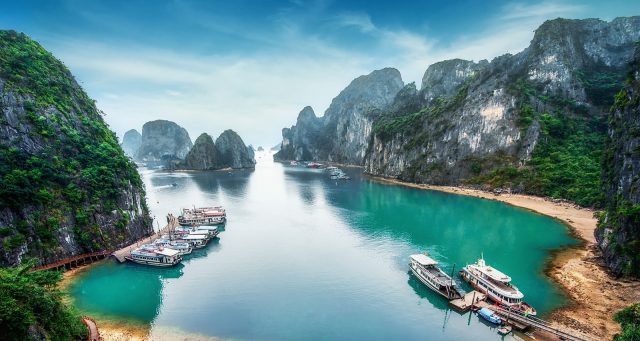 Means of transportation to Lan Ha Bay
To get to Lan Ha Bay, you move to Ben Beo from the center of Cat Ba Island, here buy tickets to visit the bay and then hire a boat to go to the tourist destination you want. If you just go around the bay, close to the shore and don't go far, you should rent a motorboat from the locals. In addition, with large groups, you can actively rent a boat at the wharf. If you intend to rest in the bay areas such as Cat Ba Sandy Beach, Monkey Island Resort, you can ask to rent a boat to go to the bay at these resorts.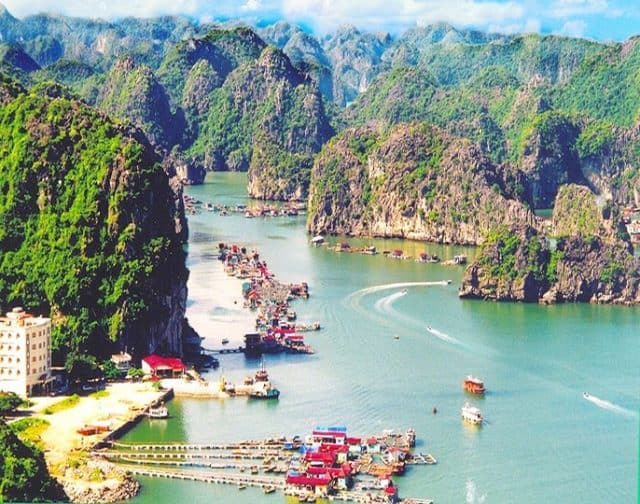 Tourist attractions in Lan Ha Bay
Luon Cave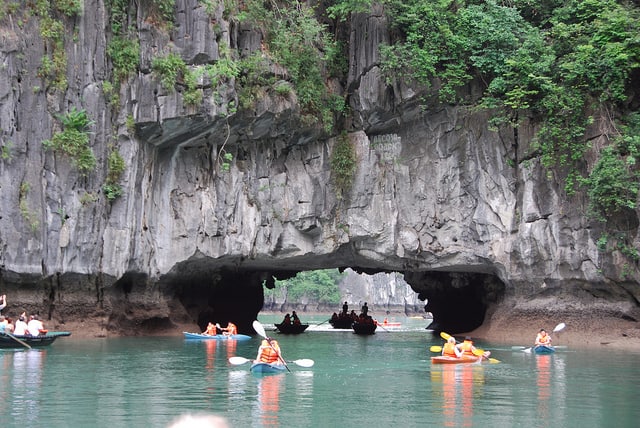 Luon Cave is located on Bo Hon island, on the right is Heaven Gate, in front of the cave is Con Rua island. The cliffs surrounding the cave stand tall, the water in the four seasons is clear, calm, and calm. Luon Cave is a tourist destination in Lan Ha Bay that attracts tourists not only by its unique shape but also by its harmonious and charming natural scenery.
Nam Cat Island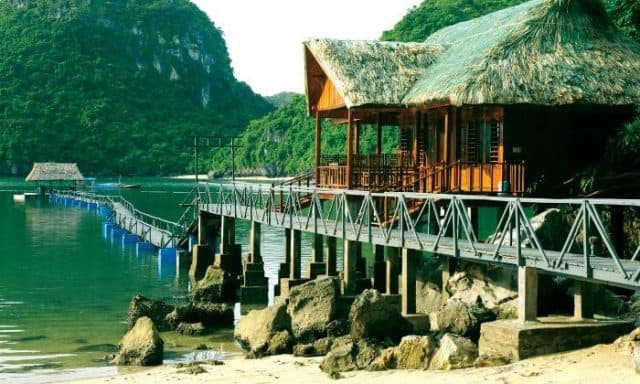 From Beo wharf, in the direction of Lan Ha Bay about 15 minutes, you will arrive at the pristine Nam Cat island . This place attracts tourists because of its pristine features, without much artificial intervention. On the island, there are 3 big wooden houses on stilts and 6 guest houses made from bamboo, while resting here you will be immersed in nature and the taste of the sea.
In addition, the beautiful Nam Cat beach is also a place for visitors to freely swim in the clear blue water, freely watching schools of small fish, coral reefs or bunches of seaweed. There are a full range of services for visitors such as kayaking, scuba diving, fishing … to collective activities such as campfires, night activities.
Monkey Island (Pineapple Cat Island)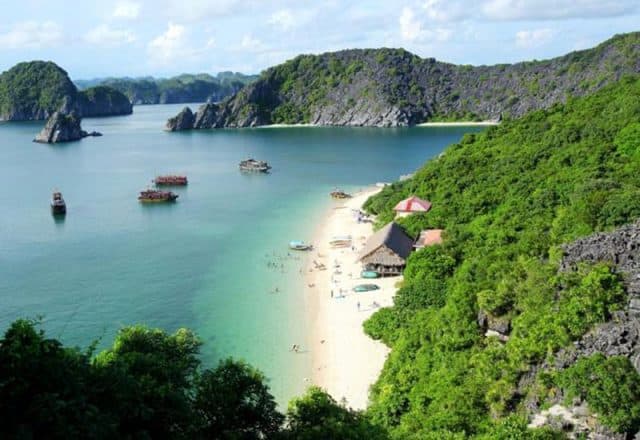 To reach Monkey Island, tourists will take a boat from Ben Beo, take about 10 minutes through Cai Beo fishing village and some small islands. Previously, Monkey Island was called Cat Dua Island because there were many wild pineapple trees on the island. Currently, the name of the island is called Monkey Island because on the island there are more than 20 monkeys brought here by the management of Cat Ba National Park.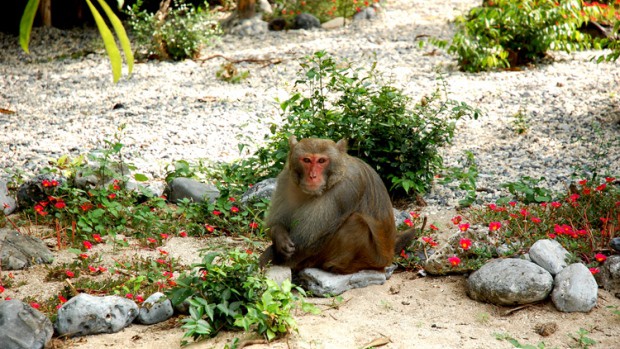 The friendly monkeys often go down to the beach to play with tourists, eat foods given by tourists such as bananas, apples, tangerines, candies… they freely play and climb, creating a special impression for those who have ever been. come here.
Van Boi Beach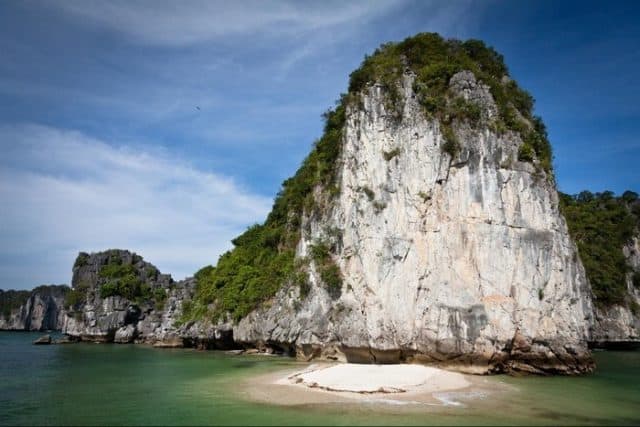 Located in the calmest part of the Bay, the blue sea in the same charming landscape makes Van Boi beach famous for tourists. When traveling to Lan Ha Bay, everyone will be attracted by the shy and charming beauty of the landscape here. This place is suitable for kayaking as well as swimming.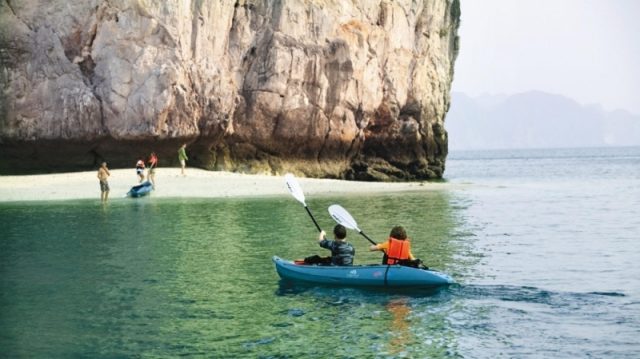 Turtle Island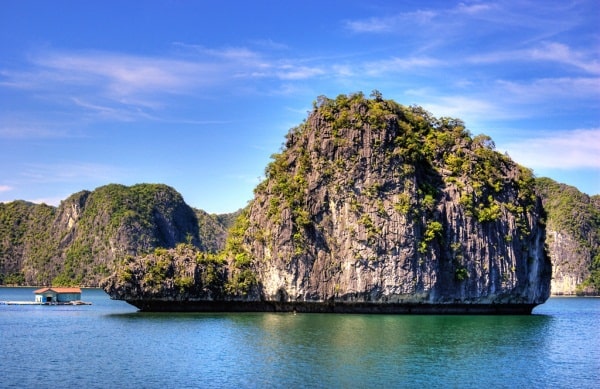 Turtle Island is located in the population of Lan Ha Bay, close to the Ben Beo route to Viet Hai village. This is a small island that attracts tourists because of its unique shape like a turtle swimming on the water.
Hon Chuong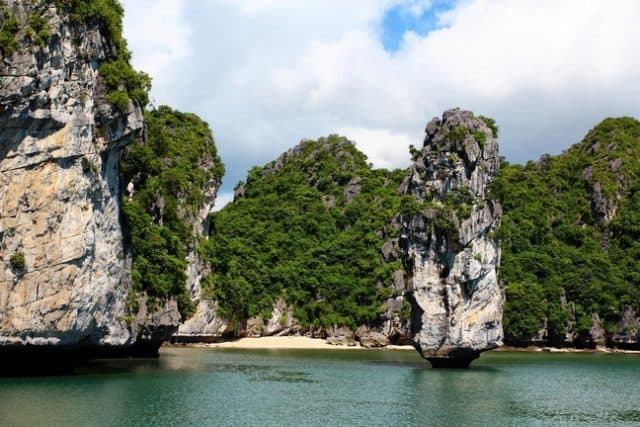 You will see Hon Chuong on the way from Cat Ba to Cua Van fishing village. Hon Chuong is also known as But Islet, Candle Islet or Bap Chuoi Islet. Standing in the middle of the clear blue water, this is also a famous tourist destination that many tourists visit and take photos.
What to eat in Lan Ha Bay?
Seafood here is very diverse and rich such as sea crabs, tu clams, sea clams, lobsters, sea snakes… However, the delicious specialties that you must definitely enjoy when coming to Lan Ha are grilled sea sam, shrimp. Baked lobster with egg sauce, roasted crab with salt, grilled pork belly, blanched lobster with wine…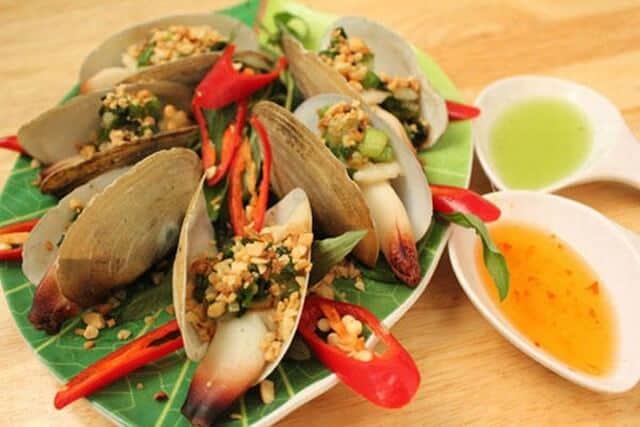 Things to note when traveling to Lan Ha Bay
– According to the reviews of tourists, you should contact in advance to get a reasonable price because Cat Ba island is famous for being quite expensive. If you do not have much money, you should go in a large group to save money.
– You should prepare enough food and necessary items such as pots, soft drinks, lighters, anti-mosquito cream, tents, sleeping bags… if you want to sleep on the island because the services in Lan Ha have not yet developed. .
– Should bring a waterproof bag to store everyone's electronics before going to the island.
Hopefully, the self-sufficient Lan Ha Bay travel experiences shared by Vinlove.net above will help you have a meaningful and memorable trip.