Referring to LangBiang mountain in Da Lat, surely no one is unaware. A very popular tourist destination that everyone who goes to Da Lat must have visited, whether it is to the top by jeep or by asphalt or jungle trekking. But have you ever really experienced trekking LangBiang? Follow me to try!

Did you know that the peak of Lang Biang that everyone goes there is actually just a peak of Lang Biang called Ra Da Hill, with an altitude of 1,929 m above sea level? Lang Biang still has 2 other peaks called Nui Ong and Nui Ba, in which Nui Ba is really the highest peak of Lang Biang, located at an altitude of 2,167 m, where you can enjoy the panoramic view of Lac Duong town and Lang Biang. Da Lat city.

View from the top of LangBiang.Preparing to go
Because the plan is to have a light lunch at the top and then go down, so before going to Lang Biang tourist area, we stopped by to buy sticky rice, bread for lunch, add 1.5L of water for each person (this is important).
That day, it rained continuously in Da Lat, but fortunately, when we reached the foot of the mountain, the rain had just stopped and the sky was clear. Excitedly preparing to go, the security prompted… to buy a ticket. Yes, I went to climb the side road that is not in the tourist area but still had to buy a ticket (I guess because that road once in a while it will lead back to the asphalt road for jeeps to run). 30,000 VND/person.
In addition, this result was completely lured by me, but there is no way I normally participate in this kind of physical activity. In general, there are many reasons, but part of it is that I think it is the same as the road to Rada Hill going through the forest, but longer. In general, a mistake, a big mistake.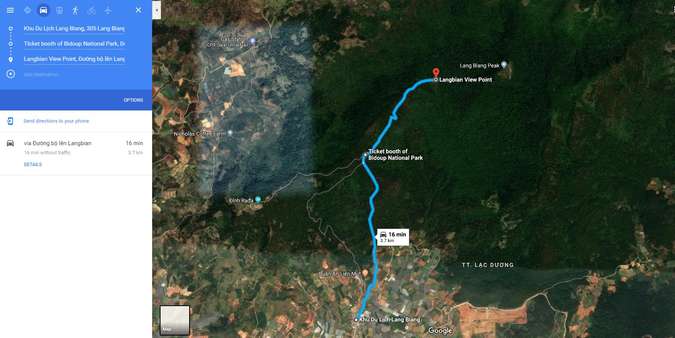 Map to the top of Lang Biang (points to "bird viewing point").
Lang Biang Peak is the highest peak (2,167 m high), not Ra Da Hill (1,929 m high), which is a tourist peak that most people who go to Lang Biang go there. The starting point is the ticket office of the resort (altitude 1,489 m above sea level).
From the starting point to Lang Biang peak will be divided into 2 stages:The first leg from the starting point to the junction (abandoned ticket station) is about 2.3 km (according to Google Map) (or 3.1 km if taking the asphalt road).The second leg from the abandoned ticket office to the top is about 2.2 km (according to the map of the tourist area). Before reaching the top, you will pass through the "bird viewing point" (or on google map, "Lang Biang peak viewing point") which is about 1.4 km from the ticket station.
In general, this distance is relatively only because the road is steep and forest road… As if going in and out is more than 10 km of forest road… And all this information I completely did not know when I started… (know a lot in advance. while at home).Start trekking LangBiang through the forest through the mountains
From the starting point, the path is also normal. It is a hill climbing trail similar to the forest road to Rada Hill (which even children can walk because in high school, my class went there by that way…). This section has some pretty good photo spots.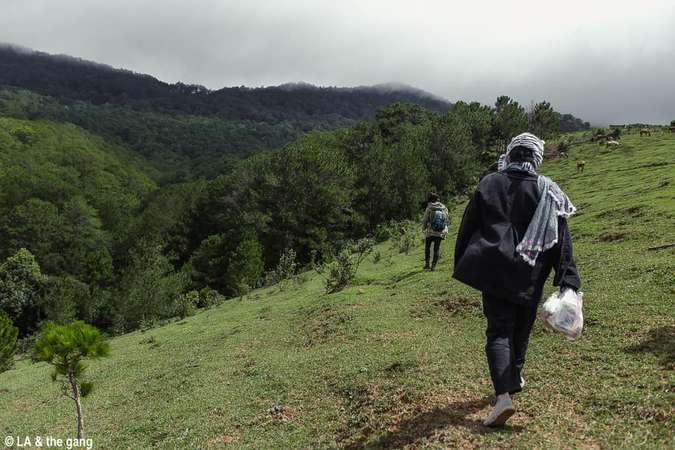 On the hill grazing horses.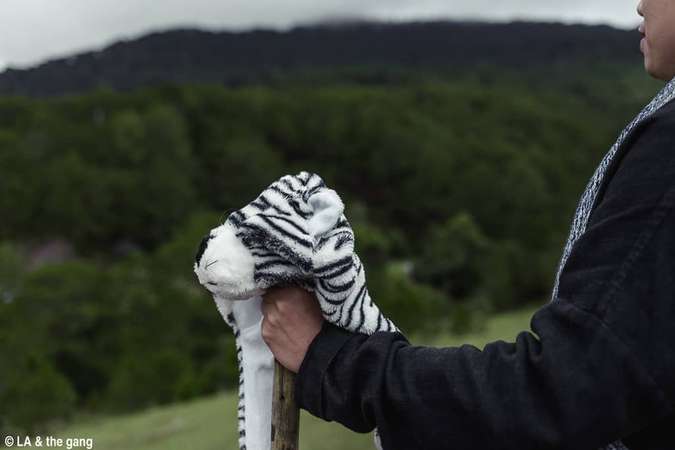 "Imagine" this is a zebra.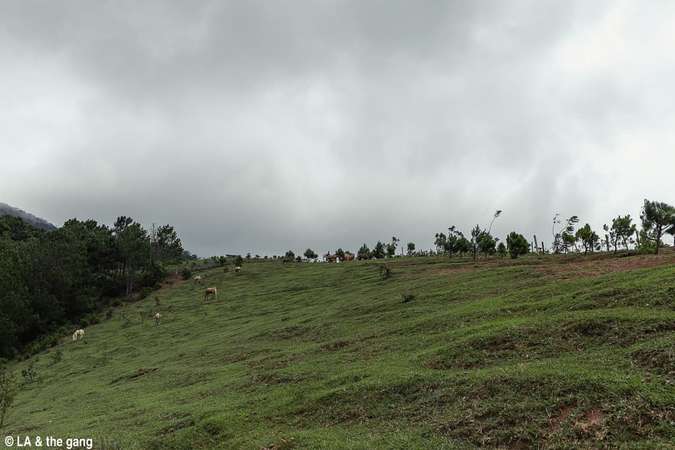 This section has many beautiful places to take pictures.
In addition, before this section, there are quite a few trees that can be picked up to make walking sticks (probably because this place is still a residential area). The banh beo or banh beo are actually banh beo like me, so remember to pick up a tree before it's too late… (read to the next section and then you'll know).
After this section, there is a beautiful passage through the garden of the people. If you like taking pictures, this is the most "fun" place to take pictures.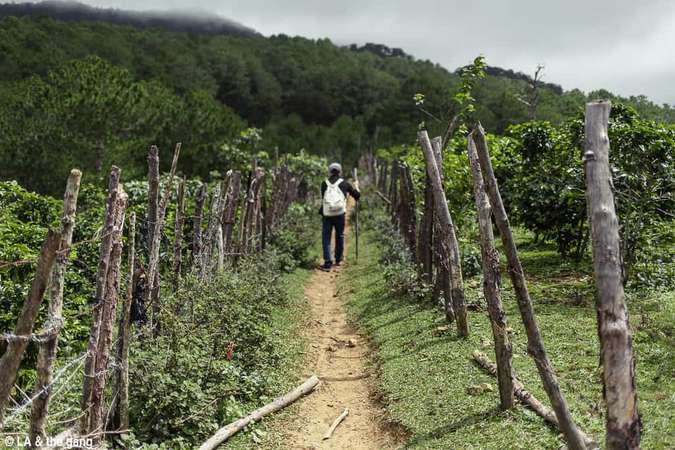 The passage through the garden of the house.
Beyond this place is a relatively flat land. Come here, take a break.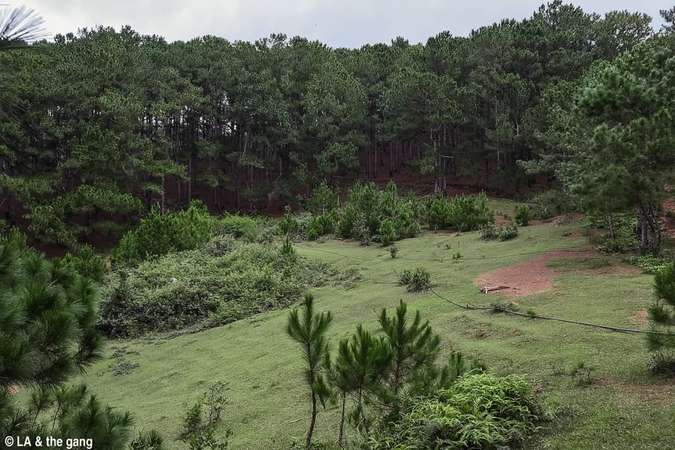 View of the rest area.
After this section, the road begins to be very steep. It's not difficult to go, but it's tiring. There are quite a few narrow roads, so be careful. From this section, there will also be a guide board to go up which direction to go down, so just follow the instruction board. This stretch of road has also been displayed on Google Map so don't worry about getting lost. This song may seem tiring, but it's actually nothing, so don't waste too much water.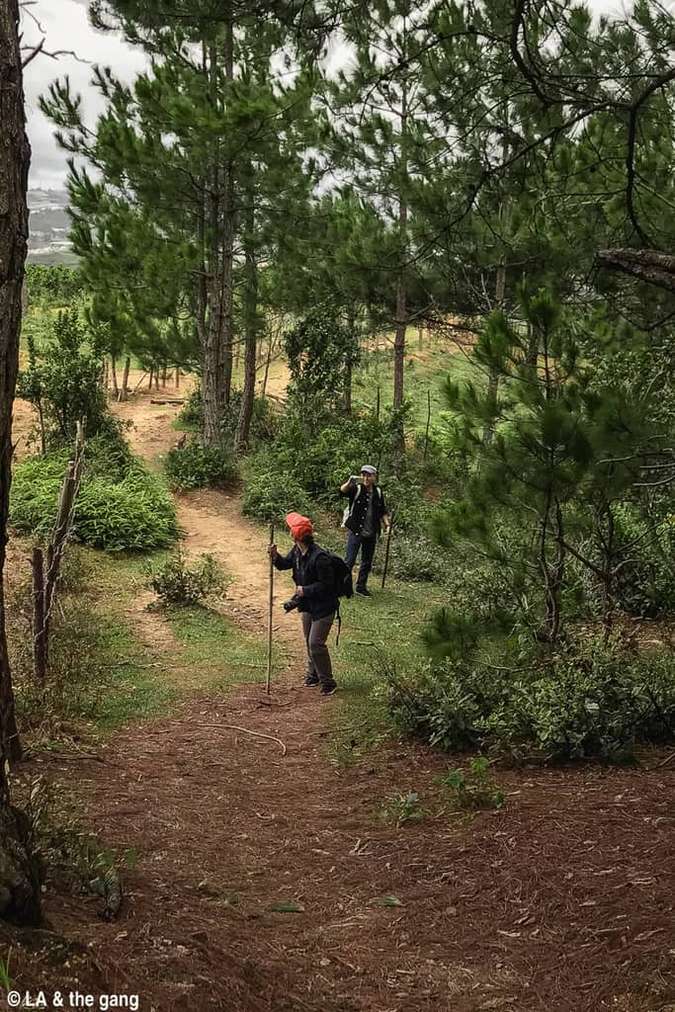 Here's where the tiring part begins.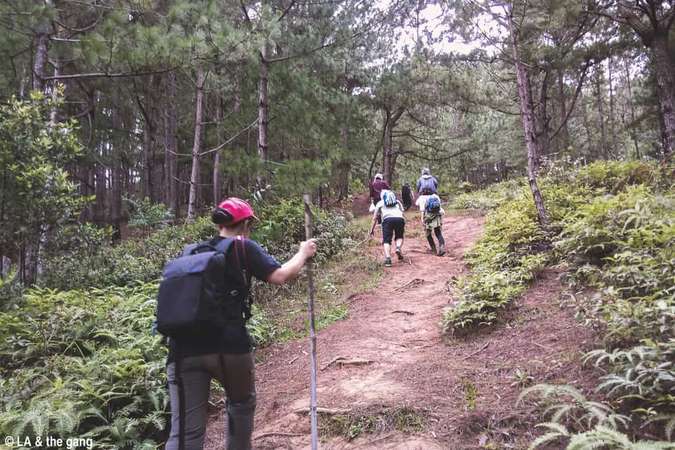 The slope looks terrible.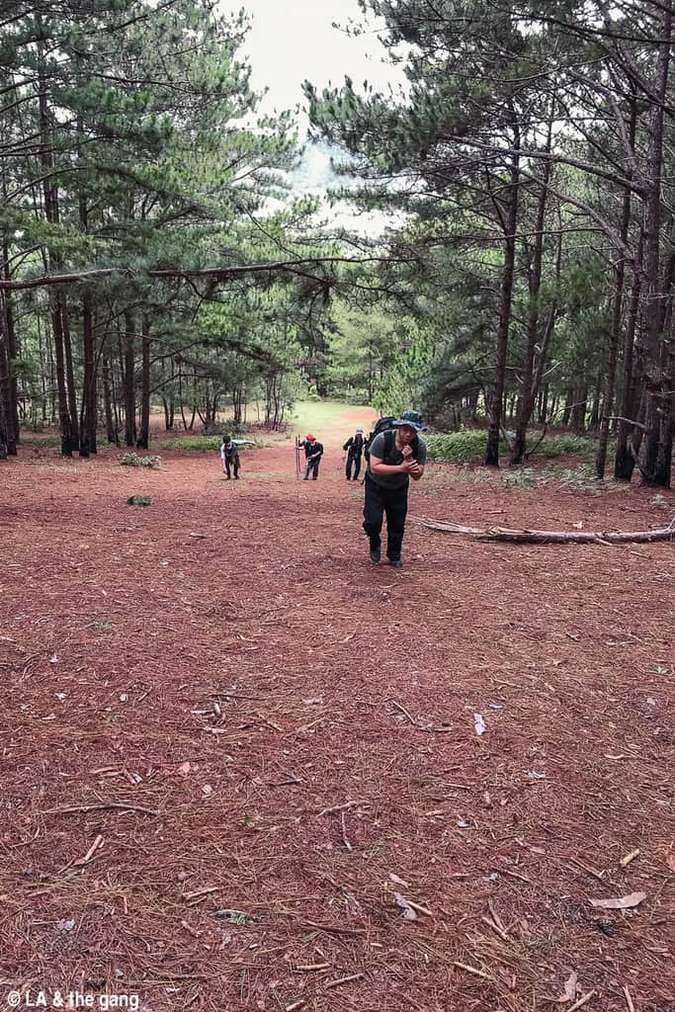 You should save water.
At the end of this section, you will come to the asphalt road where jeeps run to take guests to Rada Hill. When you get to the asphalt road, you have to go up a bit to get to the abandoned ticket office. It took us an hour and a half to go from the foot of the mountain to this junction, including the time to take pictures and rest. This is also the place where you can pick up the jeep if you are too tired to return. There is an information map here, and here I know (actually know it or not) how far to go to the top.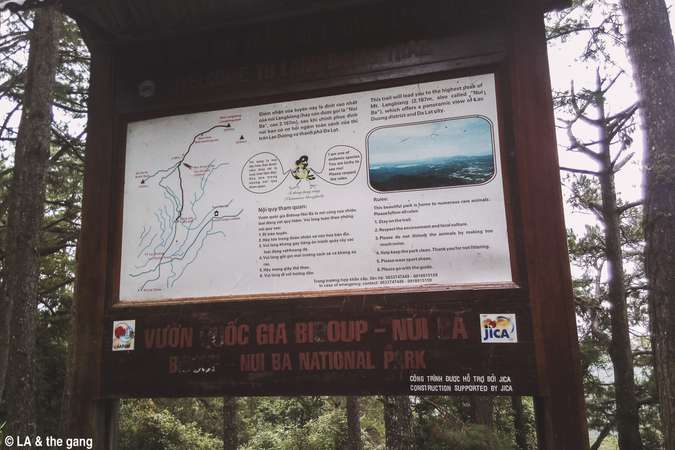 News Board.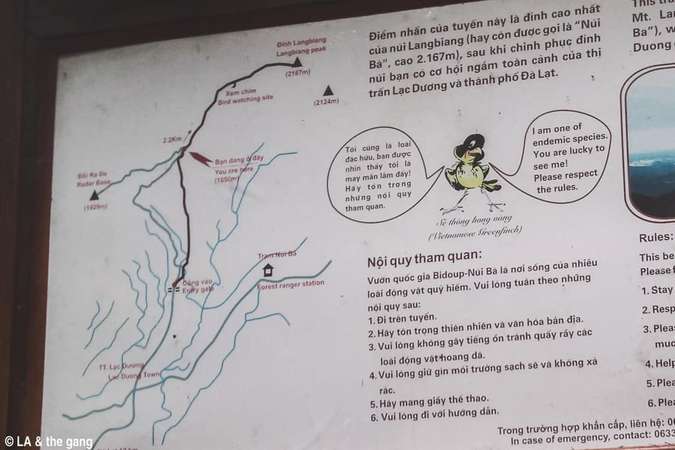 If you follow here, you won't get lost.Continue the journey
From here to the middle of the road – to the place marked on the information board as "bird viewing point" or on google map as "LangBiang peak viewing point") is about 1.4 km. This is a relatively comfortable 1.4 km, It's not too steep, and it's nothing, if you watch the movie and read the story, you will see that there are segments of walking in the forest, it must be this size.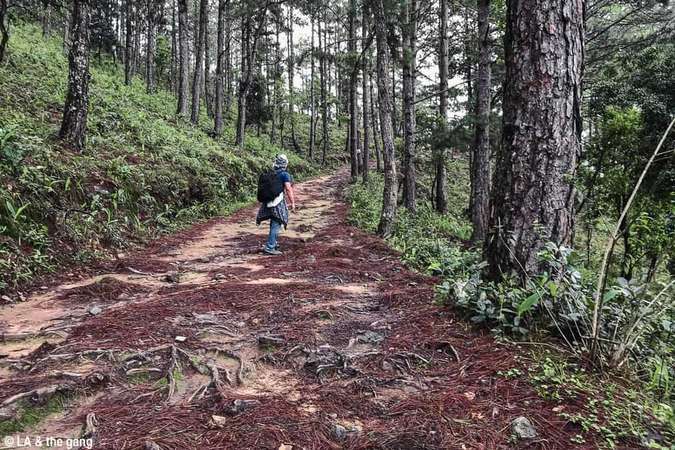 The road from the fork in.
By the way, in case you have an upset stomach, this is the right path to "solve sadness". Don't let it go in there, it won't be very fun…
The whole part before going in the middle of the forest, the view is almost nothing. Then, when I reached the "bird watching point", suddenly the scene opened up in front of my eyes and the misty Lang Biang peak suddenly appeared in front of my eyes.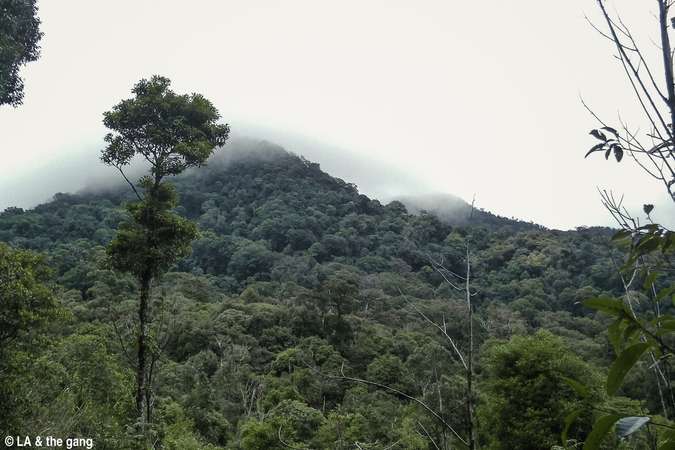 Lang Biang peak seen from the "bird watching point".
This is also the official end of the fun forest walking scene… The real challenge only begins at the last 960 m… (don't ask me why the distance numbers it adds up are incorrect. , because that's what it is).Trekking LangBiang is having to climb mountains and forests
After seeing Lang Biang peak, the next road is to go deep into the forest. Due to the recent rain, it is very muddy in here. Fortunately, there are no mosquitoes, but for a young man who doesn't like dirty and wet like me, this is really hard.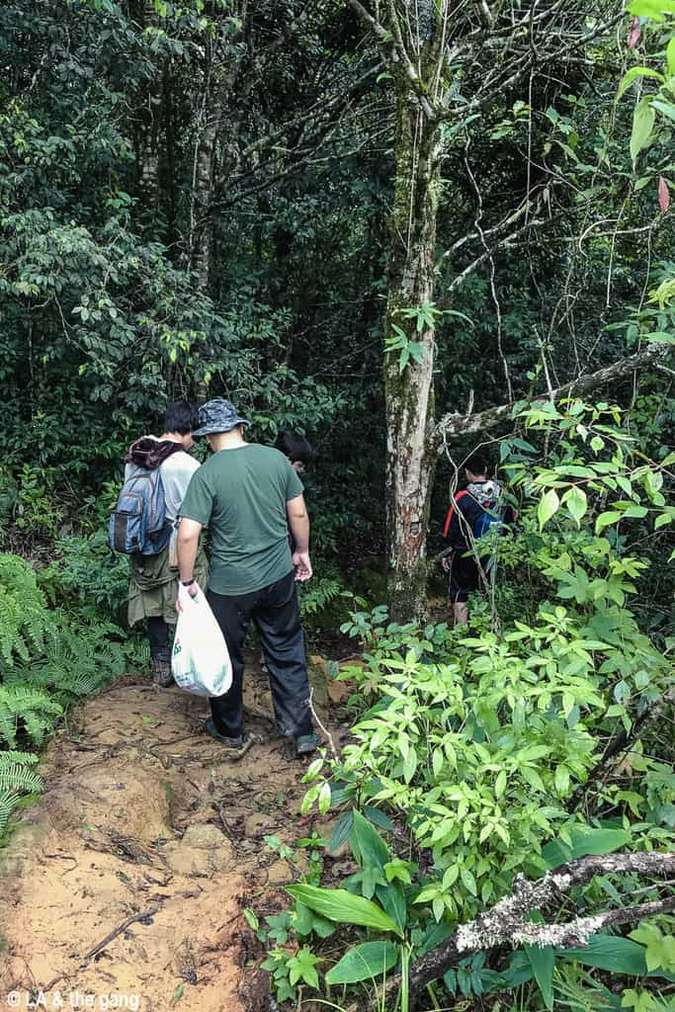 It's time to go to the forest.
The road is a bit muddy.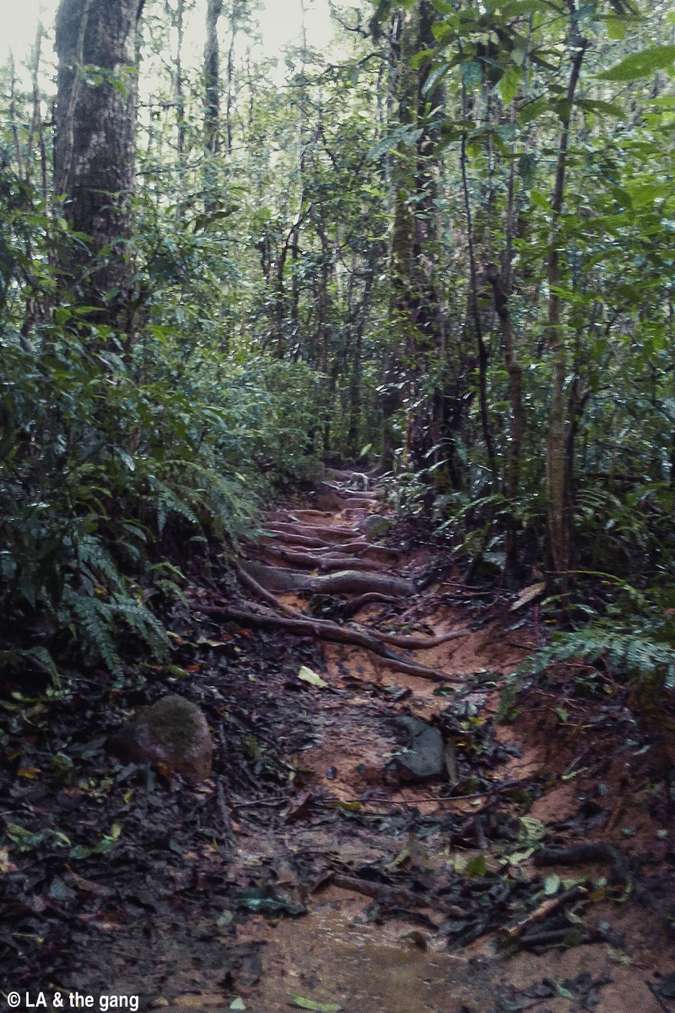 Those who wear white shoes are "determined".
In general, when I listen to climbing Lang Biang, I always despise the idea that there is nothing wrong with going on the trail at this place, which is so famous. Only after going will I know I was wrong (or deceived) because this is no different from when I went to Nam Cat Tien, but this one is much longer.
Past the muddy road (which some people have photographed frogs here) comes the final challenge: the stairs leading to the top. Along the way there will also be road signs and distance markers (but don't believe it, the reality is much farther than the number written there…).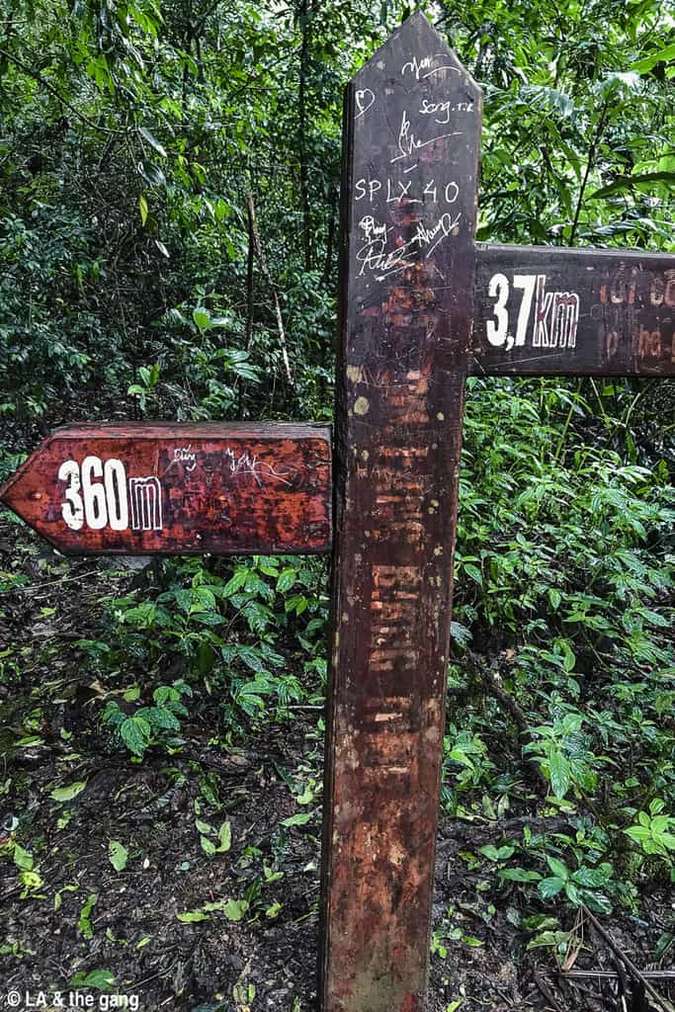 Landmarks before entering the stairwell area.
Saying it's a step, it's actually wooden panels that are hammered into the ground to form a step up, and each step is terrifyingly high, especially terrified with his chibi feet.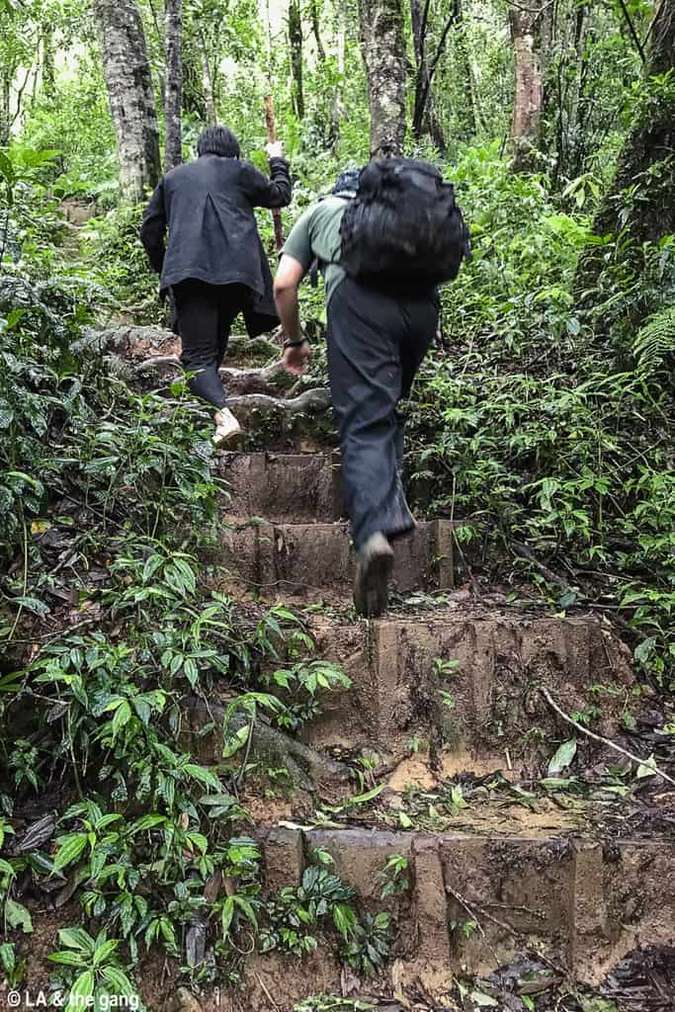 Stairway to Heaven…
There are also some fallen trees to climb over.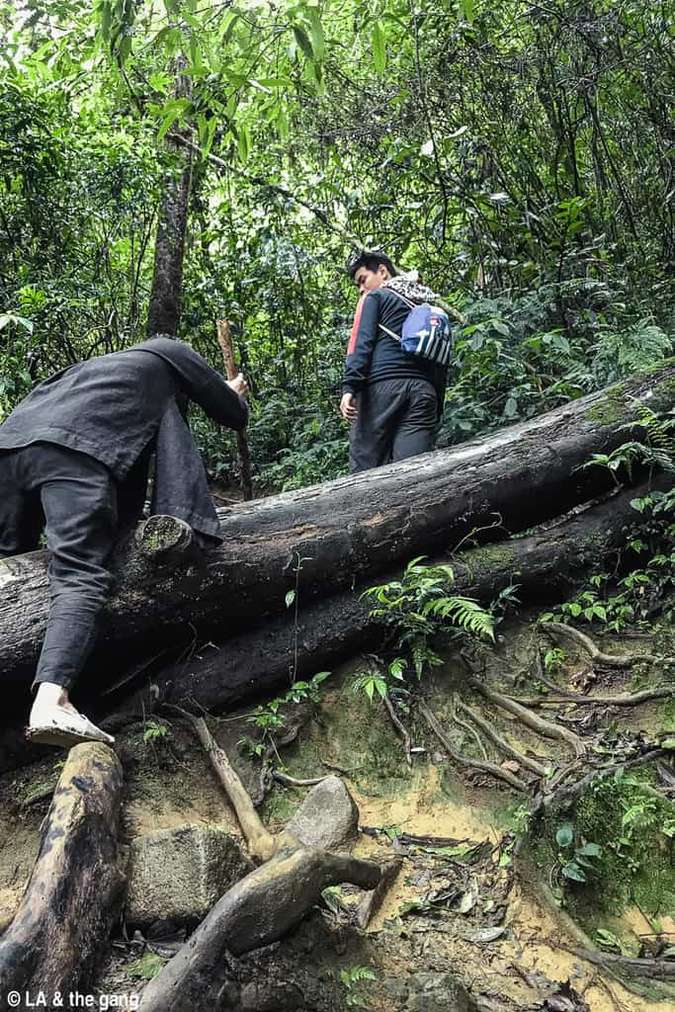 Climb a fallen tree.
And it was in this stairwell area that I slipped and fell. When he first fell, he couldn't get up and started not knowing what happened and how to get out. Seriously, it's not easy to rescue here, please be careful… The road for one person is already difficult, don't say anything to carry another person. Fortunately, after resting for a while, I can still continue, as long as I don't stay on the "coffee stick" leg.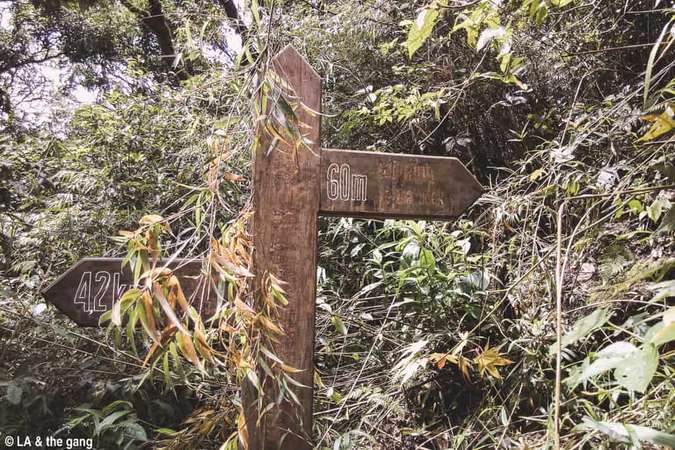 60 meters and…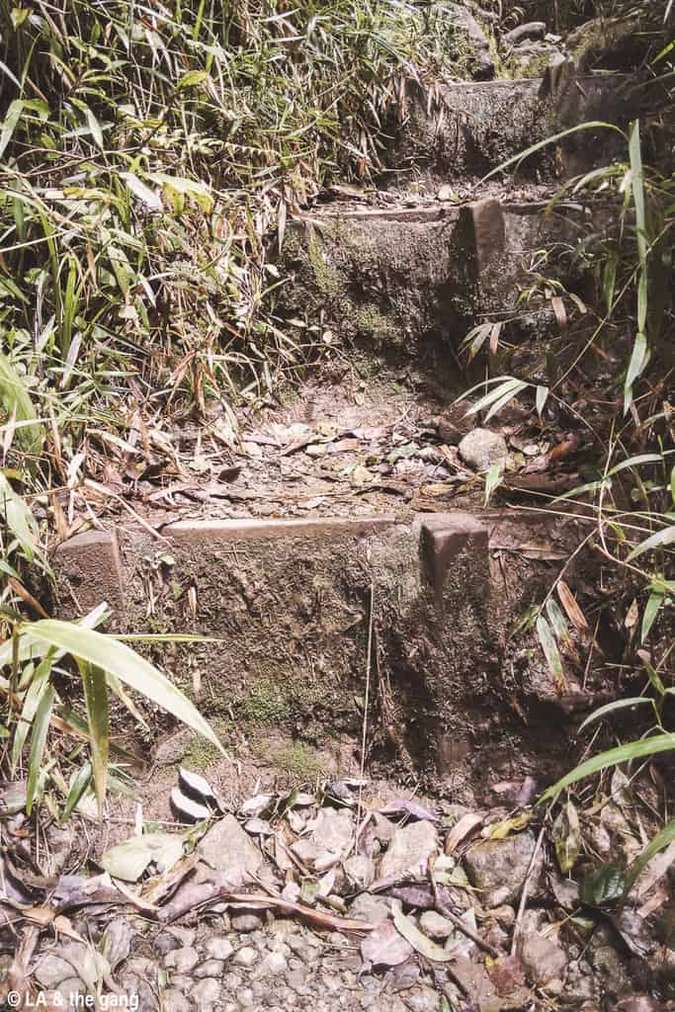 … the last stairs.Trembling on top of Lang Biang
When the sun rises overhead, you know you've arrived. After passing the last steps, you will see the sky and the earth, the wind is blowing and the team in the team has arrived before you.
In theory, the scenery above is also worth more than 3 hours through the forest to climb. Every crime, it's cold up here, hands and feet are stiff, legs are iced, and the ground is both steep and rocky so I can't take much pictures.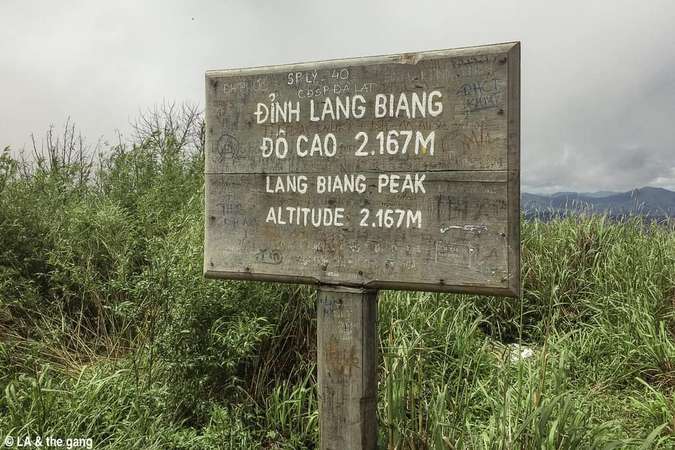 Peak marker.
From the start to the top is more than 3 and a half hours. When I got there, I started taking out the food to eat. The cold wind is numb, they have to hug each other and eat to keep warm without flying food. By the way, there are discs in the forest. When he reached the top, he discovered that a young man in the team was infected with leeches. While everyone retreated to prepare food, the young man had to sit and remove the leech from his bleeding leg.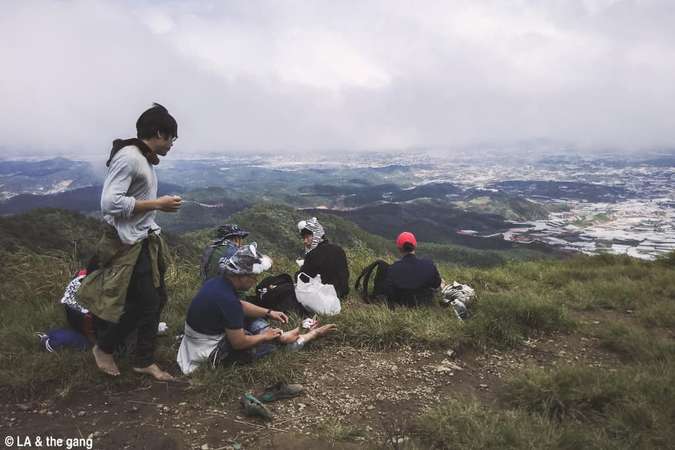 Prepare for lunch.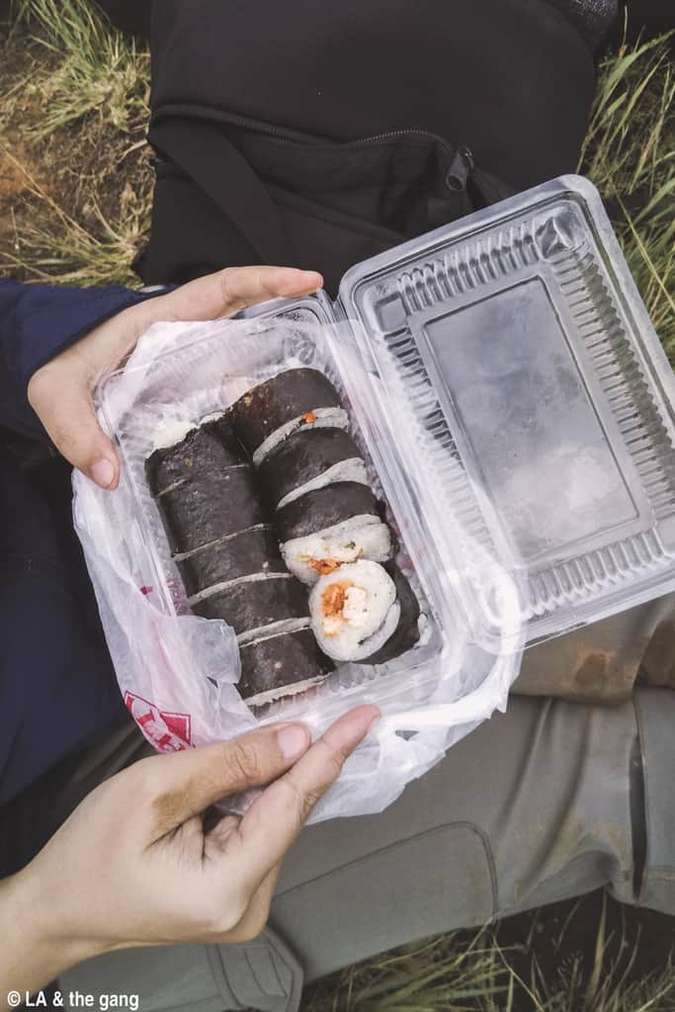 Rice roll.
After eating, lie down for a while. It looks like that, but lying on the luxuriant stone floor is not very comfortable… And it's so cold that I have to pull out a raincoat to cover…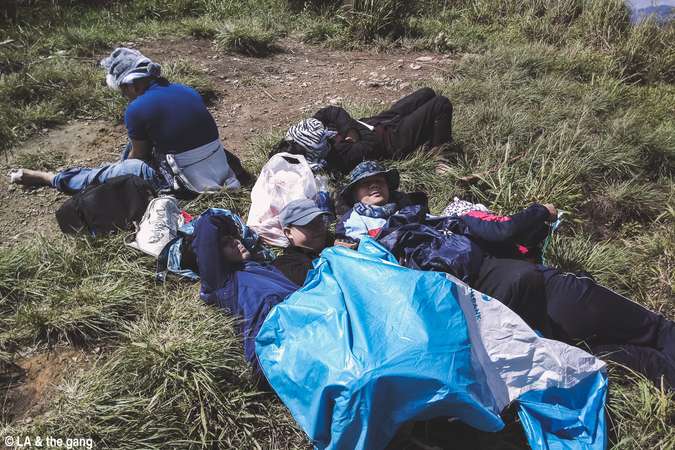 Clean up and lay down.
After lying down for about 5 minutes, the sky began to pull dark clouds. In general, imagining the scene of pouring rain here was not very happy, so we immediately packed up and went down the mountain. This is around 2:15pm (9:40am departure time).Xiashan
Going down is actually better than going up (but be more careful). Thanks to being "caffeine", I found a way to get down the mountain without falling. That is to squat and then slide down, slowly but surely. Or turn around and crawl down.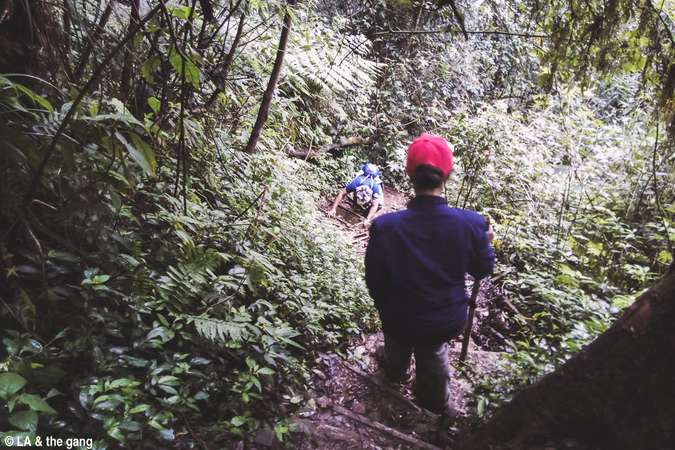 Way down.
On the way down, we met a few groups (mostly foreigners) going up, then they came back down and overtaken the whole group… In general, go fast, it depends on the person, long legs, short legs of all kinds. .
When I got to the junction area, me and another young man decided to take a jeep to go down (60,000 VND / person, this is the price of a jeep up Radar Hill and then down, you can catch the car in the middle of the road only about approx. 1 third of the distance, you have to pay the same…). Actually, I can continue to walk, but my feet already show signs of swelling (not related to the dislocation) and if I go with everyone, everyone will have to follow me slowly, so stop climbing and get healthy, ready to carry. the heaviest backpack down.
The two of them went down to the foot of the mountain, waited until about 5 o'clock, everyone had already come down. Officially ending the LangBiang trekking trip.summary
If you want to "adventure" a bit in the "resort" city of Da Lat, a LangBiang trekking trip will be a good choice. With the cool weather of Da Lat, you will not be too uncomfortable when you have to walk a long distance through the forest. The distance is just enough even for those who don't exercise much, and the view from the top of Lang Biang is really worth the effort to climb there once.
A few notes if you intend to trek LangBiang (especially for those of you who do not have much trekking experience):The time to climb to the top one way is about 2-3 hours depending on the speed. For a comfortable ride, schedule a full day of travel.It is recommended to bring at least 1.5L of water per person.Sports shoes should be worn.It is recommended to pick up a cane as a walking stick (makes it easier and safer to move).The path is not too difficult, but there are many sections that need to be focused to avoid falling (especially on rainy days). Just one slip and you can't continue the journey. Unless you're really confident, it's best to go in a group so that you can support each other in times of trouble.Should prepare a first aid bag in case of insect bites or bleeding.If going in the rainy season, bring a raincoat.
Hopefully the article has provided enough information for you to plan your own LangBiang trekking.Follow traveloka