Phu Quoc is also known as Pearl Island, the largest island in our country in the Gulf of Thailand. Every year, this place welcomes millions of domestic and foreign tourists because of its wild beauty, charm, and very beautiful hotels. However, not everyone has the experience of traveling to Phu Quoc to eat, drink and shop. And Vinlove.net will share those useful experiences with you.
How to get to Phu Quoc?
Air route
The experience of going to Phu Quoc by air is the most convenient. The international airport in Phu Quoc has been completed and officially put into operation since December 2012.
Vietnam Airlines, Vietjet Air, Jetstar are the largest airlines in our country, all exploiting routes to Ngoc island. One of the potential tourist destinations, always attractive and attracts a lot of domestic and foreign tourists to visit.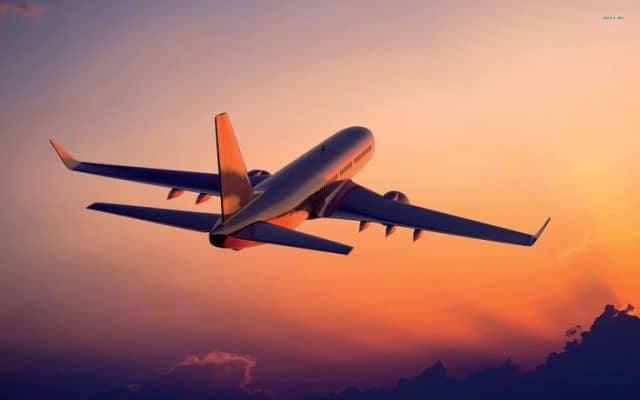 Going by plane helps you get to Phu Quoc faster (Photo ST)
Operating routes: Ho Chi Minh City – Phu Quoc, Hanoi – Phu Quoc, Can Tho – Phu Quoc all have many flights a day. Visitors can book flight tickets to Phu Quoc on Vinlove cheap flight ticket hunting page.
Or visitors can also find cheap travel combos to Phu Quoc, typically the same price combo on Vinlove package to Phu Quoc 3 days 2 nights only 1999k, or 2199k for 4 days 3 nights including airfare return flight + hotel, depart anywhere, fixed price unchanged. 
From the airport to the center of Duong Dong town, it takes about 20 minutes by taxi. In Phu Quoc, there are two largest taxi companies, Mai Linh and SASCO, which are safe and convenient for tourists to travel.
Road and sea route
Currently, there are 2 main routes operated for you to choose from: Ho Chi Minh City – Rach Gia – Phu Quoc, Ho Chi Minh City – Ha Tien – Phu Quoc. However, if traveling from Ho Chi Minh City to Rach Gia or Ha Tien by car, visitors still have to catch another high-speed train to reach Phu Quoc island district.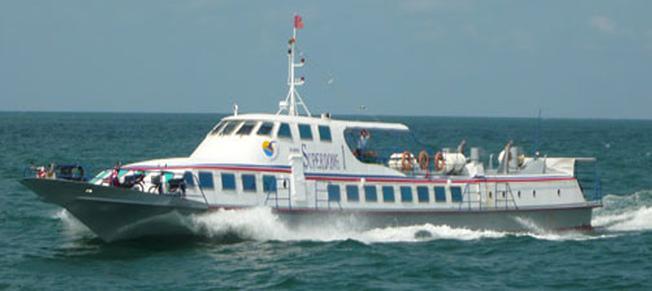 Taking a speedboat is a means of transport by sea suitable for those who do not suffer from seasickness (Photo: Collectibles)
According to cheap Phu Quoc travel experience, if you go by land and sea, it will save you a lot of travel costs, although it is somewhat inconvenient in moving.
Self-drive car rental in Phu Quoc:
Reputable self-drive car rental address
When traveling to Phu Quoc to experience the most tourist destinations that are often quite far from each other with family, renting a self-driving car at an affordable price of just under 1 million VND/day will be the right choice.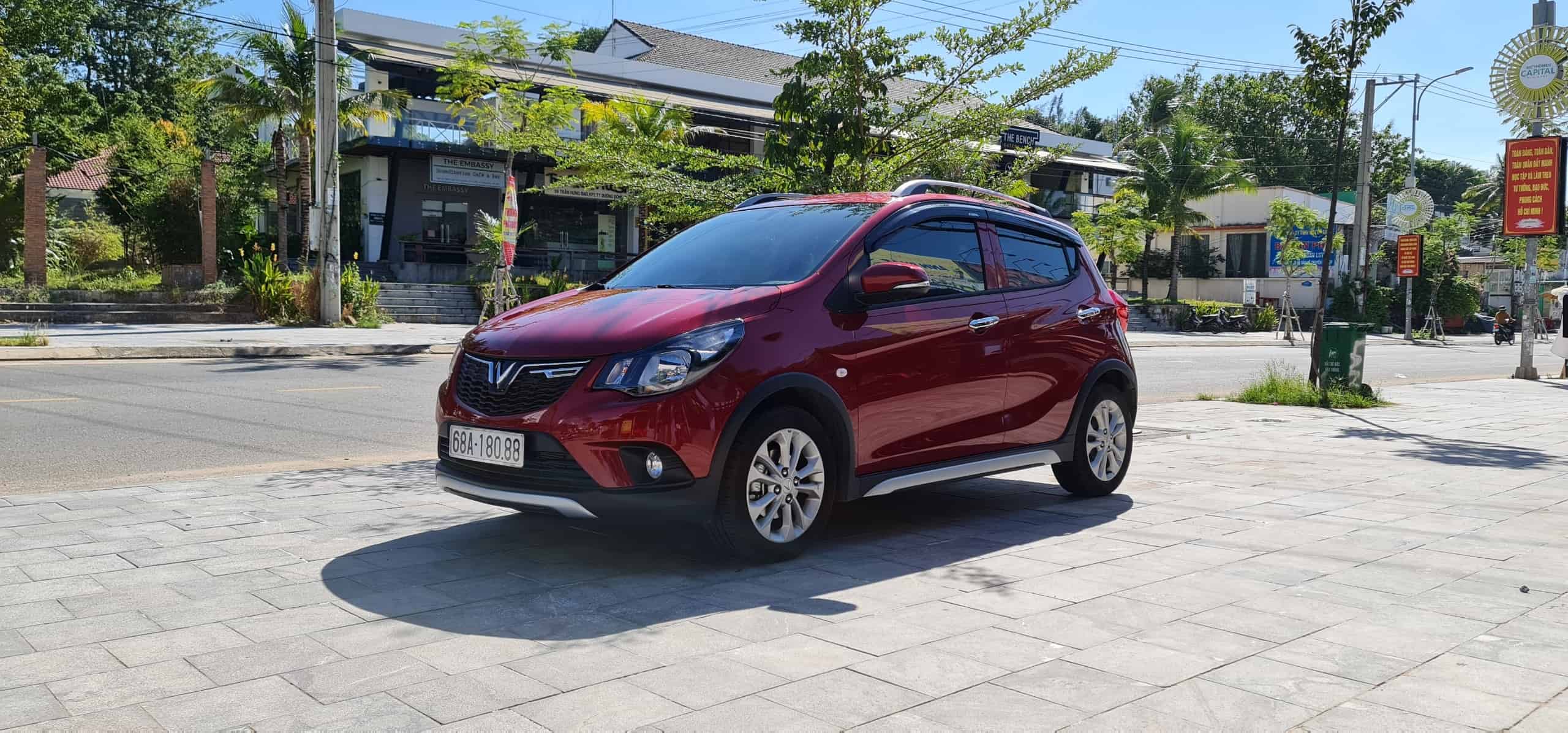 Because the weather in Phu Quoc in the summer days is often hot, high temperature and rain can also come suddenly if you travel in the rainy season months (from May to September), traveling by motorbike will not really suitable when you travel with family, especially with the elderly and young children. When renting a self-drive car, you will be proactive about the schedule and time, can change the schedule on your own without having to worry about driving, can eat or visit at any time without having to worry about driving. waiting outside.
In Phu Quoc, there is a reputable self-driving car rental address that is trusted by many tourists, Anh Phat bus company with the advantages of new cars, soft prices and enthusiastic support services. Price list for renting self-driving cars: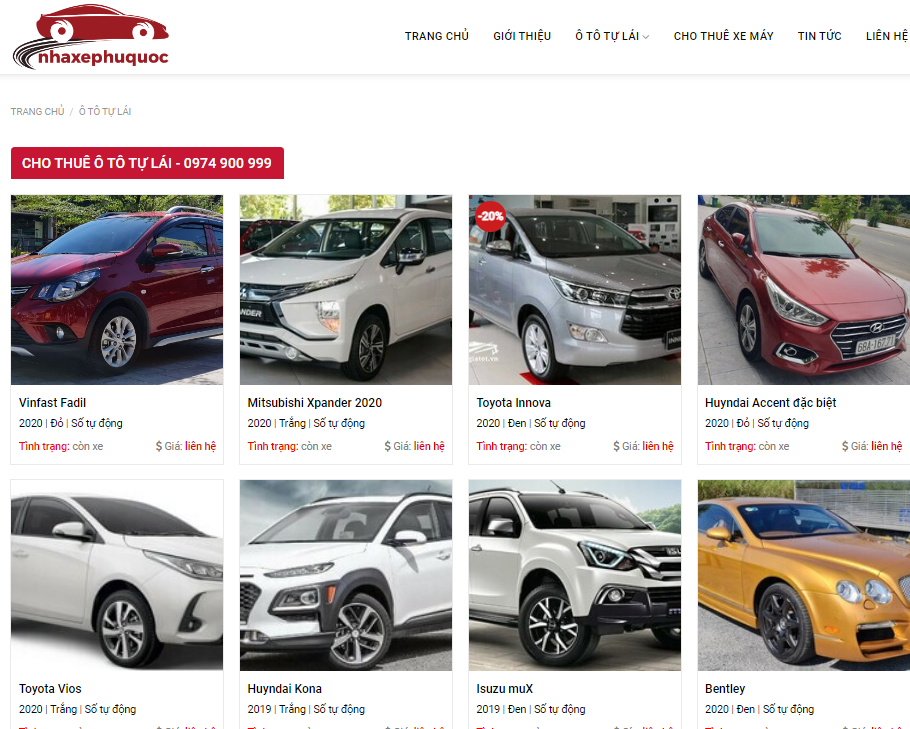 Xpander 1,000,000/day
Accent 800,000/day
Vios 800,000/day City 800,000/day
Fadil 700,000/day
Special: Rent from 3 days or more will get 10% discount on total bill hoá
Contact Anh Phat garage:
Website: Chothuexephuquoc247.com – Nhaxephuquoc.vn
Address: 92 Tran Hung Dao – Duong Dong – Phu Quoc
Phone: 0985 465 555
Rent a motorbike in Phu Quoc
If a car is the right choice for families, renting a motorbike will be more suitable for young people, traveling in groups or couples. Some of the most popular car rental addresses are:
1. Mr. Cuong
Mr. Cuong has motorbike rental shops at the airport and Phu Quoc pier, in addition, he also receives free delivery anywhere on Phu Quoc island. When you receive the car, the car is already prepared with 1 liter of gasoline, a tourist map, 2 helmets and a raincoat for the road.
You can book a car before your flight to Phu Quoc and when you arrive you are free to choose a car to rent without having to deposit anything. If the motorbike you rent encounters any problem on the way, you just need to contact him and he will be quickly supported 24/24 on the spot. The price for renting a digital car at Mr. Cuong's shop is 120k/day, a scooter is 150k/day
Address: Phu Quoc Pier
Contact: 0917774228 (a.Cuong)
2. Cuong Thinh motorbike rental service
Mr. Cuong Thinh is extremely enthusiastic and funny, so his car rental is cheap but the service is good, his motorbike rental customers are satisfied when receiving or returning the car. He rents motorbikes 24/24 with quick procedures, the price of scooter rental is 150k/day and car number is 120k/day (rent from 2 days).
Especially, you will not need to make a deposit, get free car delivery at the airport, pier, hotel … or anywhere on Phu Quoc island. Equipment available when receiving the car: 1 liter of gasoline, 2 helmets and raincoats for the road
Address: Phu Quoc Airport
Contact: 0981214344 (a.Thinh)
List of places to eat and drink, specialties in Phu Quoc
In addition to having fun and sightseeing in Phu Quoc Island, visitors also enjoy a lot of specialty dishes on this Pearl Island. If you want to enjoy the "delicious dishes in Phu Quoc", don't forget to go to the food street on April 30. There are many delicious restaurants and eateries for visitors to enjoy seafood. Here are some famous places to eat in Phu Quoc that you can refer to.
Dinh Cau Night Market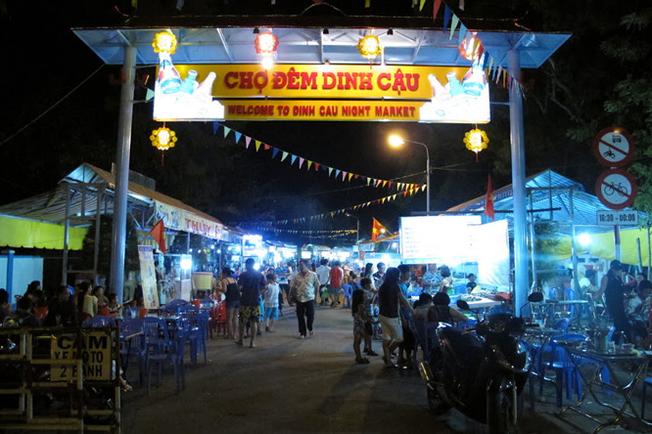 Photos Dinh Cau Night Market has many fresh specialties (Photo: Collectibles)
This night market is widely known as the place with the most seafood dishes in Phu Quoc, usually open from 6pm to 11pm in Duong Dong town. Coming here, visitors will be able to enjoy eating specialties of Phu Quoc such as shrimp, sea urchin, snails, herring salad, …
Phu Quoc Market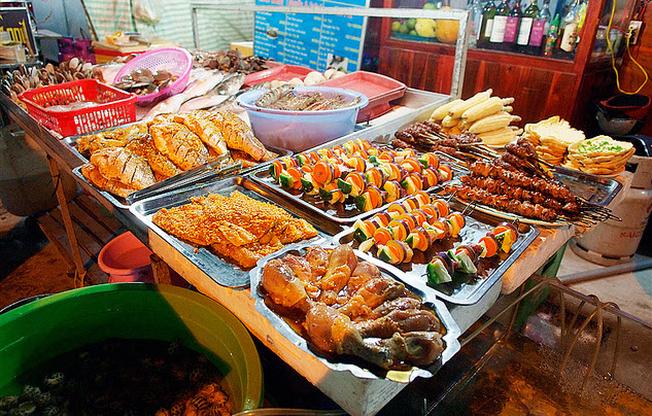 Specialties are sold a lot at Phu Quoc market (Photo: Collectibles)
Just like Dinh Cau night market, is an attractive eating place in Phu Quoc. However, Phu Quoc market is also a place to exchange and trade goods brought by boats from early morning with all kinds of products, fruits and seafood.
Coastal cuisine of Khem . beach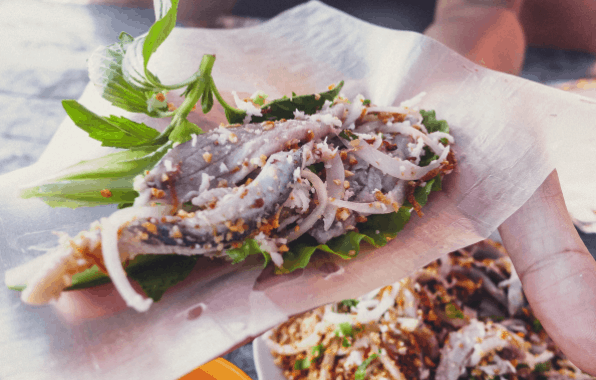 Food at Bai Khem is both delicious and cheap (Photo ST)
Another delicious, nutritious and cheap place to eat in Phu Quoc that you can stay when you have the opportunity to come to Ngoc Island. Enjoying delicious seafood while watching the sea will bring you interesting experiences. Here there are two forms of seafood for you to choose from: making it yourself or asking the seller. Most people often choose to do it themselves, which is quite attractive.
Address: Khem Beach
Buy Phu Quoc fish sauce as a gift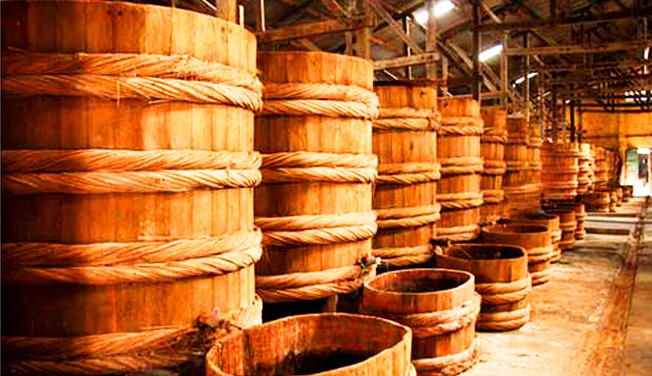 The profession of producing Phu Quoc fish sauce has existed for a long time and has its own brand. This is a very meaningful gift for loved ones (Photo: Collectibles)
Many heirloom fish sauce production facilities passed down from generation to generation have a history of development over 100 years on the island. Millions of liters of fish sauce were sold. And only traveling to Phu Quoc can you buy this specialty fish sauce as a gift.
Hello Restaurant
Hello Restaurant not only has delicious food, but also has a beautiful view (Photo ST)
Is one of the restaurants located right near Phu Quoc Night Market. Coming to Hello Restaurant, visitors not only enjoy fresh seafood dishes but also enjoy a beautiful open space right next to the sea. Although the restaurant has not been open for a long time, the restaurant has quickly won the hearts of locals and visitors to Phu Quoc.
Address: 66 Tran Hung Dao, Duong Dong town.
Ngan Ha seafood restaurant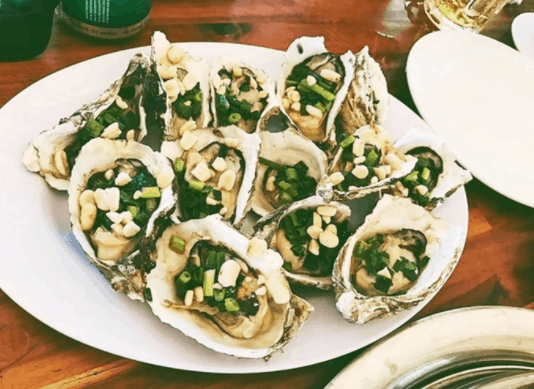 The food at Ngan Ha restaurant is not only delicious but also cheap (Photo ST)
If you want to find a place to eat delicious and cheap seafood, Ngan Ha restaurant is the best choice. Too affordable and always crowded, those who have enjoyed the food here also want to come back once.
In addition to the advantage of cheap food, the service here is also fast, unlike other restaurants that have to wait for hours to eat. In short, if you want to eat and drink comfortably without worrying about money, just go to this restaurant is the best.
Address: Tran Hung Dao Street, Duong Dong Town
Crab House crab restaurant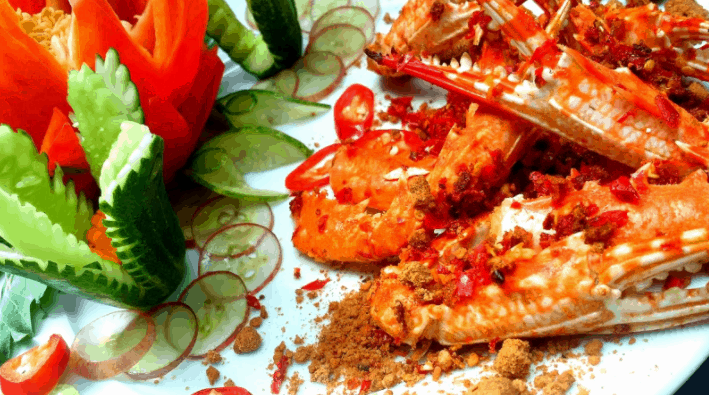 Crab House restaurant is famous for its crab dishes (Photo ST)
Most visitors come to Crab House mainly to enjoy delicious crab dishes in Phu Quoc. That's why the shop is always crowded, if you want to eat crab here, come early or book a table in advance. In addition to crab dishes, there are also many delicious and delicious nemeb dishes that you can enjoy more.
Address: 21 Tran Hung Dao, Duong Dong town.
Kien Xay noodle shop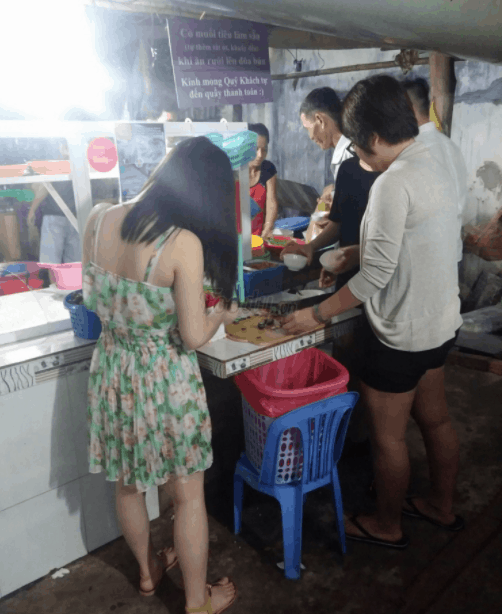 Pictures of diners making noodles with their own hands (Photo ST)
Have you ever tried the feeling of making a bowl of vermicelli with your own hands, if not, go to Kien Xay noodle shop. Because this is a self-service restaurant, you have to go to the processing place to order a bowl, eat fish cakes, shrimp cakes or both, then make your own sauce and bring it to the table to enjoy. .
Address: Bach Dang Street and Tran Phu Street, Duong Dong Town
Northern Rice Restaurant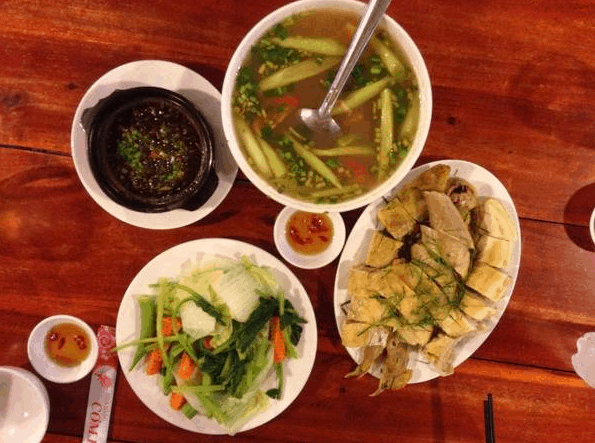 Enjoy Northern dishes at Com Bac restaurant – Phu Quoc (Photo ST)
If you are bored with seafood and want to change your taste, come to Com Bac restaurant. This restaurant specializes in serving normal rice dishes every day but is very cozy and delicious, suitable for households.
Address: No. 77 April 30 Street, Duong Dong Town
Experiences in Phu Quoc should not be missed
For those who do not have experience in traveling to Phu Quoc island, they can refer to the most famous places that we suggest, guaranteed to make your journey more meaningful.
Immerse yourself in the cool water at Suoi Tranh
Camping in Tranh stream An ideal picnic with a space close to nature, trees, flowers, watching the stream flowing through the rocks at Suoi Tranh is very reasonable. Surrounding is the sound of birds chirping, the scenery is very rustic. Suoi Tranh in Duong To commune, Phu Quoc is an ideal camping spot for young people. To get to the watershed you have to climb over quite slippery and steep cliffs. The right time to enjoy the beautiful scenery is the rainy season when the stream flows strongly, the water is rushing, the scenery is more majestic.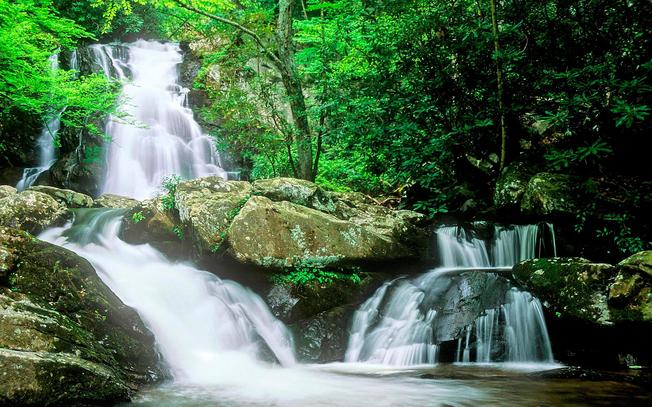 The stream is as beautiful as a fairy picture (Photo: viewtravel360.com)
Mysterious Bat Cave – Phu Quoc
Exploring Bat Cave For those who love to learn about caves, Bat Cave is the ideal destination when traveling to Phu Quoc. To have the opportunity to witness firsthand the Bats during the day hang their bodies upside down on the cave wall and sleep. When having a picnic in Suoi Tranh, you should always go to Bat Cave because they are very close to each other.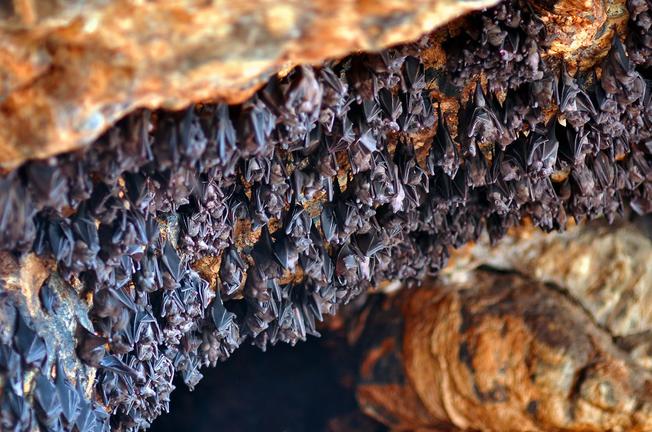 Thousands of bats hang themselves on the wall to sleep (Photo: Collectibles)
Historical Site – Phu Quoc Prison
Phu Quoc Prison Remnants of the historical blood-stained land of heroes, where communist soldiers were imprisoned. The war is over, but the painful scars are still there. Coming here, new visitors understand to have freedom, we have experienced blood and tears. Prison is the hell on earth that revolutionary soldiers have to face.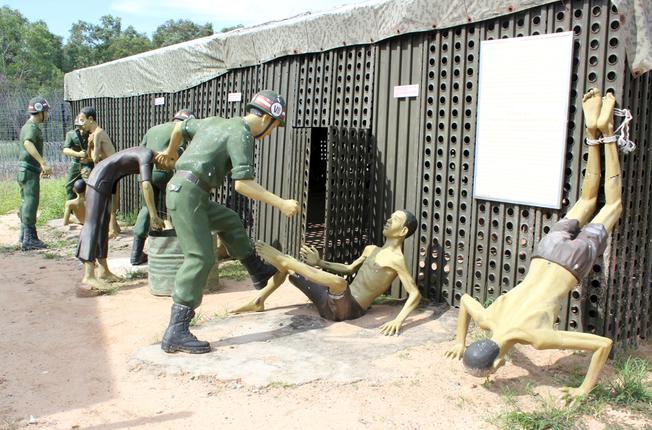 The brutal tortures of the invading army on communist soldiers (Photo: Collectibles)
Experience the idyllic life at Ham Ninh fishing village
Practice being a fisherman at Ham Ninh Fishing Village located at the foot of Ham Ninh mountain, in Ham Ninh commune, Phu Quoc district, Kien Giang is a tourist destination that tourists want to visit. The people here mainly work as fishermen and live a life floating on the sea, but they always feel young and peaceful.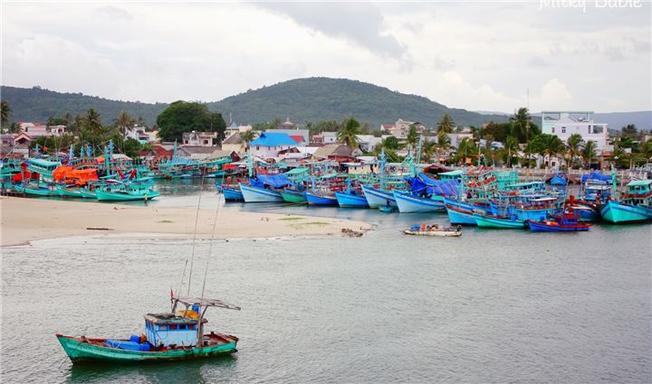 Ham Ninh fishing village (Photo: Collectibles)
Explore the wild and charming Sao Beach
With smooth white sand, undulating sea, along the coast are rows of soaring blue poplars that carry you with the breeze. Visitors will be mesmerized in the quiet, peaceful space and close their eyes and rest assuredly at Sao Phu Quoc beach.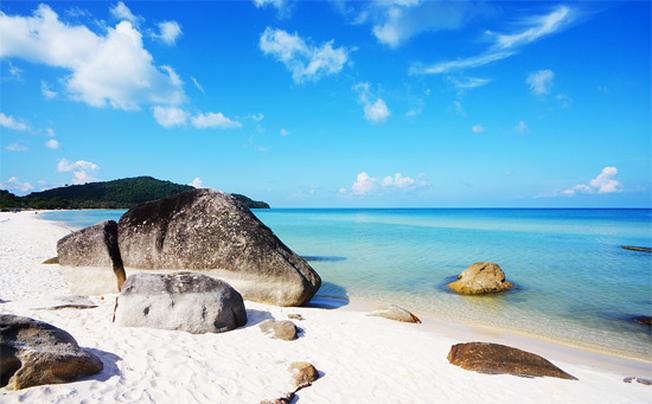 The sea is calm and shimmering in the sun (Photo: Collected)
Enjoy swimming at Dai beach
Not a long stretch of beach, Dai beach appears with golden sand, clear blue sea, silver surface. One of the suitable places for visitors to immerse themselves in the unspoiled nature of Phu Quoc Island.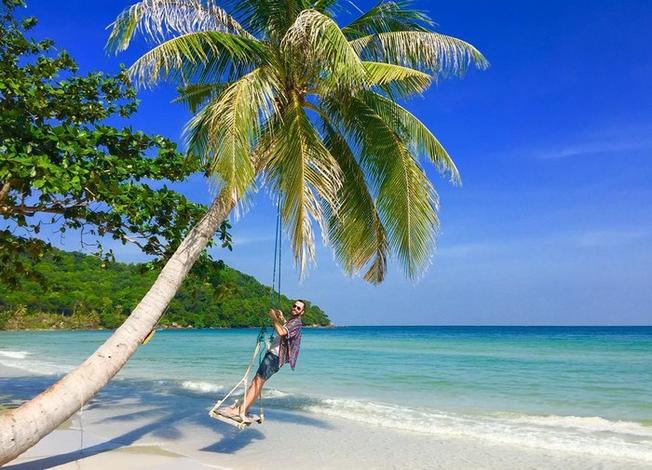 Each beach has its own beauty (Photo: Collectibles)
Go to Hon Thom to dive and see the coral
According to the experience of traveling to Phu Quoc island without seeing the colorful corals with many shapes in the waters of Phu Quoc, it is a great pity. And one of the places with beautiful coral reefs is Hon Thom – the most ideal coral viewing spot for tourists. In addition, here as well as see the aquaculture, pearl farming and pearl processing of Phu Quoc island district.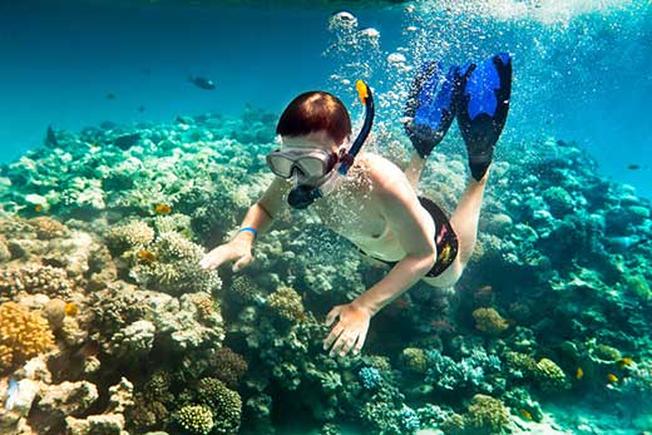 Hon Thom is the most ideal coral reef diving spot (Photo: Collected)
Experience fun activities in Phu Quoc
Fishing in the sea, squid fishing at night
This is one of the outdoor picnic activities that many tourists participate in when coming to Phu Quoc. In the morning, you will be taken by experienced crews in Phu Quoc to places where many fish are gathered for you to experience this activity.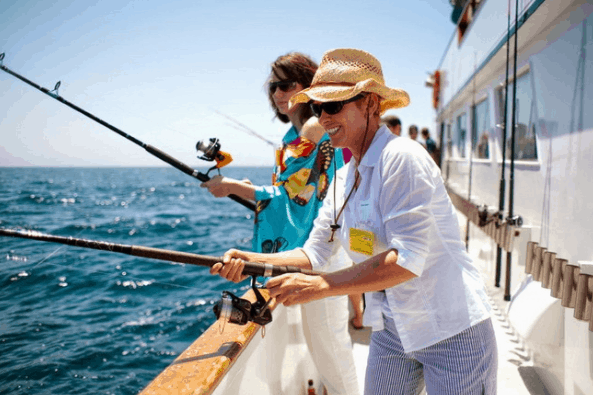 Experience fishing activities in Phu Quoc waters (Photo viewtravel360.com)
And when the night falls, it is also the time for you to participate in night squid fishing. Visitors will be "transformed" into a fisherman and experience life on the sea. The special thing of this activity is to enjoy the spoils that you have obtained right on the ship, a really interesting feeling.
"Stirring up" Vinpearland amusement park – Phu Quoc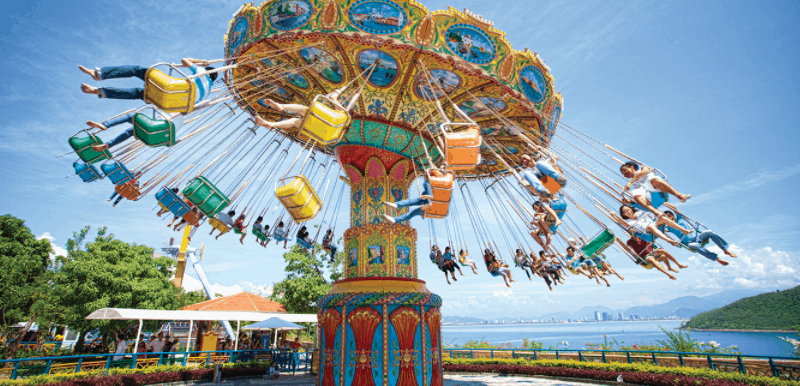 Have fun at Vinpearland – Phu Quoc (Photo ST)
Vinpearland is considered the largest amusement park in Phu Quoc with countless games waiting for you to discover. Because of this,  Vinpearland Phu Quoc always attracts a large number of tourists and is an entertainment and entertainment destination not to be missed when coming to pearl island. Promises to bring you an interesting and attractive vacation when coming to Vinpearland.
Explore the deserted islands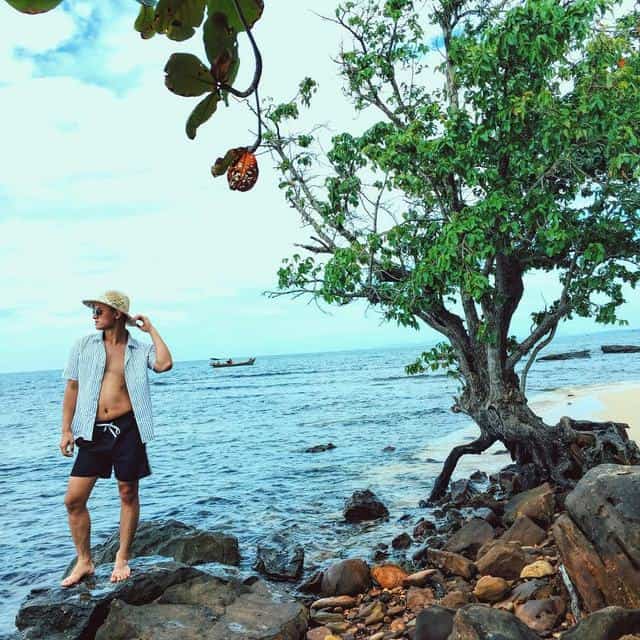 Explore the deserted island of Phu Quoc (Photo ST)
For those who want to find something new, love the novelty, the activity of discovering the deserted island is a great choice. In Phu Quoc, there are many deserted islands waiting for you to explore. Ong Doi Cape, Hon Dam and countless other unspoiled places are the places you will go when participating in this activity.
Admire firsthand the largest beekeeping area in Phu Quoc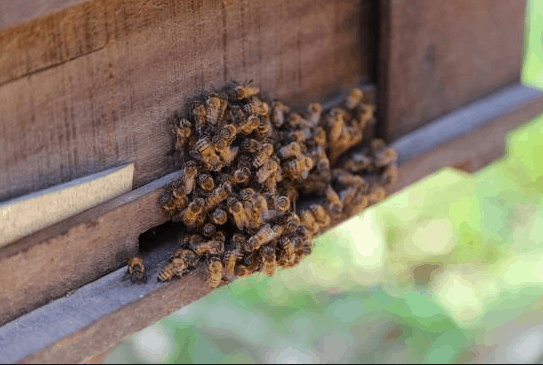 Discover the beekeeping area in Phu Quoc (Photo ST)
Located in Hamlet 2, Cua Can Commune, this honey bee farm is the most unique and attractive attraction in the North of the island. Those who love the natural environment and want to explore the world of honey bees should not miss this place. There are also products made from honey that you can buy as gifts for friends and relatives at home.
Explore the primeval forests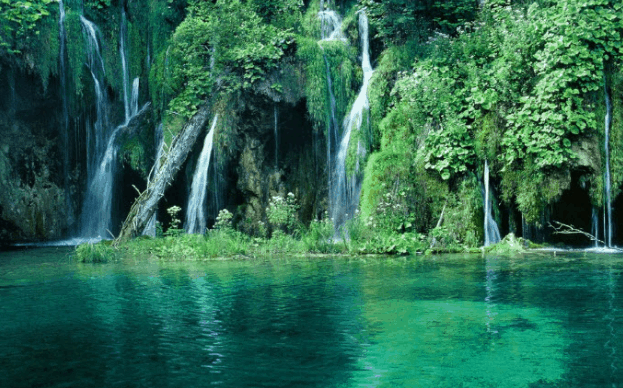 Explore the primeval forest of Phu Quoc (Photo ST)
Not only beautiful beaches, but Phu Quoc also has primeval forests with unspoiled scenery waiting for you to explore. In particular, in the forests, there are beautiful streams Suoi Tranh, Suoi Da Ngon, Suoi Da Ban for you to immerse yourself in the green nature.
Cheap Hotels and Resorts in Phu Quoc
Finding a cheap hotel in Phu Quoc with full amenities, modern and luxurious rooms is something that every traveler wants to enjoy during the trip. At Tran Hung Dao street, there are many beautiful hotels, motels and resorts right near the sea. 
Some cheap hotels in the center of Phu Quoc include: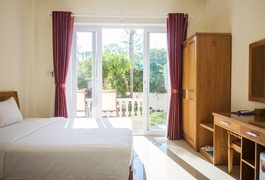 T and T Resort
118/8 Tran Hung Dao, Quarter 7, Duong Dong, Phu Quoc District, Kien GiangPrice from 260,000 VND / night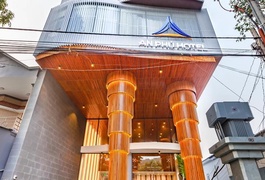 An Phu Hotel
185 April 30 Street, Area 1, Phu Quoc, Kien Giang Province 920000, VietnamPrice from 267,750 VND / night