In the middle of Hanoi, there is still a commercial noodle shop owned by the owner and wife of U70 located in a small alley on Dong Tac Street (Dong Da). The shop is always crowded with customers early in the morning, sometimes sold out for 2 hours.
A typical breakfast of Hanoians is often associated with pho, a special gift that writer Vu Bang described as "anyone can eat". However, among thousands of noodle shops selling morning in Hanoi, not all of them have the same recipe, but all have secrets to creating their own flavor.
In particular, Pho Vu restaurant located in lane 101 Dong Tac is a rare restaurant that still retains the recipe for pho from the trade and subsidy period.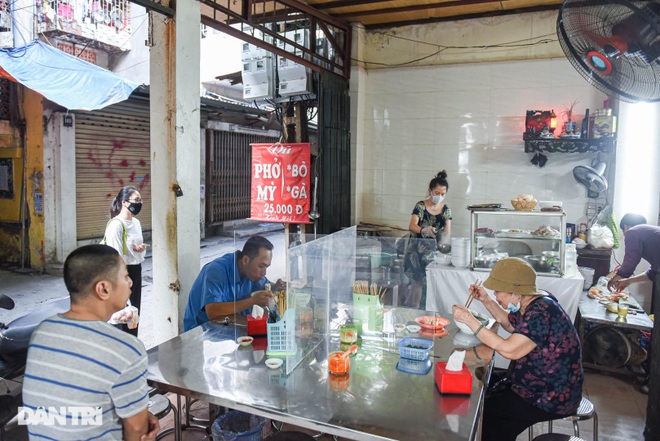 Pho restaurant is named after owner Tran Dinh Vu. Mr. Vu said, he studied cooking for 2 years before, in 1977, he was sent by the State to work as technical staff, specializing in making pho broth, standing in front of Dong Xuan food company on Ta Hien street. Hoan Kiem). His wife, Ta Ngoc Anh, works as a ticket salesman at a pho restaurant.
That is also the reason why his restaurant is called "commercial pho" and "subsidized pho" by diners. Therefore, from selling pho, in 1990, Mr. Vu and his wife quit their jobs and returned to Dong Tac to open their own pho restaurant, but the pho recipe has remained the same since the subsidy period.
"Going to eat pho at a commercial place, you have to queue to buy stamps in rows: rows of old people, rows of wounded soldiers and rows of people. The secret to eating pho that day if you want to go fast is to have to go with 2 people and queue up. buy stamps, the rest of the queue to get pho.
That day there were 5 dinars/1 bowls of pho. Starting to open the shop in the morning, it was crowded, people kept rushing to," said the owner of U70.
Vu's pho shop at 7 am, most of the tables are full of customers, this is the busiest time of the restaurant. Most of the shops serve regular customers and people living in the neighborhood. To prevent the epidemic, Mr. Vu and his wife also put partitions at each table.
According to observation, the restaurant only has 2 waiters, Mr. Vu and his wife, when it is crowded, customers also arrange their own seats and help the owner with pho. Unlike Duc Khoi Pho shop on Phung Hung Street, whose owner is famous for being meticulous, to the point that he never lets his wife cook or slice meat, in this pho restaurant, Mr. Vu cedes the responsibility of being in the kitchen to his wife, which he assumes. the task of serving pho, poaching eggs.
Regularly at 3 a.m. every day, when many people are still fast asleep, the corner of this small shop is bustling with the sound of bowls and chopsticks, the scent of pho broth mixed with the sound of people who go to the gym early to order pho. eat and talk to each other.
From 6 a.m. onwards, the U70 boss and his wife always make pho for customers… Just like that, for the past 31 years, this Pho Vu restaurant in Dong Tac has become a familiar breakfast place for many people. .
Ms. Ngoc Anh said: "Many customers have come here to eat since they were at school, now they have two children under their armpits, but every morning they bring their children to eat pho, poached eggs. Serving food, being supported and loved by customers like So happy."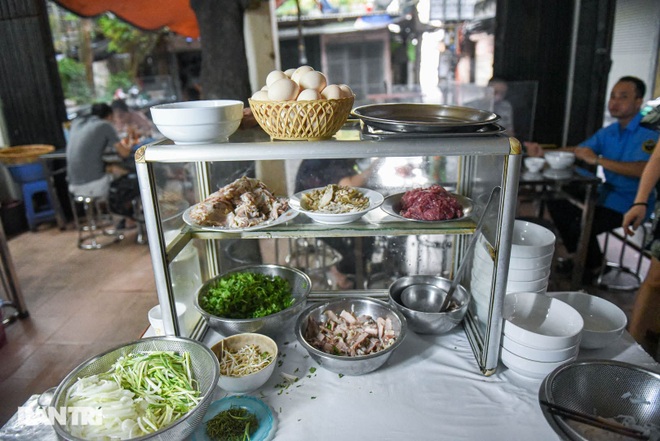 Mr. Vu said that in order to make beef noodle soup delicious, before simmering the bones, it must be blanched with boiling water, then simmered continuously from 10 a.m. the day before to 5 a.m. the next morning.
The bowl of pho here has a rich flavor, the broth is sweet, the noodle soup is not mushy, and the beef is very tender. The bowl of pho is around combination of noodle soup, broth, and tender beef that convinces all ages.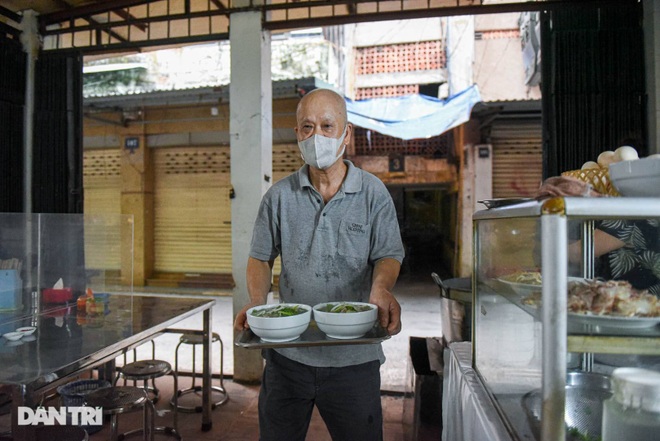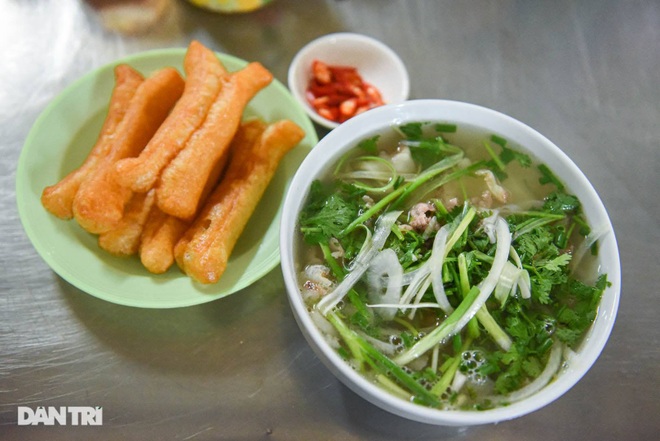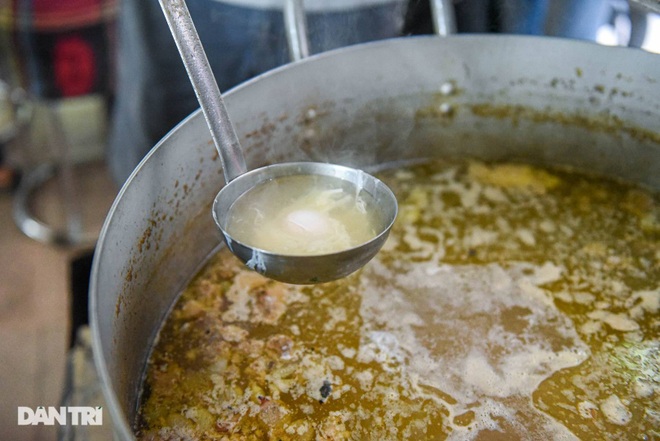 The shop is open for sale from 5:30 a.m., on crowded days, only 7:30 a.m. is sold out, the owner and his wife clean up until 9 o'clock to close. Therefore, if you want to enjoy beef noodle soup with the flavor of the subsidy period, you have to wake up early, come to the shop before 7:30 am so as not to miss it. Follow Dân trí