Products from species such as snakes, lizards, clones, etc. have affordable prices up to half a million dong per kilogram, these dishes have scared many people when they hear the name, but in the West, they are famous specialties.
Solid dry
In the flood season, the Southwest region becomes a large lagoon with many types of snakes. Under the skillful processing hands of the people, snakes have become a special food, which is transformed into a variety of dishes. In particular, the dry snake is praised as a drink that can satisfy even the most fastidious diners.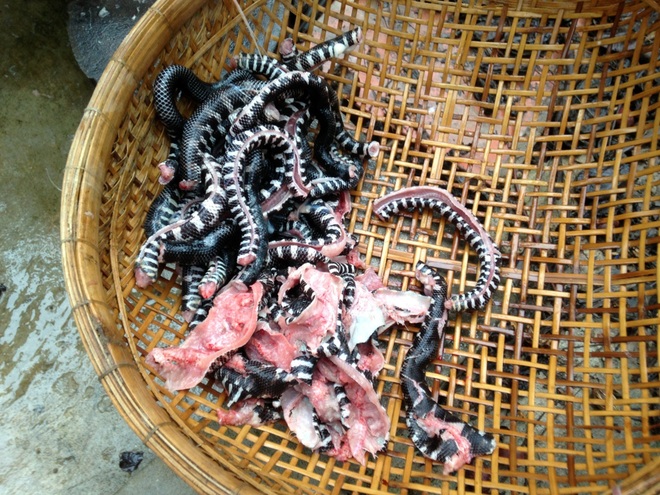 Working households will focus on producing dried snakes from August to November. The snakes brought back are cut, skinned, and boned for meat. Then, marinate the spices according to the heirloom ratio and then roll them into flat pieces, then dry them in the sun for about 2 to 3 days.
Dishes from geckos and lizards
Dried lizards, dried geckos today are produced and processed by many people in the West to serve the needs of a large number of people. Lizards living in the house are also caught by people to cut their meat and dry in 2-3 sun, then stir-fry with spices to become a specialty dish in the West. The average price of each dried lizard can be sold from 50k to 60k.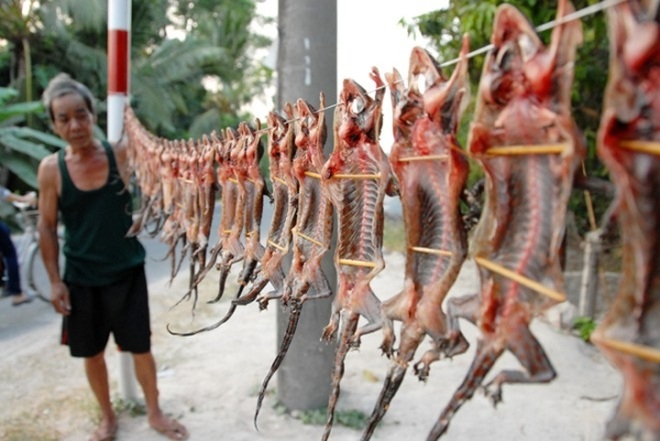 Long-legged dancer
Few people know that the name "long-legged dancer" is a beautiful word that people in the West use to call dry imitation – a drink with a strange attraction.
Clones live in flocks and appear most in the rainy season. Although it is an extremely diverse species, only rice clones living along the rice fields can be used to make special dishes. Imitation rice is available all year round in fields such as Tinh Bien (An Giang), Bac Lieu, Dong Thap…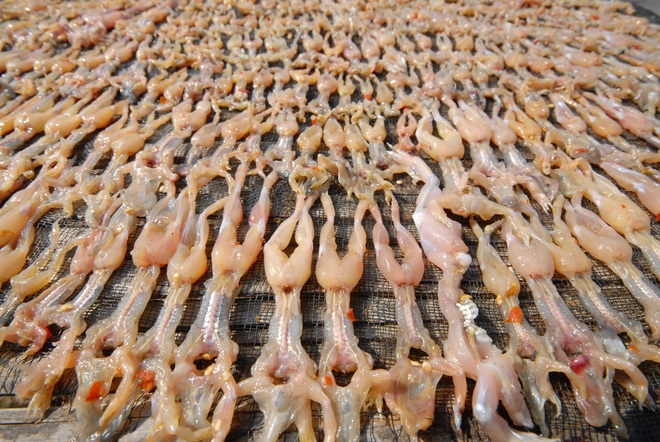 Rice clones are inherently small in size. After peeling the skin, drying it, it is collected with just a finger. On average, every 4 kg of fresh clones will give a kg of dried clones for about 500,000 VND/kg. On the occasion of Tet, dried imitations can be up to 850,000 VND / kg without goods for sale.
People will use "dancers" to bake or deep-fry to eat with tamarind fish sauce. Dried imitation is very delicious, can be considered an attractive drink that few dishes can surpass. When enjoying deep-fried dried frogs, diners can chew on both bones and meat.
Dry hamsters
Dried field mice are most famous in Tam Nong district, Dong Thap province. To dry the mice, the captured hamsters will be salted and minced lemongrass to dry in the sun, but it can only be kept for about 10-15 days because it is easy to mold and smell due to a lot of fat.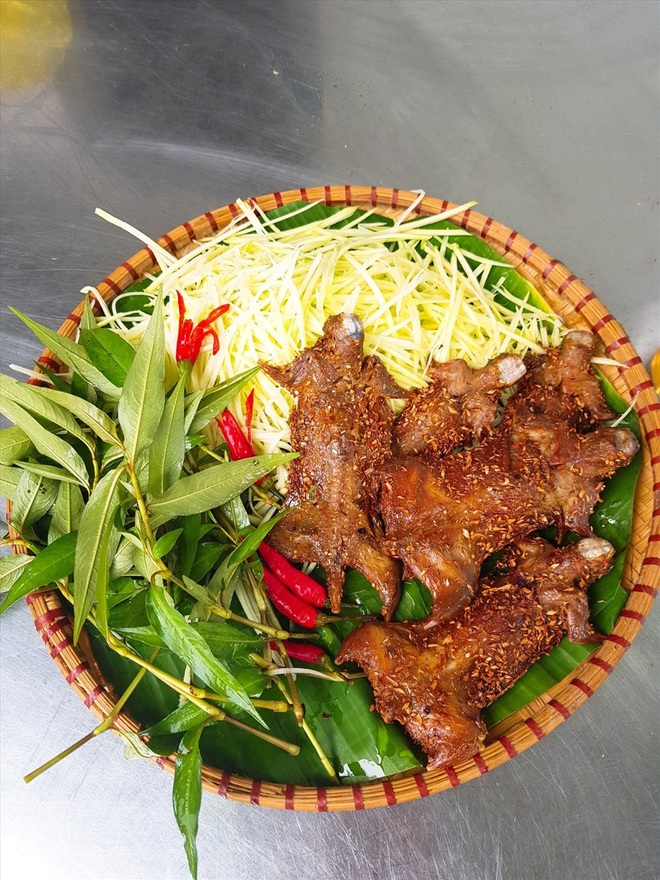 Although dry field mice are not too popular, they are also sought after by many drinkers. The way to cook delicious dry field mice, which people drink to each other, is to bury them in hot coals, when cooked, take out and smash the coals and dip them in salt, pepper, and lemon, or chop them and fry them on low flame until crispy, taste just right. greasy, fatty, and has a spicy, aromatic taste of spices, very suitable for those who like hybrid rai.
Dishes from bats
Many diners will "cry" when they see how bats are processed by Westerners, but then they will be "heartbroken" by these dishes with rich flavor, sweetmeat, nutritious and stimulating taste.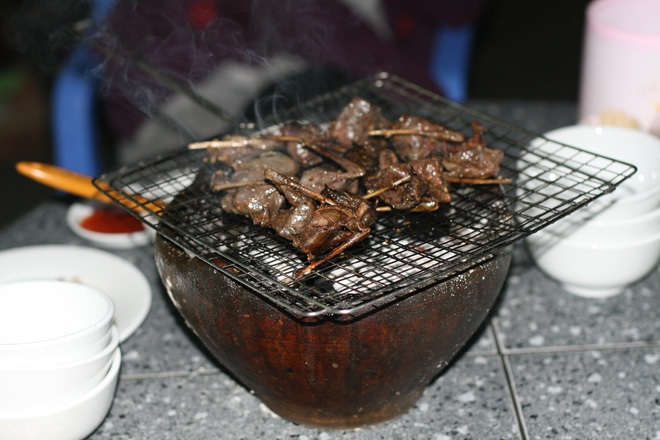 Local people only use two main types of bats, lotus bats, and crow bats to process food. The crow bat is a black and larger bat, the lotus bat is the color of a mouse. These two types of bats are both bad and foul, but the more smelly the bat caught, the more fragrant the meat will become and become a famous drink of the people here.
To catch bats, at dusk, people use noodles to blow, imitating the sound of bats to lure them in. After hearing the bait bat calls, bats often come and swoop low. Just like that, bat hunters just use a racket to catch.
At night, more bats come down, so catching bats at that time is extremely easy. Bats eat all fruits, so the meat is delicious, very cool and nutritious, can be processed into many dishes such as: bat with coconut milk, mixed with cabbage salad, rolled rice paper dipped in sweet and sour fish sauce, grilled chao, grilled charcoal. … but many people like it the most is the lotus bat with porridge and the fried bat.