Someone once said, "don't ask me what is beautiful in Pleiku, because the beauty here is unspeakable". Perhaps because of that, there are people who have been to Pleiku a few times but still want to go more. Basalt red land, with many unique cultural features, rich nature, and even more wonderful scenery. Where there are immense coffee fields, immense Lake, majestic Nine Layers Clouds waterfall… Exploring Pleiku is more interesting than you think. In this article, Vinlove will lead you to discover Pleiku tourist attractions that make you want to pack your bags and go right away.
1. The ideal time to travel Pleiku
Pleiku belongs to the tropical monsoon tropical highland climate, so it has high humidity, high rainfall throughout the year, and a mild climate all year round with no storms and no hoarfrost. The climate is divided into two distinct seasons: the rainy season and the dry season. The rainy season usually starts in May and lasts until October. The dry season is from November to April next year. In the rainy season, there is often heavy rain in the morning or all day long, along with mountainous terrain and slippery roads, making it difficult and unsafe to move. The ideal time to explore Pleiku is in the dry season, which lasts from December to the end of March next year. This is also the time when wild sunflowers and coffee flowers bloom in a beautiful highland.
2. Discover beautiful places in Pleiku
The attractive point of tourists when coming to Pleiku is that it still retains the rustic beauty of the mountains and forests, which you can hardly find anywhere else.
2.1. Lake T'nung – Pleiku's eyes
Lake T'nung is also known as T'Nung or T'Nung, which in the local language means sea on the mountain. A natural freshwater lake formed on the crater of a volcano that stopped erupting millions of years ago. Here, when there is a strong wind, the surface of the lake creates waves like in the sea, so it is called a lake.
There is a legend that, in the past, Lake T'nung was a busy trading place, with a clear stream, with the fun sound of gongs, drums, guitars, … peaceful life is always full. laughter. Suddenly one day, the volcano shook and buried the whole village in the abyss. The remaining people were lucky to survive, mourning their village forever, tears forming Ho T'nung.
Photo: Collectibles
Considered as the jade eyes of the Central Highlands, it is also an important source of water for the people of Pleiku. And it is the source of endless inspiration for many artists. The calm, jade-green water is imprinted with the silhouettes of ancient trees on the lake surface, somewhere melodious the sound of casuarinas smokes, faintly on the other side, there is the chirping of forest birds. A gentle breeze carries a bit of cool water from the sea of ​​T'Nung lake, faintly fainting with the scent of plants and flowers. All gently touch every sense of anyone coming here.
Photo: Collectibles
2.2. Lake of Tea
In the beautiful tourist destinations in Pleiku, if the lack of Bien Ho Che, it is a big omission. Not inferior to T'nung Lake, but each place has its own unique beauty. Not far from T'Nung Lake, you can explore both these places in the same day. The name Bien Ho Che originates from the combination of an irrigation lake and immense tea hills on the north shore of Bien Ho.
Photo: Collectibles
Try once to experience the sunrise on Bien Ho Che, at this time there are still a few drops of glittering dew on the canopy. Under the dawn, Bien Ho Che is now gentle and shy like a young village girl. Feeling the gentle aroma of young tea buds creeping into each cell, all worries will completely disappear, but instead, there will be a feeling of peace and relaxation. If the dawn on the Lake of Tea is clear and gentle, the sunset is quiet and charming. When the golden afternoon rays of the afternoon sun slanted through the straight rows of tea neatly trimmed by the farmers. Another great thing about this place is the rolling mountains as if embracing the cool green tea lake. It is these beauties that make those who come here feel like they are lost in paradise.
Photo: Collectibles
2.3. Ham Rong Mountain – the roof of Pleiku city
Ham Rong Mountain has an altitude of more than 1000m, which is home to the famous majestic Chu Dang Ya volcano. The way to the top of Ham Rong mountain is not easy, but with the majestic scenery, immense clouds, and highlands, you will find that your effort is completely worth it. 
Photo: Collectibles
Photo: Collectibles
Is an inactive volcano, but here there are still vestiges of a volcano, with layers of material that used to be active inside a long time ago. Chu Dang Ya volcano today is covered with a blue color. Surrounded by lush reed grass fields under a layer of fertile basalt red soil. Around November every year, this place is covered with a bright yellow color of wild sunflowers. The scenery is peaceful but still colorful.
Photo: Collectibles
Photo: Collectibles
Photo: Collectibles
2.4. Buu Minh Pagoda – A spiritual place not to be missed when coming to Pleiku
Located in the heart of the tea hill, the sacred Buu Minh Pagoda is over 50 years old. It was rebuilt from a small am, built in the early twentieth century attached to the Bien Ho Tea Department since the French colonial period. In 1936 the pagoda was built and named "Buddhist Pagoda", in 1961 the pagoda was repaired and renamed Buu Minh Pagoda.
Where to stay when traveling in Gia Lai?
Photo: Collectibles
Buu Minh Pagoda today has an area of ​​​​about 520m2 and a height of 47.25mm. The unique architecture is a harmonious combination between the North and Central regions, highlighted by the curved roof of the pagoda-like a canoe, the rest of the roof is inspired by the traditional communal house.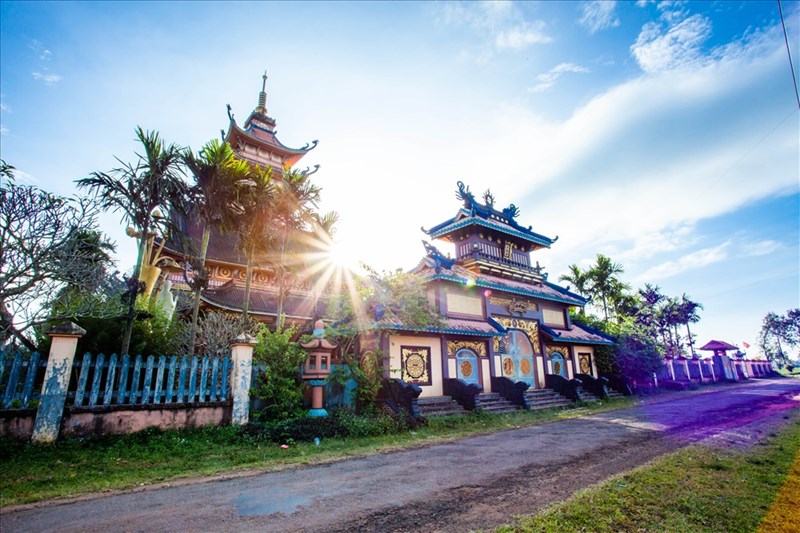 Photo: Collectibles
The beautiful position is in the position of "like a mountain facing the water" so that the path of the temple is flowing and circulating. Back leaning on Tien Son mountain, face towards T'nung Lake. Not only on Tet holidays, Buu Minh Pagoda always attracts Buddhists and tourists to visit because of its peacefulness and harmony with heaven and earth here.
2.5. Nine Layers of Clouds Waterfall
Located about 20km from Pleiku city. Nine Floors Waterfall, a very special name, because the waterfall flows strongly through the rugged cliffs forming nine floors. Each floor is 5-10m high, especially the last two floors of the waterfall have a height of about 15m. Seen from afar, Nine Layers of Clouds Waterfall looks like a giant staircase covered with white water.
Photo: Collectibles
It is made up of many cascades, so through each floor, there is a clear water hole, even small schools of fish can be seen swimming. At times when the sun shines through, there is a colorful rainbow on the side of the waterfall. Not too majestic, noisy and violent, when coming here we can enjoy the fresh and cool atmosphere. Release your soul with the clouds, the sky and the water in the middle of the great land
2.6. Heaven's Gate Mang Yang Gia Lai
Mang Yang Heaven Gate, also known as Mang Yang Pass, "Mang" in Jrai means gate, "Yang" means heaven, so many people are still used to calling it Mang Yang heaven gate. Although the pass is not long, but winding and then steep, it makes us feel like we are going to the blue sky. Coming here in any season of the year, you will be amazed by the beauty of this place. In the rainy season, the two sides of the hill are covered with a green color of thatched grass, undulating and winding like waves. In the dry season, this place is covered with a bright yellow color of chrysanthemum flowers. Mang Yang Heaven Gate is both majestic and poetic, leaving an unforgettable mark in the hearts of many tourists.
Photo: Collectibles
Photo: Collectibles
Photo: Collectibles
3. Pleiku cuisine is attractive and unforgettable
A place of immense beauty and unique ethnicity, this place also has a lot of delicious dishes to attract tourists. Bun with crab sauce, lam chicken, grilled loi with tamarind sauce to stimulate the taste, a sunny beef, forest leaf salad…
Noodle soup should be simple but addictive. Fish sauce seasoning is made from fresh anchovies. The sauce is mixed with chopped lemon, pepper and pineapple, with an unforgettable taste of seasoning sauce, served with vermicelli, crispy roasted meat and little raw vegetables. The dish is simple but leaves an impression in the hearts of diners.
Photo: Collectibles
Coming to Pleiku, it is impossible not to enjoy the unique two-bowl pho. This pho dish will be served with two different bowls, a bowl of broth and a bowl of pho. A bowl of sweet broth is made from chicken broth and bone broth. In the bowl of broth, there will be a little bit of crispy beef tendon, soft and sweet beef, and delicious beef balls sprinkled with a little onion to enhance the taste. A bowl of soft, chewy noodle soup is served with shredded chicken and a little fragrant fried onion. This attractive and unique dish is only available in Pleiku, don't forget to enjoy it when you come here.
Photo: Collectibles
4. Travel to Pleiku with a tour to discover the Central Highlands with Vinlove Event
The tour to discover "Tay Nguyen Dai Ngan" will take you to the unspoiled land, the majestic nature of the mountainous plateau land. The trip will take you to visit many famous landmarks of the Central Highlands: Pleiku, To Nung lake, Lak lake, Buon Me Thuot, … Besides, a lot of collective activities, experience local cultural attractions such as: kayaking, elephant riding and bathing for elephants, visiting cafe gardens, experiencing pottery making, … bring visitors unforgettable memories.