Bai Chay – Ha Long is one of the favorite beaches in the North, especially during the summer months. In recent years, Bai Chay tourism has become more and more bustling and attracts more visitors with a series of projects and diverse activities for visitors, maybe next to Ocean Park, Queen cable car, Vinpearl resorts… Boat services to visit the bay are also more options, spoiled for us to come and have fun. In this article, I share some information about Bai Chay for your reference and plan your trip!
The places to visit attract tourists when going to Bai Chay.
Bai Chay Beach
It is the largest beach in Ha Long city, attracting all the eyes of tourists. The artificial coast, but stretching over 1000m long and over 100m wide, is blessed with great beauty by nature with clear blue water, clean and beautiful beaches, so it attracts a large number of tourists. Along the coast is an endless line of pine trees creating a fresh, peaceful, relaxing atmosphere of the sea breeze combined with green trees.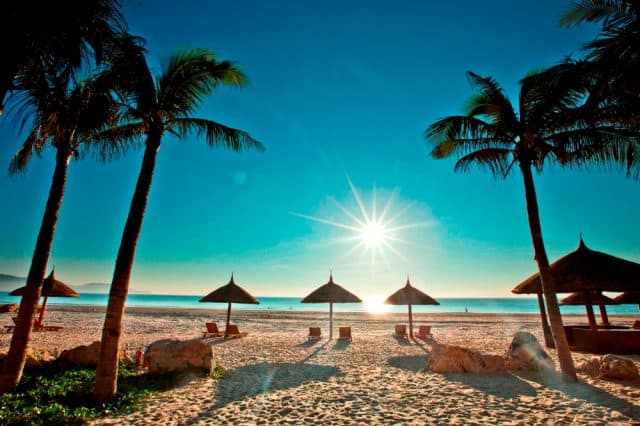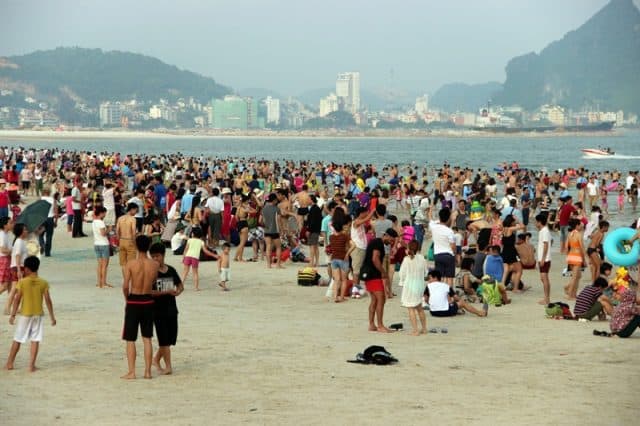 All domestic and foreign tourists come here to visit not only to visit, relax, relax, take pictures, surf the web, read books lying on the beach with free wifi internet service but also listen to television transmissions. heroism against foreign invaders of our forefathers. The feature of this coast is a strip of low hills running straight down to the sea. Both sides of the beach are rows of old pine trees and there are lovely villas and famous Quang Ninh hotels.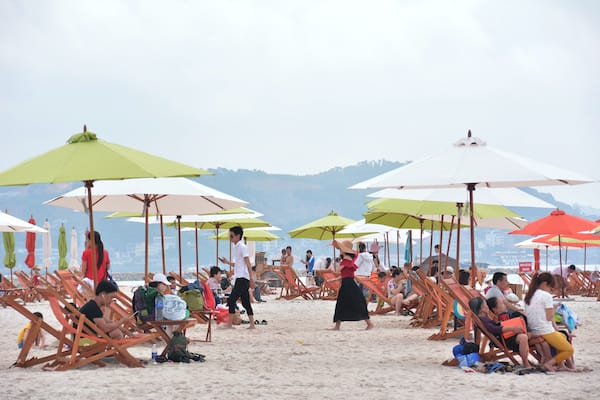 Coming to this place begins with a clear blue beach with a stretch of white sand with rows of ancient trees on both sides, romantic sunsets and sunrises, creating comfort and peace for visitors. to the extraordinary. In addition, there are also bicycle rental services on the beach, surfing cars, kite rentals, and a variety of unique dining services.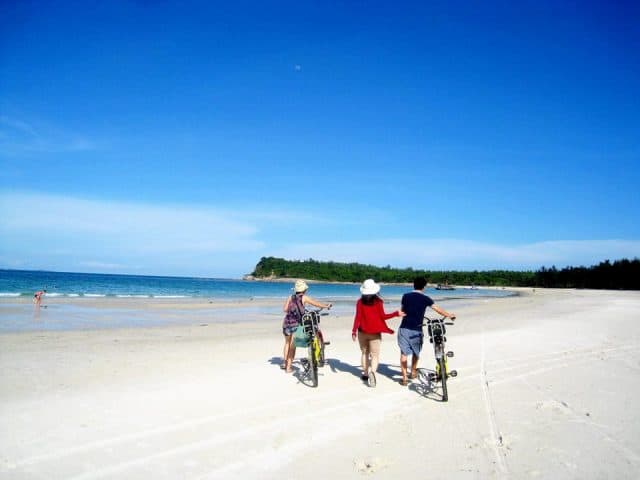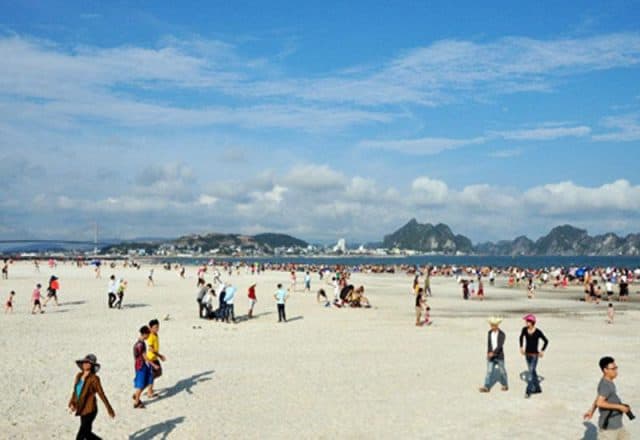 Bai Chay Bridge
Besides, Bai Chay bridge is also a tourist destination that visitors cannot ignore when coming here. Is a bridge with a length of 1106m located on National Highway 18. Connecting Hon Gai and Bai Chay through Cua Luc estuary, two parts of Ha Long City. This bridge is also a symbol of Quang Ninh.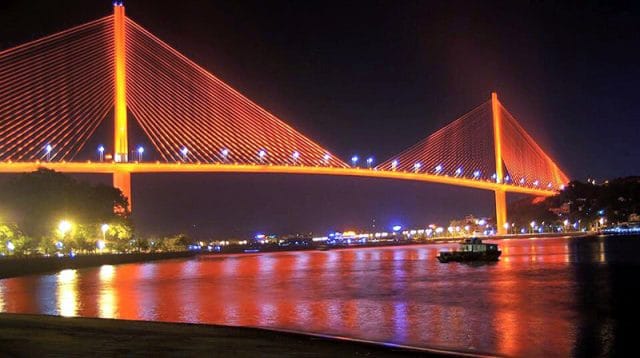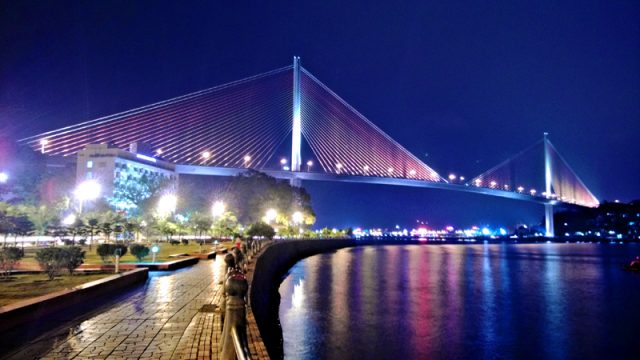 In the evening, the bridge is a peaceful place for all families to walk on the bridge at night. Perhaps at that time, it will dispel all the burdens and worries of life's chaos to release your soul into moments of peace and relaxation along with the sea breeze.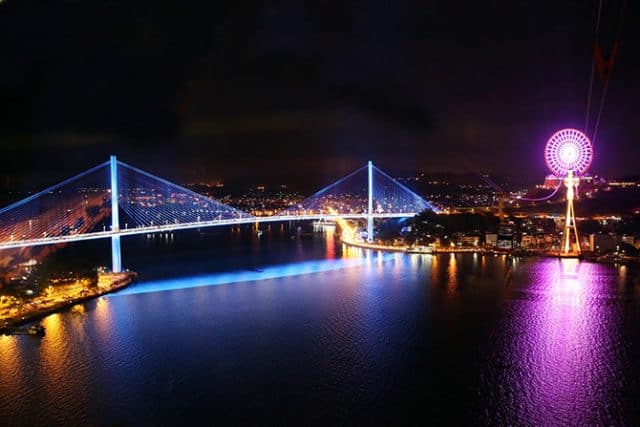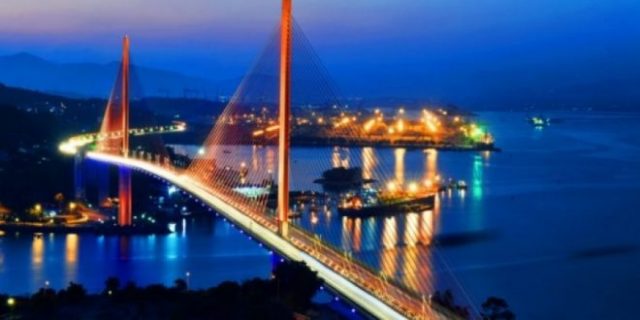 Night market
About visiting Bai Chay, no one is without going to the night market. The place specializes in selling and displaying souvenirs, famous seafood restaurants of this place.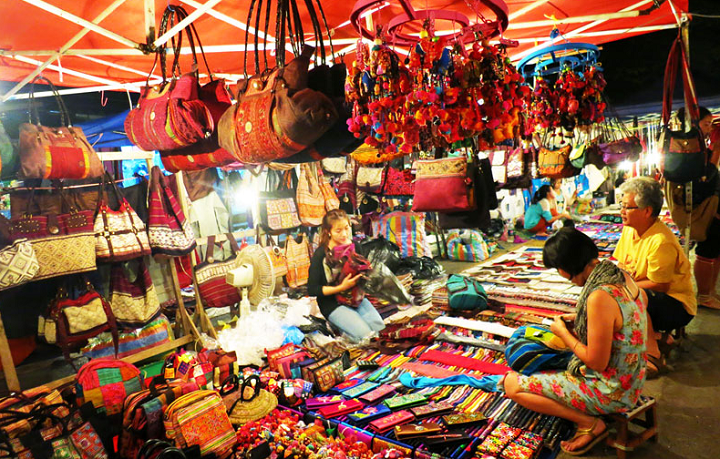 More specifically, the souvenirs here are all handmade by people from snail shells, seashells, wind chimes, paintings of the bay, and coal art – a specialty of the region.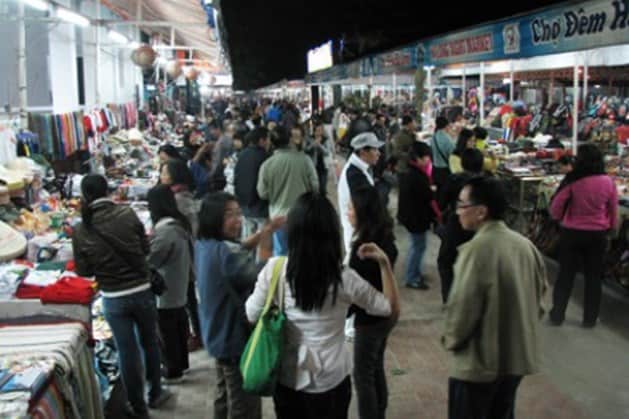 The night market starts meeting in the late afternoon, when the sun goes down people start displaying goods. So it's not a bad idea to be able to swim on the beach and have dinner at restaurants and then go to the night market to shop for souvenirs and have fun.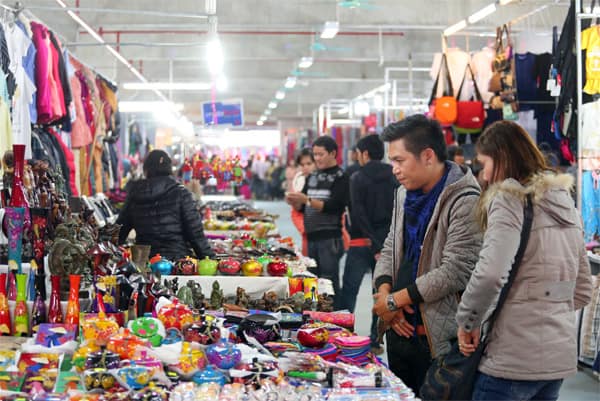 Famous and delicious dishes in Bai Chay beach
Kim Quy snail supermarket: Is the most famous brand in this sea. Says it's a snail supermarket, but everything here has both fresh and salt water.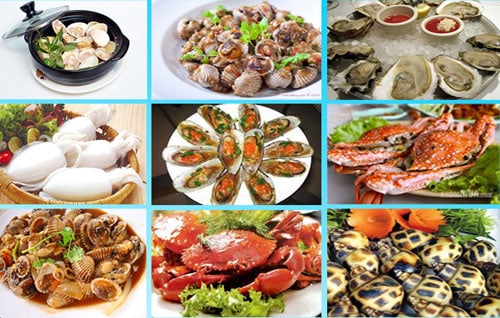 The restaurant specializes in dishes from snails and the most popular dishes of tourists are conch snails, fish soup with crabs, soup with mangoes, etc. But the crabs in this restaurant are not very big. The staff here are friendly and attentive. Located in an extremely convenient location for tourists to travel to Ha Long, next to the international pier, visitors can both enjoy famous specialties and admire the beautiful scenery of this place.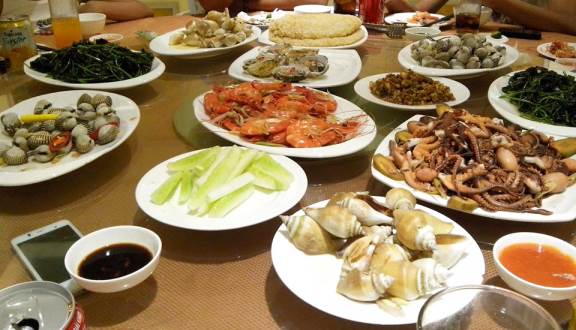 Thuy Chung Restaurant is famous for its fresh and impeccable seafood. The edge fish is delicious, sweet and fragrant. Big crab. Fresh crispy squid. More specifically, the dipping sauce here makes the restaurant standard delicious, sweet-to-taste seafood dishes.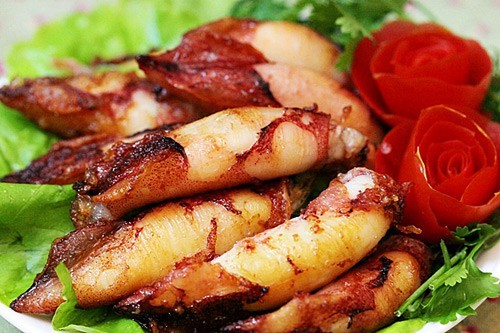 Coming to tourism, tourists are spoiled for buying seafood, famous food, specialties …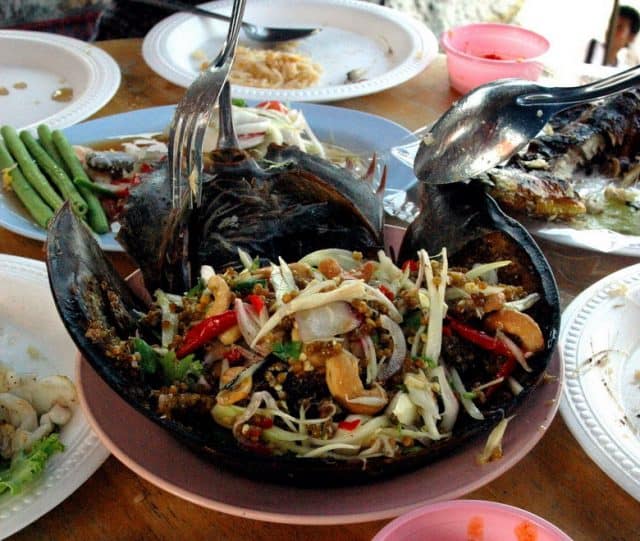 Squid-fried fish is available everywhere, but this place is meticulously pounded, has a crispy stage, and when fried, it must be fragrant in a nursery, only here. Besides, there are many famous dishes such as sam sung, nodding cake, sweet and sour fried sam, steamed chile….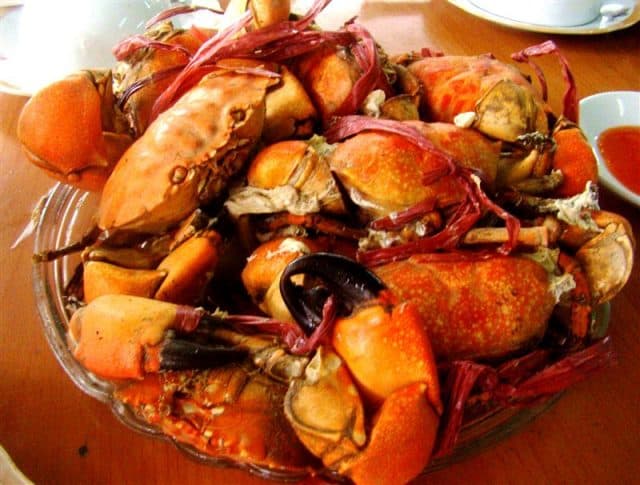 What is the best time to go?
When is the best time to go to Bai Chay? Now this place is planned spaciously and "fine" in Ha Long. With the cool and fresh climate, you can go at any time. But around June, July, August is the most favorite time to swim because at this time, the seawater is clear, the sun is not too harsh, the climate is fresh, then surely visitors will have unforgettable moments. while walking on the beach.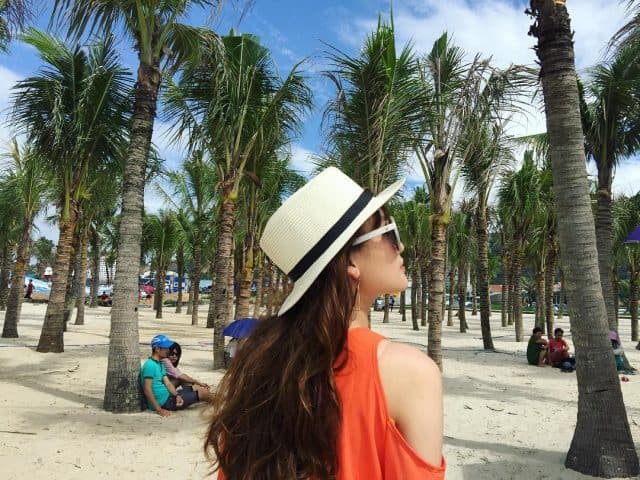 How to go to Bai Chay?
Bai fire is located in Ha Long city, about 150 km from Hanoi. Therefore, you can go by bus, travel by motorbike, taxi, train…
By train: You can buy tickets to Ha Long Express in Gia Lam, then go to Ha Long and catch the car to this beach is also very close. There is a train every 10-15 minutes.
By bus: You can go to Luong Yen bus station and My Dinh bus station, there are many buses coming here. There is a flight every 5-10 minutes.
By motorbike: It takes you about 155km. You can follow the route: Hanoi – Bac Ninh – Uong Bi – Ha Long.
Things to pay attention to when traveling to Bai Chay
When you go to the beach, remember to bring sunscreen, hat, and sunglasses. When boarding the boat, do not bring food and drink, avoid littering and remember to bring your personal belongings.
Where is Bai Chay Café?
+ Ding Tea milk tea, kiosk number 112B, Sun World Ha Long park
+ Sky bar, Royal Lotus Ha Long hotel
+ Café Nam Phong: 701 Ha Long street and 1st floor, Novotel Ha Long hotel swimming pool
+ Cafes reading the beach along with Bai Chay
What to buy as gifts in Bai Chay?
+ Grilled squid: The most famous in Ha Long is Thon squid cake
+ Fresh seafood at Ha Long market (you can pack a styrofoam box and use ice to keep it cold)
+ Dried squid and dried sage
+ Souvenirs such as bracelets, necklaces, wind chimes… made from sea snail shells, pearls… at Ha Long night market.
Hope the information from Vinlove can help you when planning a self-sufficient Bai Chay tour. Please share more of your experiences in the comments section!
Try once to visit the wonderful scenery of Bai Chay. Try the feeling of crossing the strait bridge. Hopefully, through the above article, you will have a little experience to travel here.