Tuan Chau tourist area has long been known as one of the famous tourist destinations of the North. This place not only has majestic natural landscapes but tourism has also been invested and developed strongly. So Tuan Chau is very suitable for short or long vacations for you and your family.
Tuan Chau tourist area attracts tourists
Tuan Chau is one of the extremely important tourist destinations of the coastal city of Ha Long in Quang Ninh province. This is the largest artificial sea in Vietnam with an area of ​​​​up to 220 hectares. The gentle beach with layers of pure white sand is suitable for visitors to have fun and participate in interesting water games. Tuan Chau is therefore rated by tourists as one of the most beautiful islands in Ha Long .
Tuan Chau Island also owns a 2km long road connecting Tuan Chau Island with the mainland. It is this road that has created a very special attraction that makes tourists standstill with its majesty.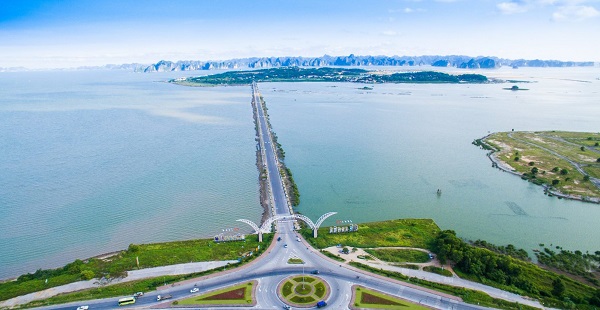 Tuan Chau attracts many tourists to visit
Not only having poetic nature, Tuan Chau Quang Ninh is also known for its outstanding development and diversity of rare potentials. From high-rise buildings to a system of resort villas and 3-star hotels, they all meet the needs of tourists. 
Food sources are exploited from the sea and the mainland to bring visitors delicious dishes. More specifically, coming to this place, you will enjoy the fresh air, immerse yourself in the cool water and participate in attractive entertainment games. Traveling to  Tuan Chau Ha Long Island, you will certainly never be disappointed with the richness of nature and the hospitality of the people here.
At what reasonable time should Tuan Chau travel?
Tuan Chau attracts millions of tourists every year. Because, at any time, this island has its own beauty. But, due to different regional weather, you should choose the right time to travel. So when should you travel to Tuan Chau?  From the end of April to the beginning of October is the ideal time for you, your family and friends to visit Tuan Chau. At this time, the weather is cool and pleasant, very suitable for tourism and swimming activities.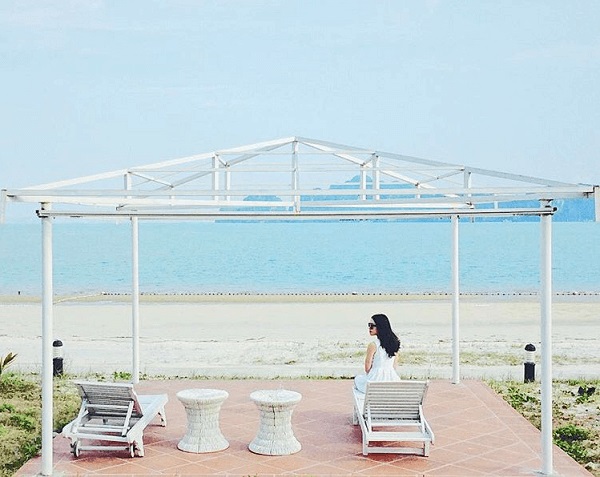 Traveling to Tuan Chau you should go in summer and autumn
In the middle of the year, the weather in Quang Ninh will become hotter. However, this time will have comfortable holidays. Therefore, depending on your needs, you can consider choosing the most appropriate time for your trip.
How to move to Tuan Chau?
From Hanoi, tourists have many ways to move to Tuan Chau . You can ride a motorbike yourself or catch a bus at the bus stations in the city to get to Bai Chay. Hanoi is about 170km from Bai Chay, it will take you about 4-5 hours by car. If in other localities, visitors can buy a plane ticket to Van Don , then take a bus or taxi to Ha Long or Bai Chay.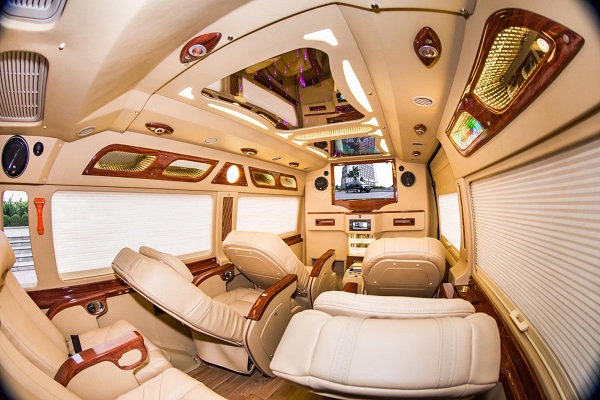 Traveling to Tuan Chau, you can travel by bus, plane or motorbike
From Bai Chay, there is a concrete road about 2km long connecting from the mainland to the island. Therefore, it is easiest that you should take the car to Bai Chay. Then take a taxi or rent a motorbike taxi to the island to save money (It takes about 20 minutes, costs about 100,000 VND).
What to play in Tuan Chau?
Choosing to travel to Tuan Chau, in addition to seeing the beautiful scenery, visitors can also participate in many other interesting activities and games. Also because of this, Tuan Chau l won the special attraction for many tourists to Ha Long.
The amusement park has a very large area, extending up to more than 5 hectares running along the coast. Visitors here also do not forget to find out the entertainment venues and opening hours of this tourist area.
Tuan Chau Water Music Performance Palace
The most attractive tourist destination in Tuan Chau is the water music performance. Surrounding the performance palace is an extremely large stage with more than 12,000 seats. Looking down from above, we can see the water music work area looks like an ancient Roman arena.
The construction site is the place to perform the performances of thousands of faucets working together. Along with the combination with epic sound, laser light. Visitors sit on the stands and enjoy the attractive performances made of water, fire, music and laser lights, you will surely be impressed with the magnificence here.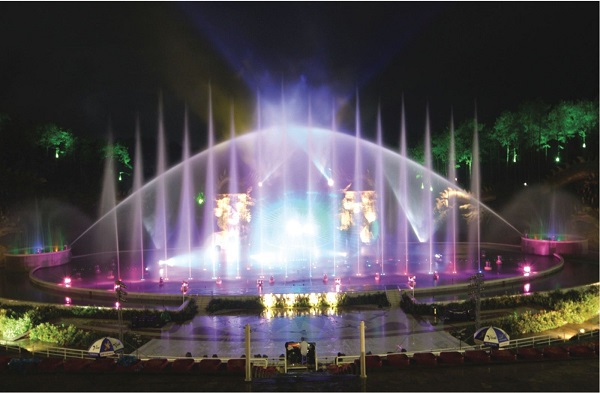 Water music performance at Tuan Chau
Regarding the opening time of the water music performance area, each performance is 40 minutes/show with the following time frames: From 9:15 a.m. to 10:00 p.m., from 19:00 p.m. to 7:40 p.m. (Friday and Saturday), from 8:00 p.m. to 8:00 p.m., from 21:15 to 22:15.
Outdoor amusement park in Tuan Chau
What is Tuan Chau Island tourism?  Not only having a spectacular water music performance, when you come here, you can also have fun at the outdoor amusement park. This area is located in an area of ​​about 5 hectares extending the length of Tuan Chau beach. This is a modern amusement park, designed in harmony between the existing architecture and natural landscape.
Visiting the outdoor park, visitors will be able to see and discover the miniature world's natural wonders presented at the central location of the park.
Along with that, visitors will have the opportunity to meet with characters from Grimm fairy tales or funny, lovely cartoon characters of Walt Disney Studios. This will especially be a suitable destination for families with young children on the journey to discover Tuan Chau.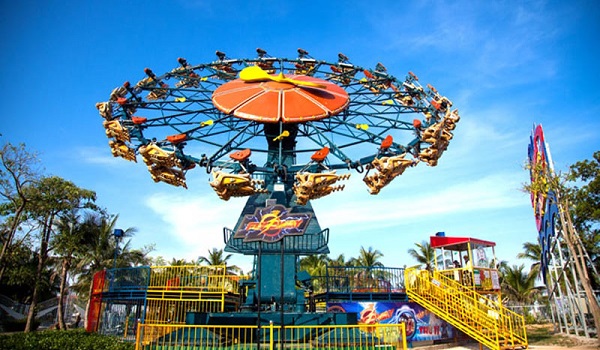 The outdoor amusement park has a lot of interesting games
Traveling to Tuan Chau, you will be comfortable soaking in the clear blue water or lying in the cool sunshine on the beach. In addition, visitors can participate in various types of attractive entertainment games here such as parachute canoe, windsurfing, high-speed water skiing,…
If you are a lover of sports activities, then do not ignore sports such as football, beach volleyball, camping,… Another suggestion to make your journey to visit Tuan Chau island more memorable is to choose Ha Long cruise, if possible, watch Tuan Chau from above by helicopter, or scuba dive to see the coral reefs. .
Currently, boat tours are being loved by many domestic and international tourists because of their novelty and outstanding advantages. So what's interesting about the Halong cruise? Take a look at this article to find the answer for yourself. 
Time and place of other types of entertainment when traveling to Tuan Chau
When traveling to Tuan Chau, do not forget to refer to different places and types of entertainment. In particular, the monkey circus and the crocodile circus are the most popular types.
– Circus performance time is only 20 minutes/show with time frames: Weekdays from 9am to 9:20am, from 11am to 11:20am, from 14h30 to 14h50, from 16h30 to 16h50, from 19:30 to 19:50 and for holidays from 20:15 – 20:35.
– The seal circus, the sea lion circus has a performance time of about 30 minutes/show with the time frames: From 10am – 10h30, from 15h30 – 16h, from 20h15 – 20h55 and from 21h15 – 22h15.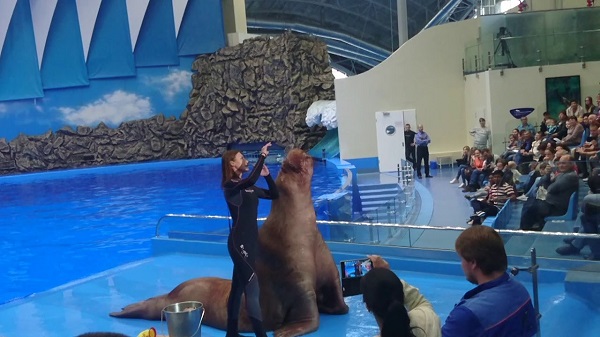 When traveling to Tuan Chau, don't forget to see the seal circus
– Screening of 5D movies: Each screening takes about 10 minutes, in the time frames from 8:30 a.m. to 11:30 a.m., from 1:00 p.m. to 6:00 p.m. and from 7:00 p.m. to 10:00 p.m.
– Summer Snow Falling Music and Dance Performance: The show is only performed on weekdays of the summer. The performance time frames are from 17h to 18h, from 19h to 20h and 21h to 22h.
In addition, there are games that do not impose a performance time frame such as: Tramcar racing, Kangaroo carousel, pompous horse swing, mysterious house, kindergarten, online gaming and games. another strong feeling.
Ticket price to enter Tuan Chau amusement park
To be proactive about the cost of your trip, you should refer to the ticket price of Tuan Chau amusement park in advance, specifically:
– Ticket price for tourists traveling in groups is: 180,000 VND/ticket, but with the condition that it is booked 1 day in advance and for groups of 20 or more guests.
– Ticket price for individual customers is: 200,000 VND/ticket.
– Children under 1m traveling with adults are free of charge. Children from 1m and above must buy tickets like adults.
What to eat when traveling to Tuan Chau
Tuan Chau's culinary paradise is extremely unique and attractive. So, besides having fun, don't forget to explore the specialties here.
Tuan Chau food court and the Chinese restaurant area are two of the busiest and busiest dining places in Tuan Chau. However, the prices in these two locations are quite expensive and often slashed.
Experience Tuan Chau island, you should move to Hon Gai or Bai Chay to enjoy the cuisine because here the prices are very reasonable and there are many unique and extremely attractive dishes.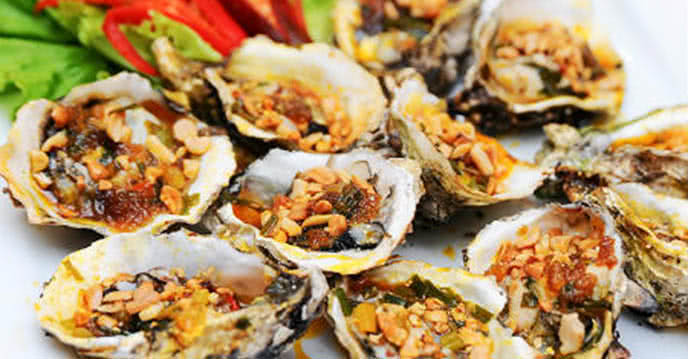 Discover Tuan Chau cuisine
When coming to Tuan Chau, visitors should enjoy the following famous dishes:
– Ha Long squid cake: This is an extremely nutritious and delicious dish. This dish is loved by many tourists. Grilled squid here is processed by people according to a special recipe, so it has a different flavor, typical in this area.
Sa Sung: is a very famous specialty dish in the Tuan Chau tourist area. Sa Sung is usually prepared by: Grilling, stir-frying with lemongrass and chili, steaming, frying in oil, … All are very delicious and attractive.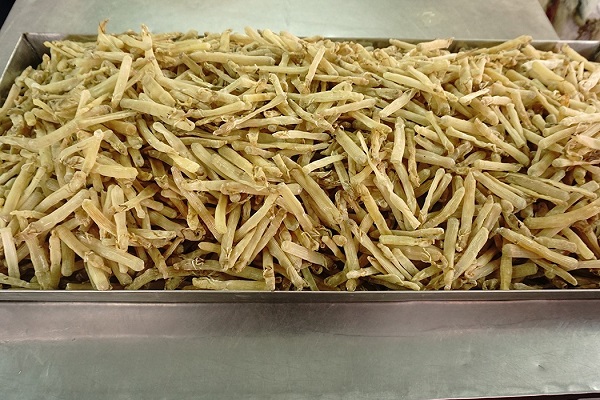 Sa Sung is a dish you should enjoy when you come to Tuan Chau
– Bored of the sea: This is one of the delicious and attractive dishes and has been included in the list of the most delicious dishes of Tuan Chau. So, when you come here, don't miss the opportunity to enjoy this very special dish that is cooked by: Steaming, grilling, frying…
– Sam: Sam often lives in salty seas. But to enjoy delicious Sam, coming to Tuan Chau is the most ideal and right choice.
Hopefully, with the complete Tuan Chau travel experience from A – Z  above, you have had more useful information for your trip. Wish you will have a memorable stay in one of the natural wonders of the world – in Ha Long Bay!
---
Tuan Chau travel experience for newbies (updated in 2021)
Nature has favored Quang Ninh with many beautiful scenes such as Ha Long Bay, Co To Island, Tra Co beach… Among the most worthy attractions of this mining land, Tuan Chau cannot be missed. People are impressed with this "pearl island" by its long fine white sand beaches, clear blue seawater, and immense spread. Surely, this will be the ideal destination for those who like travel.
With the experience of people born and raised on this beautiful land, I will help you synthesize Tuan Chau's travel experiences from A to Z for newcomers. Don't miss it, you will surely have interesting information!
Tuan Chau Island, the pearl of Ha Long tourism
Tuan Chau Island was formerly an isolated island but not far from the mainland, after being built a sea route connecting the island to the mainland and investing in many facilities, Tuan Chau Island has become an interesting destination. of tourists when coming to Ha Long, Quang Ninh.
Tuan Chau is 120km from Hanoi by highway, 5km from Bai Chay tourist area, is an island with 5-star resorts, luxury hotels, large entertainment areas and the largest cruise ship port. Southeast Asia. This is the starting place of cruises that take domestic and foreign tourists to explore Ha Long Bay. Let's find out what Tuan Chau has to offer.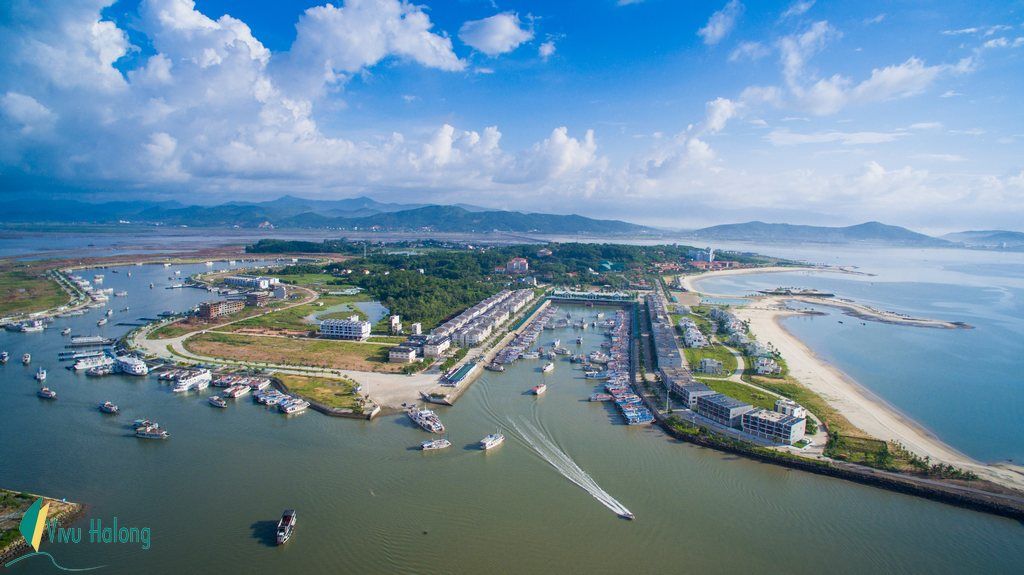 How to get to Tuan Chau quickly and safely?
It can be said that moving to Tuan Chau – Ha Long has never been so simple. No matter what means of transport, a passenger car or motorbike is also extremely convenient.
If from Hanoi, you should travel by bus for convenience and safety. All bus routes Hanoi – Quang Ninh pass through Tuan Chau. However, to save time, it is best to choose the Kumho Viet Thanh bus or the Phuc Xuyen bus. These are the carriers that are loved by the people with the commitment of "going to the place, going to the destination" and especially not catching passengers along the way.
If you go to Hanoi – Quang Ninh highway, from My Dinh bus station to Tuan Chau now only takes about 2.5 hours, there are many limousine and VIP companies providing services with fares from 180,000 VND – 250,000 VND (Aloha 7-seat car, Phuc Xuyen, Hoang Phu, Ha Vy limousine, Anh Huy VIP…) From the main road to the island is relatively far, the safest and fastest means is Taxi. It only takes a few tens of thousands of dong, you can set foot on this beautiful island already!
If departing from Ho Chi Minh City, visitors can take a flight to Cat Bi – Hai Phong or Van Don airport, Quang Ninh, then move by taxi or bus in the direction of Ha Long highway to Tuan island. Chau.
From Cat Bi Hai Phong to Ha Long, the highway is only 25km, about 30 minutes away
From Van Don to Ha Long: 50 km and about 1 hour travel time.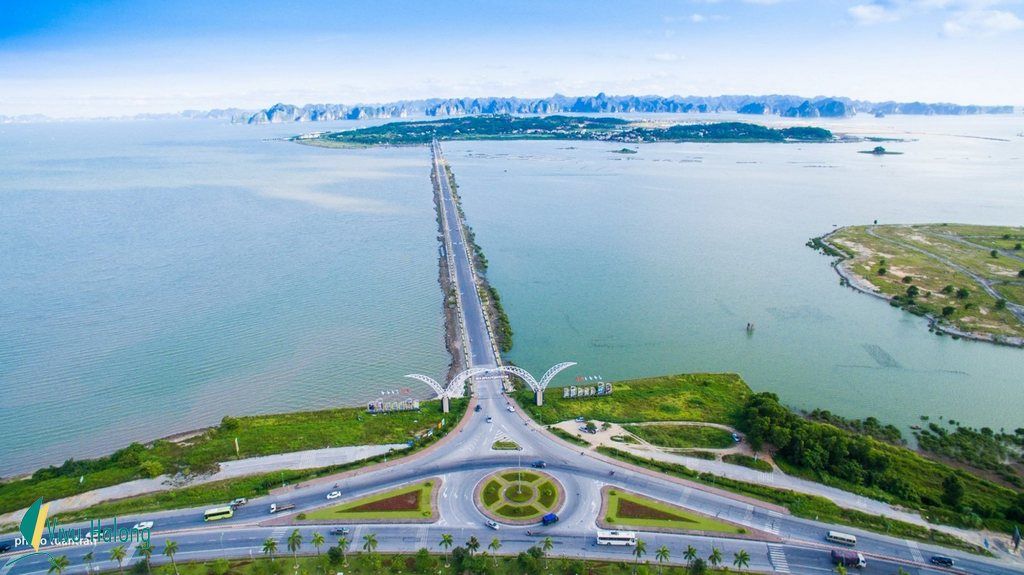 Come to Tuan Chau, you have to play
Tuan Chau Amusement Park
The specialty of Tuan Chau in particular, Ha Long in general is Vitamin SEA. With a ticket price of 40,000 VND, you can freely splash on the long sandy beaches, immerse yourself in the cool blue seawater. If you go with the "star fruit sister" association, do not forget to prepare yourself a tarp and some snacks. Enjoying a party right on the beach, what's more interesting, right?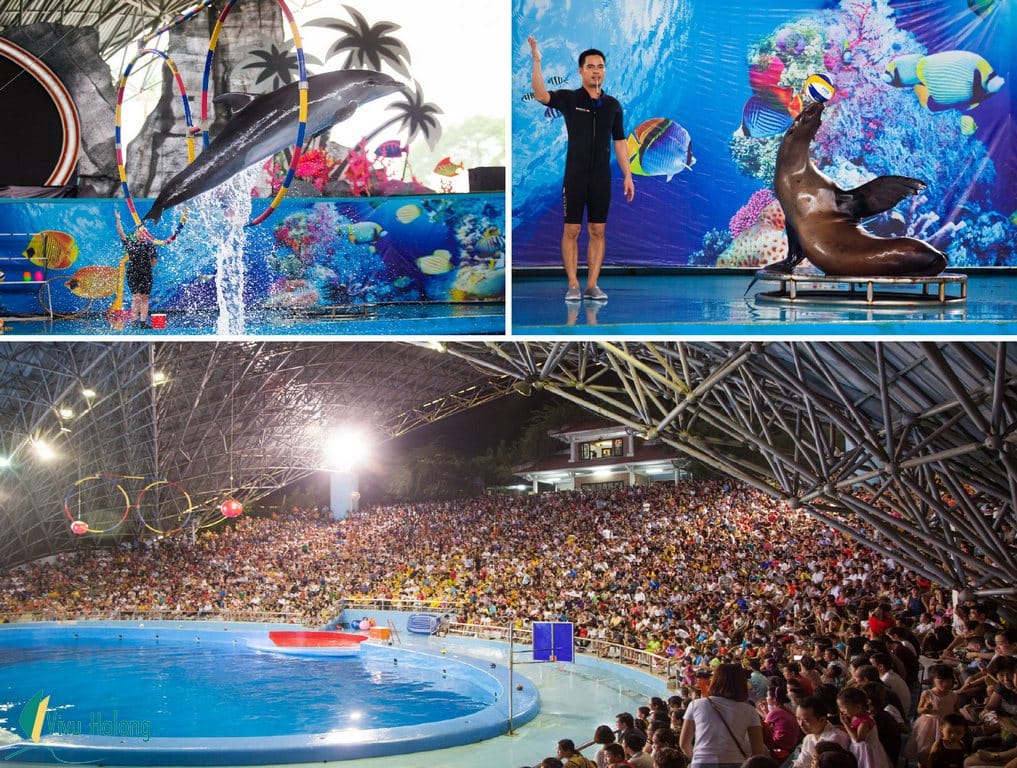 For adventurous guys and girls, you can try water sports such as windsurfing, water motor, kayaking, canoeing, etc. Be mentally prepared before participating in the games. this is it!
Having come to Tuan Chau, it is impossible to ignore the entertainment area. There are very fun games here, playing all day without getting bored. The 5-hectare outdoor play area simulates many natural wonders of the world. You don't have to go far to admire the creation of humanity.
Next is "satisfied" with animal circus performances, 5D movie show. To be able to grasp the schedule of activities, do not forget to ignore the following time frames:
– Performance of monkey circus, crocodile circus : 9am – 9h20; 11am – 11:20am, 14h30 – 14h50; 16h30 – 16h50; 19h30 – 19h50; During the holidays, the time frame is also added from 20:15 to 20:35.
– Water music performance (paused) : 9:15 – 10:00; 19h – 19h40 (on Friday and Saturday); 20:15 – 20:55; 21:15 – 22:15.
– Performance of lions and seals : 10am – 10h30; 15h30 – 16h; 20:15 – 20:55; 21:15 – 22:15.
Compared to other amusement parks, the Tuan Chau tourist ticket price is relatively reasonable. For retail customers, the ticket price is 350,000 VND
Dinosaur Park
Located right in the center of Tuan Chau island, dinosaur park and dragon park have hundreds of large and small sculptures spread over an area of ​​thousands of square meters. In addition, there are sculptures recreating characters in Vietnamese legends and fairy tales.
Dinosaur Park
Earth Dragon Park
Ecological Park
Waterfall system
A large landscaped area promises to be a unique place of entertainment and check-in for you when you come to explore Tuan Chau Island.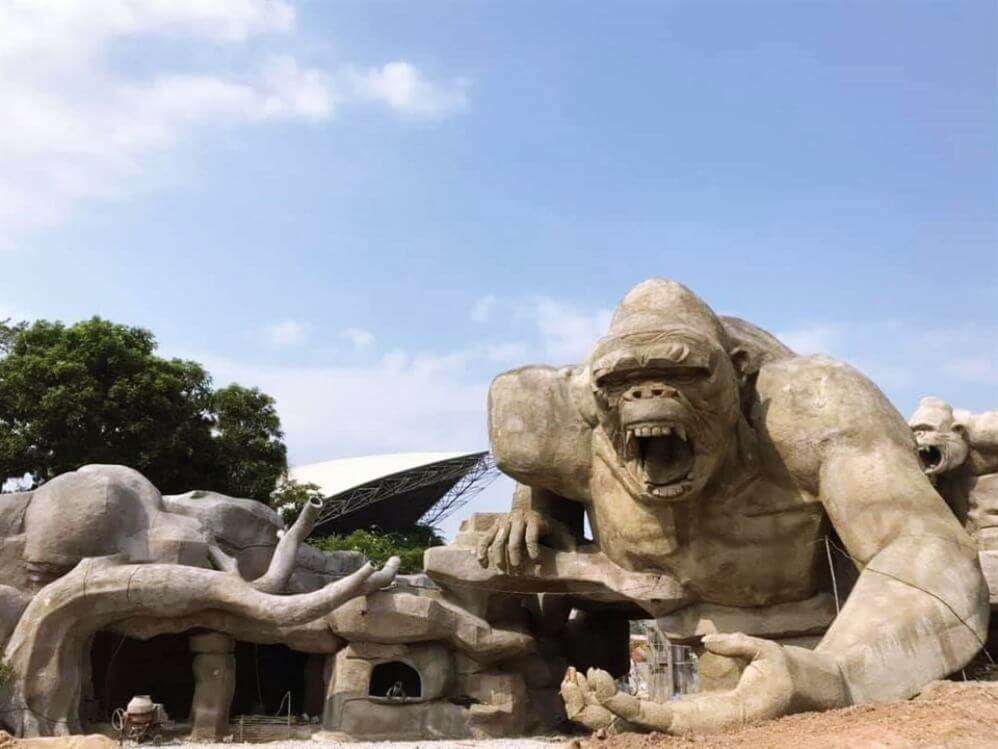 Ticket price to visit Tuan Chau island
Tuan Chau Island solo travelers: 350,000/person/time
Tuan Chau ferry: 80,000/person/time (pedestrian), 90,000/motorcycle/time, 450,000/car with 9 seats or more
Tuan Chau Port Authority cleaning fee: 20,000/person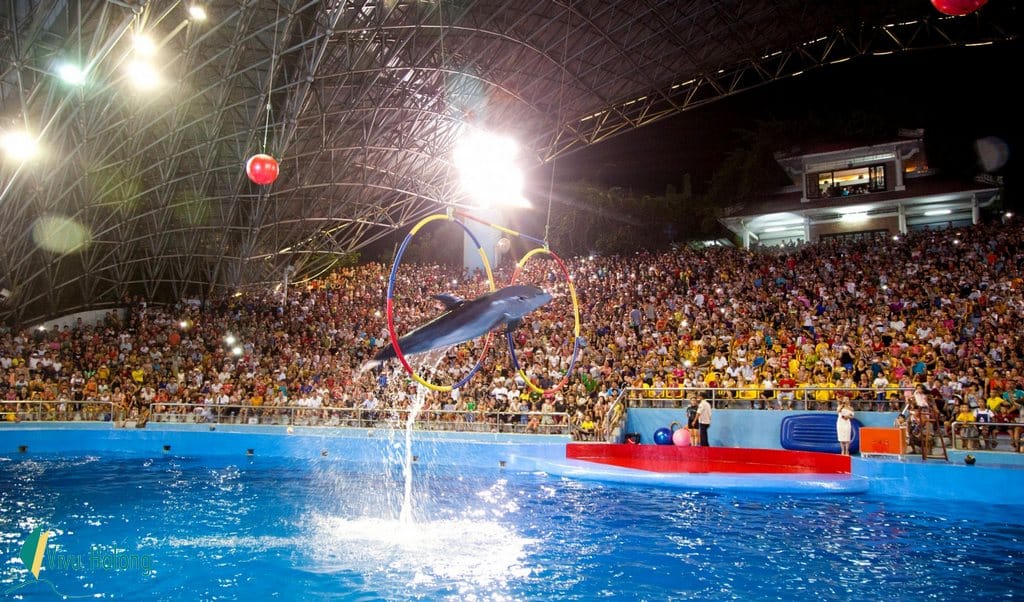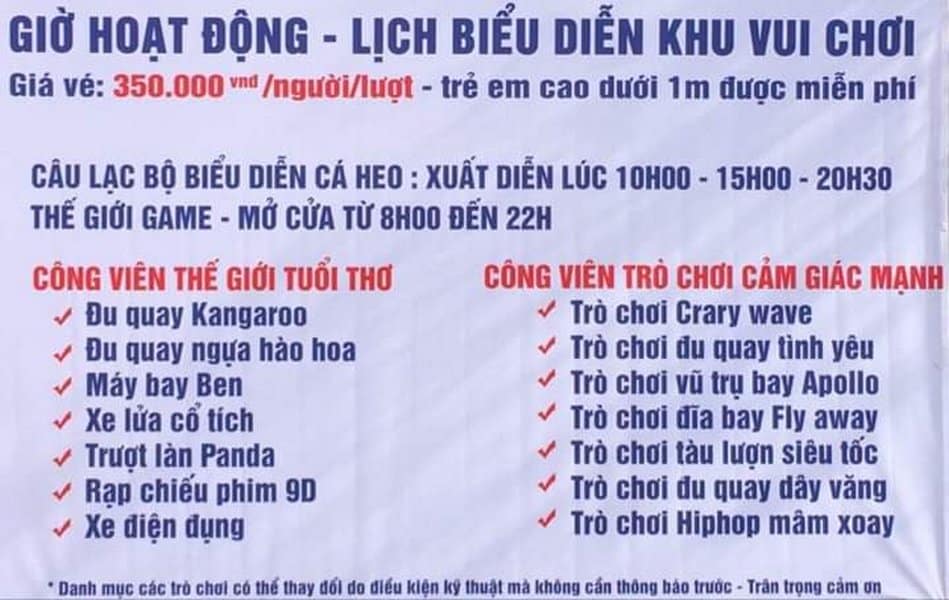 Staying in Tuan Chau has never been so easy
Staying in Tuan Chau is also extremely convenient. There are many resorts and hotels here that are rich in quality and price.
The resort specialty of Tuan Chau tourism is yachts. It's great to relax on high-class and luxurious yachts, there are many options of traditional wooden yachts or modern iron hulls. You can choose 2 days 1-night tour to explore Ha Long Bay on a yacht, departing from Tuan Chau island

The most famous and popular "luxury" yachts in Tuan Chau can be mentioned as:
Capella Cruise – 5-star standard yacht, leading in resort and entertainment. Cruise with 30 large rooms, balcony, bathtub with restaurant facilities, lounge, water slide, Cigar & Poker club, Spa, Swimming pool… Capella cruise cost for 2 days 1 night program includes Price from 2,700,000 VND/night
Bhaya Ha Long is located at Building 9, Tuan Chau Marine. This is a luxury wooden yacht with a beautiful, modern location, fully equipped with amenities. You will admire the whole sea view or enjoy delicious dishes.
Paradise Luxury Cruise is a highly rated cruise company. The price for 1 room here is about 5 million VND. On the contrary, you will have interesting experiences on the 5-star yacht, modern rooms, delicious food, enthusiastic service staff.
There are also many tours to visit Ha Long Bay 1 day, departing from Tuan Chau, with many different types of ships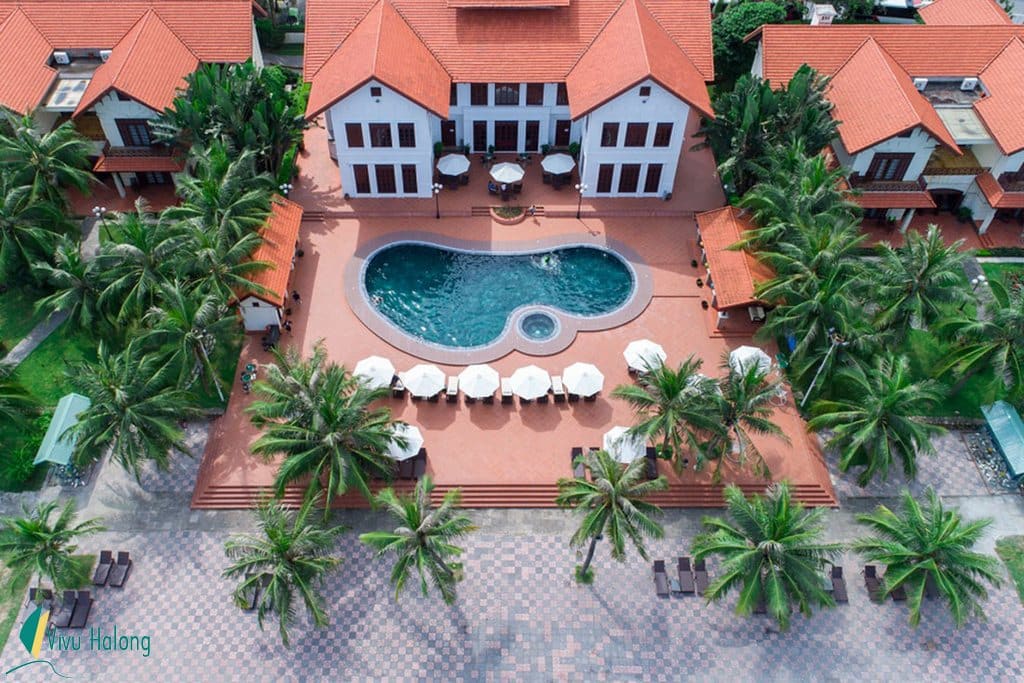 In addition, if you want to stay on the shore, you can also choose from high-end to affordable hotels. The price of accommodation at hotels in Tuan Chau is also quite diverse with many types from 5-star resorts to lovely resorts and homestays. 
Lapaz Resort Ha Long : Beautiful 5-star resort located on the shores of Ha Long Bay, with an area stretching up to 220 hectares and 207 separate rooms and villas, Lapaz Resort on Tuan Chau peach is a reasonable resort for the whole family. family, a relaxing and comfortable stay on the shores of Ha Long Bay.
Paradise Suites Hotel : Paradise Suites Hotel belongs to Tuan Chau 5-star group is a luxury hotel with high service standards, won international awards. The hotel includes 179 rooms with many different types of rooms. Located right in the center of Tuan Chau Island, next to Tuan Chau International Ship Port, it is very suitable for outings that are both comfortable and convenient.
In addition, you can also choose budget hotels with "soft" prices ranging from 500,000 – 700,000 VND such as Huong Bien Ha Long Hotel, Hoa Binh Ha Long Hotel. This is a relatively reasonable price but still has a beautiful view, attractive amenities.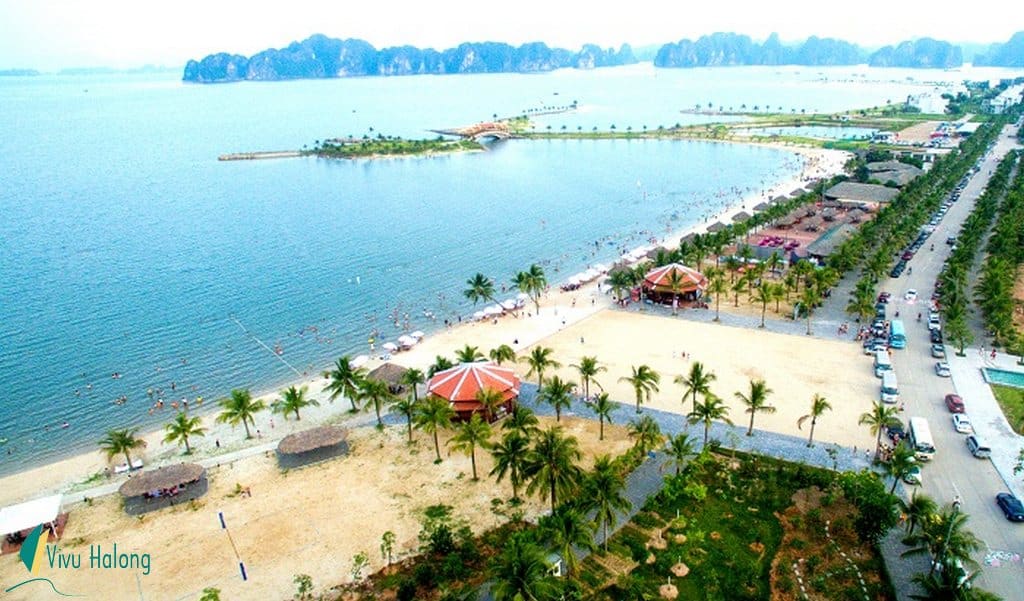 What to eat delicious, cheap in Tuan Chau?
The cuisine is a typical cultural feature, should not be missed when you have the opportunity to visit Tuan Chau. Here, only 1 type of food service is a restaurant. However, the number of restaurants is not much and the prices here are also relatively expensive. The 3 most famous restaurants with delicious food are:
Tuan Chau food court serves specialties from 3 regions. The reference price here ranges from 150,000 to 300,000 VND / dish. Delicious food, characteristic flavor, good service staff.
The Chinese restaurant is famous for its Chinese dishes cooked by a Beijing-based chef. Each dish costs from 100,000 to 300,000 VND.
Golden Crab Restaurant specializes in fresh seafood. Here serves a full range of typical dishes of Ha Long sea. The price of each dish ranges from 250,000 to 500,000 VND.
Restaurant 1958, near Ngoc Chau Street and Tuan Chau Ferry Terminal on Tuan Chau Island Phone: 098 971 11 02. This is a restaurant with luxurious, modern space and delicious food. This restaurant has both outdoor and indoor tables for guests to choose from. Regarding the food at the restaurant, I find it quite delicious, the price is not too expensive but not cheap, compared to the restaurants on the mainland, of course a bit higher. For example, some of the dishes that I remember are broken crab 800k/kg, flower crab 700k/kg, comedians 700k/kg, shrimp and fish are 700k/kg…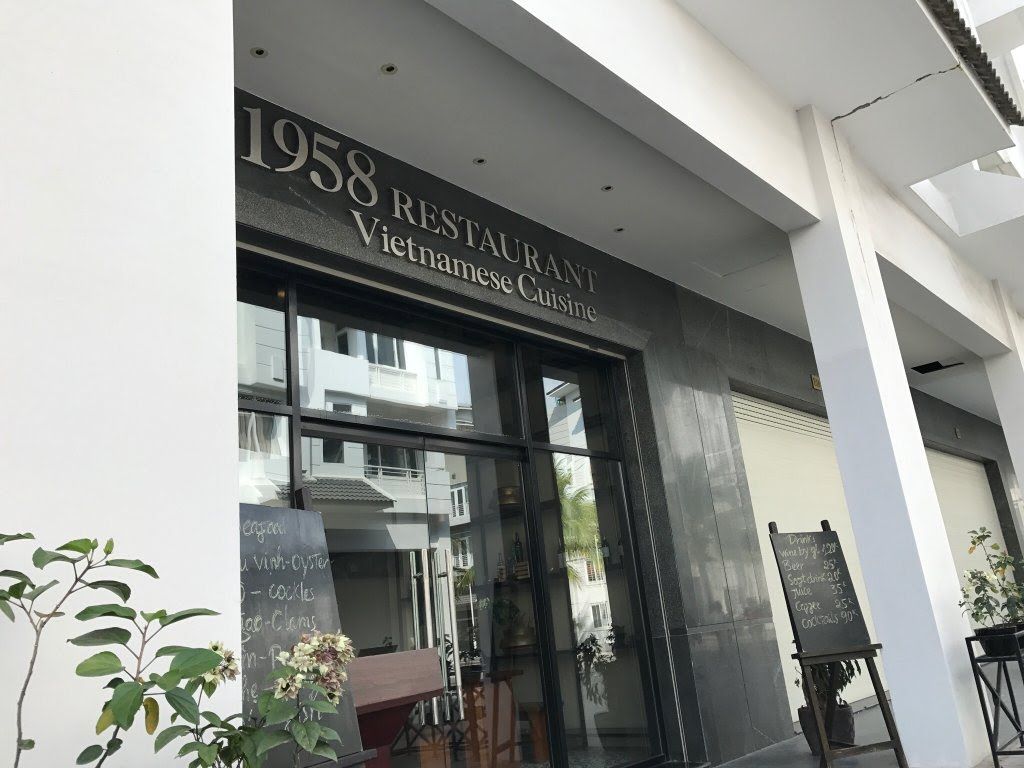 Sandy Beach Bar & Restaurant. Sand Bay restaurant is n galaxy coastal line very nice view at the Tuan Chau island which they enjoyed. This restaurant features a wood-fired Italian chef-made pizza that is both delicious and unique. Talking about the food, it is very good, but the most impressive thing is still the wonderful sea view. I found this restaurant to be delicious from the eyes to the belly. The price is what you pay, if you go to Tuan Chau, you can try this luxurious restaurant once to try it out!
Queen restaurant at Group 14B, area 4B, Hung Thang ward, near the turn to Tuan Chau island. If you do not want to go far to another area in Bai Chay, Hon Gai, you can also refer to Queen restaurant, right near the entrance to Tuan Chau. Contact 096 132 53 66.
To save money as well as enjoy the "soul" of Ha Long cuisine , you should move to Bai Chay and Hon Gai not far away. The food here is rich, diverse, and very affordable. The famous restaurants in this area must include Co Ngu, Thien Anh, Hoa San Coral, Phuong Thuy, Hong Hanh, Huong Duyen…the area along the seashore of Hon Gai. The price and quality of the food here are also quite attractive.
In addition to food, Tuan Chau does not lack any entertainment services. With a system of bars, cafes, massage … class and modern, you will be immersed and enjoy playing in the most famous entertainment area in Quang Ninh.
From Tuan Chau, where can you combine traveling?
Going to Cat Ba
From Tuan Chau Port, you can take a speedboat to Cat Ba Island to connect your trip. Cat Ba Island has many attractive destinations, new resorts, homestays, experiences to visit the National Park, visit the island, explore Lan Ha Bay.
The Paradise Express high-speed train departs daily, with a frequency of 30 minutes. Paradise Express is a new generation of 2-hull ships, with a capacity of 300 guests, extremely stable operation, so you can rest assured that you will not get seasick. Departure from Tuan Chau has 2 flights 8:30 and 12:30.
Go to Co To
From Tuan Chau now you can easily go to Co To island without having to move to Cai Rong port (Van Don) to catch a boat. Tuan Chau Express train takes you from Tuan Chau to Cat Ba with only 2 hours of travel. Modern 2-hull ships withstand bad weather and do not seasick.
Cruise Ha Long – Lan Ha
Tuan Chau International Cruise Port is the largest cruise ship port in Southeast Asia, with hundreds of cruise ships departing from Tuan Chau every day taking tourists to visit Ha Long Bay or Lan Ha Bay. You can fully connect to enjoy the overnight cruise on the cruise, departing from Tuan Chau Port
Suggestions for Tuan Chau travel itinerary 2 days 1 night
2 days 1 night is a relatively short period of time. To help you tourists can fully enjoy the beautiful scenery, arrange a reasonable time arrangement, I will suggest the following schedule:
Day 1 : Visit and experience Tuan Chau island
10:00: Arrive at Tuan Chau Island, have lunch at the restaurant
12 o'clock: Return to the hotel, check-in and rest
14:00: Move to Tuan Chau beach to swim and have fun
16h: Enter Tuan Chau International amusement park, explore the park with many adventure games.
18:00: Have dinner at the amusement park
19:00: Watch water music, monkey circus, crocodile circus, watch movies…
Day 2: Visiting Ha Long Bay
If you wake up early, you can watch the sunrise and visit the island
7 a.m.: Breakfast at the hotel
8:00: Move Ha Long to visit the bay: Thien Cung cave, Dau Go cave, Sung Sot cave, Trong Mai island, fishing village… Kayaking on the bay
11am: Check out, have lunch, shop and end the trip.
see more
Suggestions for Tuan Chau travel itinerary 3 days 2 nights
If you have time, you should enjoy your vacation for 3 days and 2 nights. You still don't know how to arrange your time properly? I would suggest the following specific schedule:
Day 1 : Visit Tuan Chau island
10:00: Arrive at Tuan Chau Island, have lunch at the restaurant
12 o'clock: Return to the hotel, check-in and rest
14:00: Move to Tuan Chau beach to swim and have fun
16h: Enter Tuan Chau International amusement park, explore the park with many adventure games.
18:00: Have dinner at the amusement park
19:00: Watch water music, monkey circus, crocodile circus, watch movies…
Day 2 : Visiting Ha Long Bay by boat tour 2 days 1 night
8:00 am: Breakfast at the hotel, restaurant on the island
10:00: Get on the boat, start the cruise to visit the sights of Ha Long Bay
In the tour, there will be activities such as visiting caves, visiting fishing villages, kayaking on the bay
Day 3 : Return to Tuan Chau island
11am: End the tour of Ha Long Bay by boat at Tuan Chau harbor
12 o'clock: Check out, have lunch, shop and end the trip.
Above are Tuan Chau's travel experiences from A to Z that Halong wants to share. Hopefully, with this information, you will have interesting notes and schedules!
Image source: Internet