If recently young people knew about Hoa Lo Prison through quality memes created by the admin team on Facebook, decades ago, this place in the minds of Vietnamese people was a true "hell on earth". In 2014 – that is, after more than a century since Hoa Lo was built, CNN still ranks this prison as the top place in the Top 5 scariest destinations in Southeast Asia due to the haunting stories that have gone. into history books.
Thanks to its rich history and "grumpy" events during its operation, Hoa Lo Prison has become the opening place for Just Go and Fear – a thematic route dedicated to uncovering the mystery behind the series of points. to scary.
Let's not say more, the first journey officially begins.
Previously, it was 5 times larger than now, the most fortified in Indochina
Hoa Lo Prison is French called Maison Centrale, which means "Central Prison" or "Hanoi Prison". Going back more than a century, in 1896, the French colonialists built Hoa Lo Prison to strengthen the suppression of the Vietnamese people's struggle movement. This area at that time was still the periphery of the city, specifically in the handicraft village of Vinh Khanh village, Vinh Xuong canton, Tho Xuong.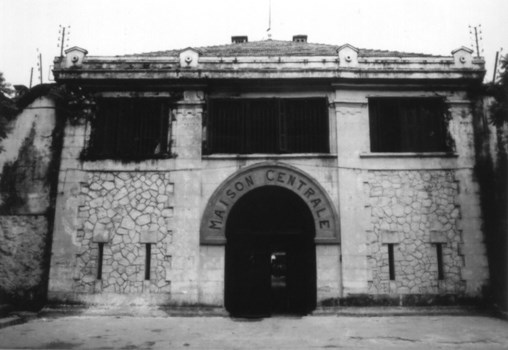 In order to serve the plot to suppress the dissidents, Hoa Lo Prison was built by the French with a scale of 12,000m2 – the largest and most solid prison in Indochina at that time. The materials shipped from France are strictly inspected, especially the locks, slots, grooves, shackles, and metalwork…
The prison area is divided into 4 zones A, B, C, D, which:
– Zones A, B: Detain inmates under investigation, unimportant prisoners or those who violate prison rules.
– Zone C: For French or foreign prisoners.
– Zone D: For inmates awaiting a death sentence.
Surrounding the areas are stone walls 4m high, 0.5m thick, covered with sharp bottles and high voltage wires to prevent prisoners from escaping. Inside the walls is a 3m wide brick road that is always guarded and patrolled. The four corners of Hoa Lo have 4 watchtowers, the most comprehensive view of every movement inside and outside the prison.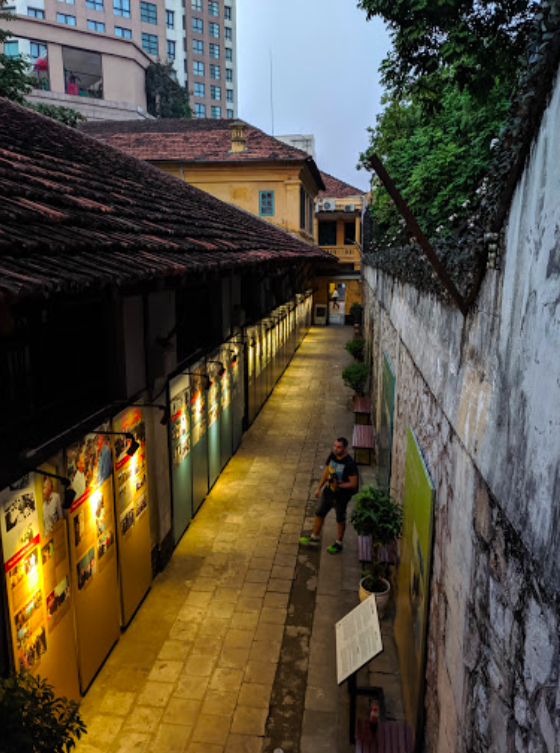 Sidewalks surround the prison, separating it from large walls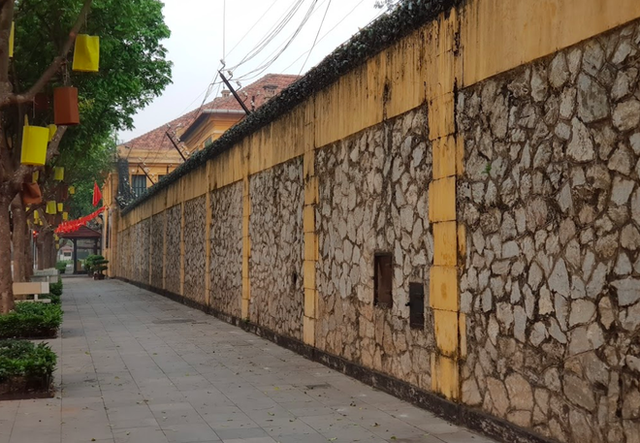 The structure of the prison is very solid, more than a century has passed, the stone walls are still standing on Hoa Lo street
Today, Hoa Lo Cabinet House is only about 2,400 square meters, preserved to become a memorial tourist destination (dark tourism).
Medieval guillotine nightmare, Cachot – "hell of hell"
During the years of operation, Hoa Lo Prison has imprisoned, tortured, and coerced many soldiers and revolutionaries with the cruelest and haunting forms in history. Including the guillotine machine – the horror that brought Hoa Lo Prison into the top 10 scariest prisons in the world.
Operating in the form of the death penalty in the Middle Ages, the guillotine was designed with a height of 4 meters, including 2 iron columns holding the large blade fixed above with a pin; Below are 2 semicircles to fix the death row inmate's head, below is an iron drawer to drop the death row in, next to a rattan box containing the body. In January 1930, 13 Vietnamese revolutionary soldiers were executed after the Yen Bai uprising, including Nguyen Thai Hoc.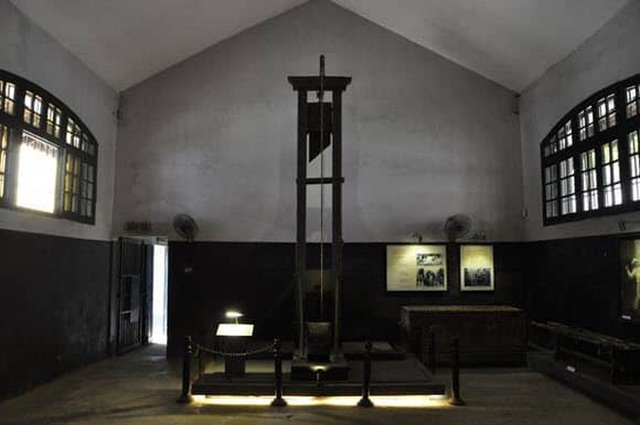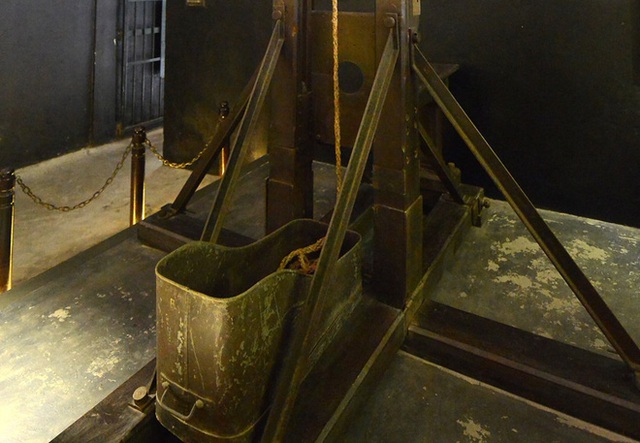 The guillotine – a torture weapon that contributed to the "reputation" of cruelty in Hoa Lo Prison, is still preserved and displayed for visitors to this day.
In addition to the guillotine machine, Hoa Lo Prison is also "famous" for a scary prison area, which is Cachot (dungeon) – dubbed "hell of hell", specializing in detaining dangerous prisoners. , breaking the law, or knowingly resisting. Referring to Cachot, every prisoner is shaken by the narrow, dark, lack of atmosphere and brutal forms of torture and repression. Prisoners were regularly beaten, shackled, shackled, ate and slept, and cleaned on the spot. Living in such conditions, with the lack of sunlight, and the cramped, damp space, most of the prisoners suffered from edema, scabies, and even madness.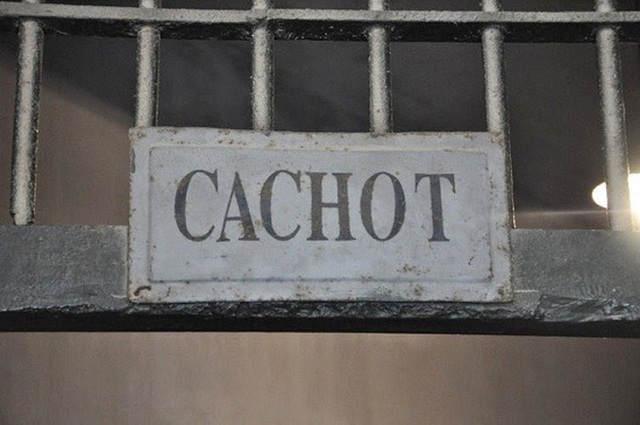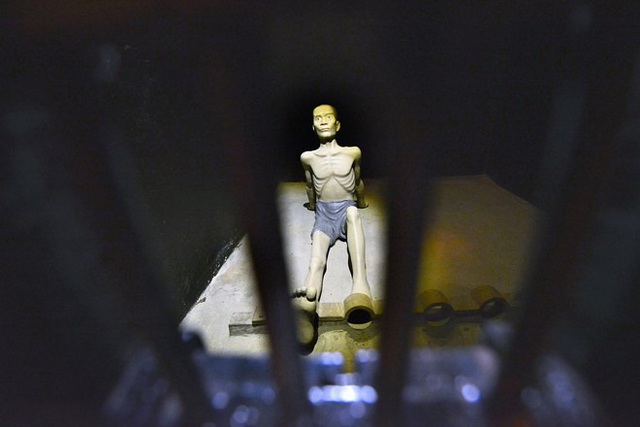 Cachot – the darkest and scariest place in Hoa Lo
In addition to the guillotine and the dungeon, in Hoa Lo there were other brutal torture methods such as electric shock, corporal punishment with a cane, heavy labor at the prison or the battlefield. With a solid structure, horrible forms of repression and torture, the French colonialists always boasted that Hoa Lo Prison had "no exit from inside, no entry from outside", but there were still successful escapes of death row inmates; or revolutionary propaganda sessions, political theory classes are still going on underground… Those will be the stories that will be told in the next section at Just Go Afraid.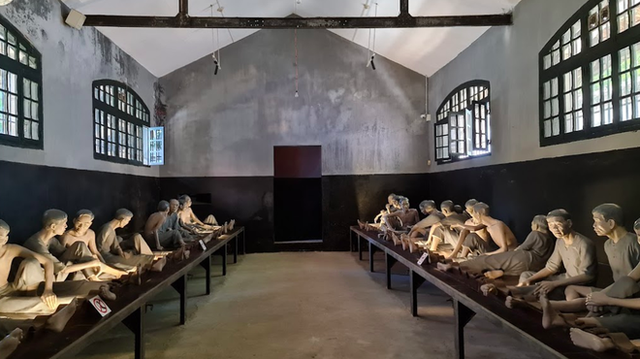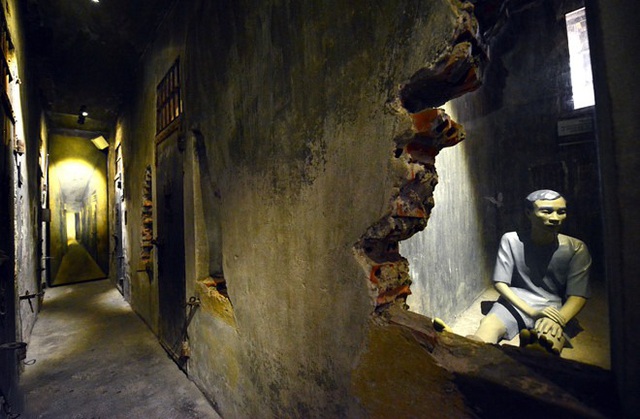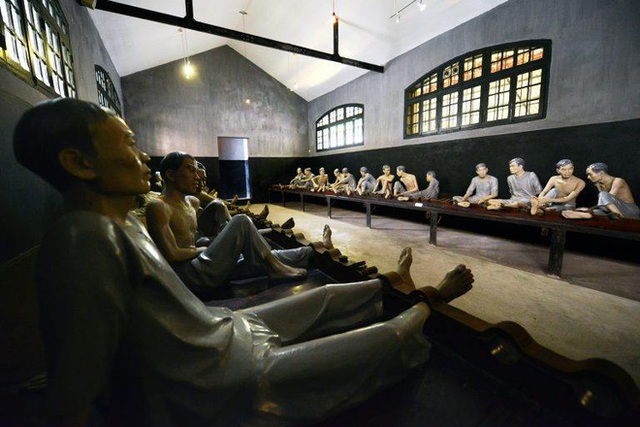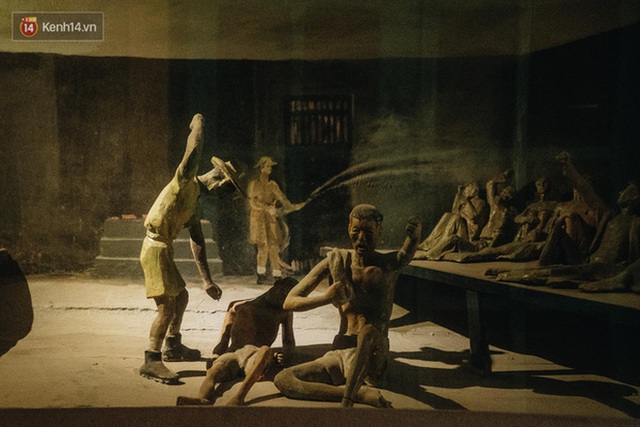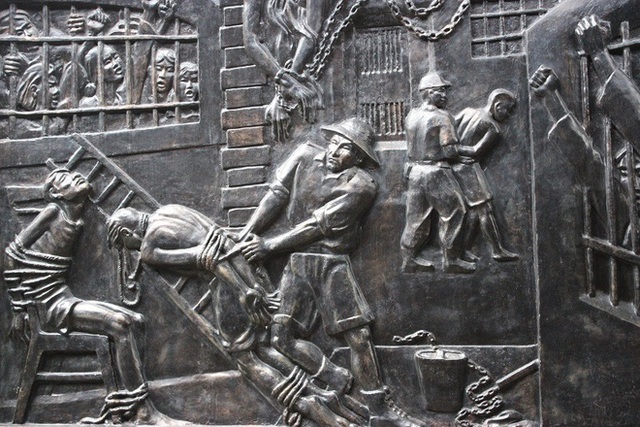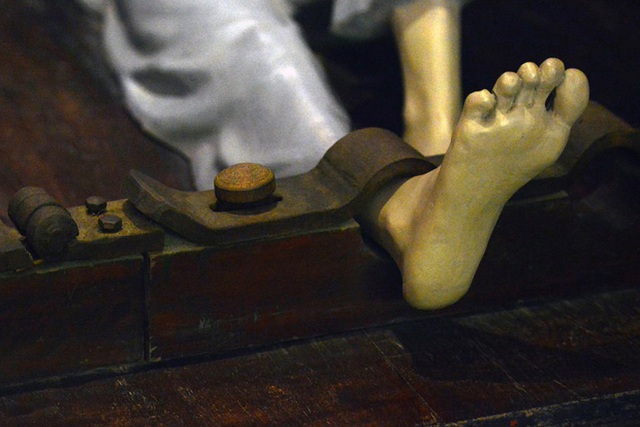 Some forms of torture and incarceration of prisoners are reproduced by paintings, sculptures, and models in Hoa Lo Prison today.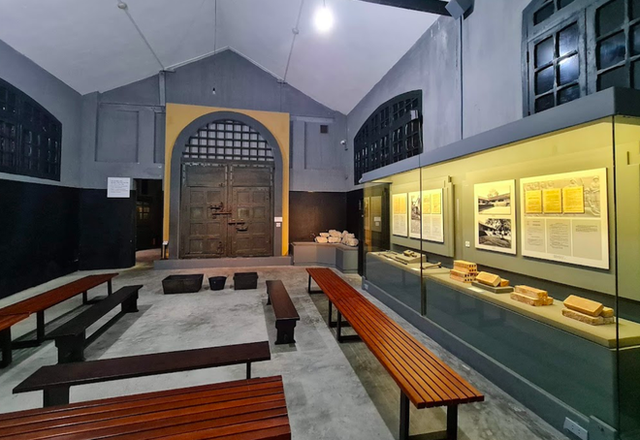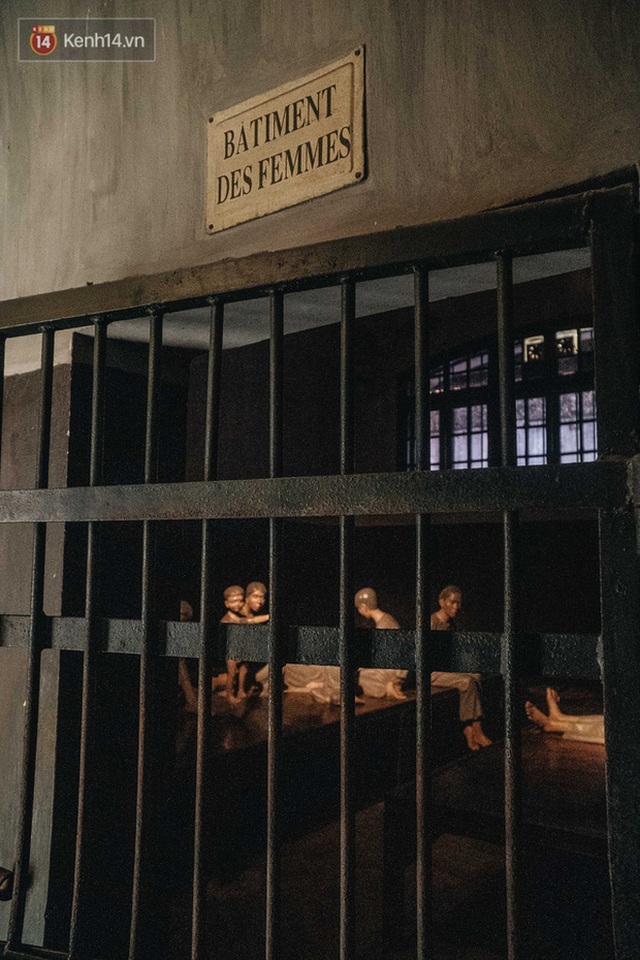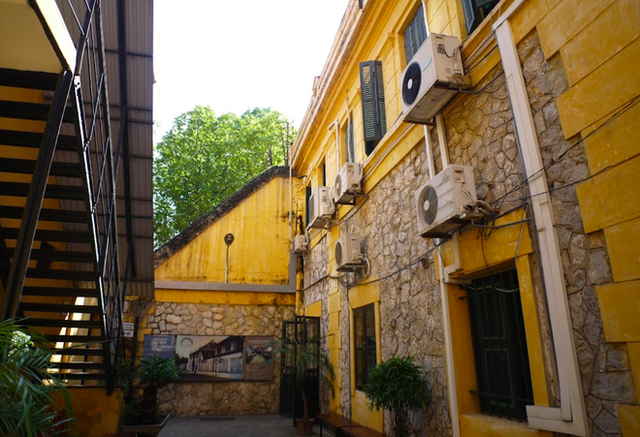 Many visitors shared that they were shivering and scared because of the cold air in Hoa Lo
Ending
After the liberation of the capital on October 10, 1954, Hoa Lo Prison was under the management of the Vietnamese Government, used to hold American pilot prisoners of war until 1973. American prisoners of war often satirically called prison prisons. This is under the name "Hanoi Hilton Hotel".
Today, Hoa Lo Prison has become a historical relic that testifies to a whole period of hardship, a symbol of the resilient will and indomitable spirit of the patriotic Vietnamese. With the class of people growing up in peace, Hoa Lo is a place to educate the tradition of patriotism, love of history, and understand and admire their ancestors.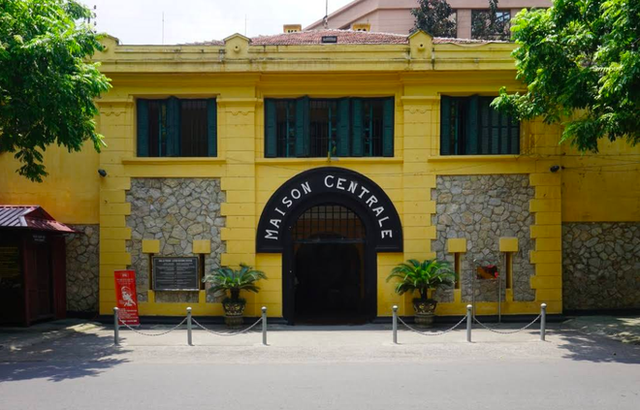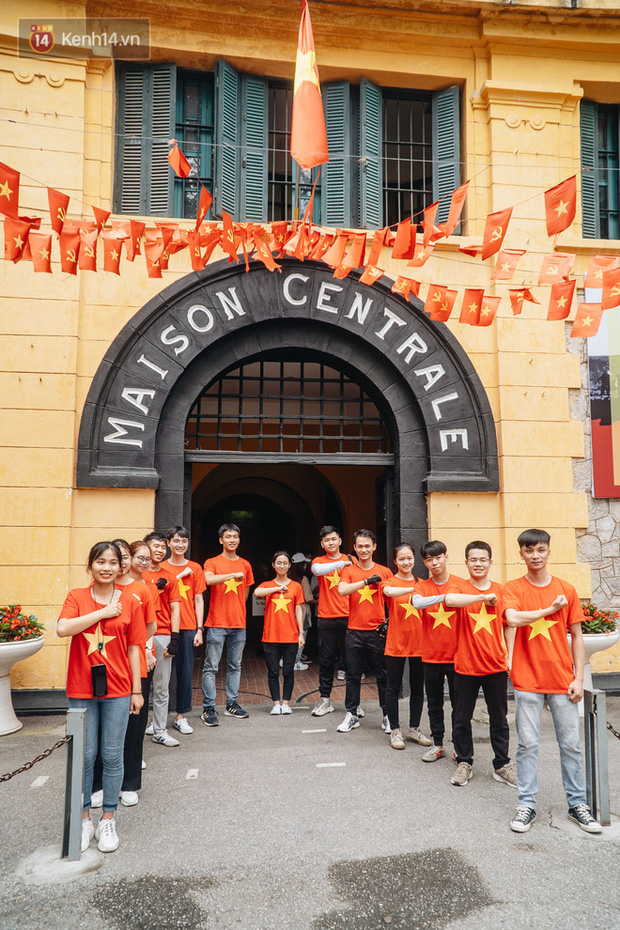 Before the Covid-19 epidemic took place, Hoa Lo Prison attracted a lot of foreign tourists to visit. In the past two years, thanks to its social coverage with interesting, on-trend content, from Facebook groups to Spotify podcasts, Hoa Lo has become the most popular historical destination for young people. The media team and the management board of Hoa Lo Prison relic also develop sightseeing programs that combine art and history, serving visitors of all ages. Currently, in the new wave of the epidemic, Hoa Lo is also closed to stop receiving guests. One day after the translation, visitors can come to experience this "infamous" historical relic.
Hoa Lo Prison
Address: 1 Hoa Lo, Tran Hung Dao, Hoan Kiem, Hanoi
Fare:
– Daytime: 30k/person, 50% off for students, students (with verification card), severely disabled people, elderly people, people under social policies. Free tickets for children under 15 years old, people with extremely severe disabilities, people with meritorious services to the revolution…
– Evening: 100k / person, there is a program of Sacred Night from 19:30 to 21:30. Need to book tickets in advance via fanpage or hotline 0825112668.
Follow Pháp luật và bạn đọc