As the only representative in the coastal city of Nha Trang, Amiana was awarded this meaningful award by the World Luxury Hotel Awards organization.

Known as the "Golden Palm of the tourism industry", World Luxury Hotel Awards is a prestigious international award with more than 16 years of development to honor leaders and outstanding achievements in the tourism industry – Luxury resort. Successful with the award of the most luxurious family resort in the world in 2021, Amiana Resort Nha Trang will be the first choice for families across Vietnam as well as around the world.
The categories were voted for by more than 300,000 international tourists over the course of 4 weeks with the participation of thousands of other international agencies, this award is a certificate of unceasing efforts for the Zone. A private resort designed and operated entirely by a Vietnamese corporation, but also the pride of Vietnam's tourism and accommodation industry reaching out to the world.
Located in one of the 29 most beautiful bays in the world, the Amiana resort captivates people with its tenderness and purity. For those who are looking for an airy and peaceful living space with family and friends, or enjoy private and luxurious moments amidst the blue sky and sea, Amiana is the ideal destination of your dreams. every family.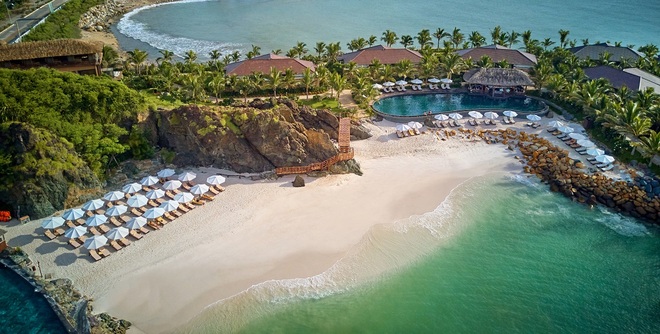 The resort owns 153 rooms and villas overlooking the garden or the sea, each villa has from 1 to 3 bedrooms and a private swimming pool with an area of ​​​​over 450m2. With each room, the design is applied in harmony and close to the nature of plants and trees, and the interior is made from local materials such as coconut shell, bamboo, stone bearing Vietnamese culture but still combining. in harmony with luxurious and modern amenities.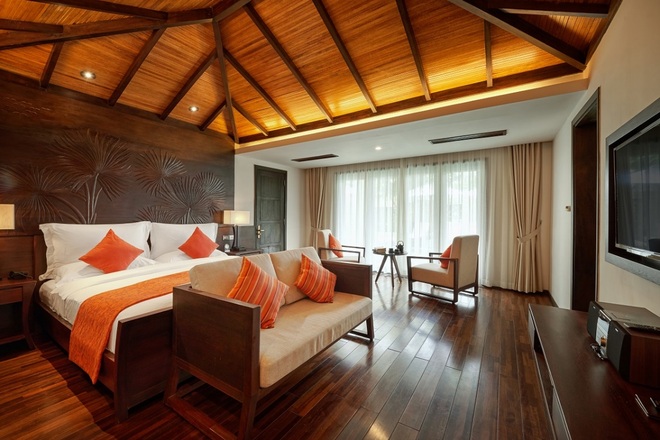 Staying here, guests can also experience the 2,500 m2 natural seawater swimming pool, which is considered one of the largest seawater pools in Vietnam. There are also 2 freshwater infinity pools of 600 m2 and 700 m2 in Amiana, a private beach where guests can play water activities such as kayaking, basket boating, jet skiing or Romantic outdoor wedding ceremony. Amiana also designs daily entertainment activities so that visitors can experience Nha Trang tourism such as tours to discover the city's culture, scuba diving tours to see corals, tours to explore nature and mountains.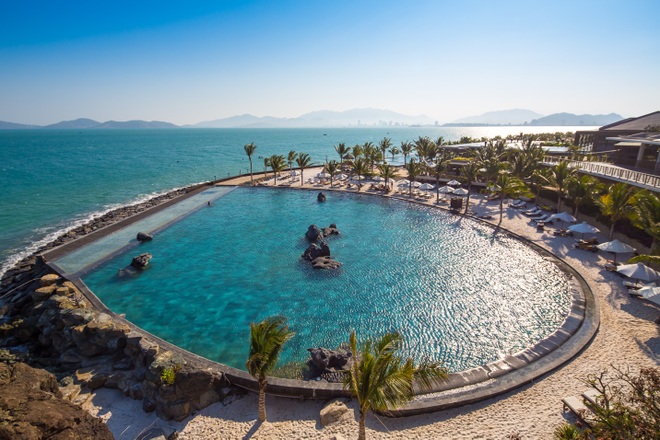 Not only providing high-class resort packages, but culinary services at Bacaro restaurant are also always focused when offering a variety of choices from three regions Vietnamese cultural cuisine to Asian and European dishes. crafty. Your taste buds are even more enhanced when enjoying delicious food while watching the wonderful beauty of Nha Trang bay and the city skyline in the distance. Guests can also catch the sea breeze blowing in from the Ocean Terrace and Bay Terrace lounge areas used for cocktails, refreshments, barbecues and other events.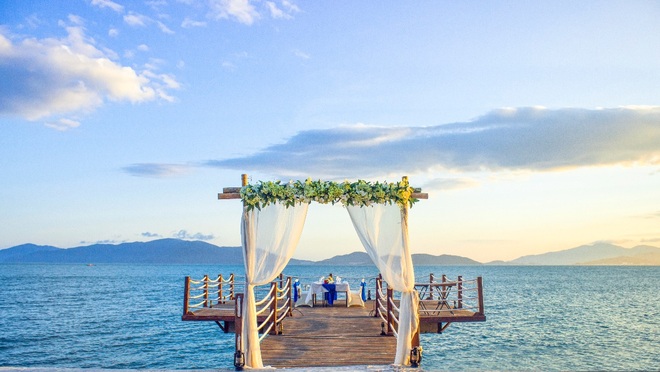 As a member of Mian Group, Amiana Nha Trang Resort represents the core value of "Intellectual Essence" of the group, when all products and services are brought to the community with pride. The pride is crystallized from the enthusiasm, wisdom and desire to dedicate the Vietnamese people