Son La, a province in the Northwest region of Vietnam is known as a destination that fascinates many domestic and foreign tourists every year. Coming here, you definitely cannot miss the following 4 great destinations. Vntrip will introduce to everyone 4 destinations for the most complete Son La discovery trip.
The majestic and wild beauty of Son La
Son La has a mountainous geographical position with a plateau more than 1000m above sea level. Belonging to the Northwest mountainous region, the climate here is very mild and cool, suitable for traveling in 4 seasons. When choosing this as a new place to experience, you will be able to admire the majestic mountain scenery, craggy cliffs like giants, tall waterfalls towering like reaching the clouds…
Coming to Son La, you also have the opportunity to explore the culture and people. The pure and genuine beauty of the old forest rock souls. Get closer to the cultural identity and people of the Northwest. In the heart of Son La embraces hundreds of interesting destinations for tourists. Destinations are so unique that just hearing about the place makes people fall in love with them a couple of times.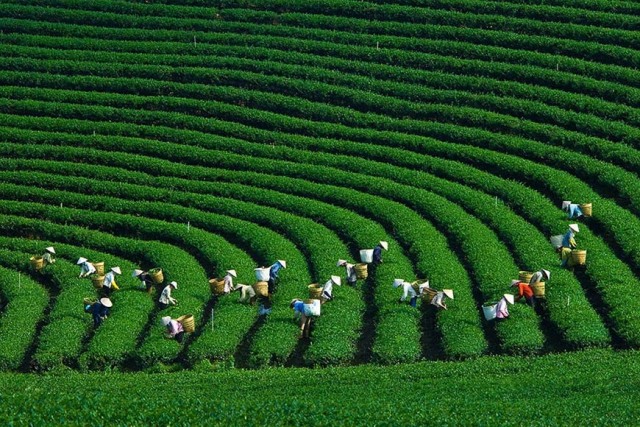 The scene of tea picking in Son La. Photo: Internet
In addition to the natural scenery, Son La is also mentioned a lot with the monument of the inscription of Emperor Le Thai Tong at the mouth of La cave. This is also a tourist destination that is visited a lot by tourists when arriving in Son La.
In particular, Son La cuisine and specialties are also a great "weapon" for tourists. Coming here, you will have the opportunity to enjoy Moc Chau fresh milk, Yen Chau mango which is famous throughout the country. In addition, there are also Da river fish on Quynh Nhai lake bed, Phu Yen lonely garlic, Thuan Chau taro, Song Ma longan, Bac Yen apple cat (Son Tra Bac Yen), Ta Xua Bac Yen tea, Coffee. Son La…
Tell you 4 interesting destinations for your Son La discovery trip
Moc Chau
The vast Moc Chau Plateau basking in the sun and mist of Son La is a place that young people today cannot ignore. This plateau has an altitude of 1050m above sea level, it always has a cool climate, year-round mild, cool and extremely comfortable.
Coming to Moc Chau, you will enjoy the misty wind that melts the hot hearts of some people. Worthy of being a tourist resource, Moc Chau is always loved as a highland girl.
The reason why Moc Chau is attractive and keeps many tourists' feet is the beautiful flower seasons.
If you go in the spring, you will enjoy the peach blossom, ban flower, plum blossom … brilliant colors throughout the mountains and hills. If you come in winter, you will be immersed in the unique yellow color of wild sunflowers or canola flowers that only Moc Chau is full of such poetic beauty. Immerse yourself in the vast field of canola flowers, capturing many beautiful shots for the trip.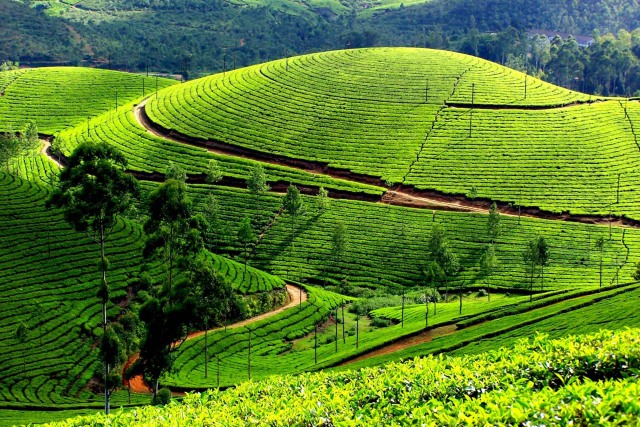 Tea hill at Moc Chau Plateau, a beautiful destination in Son La. Photo: Internet
Pha Luong Peak
For those "believers" who like adventure travel, want to have the feeling of conquering dangerous terrain, Pha Luong peak in Son La is a destination that is hard to ignore. With an altitude of nearly 2000m above sea level, located between the Vietnam-Laos border, Pha Luong peak, also known as the "roof of Moc Chau Plateau", makes many backpackers fall in love.
Pha Luong is attractive and attractive to those who are passionate about experiencing and discovering themselves. Try to imagine, wearing a pair of sturdy sneakers, step by step firmly to conquer Pha Luong peak will definitely become a memorable memory in your youth trip.
Those who have ever conquered this mountain have a sense of lightheadedness and pride in themselves. Standing on the top of Pha Luong, admiring with your own eyes the majestic beauty of nature, mountains, surrounding space, clouds, and sky, releasing your soul and closing your eyes, you will feel extremely free, as if in a fairyland.
Or touching each vertical cliff by hand, the overlapping stone slabs covered with cold dew is also a very new feeling for people who love to travel. Surely these feelings will be so happy and hard to put into words.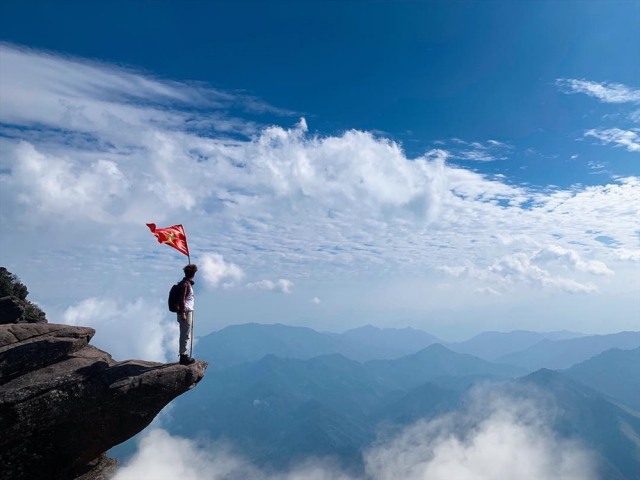 Conquer the majestic Pha Luong peak of Son La. Photo: Internet
Dai Yem Waterfall
Also known as Ban Vat Waterfall, located in Son La province. This waterfall is up to 100m high, including 2 majestic branches, the murmuring water flows strongly down to form a beautiful and majestic white foam strip.
In which, the branch is 9 floors high and the branch is 5 floors lower. The two branches of the waterfall are craggy, when you raise your head to observe, you will feel the waterfall is like the bib of a shy girl. That's why this place was named Dai Yem Waterfall.
Standing below, looking from afar, Dai Yem Waterfall is beautiful, harmonious with the sound of birds passing by and singing in each treetop, the sky is light blue, the sun is not too harsh, and the sound of waterfalls falling from above… all form a typical picture of this beautiful Son La land.
The streams of water rushing down from above, the splashes of water create a white, extremely poetic strip.
The time to fully enjoy the beauty of this Dai Yem waterfall is from April to September. This is the time when the water pours in the most, so the flow is very strong and beautiful.
Standing under the waterfall, close your eyes to feel the sound, then take all your inner strength and shout out loud, your own sound will surely resound in Son La's heart. Feeling very happy and full of positive energy.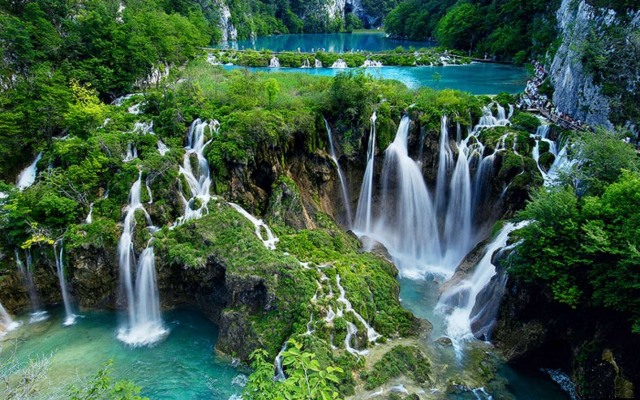 Dai Yem Waterfall from above looks like a beautiful ink painting. Photo: Internet
Mong village
Located in Hua La, Son La town, Mong village is an attractive tourist destination to explore and relax that anyone who comes to Son La will visit a couple of times but still have a feeling of fluttering when returning. This place brings a feeling of peace, quiet and comfort to visitors.
This is because the atmosphere in Ban Mong is very fresh, the scenery is simple, simple but strangely close, the people are warm, friendly, and hospitable. Visitors will be filled with positive green energy in their chests when visiting Ban Mong.
You must definitely admire the sparkling natural scenery, the undulating, undulating mountain ranges, reflected in the clear Nam La water. A series of natural colors of green hills, red and white, ripe plums, and the faintness of pine and bamboo will immerse you in the beauty of the world.
Sitting in a house on stilts in Ban Mong, warmed by a small but warm red flame, holding hands together, rubbing and blowing, cold smoke comes out in each finger gap, but my heart keeps nagging and sobbing. awake.
If you go with a group of friends, gather together around a tray of hot rice, accompanied by smoked grilled dishes, taste a piece of wild vegetable salad, dip the typical Thai "occipital cross" dish, inhale the spicy taste. with the cold air of Son La, there is no more joyful feeling than that.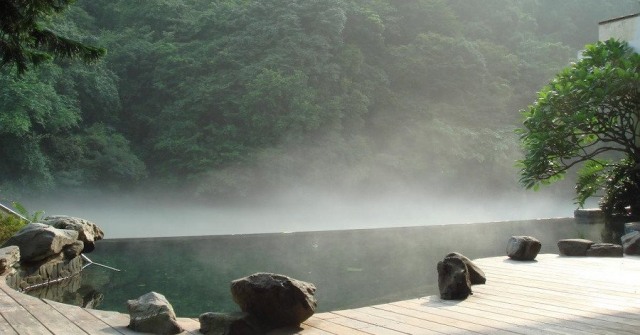 The most famous hot spring in Ban Mong, Son La. Photo: Internet
The Northwest mountainous region of Vietnam has always been one of the top destinations for travel enthusiasts. In which, Son La with Moc Chau, Ban Mong, Dai Yem Waterfall or many other beautiful places is the first choice. Let's explore with Vntrip the great destinations for the Son La discovery trip above to feel received an ink painting of a land such as the beauty of the Northwest.