Located about 50km from the center of Hanoi city, Long Ho Bay is an "emerging" place that is likened to a fairy oasis thanks to its poetic river scenery, separate from the urban noise.
Not far from the city center, but the area of ​​Long Ho Bay (Long Ho village, Kim Son commune, Son Tay, Hanoi) is like an "oasis" separate from the hustle and bustle, modern, keeping the safety features. Quiet, rustic, somewhat wild.
This is an "emerging" picnic and resting place that attracts young people and families in Hanoi.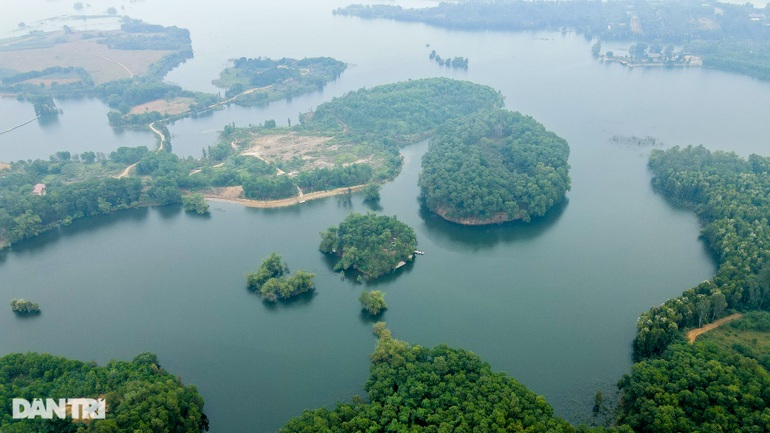 Long Ho Bay owns a charming landscape, with the terrain like a green oasis in the middle of a vast lake, surrounded by majestic mountains and vast forests.
"Fire camera" with "divine" photo angles
The natural beauty of this area makes visitors satisfied. Many young people share, this is the place where "where you stand, there are beautiful photos".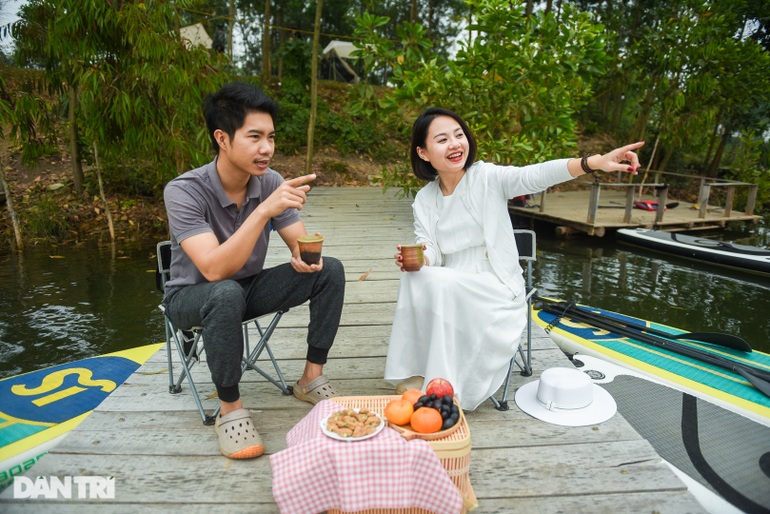 The area that many young people choose to take pictures of is the wooden bridge going to the lake. The scene here makes many people think of the harbor in the village of Iseltwald located on the shores of Lake Brienz, Switzerland – where appeared in the hit movie "Crash Landing on You".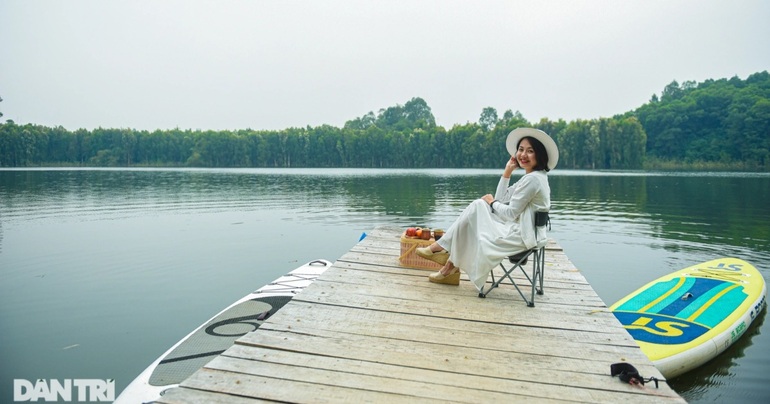 Van Anh (Hoang Mai, Hanoi) knew about this picnic spot through social networks. "Many beautiful check-ins here make me anxious to explore. Really this space is so peaceful and poetic. I can breathe fresh air, admire beautiful scenery and take countless impressive pictures. statue", Van Anh shared excitedly.
"1001" experiential pleasures
Van Anh's group moved from the city center to the Long Ho Bay area by taxi in about 1.5 hours at a cost of 400,000 VND.
To reach the green oasis, visitors will be guided and supported by local people using homemade rafts. 2 – 3 people will stand on the raft, move by pulling the rope.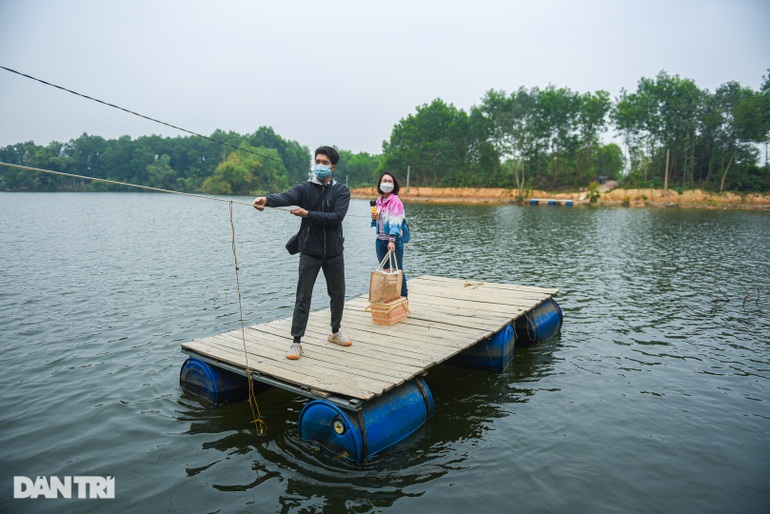 "I was a bit scared at first, but after walking a few meters, I saw a beautiful space. The way to pull this raft was very strange and fun. But people told us to be careful, pay attention to safety. In the deepwater season, we should wear life jackets. Or you can choose to take a boat," shared Trung Nghia (Hai Ba Trung, Hanoi) – a member of the same group Van Anh.
The luggage this group of young people brought was just some snacks and simple costumes. "There is a tent rental service here, and cooking utensils are very convenient. We just need to enjoy it without worrying about preparing to attack. The rental price is also very reasonable," Trung Nghia said.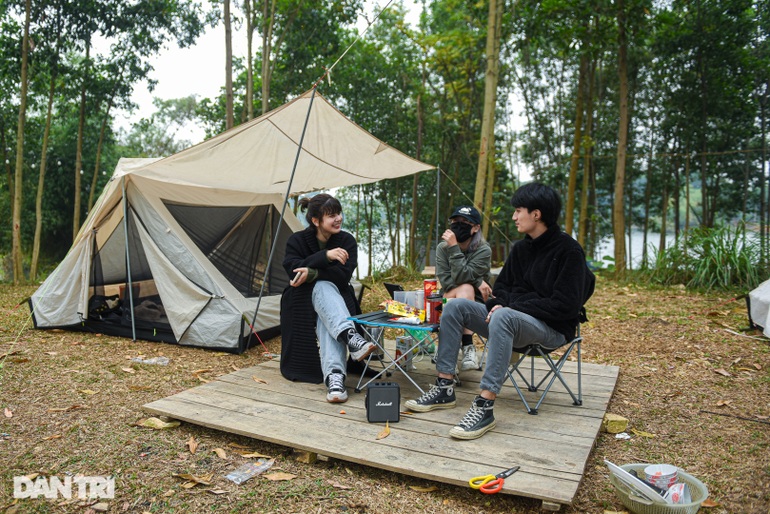 "The landscape here surprised me. I didn't think in Hanoi there would be such a large, close-to-nature, wild area. Here, I could camp, paddleboard (SUP). Will come back here," Ebra – a tourist with two Vietnamese and Turkish bloodlines shared.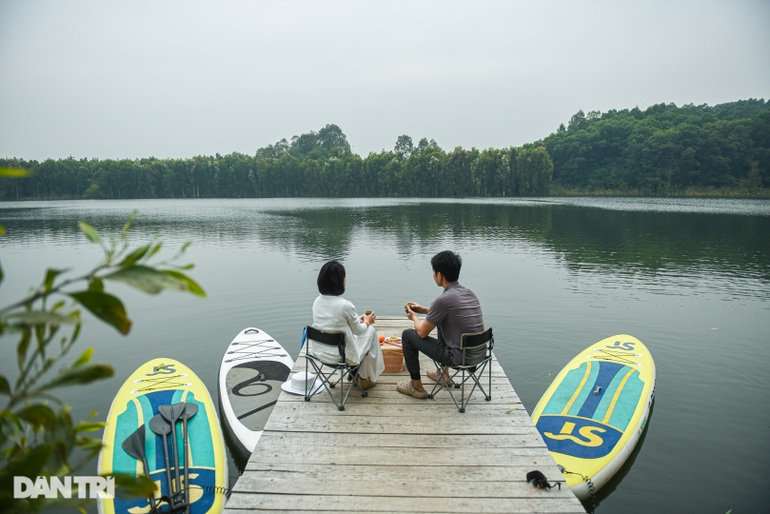 Being passionate about travel, having been to many beautiful scenes in Vietnam and the world, for a long time, due to the Covid-19 epidemic, Ms. Thu Giang (Doi Can, Hanoi) rarely had the opportunity to participate in discovery activities, experience. When coming to Long Ho Bay, besides sightseeing and camping, she tried her hand at SUP rowing.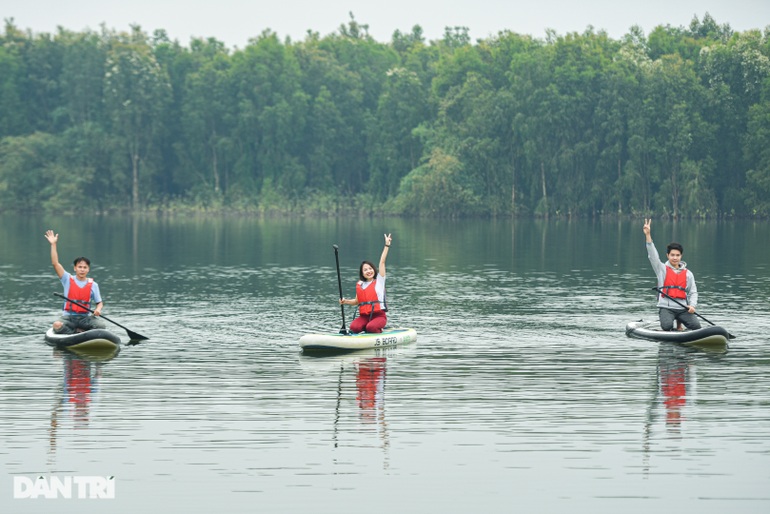 "The cost of renting a SUP and an instructor is about 200,000 VND/car, but I can experience a very interesting activity, just rowing SUP while enjoying the scenery, immersed in the wild and spacious nature. The instructor will show me. details from wearing life jackets, basic rowing movements, …", Ms. Giang said.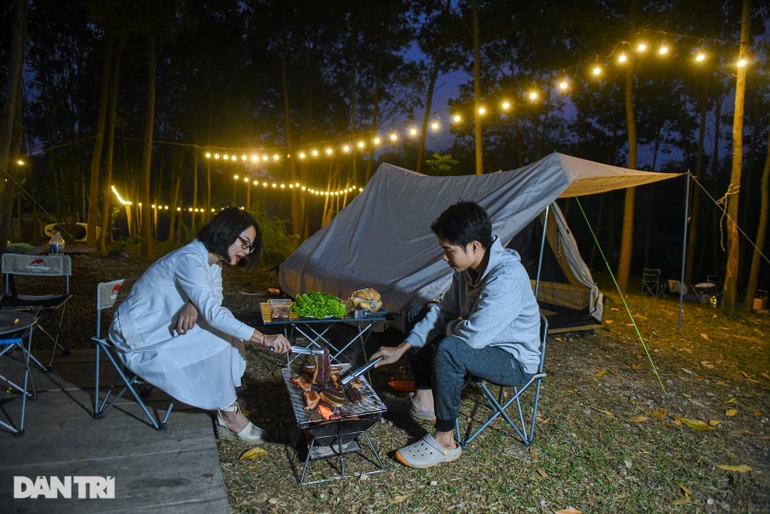 After experiencing outdoor activities, guests can order a BBQ on the spot. "Enjoying delicious grilled dishes right in the middle of unspoiled natural space is an interesting experience," said Ms. Thu Giang.
How to get to Long Ho Bay?
Long Ho Bay (Long Ho village, Kim Son commune, Son Tay, Hanoi) is about 50km from the city center, towards Ba Vi.
The way to get here is not difficult, you just need to follow specific instructions of Google Map or follow the following route: find Long Ho village, turn into lane 58 and then go straight until you see a dirt road; go a little further and you will be at this "emerging" tourist coordinate.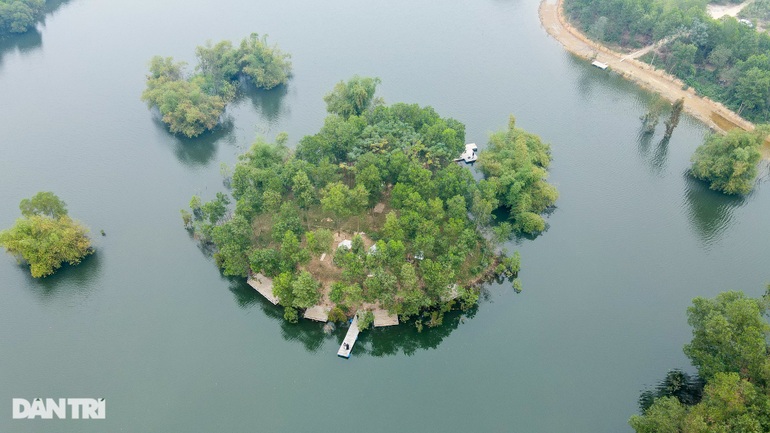 Local people have parking services, rental tents, camps, camping equipment…
The road is quite easy, so you can ride a motorbike or a personal car, (low-ground cars can still get there).
Follow(Dan Tri)