To have a delicious bowl of snail vermicelli, Ms. Luong uses jackfruit snails imported from the southern provinces. Snails are transported to Hanoi by plane to be freshest and most delicious.
Besides beef pho, bun thang, and vermicelli tofu… bun snail is also a rustic but no less attractive dish in Hanoi, attracting diners from near and far to enjoy. 
As the name suggests, bun snail is combined from the main ingredients including vermicelli and snails, in addition to fatty crab sticks, fried beans, green onions, perilla, tomatoes…
Located deep in alley 12, Dao Tan street (Ba Dinh, Hanoi) there is a family-owned vermicelli noodle shop that retains the rustic flavor of the broth but has been popular with diners for many years.
The owner of the restaurant is Ms. Luong, the third generation in her family to sell snail vermicelli. Previously, Ms. Luong's mother sold vermicelli noodles and roamed around Hanoi's Old Quarter. Only later did she open a store. When she was old, she passed the profession on to her children.
Originally a person who loved cooking, but selling snail vermicelli had to work hard early and late at night, so there was a time when Ms. Luong quit completely, intending to give up the family business. About 6 years ago, missing her mother's taste so much, she reopened selling snail vermicelli on Dao Tan street.
"When I quit, a lot of regular customers called to ask when they would sell again, and asked why they stopped selling. They said they missed the taste of my snail noodle soup, which made me reluctant to quit," Ms. Luong said.
A bowl of snail noodle soup here is full of snails, fried tofu, poached beef, balut, and sausage. But many people who come to the restaurant prefer the "original crab noodle soup", without too many side dishes.
Ms. Luong said: "My snail noodle shop doesn't have any secrets, it's just that it serves customers like it's for the restaurant. All ingredients such as snails, beef, sausage… are taken from the freshest ingredients. , after preliminary processing it is sold immediately.
Most importantly, snails must be made from fresh jackfruit snails, absolutely do not use frozen products. If you use frozen snails, they will not be sweet and will lose their characteristic aroma," the shop owner shared.
According to Ms. Luong, the jackfruit snails the shop uses are mainly imported from the southern provinces. "Snails are transported by air so that the snails are fresh, healthy, and not dead," the shop owner said.
The snails are prepared cleanly so when eaten there will be no sand, grit or slime.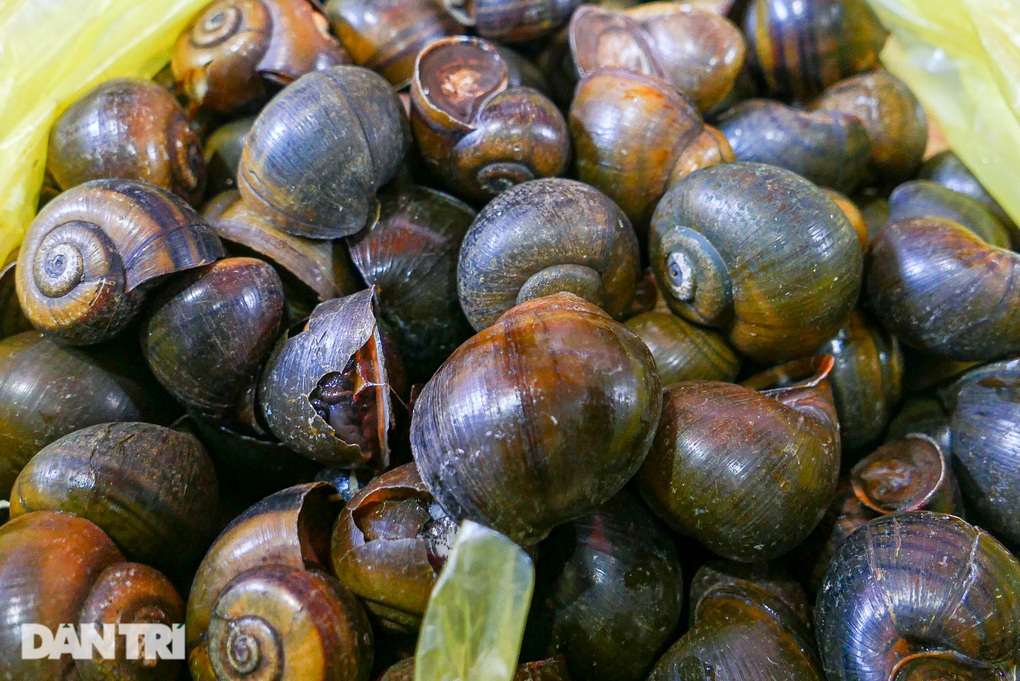 On peak days, Ms. Luong's noodle shop is always full and can serve more than 500 bowls. The shop is open from 6 a.m. to night.
According to Ms. Luong, the restaurant's broth contains, in addition to crab, pork bones, tomatoes, and vinegar. The vinegar is light, season to taste so that the acidity is just right, not too harsh.
The beans are just fried until soft, spongy, and not dry. "If you fry dried onions yourself, they will be more delicious than industrially made ones," Ms. Luong said.
The price of each bowl of snail noodles ranges from 35,000-65,000 VND. Ms. Luong's noodle shop mainly serves regular customers and sells online on technology applications. At noon is the time when Ms. Luong's snail noodle shop is the busiest, with customers eating on the spot and buying take-out standing around.
"My noodle shop with snails has a delicious, sweet taste, the color of the broth is clear, and the beans are richer than many places. Whether the snails are big or small, they are all fresh and sweet," Ms. Luong shared.
Mr. Quan works in Ho Chi Minh City but every time he goes to Hanoi for work, he comes to this restaurant to eat snail noodles. "I like the sweet, slightly sour, vinegar-scented broth here. The snails are fatty, crunchy, and very attractive to eat," Mr. Quan said.
Photo,Video: Internet