This year's Valentine's Day, let's change the wind to experience these romantic culinary spaces, to have an interesting Valentine's Day.
Referring to February, people will think of a more special event, which is Valentine – Valentine's Day. This is an opportunity for couples to express their love and give each other meaningful gifts that encapsulate all sincerity. On Valentine's Day, it is impossible not to have a "repertory" to go on a date. Among so many ideal spaces, the restaurant is perhaps the most accessible to the heart. With a variety of styles ranging from modern, and youthful to cozy and intimate, the following series of hot restaurants in Hanoi will surely be the star to bring you and your loved one a memorable Valentine's Day.
Mizumi Westlake
Located on the 13th floor with a view overlooking the West Lake, Mizumi Westlake is an emerging rendezvous with discerning diners in Hanoi. Possessing the advantage of a prime location, Mizumi Westlake will make your date and your loved one more romantic.
The restaurant space also impresses with its modern design combined with the traditional features of the land of the rising sun. The highlight is that the restaurant has many concepts to choose from, from indoor or outdoor areas with a panoramic view of West Lake. Therefore, the period from dusk to dawn will be the ideal time for you and your loved one to enjoy Valentine's Day under the poetic picture of Hanoi's sunset.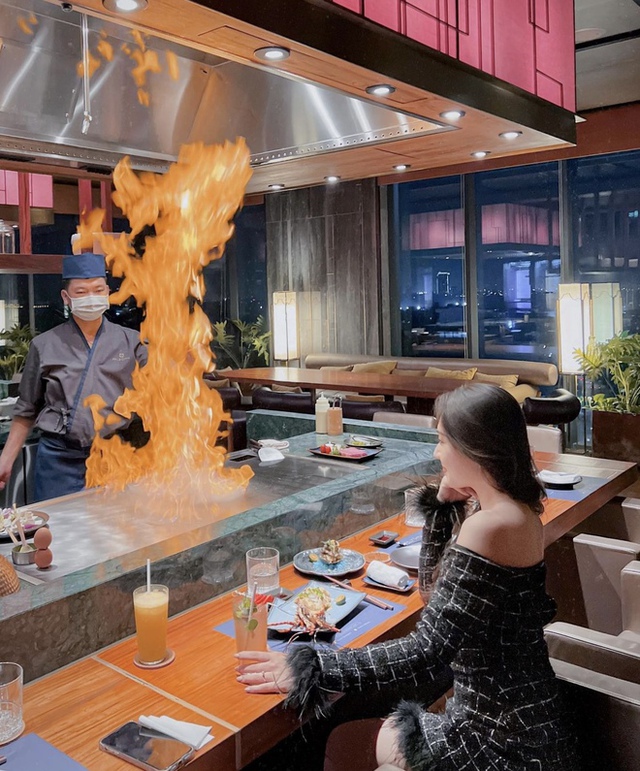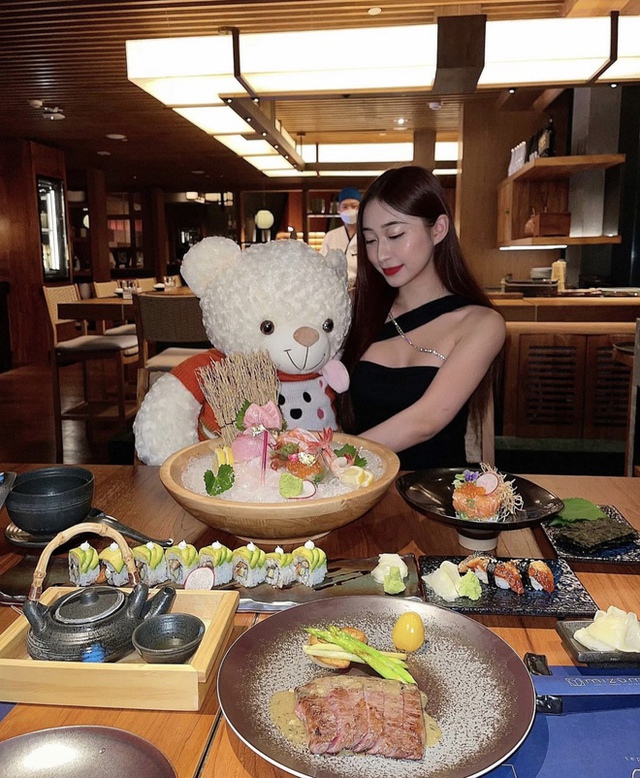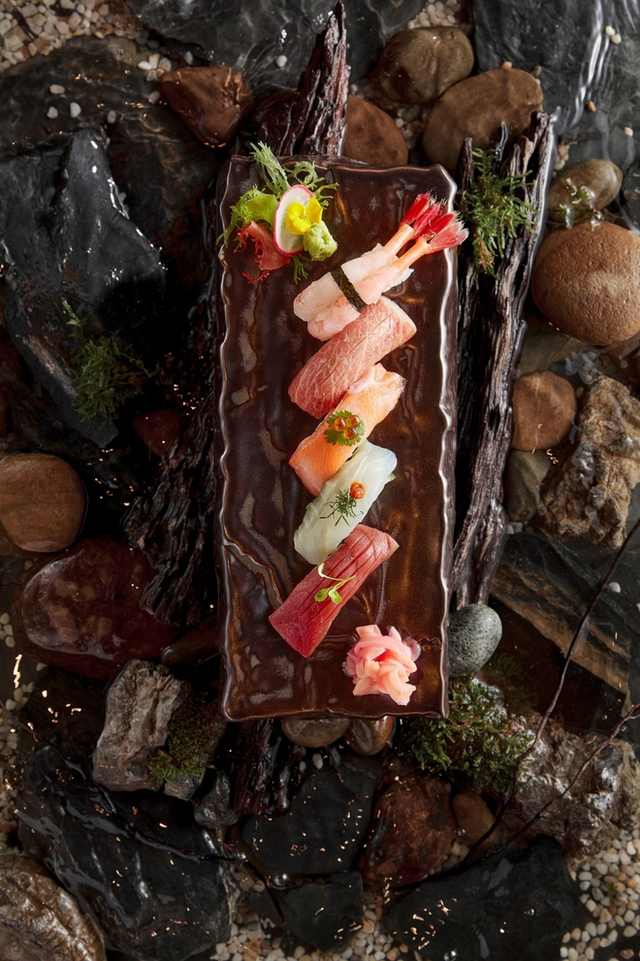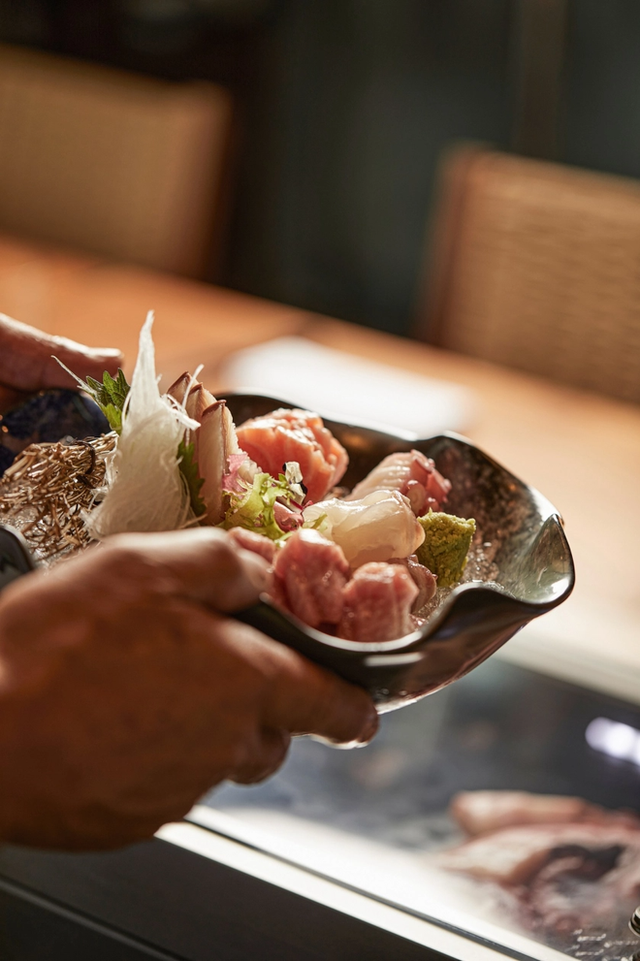 Photo: @Mizumi Westlake, @hanhchipp, @anhphuongle
In addition, diners can also experience fun in the sky lounge area or check-in virtual living in the open swimming pool scene. Menu with high quality ingredients such as wagyu beef, sophisticated processing. Sashimi, grilled cod are also loved by many couples. Therefore, the price at the restaurant is quite high, but it is also considered to be commensurate with the quality.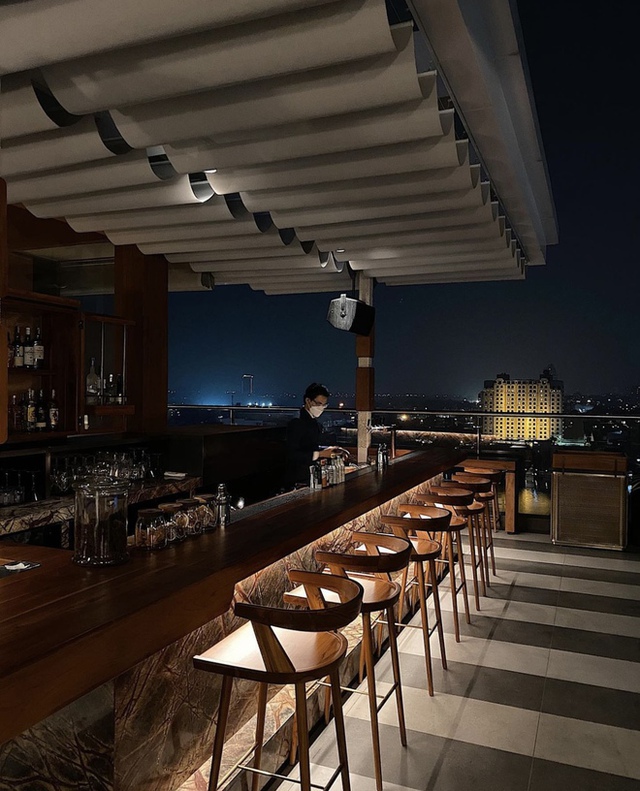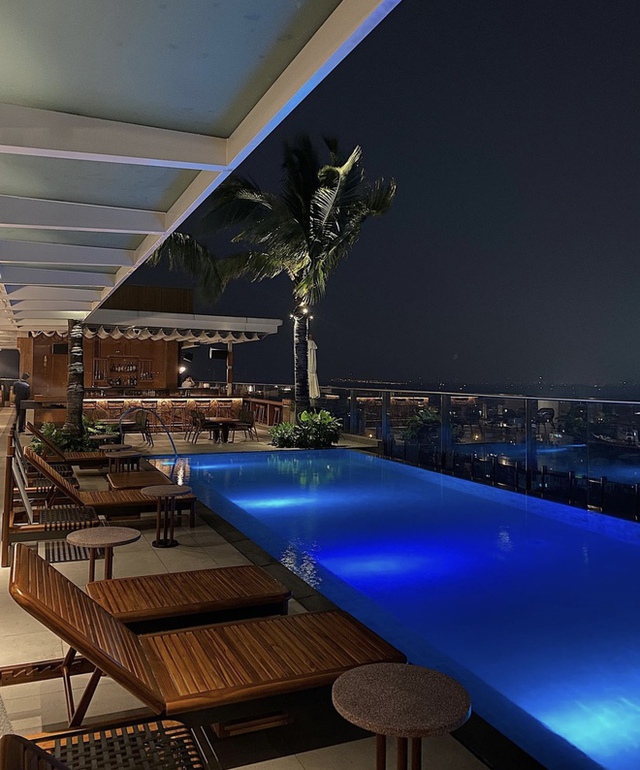 Photo: @Mizumi Westlake
Address: 13th Floor, Building B, Fraser Suites Hanoi, 51 Xuan Dieu Street, Tay Ho, Hanoi.
Business hours:
Restaurant 11:00 – 14:00 & 18:00 – 22:00 | Monday – Sunday
Sky Lounge
11:00 – 23:00 | Monday – Thursday & Sunday
11:00 – 24:00 | Friday – Saturday
Reference price: 2000k – 3000k/person
Labri Neo Bistro
A fine-dining coordinate that is loved by Ha Thanh youth is Labri. Located on the 2nd floor of a small house located in the middle of Bui Thi Xuan street, the space is not too large but still enough to create coziness. It can be said that Labri is an interesting dating spot.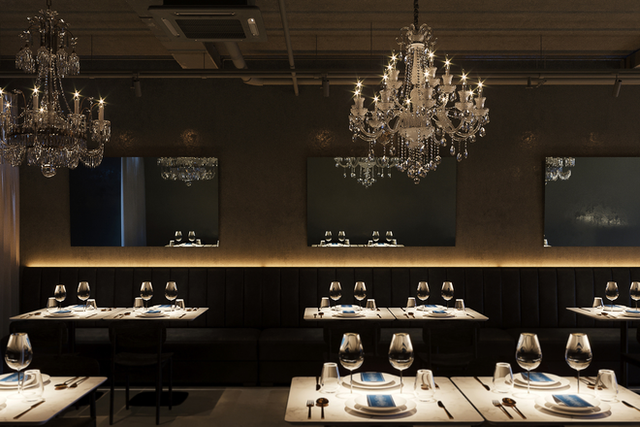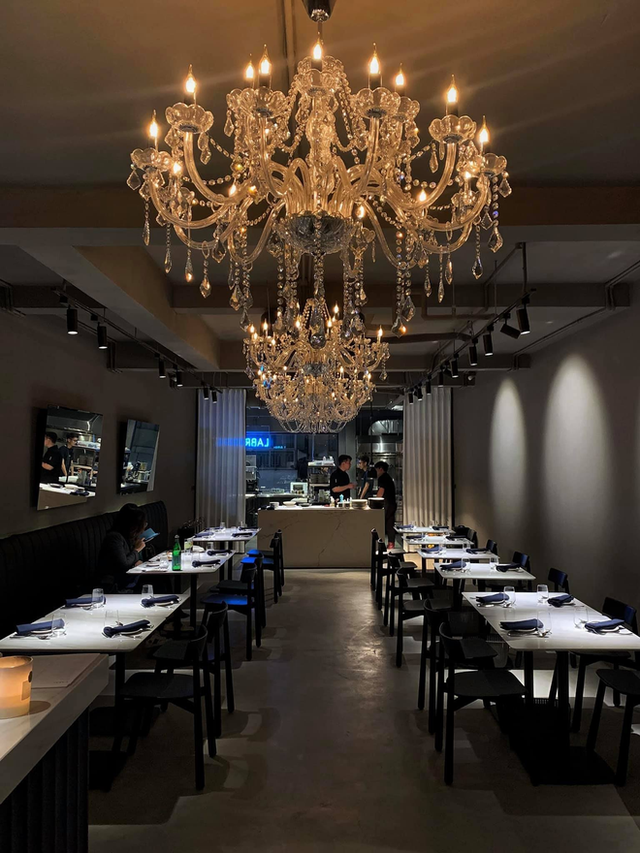 Photo: @Labri Neo Bistro
In French, L'Abri means the main hiding place, so the restaurant space has a minimalist but very modern style, the highlight is the deep blue patches and the dim color of the chandeliers. . All have created a gentle but extremely intimate atmosphere.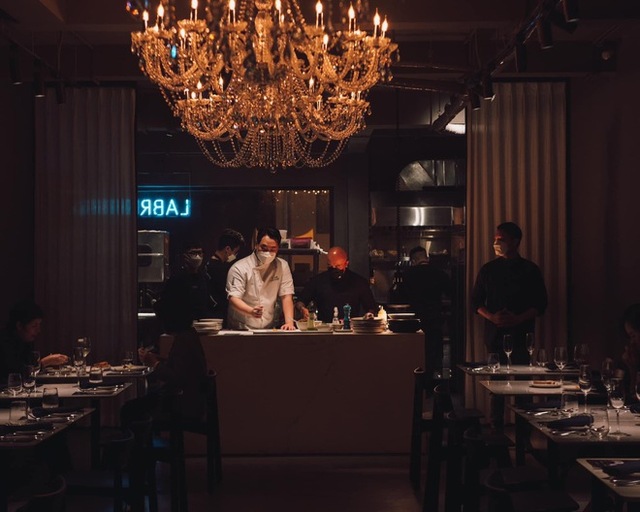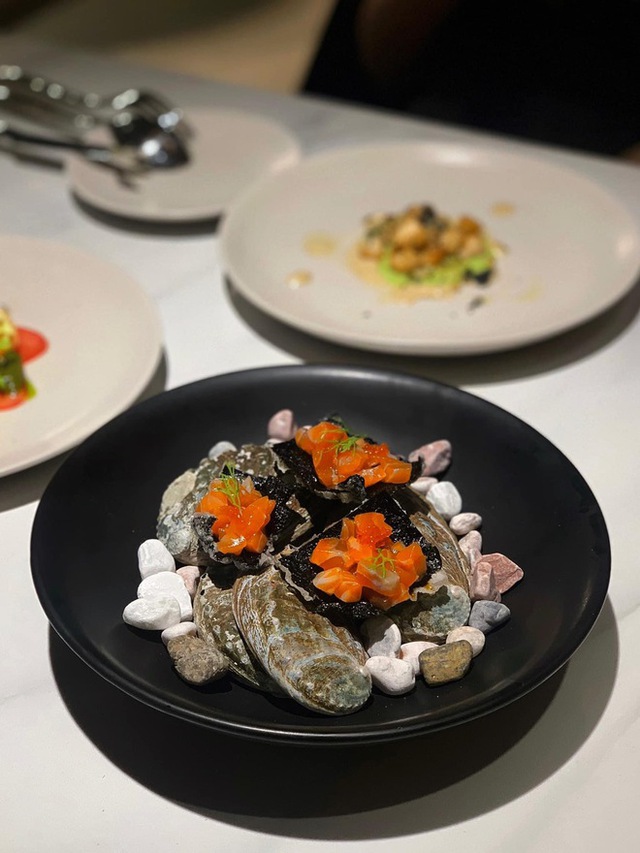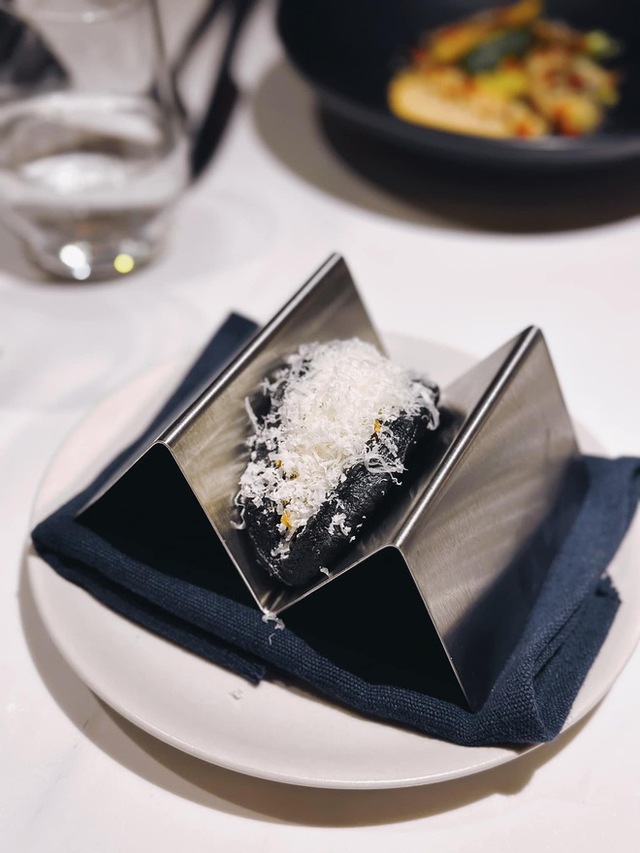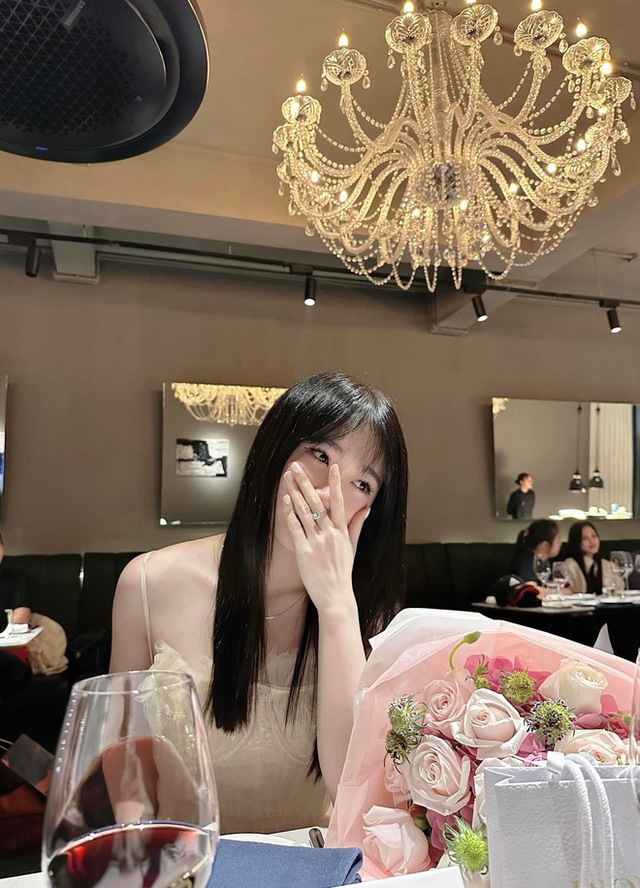 Photo: @Labri Neo Bistro, @rey.winter.stuff, @Binh Mon
At Labri, there is also an open kitchen area, this is also the highlight that makes your date more experience when chatting, enjoying the taste and being able to observe the skillful techniques of the chef. . The dishes at Labri are mostly French dishes, combined with Asian ingredients, so it will not be too strange. This place is also very interested in appearance when each dish is processed and decorated extremely eye-catching.
Address: 113 Bui Thi Xuan, Hai Ba Trung District, Hanoi
Opening hours: 18:00 – 22:00 | Monday – Saturday
Reference price: 500,000 – 1,500,000 VND/person
Jumarc
Jumarc is a restaurant combined with a unique art gallery space. This place is not too strange for many gourmets in Hanoi. The space in Jumarc is very suitable for couples to enjoy a romantic party or simply to chat to warm up their feelings on this Valentine's Day.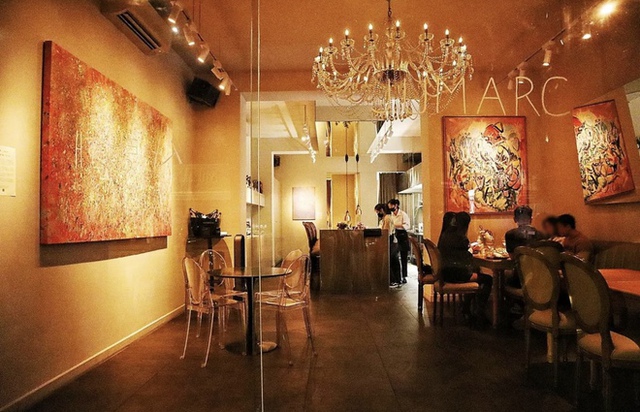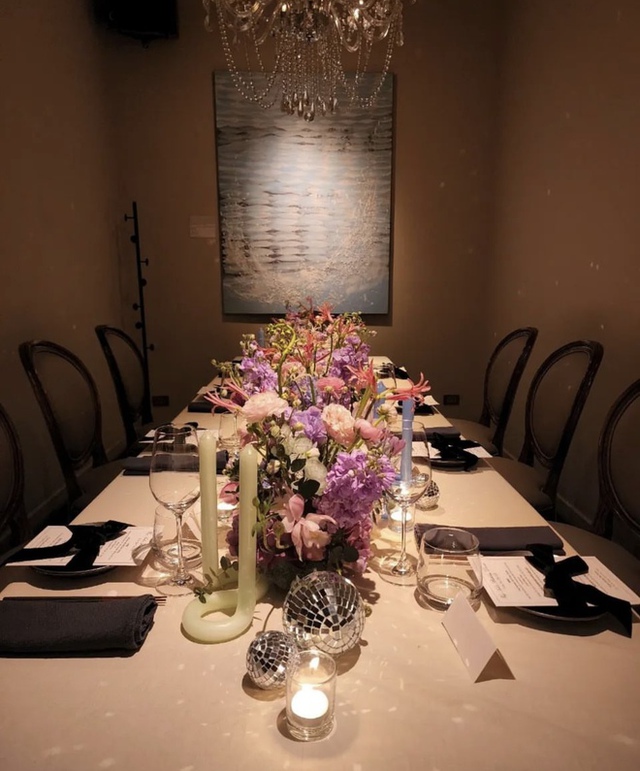 Photo: @Jumarc
The space in Jumarc is not too large but is arranged quite neatly with many highlights such as a bar and open kitchen, besides the odd tables, there is also a private room for couples. The dishes at Jumarc have a taste of Korean cuisine, although not outstanding, but will be quite strange. Especially the girls will love the space here because there are crystal lights reflected on the ceiling with unique art paintings, beautiful and shimmering virtual check-in.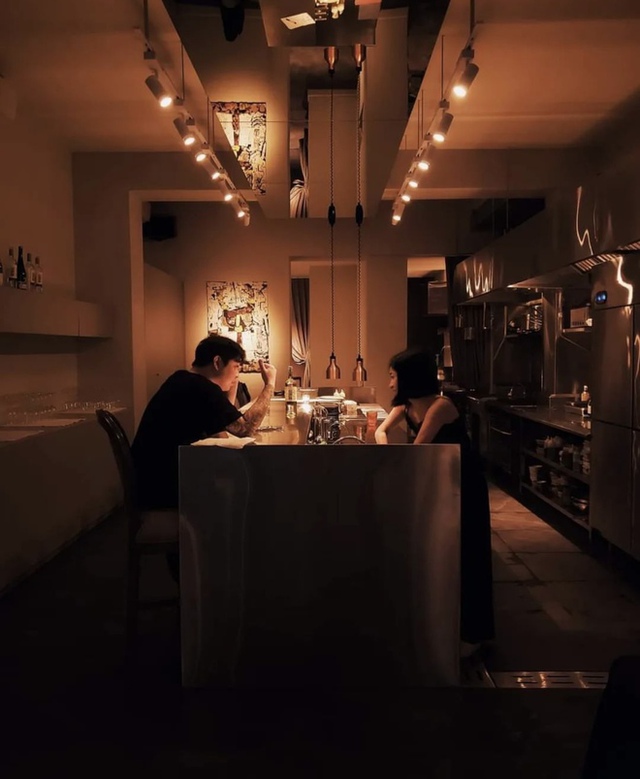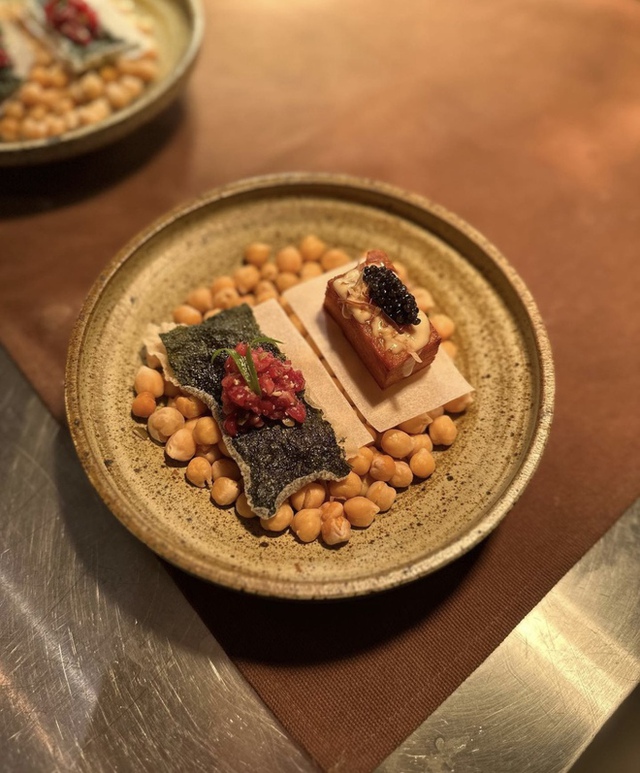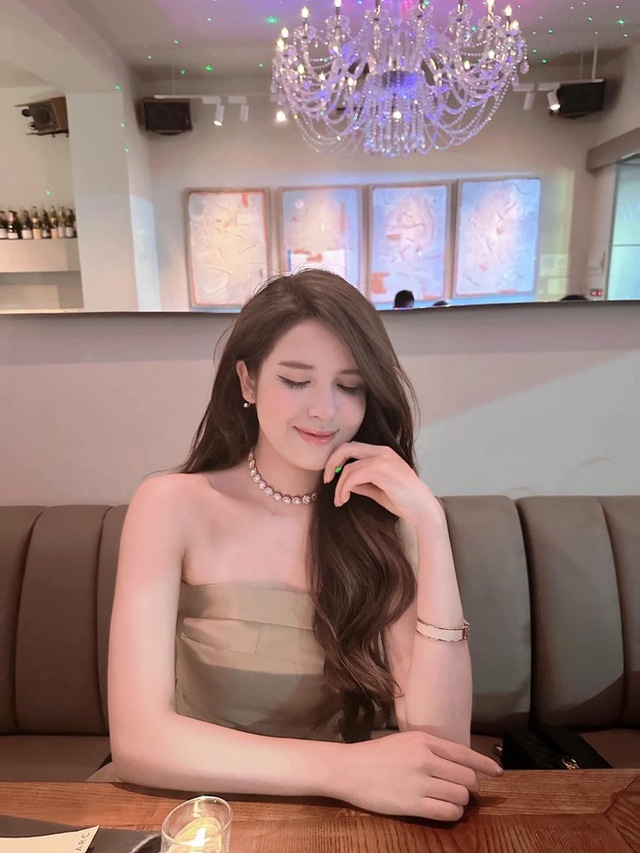 Photo: @Jumarchanoi, @VuongKhanhLinh
Address: 23C Hai Ba Trung, Hoan Kiem District, Hanoi
Opening hours: 17:00 – 23:00 | Monday – Thursday
17:00 – 00:00 | Friday & Saturday
Reference price: 1,000,000 – 3,000,000 VND/person
La Table Hanoia
La Table Hanoia is a restaurant with the influences of two cultures, France and Vietnam. With a fairly spacious space, with both indoor and outdoor areas, this venue will give the couple a new experience dating in the heart of the capital. The restaurant is decorated with blue, red, and yellow tones, creating a warm, mysterious and artistic space.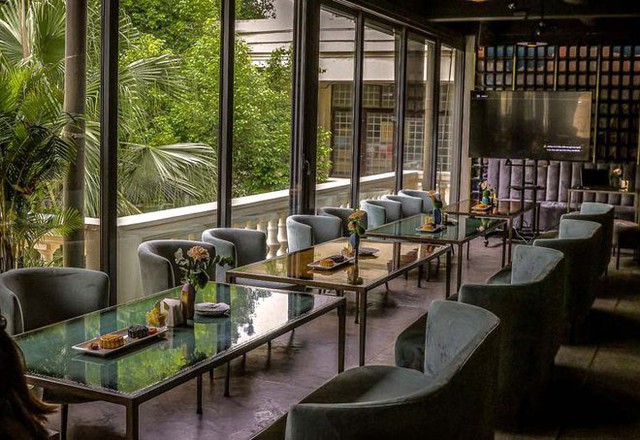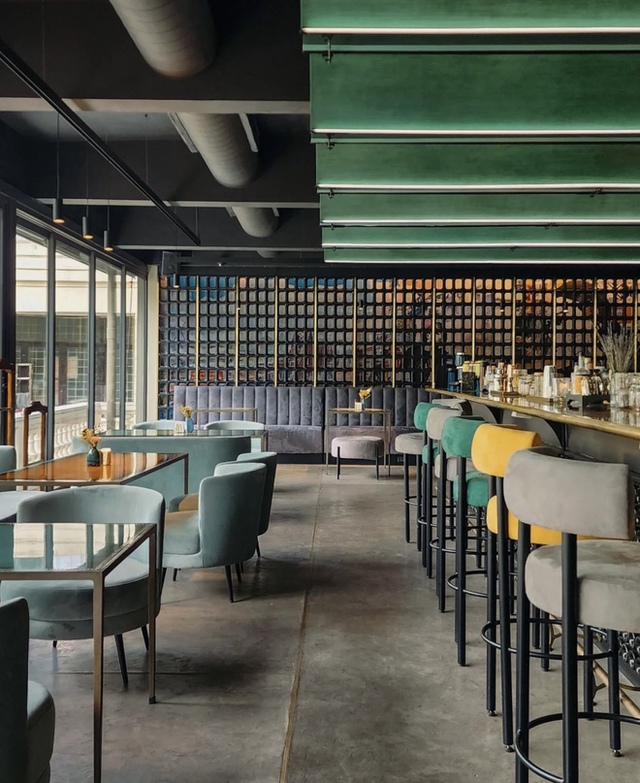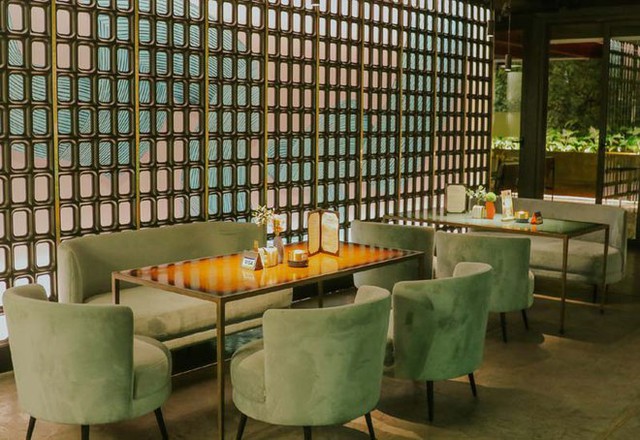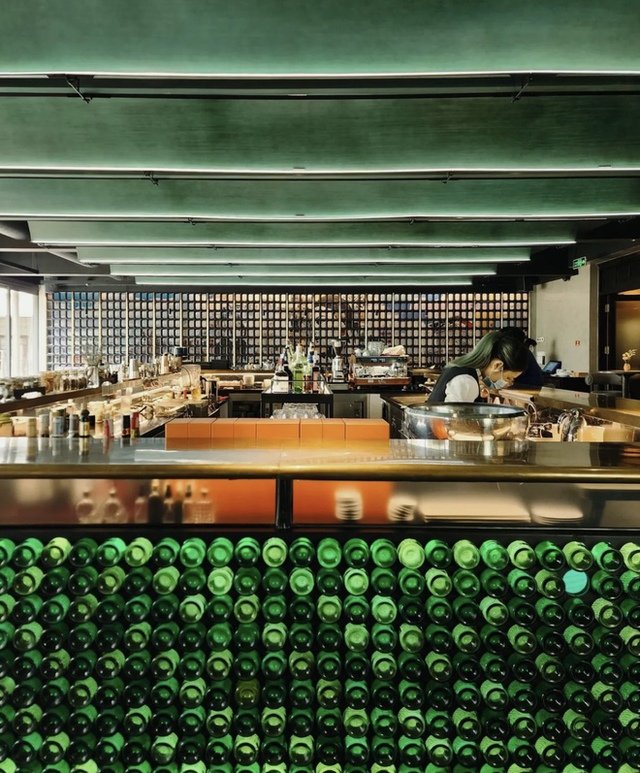 Photo: @Latablehanoia
Because the main sound is a combination of classic and modern features, the dishes at La Table Hanoia also have certain differences. Not only are there European dishes that are beautifully and meticulously processed, but there are also many dishes with bold Vietnamese flavors.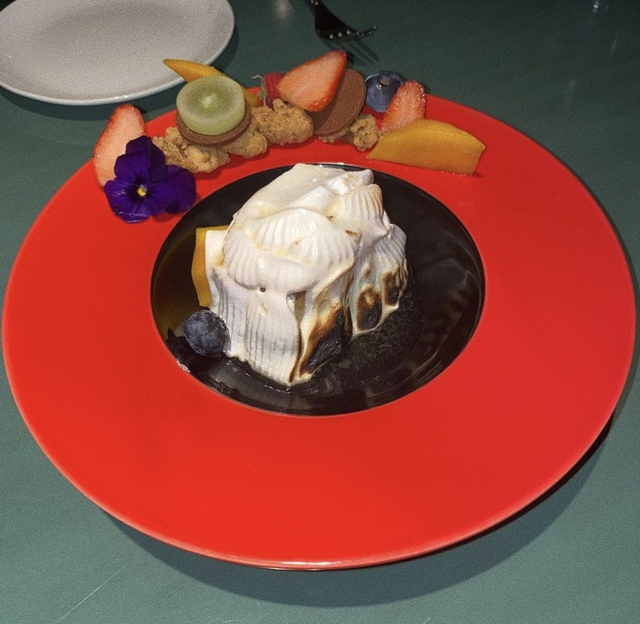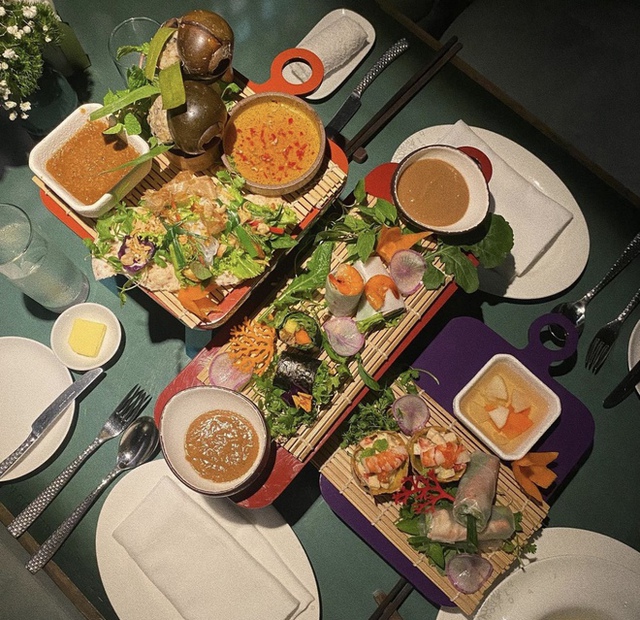 Photo: @Latablehanoia
Address: 12 Ly Dao Thanh Ward, Trang Tien, Hoan Kiem, Hanoi
Opening hours: 07:00 – 23:00 | Monday – Sunday
Reference price: 1,500,000 – 2,000,000 VND / person
Habakuk Bistro
If you are looking for a romantic place for a romantic date night, Habakuk bistro will probably be one of the ideal spaces. Located in the small alley of Phan Huy Chu, Habakuk has a combination model of fine coffee and bistro. Although the model is not too special in Hanoi, in Habakuk it brings a peaceful and gentle space in the capital.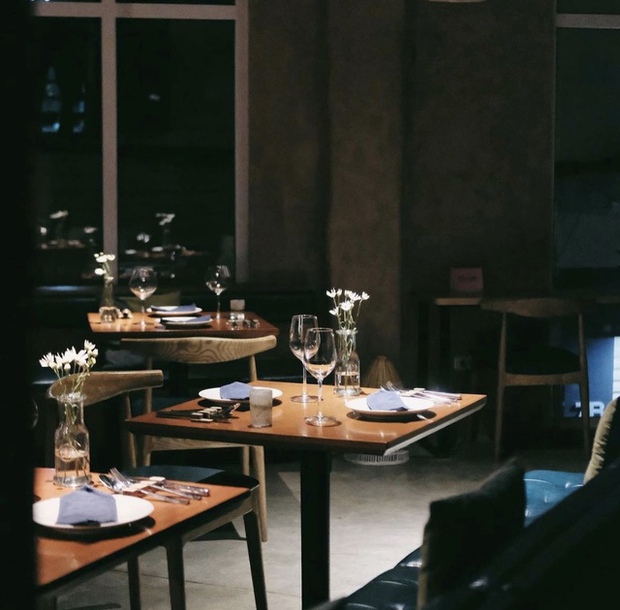 Photo: @Habakukbistro
The space at the restaurant is not too big, decorated with brown accents with green chairs to create a warm and intimate space. Especially the yellow light, and the gentle sound are very suitable for a date. Seating for coffee and dining is arranged separately, so privacy is still guaranteed.
The menu at Habakuk is also focused from processing to appearance. From appetizers to desserts, everything is perfect. Enjoying a small party here will give the couple memorable memories.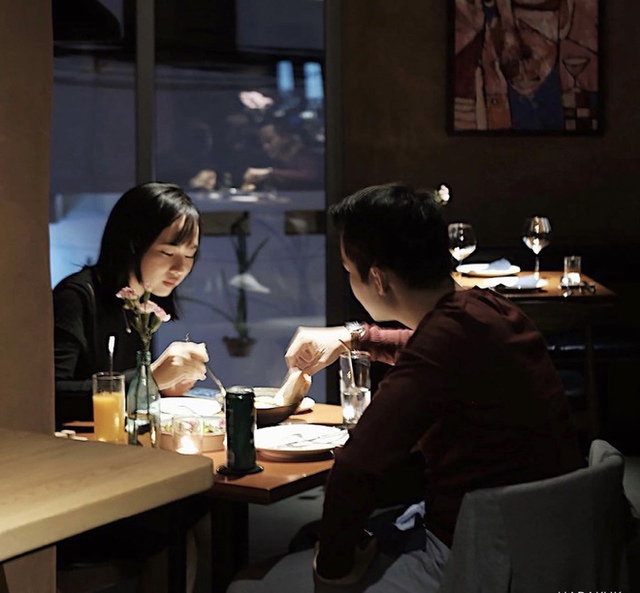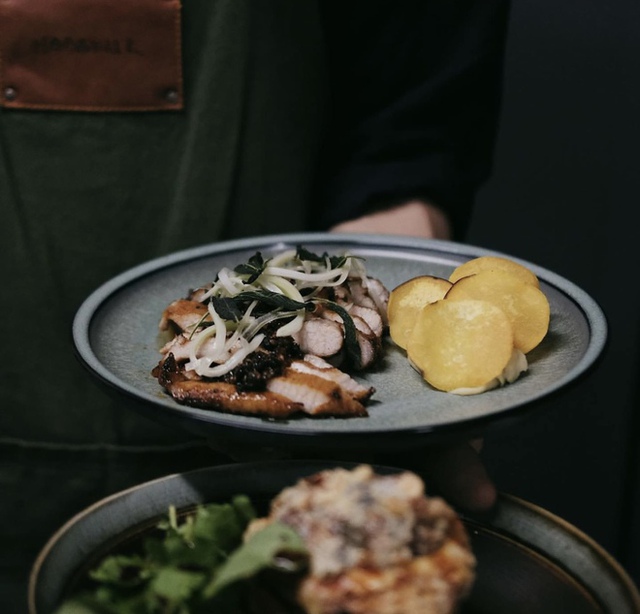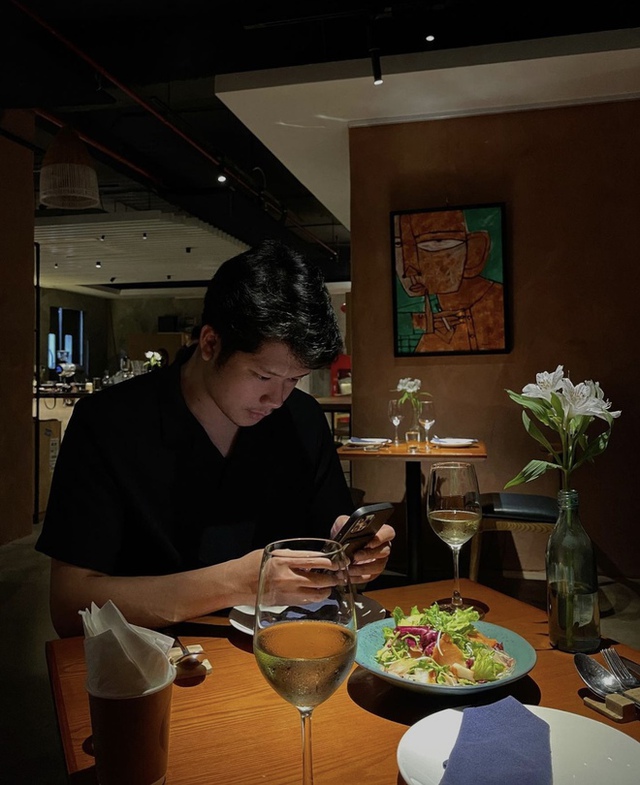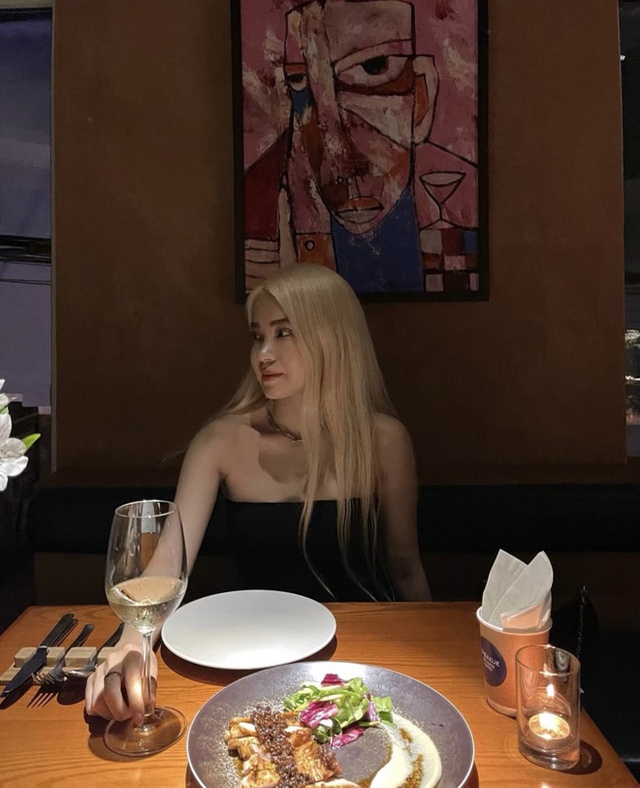 Photo: @Habakukbistro, @ppa.ppa
Address: 4 lanes Phan Huy Chu, Phan Chu Trinh, Hoan Kiem, Hanoi
Opening hours: 08:00 – 18:00 | Monday
08:00 – 23:00 | Tuesday – Sunday
Reference price: 500,000 – 1,000,000 VND/person
Photo: Internet (Vinlove.net)