The old coconuts will be extracted by "artisans" in Ben Tre to get the white coconut rice (core). Coconut rice is not only for squeezing oil or squeezing juice, but it can also be processed into a variety of dishes.
Ben Tre is famous for its vast coconut forests, the people here also live on coconuts. Coconuts not only provide excellent drinks, but also white and sweet coconut rice.
Coconut water will mostly be used as a beverage, and copra can make countless products, so instead of picking young fruit to drink water, many people wait for the old fruit to get rice.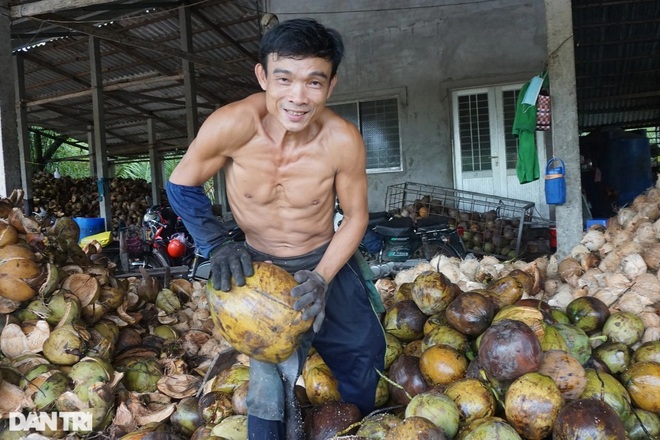 Coconuts from the "forests" along the river are transported by boats to the gathering yards, where dozens of workers are waiting. From the raw gray fruit to the white copra need to go through many stages.
"Each person will receive about 1000 coconuts a day to make. After peeling the coconut, it is transferred to the next person to peel the fiber, then to the person who cuts it in half, who separates the rice and the coconut shell. It has to go through many stages.
Each working day like that, each person gets more than 200,000 VND, those who work fast, 300 or 400 thousand VND also," said Tran Van Quii (living in Luong Hoa commune, Giong Trom district, Ben Tre province).
Peeling coconuts is a difficult and dangerous job. Therefore, it is understandable that the people participating in this process must be men in their 30s, healthy and experienced.
The coconut was hurled forcefully and decisively at a spear-shaped knife on a wooden stake. The man will go to great lengths to rip through thick crusts. "Working is tiring, it's very hot, so everyone is naked like that, like going to the gym," Mr. Quyi said while working.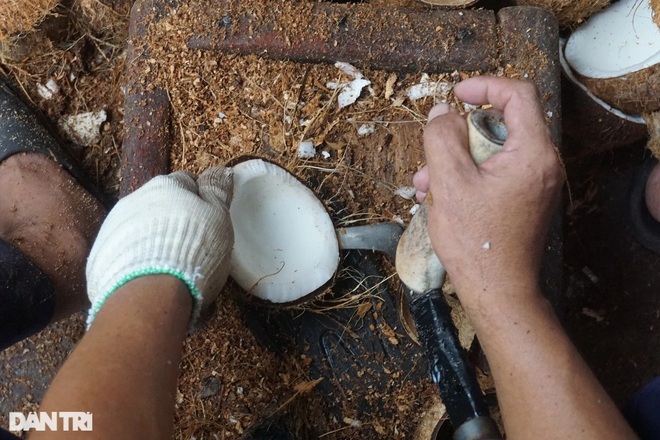 After peeling, the coconut will be split in half, recover the water and then move to the process of separating the rice and the shell. This work is equally difficult and dangerous.
The specialized curved knife, sharp as a blade, is cleverly threaded into the narrow gap between the shell and the copra. Strong pulling power along with professional hands rolling half a coconut rhythmically makes the blade gradually go deeper into the hard coconut shell.
There are coconuts that are too old, the blade can't "solve" so people have to beat hard to separate the shell and rice.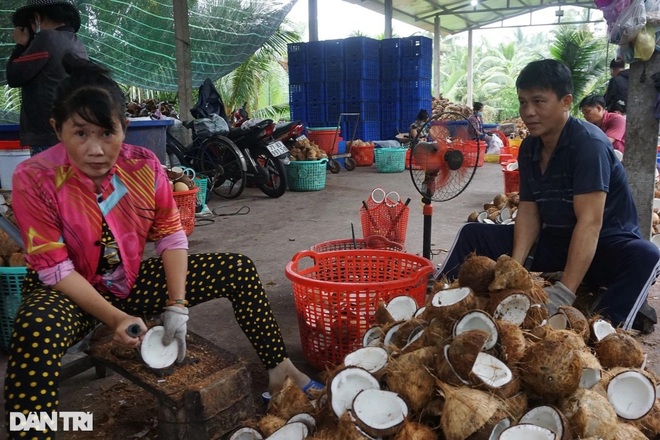 Pieces of coconut rice continue to be brought to the women's hands to peel off the black skin, leaving each white, smooth, eye-catching part. The peeling of coconut is gentle but requires meticulousness and agility. The hands quickly brought the paring knife where the black shell fell.
Coconut rice will be washed in a large water tank just like people grind rice. The water tank retains how much coconut milk, so it quickly turns milky white.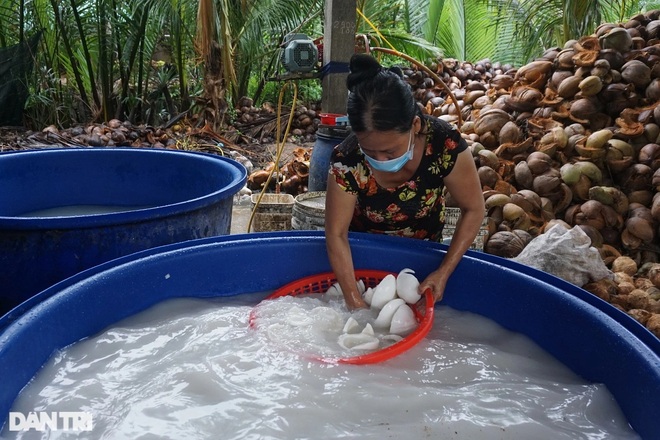 "So cleaned coconut rice will be sold to processing facilities, making many things. Coconut cake, Tet cake, coconut milk, coconut jam", said Ms. Nguyen Thi Thu Suong (living in Luong Hoa commune, Giong Trom district, Ben Tre province). Bamboo) share.
In old coconuts, there are often coco morsels, like the seeds of coconut that prepare nutrients for the young coconut tree to germinate. Coconut dreams are many times more expensive than coconuts, sometimes selling hundreds of thousands of dong a kilo and not everyone is lucky enough to eat.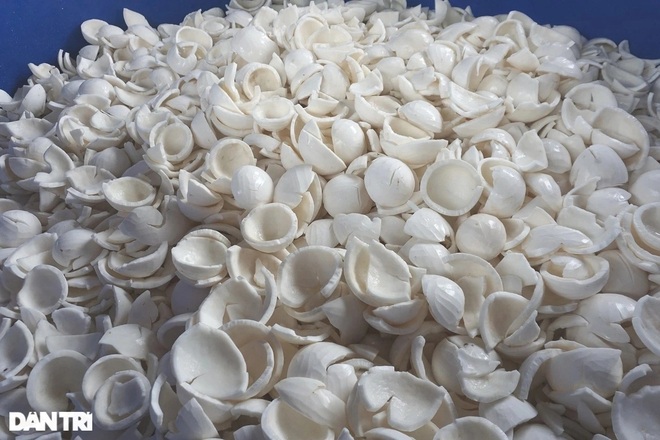 But this delicious, sweet, and nutritious food in copra processing factories is available and completely free. Dreaming of coconut is like a gift, a dish in the middle of a break after everyone's hard work in the workshop.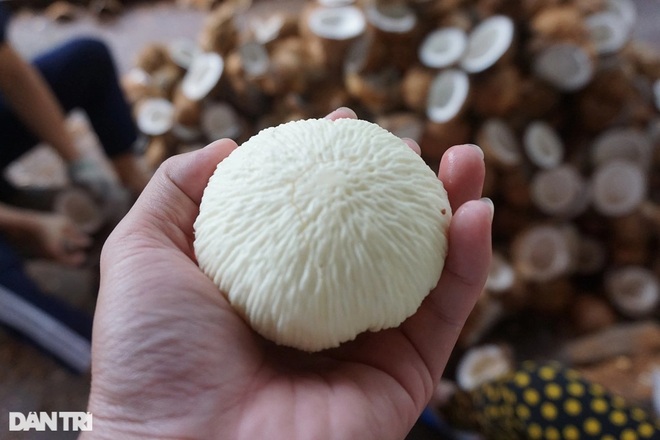 In the coconut rice processing facilities are always filled with laughter. Everyone is happy when they have a regular job, work close to home, even though they are not rich, it is not difficult to have a full life just by working hard.
Many families, both husband and wife participate in preliminary processing of coconut, husband peels, wife peels copra together in the morning and evening, and also saves money for children to go to university.Follow Dan Tri