For the first time witnessing the sight of a giant blue whale swimming and hunting in the waters of De Gi (Phu Cat district, Binh Dinh), many tourists burst into emotions because of the extremely impressive sight. , wonderful.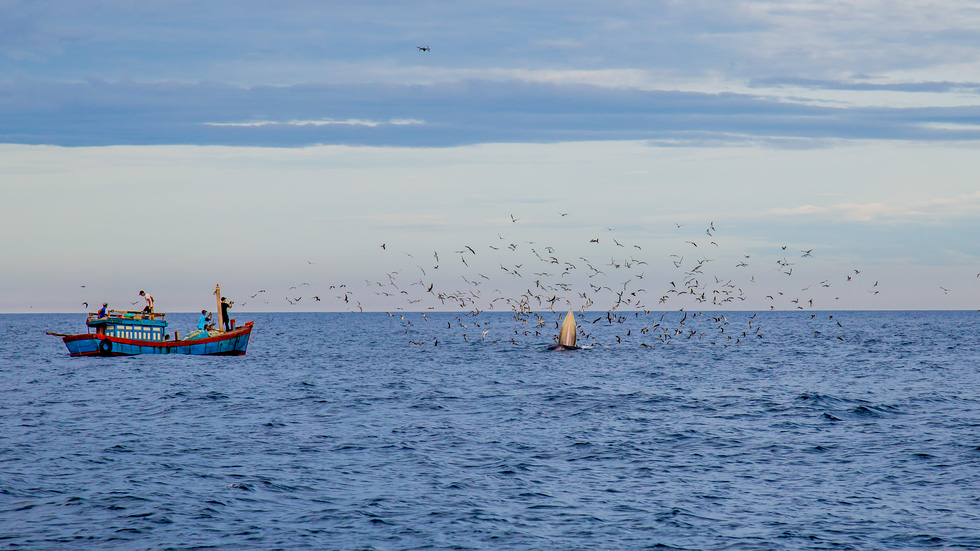 A beautiful and magnificent scene in De Gi waters when blue whales appear and hunt in front of fishermen's ships – Photo: HOANG DUC NGOC
On the morning of August 11, Mr. Dinh Thanh Tien, chairman of the People's Committee of Cat Khanh commune, Phu Cat district, said that in recent days, giant blue whales have continuously appeared in the De Gi sea area to hunt before the excitement. , curious of many residents and visitors.
According to Mr. Tien, after appearing about half a month ago, two blue whales reappeared in the De Gi sea area and stayed in this area for many days.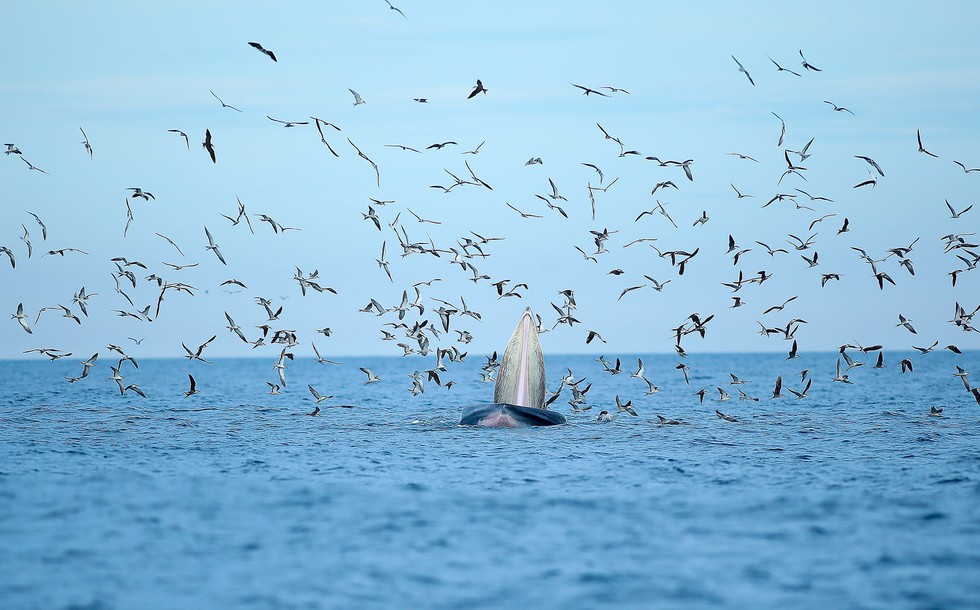 A flock of seagulls surrounds the blue whale every time the whale opens its mouth to bite the bait – Photo: NGUYEN DUNG
According to Mr. Tommy Toan (a tour guide in De Gi, who has witnessed the appearance of blue whales many times with his own eyes), before August, there were many blue whales in the De Gi sea area, but now only 2 of them are very large.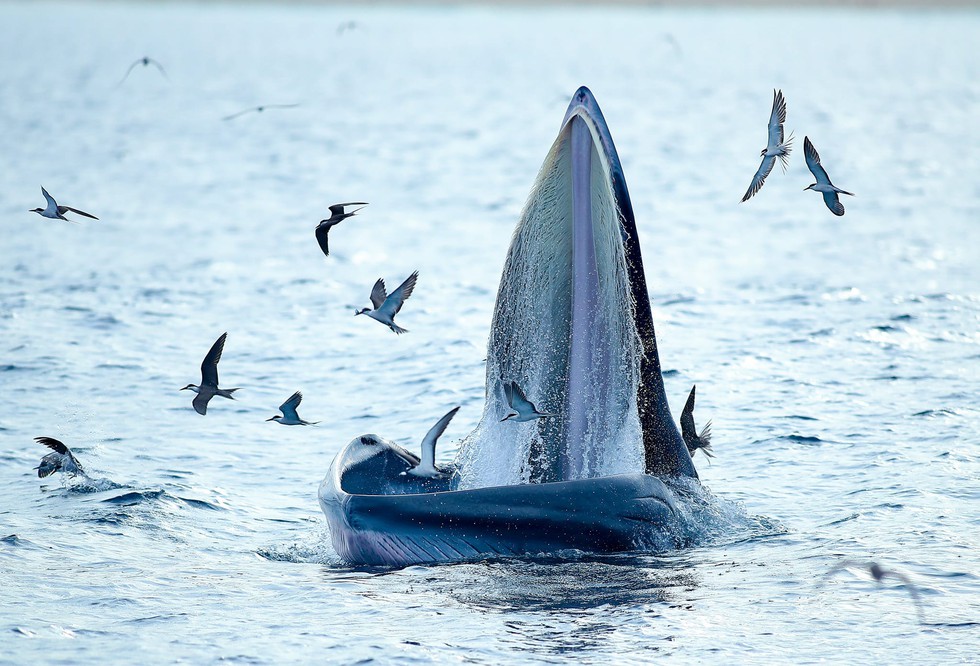 Impressive moments make many tourists excited – Photo: NGUYEN DUNG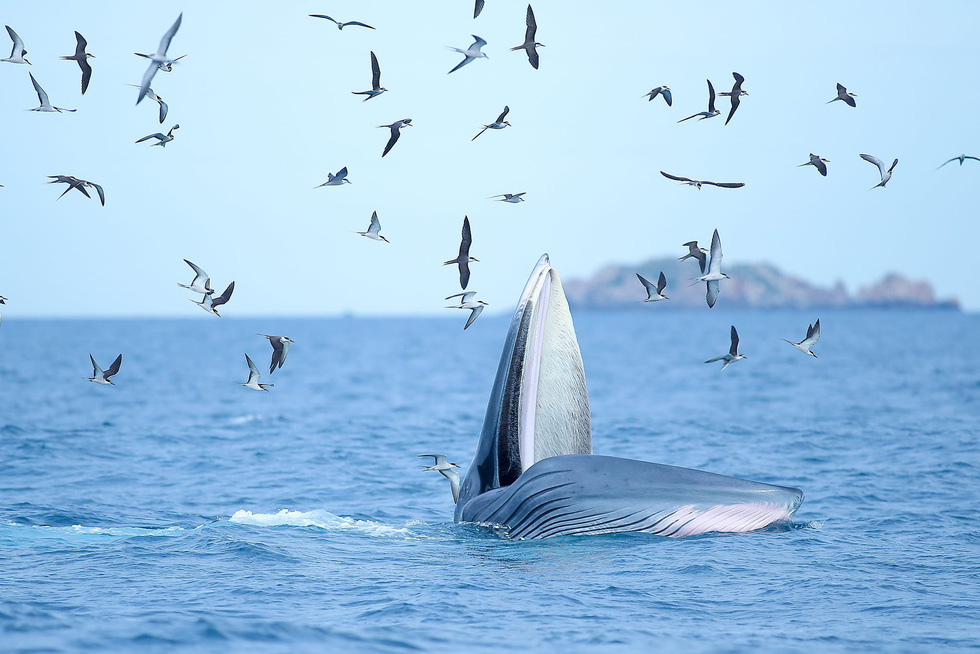 The sea of ​​giant blue whales appears 20 minutes by boat from De Gi port, this place is very wild and clean – Photo: NGUYEN DUNG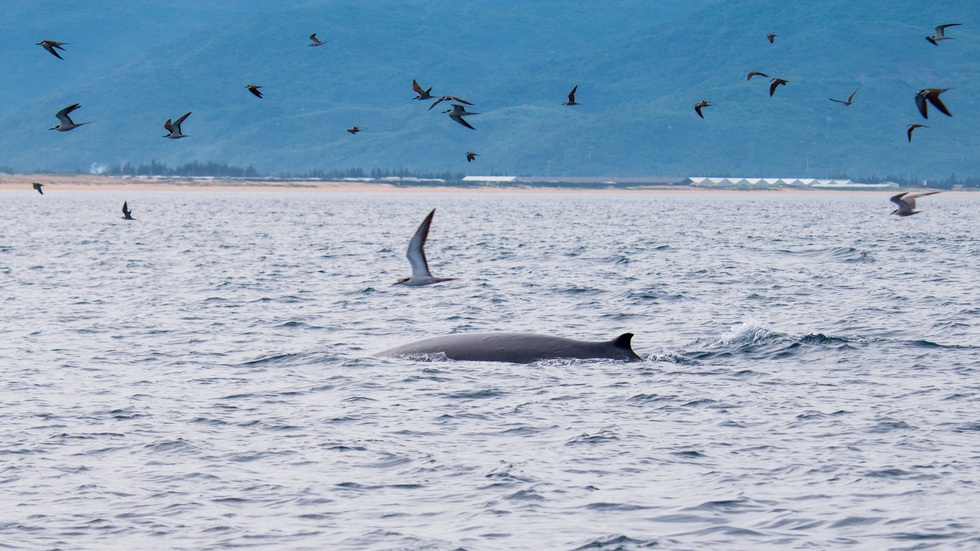 For the first time, blue whales appeared and stayed for many days in the De Gi sea area – Photo: HOANG DUC NGOC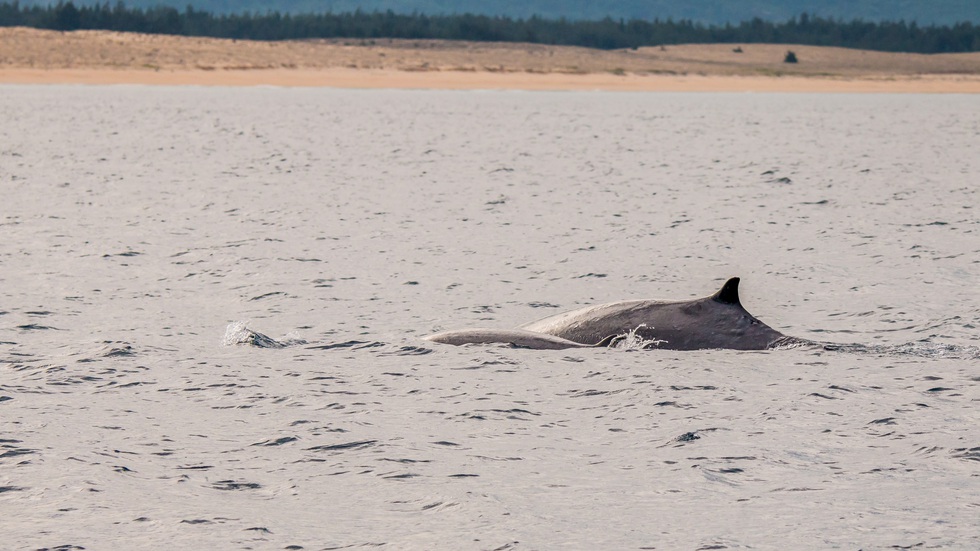 2 blue whales appeared very close to the shore – Photo: HOANG DUC NGOC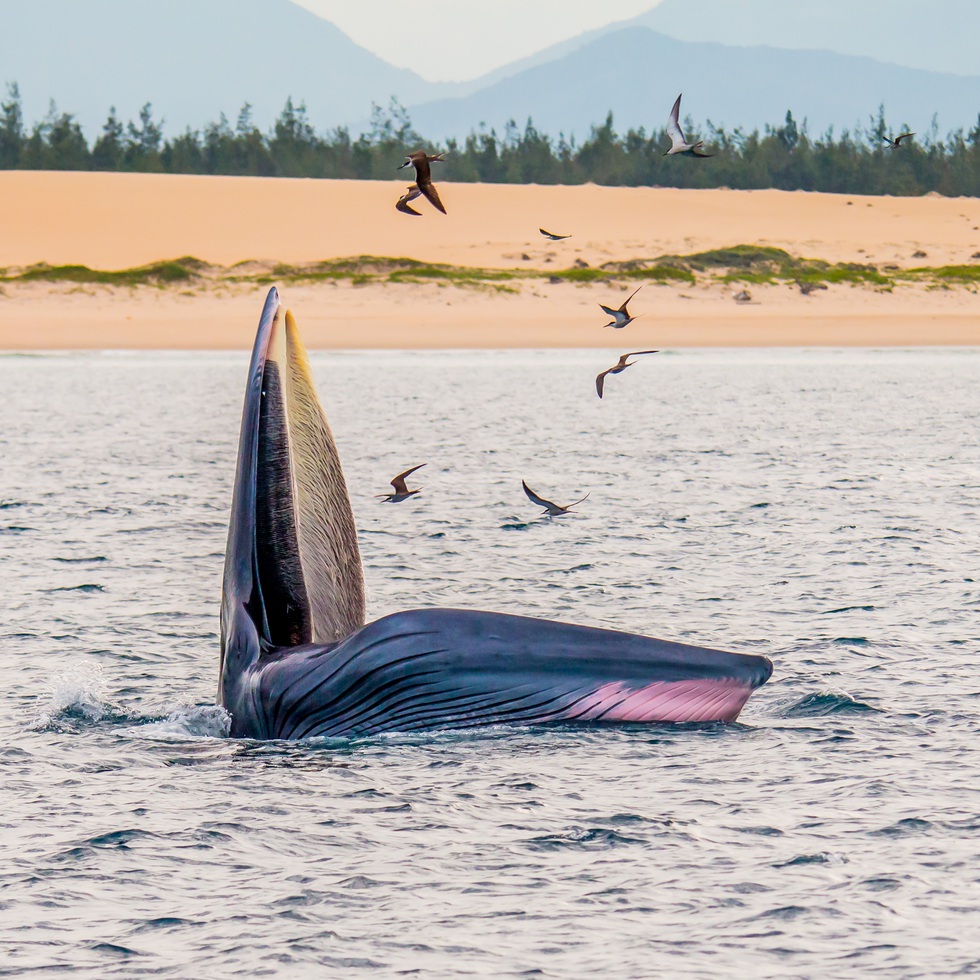 The magnificent and rare sight makes visitors extremely excited – Photo: HOANG DUC NGOC
"They come here to hunt because there are quite a lot of small fish here, mostly herring, fish, anchovies … and above the gulls join in hunting. Currently there are 2. The big one is long and long. 17m, the little one is about 10m long," Toan shared.
According to Toan, the sea area where blue whales appear is still wild and clean, about 20 minutes from De Gi estuary by boat.
Tourists watching blue whales 'forget seasickness'
BINH DINH – THE flock of whales opens their mouths to catch their bait, above which is a flock of swallows flying, making visitors to De Gi – Vung Boi excited.
As a pioneer in local tourism, over the past 10 years, Mr. Do Thanh Toan (37 years old) has turned the diving tour to see corals and "hunt" fish into specialties for travel lovers to experience. In the past half month, his tour was more exciting about the appearance of blue whales in the area from the mainland to Vung Boi about 3.5 km.
Toan first encountered two blue whales on July 26, when he took guests to Hon Trau (about 4.5 nautical miles – 8 km from shore). Visitors in the group were surprised and delighted. The boat owner let the canoe run in the direction of the whales' movement, but kept a distance of about 10 m so that the fish wouldn't panic. They use their phones to record videos and take pictures. The photos taken with the phone at a distance do not show all that is in the eye.
On August 2, when Toan's boat carried the family of 12 members of Mr. Le Trac May (55 years old, from Gia Lai) to Vung Boi, three whales suddenly appeared again, causing the whole family to scream, excited. The most exciting are four children 10-14 years old.
"Some family members were just seasick when they stepped off the boat, but when they saw the whale, they were completely awake. Every time the whale came to the surface and then sank, the children clapped their hands in approval. The whale was friendly. With humans, they should swim around like they're performing," Mr. May said.
Mr. May also said that his family often travels and is really impressed with De Gi – Vung Boi area because of its wild beauty. "The whole family is so lucky because it is very rare to see whales with their own eyes. It feels like I've just been lost in a desert island, returning to my childhood. Everyone wants to return to De Gi – Vung Boi again," Mr. May said. .
In the following days, the number of blue whales increased, about 6-7, fish were also bold with people, so the ship approached closer. Mr. Do Hung Cuong (45 years old, boat driver for Mr. Toan) said that he used to drive away from the shore for 20 years, but this is the first time he has seen so many blue whales in such a long time. Whales often appear to feed at dawn and dusk. According to folk beliefs, whales are auspicious creatures because when they appear, fishermen have a good harvest.
From the day there were whales, more tourists booked tours, including photographers and videographers who wanted to record beautiful scenes. Photographer Nguyen Dung, who has many famous photos of Nau (the name of the Binh Dinh – Phu Yen region), when he heard the news about the whales, he prepared a set of cameras, telephoto lenses, and fly cams to capture the herd. whale.
On the afternoon of August 10, Mr. Dung went with a group of about 10 people to book a tour to Vung Boi beach and took hundreds of satisfactory photos. "When I was about 10m away, I took a telephoto lens, then when I got close to 2m, I used a normal lens. I witnessed with my own eyes the bird eating prey left in the whale's mouth, previously only seen in movies", Mr. Dung speak. Dung's main purpose is to capture the beautiful scenery of Binh Dinh, but according to him, these photos can also win prizes in international photo contests with the theme of nature.
According to Toan, this is not a "whale tour" but just a tour to De Gi – Vung Boi, because it is random whether or not a whale is encountered, so it cannot be promised to guests in advance. Cano can carry from 10 to 40 people, ticket price from 550,000 VND. Tickets include 9 dishes and drinks, including Binh Dinh specialties such as apricot fish salad, sour fish… and many kinds of seafood.
Not as prominent as Ky Co – Eo Gio, De Gi – Vung Boi (between Cat Khanh, Phu Cat and My Thanh communes, Phu My district) is a peaceful and unspoiled sea, clear water and sand dunes like sand. desert. When coming to Vung Boi, visitors will be immersed in the clear water, hunt fish and watch corals. Many tourists stay overnight, camping. "The tour is suitable for those who like to explore and experience but not for the elderly," said the tour owner.