Near Tet, the "artisans" making chopsticks from forest areca trees in Ha Tinh are busy, working overtime from morning to night, still not enough products to meet the needs of customers.
In the days leading up to the 2023 Lunar New Year, the village located close to the railway line in Phuc Trach commune (Huong Khe district, Ha Tinh province) becomes more bustling with the work of making areca chopsticks. They work day and night because this time the number of people ordering is very high.
Also in this season, Mr. Bui Van Manh's trip away from home to the forest to get an areca to make chopsticks (57 years old, living in village 1, Phuc Trach commune) became thicker.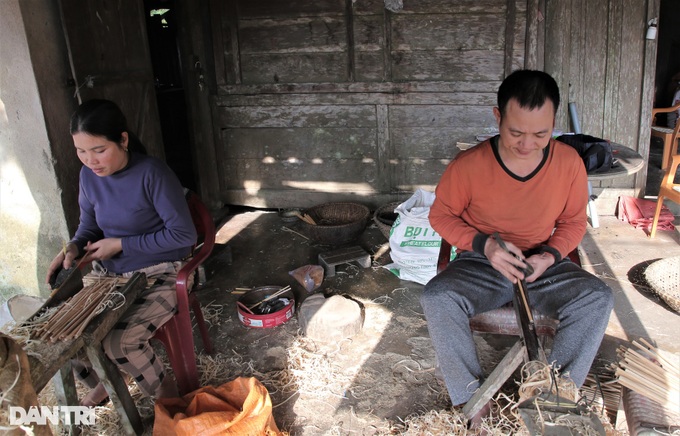 Every time he went, Mr. Manh also prepared knives, blankets, mosquito nets, and food, and then rode motorbikes with some people in the village, over 200km to the mountains in Nghe An to collect areca forest. This type is also known as the teardrop.
Manh's family has a tradition of making chopsticks for more than 15 years. In addition to him and his wife, 2 sons and a daughter-in-law in the family also follow this profession. The production place of Mr. Manh's family is only about 10m2 wide.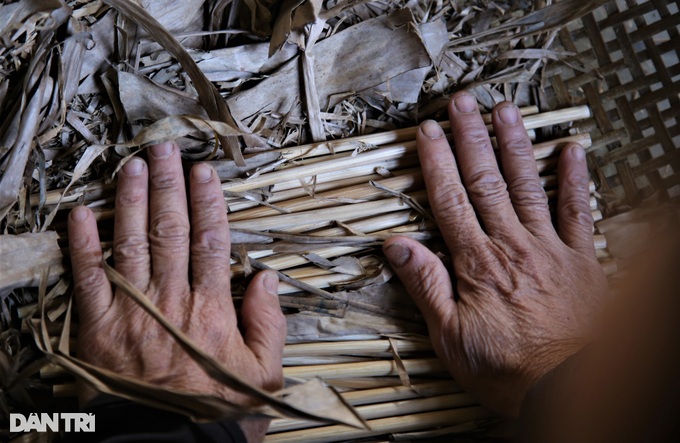 On this occasion, every day, Mr. Manh's family produces more than 200 pairs of chopsticks. Because of the large number of guests, family members have to get up from 6am to pick up chopsticks until late at night. Some days, the whole family has to work until 1 am to rest.
"On the occasion of Tet, the source of goods needs a lot, I have to work to earn more income. Recently, I sold 2,000 pairs to foreign customers to order," said Ms. Nguyen Thi Ha (54 years old, Mr. Manh's wife) said. .
Talking about the special type of areca selected to make chopsticks, according to Ms. Ha, these are trees that only grow in deep forests. Previously, they only needed to go to the forest in Huong Khe, Vu Quang, and Huong Son districts to be able to chop them back to make chopsticks. But now, this tree species has been exploited a lot, so it has been exhausted. In order to have a daily source of goods, her husband will take care of finding ingredients.
"Areca has to choose old roots, from 20 to 30 years old. This tree grows in deep mountainous areas, so it takes a whole week to return every time we go to the forest. My husband has to bring food, eat and sleep right at home. forest. When there are about 100 trees, they will be brought back once," said Mrs. Ha.
After the tree is brought home, the "artisans" will cut into short pieces about 20-25cm. After that, the raw material has to go through 6 stages, from splitting, sharpening, roughing, then smoothing, polishing, and drying to create the finished product. Each stage is done meticulously by the craftsman.
The areca chopsticks here are still made according to the manual method by hand and the homemade planer. Chopsticks are made in two shapes, round and square.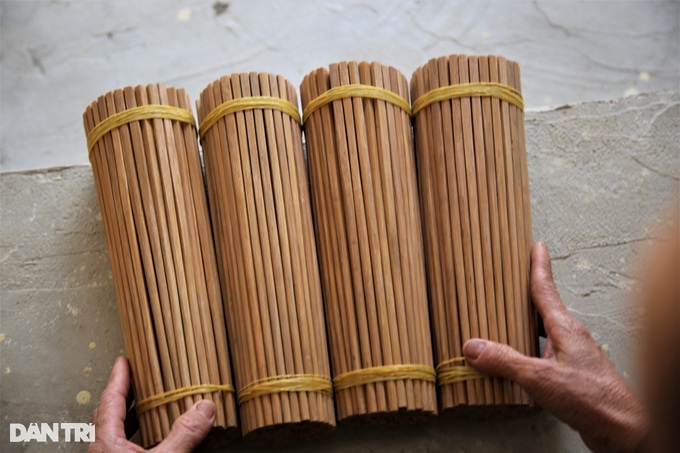 To make a beautiful pair of chopsticks, after the hand is finished, the craftsman closes one eye, using the other eye to align it so that it is balanced, not deviated. Especially, after the product is completed, people use banana leaves to rub to create friction and polish, not chemicals.
According to many people, in the past, areca chopsticks were only made for household use. After that, guests from other places came to see that chopsticks were made of natural materials, did not use chemicals, and had a characteristic aroma, so they ordered.
The good news is that this product is now not only consumed inside or outside the province, but now also sold abroad as a gift.
According to the leader of Phuc Trach Commune People's Committee, there are 20 households in villages 1 and 3 who maintain chopsticks making, thanks to this profession, many families stabilize their lives and have money to feed their children.
According (Dan Tri)